Master Camping Checklist for your Next Adventure
Posted On April 27, 2020
Last Updated on November 30, 2022
Camping is a fun and adventurous getaway but sometimes it can feel like so much WORK. This post is about how to have a camping checklist and keep your gear organized so that it's much simpler to get out the door. I've spent at least several hundred nights camping in the last 25 years so I've got it dialed in at this point! In this post I'm talking about tent camping out of a car, since that's what we do most often. I keep a separate checklist for backpacking.
We have a checklist and we also have as much of our gear as possible stored in the same place and prepacked so we can grab and go (it still takes time to get out the door, but we've cut our prep time by more than half with this method!). This also means that we rarely forget anything important and don't have to stress about it, since I'm not naturally a very organized person. The good news is, if I can keep a camping checklist and keep my gear organized, then ANYONE can.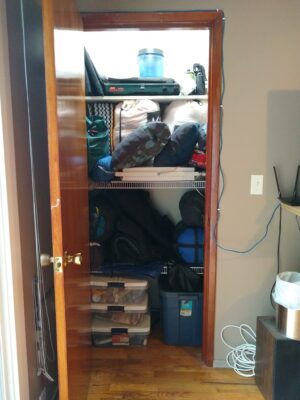 I keep learning new things so I occasionally add new things to the list, or decide I never use something else and stop bringing it. Like me, over time you'll learn what's essential for you and make sure you have that on your camping checklist. You might also find that some things other people think are essential aren't that important for you. I keep my checklist in Google Drive.
I've organized the camping checklist into four categories
This post contains affiliate links, which means if you make a purchase I may receive a small commission at no additional cost to you. As an Amazon Associate, I earn from qualifying purchases
Camping Checklist for Sleeping
The basic definition of camping is sleeping outside, so it's not a surprise that the first item on my camping checklist is everything you need for a comfortable night of sleep. This is something that will take a bit of experimentation to see what works best for you, I've noted what we use and some thoughts about each item
Tent
It's difficult for me to recommend one particular tent because this is a fairly personal decision based on what works for you and the size of your family or friend group. That said, I have a couple of options that I love and highly recommend!
We have a backpacking tent because I also use it for backpacking adventures where I'm carrying everything on my back. Recently we decided to get a three person tent which makes it roomy for my very tall husband and our dog. When I backpack, I usually go with two of my cousins and then we can all fit in one tent! It works perfectly. For ten years before that we had the REI Half Dome 2 Plus tent and I can't recommend this tent highly enough! It's extremely durable, easy to set up (I can do it by myself in under 5 minutes) and the rainfly has kept us dry and warm in MANY surprise rainstorms. The footprint is important for protecting the bottom of the tent so it lasts longer. These tents are also reasonably priced, which is helpful too! REI also offers a 1 and 4 person version of this tent (bigger and smaller).
If you're not going to be backpacking, there's no reason not to get a bigger roomier tent. The downside of these tents is that they're heavier and not quite as good in heavy wind and rain. Since you probably aren't going to camp for fun when you know there will be lots of rain or wind and you won't have to carry it far, it's not too big of a deal. My brother and his family have this tent and it's perfect and roomy for a family of 4. Get a tarp to put underneath it to protect the bottom.
Make sure that whatever tent you get has a very solid rainfly that covers the entire tent (not just the top). You can add a tarp over the whole thing if your rainfly isn't sufficient. The rainfly is a like a rainjacket for the tent and a solid one will keep you really dry inside, even if it's raining. Always set up the rainfly even if rain isn't expected, since there can be lots of dew and condensation which makes it very wet, and there can always be unexpected rain!
Sleeping Pad or Air Mattress
Your sleeping pad is actually MORE important than your sleeping bag to staying warm, because it's what insulates you from the cold ground underneath and it also makes your bed softer. This is again a really personal decision because every needs a different level of support.
We recently invested in this expensive camping pad and it is AMAZING. We are so glad we got it. We spend a lot of nights camping so for us it's totally worth it. We also got a double one which is really nice for a couple because no one falls in the crack between the pads. The only downside to this particular one is that it takes a long time and is a bit tedious to inflate. It's so worth it though.
Another good option is the Thermarest self inflating pad (comes in a variety of levels of comfort, this is my favorite), which I use for backpacking and also used for car camping for many years. Mine has lasted through 10 years of heavy use without a leak!
I have also used a cheap air mattress for car camping but I don't anymore because I have trouble keeping it inflated. Many people use them and love them though!
Sleeping Bag
Like the tent, it's hard to recommend a specific one. I have a really warm one and a lighter one, which I recommend if you do camping most of the year like I do. For the climate in the Pacific Northwest, I highly recommend a synthetic bag instead of down, which stays warm if it gets wet. This is the sleeping bag that I use most of the time, rated for 20 degrees. There are definitely lighter sleeping bags on the market, but I like the lighter price point of the REI Co-op ones and they are extremely durable and have room to move around, which are both important to me. For women, I recommend a women's specific sleeping bag as they are roomier in the hips and narrower around the feet.
Sleeping bags are generally more expensive the lighter they are, so if you don't need it to be light (because you aren't carrying it on your back) you can save a lot of money. Make sure your sleeping bag is rated for temperatures colder than the coldest overnight temperature you expect to experience on your trip
Pillow
We bring our pillows off our bed from home (have you noticed a theme that we like to be comfortable??) but for a smaller, more packable pillow I also love this one. I use it for backpacking as well as traveling.
Warm Clothes and Hat to sleep in
Depending on the weather (especially the overnight temp) I usually bring long underwear to sleep in (as well as shorts and a t shirt in case it's hot) and I highly recommend a wool hat. A wool hat makes a big difference on cold nights! Check the night temperatures for where you are going to be camping as well as the day because there could be a big swing. Even hot places can be quite cold at night.
Camping Checklist for Cooking and Eating
The second most important thing is eating! Of course! Take some time to think about what kind of camp food you like before making your personal camping checklist. Some people like to make it super gourmet with lots of equipment, others prefer to roast hot dogs and eat trail mix. Whatever it is, make a decision with the rest of your family or friends so that you have everything you need but you don't buy or bring a lot of things you don't need.
For me, a lot depends on the length of trip. If it's just one night we go a lot more minimal than if it's going to be a weekend, a week or more. Here are some items to add to your camping checklist for cooking and eating
Camping treats – this is really fun especially for kids! Smores? YES. Hot dogs? Pop tarts? Candy? Whatever it is, it's fun to have a special treat that you get while camping
Snacks – it's good to have some snacks that you can enjoy that don't need to be cooked
Cooler – if you're bringing fresh food that needs to be refrigerated (meat, fruits and vegetables, cheese, other dairy) then you'll need a cooler with a good ability to stay cold. We've used this one for over 10 years and it's amazing in it's ability to keep food cold! If you're buying a cooler, figure out how much you'll typically put in it (lay it out at home – you'll be glad you did!) and then base the size on that. You might want to consider an electric cooler, which we recently upgraded to and highly recommend.
Jetboil – we are just in love with the jetboil (get it here at REI and here on Amazon). It's an amazing stove! It's small, fast, clean and easy and the fuel lasts a long time. The only downside to the jetboil is that you can only boil water in it. We find that with a bit of creativity and bringing some dehydrated chili or vegetables or other dehydrated food, it can be totally adequate for us for a short trip. It's also great for making hot drinks.
Bigger camp stove and pots – we have used this Coleman one for 20 years, and we bring it with us if we are going to be doing more cooking than we can do in the jetboil. This stove is really easy to use and you can buy the propane canisters just about anywhere. If you are using a camp stove then you will also need some type of cooking pot or pan. You can keep this really simple and bring something you have at home. The advantage of ones you use for camping is that you can keep them in the camp bin, and they're lighter! We have four different things that we use with it 1) this spatula (we don't cook anything requiring more utensils!) 2) this griddle (awesome for pancakes and bacon but also completely unnecessary) 3) this pot set that I have had for more than 25 years! 4) this skillet that we got recently that comes in handy
Items for cooking on a fire: especially for short trips, we like doing campfire cooking plus the jetboil and leaving the other stove at home. Make sure to check and find out if fires are allowed and if they make sure there's not a burn ban. If there is, no fire cooking! If it's safe and legal, good things to have for fire cooking include roasting sticks, alumninum foil (for making amazing foil dinners like these buffalo chicken ones) and tongs (for removing the foil dinners from the fire). It's also helpful to have an axe or hatchet for chopping wood into smaller pieces for kindling. I recommend buying or collecting (only if it's allowed) wood where you camp, transporting campfire wood to different areas can spread invasive insects. If you want to really get into fire cooking, you might want to consider a dutch oven.
Food – don't forget the food! Make a meal plan (do this as a group) ahead of time and keep the meals simple and fun. Totally cool if this is hot dogs and smores!
Water bottle – just like on road trips and day trips and pretty much all trips, everyone should have a water bottle like this amazing one that stays cold without getting wet on the outside!
Mug for hot drinks – I like this one because hot drinks stay warm for awhile, it has a lid, it's easy to hold on to (and clips to a backpack for backpacking) and it's affordable!
Giant bowl/mug – I love this one because it's basically a bowl with a lid! It's perfect for heating up dehydrated food or anything that just needs hot water. The lid is good for rehydration and also makes it easy to clean (add water, shake it around with the lid on). You can also use any old plate for camping!
Spork – we stick with foods that we can eat with this one utensil! I'm picky about my sporks and prefer this titanium one. It's long enough, strong, light and awesome
pocketknife or other knife – really handy for so many things! Opening packaging, cutting food, opening bottles, etc
NOTE: It is extremely important to store all food and all cooking items in a locked vehicle when they are not in immediate use. Some campgrounds (especially in national parks) have storage bins that can be used to store food and cooking items and you can make use of those as well. NEVER EVER store any food or cooking supplies in your tent or just leave them out on your picnic table or anywhere in your campsite. This is for your safety as well as the safety of wildlife. Even if you are not in bear country, this is extremely important to protect you from other animals (and them from humans).
Camping Checklist for the Fun stuff!
One of the fun things about camping is that you can have lots of fun in an unstructured way. You're also generally closer to outdoor activities like hiking, canoeing or swimming. Here are some ideas for entertainment and fun while camping
Ready to ditch the smoke smell? If you've got space in your car, consider investing in a smokeless fire pit!
Musical instruments (maybe not at night in a crowded campground)
Art Supplies – sketchbook or journal
Hiking boots and backpack and the things you need for a hike
Bikes – great for kids and adults alike, if your camping spot is near a place where biking is an option
Canoe or kayak if you'll be near calm water (and life jackets, paddles, etc)
Swimsuit and towel if near a lake or other beach
Books or an e-reader for reading (I am a big fan of this kindle with a screen you can read in the dark without a headlamp!)
Camp chairs for hanging out around your campfire or anywhere around your camp – I really love these camp chairs because they pack up so small and are comfortable!
Hammocks – great for naps, reading and generally feeling like you're away from it all (some people like to sleep in them too!). Get a double one since it's even more comfortable than singles and has room for pillows and sleeping bags etc! Get one like mine here at REI.
Back up power for your phone – you might not be able to charge and you might want to take lots of photos and videos! I recommend this back up power supply, which gives you three charges of your smartphone.If you're away from a cell phone signal, put your phone in airplane mode, the battery lasts much longer.
Field guides to identify animals, plants, tidepool creatures, birds and more!
Camping Essentials for Comfort and Safety
This last category could also be called "everything else". These are items that I've found extremely useful for various reasons that don't fit into the above categories!
Camping Safety Essentials
Headlamp or flashlight – every person should have a headlamp or flashlight
Warm clothes and rain gear
Sunglasses and sunscreen
First aid kit
Water jug – an essential if you're away from services, but helpful even if you're in a campground with water because you can make fewer trips and it's perfect for putting out your fire (always make sure your campfire is COMPLETELY out).
If you're bringing a dog, make sure to bring plenty of poop bags and keep your dogs food and treats with yours. Make sure to have a long leash or line so you can keep you dog secured in your camp
Medications
Camping in Comfort Essentials
Wet wipes
Paper towels
Garbage bags
Zip top bags and chip clips
Duct tape – perfect for quick emergency repairs to basically everything
A lighter or matches
Personal toiletries and clothes
Bug spray
Now that you know the basics for a camping checklist, start experimenting and add your own essentials! Have fun!