Car-Free Adventure: Explore Seattle's South End and Rainier Valley
Posted On October 27, 2016
Last Updated on January 30, 2022
If you hang around Jennie and I, it will not take you long to figure out that we are big fans of Seattle's south end. That's no surprise, given that today we live in the Othello neighborhood, and before that we lived in Hillman City.
This week we thought we'd pay homage to our own neighborhood and suggest a weekend afternoon trip to locals who have not ventured into the area often touted as most diverse zip code in the USA. This is a trip that does not require a car. You can either ride a bike along the route or take the Sound Transit Link Light Rail. This is by no means a complete list of the places or things to do here, just a sampling of some of our favorites. I've lived in this area for almost ten years and I'm just scratching the surface. It fits in great with coffeeneuring, since there are lots of coffee shops in the neighborhood. 
Lazy adventurer's tip: If you want to bike but aren't a regular rider, consider taking light rail to the Beacon Hill station for the ski lift to the top. When I was first getting into bike commuting, this is how I got to and from downtown, since I had to cross the hill every day and I wasn't yet strong enough for it (and didn't want to arrive at work that sweaty), so I would take the train to Beacon hill from either direction and ride the downhill half. I did this for several months before I could ride over the hill with sufficient ease.
For the rest of this post, I will assume you are riding the rails and headed south from Seattle towards the airport on the train. Our whole area of interest today is only about five miles long:
Beacon Hill Station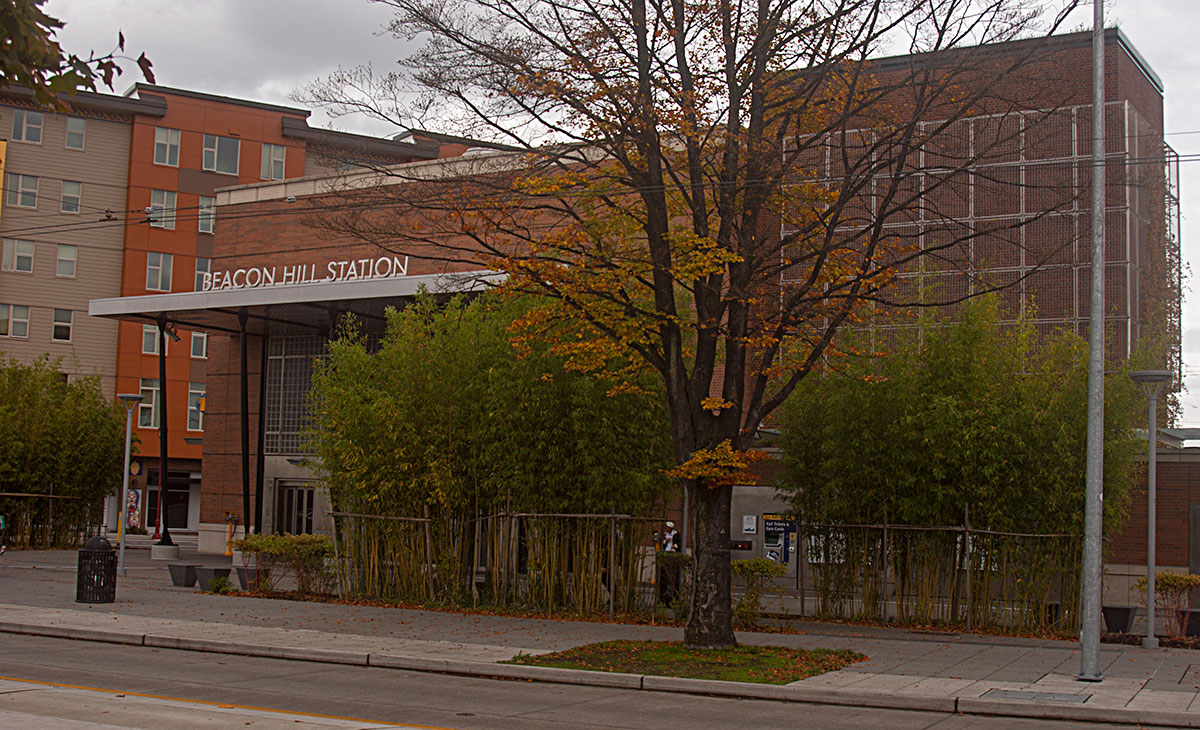 While Beacon Hill isn't in the Rainier Valley, it is very much the south end. It has always struck me as strange that this is an area with low property values, since it is well served by transit, has beautiful views, and is minutes from on-ramps to the major freeways and downtown. It's a rich pastiche of cultures as well.
Beacon Hill station is located deep underground, with a small exit structure located on Beacon Avenue.  Right across the street to the north is El Centro de la Raza, a former elementary school converted into a beautiful latino oriented community center (but very much engaged in all the communities of the area).  Take a walk through the courtyard and maybe take a class on making tamales… I like tamales, if you learn to make them.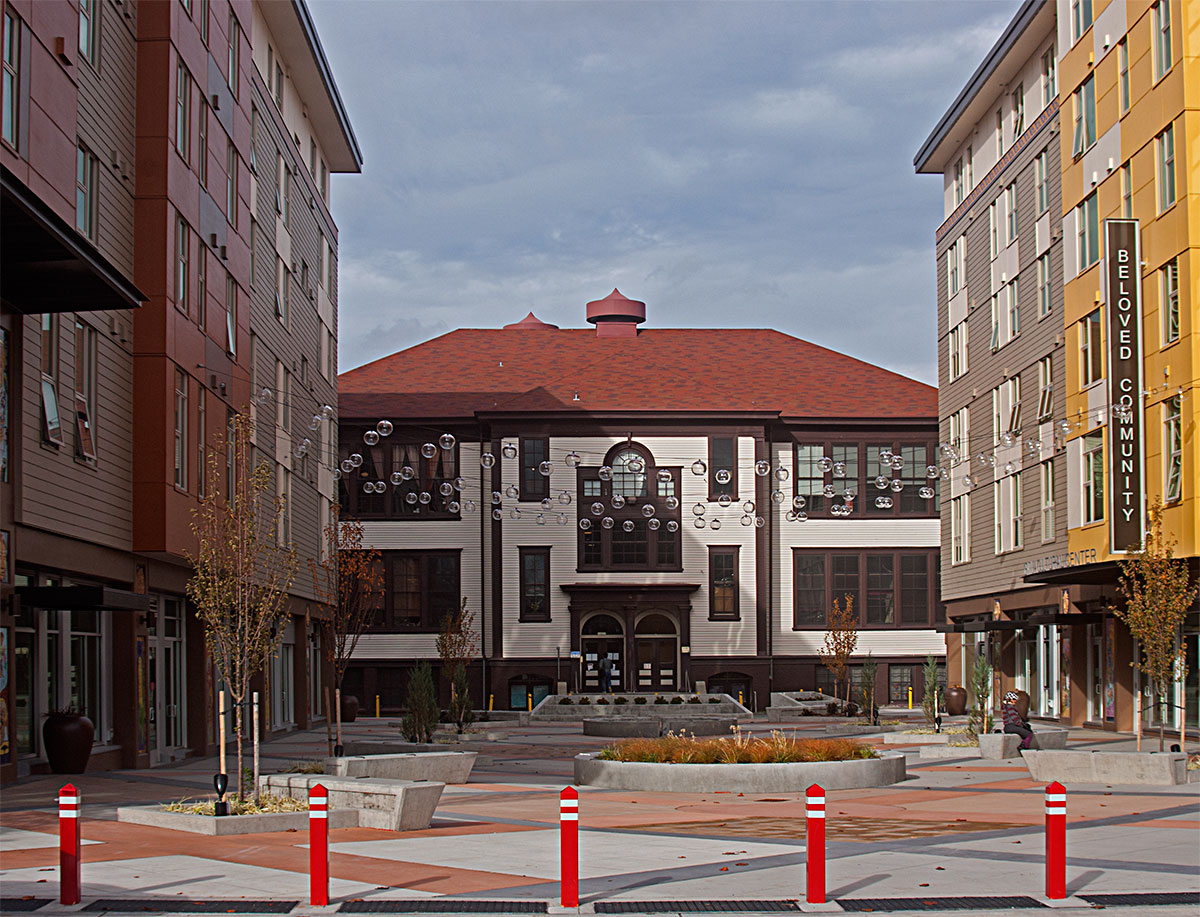 One of Seattle's deep gems is Jefferson Park, a large beautiful park capping Beacon Hill. Among other things, it has a golf course,  driving range, a huge playground, and a great photography viewpoint from the northwest corner (although there are tons of views from all over the park):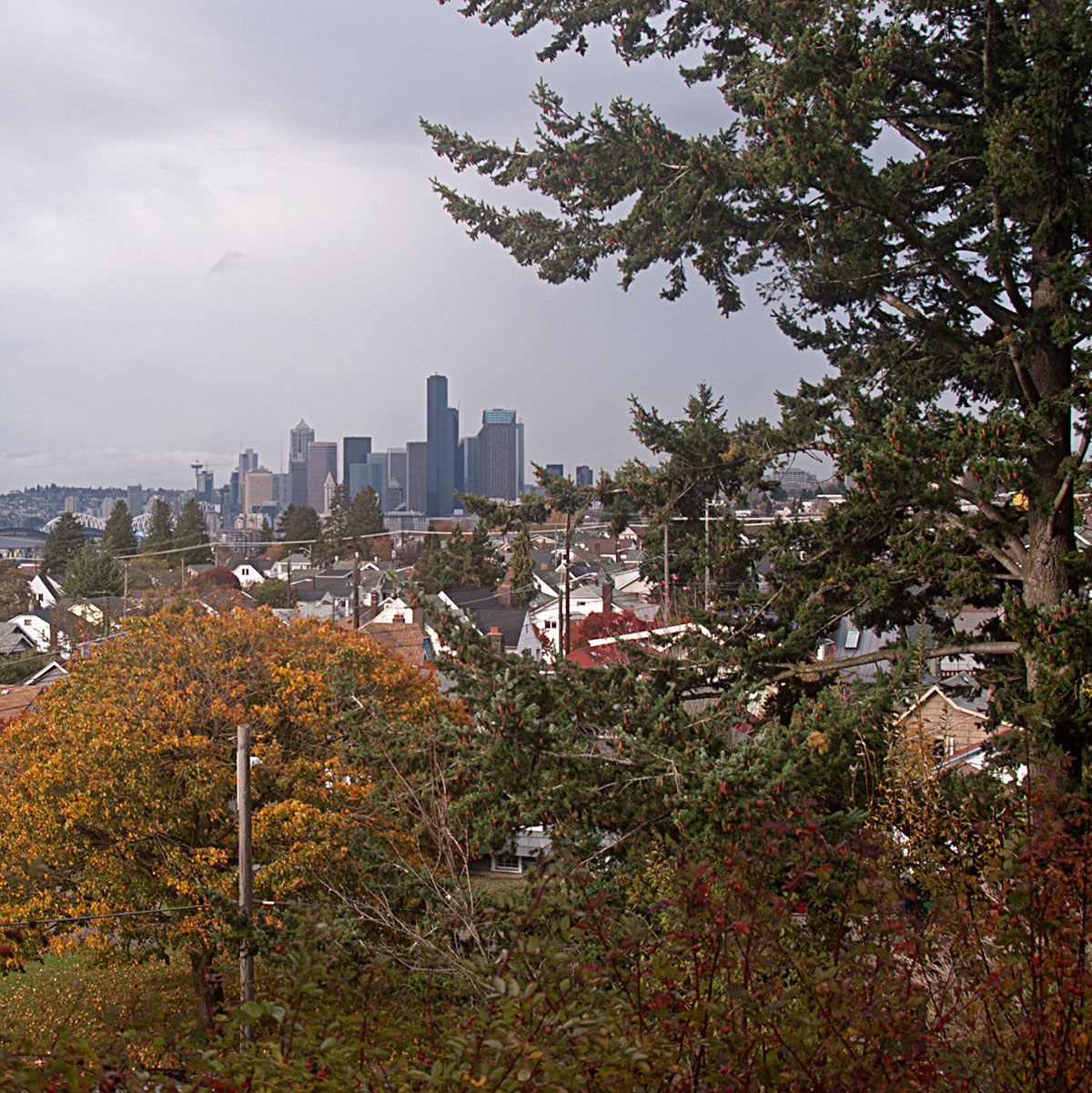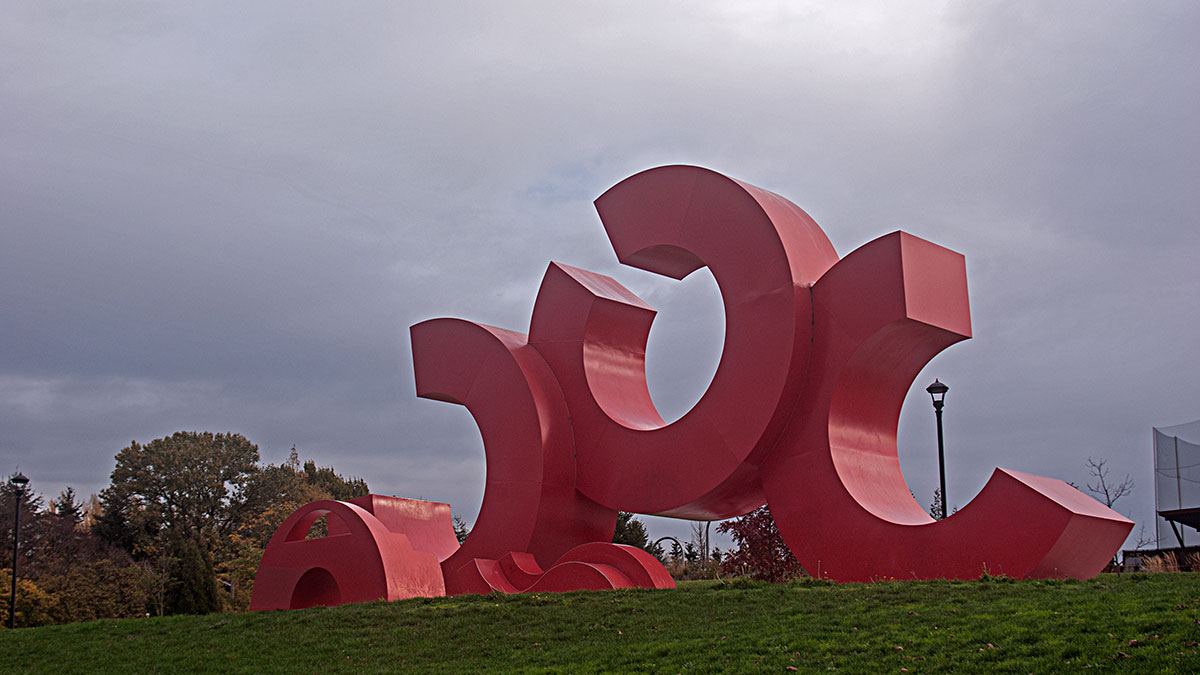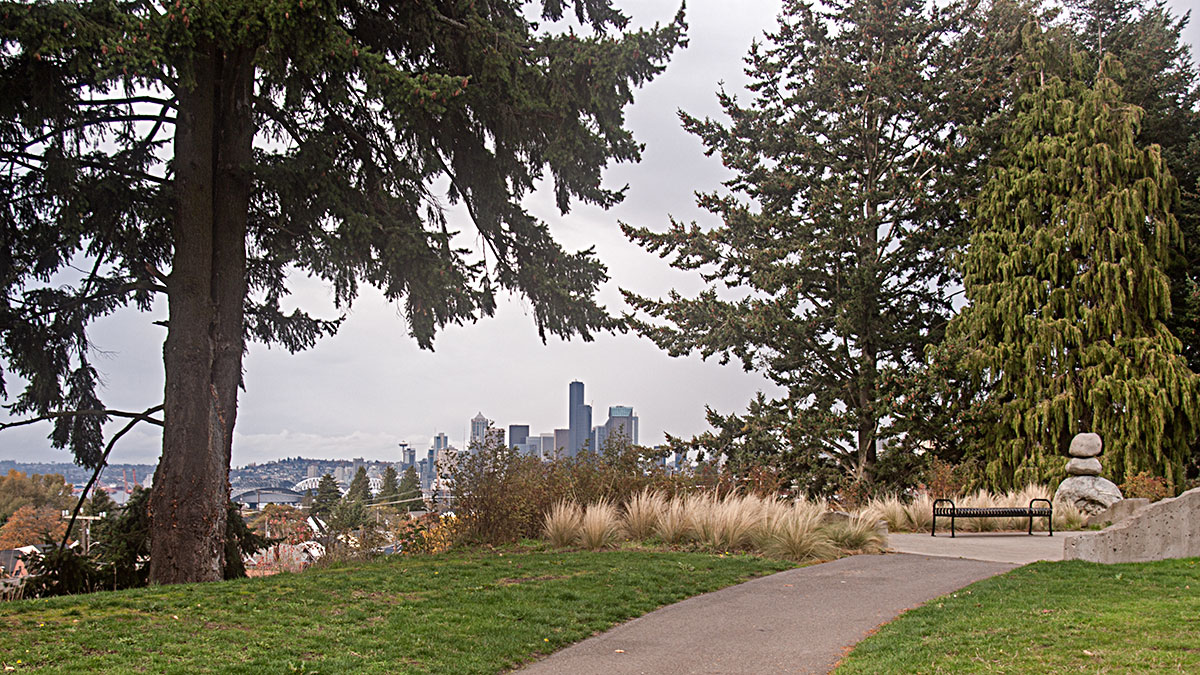 For the photographer, the Jose Rizal bridge and park also offer perfect vantages, about a mile north of the station. The bridge is best for shots and views of the stadiums, while Rizal Park has great views of the cityscape at night. The bridge can feel safer at night. It is a very pleasant walk from here back to the international district.
Food and drink:
Hands down the most iconic coffee on Beacon is the Station. It's latino owned, full of local flavor (both aesthetic and in the menu… try the Mexican mocha). The shop is full of activist posters and locals of all colors and creeds inhabit its few tables. There is a local poetry meeting that posts its products on the bulletin board.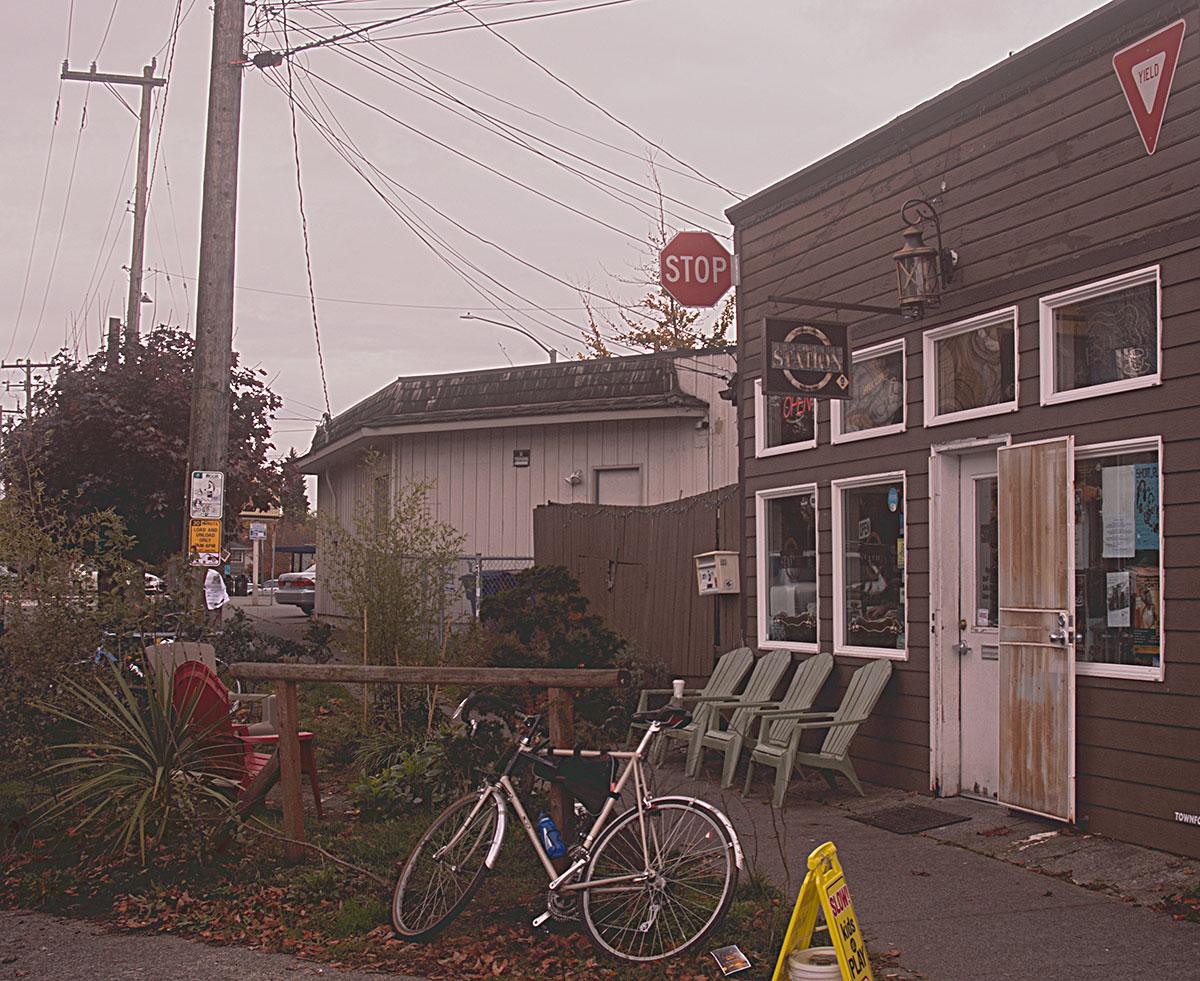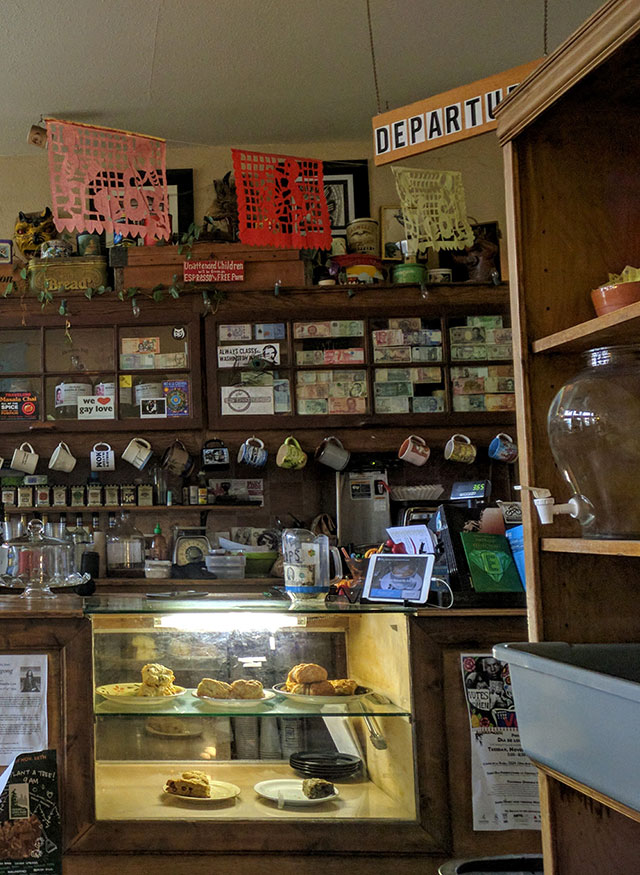 For those looking for a more mainstream experience, there's always Fresh Flours, part of small local chain. It's clean and great.  Both are just a few feet from the light rail station.
Mt. Baker Station
The Mt. Baker area is the head of the Rainier Valley, where it narrows down at the head and joins the small valley leading down Dearborn to the Pioneer Square/SODO area. This area was once known as Garlic Gulch because it was the Italian-American district, and home to a plethora of Italian restaurants. Today, the only Italian restaurant I know in the area is Mioposto to the east, and it is part of a local chain (although very good), but Borracchini's Bakery has been around since the 1920s. It has an Italian grocery, deli, ice cream counter, and is worth a visit.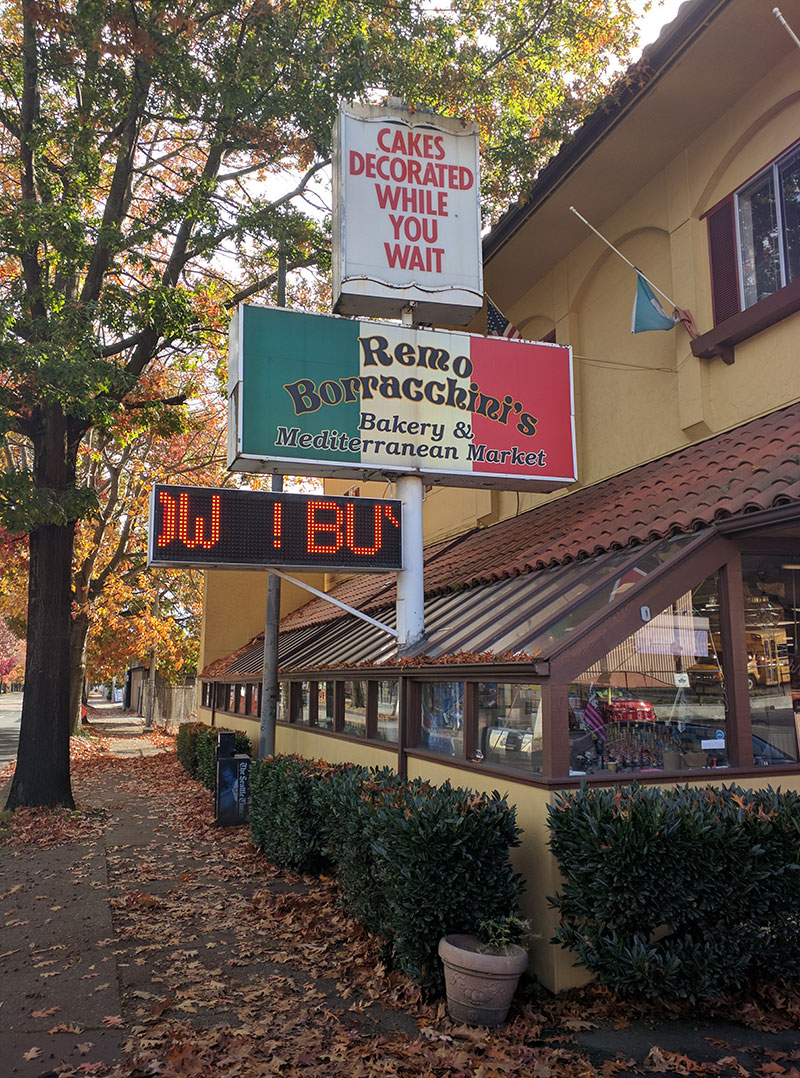 If you want to learn more about Garlic Gulch or, indeed, all of Rainier Valley, I highly recommend this book:
Seattle Public Library has it, and it's easily available from Amazon (click the image for the link). Actually, that whole series is great.  Other worthy food outlets in the area include Mutual Fish, probably the fish market of choice among Seattle's restaurateurs, the Oberto jerky outlet, Willie's Taste of Soul restaurant on Rainier, and perhaps most importantly, the Taqueria El Asadero bus a few blocks north on Rainier.  Best tacos in Seattle.
From Mt. Baker, it's a short but hilly walk Mt. Baker park, which winds down to a lovely beach on Lake Washington. This area has one of the most abrupt property value transitions I've ever seen. In graduate school in Alaska (having never lived in Seattle), I actually used the Mt. Baker to Seward Park area to build a computer model of the effect of views and parks on property values due to their extremities in this area. It is possible to find homes a block apart worth nearly ten times the value here. Truly a land of the haves and have nots, but also a place of tremendous economic diversity.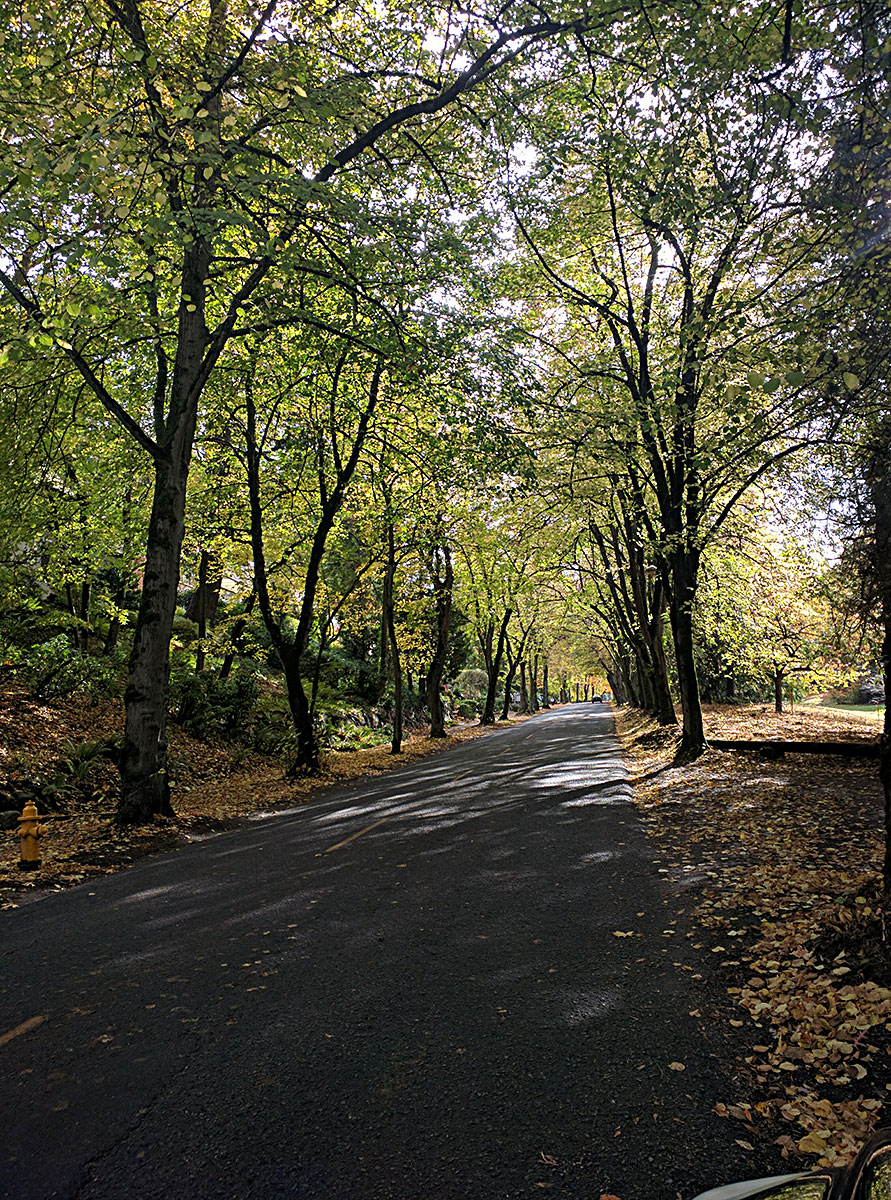 Columbia City
Columbia City has changed dramatically in the past few years, probably due in part to the light rail station opening, but perhaps not completely. CC is an old town that got swallowed up Seattle's spread. The first streetcar came from downtown to here over a hundred years ago. For a while, this area was actually a vacation retreat for Seattlites. It has gone through economic ups and downs. Today, it's on an upward swing, with twee boutiques replacing barber shops and nail salons. If you're into shopping, there's a lot of it here. Despite the upward-mobileness, though, lots of good character remains. Island Soul is a superb Caribbean restaurant that's been here for the long haul. Don't plan to dine there in a hurry, but it's worth the wait. Try the oxtail or goat curry. Geraldine's Counter may have raised their prices, but they're still the same diner that's been here for decades, and it's among the best Seattle breakfasts.  Columbia City Bakery and Empire Espresso are good coffee shops.  If you're headed home soon, Bob's meats is a butcher shop from the 1950s still going strong in all the best ways, despite the loss of Bob himself a few years ago. It's a community favorite.  If you need bike repairs, parts, or want to learn more in a class, check out Bikeworks, Seattle's best bike shop, and it's a non-profit with an awesome mission.
If you want to spend some time, there's great live music here at Columbia City Theater (not to be confused with Ark Lodge Cinema which is the theatre in Columbia City…) as well as the Royal Room. There's also Full Tilt, a pinball ice cream parlor.
Some of the best restaurants are in between Columbia City and Othello on Martin Luther King and Rainier, but are less accessible due to the lack of a station at Graham Street (something proposed to be fixed via the ST3 funding package).
Othello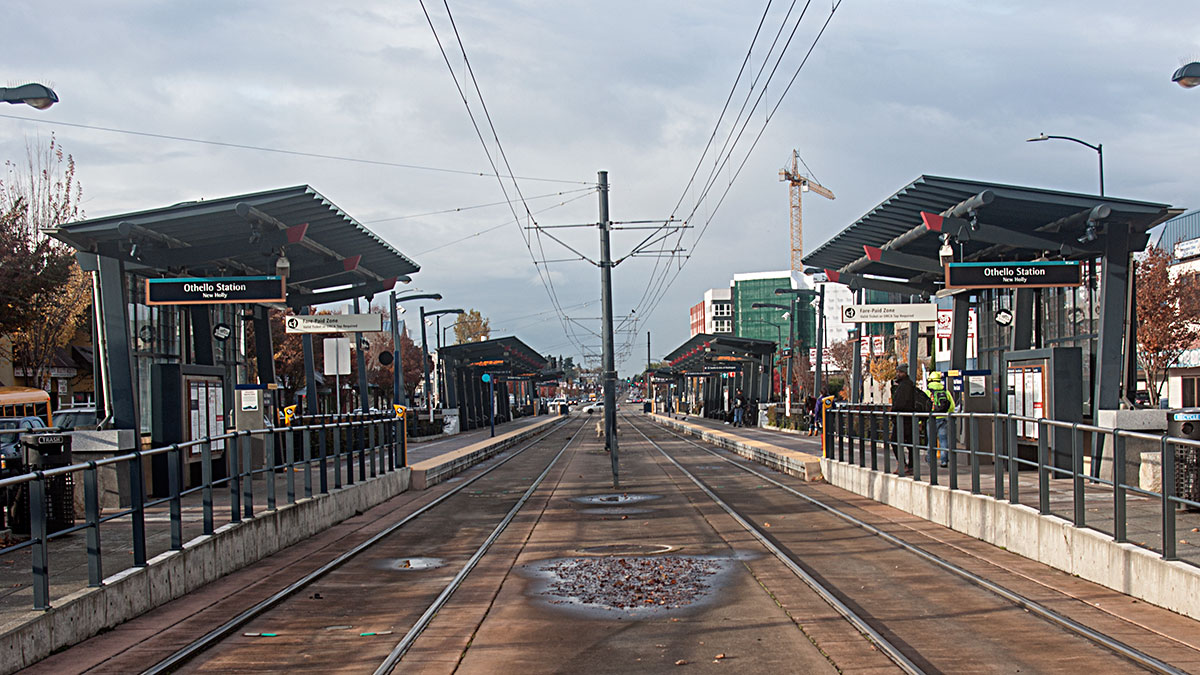 Othello is an increasingly dense urban village around the light rail station. The city plans for this area to grow dramatically, and it's definitely working that direction already, with three new medium-rise apartment complexes being built in the surrounding blocks at the moment. The old shopping center here is a trove of local resutaurants and shops, though. We recommend Huong Duong  (Vietname for Sunflower) for a lunch Pho or Bahn Mi sandwich.  For a nicer meal, try Huarachito's Mexican restaurant, which has literally risen from the ashes of its burned out old home into a beautiful new space in the Othello Apartments building. For the more adventurous, you can walk down Othello to the new home of Catfish Corner, recently displaced from the Central District.
Rainier Beach
Walk to Kubota Garden, a free Japanese garden run by the Seattle City Parks, or to the nearby Rainier Beach pool.
If you want to bicycle in this area, the paths are surprisingly good. The Chief Sealth trail runs (with some major gaps) most of the way from Jefferson Park to Rainier Beach Station.
Honorable Mentions:
If you follow the route from Jefferson Park towards the Chief Sealth Trail, you'll come by a short section of road along Columbian Way that is home to three famous local stores… MacPherson's Fruit Market, Fou Lee, and the Seattle Supermarket.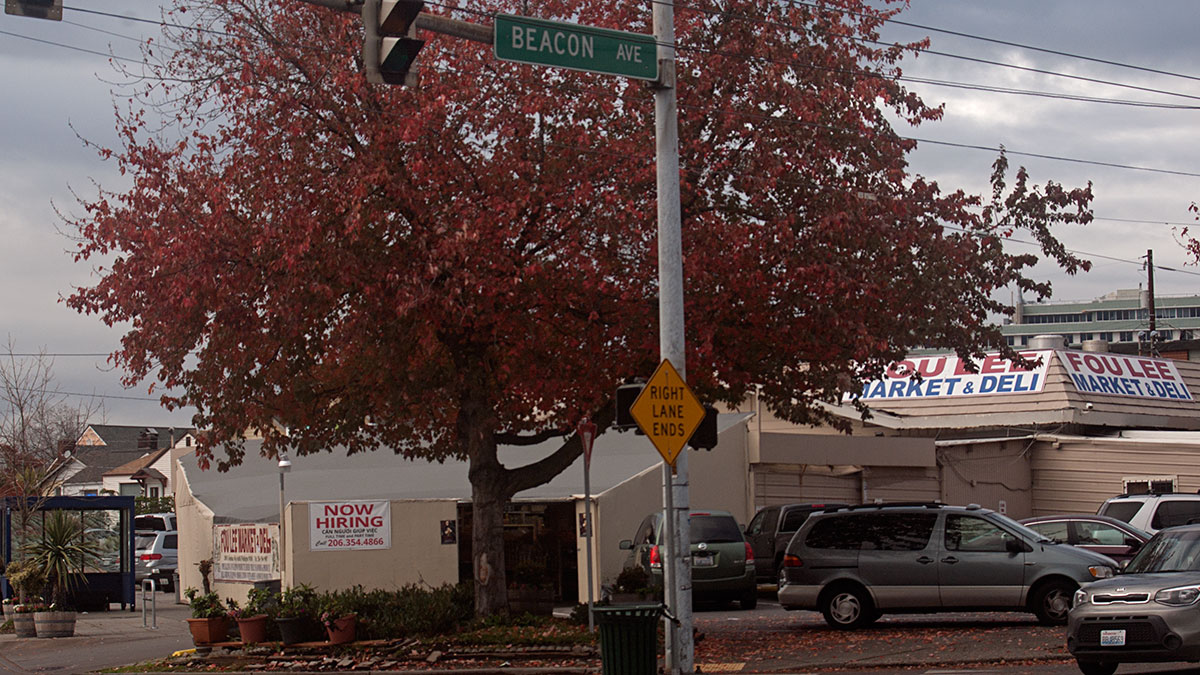 Fou Lee is a Philipino market that feels like entering into a strange Harry Potter realm. You can really get lost in there. There's a rather remarkable deli with, among other things, whole deep fried ducks.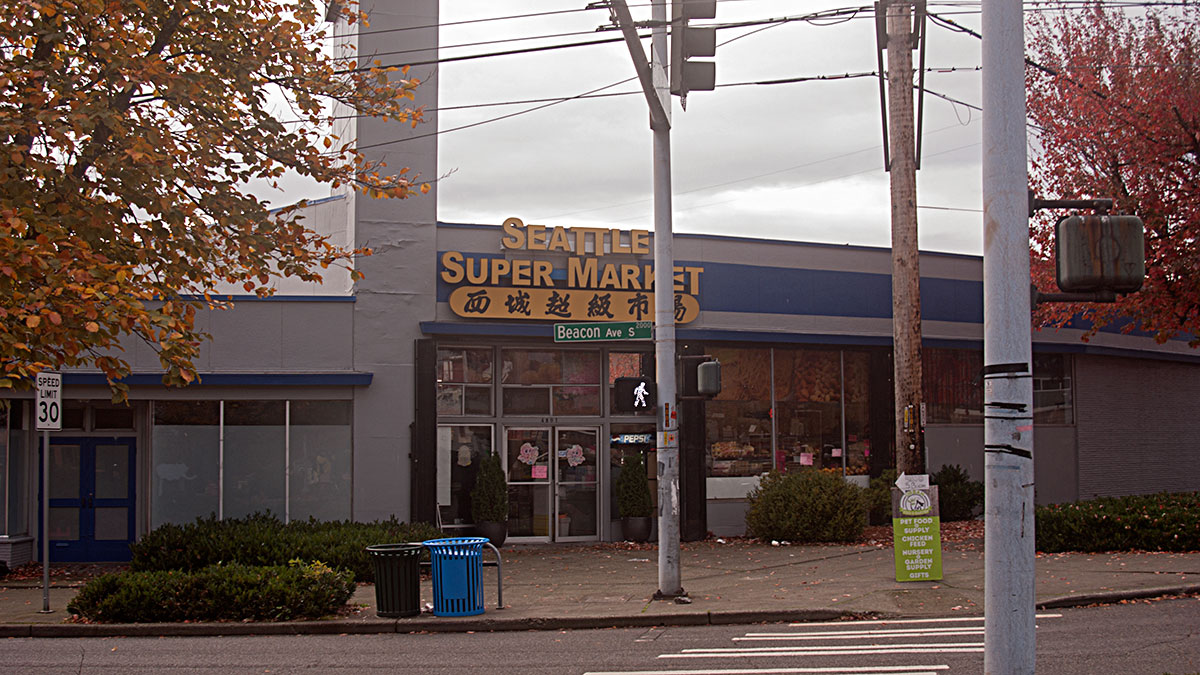 Seattle Supermarket is a general Asian store. My friend the Crazy French Guy and I went in here searching for mass amounts of ginger and sugar for making ginger beer once and discovered the amazing black sugars you can buy… they come in bars. It made for some remarkable ginger beer. You can also buy liquid Durian extract. This is bizarre. They have many fruits and fish I've never seen before, and not everything has an English label, but the staff are helpful.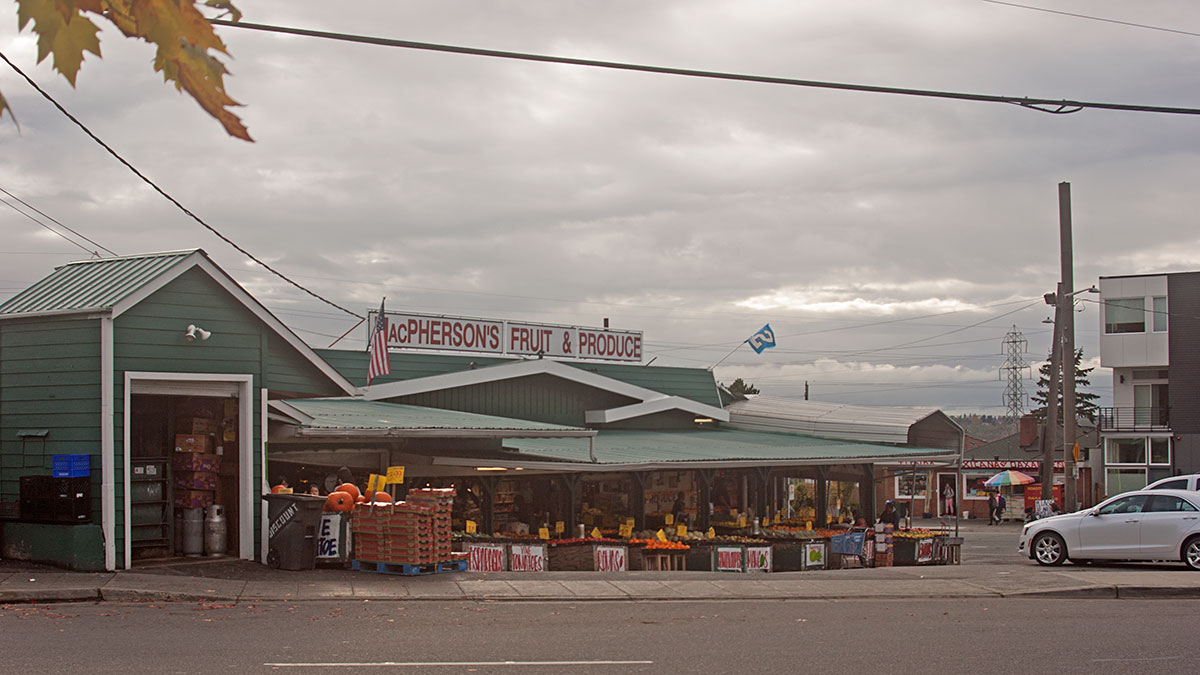 My last shout-out is MacPherson's produce market. This store has changed my life. You can walk in with twenty dollars and walk out with all the fruit and vegetables you can carry. They have tons of great latino and asian ingredients at good prices. They are open late and have awesome service. It's a bit too far to walk from the train, so I am giving it honorable mention status, but if you are on a bike or a car, it's worth a stop.
Want to explore further on bike and transit? Check out this biking adventure from the Angle Lake Station!