The Best Hike on San Juan Island: Mt Finlayson
Posted On April 3, 2019
Last Updated on January 31, 2023
Hiking is often not the first thing people think of when they think of the water oriented San Juan Islands, but there are some great hikes! Mt Finlayson (it's much more mellow than it sounds) is one of my favorite hikes in the whole state. It's worth the effort to get to San Juan Island just to hike it, and it's completely a must do if you're already on the island as it's the best hike on San Juan Island!
I think this hike is especially enjoyable in late fall, winter and spring, when the island is less crowded and getting and staying there is easier and less expensive. This post will cover the Mt Finlayson trail, the best hike on San Juan Island in detail. At 4 miles with 400 feet of elevation gain, this hike is much mellower than the "Mt" Finalyson implies! You can add on additional miles with various side trips throughout the route. I've added some other lovely hikes on San Juan Island below the trail description. Even though Mt Finalyson is my personal favorite, there are some other great options!
San Juan Island is the homeland of many indigenous people including the Tulalip Tribes, Songhees Nation, W̱SÁNEĆ First Nations, Samish Nation, K'lallam and Lhaq'temish (Lummi) People.
Parking Pass: None
Dog Friendly: Yes, on leash
Cell phone coverage: Good
Restrooms: None
Accessibility and Mobility: The trail is steep in places but generally doesn't have many rocks or roots, though there are a few. Part of the trail is shaded in the forest, other parts are more open and exposed to sun and wind.
Related: 11 Interesting things to do on San Juan Island
Is Mt Finlayson on San Juan Island right for me?
This is a hike not to miss if you're on the island since it's the best hike on San Juan island! This is a mellow hike that never gets steep and has forest, ocean views and a side trip to the beach and a lighthouse if you want to add extra miles (or you can drive to those before or after).
The trail is in excellent condition although there are a couple of confusing junctions. The trail is an excellent hike all year in pretty much any weather (although the views can be obscured on foggy days).
Related: The best Orcas Island hikes, Complete Guide to Camping in the San Juan Islands
When is a good time to hike Mt Finalyson on San Juan Island?
I think this hike is best enjoyed in the fall, winter and spring, when it's less expensive and easier to get a ferry reservation to get to the island. This is also a great hike in summer, especially if you're already on San Juan Island.
You'll need a clear day to get the full views this hike has to offer, but it's still enjoyable on foggy or rainy days.
Getting to San Juan Island and the Mt Finlayson trailhead
It does require a bit of effort to get to the island. The most straightforward method to get to this hike is to drive to Anacortes and take the Washington State Ferry to Friday Harbor, and then drive the 7 miles to the trailhead. In the summer months, the ferry requires a reservation. The ferry is fairly expensive with a car, so another option would be to walk on or bike on the ferry (see my previous post for how to do that). From the ferry dock, you could bike to the trailhead which is on Cattle Point Road in San Juan Island National Historic Park.
The Jakle's Lagoon Trailhead starting point is what's described here. Another option is to take the bus, which is a great option for getting around the island but only runs in the summer (if you took the bus you would avoid most of the hassles of visiting in summer!). In the summer you can also take the Victoria Clipper directly from downtown Seattle to Friday Harbor (passenger only).
Once you arrive on the island, drive through downtown Friday Harbor and left on Mullis Street, which becomes Cattle Point Road. Follow it just under 7 miles to San Juan Island National Historical Park and a sign that says "Jakle's Lagoon" with a small parking lot on the left.
Mt Finlayson Hike Description
You can find a helpful map of the trails here. You'll start out walking along the side of the forest through grasslands with great views to the water, the Cattle Point Lighthouse, other islands and the distant Olympic Mountains.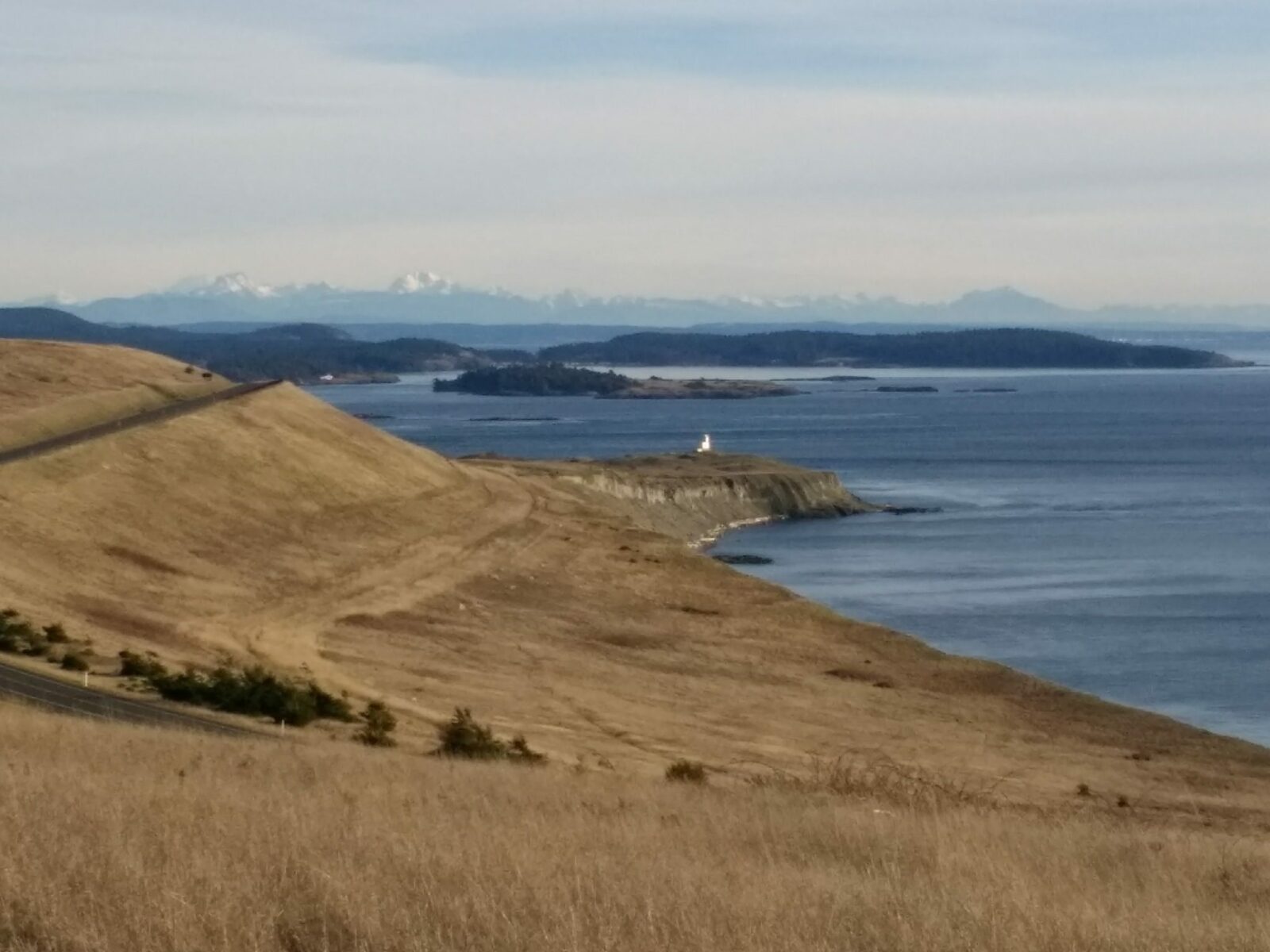 Next you'll head up Mt Finlayson, but it's only a few hundred feet! The views continue to be amazing and you are likely to see eagles as well. As you start to descend, ignore the first trail to the left (unless you'd like a shorter option, then take it), continue to the junction about 1.5 miles after the trailhead. Go left here (right will take you down to the Cattle point lighthouse) and you'll circle back toward the Lagoon. Here, you'll be mostly in shady forest, going down a bit, then flat towards Jakle's lagoon.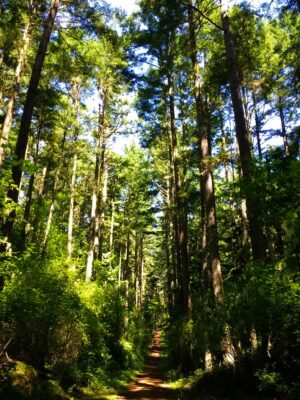 You can take a short detour for a better view of the lagoon or stay on the main trail. At the end you'll climb up again on the wide forested trail before returning to your car.
When you return to the trailhead, you're very near Fourth of July beach if you'd like to get in some beach time and you can also easily drive down to the Cattle Point lighthouse if you didn't lengthen your hike by walking to it.
Other Great Hikes on San Juan Island
South Beach
South Beach is a beautiful beach hike or walk along the south side of San Juan Island, also in San Juan Island National Historical Park.
There are two flat miles of pebble beach walking here.
The parking area is very near where you would park for Mt Finlayson. The turnoff is basically across the road from the trailhead.
Lime Kiln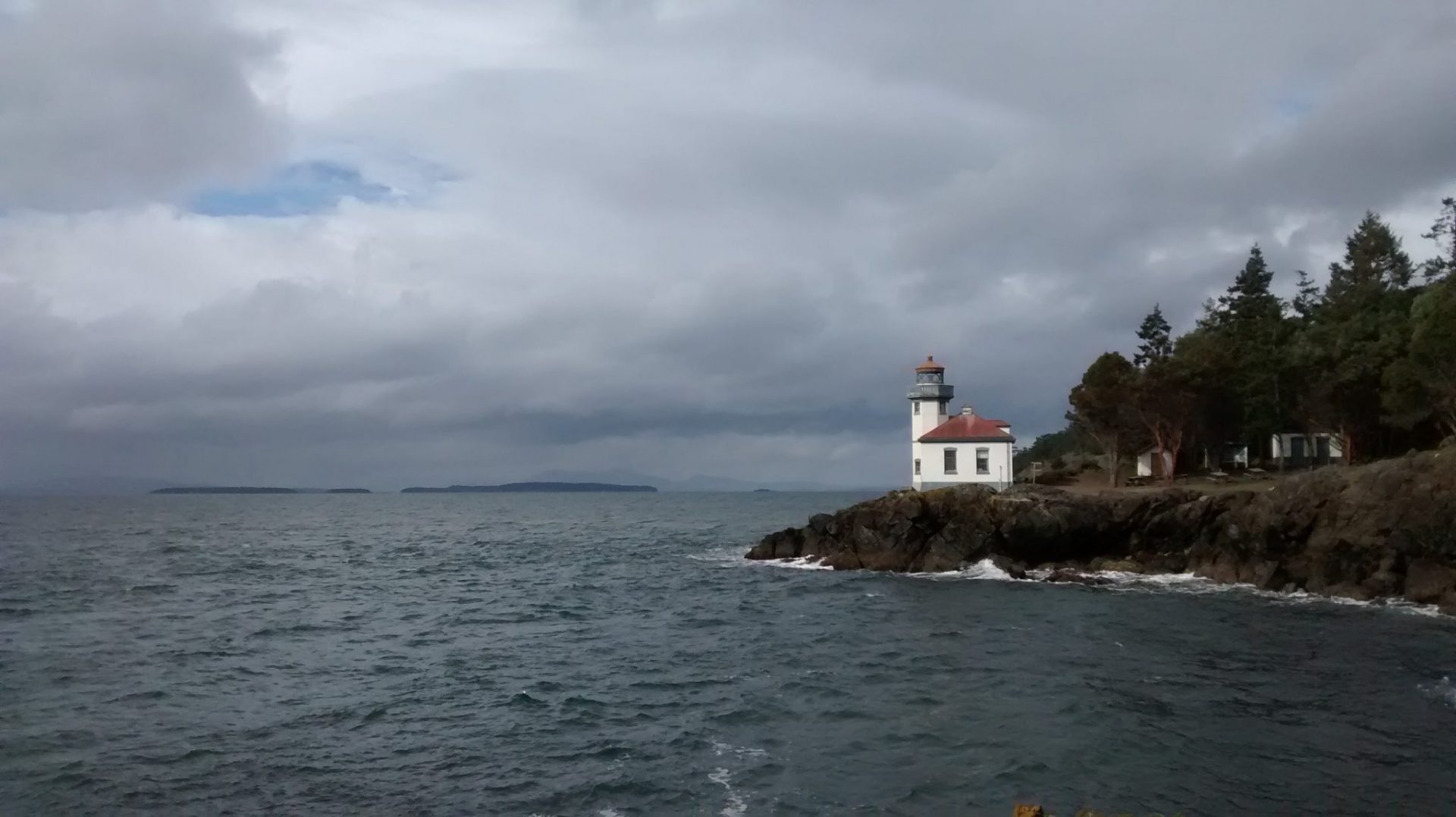 This is a beautiful and interesting state park to visit! It only has a couple of miles of trails, but there are lots of interesting things to do, including old limestone kilns and a lighthouse.
Most importantly, this state park is an excellent place to look for whales from spring through fall, including resident Orca whales. Humpback and Gray whales also pass by here in the spring and fall as they migrate by.
Lime Kiln State Park requires a Washington State Discover Pass.
Mt Young
Another hike with gorgeous views of the surrounding islands as well as San Juan Island, Mt Young is on the north end of the island in the English Camp sector of San Juan Island Historical Park. It is very near the town of Roche Harbor.
A short but steep mile and a half takes you up 600 feet to the top of Mt Young with views all around. This is much steeper than Mt Finalyson but has just as great of a view and the view is in a different direction.
The trail to Mt Young departs from the English Camp parking area.
Breweries and Bakeries on San Juan Island
Check out the San Juan Island Brewing Company (beer AND food!) and the Bakery San Juan for bread, pastries and pie. If you're in the market for a delicious breakfast in Friday Harbor, try Rocky Bay Cafe.
If you're near Roche Harbor, try the wonderful Lime Kiln Cafe, which serves delicious traditional American food in a beautiful setting.
Camping on San Juan Island
If you're looking to spend a weekend on San Juan Island but want to avoid expensive hotels and AirBnBs, if you plan ahead you can reserve the only public campground on San Juan Island, San Juan County Park. Learn more about camping in my guide to camping in the San Juan Islands.
Electric Vehicle Charging
There is no fast charging on the island, the closest fast charging is in Burlington on the mainland (20 miles from the Anacortes ferry terminal).