Complete Guide to Camping in the San Juan Islands
Posted On December 16, 2020
Last Updated on October 31, 2022
Camping in the San Juan Islands is amazing! Nothing beats the epic sunsets, beautiful beaches, madrona trees and the marine wildlife! Not only is camping in the San Juans beautiful and fun, it is also an affordable way to visit the San Juan Islands, where hotels and vacation rentals are very expensive, especially in summer.
Camping in the San Juan Islands involves more logistics than other camping trips between figuring out the ferry, where you can camp and what you need to reserve. It's totally worth it for this unique camping experience! This guide will tell you everything you need to know to plan your own amazing camping trip in the San Juan Islands, whether it's a car camping trip in a busy state park or camping on a remote island after a kayak or water taxi trip!
The San Juan Islands are the homeland of the Lummi, S'Klallam, Samish, WSANEC, Songhees and other Coast Salish people.
How to get to the San Juan Islands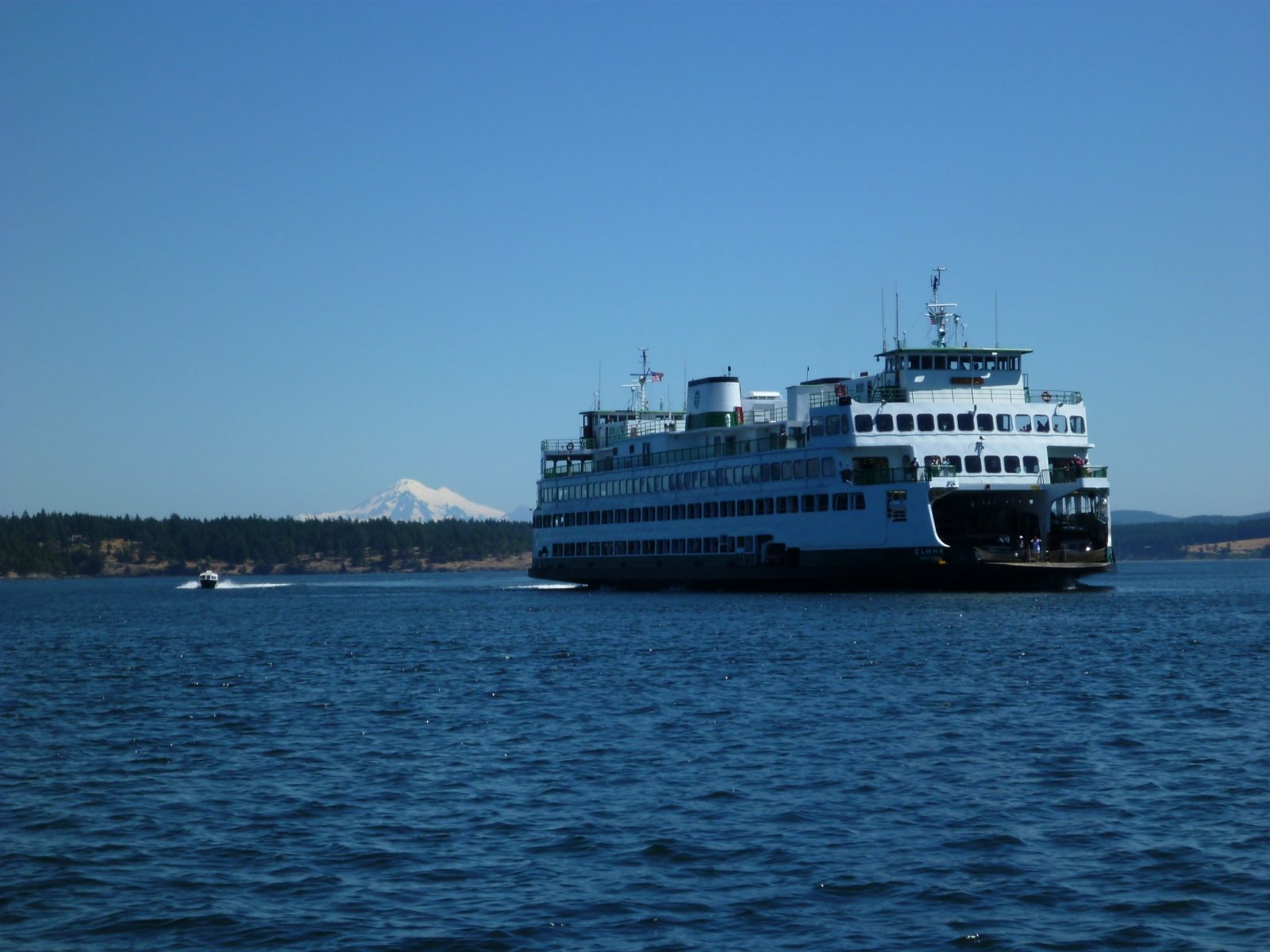 Getting to the San Juan Islands generally involves taking the Washington State Ferry from Anacortes, which stops at Lopez, Shaw, Orcas and Friday Harbor (San Juan Island). The ferry schedule can be a bit tricky to read, so make sure to check it carefully. While not technically required, I consider advance reservations for the ferry to be essential since they fill up.
To get to the islands without ferry service, you can take a water taxi (discussed below), or take your own sailboat or power boat. If you are a strong kayaker you can also kayak to the islands. This requires crossings of multiple shipping lanes and sometimes big waves! I prefer to take my kayak and then paddle around near my destination.
When is the best time of year for Camping in the San Juan Islands?
Camping in the San Juan Islands is possible all year, though winter requires a good camping set up for rain.
Summer has long days and ideal weather, but it is also the busiest time and hardest to get a reservation, along with all holiday wekeends. Rain is possible even in summer so make sure to be prepared!
Spring and Fall can be a sweet spot if you watch for a good window of weather, or are prepared for rain.
What is the Weather like in the San Juan Islands?
The weather in the San Juan Islands is similar to the weather in Seattle and Vancouver BC. While it's important to be prepared for rain any day of the year, it's likely to be warm and sunny in July, August and September with day time temperatures in the 70s and sometimes 80s. Even on warm days it gets chilly at night. Spring and fall are mild and rainy with some sunny days. Winter is generally wet with temperatures in the 40s. Snow and ice happen occasionally during the winter.
Do I need a Reservation to Camp in the San Juan Islands?
Reservations are necessary for camping in the San Juan Islands from Spring through Fall. The campgrounds on remote islands without ferry service don't take reservations, but finding a campsite on these islands is usually no problem. The mooring balls and dock space are usually full with recreational boaters, but if you kayak or get dropped off by a water you should have no problem finding a campsite.
You should also get a reservation for the ferry, as the ferries fill up! If you are biking on the ferry you don't need a reservation.
If you are taking a water taxi, make sure to reserve and book that ahead of time as well.
Ways to Camp in the San Juan Islands
Car Camping
There are fewer places for car camping in the San Juan Islands that you might expect, given their popularity! If you plan to drive to a campground and pitch a tent, you can do that at several Washington State Parks, San Juan County Parks and private campgrounds. These are covered in the section under each specific island below.
Bike Camping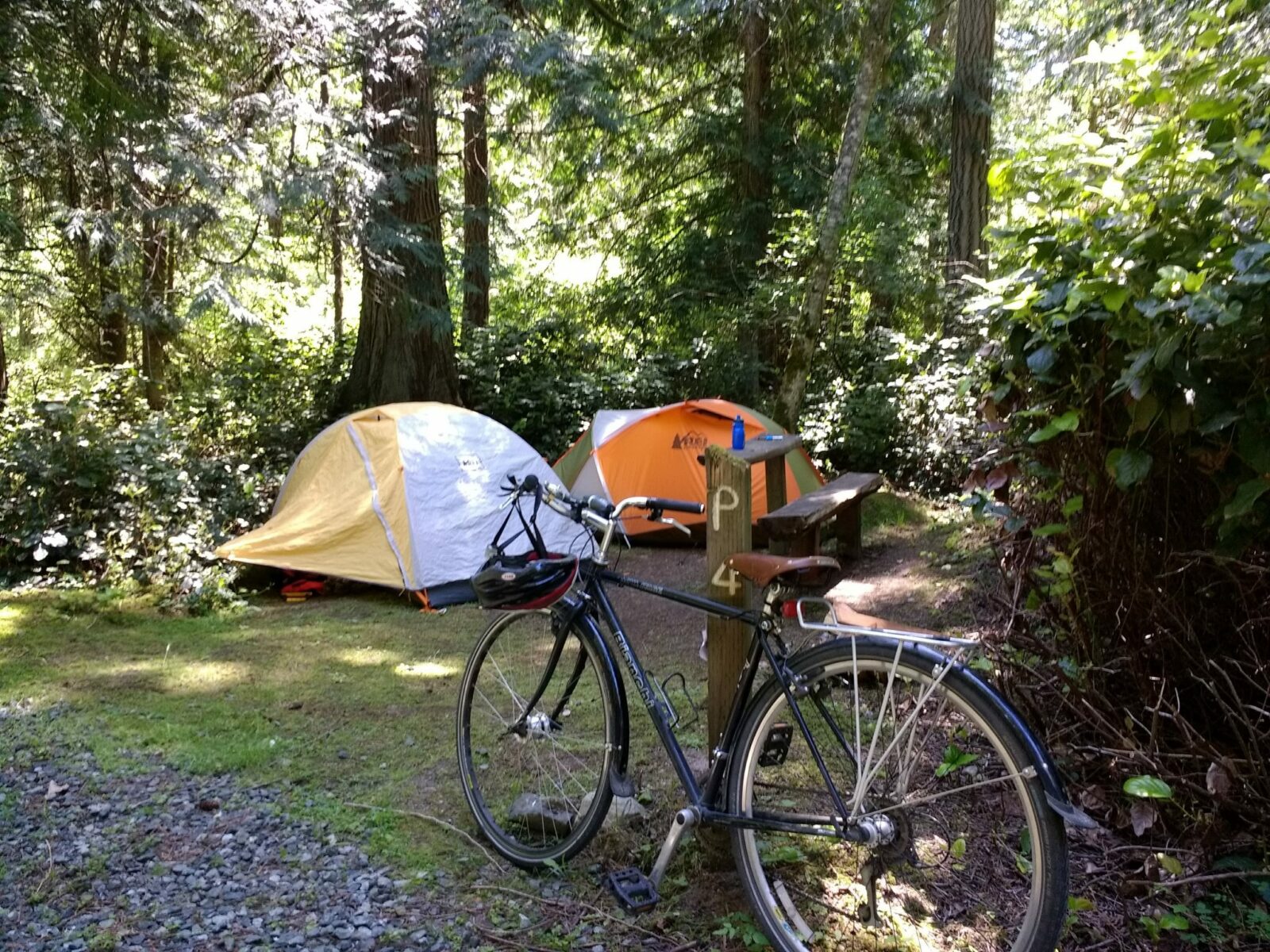 Bike camping is a fantastic way to camp in the San Juan Islands, especially if you didn't plan ahead and don't have a reservation. Washington State Parks have a policy of not turning away campers who arrive by bike. Lopez Island is the flattest island and therefore the easiest to bike on. It also has very little car traffic and two wonderful bike in campgrounds, one just over a mile from the ferry!
RV Camping
Camping in the San Juans is not ideal for an RV because it's more expensive to take an RV on the ferry than a regular car. Make sure to look into the additional cost for the type of RV you have as well as the requirements of the campground you intend to visit.
Camping on Remote Islands without Ferry Service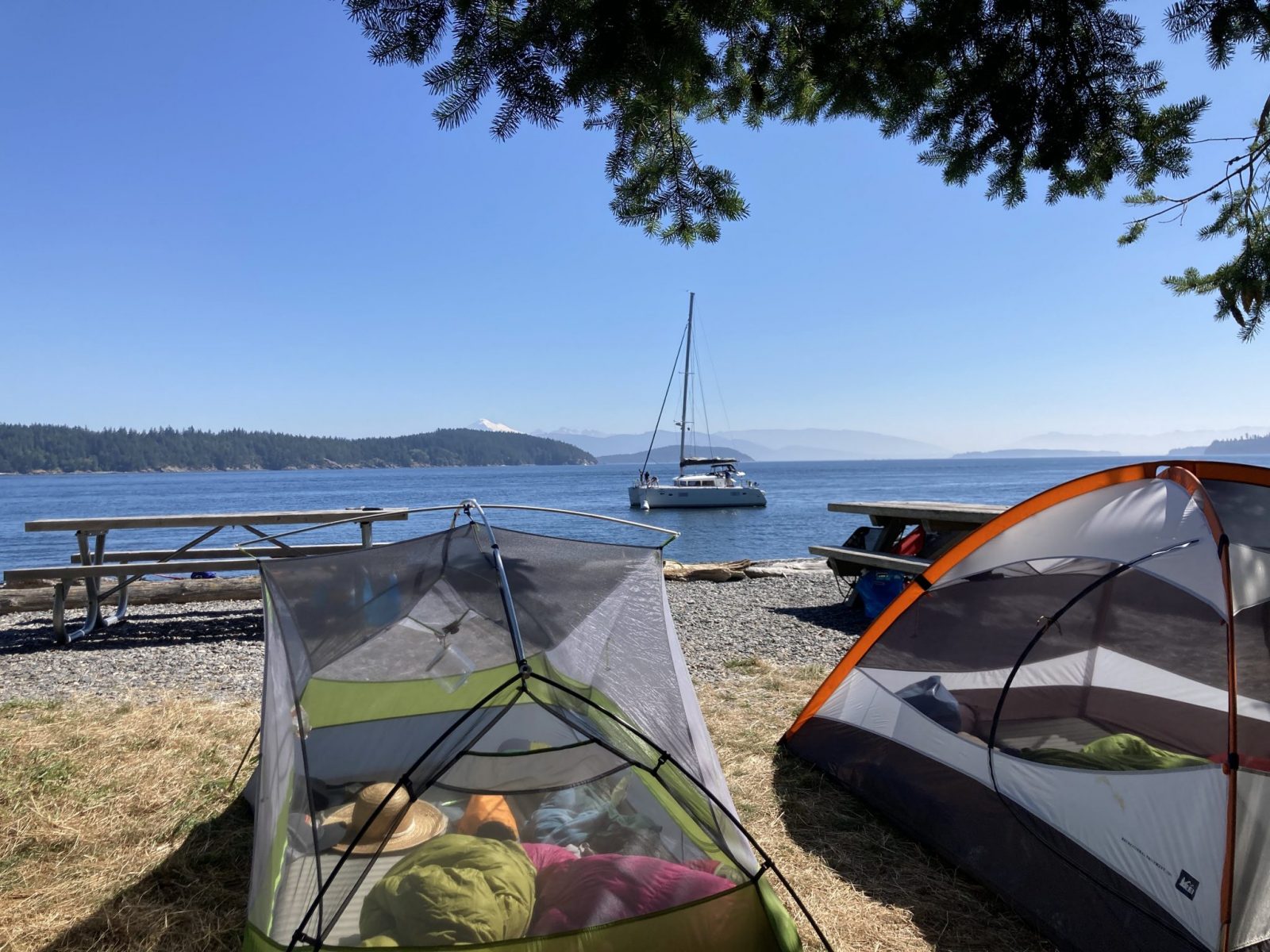 Kayakers can camp at Washington State Parks without being turned away IF they arrive in the park by kayak (or other human powered craft such as a bike or small sailboat)! In addition, the Washington State parks marine parks are part of the Cascadia Marine Trail system, a network of campsites along the beaches that are free or very low cost to kayakers throughout the San Juan Islands and the Salish Sea (Puget Sound).
No kayak? No problem! You can take a water taxi to camp at islands without ferry service (which I highly recommend!). Details on this are found below in the remote islands section. You can also bring your kayak with you on the water taxi if you want to kayak around once you get there but don't want to do an open water crossing.
If you have access to another type of boat such as a sailboat or power boat, you can anchor or tie on to a mooring ball and camp on shore on the remote islands.
Places to Camp on San Juan Island
San Juan Island is the most populated of the San Juan Islands, though it is not the largest (Orcas is larger). San Juan Island does not have a Washington State park campground and in fact doesn't have much camping at all. Lime Kiln Point is a wonderful state park to visit but it does not have camping. The only public campground on San Juan Island is San Juan County Park. There is also a private campground at Lakedale Resort. Camping for RVs is an option at the San Juan County Fairgrounds.
While you're on San Juan Island, don't miss my favorite hike there! It has lovely forest and big views of the surrounding islands and the Cattle Point Lighthouse.
San Juan County Park
San Juan County Park is open year round and accepts reservations April 1 – October 1. Reservations are necessary as this campground is usually full in the summer. The park faces west bringing you beautiful sunsets and an impressive view to Haro Strait and nearby Vancouver Island in Canada. There is a beach and a boat launch here as well. The park is about a 20 minute drive from the Friday Harbor ferry terminal.
Private Campground at Lakedale Resort
The resort offers camping (including an option for them to provide the gear!) as well as glamping, cabins, rental RVs and RV sites if you bring an RV. There are showers and flush toilets. Lakedale is about a 10 minute drive from the Friday Harbor ferry terminal, about halfway to Roche Harbor.
Related: 11 Interesting things to do on San Juan Island
Places to Camp on Orcas Island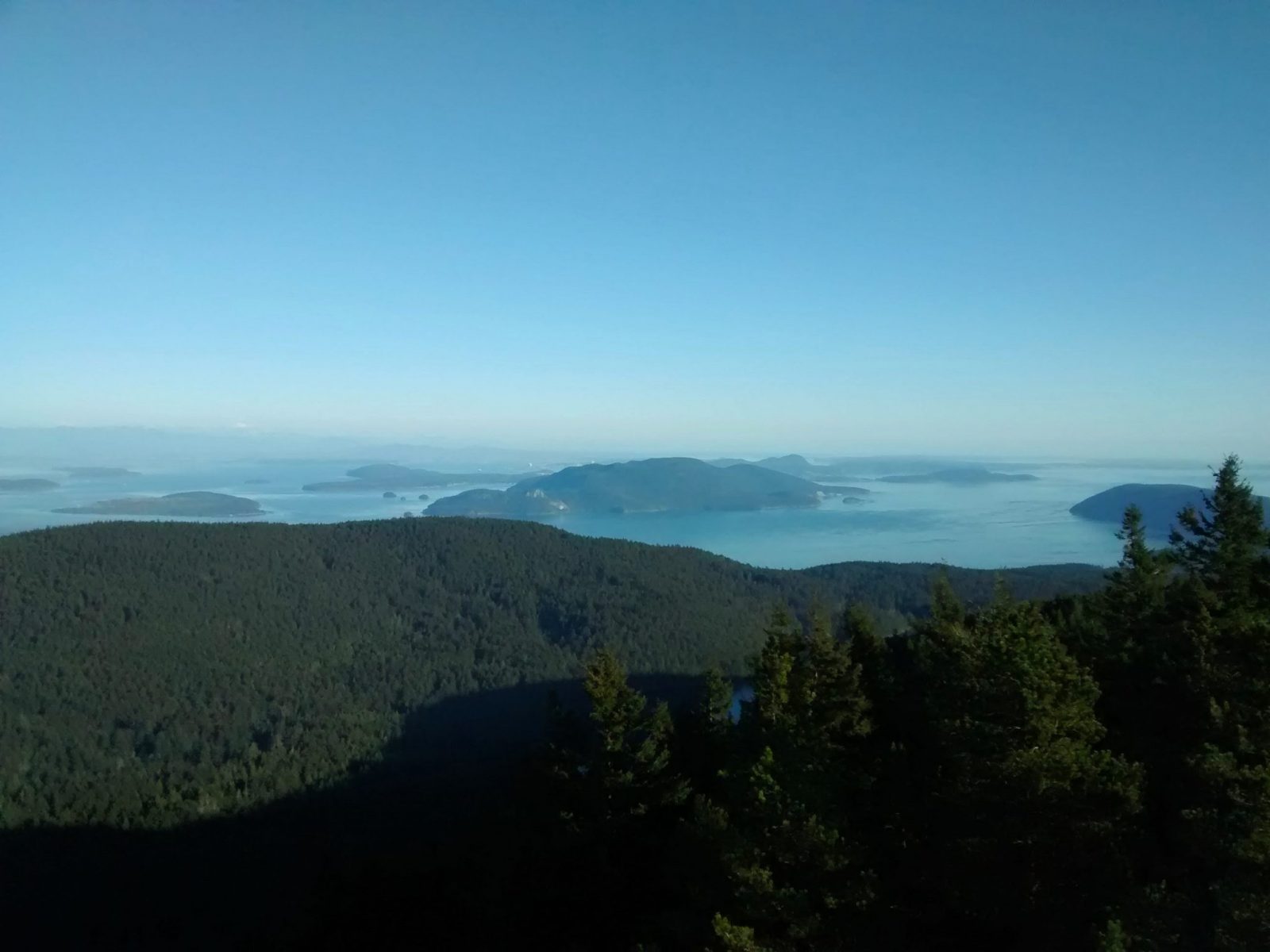 Orcas Island is the largest of the San Juan Islands and the one with the most car camping. It's also the best island for hiking with so many amazing trails to explore! The large and wonderful Moran State Park is the main destination for car camping on Orcas Island. There is also a much smaller walk in state park campground and several private campgrounds
Moran State Park
Moran State Park is an absolute treasure with enough fun for everyone for many days! There are four campgrounds in the park, all are along one of the park's lakes. An important note is that Moran State Park itself does not have a saltwater beach and does not touch the water. Even on this relatively large island, you're never far from the ocean! Rosario Resort and multiple other saltwater areas are very close to the park. There are 5 lakes in the park that more than make up for it (and are a lot warmer for swimming).
In addition to four lakeside campgrounds with over 100 campsites, there are so many other things to do. There are bike trails, horse trails and almost 40 miles of hiking trails. You can check out the spectacular view from Mt Constitution, or swim in one of the lakes. There are also boat rentals available between Memorial Day and Labor Day and fishing in Cascade Lake. You can bring your own kayak, canoe or paddleboard and launch it here too!
There are no hook ups but RVs are allowed in some sites. It also has a dump station, flushing toilets and showers. Moran State Park has ADA accessible showers and restrooms. Reservations are necessary during the busy season and fill up early.
The park is about a half hour drive from the Orcas Island ferry terminal. If you choose to bike here be aware that Orcas is VERY hilly and the roads are windy without much of a shoulder.
Obstruction Pass State Park
Nearby Obstruction Pass State Park is MUCH quieter than Moran and does not take reservations for it's first come first serve campsites. This is a walk in campground so you need to be able to carry all your gear for about half a mile. This campground overlooks Obstruction Pass and the other islands through a lovely forest. There are fire rings, picnic tables and pit toilets.
Private Campgrounds on Orcas Island
Doe Bay Resort – drive up and walk in campsites along with cabins and yurts on the east side of Orcas Island, about 40 minutes from the ferry. They also have delicious food and a spa
West Beach Resort – campsites as well as tent cabins and cabins are available here on the northwest side of the island about 20 minutes from the ferry. They also have a hot tub, fishing pier, fish cleaning station, a store and a beachfront bar with ice cream. West Beach can also organize a variety of tours for you.
Mt Baker Farm – a mellow, farm oriented experience walking distance form the town of Eastsound (20 minutes from the ferry). They offer campsites as well as other cabin accommodations.
Related: Best things to do on Orcas Island
Places to Camp on Lopez Island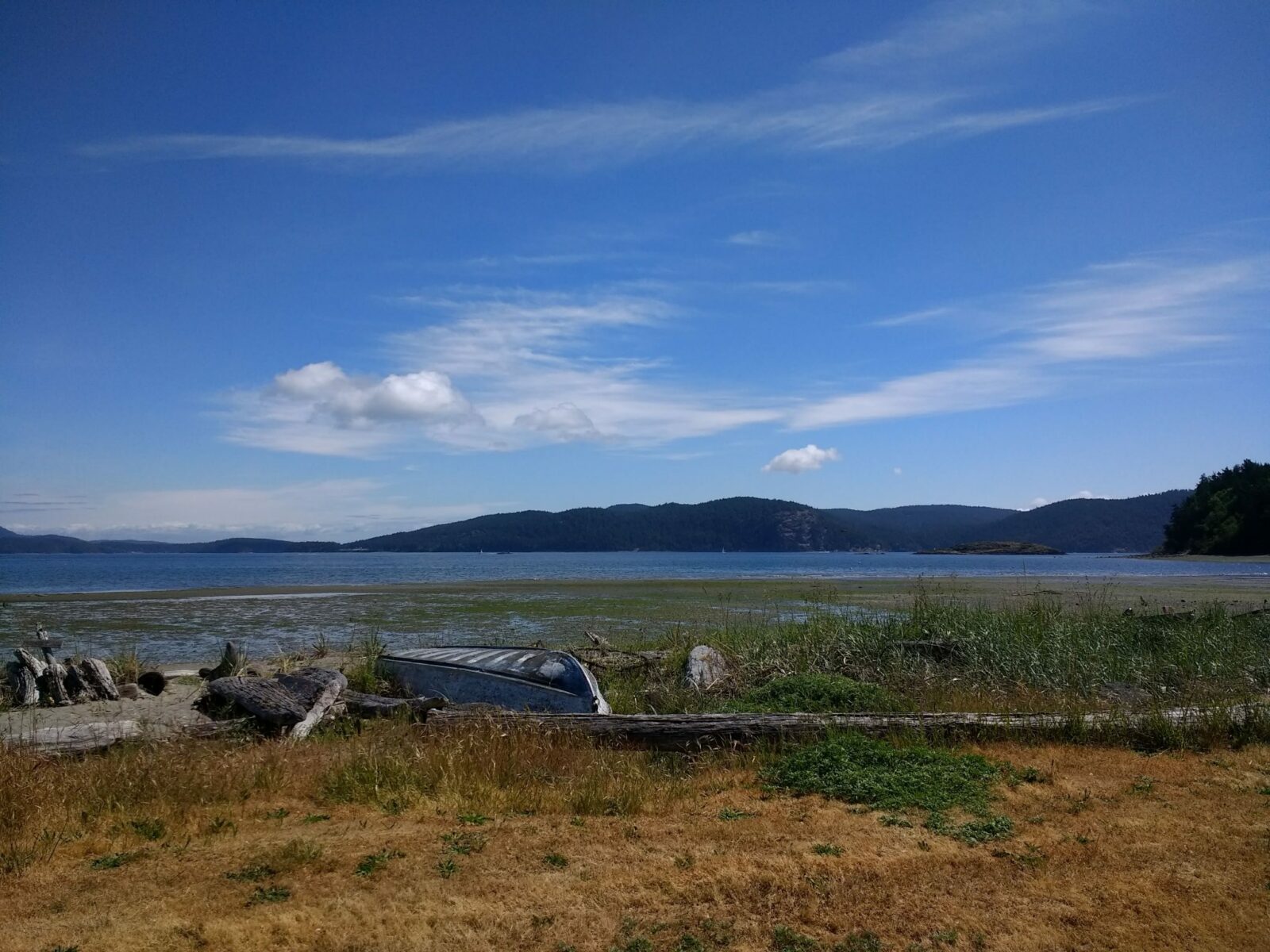 Lopez Island is a really quiet island, much less busy than San Juan Island and Orcas Island. Lopez is a wonderful place to bike camp as I talked about earlier in the post and also the best island to bike on, in my opinion. There's very little traffic and it isn't as hilly as some of the others.
Spencer Spit State Park
Spencer Spit is one of my favorite places in all of Washington State! There is a long spit that you can walk on and there are several fire pits. You can also rent a kayak or stand up paddleboard here, or bring your own! It's a beautiful and quite place to watch the water and just slow down for awhile.
The park has hiker/biker sites as well as Cascadia Marine trail sites at the beach. If you are driving here you will need a reservation.
Spencer Spit has ADA accessible campsites and restrooms. There are no showers in this park. It's about a 10 minute drive from the Lopez ferry terminal and a 5 mile bike ride.
Odlin County Park
Odlin County Park is a fantastic beach and campground just over a mile from the ferry terminal. If you bring a car here, you will want a reservation. This is another place you can bike to (it's uphill but I just walk my bike up the steep bit). They don't turn bikers away so if you don't have a reservation, ditch the car and bike! You could even walk here from the ferry if you have your gear organized to carry like you were backpacking.
Private Campgrounds on Lopez
Lopez Farm Cottages – tent sites as well as cottages, restrooms and showers. Note that children under 14 are not allowed and dogs are only allowed at some sites. About 10 minutes from the ferry terminal.
Lopez Islander Resort – located in Fisherman's Bay near the shops and restaruants of Lopez, the resort has sites for tents and RVs. Hook ups are available at some sites. Campers have access to restrooms, showers and the swimming pool as well as the restaurant and bar. Bike and kayak rentals are available.
Related: Magical things to do on Lopez Island
Places to Camp on Shaw Island
An important thing to know about Shaw Island is that while it has regular ferry service, there are no restaurants or gas stations on the island. There is a very small store.
The only campground on Shaw Island is along the beautiful sandy beach of Shaw County Park. Reservations are definitely necessary here spring through fall. There are just 11 sites and they are too small for RVs.
Places to Camp on Remote San Juan Islands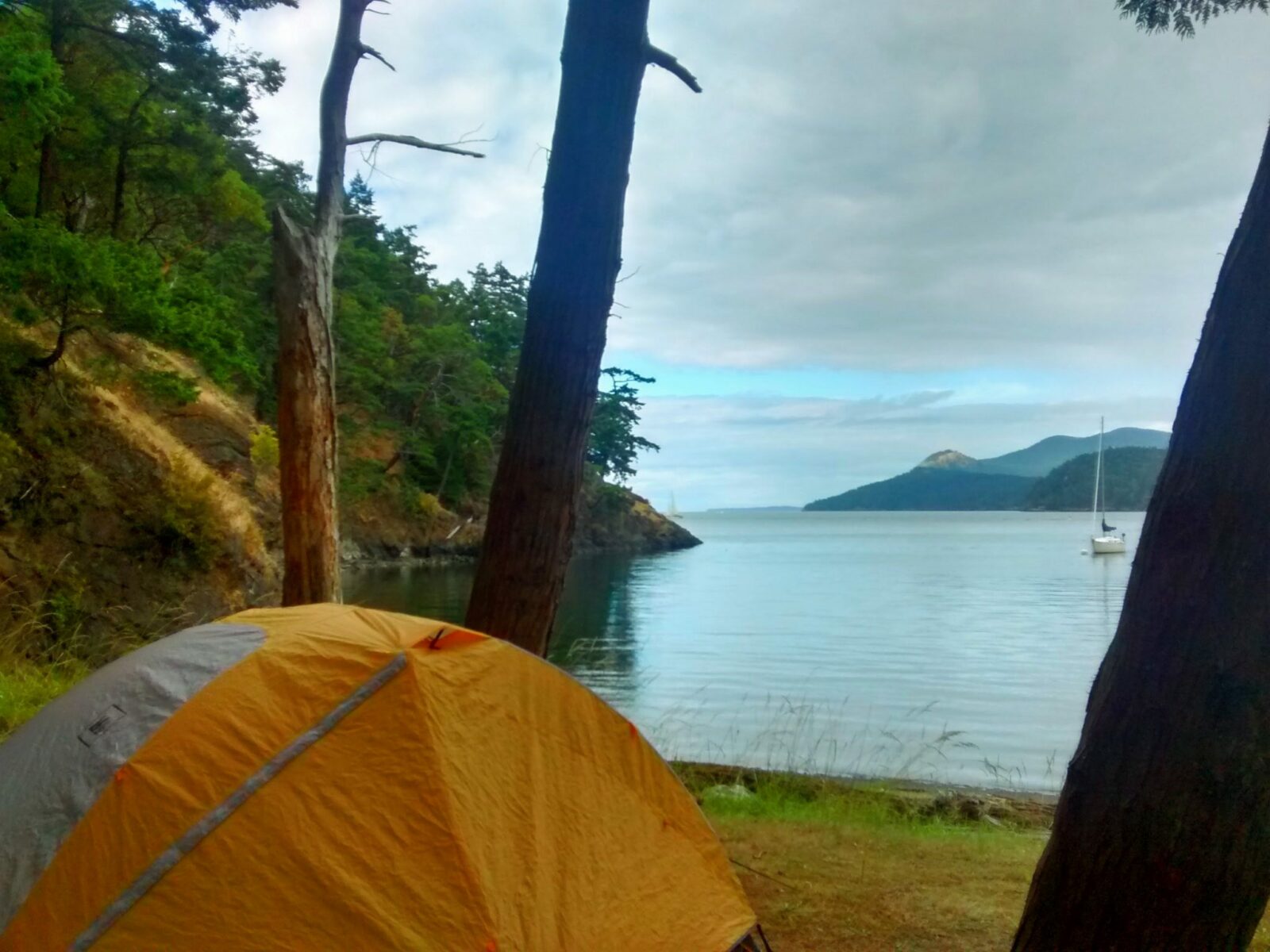 If you really want to get away from it all, I highly recommend camping on one of the remote San Juan Islands without ferry service. If you have your own boat or are an experienced sea kayaker you can get yourself there, but if you don't have a boat, no problem! You can take a water taxi, such as Island Express from Anacortes and they will drop you off on one of the other islands and then pick you up again. You can even bring your kayak or bike along with you!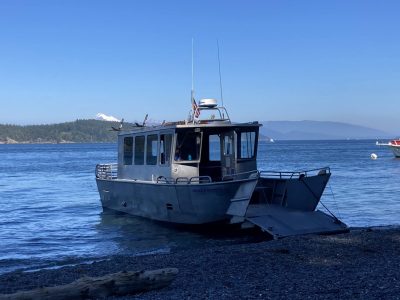 You can relax on the island and do some hiking or kayaking, or just sit and look at the water and watch for wildlife. If you do this you need to be 100% self sufficient, bringing all your own food, water and firewood and everything else you need for camping with you. Most of areas to camp on shore on the outer islands have pit toilets (bring your own toilet paper and hand sanitizer to be safe!). My favorite outer San Juan Islands off the ferry system are:
Cypress Island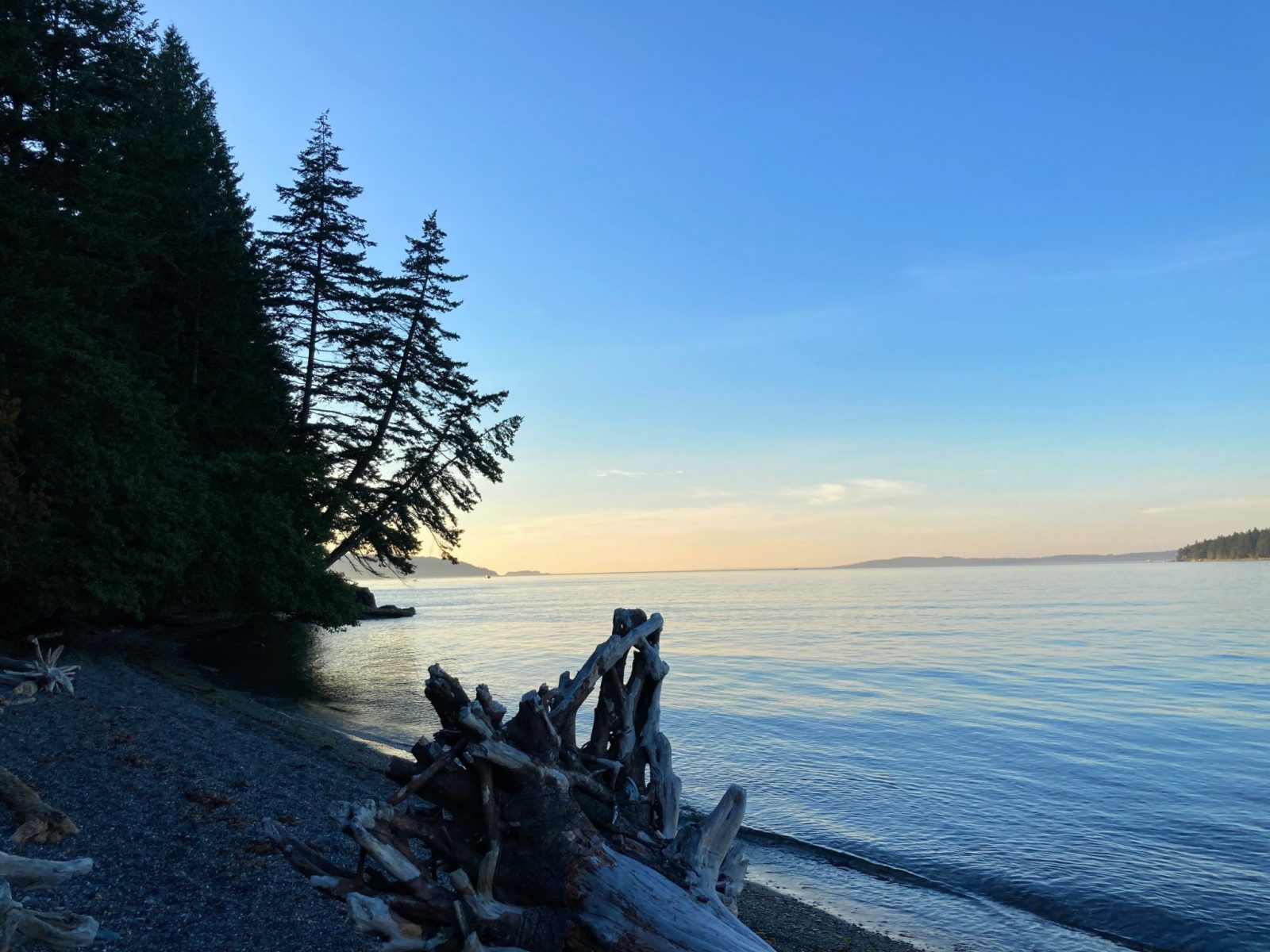 Cypress Island is a wonderful place for camping in the San Juan Islands and it's one of my favorite places. Cypress is a big island and is quite close to Anacortes, making it a shorter water taxi ride.
There are several places to camp on Cypress, but my favorite is Pelican Beach. There are several campsites right on the beach with firepits and picnic tables. There is also a composting toilet near the campground.
The beach is pebbled with driftwood and is a wonderful place to spend some time. Cypress Island is a wonderful place for hikers! There are many miles of trails including the spectacular Eagle Cliff Trail (closed from Feb 1 – July 15 each year) with it's incredible view.
Related: Complete Guide to visiting Cypress Island
Sucia Island Marine State Park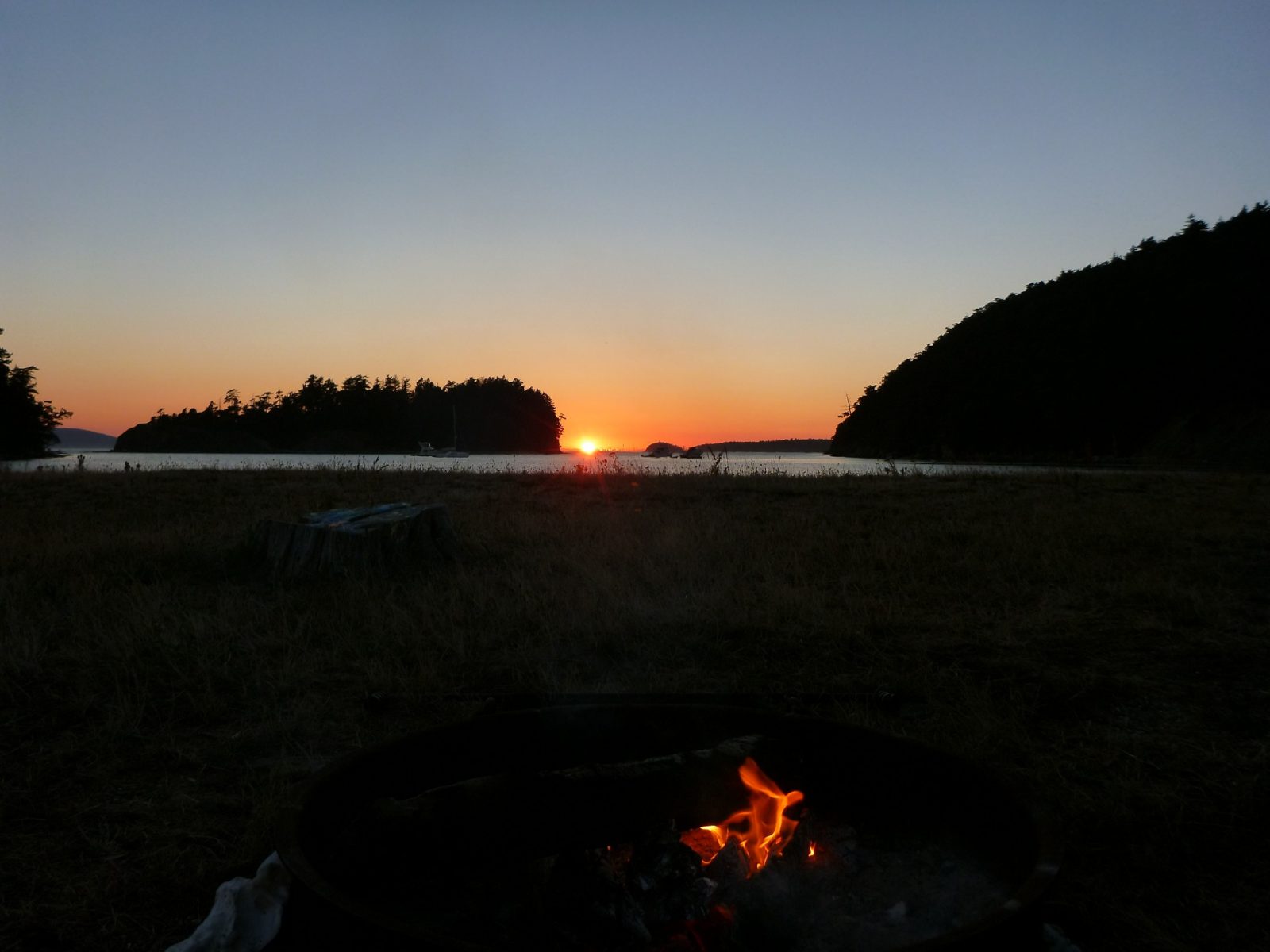 Despite it's lack of ferry service, Sucia Island is quite popular with recreational boaters and parts of the island get very busy! There are several areas to camp around the island with firepits, picnic tables and pit toilets. Sometimes water is available at some camping areas but it's a good idea to check and confirm.
Fox Cove is a less busy anchorage for boats and makes a good place to camp. The sunsets here are wonderful! There are lots of first come first serve campsites around the island.
Sucia Island has 10 miles of trail to explore the various bays on the island and it's also a good place to see marine mammals.
Related: Complete Guide to visiting Sucia Island
Jones Island Marine State Park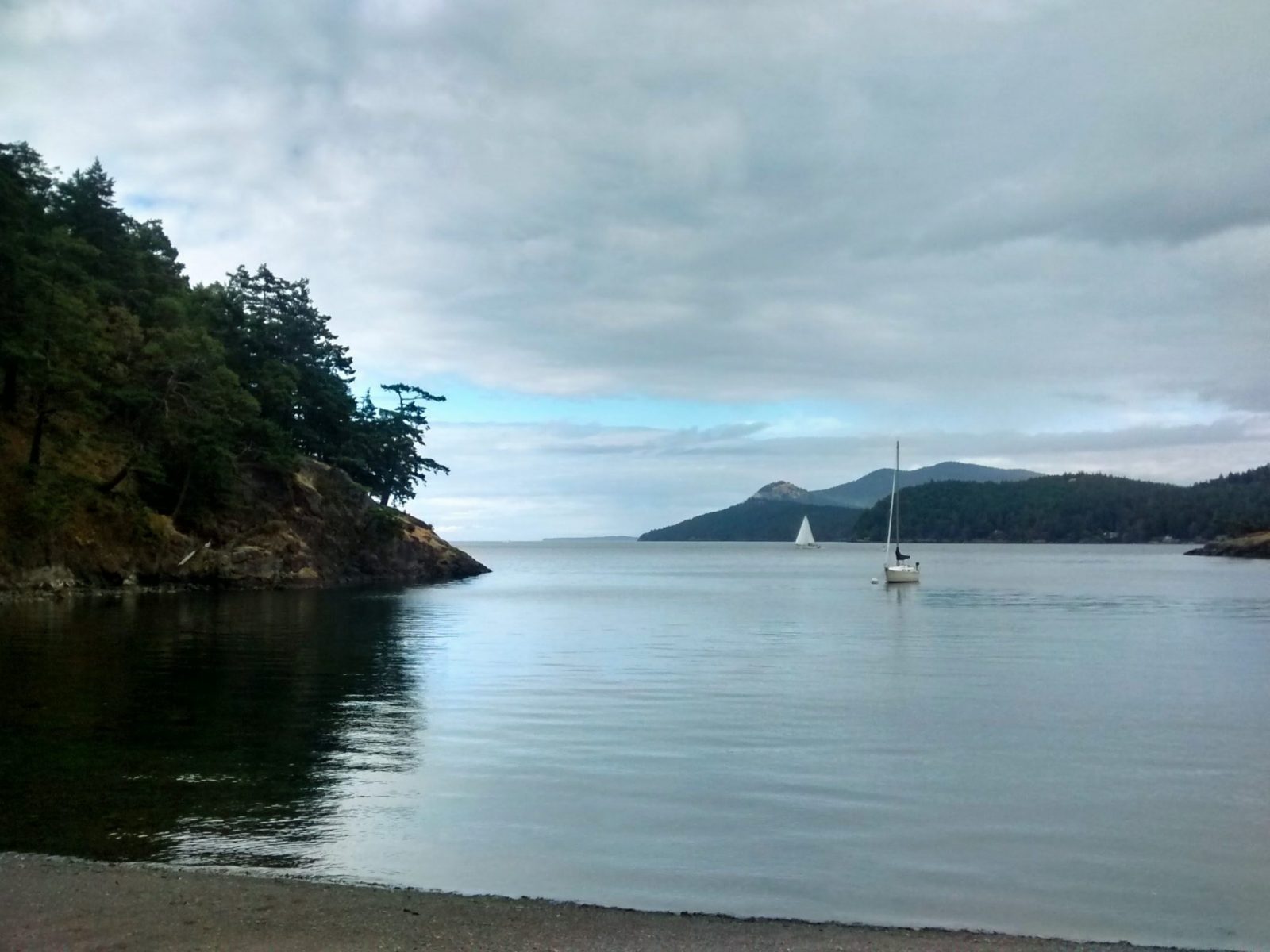 Jones Island is a small island between San Juan Island and Orcas Island with a wonderful 4 mile trail that loops around half the island. There is a dock on one end that is usually full with boaters, but the campground usually isn't busy.
The hike is beautiful with sweeping views, magnolia trees, forest and meadows.
For More Information
There are many more remote islands to explore throughout the San Juans, you can study the map and find your own favorite!
If you're planning on camping in the San Juan Islands, or anywhere else, check out my master packing list for camping.
I also recommend checking out what I wear for hiking in the Pacific Northwest as well as what I bring on day hikes, if you are planning to do some hiking in the islands!