Bandera Mountain Hike: Big view hike near Seattle
Posted On June 5, 2019
Last Updated on May 31, 2023
Friends, Bandera Mountain is AWESOME. It is also CROWDED. By now, you'll know I'm a big fan of avoiding crowds and don't normally recommend crowded hikes. However, there are times when it just might be worth it to join the crowd! You can reduce the crowds by going later in the day during our long days of summer, or by going on a weekday if that's an option. Even at these times you won't have solitude, but you may be able to park!
It's a tough climb (3200 feet of elevation gain in 7.5 miles round trip) with increasingly great views that make each leg burning step feel a little easier! I talked about the Bandera Mountain Hike before as part of the best big views on hikes near Seattle and it for sure deserves it's place on that list! It is one of the best hikes in Washington!
Bandera Mountain is located on the homeland of the Snoqualmie, Duwamish and Coast Salish people.
Parking Pass Needed: Yes, Northwest Forest Pass
Dog Friendly: Yes, on leash
Related: What to wear for a hike in the Pacific Northwest, what to bring on a hike in the Pacific Northwest
Is the Bandera Mountain Hike right for me?
If you are like me, you might get antsy for some big view, big mountain hikes and it is really hard to wait till mid July for that snow to finally melt! The Bandera Mountain hike (as well as nearby Mt Washington) has the advantage of being free of snow earlier than many of the surrounding mountain view hikes (the same is not true of the hike to Mason Lake, which connects to this trail and is also a wonderful hike but holds onto its snow well into July) so it's a great early season hike!
This hike is TOUGH, with over 3000 feet of elevation gain in less than 8 miles round trip, so at least for me this is a good one to work up to. It's completely doable though and if you take it slow and rest when you need to you'll be rewarded with an awesome day. Save this hike for a sunny day, it's really not worth the tough climb if you can't see the view! This trail also has a section (the last mile or so) that switchbacks up a steep open meadow with gorgeous wildflowers. If you're not keen on heights, this section might not be for you!
When is a good time for the Bandera Mountain hike?
This is an excellent early season hike, because it's generally snow free about a month before many I-90 big view hikes (such as McClellan Butte). Generally, this is snow free by June and you can hike it until the snow starts flying in the fall (late October/early November depending on the year).
If possible, try to hike this on a week day because of the crowds, or wait until fall when less people are out. Make sure it's a sunny, clear day to make this tough climb rewarding with the incredible view! There are a lot of wildflowers (especially fireweed and beargrass) in the first half of the summer.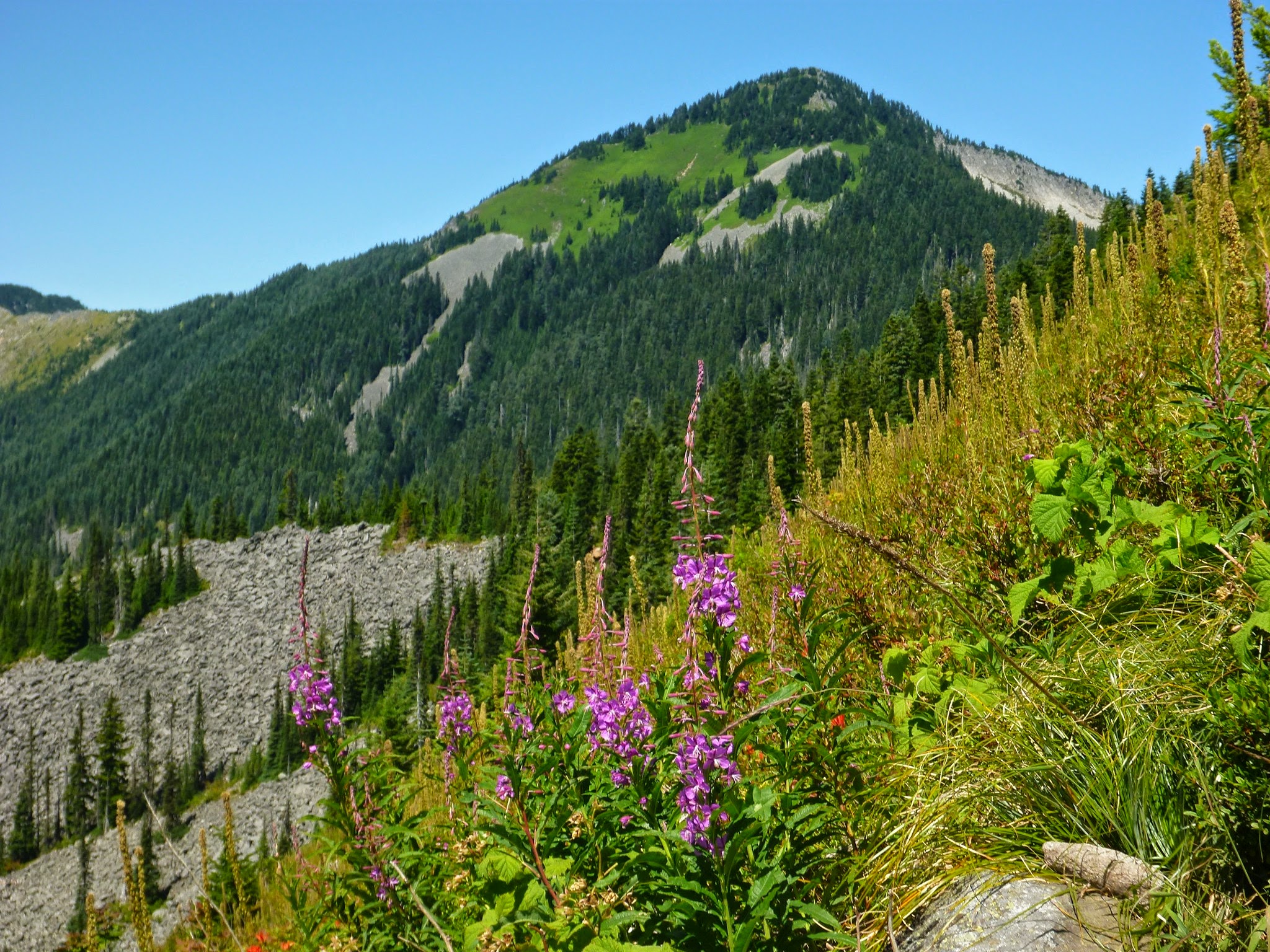 Where is it?
The Bandera Mountain Trailhead (known as the Ira Spring Trailhead) is just west of Snoqualmie Pass on I-90, at exit 45. You'll head north (to the left if you're coming from Seattle) on Forest Service road 9030, then stay to the left at the junction on 9031. This road is gravel and the trailhead is at the end of the road.
Trail Description
Multiple trails start at this trailhead, the Ira Spring Trailhead. The first mile and a half is less steep than later, feeling like one of those old roads turned trail. Then, the trail narrows and climbs more steeply, following several switchbacks through the forest. The trees will start to thin a bit, yielding some views here and there between the trees.
At just under three miles from the trailhead, you'll come to a junction where the Mason Lake trail goes left and the Bandera trail goes straight up! This section is very, very steep but the views are now amazing and there are plenty of boulders along the way to give your legs a rest. In less than half a mile (though it's a slow section!) you'll be off the steep hillside and on a ridge, now with views down towards Mason Lake and beyond to other mountains.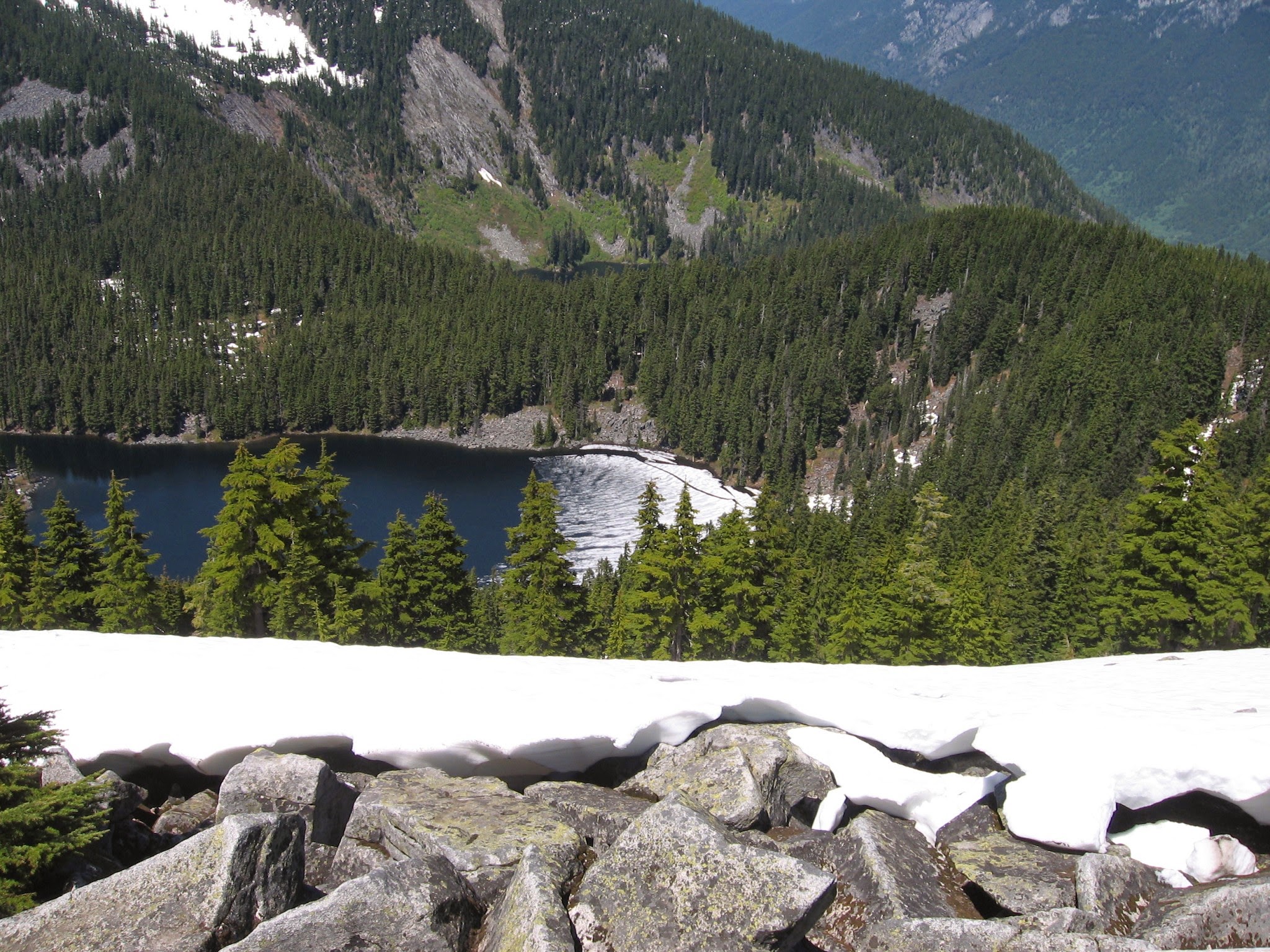 Once you're on the ridge, while not technically at the summit (which is tree covered with no views), you are at the point you want to stop because this is where the great views are! Spend some time soaking up the views and eating your lunch before heading back down.
Breweries and Bakeries near Bandera Mountain
Grab some delicious coffee and pastries at Pioneer Coffee in North Bend or grab a beer at Volition Brewing. The North Bend Bar and Grill is also an excellent option for food and drinks in downtown North Bend.
Electric Vehicle Charging
There is fast charging at the North Bend Outlet Mall near downtown North Bend (walk to Pioneer Coffee!).