Lena Lake Day Hike or Overnight on the Olympic Peninsula
Posted On January 16, 2021
Lower Lena Lake is a delightful large and very popular alpine lake on the Olympic Peninsula. This crowd pleasing hike makes for a wonderful day trip or backpacking trip. With plenty of opportunities to explore trails beyond, Lena Lake is perfect for beginners and experienced hikers and backpackers alike!
Lena Lake sits at an elevation of 2000 feet, and it remains snow free for much of the year and makes for excellent year round hiking! The trail to Lower Lena Lake is just over 7 miles (to the farther side of the lake) with 1300 feet of elevation gain.
Lena Lake is the homeland of the Twana/Skokomish, S'Klallam and other Coast Salish People.
Parking Pass: Northwest Forest Pass
Dog Friendly: yes, on leash
Related: What to wear for a day hike in the Pacific Northwest, What to pack for a day hike in the Pacific Northwest
Is Hiking Lena Lake right for me?
This popular area sees very heavy use during the summer and plenty of visitors the rest of the year as well. This is a particularly great hike with kids. There are old growth trees with lots of logs to hop on and explore as well as a lake for swimming and playing by the water.
The Lena Lake trail is overall in good condition. It does have some rocks and roots to navigate and during times of wet weather there tends to be a LOT of water and mud on the trail. It climbs steadily through switchbacks but is never extremely steep.
Camping at Lena Lake makes for an excellent beginner backpacking trip, more on this below.
When is the best time to Hike to Lena Lake?
Lena Lake is very popular on warm summer days and there will be lots of people on any summer weekend. The trail is snow free most of the year, making it a good fall, winter and spring hike.
If snow is present at the lake you might want snowshoes with you. Although you will rarely use them at the low elevation at the trailhead, you might want them higher up. Most of the time you can probably navigate any snow with microspikes instead. Check Washington Trails Association Trip reports for the latest on the conditions.
This trail is very wet when it's rainy or has recently been rainy. In wet weather you'll encounter plenty of mud and occasional places where it seems the trail has become a creek! Waterproof footwear is an absolute must for this trail (or multiple pairs of dry wool socks to change into!).
Lena Lake is a forest and lake hike, rather than a big view hike, making it a good option for a cloudy or rainy day.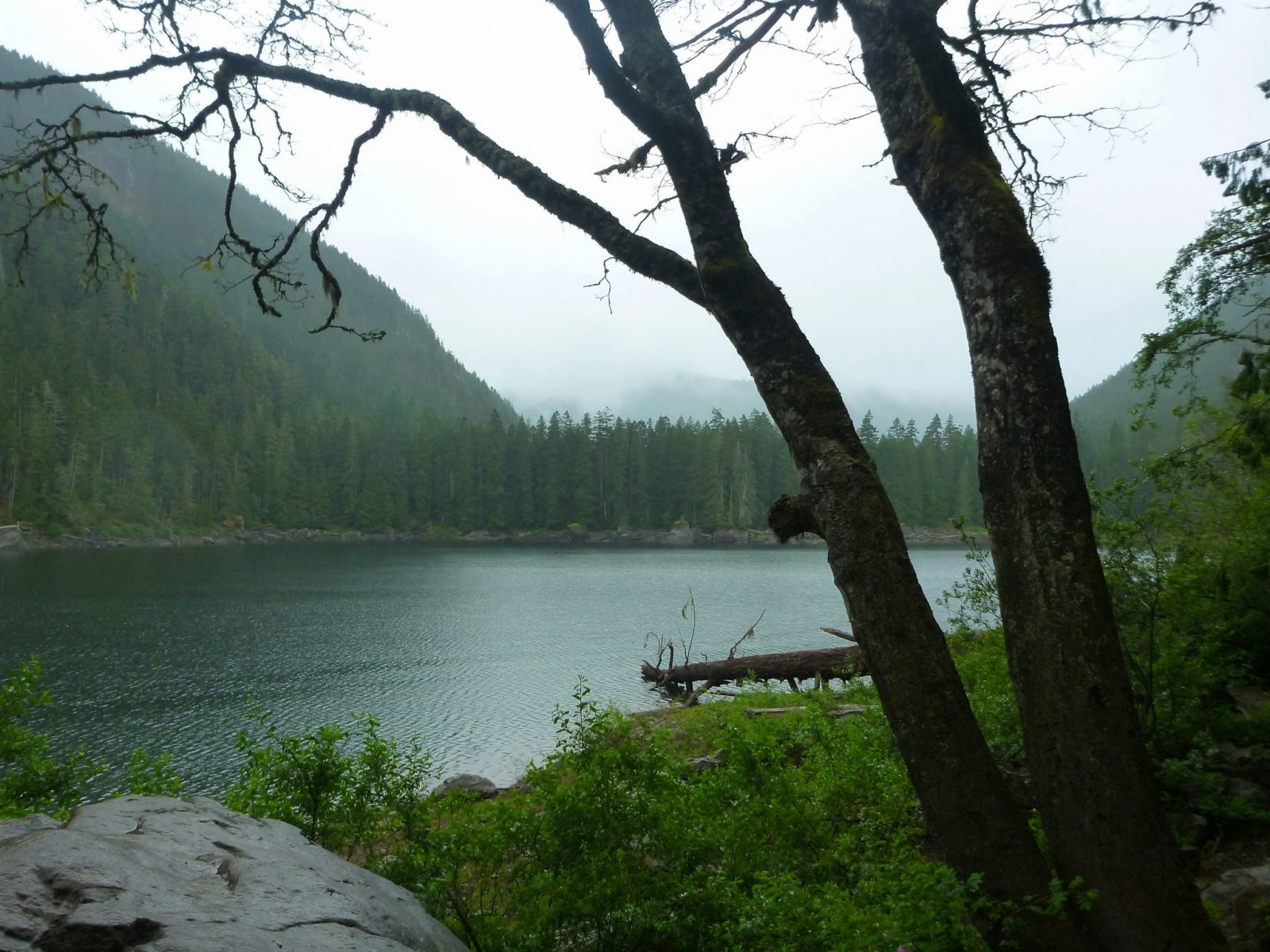 Where is Lena Lake?
Lena Lake is located in the Hood Canal Ranger District of Olympic National Forest, just outside of the boundary of Olympic National Park. It's about an hour and 15 minutes of travel time driving from Olympia.
From Seattle, Tacoma or Portland, take I-5 to Olympia and then Highway 101 toward Port Angeles. About halfway to the Lena Lake Trailhead, the highway goes right along the southern portion of Hood Canal. Turn left on Hamma Hamma Road (Forest Service Road 25). In about 7.5 miles you'll reach the trailhead and parking area on the right.
Camping at Lena Lake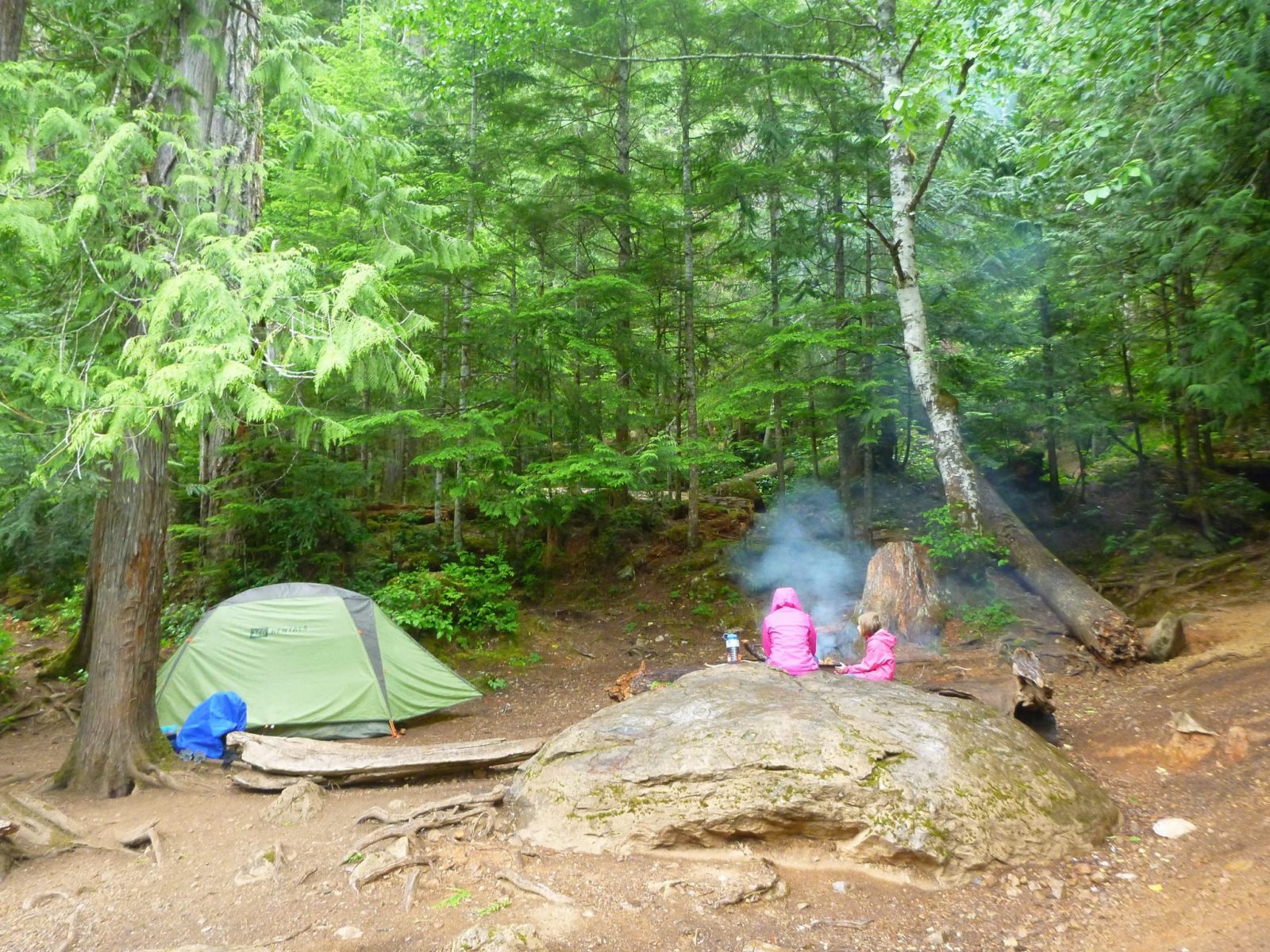 Lena Lake makes a wonderful beginner backpacking destination. Camping here is free. There is a camping area with several good sites on the far side of the lake with a composting toilet. Campfires are also allowed here, unless there's a burn ban.
There are other areas around the lake where you can camp as well if that area is full. Unfortunately, this area has seen a lot of damage by campers, so make sure to pack out all your trash and properly dispose of human waste.
This area gets very busy with campers in the summer especially on weekends. Get there early to make sure you can find a spot! You can also venture up the trail into the Valley of Silent Men for more solitude for your overnight trip (more on this below).
Trail Description
From the Lena Lake trailhead, start up the forested trail. Watch out for roots and rocks as you make your way. If it's been rainy, there might be quite a bit of mud and water over the trail in places.
You'll start off climbing through younger forest and as you climb you'll see more and more old growth trees mixing in. There are lots of old growth trees at the lake as well. On the trail, you're never far from Lena Creek and you'll hear it tumbling along even when you can't see it.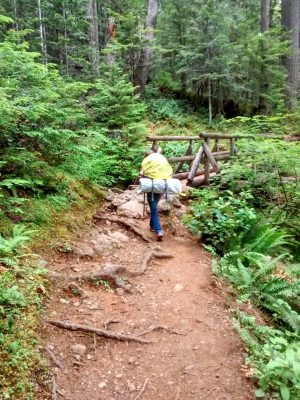 Twelve switchbacks take you up the first 1200 feet, then you'll traverse as you approach the lake and cross Lena Creek. Along the way you'll cross several substantial and photogenic log bridges. You'll also pass an absurdly large boulder, left behind by glaciers retreating in the last ice age. Anytime you see random giant boulders in the forested trails of the Pacific Northwest, you can be sure they were left by glaciers!
A few more switchbacks bring you to the lake itself in about three miles. At about three miles there is a fork in the trail along Lena Lake. Going left takes you up to Upper Lena Lake in Olympic National Park (see below "going further"). You want to keep right. You can stop anywhere along the lake for a lunch break, or you can continue another half mile to the far end of the lake and the Lena Lake campground. This is the ideal place to pitch your tent if you're backpacking here.
Note that this is a backcountry forest service campground and has a composting toilet but no other facilities. If you're planning to build a campfire (and if there isn't a burn ban), choose a site with an existing fire ring and keep your fire small.
Near the campground is another trail junction with the trail into the Valley of Silent Men (see below "going further").
The lake is a wonderful place to spend an afternoon enjoying a picnic, taking a swim in the very cold water, or reading a book. Whenever you're ready to leave, head back the way you came to the trailhead and your car.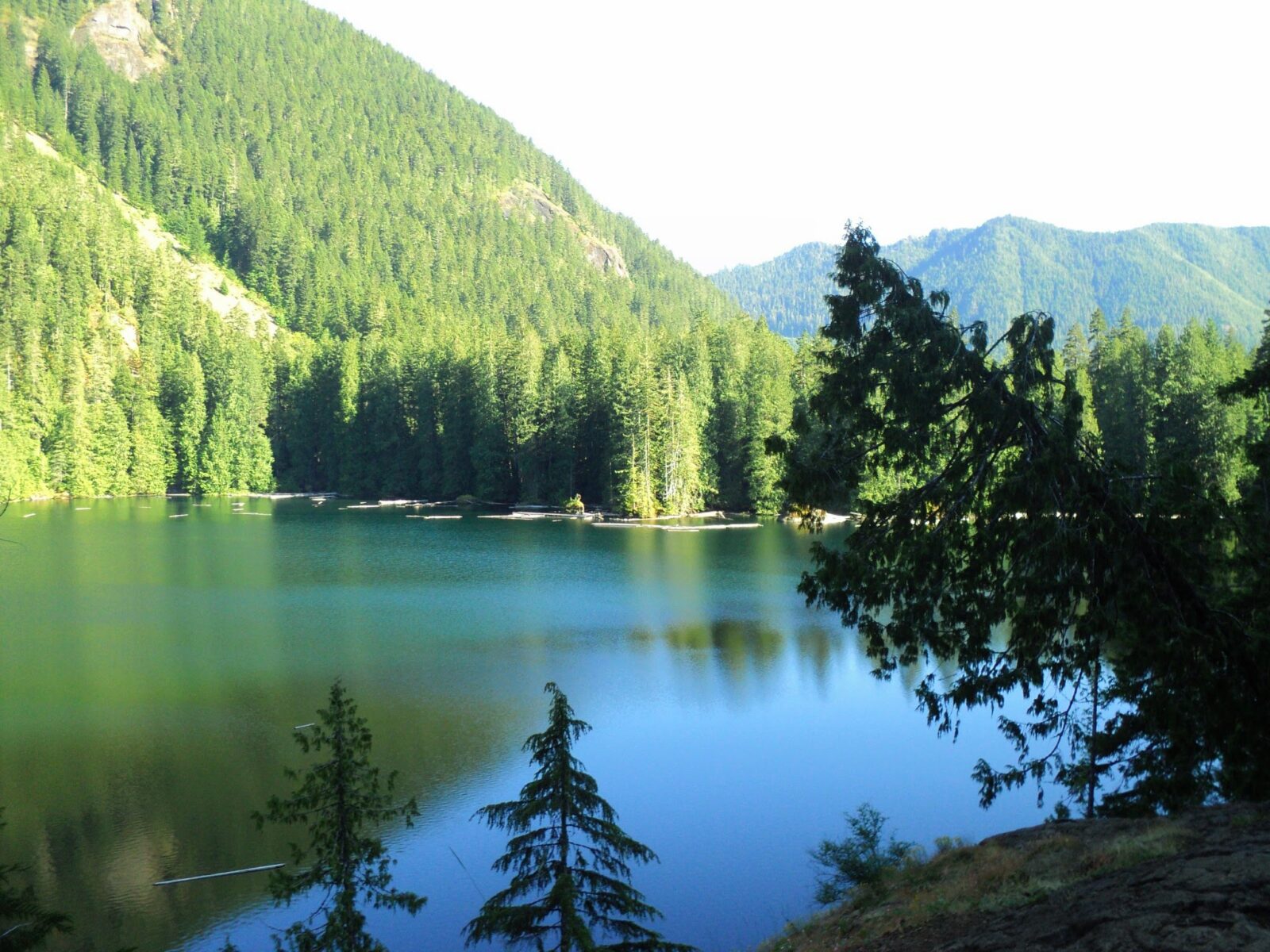 Going further in the Lena Lake area
From Lena Lake there are a couple of opportunities to venture further. The first is Upper Lena Lake in Olympic National Park. Upper Lena Lake is a much steeper and less maintained trail. The trail climbs an additional 2500 feet in an additional 4 miles. The trail enters Olympic National Park and at that point dogs are NOT allowed. If you wish to camp here, you'll need to get a permit in advance for wilderness camping in Olympic National Park. Reservations are recommended.
You can also stick with Olympic National Forest and explore the Valley of Silent Men. This trail is also rougher than the Lena Lake trail, with downed trees and washouts as well as solitude among the giant trees. This trail goes an additional 3 miles with 1500 feet of elevation gain to the unofficial climbers camp for The Brothers. Backpacking along this trail is peaceful and quiet too!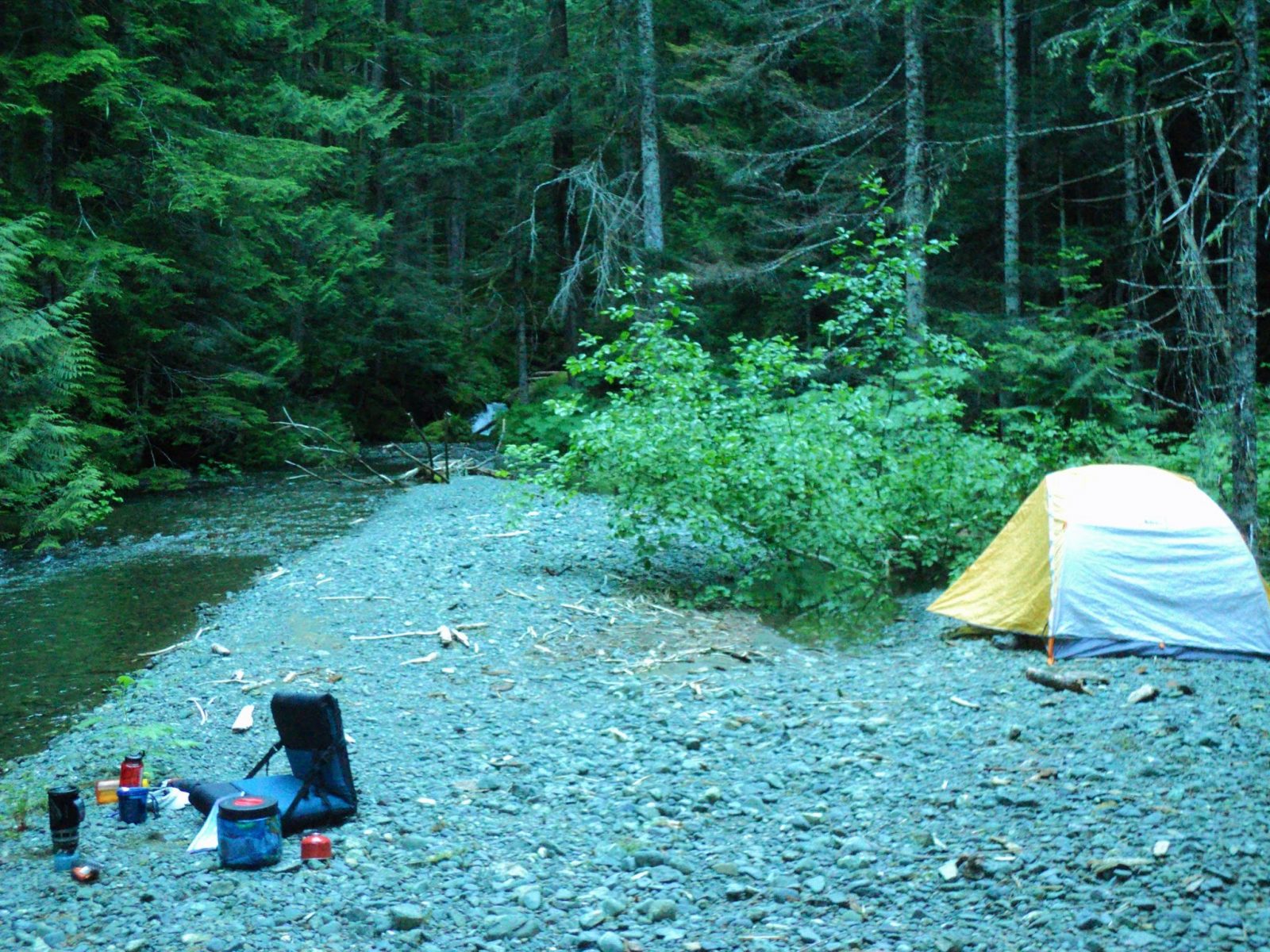 Electric Vehicle Charging
Charging is available for Teslas at Alderbrook Resort in Union (34 miles away) and Shelton (37 miles away).
The closest charging for CHAdeMO is in Olympia, 60 miles away.