Easton Ridge Trail Guide
Posted On May 29, 2023
Last Updated on October 18, 2023
Looking for a stunning view hike near Seattle with plenty of shade and no crowds? Easton Ridge may just be the hike for you! I'm a born and raised Seattleite and a hiker my whole life and this is my personal favorite hike along the I-90 corridor.
At 6.5 miles round trip with about 2300 feet of elevation gain, this is a very challenging hike with some very steep sections. There are great views frequently along the climb, which makes the frequent rest breaks you're likely to take necessary.
Easton Ridge is on the homeland of the Wenatchi and Yakama people.
Parking Pass: None
Dog Friendly: Yes, on leash. However, there are some big drop offs, especially in the last mile of the hike. Use extreme caution.
Cell phone coverage: Good most of the trail. A few spots with only one bar of service.
Restrooms: None.
Accessibility and Mobility: The first two miles of this trail are very well maintained. They are steep, but there are very few rocks and roots and only a couple of small logs to go over and a couple of big steps. The last mile of the trail is overgrown in places and there are 48 (yes that's right) down trees to step over and several others requiring some scrambling to get around. There is also a very exposed section of trail about two miles in along a steep slope.
Related: What to wear for a hike in the Pacific Northwest, What to bring for a hike in the Pacific Northwest
Where is Easton Ridge?
Easton Ridge is located along I-90 between Snoqualmie Pass and Cle Elum directly above the small community of Easton.
To get here from Seattle, head east on I-90 to Exit 70 for Easton. Turn left at the end of the ramp and left again on Sparks Road. Turn right on Kachess Dam Road and then after about half a mile, right on a smaller and narrower gravel round that takes you to the trailhead is less than a mile.
If you're using google maps to get there, use the Kachess Ridge Trailhead as your destination. This is the same trailhead.
When is the best time to hike Easton Ridge?
Easton Ridge melts out sooner than other hikes closer to Snoqualmie Pass, and is generally snow free by mid to late May depending on the weather and snow pack. It generally remains snow free through October.
In mid summer this area can be very hot (much hotter than a few miles west) and though there is plenty of shade on this trail, it might be a bit hot for Seattleites in July and August.
In late May and June there are lots of wildflowers here, making it the ideal time.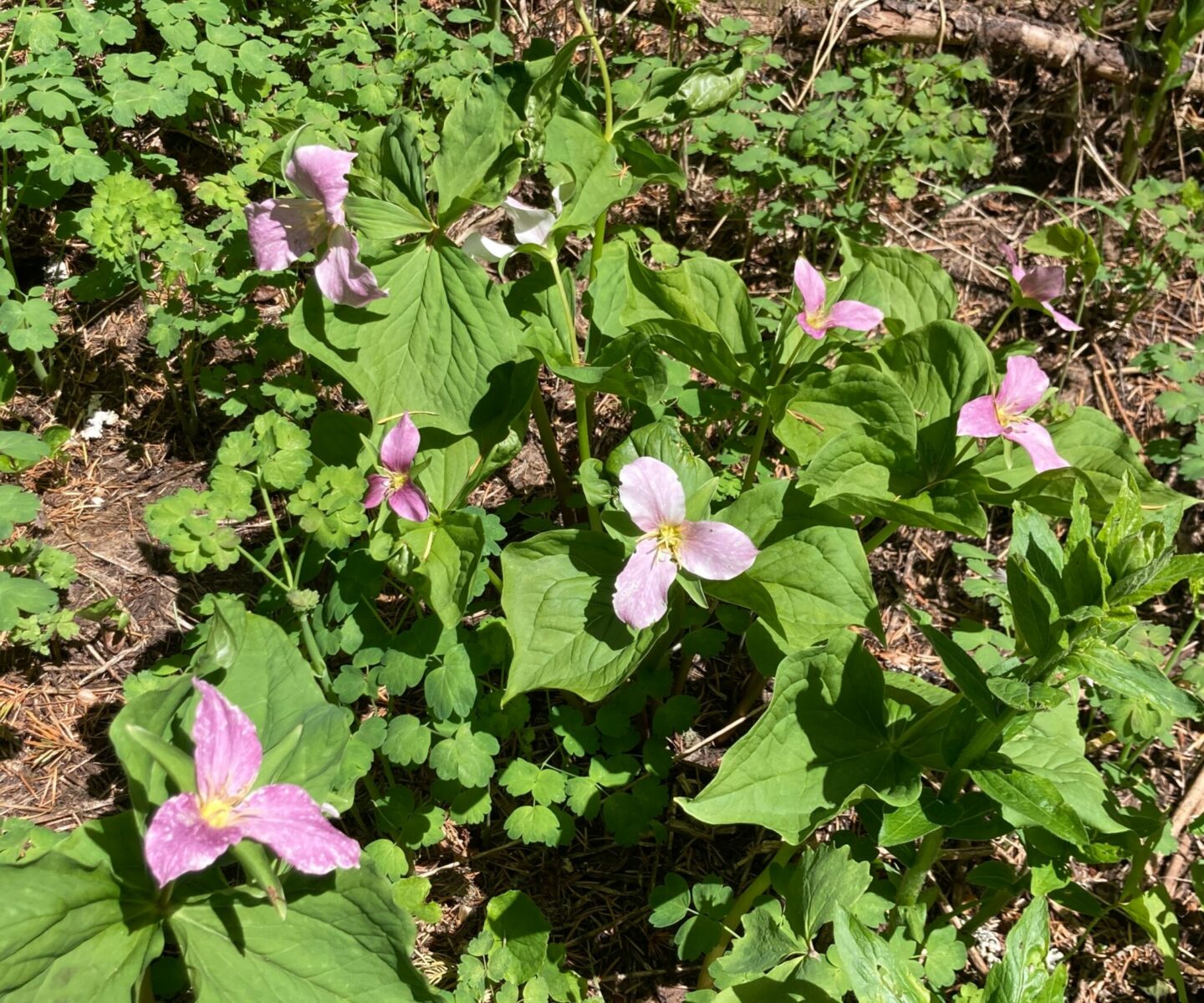 Where do you park for Easton Ridge?
There is no real parking lot, just a widening at the end of the forest road where the trailhead is. There's room for a few cars at the trailhead and quite a few others along the road. If you park along the road make sure you are far enough off the road that other vehicles can pass you.
Trail Description
Start on the trail by the brown sign and in a very short distance you'll see a sign on your left for the Kachess Ridge Trail. This is not your trail if you're doing Easton Ridge. Instead, go slightly downhill to the right to Silver Creek. When you reach the creek, go left and then right across a footbridge at the base of a small dam.
After crossing the footbridge over Silver Creek, you'll immediately begin an uphill climb where 17 switchbacks lift you quickly up the side of the hill with increasingly good views of Kachess Lake.
In a little over a mile, you'll reach a junction with the Domerie Divide Trail. Here, you'll head to the right. The next half mile is the steepest part of this trail, and it is brutal! Fortunately it's fairly short so it's easy to go super slow and take lots of breaks. After this section the trail is much less steep, though there is still some climbing and a couple of slightly downhill sections.
About two miles in, you'll cross a steep hillside. The trail is in very good condition but it's a good idea to pay extra attention to where you are putting your feet (having poles is really helpful too).
The last mile of the trail has more and more views as you cross meadows coming in and out of the forest. More and more wildflowers show up in this last part of the trail.
The big thing to know about this final mile or so of the trail is that there are a LOT of downed trees. Many of them are relatively small but there are some that require climbing over, under or going around entirely.
Just over three miles from the trailhead, you'll suddenly come out to an open area with a big rocky summit. The view here stretches from Kachess Lake to Lake Easton, to Tahoma (Mt Rainier), I-90, the small town of Easton, Lake Cle Elum and the Stuart Range. It's an impressive view!
Once you've had your fill of the view, start your descent retracing your steps back to the trailhead.
Where to stop after your Easton Ridge hike?
If you're heading west towards Seattle, grab a coffee or hot chocolate at Bob's espresso (look for the green trailer between the DOT rest area and the convenience store). Bob's espresso also has amazing handmade corndogs! I don't even like corndogs but these are AMAZING. I am also a big fan of the pizza at Pie for the People which is inside the convenience store by Bob's.
Dru Bru has outdoor seating with propane fires for some local beer (get Pie for the People delivered from across the street). If you're looking for some classic pub food, get that next door at Commonwealth.
If you're heading east toward Cle Elum, that Dru Bru location is quite a bit bigger and has an excellent wood fired pizza food truck.
Electric Vehicle Charging
Fast charging for EV's is available at the Summit Deli and gas station at Snoqualmie Pass. There is also fast charging available in North Bend, Cle Elum and Ellensburg.