Otter Falls and Lipsy Lake Hike
Posted On July 4, 2020
Last Updated on October 31, 2022
Otter Falls is one of the most beautiful and unique waterfalls I've ever seen and one of the best hikes near North Bend. It's a long 10 mile hike to get there on a wide and mostly flat trail (700 feet of elevation gain) through a beautiful forest along a rushing river. This is also a hike with a wide trail and very few people! Pretty much perfect. Ample places to disperse camp along the way make it an option to do a multi day hike with less miles each day.
If you're looking for a shorter hike with more climbing to another gorgeous waterfall in the same area, check out Teneriffe Falls.
This is also a trail you could do on a mountain bike if you were ok with some technical rocks and carrying your bike over a few stream crossings. I've seen several people doing it! You wouldn't be able to bike the last few hundred yards up to the waterfall, but the rest of the way it's definitely possible.
Otter Falls is located on the homeland of the Snoqualmie People.
Parking Pass Needed: Yes, Northwest Forest Pass (or America the Beautiful Pass).
Dog Friendly: Yes, on leash
Cell phone coverage: None
Restrooms: There are pit toilets at the nearby Garfield Ledges trailhead.
Accessibility and Mobility: This trail is not at all steep, except for scrambling up to the waterfall itself, which is very steep with roots for a short distance. There are also several stream crossings along the trail, which involve hopping across rocks or logs. There are some rocky sections on the trail as well.
Related: What to wear for a hike in the Pacific Northwest, what to bring on a hike in the Pacific Northwest
Is the Otter Falls Trail right for me?
The biggest consideration with this trail is that to get to Otter Falls it's a long hike. 10 miles is no joke!
That said, it's also a very mellow grade and completely flat for much of the distance. It gains about 700 feet of elevation over 5 miles so other than a couple of places (including the very steep couple hundred yards at the end to the waterfall) you don't notice the climbing.
The trail is wide which makes it easy to pass people while keeping your distance.
This is a forest hike along a beautiful scenic river with occasional views of some nearby mountains. There is also another lovely small falls on Marten Creek a bit over halfway to Otter Falls.
One other thing to know about this trail is that there are three significant stream crossings, one of which has a decent chance of getting your feet wet. Make sure to wear shoes with good tread for crossing rocks and logs and bring trekking poles as well. I found trekking poles extremely helpful in the stream crossings.
If you're a backpacker there are lots of options for backpacking along this trail.
There are lots of salmonberries in early summer!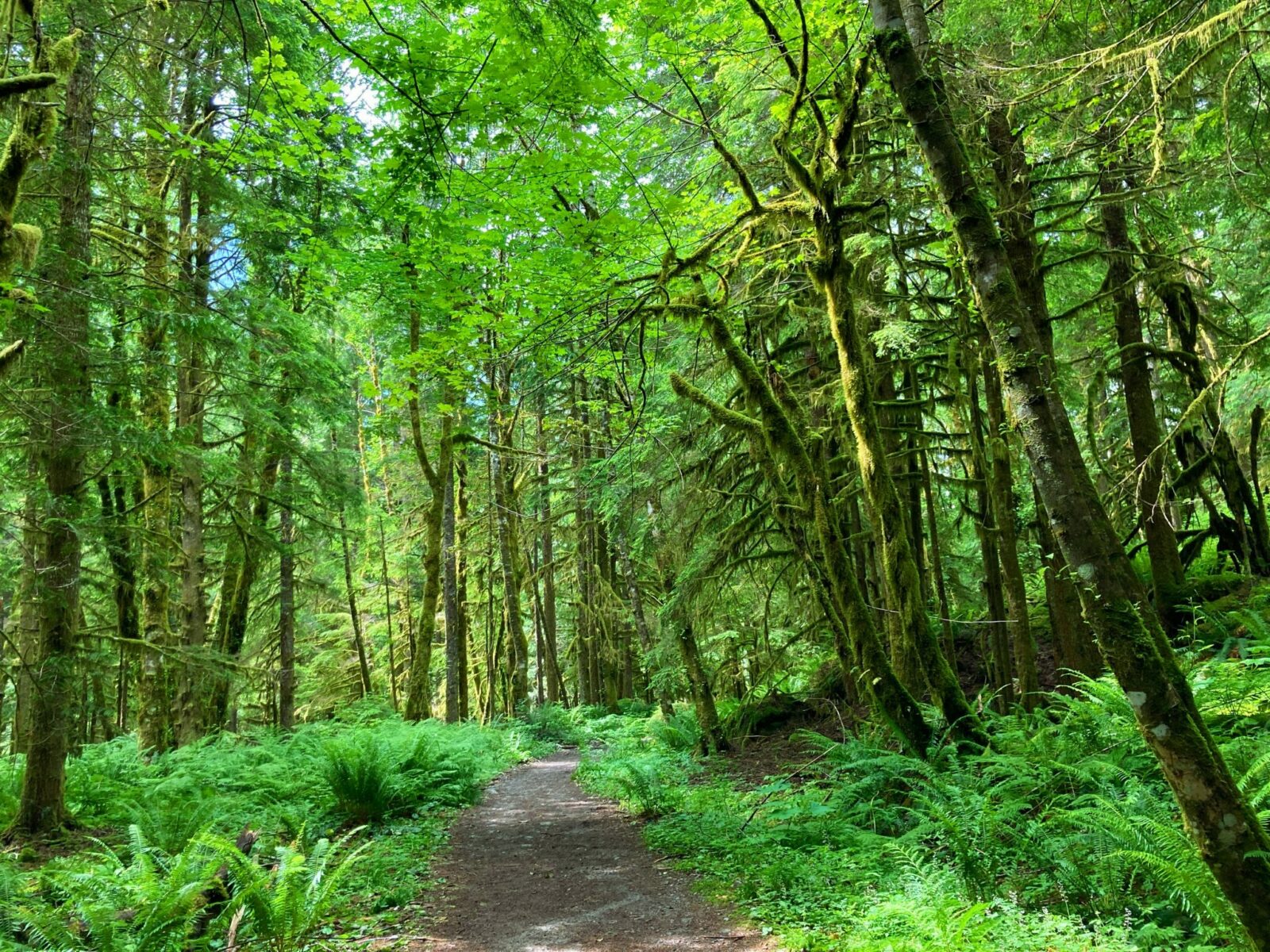 When is a good time to hike to Otter Falls?
Otter Falls is a good hike most of the year. In the middle of winter this might be too long of a hike for our short winter days. Otter Falls is definitely a good hike for early spring through late fall. In spring the falls, like all in Washington, will be extra spectacular, though the stream crossings may be more challenging.
It's also important to check the road conditions as the Middle Fork Snoqualmie Road is subject to frequent flooding and washouts during the winter.
Where is it?
Otter Falls is located just off the Snoqualmie Lake trail at the very end of the Middle Fork Snoqualmie Road in North Bend. There are some sections of gravel and some significant potholes along parts of the road, though you can make it in any car if you go slowly and carefully.
To get there, take Exit 34 off I-90 in North Bend. Go left (if going eastbound) off the freeway and pass the truck stop area. In about half a mile, turn left onto the Middle Fork Snoqualmie Road. After a couple of miles there's a fork in the road, keep to the left. A bit further on, go left again where you see the "Middle Fork Valley" forest service sign.
Follow the road through the beautiful Middle Fork Valley, passing numerous trailheads. When you pass the Middle Fork Trailhead and Campground you are almost there.
13 miles from I-90, you can park at the Garfield Ledges Trailhead or along the side of the road closer to the Snoqualmie Lake Trailhead (1/2 a mile further). Pit toilets are located at the Garfield Ledges Trailhead which is the best option for parking.
Trail Description
If you parked at the Garfield Ledges Trailhead (recommended), then you'll walk half a mile up the gravel road to the official Snoqualmie Lake Trailhead where there is a barricade just before a bridge over the Taylor River.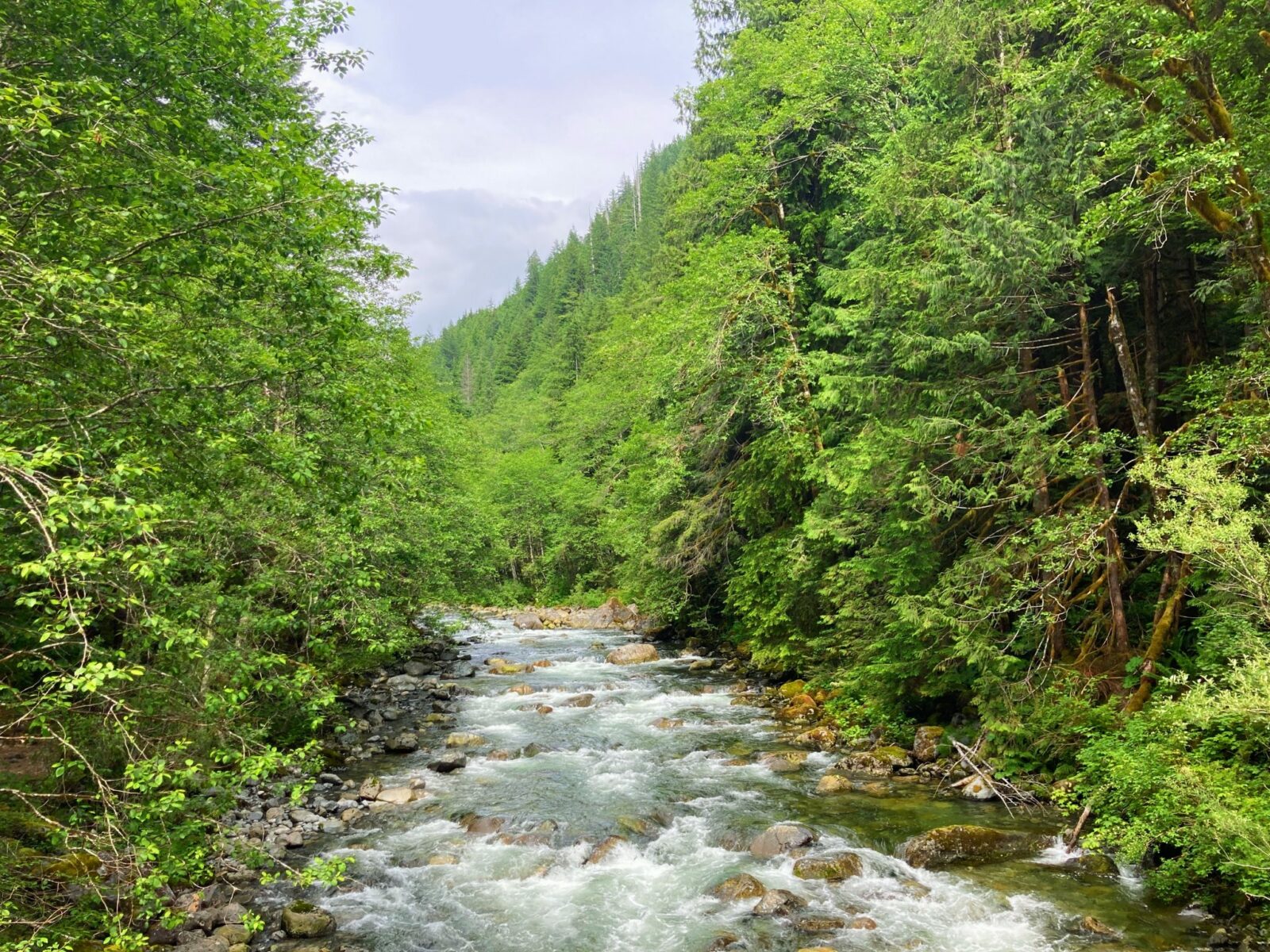 In another half mile, you'll come to a trail junction, head right (the sign points towards Snoqualmie Lake). For the next 2.5 miles you'll be meandering through the forest on a wide trail. Birds and river sounds surround you and you're in a shady forest. There are a couple of stream crossings as noted above. Most of the trail is wide and there are a few rocks and a bit of mud here and there.
Three and a half miles from your car (3 miles from the trailhead proper) you'll come to a strong log bridge over Marten Creek. Pause here to take in the rushing water and the beautiful mini waterfall on your left.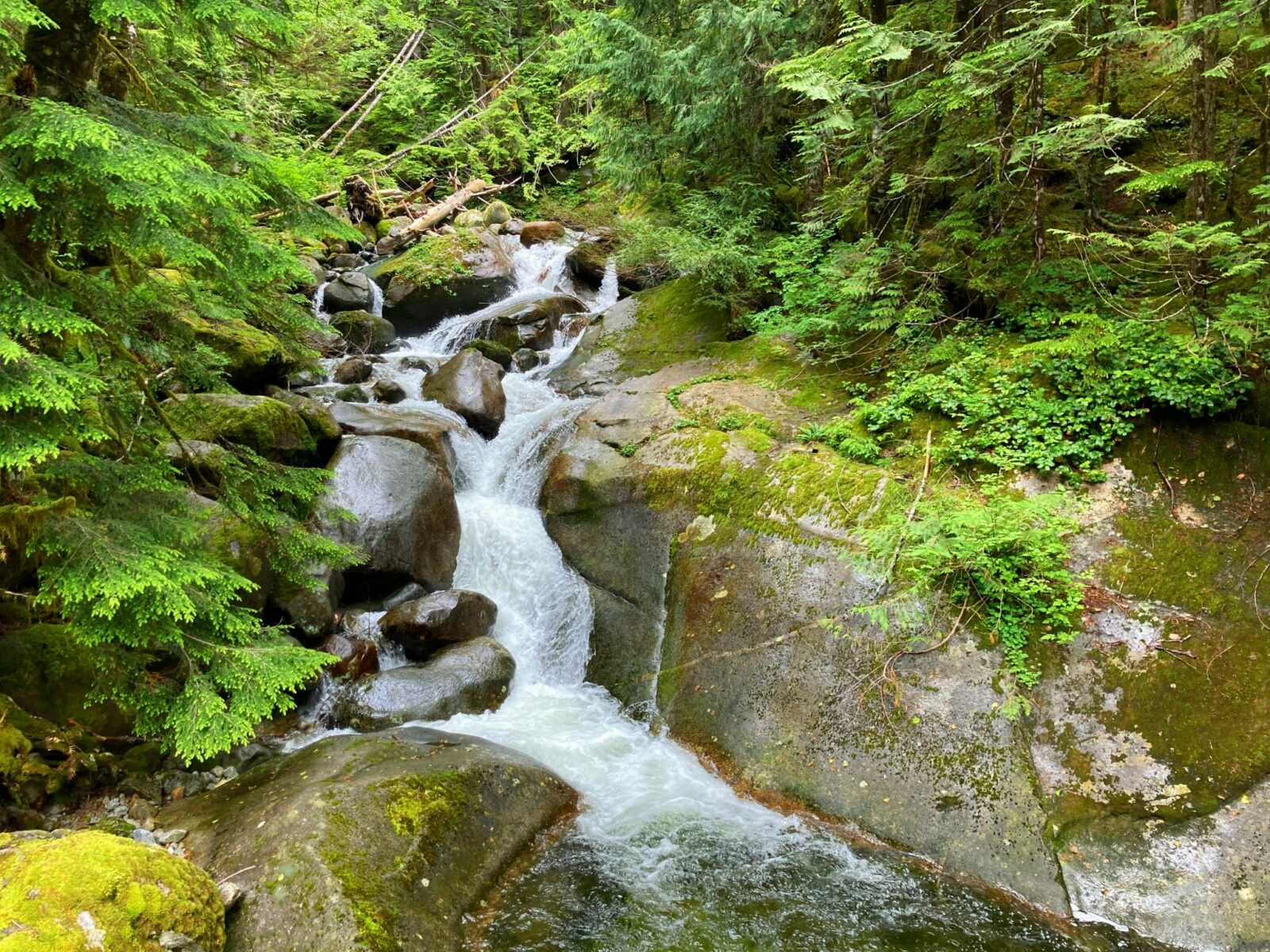 Continuing on, you'll encounter the most challenging stream crossing shortly before reaching the spur trail to Otter Falls. Take a moment to evaluate the best option for crossing!
Once across, in a short distance come to a hot pink ribbon tied to the tree in front of you. This is slightly less than 5 miles from the Garfield Ledges trailhead (4.5 miles from the Snoqualmie Lake trailhead and bridge over the Taylor River). Look left here and see a sign for Otter Falls and follow it up the hill (you can continue on an additional half mile to Big Creek Falls for another waterfall if you like).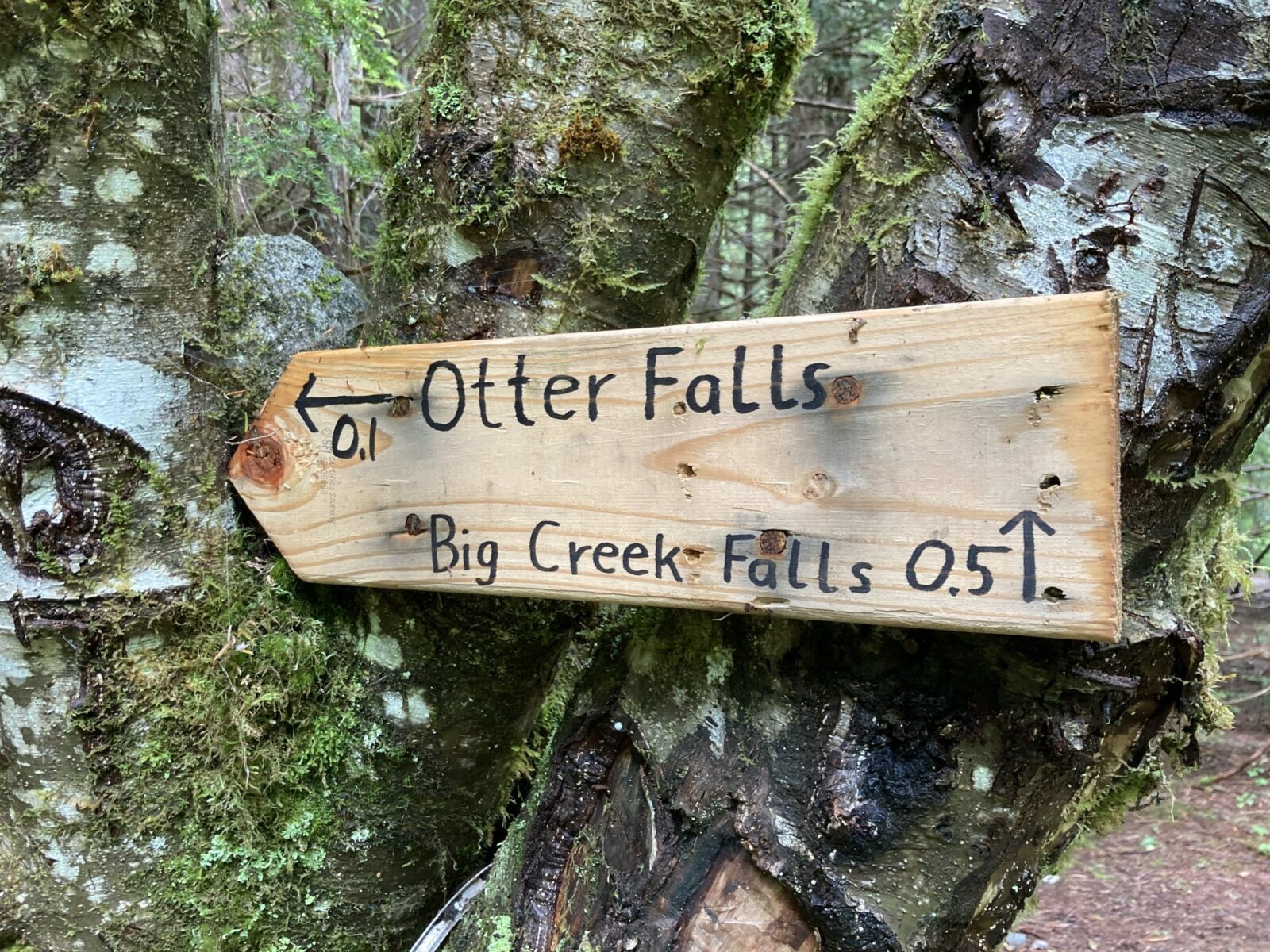 Head up the short and steep hillside on your left. You'll soon be at tiny Lipsy Lake and spectacular Otter Falls in front of you. The falls is only a couple hundred yards from the trail.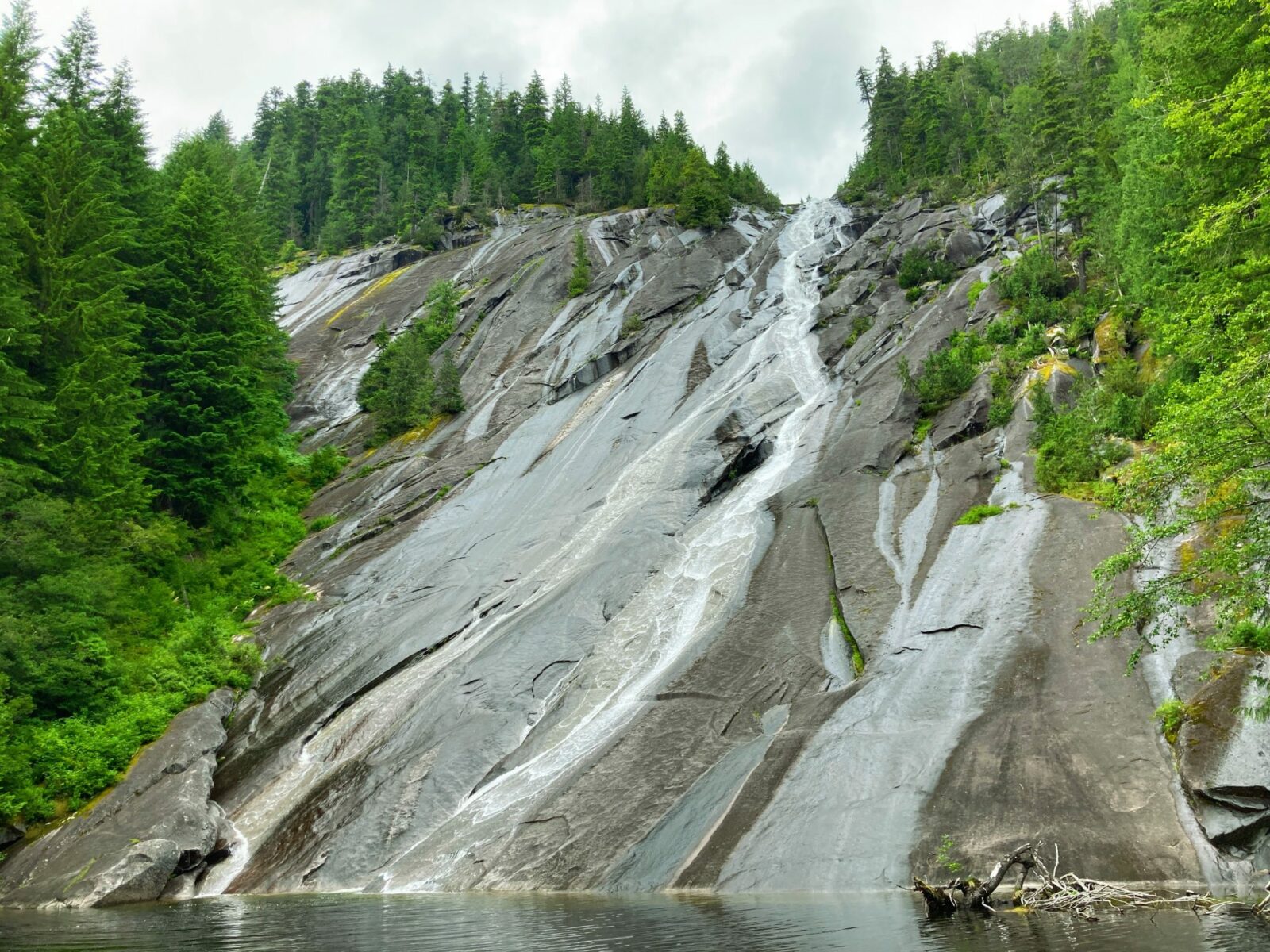 Once you've taken in your fill of Otter Falls (it might take awhile!), get ready to head back down the hill to the main trail and return to your car the way you came.
Breweries and Bakeries near the Otter Falls Trail
Grab some delicious coffee and pastries at Pioneer Coffee in North Bend or grab a beer at Volition Brewing. The North Bend Bar and Grill is also an excellent option for food and drinks in downtown North Bend.
Electric Vehicle Charging
There is fast charging at the North Bend Outlet Mall near downtown North Bend (walk to Pioneer Coffee!).