Mt Fremont Hike: Big Views of Mt Rainier
Posted On July 3, 2019
Last Updated on April 19, 2021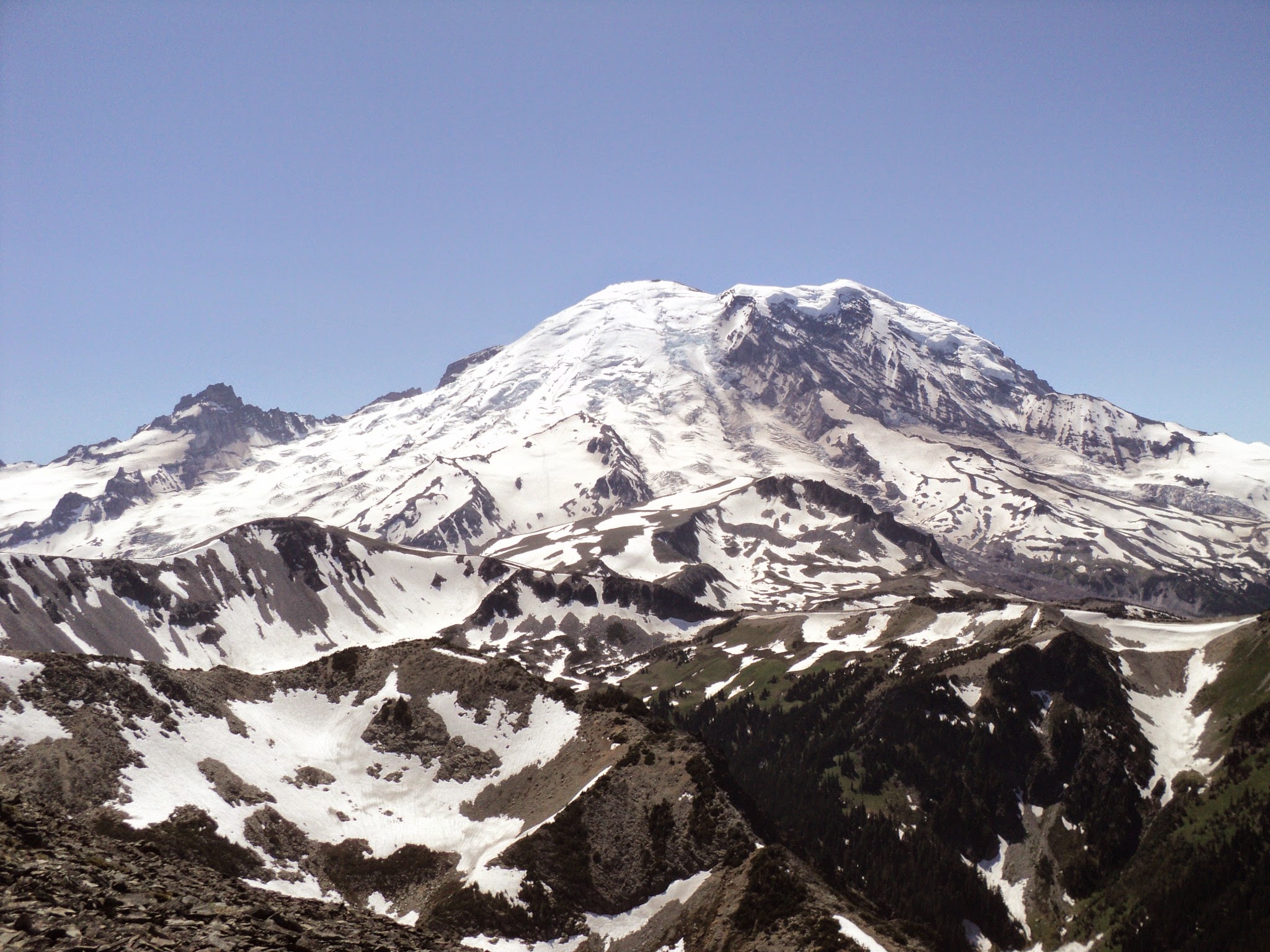 Looking for a big view of Mt Rainier with views from the whole trail? The Mt Fremont hike is a fantastic choice when the road to Sunrise is open (late June through September)! This hike has views from every step and at 6 miles round trip and 800 feet of elevation gain, it's a moderate hike. As a heads up, it starts at 6000 feet of elevation, so the air is thinner and it feels a bit harder than it is. Just take lots of breaks (you'll need to anyway since you'll constantly be taking pictures!).
Mt Rainier National Park is the homeland of the Yakama, Puyallup and other Indigenous People.
Parking Pass: $30 Mt Rainier National Park entrance fee per vehicle (or America the Beautiful Pass)
Dog Friendly: No. Dogs are not allowed on trails in Mt Rainier National Park
Cell Phone Coverage: None
Restrooms: Flush toilets are available at the Sunrise parking lot
Accessibility and Mobility: The Sunrise Parking area is paved. The trail has a number of steps, starting at the beginning. Much of the trail contains rocks here and there and there are a few drop offs near the trail. Overall the trail is well maintained.
Is the Mt Fremont hike right for me?
If you like big views and don't mind a bit of climbing (much less than many other big view hikes!) and especially if you like to gawk at Mt Rainier then this hike is absolutely for you! It's closer to Seattle and Tacoma than the other side of the mountain too!
When is a good time for the Mt Fremont hike?
The most important thing is to make sure the road to Sunrise is open. It has a short season, so make sure to check! Beyond this, another important consideration is if you can see the mountain. In my opinion, this hike isn't worth it if it's foggy, rainy or you otherwise can't see the mountain. You can check the webcam to see the current conditions. If it's not a mountain view day, try one of these rainy day hikes in Mt Rainier instead!
The Sunrise parking area fills up mid morning on weekends when it's open, so try to get there very early in the morning or 3pm or later, or a weekday.
Where is the Mt Fremont hike?
The trailhead starts at the Sunrise parking lot (go between the picnic area and the day lodge). To get to Sunrise, from Seattle or Tacoma head to Enumclaw and then east on highway 410. Continue into the park (there's a big wooden sign over the road), and then you'll come to a turn to the right that says "White River Entrance/Sunrise". Here you will enter the White River entrance and pay the $30 fee (unless you have a pass). They hold people at the fee both if there is not parking at Sunrise, so if it's a weekend or holiday, go early or late. Once past the fee both, keep right at the campground turn (which goes left), then follow the road as it climbs, climbs, climbs very steeply with lots of switchbacks till you arrive at Sunrise. It should take 2-2.5 hours to get there from Seattle.
Trail Description
Starting from the Sunrise parking lot, in a short distance you'll come to a trail intersection, where you want to go left (and up). After a short bunch of trees (look for marmots here!) you'll come to an overlook over the ridge with a nice view of distant mountains.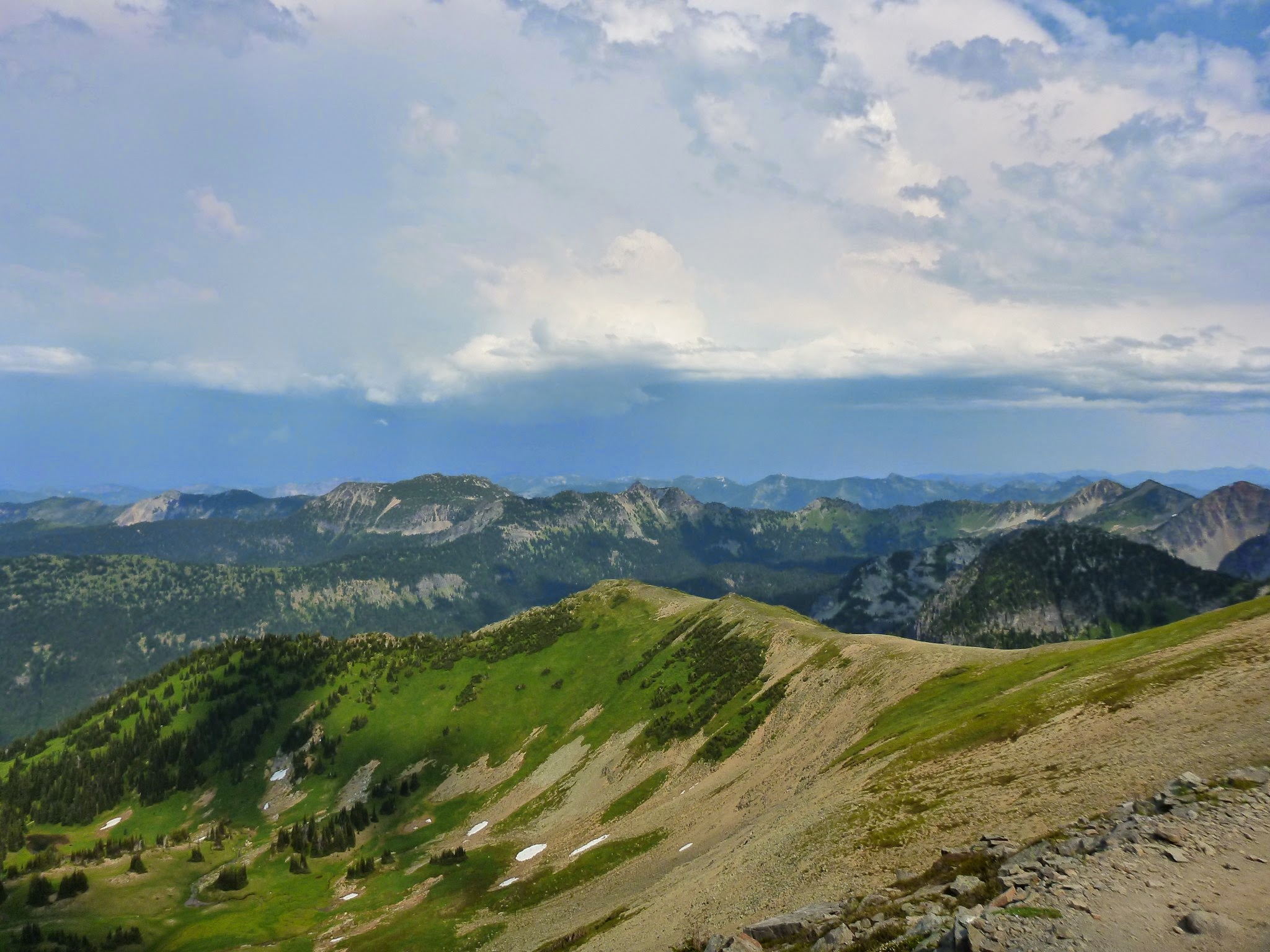 Continuing on, at another fork keep left (another trail branches to the right) and in about a mile, you'll come to a trail junction at a small lake, appropriately named Frozen Lake. Stay away from the lake as it's the water source for Sunrise.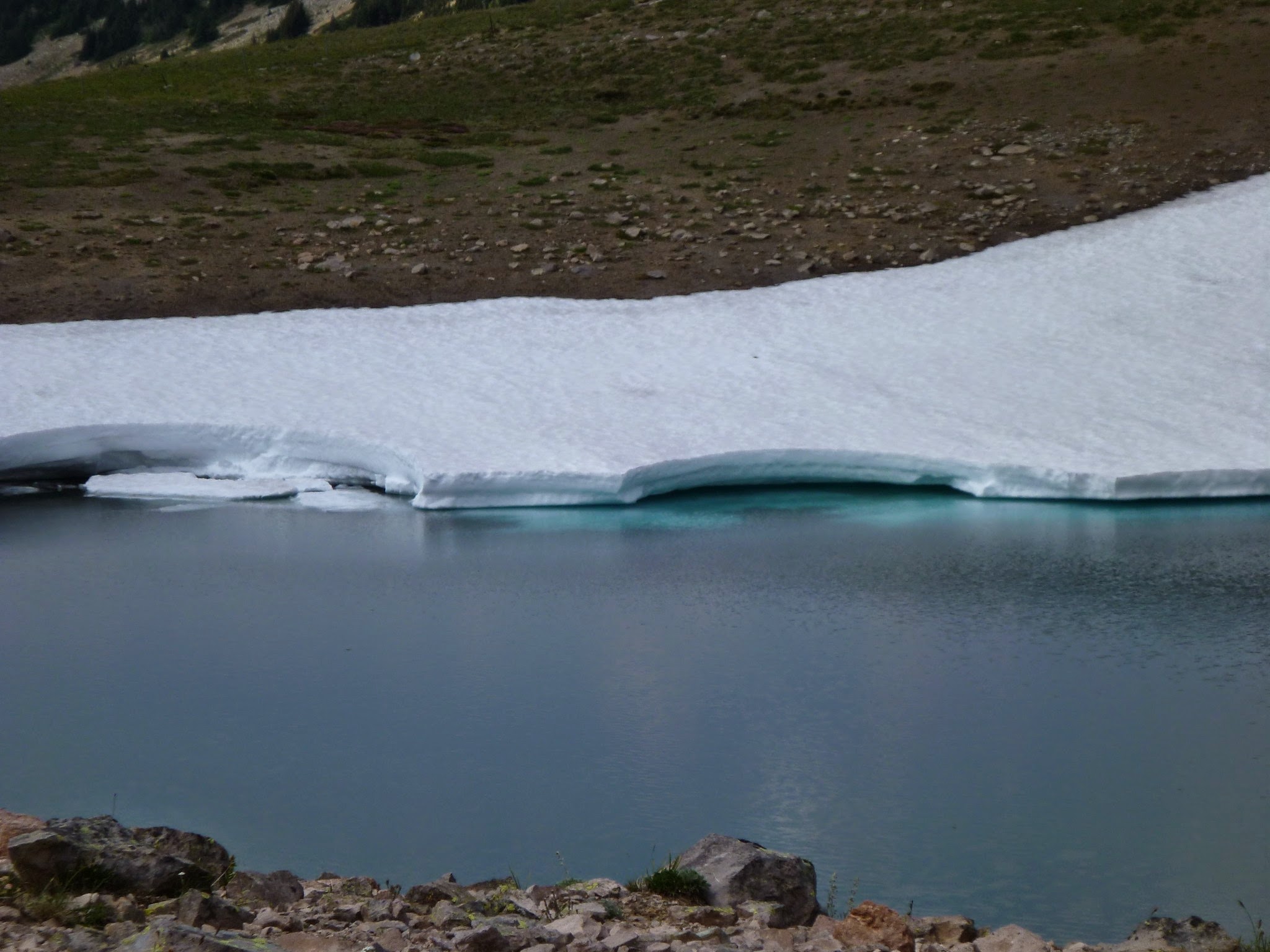 Lots of wildflowers in this area, as well as fall color in the shrubs starting at the very end of August or beginning of September.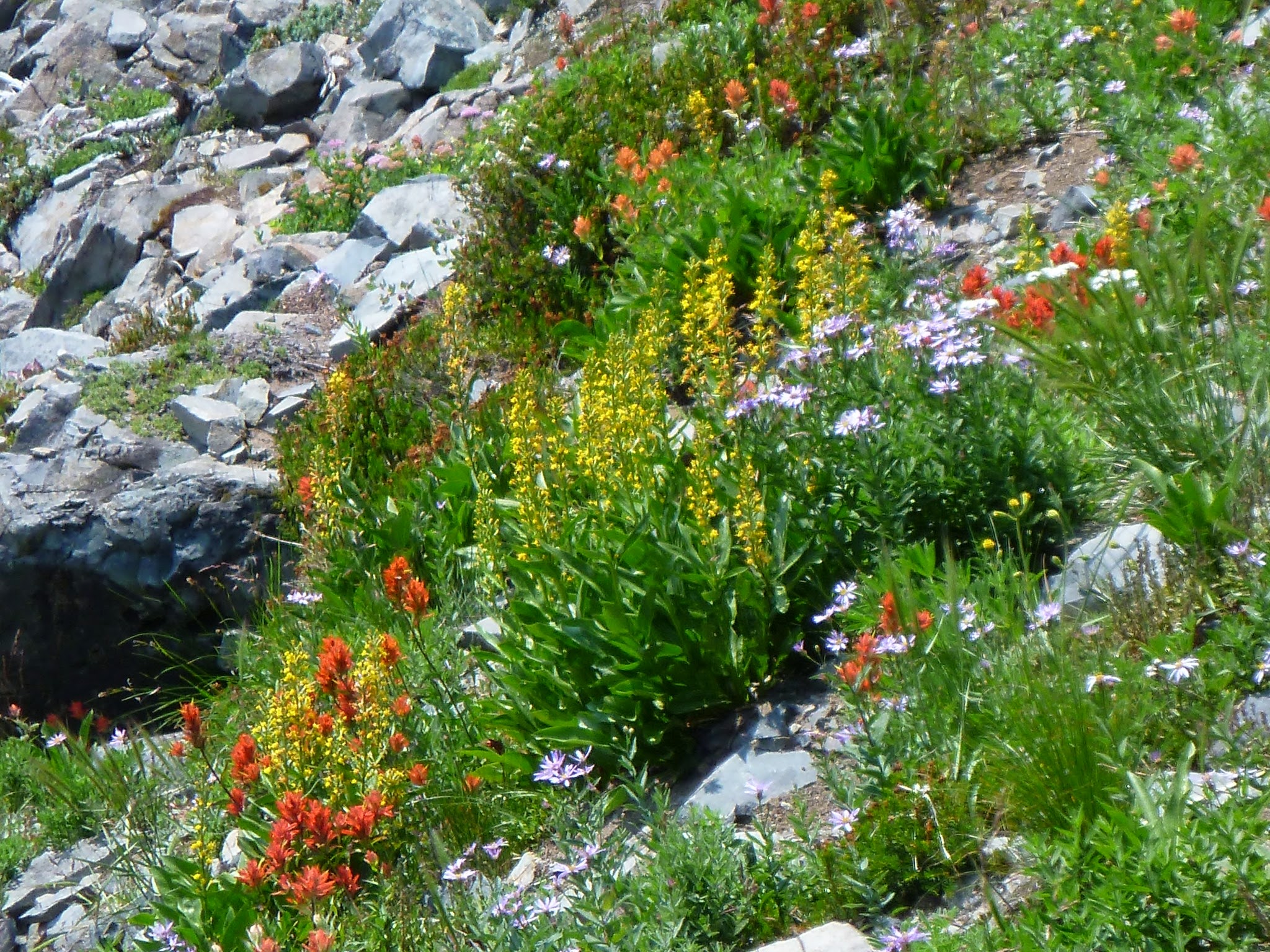 Continuing around the lake, on its far side the trail climbs it's steepest part. Take frequent breaks to look behind you for the awesome mountain views! Continue on the trail (about 1.5 miles from Frozen lake) across granite rocky terrain until you get to the fire lookout.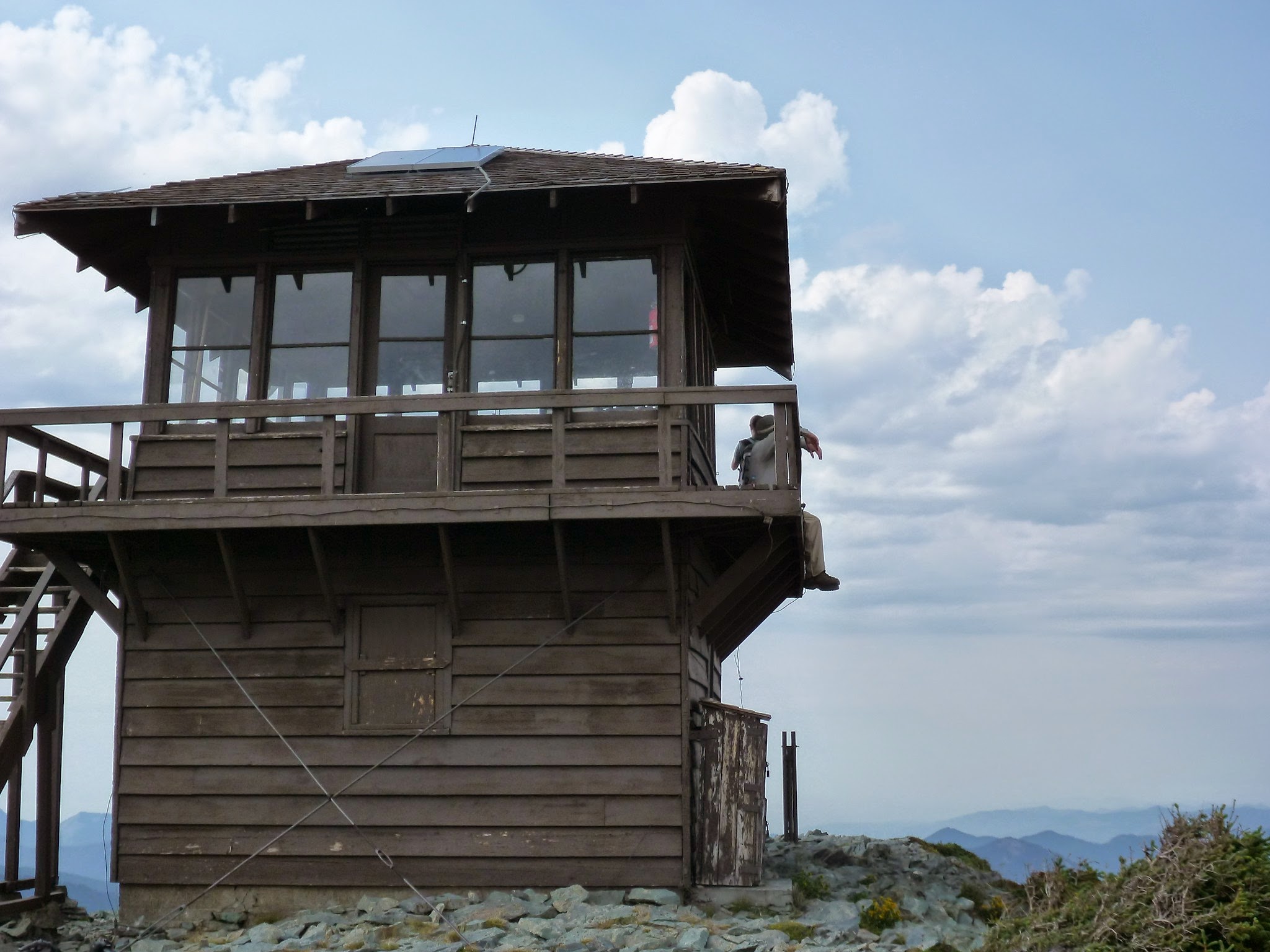 This is a great place to take in the amazing view of Mt Rainier as well as all the surrounding mountains while you enjoy your lunch! Once you've soaked it all in, head back down the way you came.
Where to Stop after
If you're not tired of big views of Mt Rainier yet, stop at Crystal Mountain (north of the Sunrise road on Highway 410 at the Crystal Mountain Ski area). Grab some food and a drink from their deck after riding the gondola up the mountain. The views are amazing!
If you're looking for something faster, try the Naches Tavern along Highway 410 or the Pie Goddess in Enumclaw.
Electric Vehicle Charging
The closest fast charging is in Puyallup, which is way too far for the range of my Nissan Leaf! If you have a longer range, you might be able to do this trip in an EV. I hope that the park service will install fast chargers someday!