McClellan Butte Hike: Super hard and rewarding
Posted On September 4, 2019
Last Updated on December 12, 2022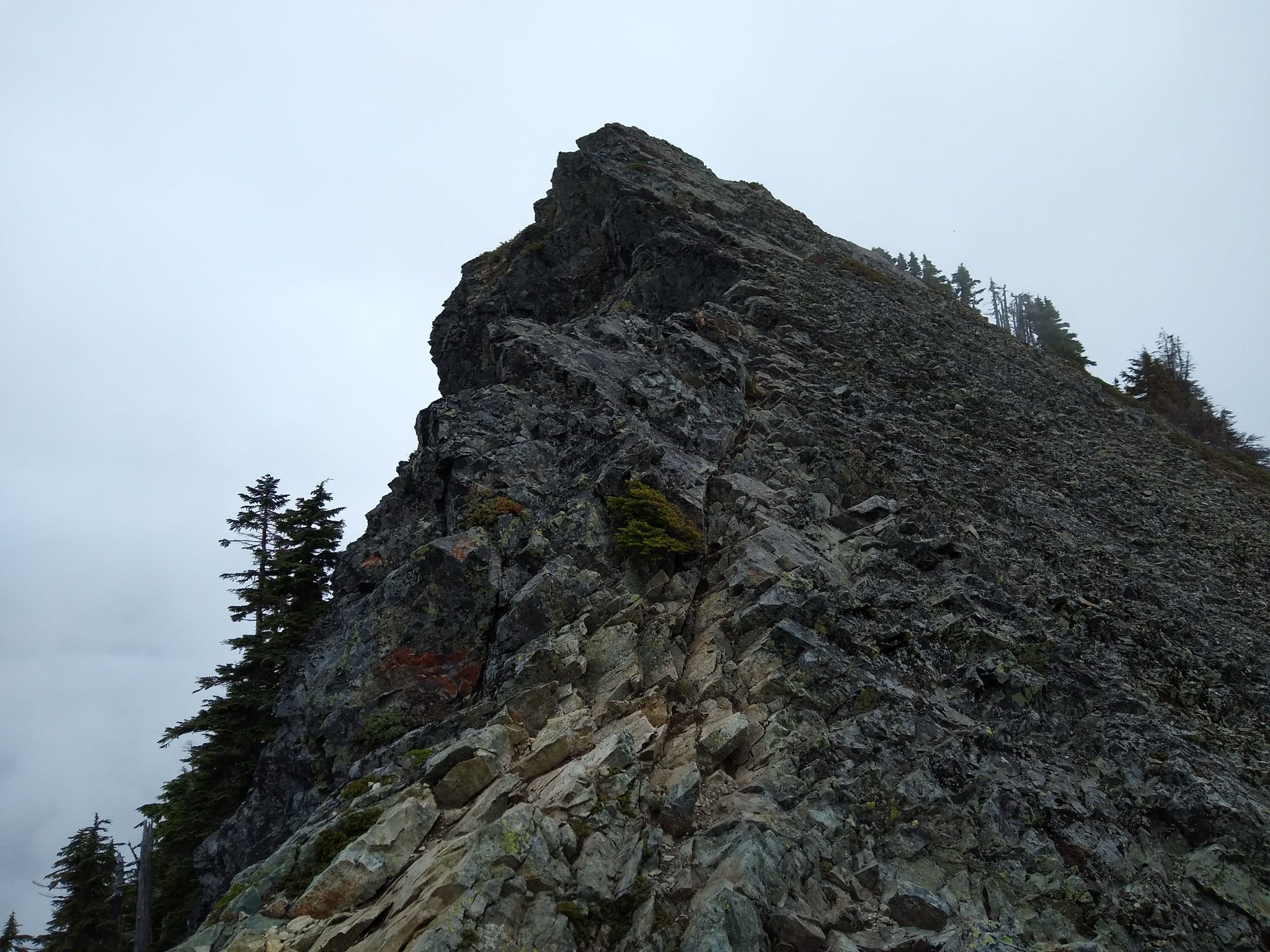 By now you likely know that I don't normally write about hard hikes, since I like to keep things low key. I do enjoy a super hard hike now and then, (check out my Mt St Helens summit climb guide here) I like to include them in case you'd like to challenge yourself too!
The key to doing a hard one like McClellan Butte is to work up to it so your legs are ready for the elevation gain. McClellan Butte is a bit over 9 miles and has nearly 4000 feet of elevation gain. What I think makes it even harder is that the first couple of miles don't climb that much, making it REALLY steep in the second half, especially the last third. I loved doing this hike with it's challenges and you can do it too!
If you're looking for another uncrowded view hike in the same area that's a bit easier, give Mt Washington a try!
McClellan Butte is located on the homeland of the Snoqualmie, Duwamish and Coast Salish people.
Parking Pass Needed: Northwest Forest Pass (or America the Beautiful Pass)
Dog Friendly: Yes, on leash
Related: What to wear for a hike in the Pacific Northwest, what to bring on a hike in the Pacific Northwest
Is the McClellan Butte hike right for me?
This is definitely a hard hike! If you're looking for a challenging hike but want to avoid the crowds that are at some of the other challenging trails in the same area (Mt Si, Granite Mountain) then this would be the perfect hike for you!
It's hard, but it's still something that a normal hiker can do. It has great views, which I missed because the summit was foggy when I did it! I still enjoyed the views of surrounding mountains and hills and the berries, so I didn't mind too much. A big benefit of this trail is the lack of crowds!
When is a good time for McClellan Butte?
This trail wasn't crowded on a Saturday so I think any summer day would be great. I would recommend a clear day when you can see the view. It's mostly shaded until the top so it's a good option on a hot day. There are dangerous snowfields that stretch into July so I would probably not attempt this until late July. It's a good option until the snow flies (through October or possibly early November).
This hike takes a long time, especially if you're slow like me, so make sure that you have plenty of time for this adventure.
Where is McClellan Butte?
The McClellan Butte hike is near North Bend, just west of Snoqualmie Pass. If you take Exit 42 from I-90 East and follow Tinkham road for half a mile you'll be there (google maps will get you there). It's a bit less than an hour from Seattle, without traffic. The outhouse at the trailhead is closed as of this writing in 2019.
Trail Description
At first, this hike isn't too steep. It starts with a mellow forest walk, through an open area under powerlines and then there's a junction where you follow what looks like an old road to the right (this is signed). This section is completely flat. About a mile from the trailhead, you'll cross the Palouse to Cascades trail, and continue on the other side (there are signs).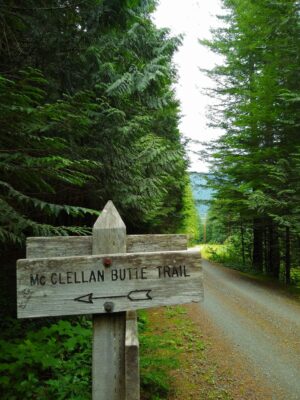 A little bit further on, you'll cross a forest service road. After this point, the trail starts to get steeper and you'll steeply climb a series of switchbacks. In the last couple miles, there are long traverses between the switchbacks. During this section you'll start to see out in more open areas occasionally, which offers a nice change of scenery. In this area there are lots of huckleberry bushes, and if you're there in August or early September, you'll be able to snack on tons of berries! This is a good distraction from the increasingly tough climb.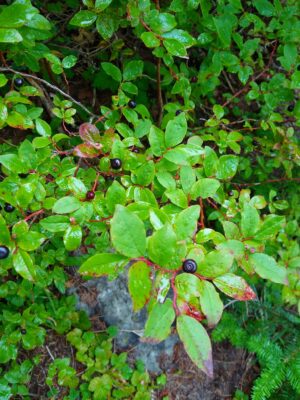 As you approach the top, the trail winds around the back of McClellan Butte, opening up views down to the Cedar River Watershed, the source of Seattle's drinking water (signs warn you not to enter the area).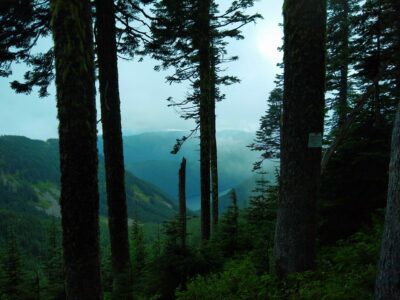 At this point, you really are close to the top (less than a mile) but it's really steep and it does feel like forever! But you're almost there, promise!! At the top, you'll see the summit block pictured at the top of the post. You can scramble out to the true summit, which I decided not to do since it was foggy and I was by myself. Others were going up there and getting to it just fine. Once you've given your legs a break, gotten a good amount of food in you and soaked up the view, it's time to begin the long trip back to the bottom. The berries were a welcome distraction for me on the way down!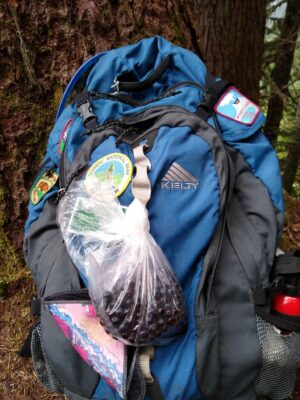 Breweries and Bakeries near McClellan Butte
Grab some delicious coffee and pastries at Pioneer Coffee in North Bend or grab a beer at Volition Brewing. The North Bend Bar and Grill is also an excellent option for food and drinks in downtown North Bend.
Electric Vehicle Charging
There is fast charging at the North Bend Outlet Mall near downtown North Bend (walk to Pioneer Coffee!).