Cutthroat Lake Hike in North Cascades: Easy Larches!
Posted On October 2, 2019
Last Updated on February 15, 2021
Looking for a relatively easy hike to see the gorgeous orange larch trees of North Central Washington? Similar to Blue Lake, Cutthroat lake is a mellow 4 miles round trip with just 400 feet of elevation gain, this one is easier and in the same area along the North Cascades Highway. This is still in a remote area without cell phone service, so make sure to be prepared.
Cutthroat Lake is on the homeland of the Nlaka'pamux and Okanagan people.
Parking Pass: Northwest Forest Pass
Dog Friendly: Yes, on leash
Related: What to wear for a hike in the Pacific Northwest, what to bring on a hike in the Pacific Northwest
Is the Cutthroat Lake hike right for me?
If you're looking for a shorter hike without much climbing in a beautiful area with amazing fall colors then this hike is for you! If you're coming from Seattle, it's a long way (4 hours) so this works well with a weekend trip.
When is a good time for the Cutthroat Lake Hike?
Do this hike at the very end of September or first half of October when the golden larches spread their magic! This hike is also pretty in the summer, but fall is when it really shines with gorgeous golden larches. With it's short distance and relatively flat terrain, it's good for shorter, cooler days.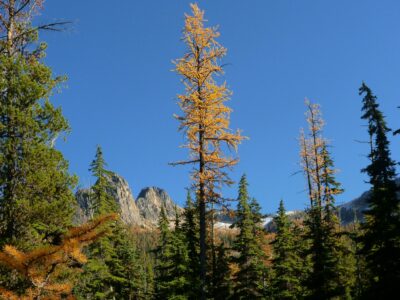 Where is it?
Cutthroat Lake is located along the North Cascades Highway, east of both Washington Pass and Rainy Pass, just past a sharp hairpin turn if you're going from west to east. Exit the highway at the sign for Cutthroat Lake and go about a mile on a gravel road to the trailhead parking lot. It's about a 4 hour drive from Seattle.
Trail Description
Leaving the parking lot, you'll cross the creek on a bridge and be on the very gentle trail through a forested area. 1.7 miles from the start, you'll reach a trail junction where a trail to Cutthroat pass goes to the right. You'll stay left to go to the lake and will reach it in a short distance. Enjoy exploring around the lake as long as you like, making sure to take in the fleeting beauty of the larch trees surrounding you as well as the pine trees and dramatic mountains. When you're ready to leave, head back the way you came.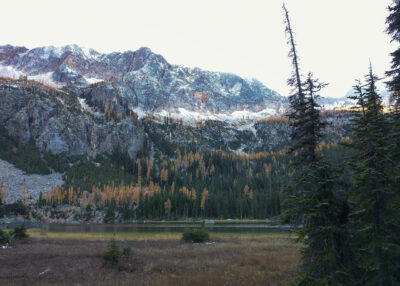 Breweries and Bakeries near Cutthroat Lake
As I mentioned at the top of this post, there aren't any services of any kind near the trailhead. There are lots of great options in Winthrop, about 45 minutes away.
In Winthrop, check out the Old Schoolhouse Brewery for beer and the Rocking Horse Bakery for coffee, soups and sandwiches! Looking for pizza? Check out East 20 Pizza.
Electric Vehicle Charging
The closest fast charging is 100 miles away in Burlington, which is too far for the range of my Nissan Leaf. If you have a vehicle with a much longer range then you might be able to do it!