Denali Road Lottery Trip Planner
Posted On November 18, 2019
Last Updated on March 26, 2023
Is Denali National Park on your list of dream destinations? Most visitors visit during the summer season but I'd like to convince you that a September visit (which is fall in interior Alaska) is the way to go. The Denali Road Lottery is a special event hosted by the National Park Service for a few days in mid September and the best way to see the park!
2023 Note: The Denali Park Road closed at Milepost 42 (Polychrome Pass) in August 2021. The park service has announced that the Denali Road Lottery is suspended for the foreseeable future. I will update this article if it returns.
The fall color in Denali in September is absolutely spectacular. It's true that it's likely to be cold, and possibly raining (or snowing!), but there are less crowds and NO BUGS. If you consider that there's a good chance of rain in Denali National Park even in the middle of summer, and the number of days that you can see Denali are relatively few, then that's another reason to go in September. Finally, you add in a chance of seeing the Northern Lights (it doesn't get dark in the middle of summer but by the end of August it's getting dark enough at night you may see them) and what's not to love??
In this post, I'll talk about what the Denali Road Lottery is and how to enter, what to do if you don't win, how to get to Denali National Park, what your accommodation options are, what your food options are, what you can see on your visit and what to bring.
What is the Denali Road Lottery and how do I enter?
Denali's park road is not normally open to private vehicles beyond the first few miles. The road is gravel and narrow with steep drop offs and soft shoulders, and there is a LOT of wildlife. For these reasons, and to manage crowds, the park service operates a shuttle bus and tour bus system, and you must purchase a ticket for the bus to go beyond 15 miles on the 90 mile park road (including camping at Wonder Lake). But for four days in September, right before the park closes, the Denali Road Lottery happens and during this time you can drive a private vehicle on the park road.
The lottery is hard to win, according to the park service, your chances of winning are about 1 in 7 (to improve your odds, make sure everyone in your party applies for the lottery!). I never won while I lived in Fairbanks, but last year we finally got the chance to go with friends from Anchorage! It was amazing and well worth the effort.
Enter the lottery here, from May 1-31 by paying a $15 fee. There are four date options (usually the second Friday/Saturday/Sunday/Monday) after Labor Day), you put your ideal date first, then your second choice, etc. If you win, you are assigned to the date that isn't filled up yet closest to your first choice. Make sure that you can do any of the dates even if you have a preference. Winners are notified in June and at that time you are charged the $25 permit fee (you will still need to pay the park entrance fee when you arrive). Note that this is an automatic process, if your credit card fails you will lose your spot! Make sure to check this before the notification date so you don't miss out for this reason.
When you arrive at Denali for the lottery, you will need to pick up your physical permit (and pay the entrance fee if you don't have a national parks pass) and get a briefing on the rules. You can do this the day before which is a great option if you get there on time. Otherwise you want to get there right when they open the day of. I have heard from others who have done it that there can be a line in the morning, we did not encounter a line, but that's another reason to stop the day before.
If you win, it's time to start planning your trip!
What if I didn't win?
If you don't win, but in the process got your heart set on going to Denali in September, you can go in the days leading up to the road lottery! The first couple weeks of September are an excellent time to visit the park for the reasons talked about above, and you can travel on the bus instead. After the road lottery, the park road is closed for the season and most services around the park entrance also close for the winter.
Getting to Denali National Park
If you'll be traveling to Alaska from elsewhere, you'll want to fly to Anchorage or Fairbanks, rent a vehicle and drive from there and plan to get to Denali National Park the night before your lottery date. The advantage of flying to Fairbanks is that it's a much shorter drive (2-3 hours vs 4-5 hours from Anchorage). The advantage of flying to Anchorage is that you'll have more flight options, likely a cheaper flight and more car rental options.
When renting a car it's important to make sure you can take the vehicle on gravel roads (the denali road is gravel) and make sure it has good tires! The park road is not particularly difficult (you can drive it with a normal car) but it is gravel. I have personally had really good luck with Rent-a-subaru in Anchorage, you take a quick ($10) taxi ride from the airport and get a 3-5 year old subaru, a vehicle that was made for Alaska! There's also a lot less nonsense that goes along with car rental. Be aware that to rent from them you have to provide your own insurance.
Once you get your vehicle, load up on some food (see below) and head for the park. Depending on what time of day you arrive, you might consider overnighting in Anchorage or Fairbanks and then having the whole next day for the (very scenic) drive to keep things relaxed. If you're short on time you can fly in in the morning and get there that day, but make sure you arrive in the morning!
From either Anchorage or Fairbanks, you'll travel the Parks Highway to the park. The park entrance is well signed and there are a variety of hotels along the highway just outside the park.
Where to Stay for the Denali Road Lottery
You have two options for sleeping the night before the road lottery (and I would highly recommend also sleeping there the following night, so you're not traveling AND doing the Road lottery the same day). You can camp in the park, or you can stay at one of the many hotels just outside it. When I did the road lottery, we camped at the Savage River Campground, 15 miles into the park. Savage River is a beautiful campground along the river in the forest that is quieter than the Riley Creek Campground, your other option that is busier but is also closer to the Visitor Center where you will go in the morning to pick up your permit. You can make a reservation for camping in advance after you secure your permit.
If you're camping, expect cold and wet weather and make sure to have all food and toiletries secured in your vehicle at all times to protect bears (and yourself from bears).
If you'd prefer to stay in a hotel, you'll have a lot of options at the end of the season. All the big cruise lines have hotels there, and there are many independent hotels as well. All of these are close to the park entrance, which is what you want since you'll want to get there early in the morning.
What to Eat
There is no food available in the park (there's a small park style mini grocery store at the visitor center as you enter the park, which is a great place to pick up your morning coffee!). I highly recommend getting food for the day in Anchorage or Fairbanks before you leave town (there is also a grocery store in Healy a few miles from the park entrance). Bringing something that doesn't need to be cooked is a good idea. We brought stuff to make sandwiches, apples, snack vegetables and a bunch of other snacks. You'll want to spend a long day in the park so bring enough food for a couple meals as well as snacks. Fill up those water bottles as well since you'll be in a very remote area.
If you're looking for a place to have dinner the night before or when you get back on your lottery day, I highly recommend 49th State Brewing in Healy (about 10 miles north of the park). They have great food and beer and a fun atmosphere. Check out my other recommendations for what to eat in other parts of Alaska here.
What Can I See During the Denali Road Lottery?
One advantage of visiting the park during the Denali Road Lottery is that you can stop as often as you want for as long as you want and you can turn around anytime! A very important thing about the park road is that it takes a LONG TIME. The entire road is 90 miles long, Eielson Visitor Center is the farthest we went (66 miles one way). Despite only driving 130 miles total, it was definitely a FULL day. It was cloudy, foggy and windy the day we went, so we didn't think it was worth it to go all the way to the end of the road (Wonder Lake) without being able to see the view.
It was still a spectacular day, the fall colors were incredible, the weather and scenery were dramatic and we saw nine bears, two moose and lots of arctic ground squirrels. I would encourage you to take your time, settle into the day and not be too destination oriented. The remoteness of Denali National Park is part of what makes it special, so don't forget to be in the moment, no matter what the weather is doing or how far you make it.
Some of the things that make the drive slow going include: maximum speed limit of 30 mph (in some places lower), narrow parts of the road taking turns with other vehicles, stopping to look at wildlife (we probably spent at least two hours doing this-when you're watching a bear eating, time goes by fast), walking or hiking at different stops, eating, bathroom stops and LOTS of picture stops.
You can drive on the park road past the Savage River campground (mile 15) from 6:00am until 11:00pm (if you camp at Savage River and get your permit the day before, this gives you the maximum amount of time). In mid-September, sunrise is approximately 7:30am and sunset is approximately 8:30pm.
When you start on the park road you'll be in a valley with an excellent chance of seeing moose (be really careful especially driving at dusk and after dark). The bushes are bright red this time of year!
Just past the campground, you'll encounter a check point where you will present your permit. From there, you'll see open amazing scenery for the next 50 miles to Eielson visitor center. There are a number of pullouts to stretch your legs or take photos. Denali is generally an open landscape with few trees beyond savage river. This makes it a great place to look for bears who are getting their last fill of berries before hibernation.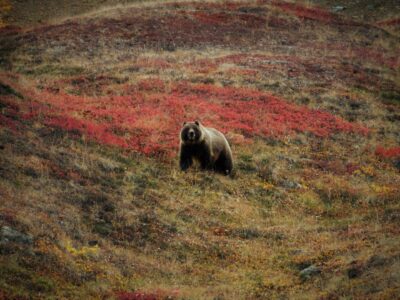 Make sure to stay in your vehicle if you see bears or other wildlife and never, ever feed them. The whole drive is on a gravel road with a soft shoulder, be extremely careful when passing and observe the speed limit.
In addition to fall colors in the tundra, dramatic landscapes and wildlife, in places you may also see Denali if you are among the 30% lucky enough to see it while visiting the park!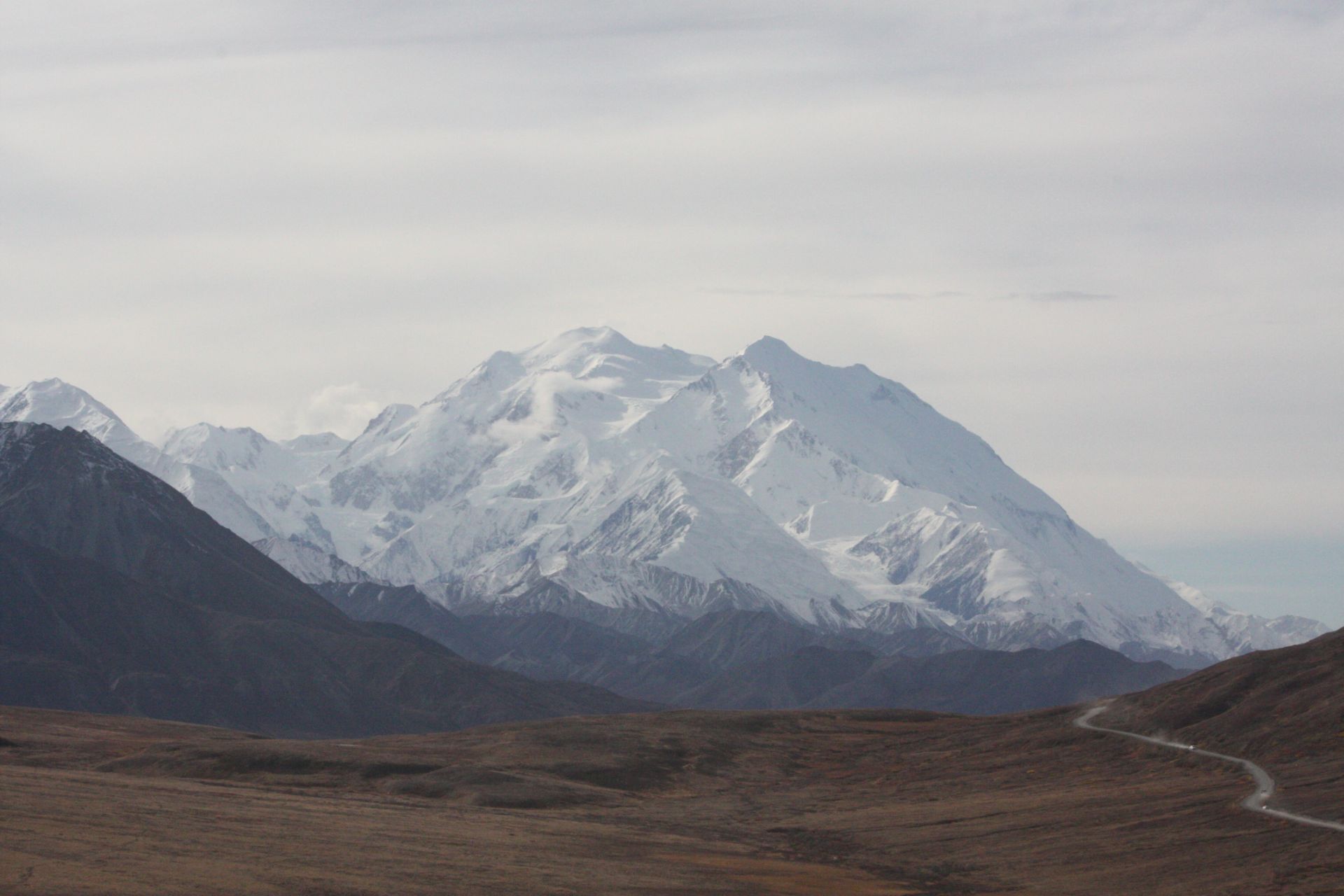 When you arrive at Eielson Visitor Center, this is a good place to get out and spend some time. There are bathrooms, you can refill your water bottle, and there's an indoor space to eat your lunch (which is awesome if it's cold/rainy/windy) like it was when we were there. There are a few exhibits, including a helpful outline of Denali in case you can't see it, which is often!
This area also has a few hiking trails. In general, Denali doesn't have a lot of trails and most of them are relatively short (for longer treks and backpacking you are off trail for the most part). Around the Eielson visitor center there are several, including a very steep hike up the hill behind the visitor center and a short loop called the Tundra Loop which has spectacular views and is totally worth it even if the weather isn't great!
From here, you can either decide to turn around, or if energy and time permit, you can continue another 30 miles to Wonder Lake for a breathtaking view of Denali. In my opinion, and that of my friends who have done it many times, it's only worth it if the mountain is in view, otherwise it's just a lot more driving for similar scenery to what you've already seen.
On your return trip, keep an eye out for more wildlife and different views than you may have seen before, given the likelihood of rapidly changing weather. If you have extra time, or if you're camping at Savage River, stretch your legs along the river on the mostly flat approximately two mile loop trail.
I highly recommend staying at least two nights in the Denali area (either camping in the park or staying in a hotel near the entrance) to make the most of your lottery day as well as not letting your trip become too frantic.
What to Bring for the Denali Road Lottery and Weather
You can expect the weather in Denali National Park to be cold and wet, and possibly snowing! Expect daytime temperatures in the 40s (though it could be a bit warmer or colder) and night time temperatures are likely to be below freezing. I'm focusing this list of what to bring on the day of the road lottery itself, if you're camping you'll of course need camping gear. Check out this post about what to pack for Alaska in general (including this trip) and this post about outerwear for the Pacific Northwest in winter (which is similar weather to what you'll experience on this trip). Having warm and waterproof gear is really important to make sure you have a fun day full of adventure! Here are some other things that I recommend bringing:
Warm and waterproof clothes and footwear (see above)
Food: two meals, snacks and drinks (see above)
Binoculars: Great for seeing wildlife in the distance!
Camera!
Full tank of gas: you don't want to chance it
Analog entertainment for the car: You won't have a cell phone signal all day, so make sure to download your music
Paper map of the park (you will get the free park service map when you check in), helpful for following along and seeing where you are
I hope you're convinced to take your chances applying for the Denali Road Lottery, one of the best things to do in Alaska! Good luck!