Complete Guide to Camping in Alaska
Posted On January 4, 2021
Last Updated on September 27, 2023
Camping in Alaska is the ultimate adventure and a dream trip for many people who already enjoy the outdoors. In addition to the adventure and beauty, it's a great way to save money on your trip to Alaska. But what about Bears? Bugs? will it be cold? I'm a lifelong lover of camping and a former Alaska resident and I'll tell you everything you need to know to decide if camping in Alaska is right for you and what type of camping trip to plan.
Related: Alaska itinerary for Independent Travelers, How to Fly with Camping Gear
This post contains affiliate links, which means if you make a purchase I may receive a small commission at no additional cost to you. As an Amazon Associate, I earn from qualifying purchases
Can you camp anywhere in Alaska?
No. Just like other parts of the US, the land has a variety of different land owners and managers. Alaska does have a lot of public land, far more than any other state, but you cannot just camp anywhere.
You can do dispersed camping (camping outside a campground) just like other parts of the US, but you need to make sure you are on public land that allows camping. Pay attention to private property signs or signs indicated you cannot camp in a certain location.
The Alaska Public Lands info centers are a great resource (located in Fairbanks, Anchorage, Tok and Ketchikan) of where you can dispersed camp as well as camp in campgrounds.
Alaska has private campgrounds, municipal campgrounds, state park campgrounds and park service campgrounds.
Many campgrounds accept reservations, but not all. In summer, it's a good idea to have reservations for camping if you are wanting to camp in a specific location, especially on weekends if you are within a few hours of Anchorage or Fairbanks, or in June and July.
Special Considerations for Camping in Alaska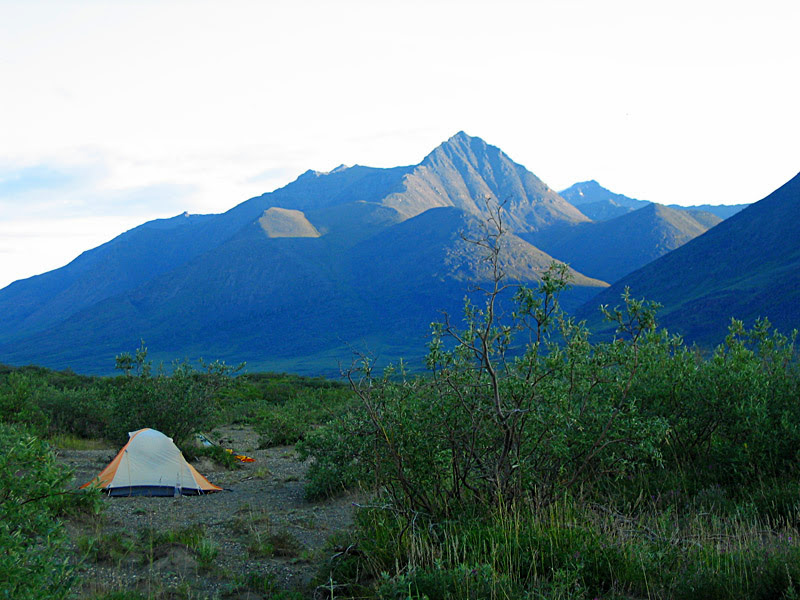 I often get asked "is it safe to camp in Alaska"? While all outdoor activities are always at your own risk and there is always risk involved, there's plenty you can do to improve the likelihood of a safe and amazing camping trip in Alaska. There are a few specific risks to think about and prepare for to give yourself the best chances of a safe outing.
Camping with Bears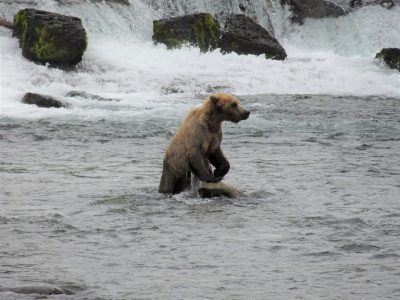 Black bears or brown bears or both are present in large numbers across Alaska. It is imperative that you take bear safety seriously and follow all rules and recommendations put in place by local authorities, such as the national park service or Alaska State Parks. This is for your safety as well as the safety and protection of the bears. Some campgrounds in Alaska do not allow tent camping (RVs only) due to bear safety concerns. Exact regulations vary from place to place but some general guidelines include:
Carry bear spray – similar to pepper spray, if a bear attacks you can defend yourself in a non lethal way. Note that bear spray can not be carried on airplanes
Respect all trail, campground and other area closures – if an area has been closed due to bear activity, do not enter it
Never approach or feed bears, ever
Never store food, cooking equipment, toiletries or anything else with a scent in or near your tent. These items should always be in a bear cache or locker or bear bin (these details vary by the system each park has set up for bear safe storage). Never leave these items unattended for any amount of time. You can also keep them inside a locked vehicle.
Never run from a bear
Camping with Bugs
Mosquitoes are intense across Alaska in the summer. Mosquito levels can vary quite a bit from day to day and location to location. If you are visiting Alaska between May and August make sure you're prepared to deal with bugs while camping.
I recommend having full rain gear not just for rain but also for bug protection. Also have a hat with a brim so you can wear a headnet (cheap and easy to find once you get to Alaska). I also recommend long, lightweight pants and a loose fitting long sleeve shirt to protect yourself from bugs on hot days. More details are in the what to pack section below.
Bug Spray helps, but being able to cover your skin is more important to keeping your sanity around bugs. Read more here about all my tips for hiking and camping with mosquitos.
Camping in Unpredictable Weather
Alaska's weather, while quite different across the many parts of this diverse state, is also very unpredictable! You'll need to be prepared for rain, wind, hot sun and cold no matter when you visit. See more in the packing section below!
If you're tent camping, make sure that your tent can withstand wind and rain and keep you dry inside!
Camping in Remote Areas
Most Alaska camping is in remote areas with limited or zero services and limited to zero cell phone signal. Some of the campgrounds close to Anchorage or near the Denali National park entrance area are exceptions. You'll need to have all your reservations and directions printed or downloaded before you set out.
You'll also need to bring everything with you, most campgrounds do not have camper stores or services. More details on what to bring are below. I also recommend getting your groceries and supplies in the largest town you will visit (ideally Anchorage or Fairbanks) where you will find the most selection and best prices.
Most campgrounds in Alaska do not have flushing toilets or showers. Prepare to pack out your trash if trash cans are not available. Most campsites in Alaska have fire rings and picnic tables. Some have bear caches (secure sheds or containers to store food, cooking equipment and toiletries) and cooking shelters.
When is the Best time of year for Camping in Alaska?
The tent camping season in Alaska can be stretched as early as May and and late as September. Generally, June and July have the warmest and driest weather, but you can experience cold and rain anytime! A few things to keep in mind when planning your camping trip in Alaska regarding the best time:
Weather is highly variable everywhere in Alaska – summer days can be quite hot but can also be chilly and rainy. You'll need to be prepared for both!
It does not get dark in summer in Alaska – from late May through July it will be daylight all or most of the time. In the far north there will be no darkness at all, in Southeast Alaska it will only be dark for a couple of hours
Seeing the Northern Lights – if you have your heart set on seeing the Northern Lights on your trip to Alaska, visit in late August or September. There are also fewer or possibly zero bugs during this time. Denali National Park or the Interior (Fairbanks and Chena River State Recreation Site or Chena Lake Recreation Area) are particularly good areas to camp if you're hoping to catch the northern lights on your trip (only at the end of the season – late August and September). In this area of the state, expect freezing nights and possible snow, especially later in September.
Late August and September are fall in Alaska, not summer – the later in the season you visit, the more you need to be ready for snow and freezing temperatures, especially at night and especially the further north or inland you are. September is fairly rainy in most of Alaska, even in parts that are usually dry (like Fairbanks).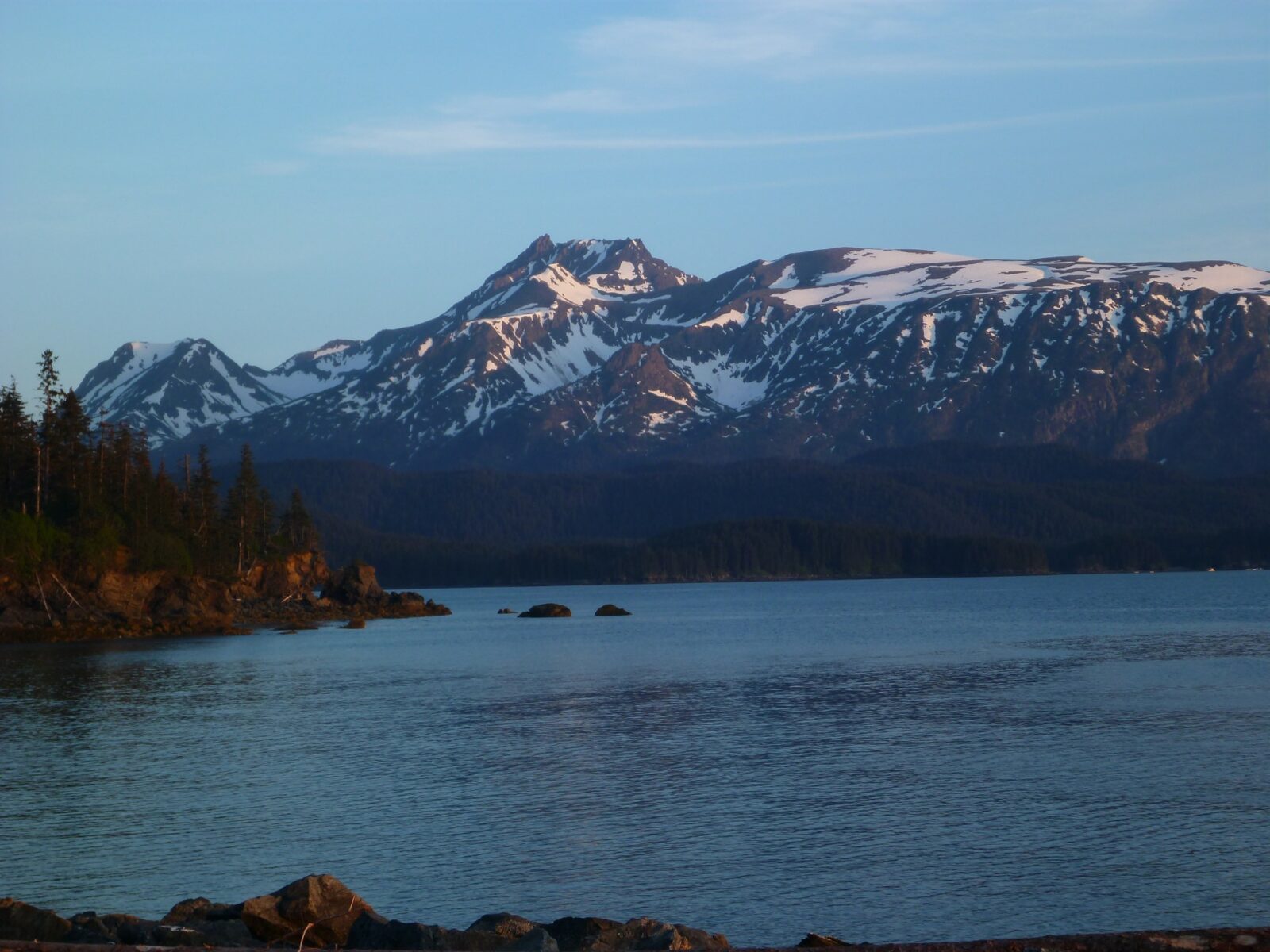 Different Types of Camping in Alaska
Tent Camping (Car Camping)
Tent camping, or sleeping in your car, is available all over the state of Alaska. An important note is that you can't just camp anywhere! You need to confirm that camping is allowed in the area you want to camp in.
If you are in an established campground then you'll now for sure it's a place you can camp. If you're looking to camp outside of established campgrounds, contact one of the Alaska Public Lands Information Centers to determine your options for the area of the state you'd like to camp in.
Established campgrounds exist in National Parks, State parks and state recreation sites, National Forests and more! Some towns, such as Seward, operate campgrounds as well.
If you're tent camping in Alaska, make sure your tent is free of any holes in the mesh that would let bugs in, make sure it has an excellent and full length rain fly. It is also critical that you never ever leave any food or toileteries in your tent EVER for bear protection.
If you're planning to sleep inside your rental car, make sure you know the exact type of vehicle it will be and get the dimensions so you know for sure you and your sleeping pad/sleeping bag will fit.
Backpacking, Kayak or Canoe Camping and Bikepacking
If you really want to get away from it all, packing your tent for an off road adventure might be the way to go. If you want to do this, it's imperative that you plan carefully and make sure you have everything you need for backcountry survival.
You can even do float plane fly in tent camping in remote areas like Katmai National Park and Lake Clark National Park.
Alaska Public Lands Information Centers are a great source of information about places to do this, including on federal and state land.
Similar to car camping, you'll need to carry a bear bin with you in order to store all food and toiletries away from your tent. You'll also need to be prepared for all weather including heavy rain and bugs!
Camping in Alaska's Public Use Cabins and Yurts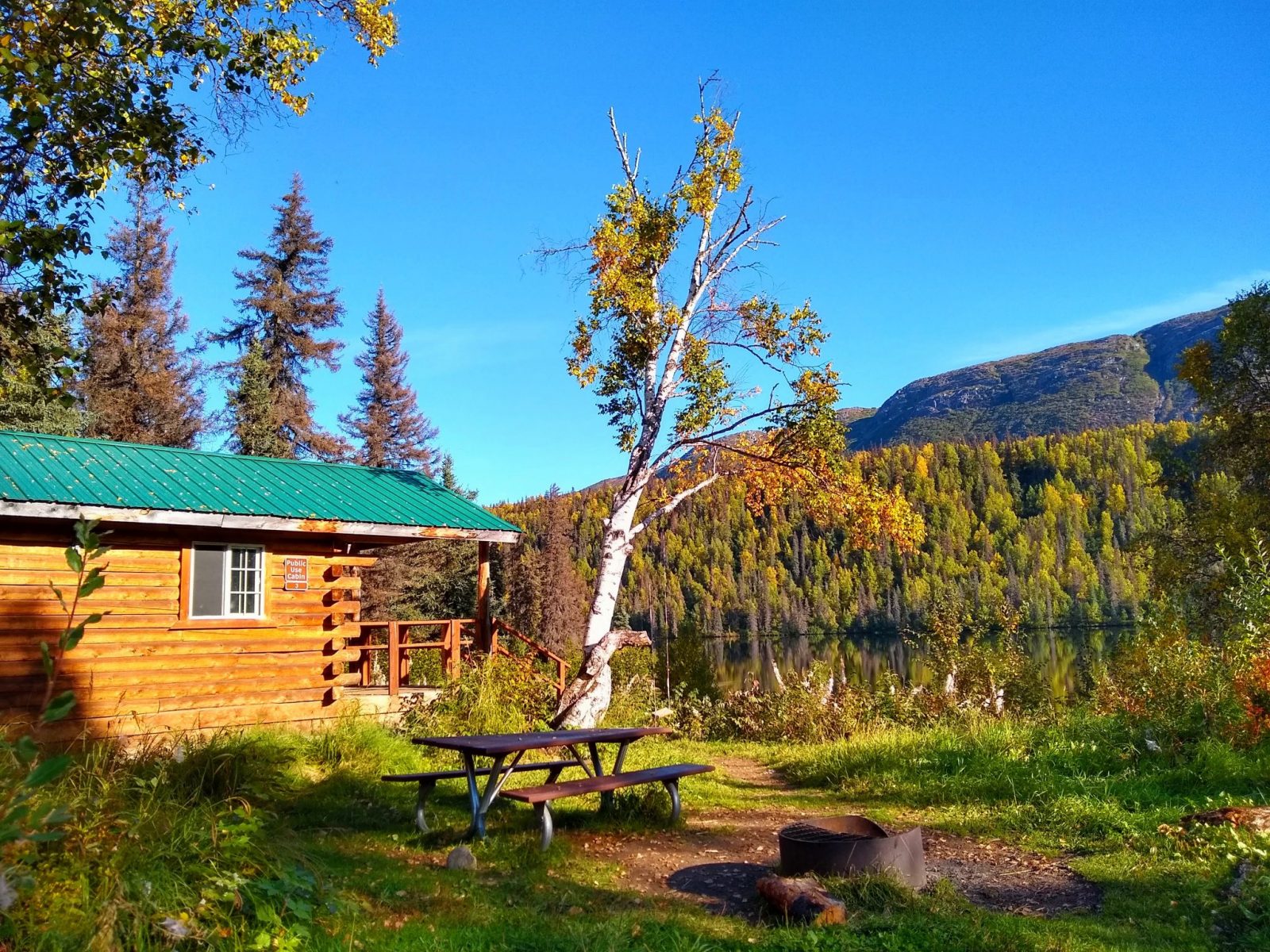 In my opinion, public use cabins are the sweet spot for camping in Alaska. They are a great way to see Alaska on a budget and provide many of the benefits of tent camping (beautiful locations, fire rings and picnic tables) while providing protection from bears, bugs and bad weather! You also get more space than you have in a tent.
Alaska has lots of state owned public use cabins as well as many cabins on federal land. There are cabins near a lake, river, mountains and on remote access inlets you can only get to on a water taxi, such as the cabins in Kenai Fjords National Park, some in the Chugach National Forest and the yurts in Kachemak Bay. There's even a train caboose you can stay in next to a whistlestop train (see more in my favorites below)!
If you're interested in staying in an Alaska public use cabin, you MUST get a reservation (sometimes very far in advance). For Alaska state parks cabins, get your reservations here. For cabins on federal land, get your reservations at recreation.gov.
It's also important to read all the details and information before booking. Some cabins you can drive to, others you'll need to walk, hike or bike to. Some require a boat to access (often you can get a water taxi from a nearby town to get there). In addition to access, you'll also need to read the information on what you need to bring and what is provided (for example: firewood, heating oil, bunks to sleep on).
Alaska's public use cabins do not have bathrooms or water (bring your own water jugs). They do have outhouses and fire rings. Often they have either a woodstove or an oil heater.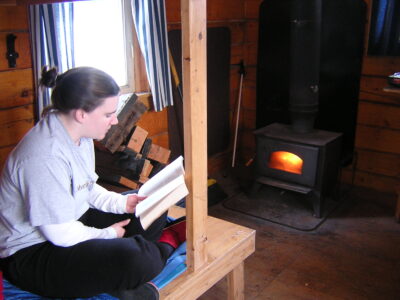 RV Camping in Alaska
An RV can be a great way to give yourself lots of flexibility on your trip as well as some bear, bug and weather protection.
If you are driving an RV to Alaska, or renting one once you arrive, many places you can go car camping in a tent are available to RVs, but not all.
If you want to ensure hookups, then reservations are extremely important. If you're not in need of hookups, you'll have more flexibility.
Some sites are limited in the length of the vehicle or don't allow trailers. A pickup truck with a camper can go anywhere a car can.
13 Best campgrounds in Alaska
Even though I lived in Alaska for seven years and visit at least once a year since I moved and have done a LOT of camping in Alaska, I've by no means seen it all! I'll continue to add to this post as I come across more favorite spots. I've only included campgrounds and public use cabins here, I haven't included any dispersed camping areas or backpacking trips (I'll save that for a diffrent post). I've also included a couple of campgrounds that I haven't been to that are loved by friends. Enjoy!
Bartlett Cove Campground – Glacier Bay National Park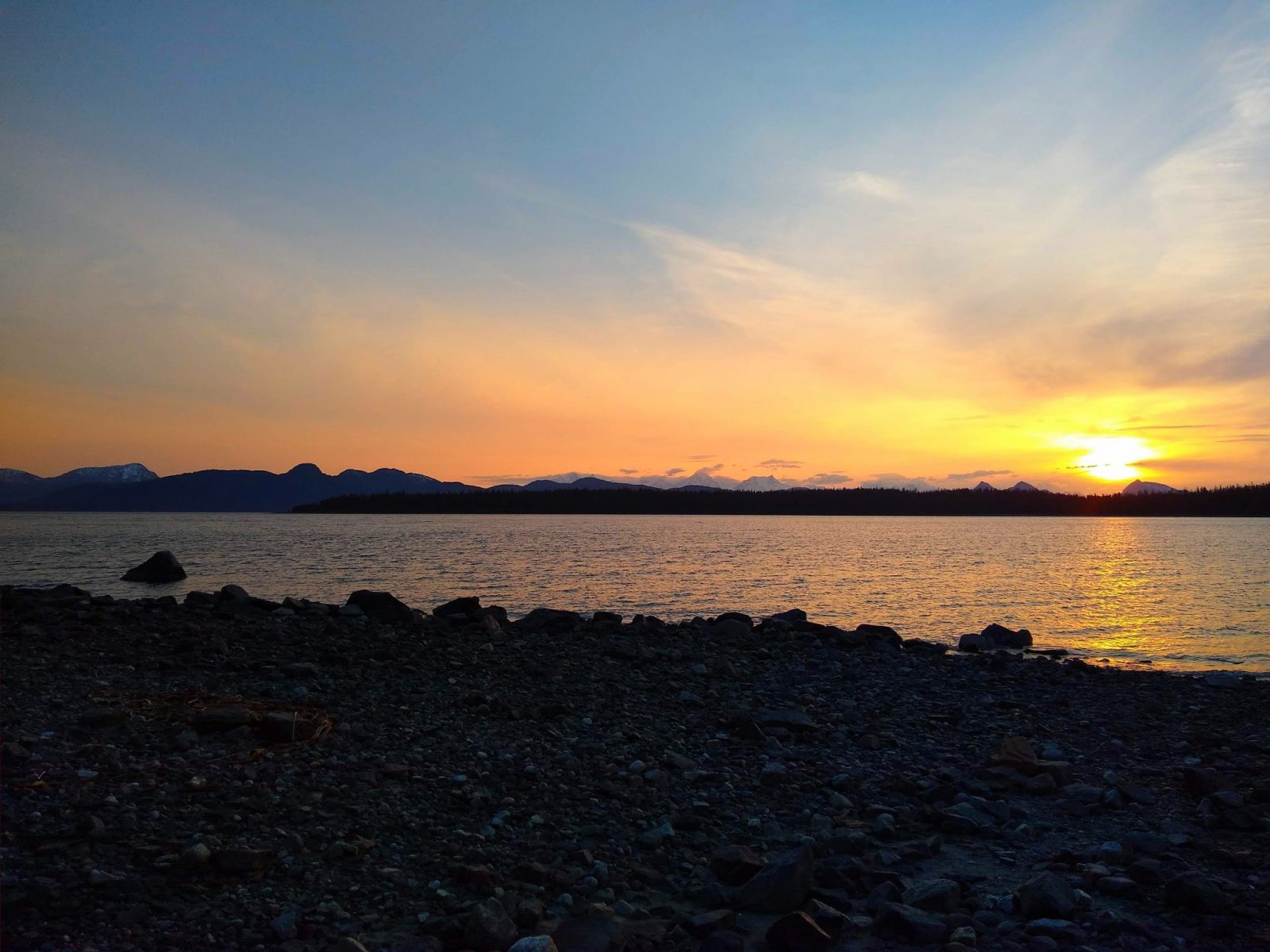 Why it's awesome: You can really get away from it all at this remote campground in Glacier Bay National Park that still has access to showers and laundry for a small fee in the nearby lodge. The beautiful setting and access to hiking trails, kayak rentals and the day boat tour to see the incredible glaciers of Glacier Bay top off this wonderful and peaceful campground. Read more here about planning a trip to Glacier Bay.
Where it is: Glacier Bay National Park in Southeast Alaska. Access is by plane or ferry only.
Cost: Free!
Watch out for: Bears, Rain, Mosquitoes
Byers Lake Campground and Public Use Cabins – Denali State Park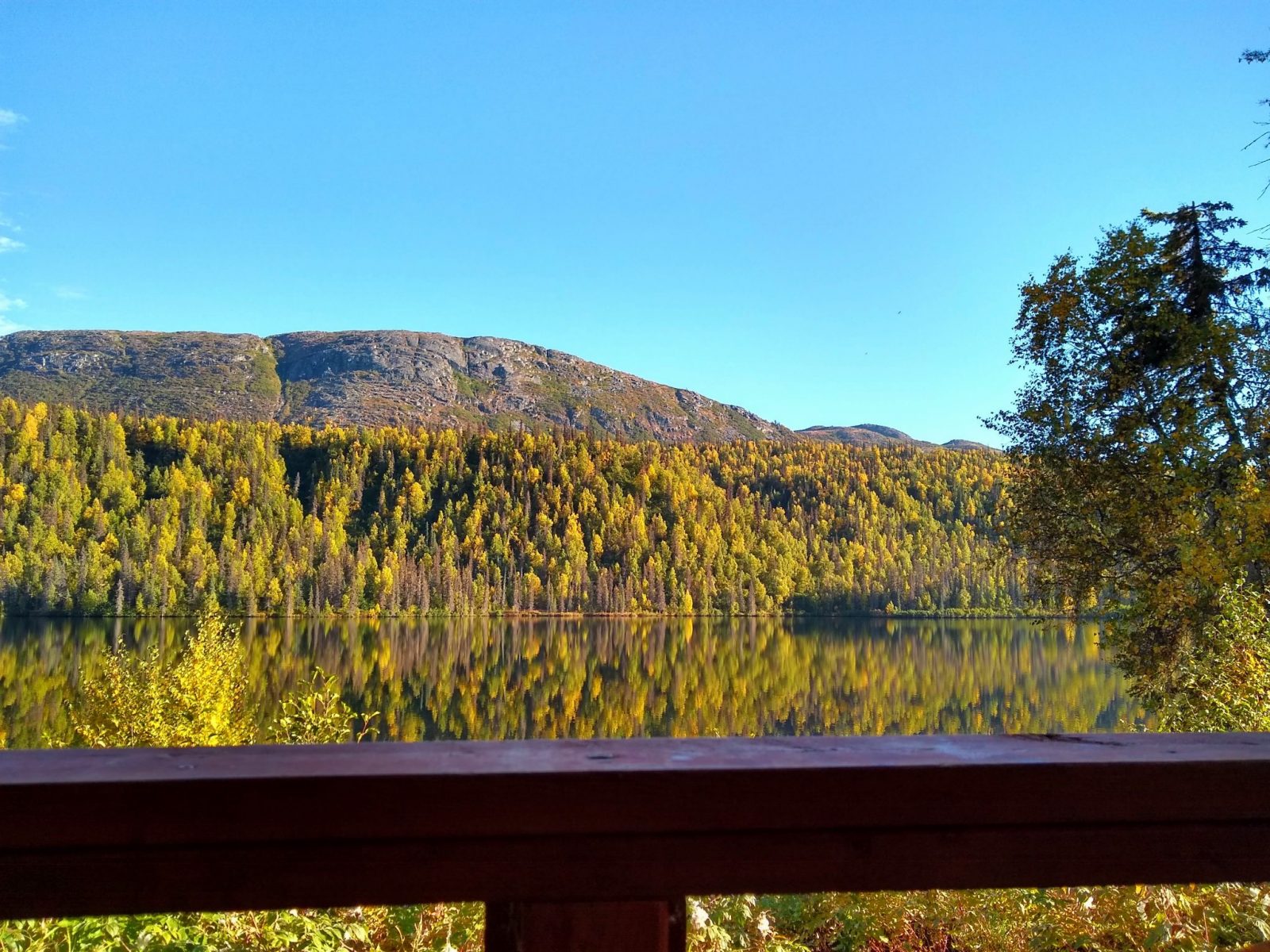 Why it's awesome: Much more chill than nearby Denali National Park, this is a great place to camp between Anchorage and Denali. A gorgeous lake closed to motor boats and a quiet forest with amazing fall color, this area has a campground as well as three public use cabins. Byers Lake has ADA accessible hiking trails, toilets and water access.
Where it is: About halfway from Anchorage to Denali National Park on the Parks Highway near the small community of Trapper Creek.
Cost: $20/ night for a campsite, $80/night for cabins, Cabins must be reserved in advance.
Watch out for: Bears and Mosquitos
Captain Cook Campground – Kenai Peninsula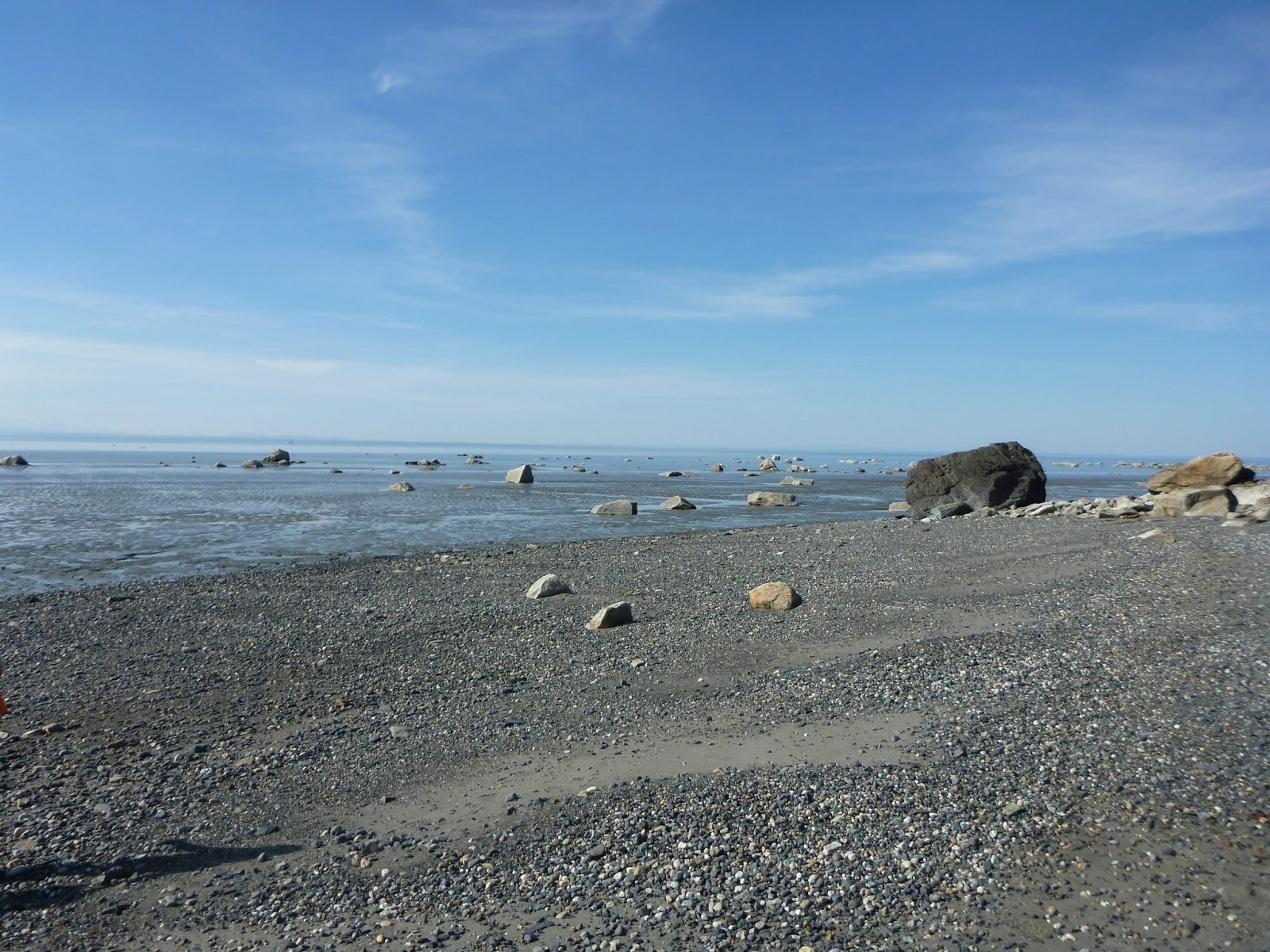 Why it's awesome: A campground at a beautiful beach with views of volcanoes across the way? How can that not be awesome?!? In good weather, this campground is sublime. It's also located close to many fishing opportunities and other fun on the Kenai Peninsula.
Where it is: About 200 miles from Anchorage on the west coast of the Kenai Peninsula
Cost: $20/site
Watch out for: Bears and Mosquitos
Chena Lake Recreation Area Campground – near Fairbanks
Why it's awesome: Chena Lake is a local hang out and a wonderful place to hang out in summer! Boating, fishing, hanging out at the beach, swimming, all that summer fun. In early fall (late August and early September) this is a good place to see the Northern Lights.
Where it is: North Pole, about 20 miles from Fairbanks
Cost: $15/per night for tents and $20/night for RVs
Watch out for: bugs and the midnight sun (cold nights in fall)
Denver Glacier Public Use Caboose – near Skagway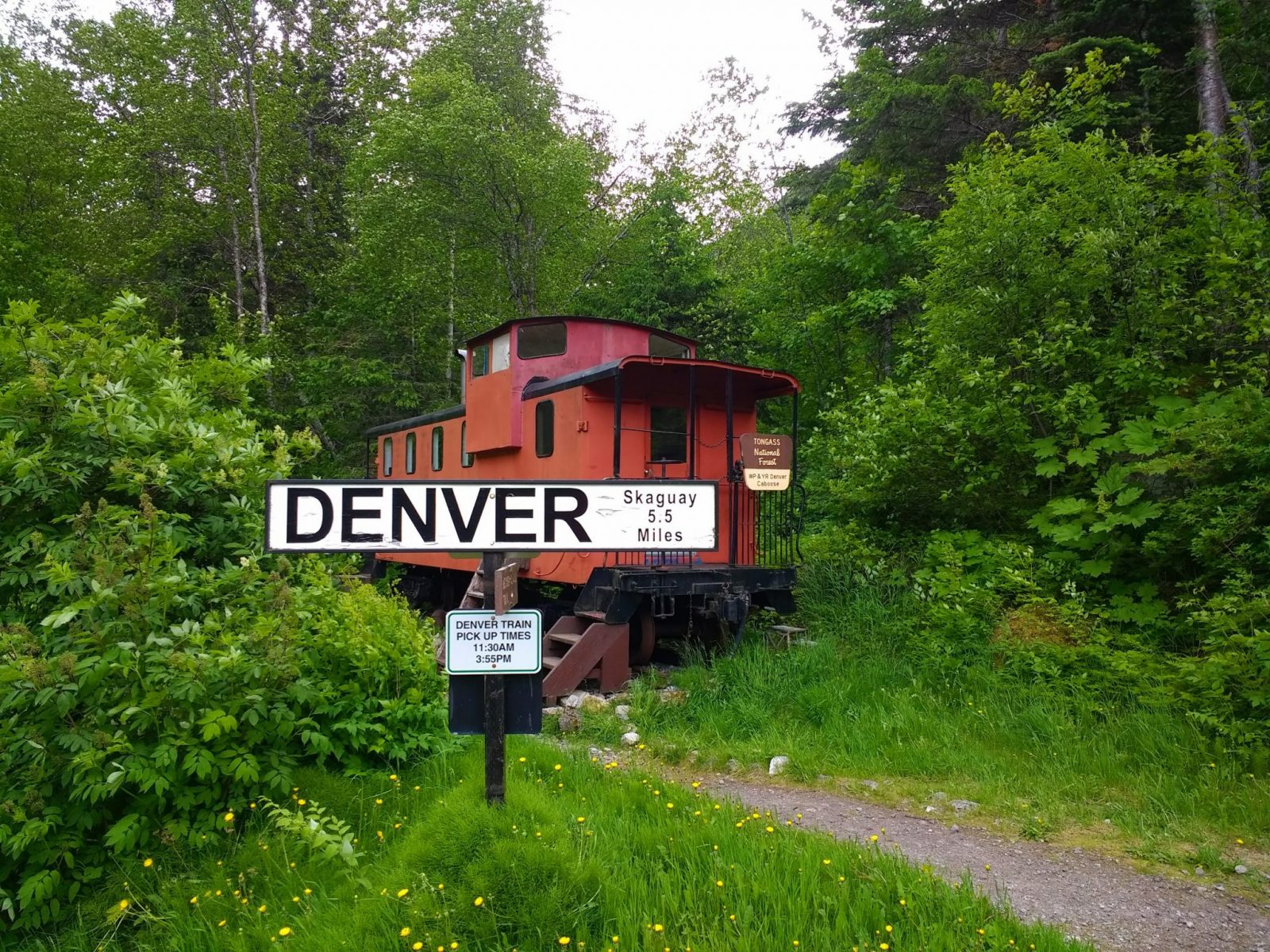 Why it's awesome: You take a historic train to a stop in the middle of nowhere and there's an adorable red caboose you can spend the night in. What more do you need to know?? It's a bit of a hassle to do it (reserve the cabin in advance, arrange the train for the right day) but it's so worth it. You can hike the Denver Glacier trail through old growth forest and past a waterfall to gorgeous Denver Glacier while you're there or just hang out and watch the trains and scenery. Complete solitude when the train is gone! Even though it's not exactly a campground it still needs to be on this list because it's amazing.
Where it is: Train departs from downtown Skagway
Cost: $45/night for the cabin, $39/person round trip for the train
Watch out for: the train! Don't miss it and don't get on the tracks while you're waiting. And don't forget anything!
Dyea Campground – near Skagway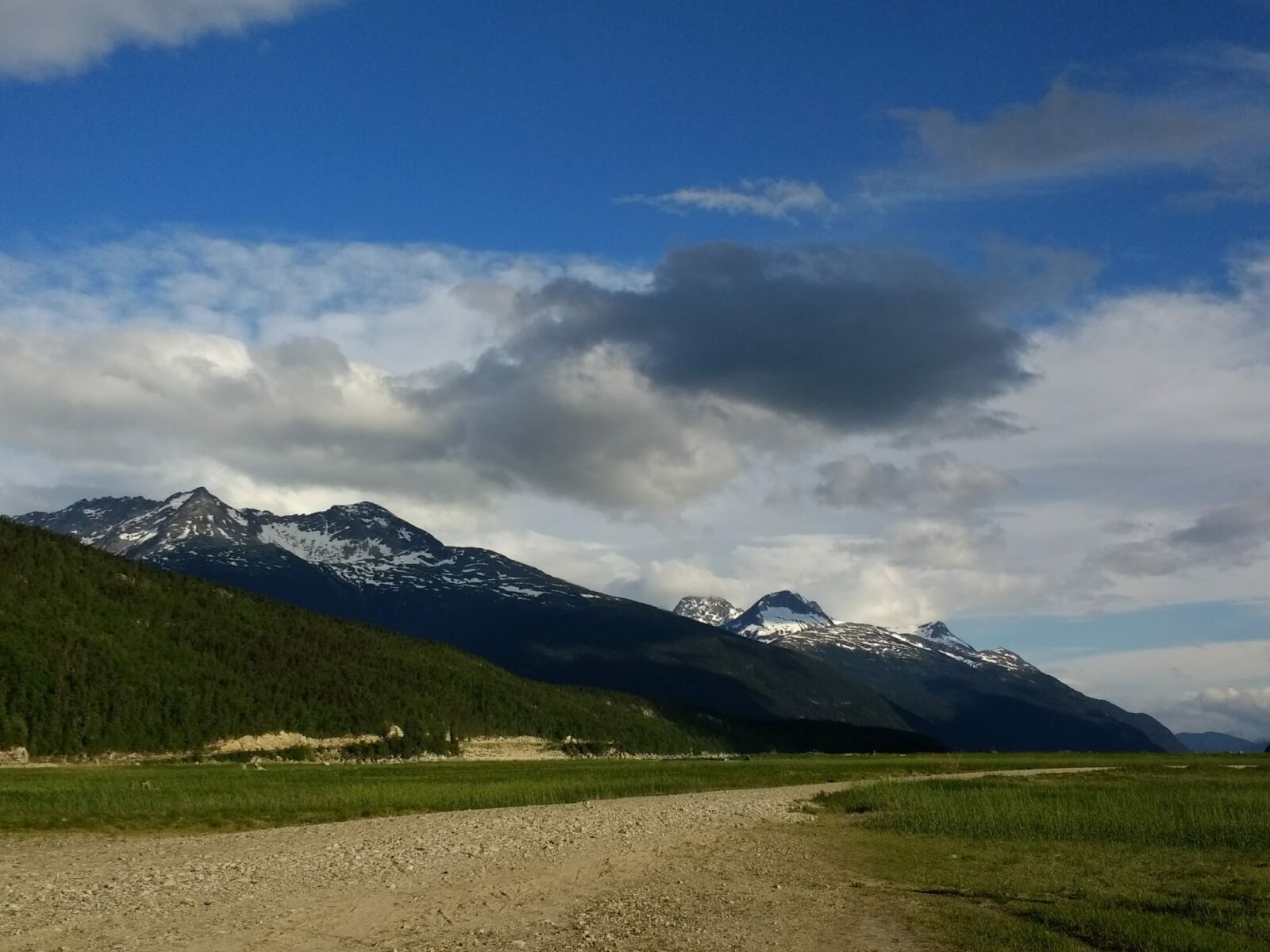 Why it's awesome: Complete solitude near the bustling town of Skagway. This is also a place for history lovers! 20,000 people lived here in 1898 and now it's a quiet campground with only a handful of sites. You can explore the historic and famous Chilkoot Trailhead, where miners set off for the Klondike gold fields. You can also explore the ruined Dyea townsite.
Where it is: 9 miles from the town of Skagway on the Dyea road.
Cost: $10/night
Watch out for: Long gravel road to get there, bears and mosquitoes, wind and rain
Eagle River Campground – Chugach State Park (near Anchorage)
Why it's awesome: Super popular with locals, this campground is basically in the town of Eagle River in case you want to get pizza instead of cooking! There are hiking trails and fishing here along with flushing toilets and ADA sites and toilets.
Where it is: Just outside the town of Eagle River, just half an hour from Anchorage
Cost: $20/night (half the sites can be reserved in advance
Watch out for: This campground fills on weekends in summer and sometimes other times too! Also Bears and mosquitos
Jumbo Creek – Wrangell – St Elias National Park
Why it's awesome: I've heard people say this is their favorite place to camp in the whole state of Alaska, so it has to go on this list despite the significant challenge of getting to it. After an 8 hour drive from Anchorage (the last three hours being on gravel), a shuttle ride to Kennicott and a 1.5 mile walk (it sounds like a lot I know!), arrive at stunning mountain scenery and solitude. It has bear caches but no toilets or water or any other amenities. It does not have official sites, but you can camp on the gravel in view of the mountains and glaciers, pretty cool.
Where it is: Wrangell-St Elias National Park, near McCarthy
Cost: Free!
Watch out for: A lot of effort to get here! Bears and mosquitoes
K'esugi Ken Campground and Public Use Cabins – Denali State Park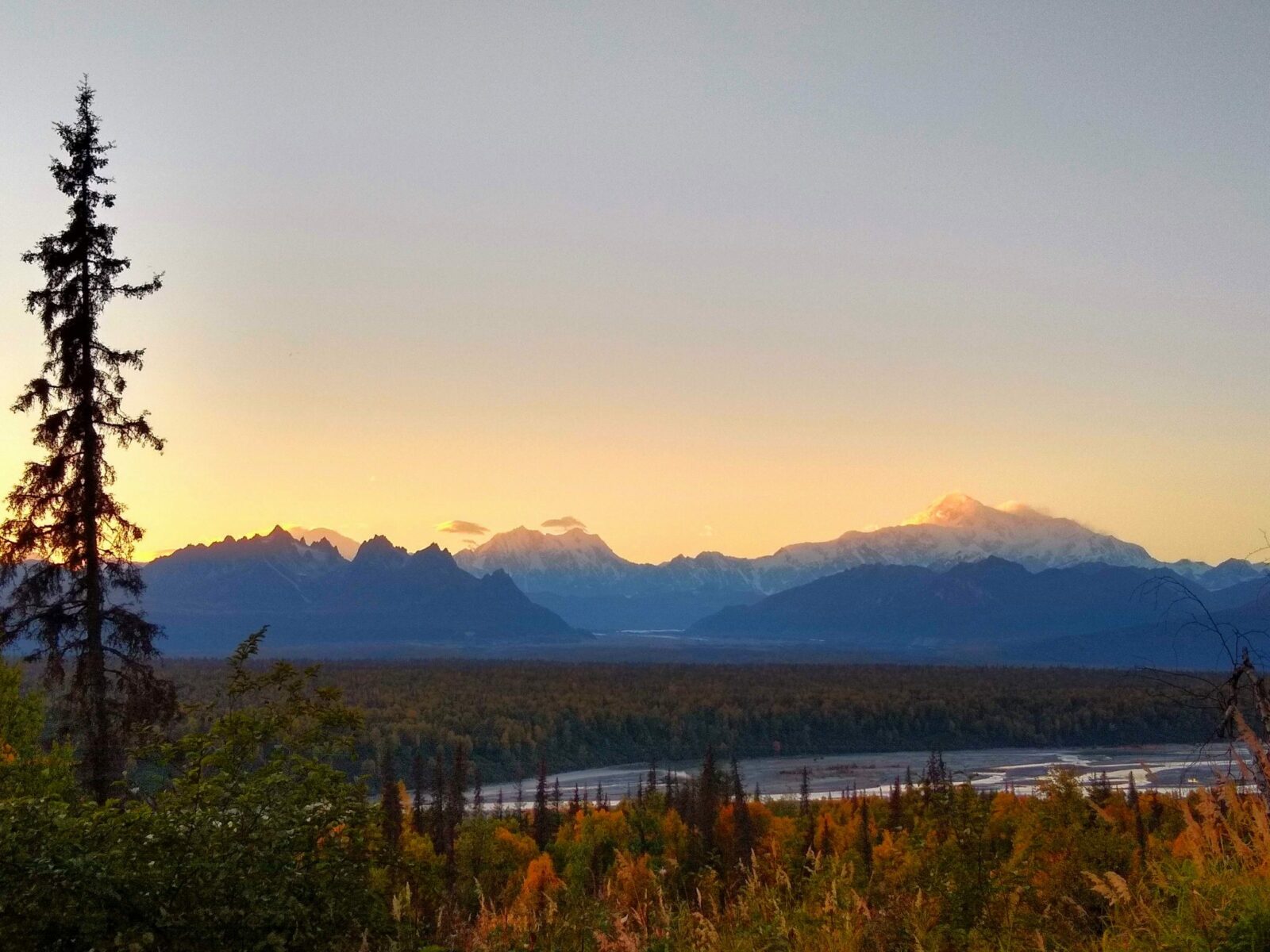 Why it's awesome: The view of Denali is just spectacular here, without the long bus drive needed to get to Wonder Lake! Pray for clear weather and wake up to North America's highest peak and feel good about your life choices. There are also fantastic hiking trails here. There are campsites as well as public use cabins. The cabins and some campsites are ADA accessible along with toilets.
Where it is: About halfway between Anchorage and Denali National Park on the Parks Highway (just before Byers Lake coming from Anchorage)
Cost: $20-$30 a night for camping depending on if you reserve or not and if you have an RV; cabins are $90-$100/night and require a reservation
Watch out for: Crowds on summer weekends, bears and mosquitos
Kachemak Bay State Park Yurts – near Homer

Why it's awesome: A remote yurt on a beach with no one except who you came with? Spectacular scenery? YES PLEASE. This is one of my favorite places in all of Alaska. It's a journey to get here. First, you drive six hours from Anchorage to Homer and then take a water taxi to the yurts. There are different yurt and water taxi options. You can also bring your kayak or rent one from the water taxi company and they will drop it off with you!
Where it is: Kachemak Bay is nearest the town of Homer and is directly south of Kenai Fjords National Park. The only access is by boat (water taxi)
Cost: $45-$75/night for the yurt (reservations required); water taxi cost varies, generally $80-$100/per person
Watch out for: bears and mosquitos (but hopefully not in the yurt! Keep the door closed.
Savage River Campground – Denali National Park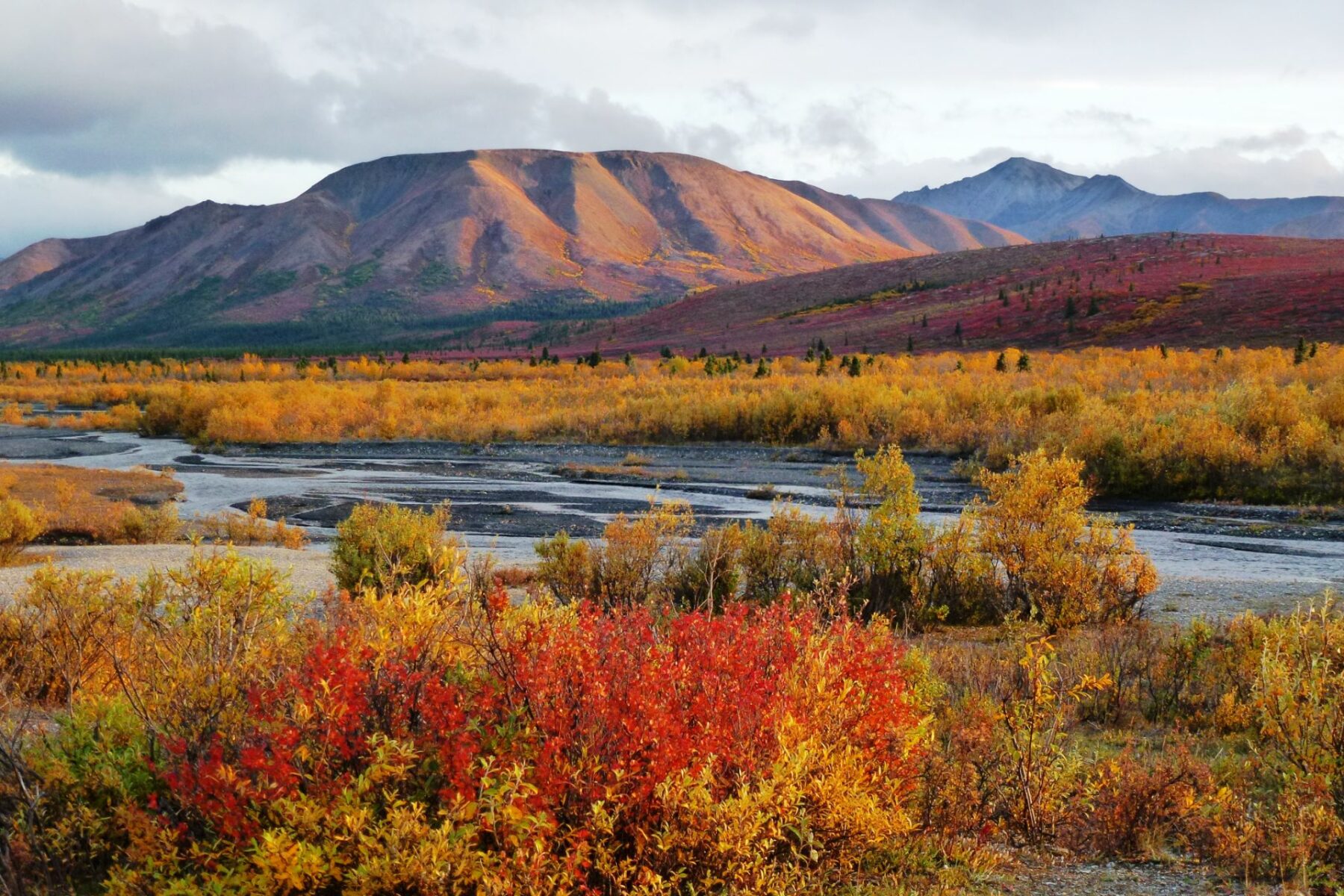 Why it's awesome: Much smaller and less busy than the Riley Creek Campground, you can find solitude here while driving an RV and getting a reservation. Tent campers will feel comfortable here as well in the secluded boreal forest which provides privacy from other sites. A wonderful hiking trail goes along the river here too. Read more here in my complete guide to visiting Denali National Park.
Where it is: Mile 13 Denali park road (just before the road closes to private vehicles)
Cost: $27/night tents and small RVs, $34/night RVs 30-40 feet
Watch out for: Bears and mosquitos
Seward Municipal Campgrounds – Seward
Why it's awesome: The city of Seward operates several campgrounds along the beaches in and near town, offering a rare opportunity to camp in town! This also makes a good base camp for kayak outings and tours into Kenai Fjords National Park. Showers are available here for $2.
Where it is: Along the beach in the town of Seward
Cost: $20/night for tents, up to $65/night for RVs with hookups
Watch out for: mosquitos and crowds
Wonder Lake Campground – Denali National Park
2023 Note: The Denali Park Road closed at Milepost 42 (Polychrome Pass) in August 2021. The park service has announced that the road will remain closed at this point at least through the 2023 season. A permanent fix to this section of road is currently being built. Bus tours will still operate up to that point. Eielson Visitor Center and Wonder Lake will not be accessible.
Why it's awesome: An even more amazing view of Denali "The High One" than K'esugi Ken, it's no small effort to get here but it's so worth it! It's hard to catch a view of Denali but if you do it will be worth every moment of the 6+ hour bus ride and every moment looking at clouds and waiting! Less than 30 miles from the mountain next to a picturesque lake, if you see Denali it's IN YOUR FACE in the best possible way.
Where it is: Mile 85, Denali park road. Only accessible by the park camper bus
Cost: $16/night plus a one time $6.50 reservation fee plus $60/person for the camper bus
Watch out for: Bears, mosquitos and disappointment if the clouds don't clear the way for a view of Denali.
ADA Accessible Camping in Alaska
The Alaska Public Lands Information Center has this directory of ADA accessible camping in Alaska. It is organized by different regions of the state and includes the facilities available. All the campgrounds on the list have ADA accessible campsites and toilets. Many also have picnic areas and water that are ADA accessible. It also includes accessible trails and fishing platforms!
Packing List for Camping in Alaska
I have an entire article about what to pack for Alaska and a camping checklist for Alaska, definitely read those for all the details! Specifically for a camping trip in Alaska (combining the two!):
Must have – bring with you from home
Tent, sleeping bag and sleeping pad – These items will be cheaper to buy at home, and you may already have them! See below for more details if you're shopping for any of these items
Warm Clothes – Warm layers for chilly nights! (see the packing list linked above for more details)
Lighter Clothes – Clothes to wear if it's hot (including long pants and long sleeved shirt for bug and sun protection)
Hat with a brim – for sun protection and to wear with a headnet for bugs
Sunglasses
Rain jacket – Great for rain as well as bug protection! You absolutely need an excellent rain jacket. I have two, the REI XeroDry and Marmot Minimalist are the two rain jackets I currently own and both of them feel like new after a couple years of heavy use. I would make the decision based on where you like to shop and what size you are. The REI XeroDry comes in plus sizes, which the Marmot minimalist unfortunately does not.
Rain pants – I hate wearing them for hiking, I just get so hot wearing them! However I always bring them especially to Southeast Alaska and especially for camping. They are perfect for hanging around in camp if it's wet or if it has been raining recently and the ground is wet. They also make for excellent bug protection. These REI ones are the best ones I've found (also in plus sizes!)
If you're planning on hiking, make sure to bring everything you need for a day hike
A headlamp – if it's late May through July you won't need this except in southeast Alaska. In southeast Alaska at that time it will get dark for a couple of hours
Waterproof shoes: I've mentioned before that I don't wear hiking boots and love hiking shoes instead (get them here on Amazon or here at REI). If you prefer hiking boots, then bring those. If you're buying some for the trip, I recommend Merrell Moab Waterproof hiking boots (get them here on Amazon or here at REI).
Sandals: I suggest bringing sandals for warm days with less bugs or for wearing in the water. I am a fan of chacos because they're lightweight and comfortable to walk in (get them here on Amazon or here at REI).
A plan for protecting your food and toiletries from bears – either bring a bear bin with you, or make a plan to borrow one in Alaska. If you are car camping you can make a plan to keep everything secured in a locked vehicle.
Back up battery for your phone – if you're camping it will be harder to find charging. If you're relying on your phone to be your camera, this is extra important. This is the one I have and it has about three full charges for my iphone. Make sure to keep your phone in airplane mode when you're away from a cell phone signal as this also makes the battery last much longer. I also love this waterproof pouch to keep the phone in (and you can use the touch screen while it's in the pouch).
Must have – buy in Alaska
Bear Spray – there is disagreement about this, but in my opinion this is a necessity. You cannot take it on an airplane so you'll need to buy it in Alaska. This is a rare item that is also cheaper in Alaska. Look for it at Fred Meyer, Walmart or Costco.
An eye mask can be really helpful for sleeping during daylight that lasts 24 hours a day! (if you already have one though, bring it from home
Bug spray and headnet – these are easy to find in Alaska!
Sunscreen – a necessity on long summer days (if you have it already or have a favorite brand you can bring it from home too)
Water jugs – not all campgrounds have water, you can buy water in gallon jugs are the grocery store. You can bring a water filter with you instead, but watch out if you are going to be at a river or creek campground as Alaska's silty glacial rivers and creeks can quickly clog water filters.
Food – buy your food in the largest town you're going to encounter before camping (ideally Anchorage or Fairbanks).
Matches or a lighter – I would add a small candle which is super helpful for starting a fire with wet wood
Nice to have – bring with you
Books or an e-reader for reading (I am a big fan of this kindle with a screen you can read in the dark without a headlamp!)
Camp Stove – I'm in love with the jetboil (get it here at REI and here on Amazon). It's an amazing stove! It's small, fast, clean and easy and the fuel lasts a long time. The only downside to the jetboil is that you can only boil water in it. We find that with a bit of creativity and bringing some dehydrated chili or vegetables or other dehydrated food, it can be totally adequate for us for a short trip. It's also great for making hot drinks. You can bring a camp stove with you on an airplane BUT you must have it completely free of fuel AND must bring it in your carry on bag, not a checked bag.
Nice to have – buy in Alaska
Fuel for the camp stove, if you brought one (you won't be able to fly with the fuel)
Tarp and cord or rope – this is an inexpensive item so you don't need to bring it with you. A tarp can make such a big difference making a larger shelter against the rain!
Inexpensive Cooler – You can get by with trail mix and peanut butter and jelly, but it's fun to have some real food! A cheap cooler can be a good way to go if you don't want to lug yours across a continent.
Inexpensive camp chairs – you can donate them before you leave
Mosquito Coils – to keep bugs away, or at least make you feel like you're doing something about it!
Best Camping Gear for Alaska
For the most part, you can probably use camping gear you already own. Keep it as simple as possible if you're flying so you don't have to carry more stuff around than necessary! There are three pieces of gear that I think are most critical and worth paying special attention to:
Best Tent for Alaska
You need an excellent tent in good repair! You don't necessarily need a super expensive mountaineering tent. Make sure your tent doesn't have any tears or holes and it needs to have a real rain fly (see photos with good rainflys below) that covers the whole tent (not just a small one on the very top). My go to tent is this REI brand one. For me, this tent is the perfect combination of affordable, durable and has excellent bug protection and rain protection. I've camped in heavy rain in it and it's held up well! It holds up to a fair bit of wind also. If you do want to get a more expensive super burly tent, I recommend this North Face one. My husband swears by it after sleeping in it for a couple months several years in a row doing archaeology field work in Gates of the Arctic National Park!
Best Sleeping Bag for Alaska
I recommend a synthetic (not down since they are not good if they get wet!) rated for around 20 degrees (if you sleep hot you might want one less warm). This is my sleeping bag and I absolutely love it and highly recommend it. Synthetic sleeping bags are always heavier than down but I think it's worth it in case it gets wet. I highly recommend a women's sleeping bag for women, especially curvy plus size women like me! They have more room in the hips which I really appreciate.
Best Sleeping Pad for Alaska
Maybe even more important than the sleeping bag for keeping warm! Splurge on a thicker one (I use a thicker one even when backpacking) and you'll be so glad. This is my go to one I've had for over 10 years of heavy use and it's still amazing as the day I got it.