Cherry Creek Falls Hike
Posted On December 4, 2019
Last Updated on January 4, 2023
The Cherry Creek Falls hike is a beautiful half day hike and one of the best waterfall hikes near Seattle. At 5 miles and 500 feet of elevation gain, it's a good workout but not extremely steep. There is a lot of mud on this trail and some potentially challenging creek crossings near the waterfall, so I would suggest wearing rubber boots (unless it's a hot day). Rubber boots are awesome for hiking as long as they're comfortable!
Related: What to bring day hiking in the Pacific Northwest
Cherry Creek Falls is on the homeland of the Duwamish, Snoqualmie, Snohomish and other Coast Salish people.
Parking Pass: None
Dogs: yes, on leash
Related: What to wear day hiking in the Pacific Northwest, What to bring for a day hike in the Pacific Northwest
Is the Cherry Creek Falls Hike right for me?
This hike has a lot of mud, especially in the last mile, and a couple of stream crossings (which would be fine to just splash across in rubber boots) but this is something to consider. Otherwise, it's a beautiful forest walk to a lovely waterfall without too much elevation gain (it does go up and down and has a few slightly steep sections). It's especially close for folks on the eastside (Bellevue, Redmond, Kirkland, Bothell) and doesn't require a parking pass (although the parking situation is a little weird, see below).
When is a good time for the Cherry Creek Falls hike?
I've never done this hike in the summer so I don't know how crowded it is, but the water below the falls looks like a great place to swim! I think this is an excellent late fall, winter and early spring hike since it's good for any weather and is in the lowlands so generally snow free.
Where is it?
The Cherry Creek Falls hike trailhead is located very near the town of Duvall, about 10 miles northeast of Redmond. Google maps will take you right to the trailhead. From Duvall, head north on Main Street (highway 203), turning right on Cherry Valley Road just on the edge of town. This road takes you to the trailhead in about 4 miles, where there is a junction with Kelly Road going right and Mountain View road going left. The trailhead is straight ahead of you here. This is an unusual trail in our region because it begins on private property and there isn't a parking lot. You can park along the road but pay close attention to the signs showing where you can't park. I parked along Mountainview Road on the opposite side of the street from the trailhead.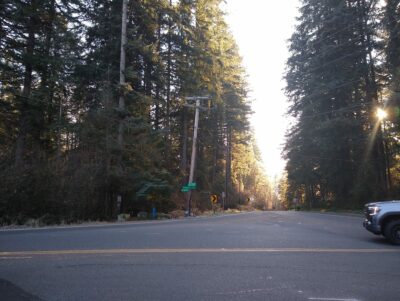 Trail Description
To start this adventure, look for a blue gate at the junction of Cherry Valley Road, Kelly Road and Mt View Road. There is also another trail to the left of that, with a blue pole. Either way the trail meets up a few feet from the road. The road begins wide and starts to climb through the forest.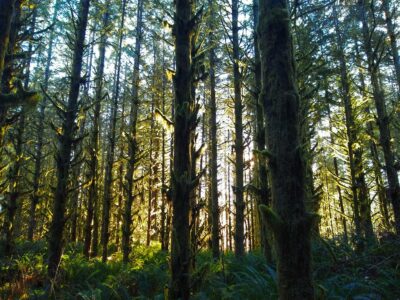 Keep going straight on the wide abandoned road (the trail), ignoring some side trails you see (also the adjoining land is private property). In just under a mile, you'll cross a low bridge over a creek. Continue straight. After reaching the top of a hill, the trail then heads downhill and comes to a T about a mile and a half from the beginning. At this point, you'll go to the left and now you're going above Cherry Creek, and though you can't see it, you'll hear it (keep your eyes and ears out for eagles!). Continue on through the forest. You'll come to a Y in the trail, go to the right. Shortly you'll see a rusty yellow car. I spent a few minutes trying to figure out how it got there!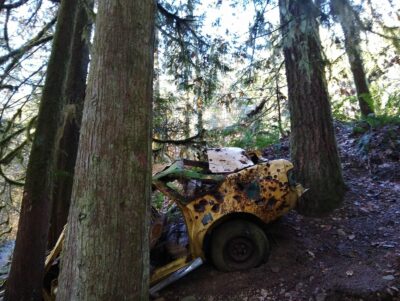 After this there are a few creek crossings (if you have rubber boots you'll be set). This section is also very muddy. After two and a half miles total, you'll come to the gorgeous Cherry Creek Falls, which has several sitting logs and a sandy beach area next to a pool. I've only been here in the winter, but I bet this would be an awesome swim in the summer! Take in the falls for as long as you like before heading back to the way you came.
Breweries and Bakeries near the Cherry Creek Falls hike
The charming town of Duvall boasts the Grateful Bread Cafe for coffee and pastries, and Valley House Brewing for beer and sandwiches (highly recommended by Wet Boots Dry Hops (follow her fabulous blog for hike ideas paired with beer recommendations for after!
Electric Vehicle Charging
Now that I drive an electric car (2017 Nissan Leaf) I'm going to start including Electric Vehicle charging information in these posts. An important thing to note is that the Duvall charging stations are NOT IN SERVICE at the time of this writing (December 2019). The closest charging station available is at the Redmond Town Center about 10 miles away). My range is about 90 miles, and I made it from home to the trailhead and back to Redmond with a little range to spare. I enjoyed a delicious lunch at La Isla (Puerto Rican food) while waiting for my car to charge.