Heather Lake on the Mountain Loop Highway
Posted On September 21, 2020
Heather Lake is a beautiful alpine lake in the shadow of Mt Pilchuck just off the Mountain Loop Highway east of Everett in the Mt Baker-Snoqualmie National Forest. At just over 4 miles round trip with 1100 feet of elevation gain, this hike is more challenging that it seems due to the many rocks, roots and abundance of mud and water on the trail. It makes for a wonderful adventure without committing to lots of miles! It also takes you to some old growth cedar trees.
Heather Lake is located on the homeland of the Stillaguamish people, Tulalip tribes and other Coast Salish people.
Parking Pass: Northwest Forest Pass
Dog Friendly: yes, on leash
Is the Heather Lake Hike right for me?
The most important thing to know about Heather Lake is that it has lots of tree roots and quite a few rocks. Some of the rock "steps" are quite high. I'm 5'4″ and some of them would be too big of step for me without my poles. There are also some areas of mud and places where water runs on the trail even when it's been dry.
This makes the Heather Lake hike a fun adventure, but it's important to be aware of these additional challenges on the trail and I highly recommend bringing hiking poles!
One other thing to note is that the road to the trailhead once you turn off the Mountain Loop Highway is really rough with some giant potholes. This only goes for a bit over a mile but you really need to take it slow and pick your path along the road very carefully, especially in a low clearance car.
The hike is mostly in the forest and shaded, with a couple of short open sections.
Related: What to wear on a hike in the Pacific Northwest and what to pack for a hike in the Pacific Northwest
When is a good time to hike to Heather Lake?
This hike is generally accessible all year. In the winter, there is lots of snow at the lake but usually not at the trailhead which can make for a sloppy transition and carrying your snowshoes for a ways before putting them on. I'd recommend this hike for summer and fall, once the snow is gone, which should be by June. This can be a very enjoyable late fall hike as well if there hasn't been too much snow yet. July – October is probably the best time for most people to hike to Heather Lake.
Where is it?
Heather Lake is located in the shadow of Mt Pilchuck off the Mountain Loop Highway, 14 miles from the town of Granite Falls and near Lake 22.
To get there, head to Everett and then East on Highway 2 towards Stevens Pass. Almost immediately head north on Highway 204 towards Lake Stevens. In a couple miles, turn left (north) on Highway 9 which will take you to Highway 92 which takes you to Granite Falls and then becomes the Mountain Loop Highway. You can bypass the town of Granite Falls (your GPS may direct you this way) or you can pass through it. Either way, you will find yourself on the Mountain Loop Highway.
From here it's 13 miles to the trailhead. The first 11 miles are on the Mountain Loop Highway, passing the Verlot ranger station at 10 miles. A mile further just after a bridge over the Stillaguamish River, turn right on the Mt Pilchuck access road. From here it's just under a mile and a half to the trailhead, but the road is ROUGH. Take it slow and navigate around the giant potholes. You'll see a sign on the left for the trailhead and there is a pit toilet on the right. There is parking on both sides of the road.
Heather Lake Trail Description
You'll start climbing through the forest and make sure to notice the GIANT tree stumps. You'll see how enormous the trees were here (further up you'll see some old growth trees that are still standing). You'll also see the cuts in the side of the stumps that were used in the past for loggers to stand on to use giant saws as they were cutting trees down. After about half a mile you'll be on a wider graveled old road from past logging days for a short distance.
When you reach the end of the wide gravel section, the trail becomes very rocky and there are many tree roots. As mentioned above, the big rock steps, tree roots and occasional flowing water make the next mile quite challenging. Make sure to watch where you are putting your feet (and I highly recommend trekking poles for this hike!). Some of the mazes of tree roots are really impressive (and easy to trip on, watch your step!)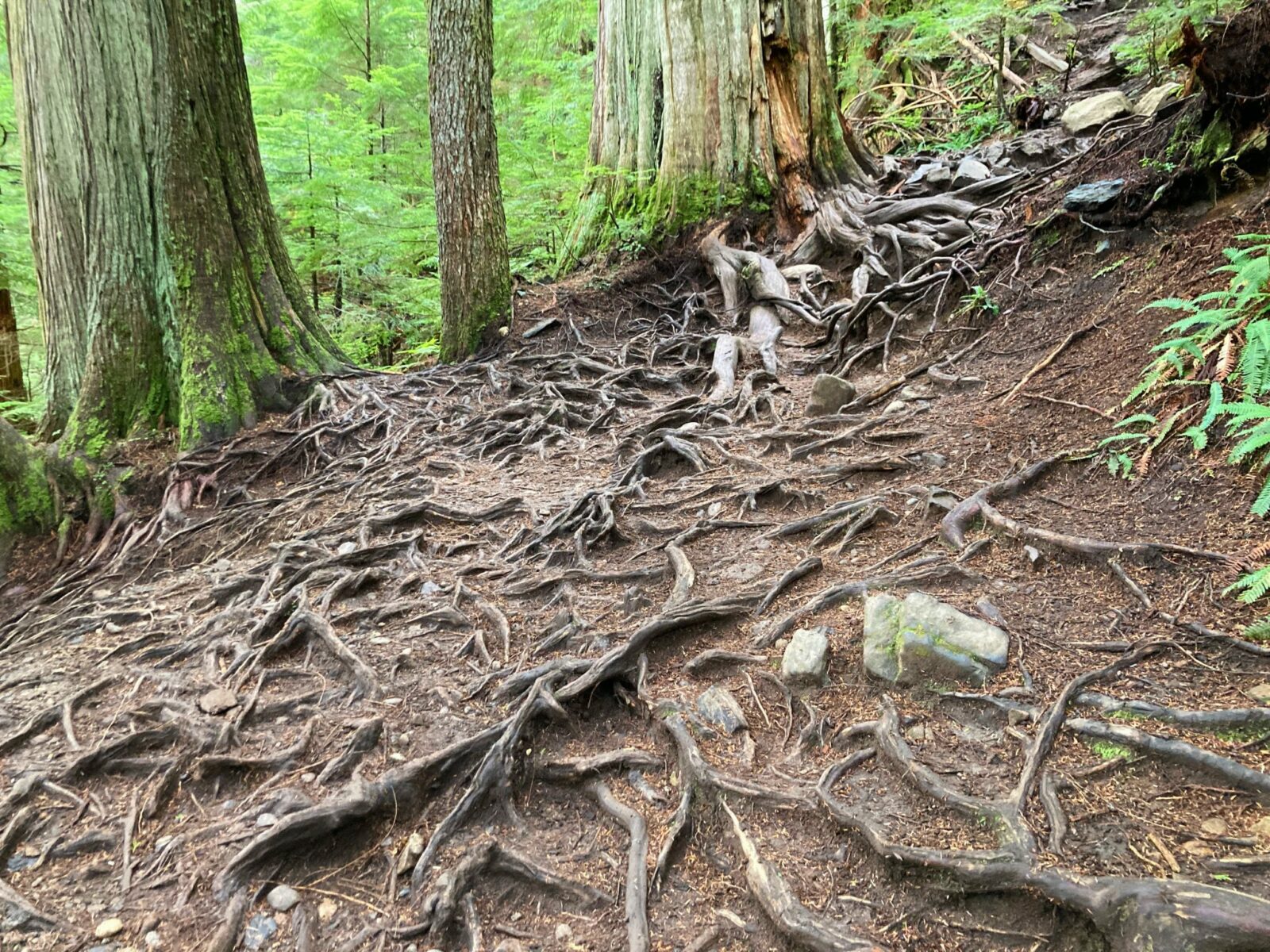 In this section you will also see a number of old growth cedar trees, some of which are hundreds of years old! Pause a moment to pause at their enormous size and longevity.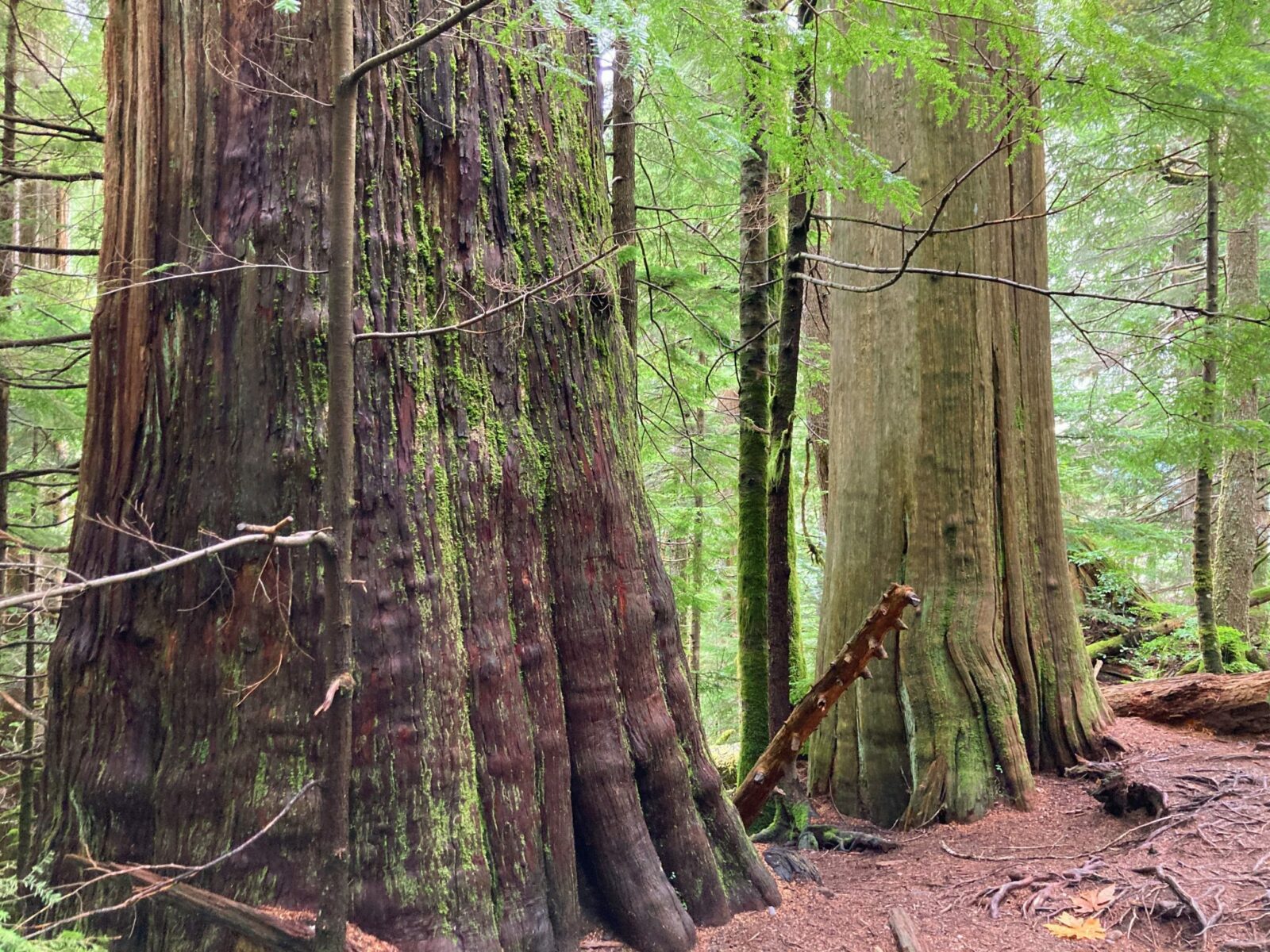 About a half a mile from the lake the trail levels out a bit more, and eventually you will come to a junction just before the lake where you can go left or right. You can go either way to see and experience the lake and enjoy your lunch. To the left, you'll continue on the trail to a few open areas and rocks along the lake.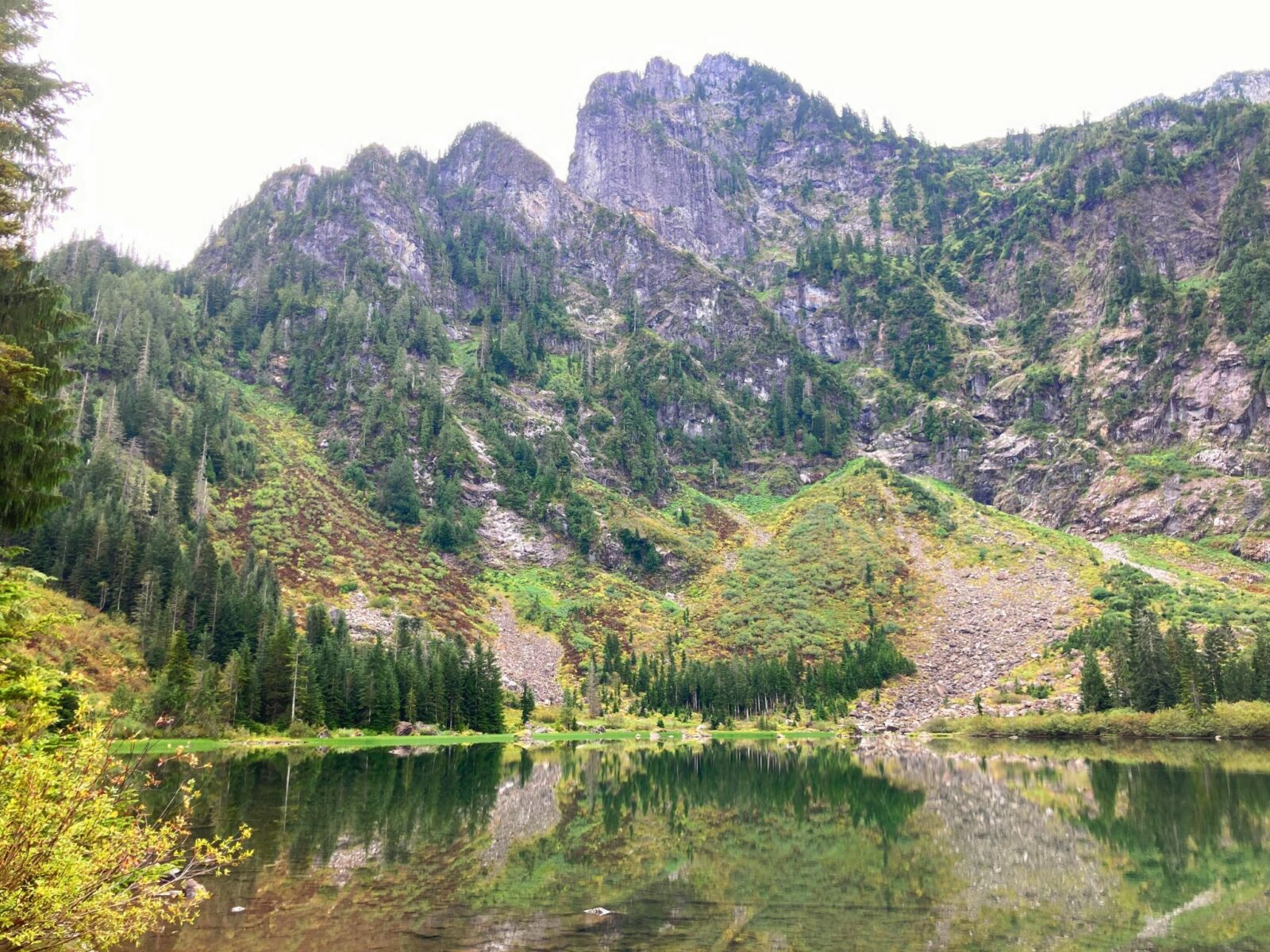 If you go right, you'll pass over some boardwalks including one over the outlet from Heather Lake.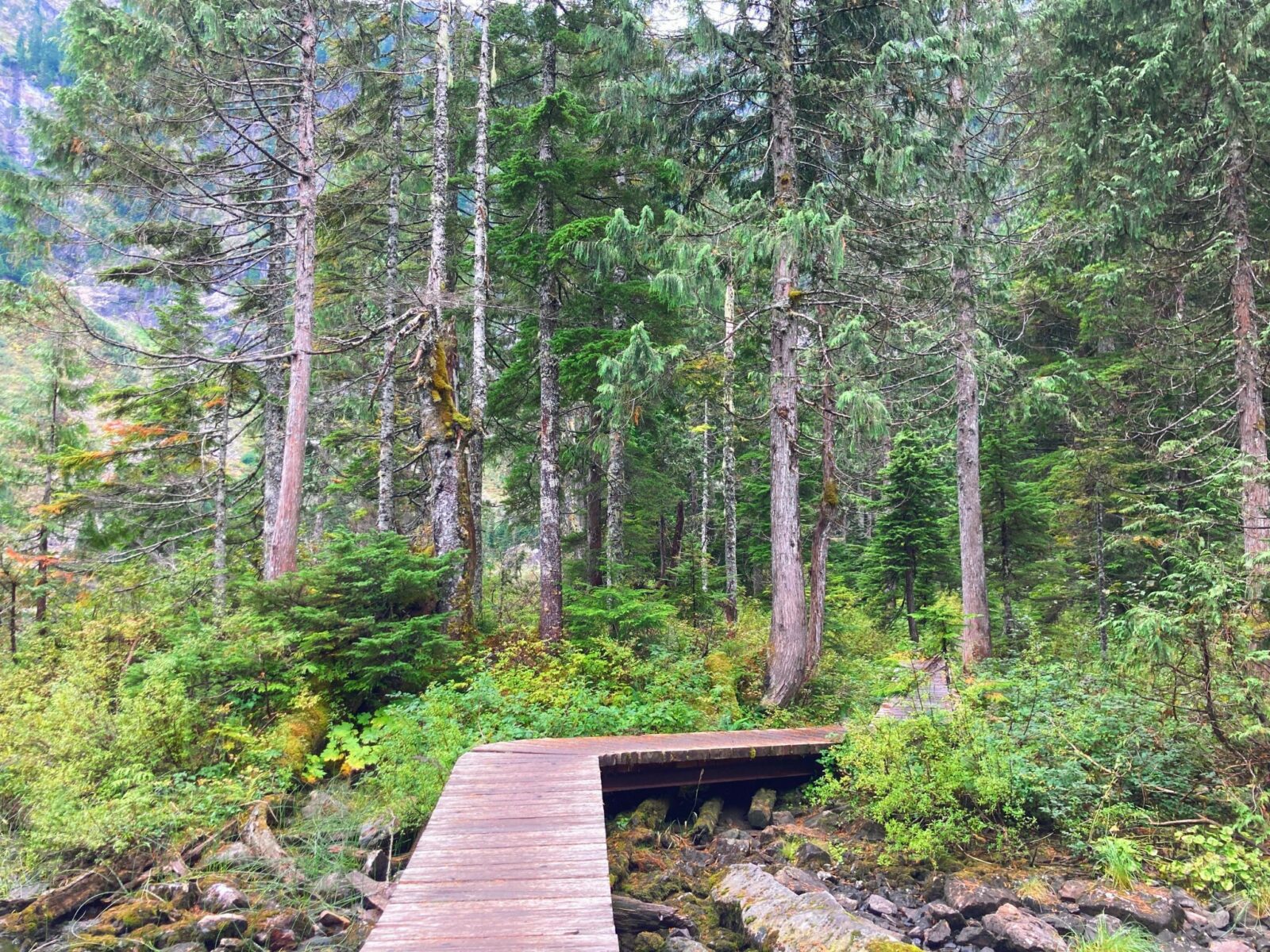 You can go both ways to check out the lake from different angles too. Once you've spent some time taking in the peaceful lake, you'll eventually head back the way you came.
Bakeries and Breweries near Heather Lake
Try Hanky Pies in Granite Falls, featuring hand pies as well as other baked goods, coffee, breakfast and lunch.
For the nearest brewery, check out the wonderful Lake Stevens Brewing Company
Electric Vehicle Charging
The nearest fast charging is at the Lake Stevens Target (CHAdeMO and Tesla), 22 miles from the trailhead. Note: the road is rough with lots of potholes so use extreme caution if driving a car instead of a truck or SUV.