The Best Whidbey Island Hikes
Posted On November 30, 2020
Last Updated on September 25, 2023
Whidbey Island is a short distance from the cities of Western Washington but feels a world away with it's sweeping mountain and water views, open farmland and many parks and beaches. Whidbey Island hikes are perfect destinations all year round in just about any weather! Add to that lots of history, farmland and an abundance of places to stop after your hike, and this makes for a perfect day trip or weekend getaway all year long. Whidbey Island is a great destination for dog lovers since there are two places to hike with your dog off leash.
Whidbey Island is an important place for indigenous people around the Northwest Coast. It is part of the homeland of the Stillaguamish, Snohomish, Suquamish, Skagit and other Coast Salish tribes as well as an important meeting place for people from other areas.
Related: What to wear for a hike in the Pacific Northwest, what to bring on a hike in the Pacific Northwest
Getting to and around Whidbey Island
There are three ways to get to Whidbey Island
Take the ferry from Mukilteo to the south end of the island
Drive I-5 to Burlington and then drive across the Swinomish Bridge and the Deception Pass Bridge to the north end of the island
Take the ferry from Port Townsend to the middle of the island (this is a great way to make Whidbey part of a larger trip to the Olympic Peninsula)
While you can get around parts of the island on transit, if you're there for Whidbey Island hikes you'll probably want to have a car. I like to do this as a loop trip from Seattle, driving North to Deception Pass and then down the island and taking the ferry back. This works as a day trip or a weekend trip.
Watch out if it's a Sunday as the ferry line can get quite backed up. If you take the ferry from Whidbey Island to Mukilteo, it's less expensive than the other direction because you only pay for the passengers one way. The ferry line gets most backed up on the Mukilteo side on Friday afternoons and evenings.
Related: Exploring the Kukutali Preseve
When is the best time for Whidbey Island Hikes?
One of the best things about Whidbey Island hikes is that they are perfect all year long! The island gets quite busy in the summer (and at Deception Pass on any sunny weekend throughout the year), but by branching out on the trails you can get away from the biggest crowds.
Best Whidbey Island Hikes
Ebey's Landing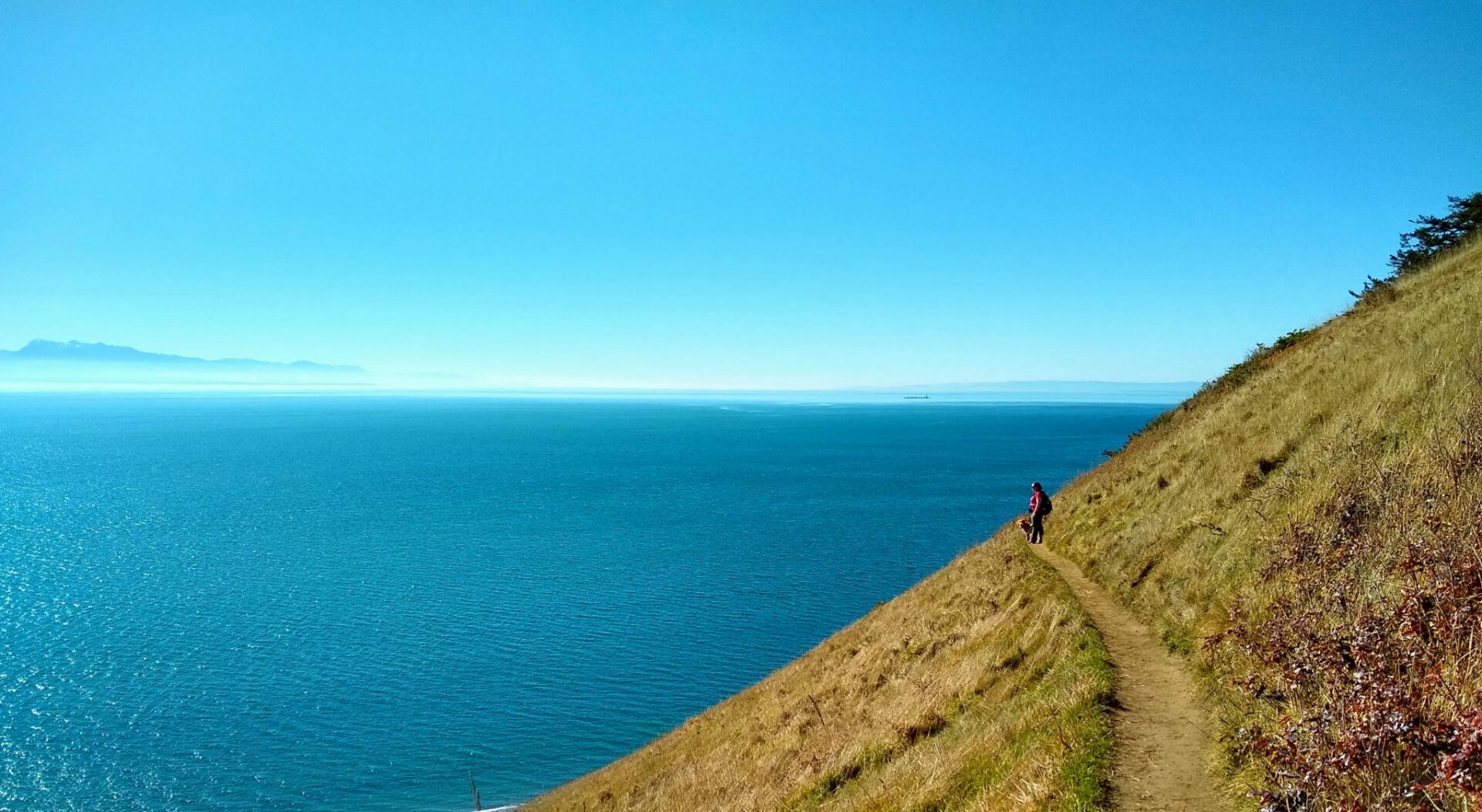 Best For: Ebey's Landing is the very best of the Whidbey Island hikes in my opinion and one of the best hikes in Washington. This hike has it all: sweeping mountain views including Mt Baker and Tahoma (Mt Rainier) and the Olympic Mountains. It also has a long beach, a high bluff and views of Admiralty inlet in the Salish Sea below. You can do this hike as a loop, or you can go out and back on the bluff trail if you want to avoid the rocky beach. This is a great hike for kids but be careful and keep them close as there are steep drop offs in places along the bluff trail.
Distance: 5.5 mile loop
Elevation Gain: 300 feet
How to get there: There are two places to park and start the hike. One is near the beach and the other is at the historic farm. Both are near the town of Coupeville. For the beach parking, go south on South Ebey Road in Coupeville (left if you're coming from the Mukilteo ferry). This road takes you straight to the parking lot on the right when you get to the beach (there's a steep hairpin turn right before this). To park at the historic farm, go south on Sherman Road (left if you're coming from the Mukilteo ferry). Turn right on Cemetery Road which dead ends in the parking area just beyond the Cemetery. Both parking areas have pit toilets.
Parking Pass: Washington State Discover Pass
Dog Friendly: yes, on leash
South Whidbey State Park Old Growth Forest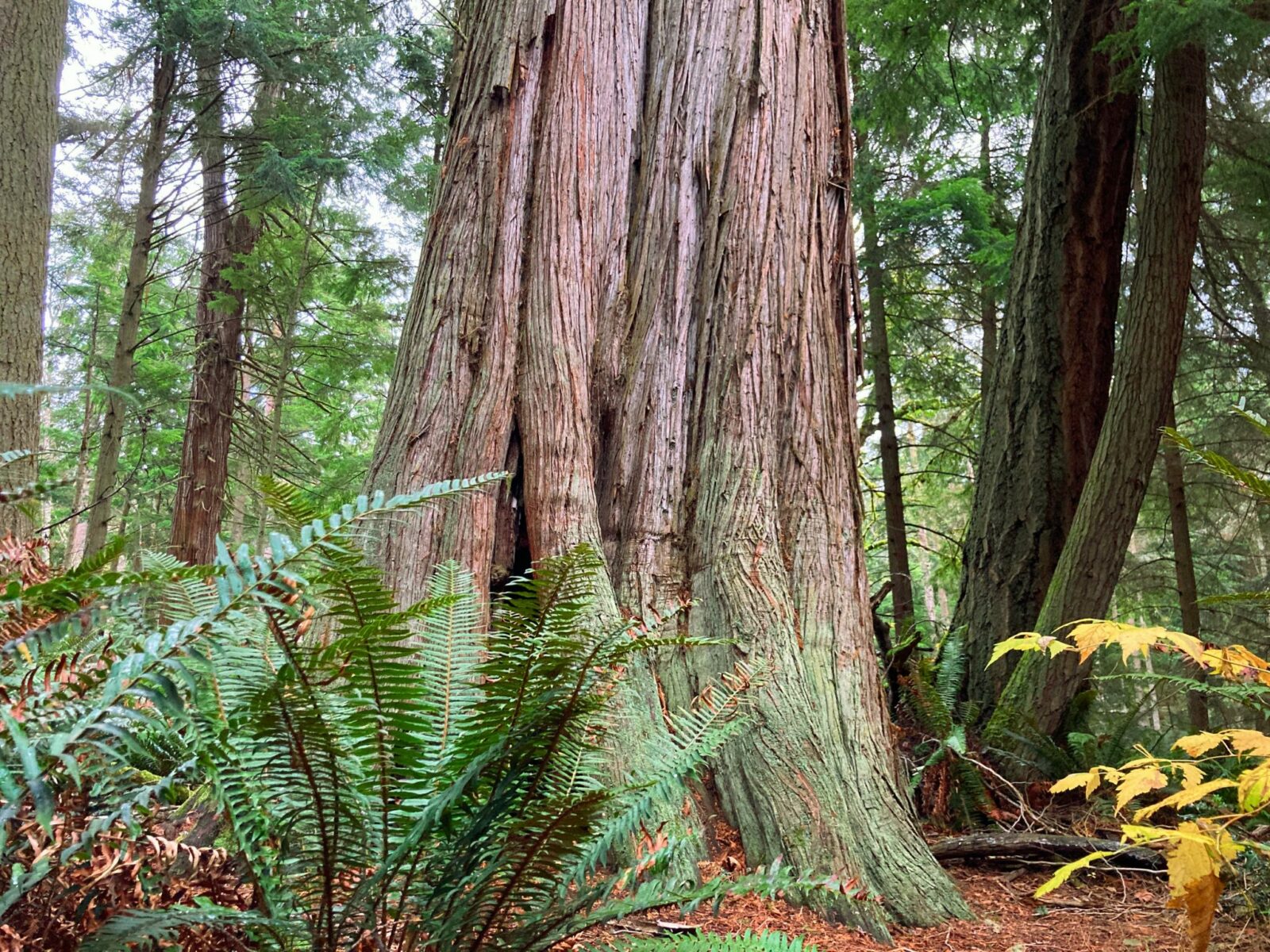 Best For: Forest lovers! This trail is my second favorite of the Whidbey Island hikes because of the absolutely gorgeous old growth cedar and Douglas Fir trees along the trail away from the beach. This trail tends to be a bit muddy but is otherwise in good condition with very few rocks and roots. You can hike the Wilbert trail out and back for a just under two mile hike features plenty of super old and impressive trees or you can add a small amount of climbing and distance to make a loop with the Fern Gully and Ridge Loop Trails.
Distance: 2.5 mile loop or just under two miles out and back
Elevation Gain: 200 feet on the loop or a a bit less out and back
How to get there: This trail is located in South Whidbey State Park, which is on the west side of Whidbey Island between the towns of Freeland and Coupeville. From the ferry landing, head north on Highway 525 and turn left on Bush Road just beyond Freeland. The road becomes Smuggler's Cove Road. When you reach South Whidbey State Park, the parking is on the left. From Oak Harbor, turn right on Smuggler's Cove road just before Greenbank Farm. The parking area will be on your right when you get to the park. There is a pit toilet in the parking area and the trail starts just across Smuggler's Cove road.
Parking Pass: Washington State Discover Pass
Dog Friendly: yes, on leash
Deception Pass State Park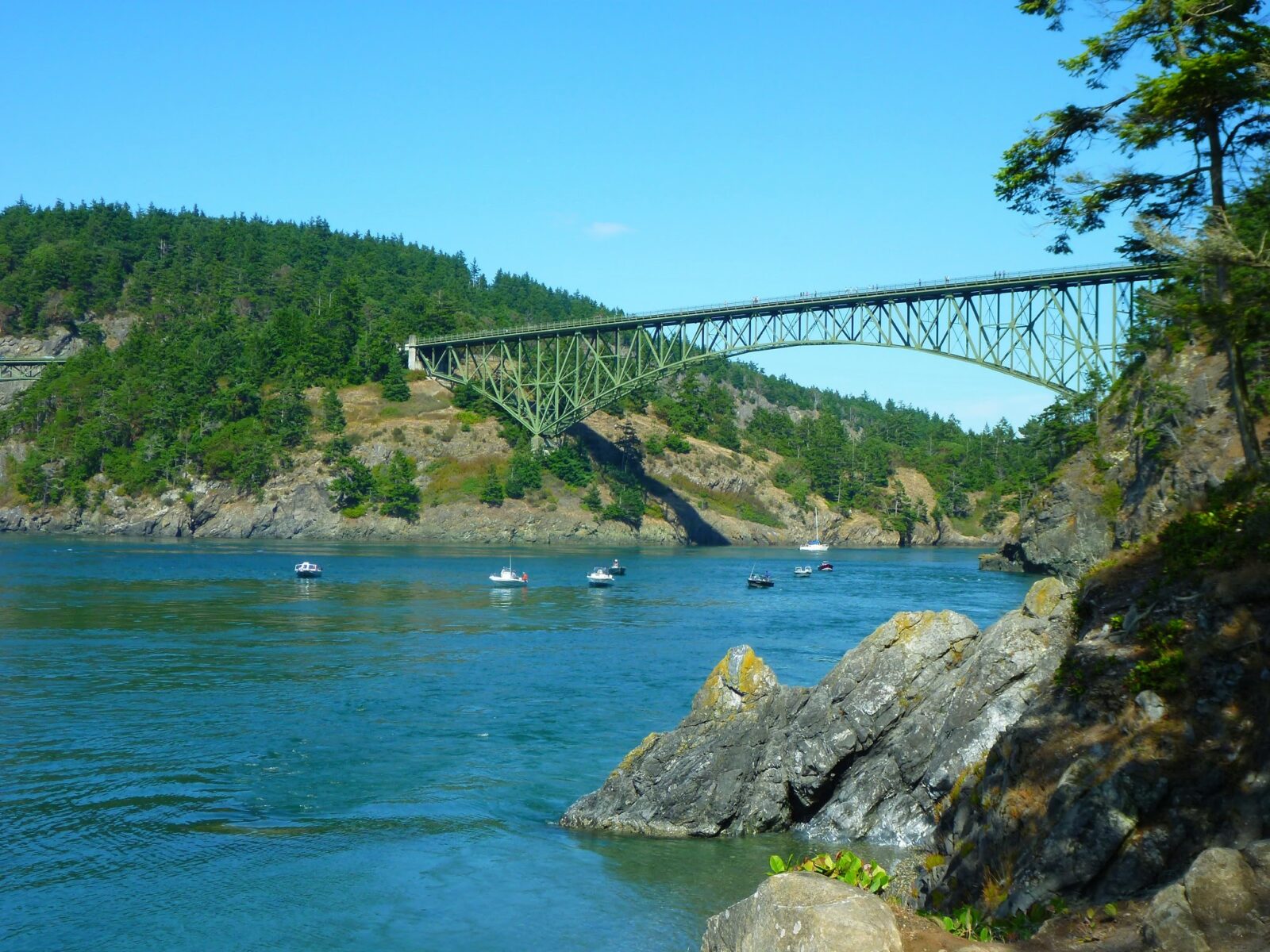 Best For: Deception Pass State Park has a ton of trails and a ton of variety! You can see forests, views of mountains, islands, water and a historic bridge as well as beaches with impressive tidepools. Half the park is on Whidbey Island and the other half is on Fidalgo Island (across the Deception Pass bridge). Deception Pass State Park is extremely busy but you can get away from the crowds on some of the trails! The trail to Goose Rock yields impressive views and the trails around Cornet Bay are less crowded with forest and water views. North Beach is a wonderful place to tidepool at low tide.
Distance: 2 miles (North Beach Trail), 3 mile loop (Goose Rock), 3 mile loop (Cornet Bay trail around Hoypus Head)
Elevation Gain: Minimal (North Beach), 500 feet (Goose Rock), up to 400 feet (Cornet Bay/Hoypus Head)
How to get there: From I-5, take Highway 20 west towards Anacortes and continue on Highway 20 west toward Oak Harbor at the big round about (Anacortes traffic goes straight here). After crossing the Deception Pass Bridge, head right follow signs to park at North Beach or go left on Cornet Bay Road to access the loop along Cornet Bay and Hoypus Head.
Parking Pass: Washington State Discover Pass
Dog Friendly: yes, on leash
Dugualla State Park
Best For: Quiet trails, forest and beach! The roads into this state park are long closed, but there's free parking before the closed gate (no pit toilets or services here). This area is much less crowded than nearby Ebey's Landing, Fort Ebey, Fort Casey and Deception Pass. You can walk down to the beach on Skagit Bay and add additional forest loops if you like! Watch out for mud.
Distance: 2 miles round trip to the beach and back, up to 5 mile of trails total in the park.
Elevation Gain: 400 feet
How to get there: Dugualla State Park is near the town of Oak Harbor. Coming from Oak Harbor (or the ferry), turn right on Sleeper Road which dead ends at the small parking area. Coming from Deception Pass (North), turn left on Sleeper Road.
Parking Pass: None
Dog Friendly: yes, on leash
Bluff Trail and Kettles Trail (Fort Ebey State Park)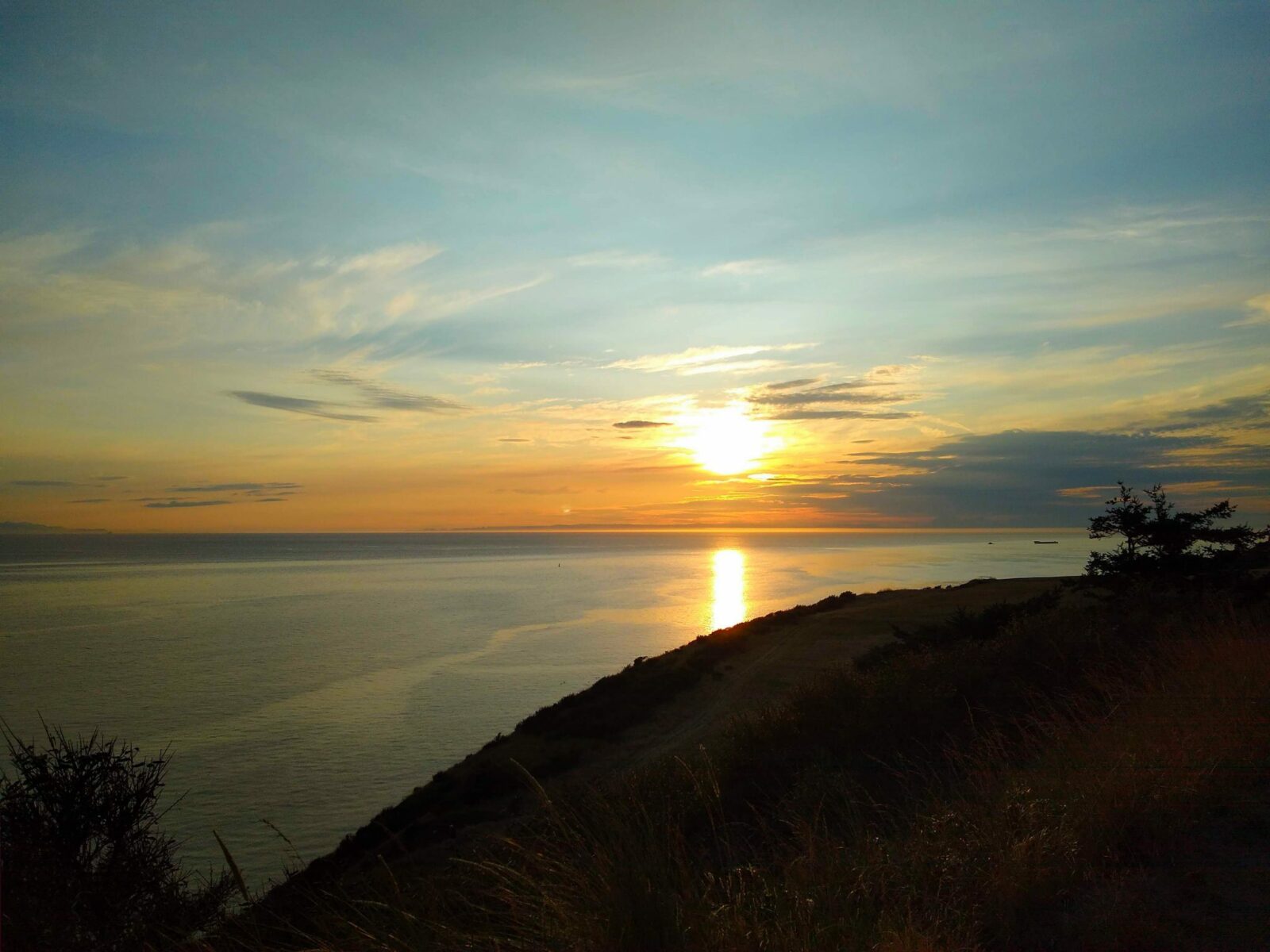 Best For: Beach views and forest walks! This is a slightly confusing area because Fort Ebey State park is managed by Washington State Parks, the adjoining Kettles Trail and Kettles Recreation area are managed by Island County, but all of it is part of the Ebey's Landing National Historical Preserve! There are many, many miles of trails here so I recommend printing or downloading the map of the area and then you can decide where all you want to go. Don't miss the Bluff Trail as a starting point or for a shorter outing with incredible views across Admiralty Inlet to the Olympic Mountains. The Bluff Trail is just over a mile long and connects up to many other trails in this trail system. If you're camping at Fort Ebey State Park you can get to the bluff trail and the whole trail system right from your campsite! This is one of my favorite places in Washington to watch a sunset.
Distance: Bluff Trail is just over a mile long, there are many miles of trails in the trail system
Elevation Gain: Minimal on the Bluff Trail
How to get there: Fort Ebey State Park is near Coupeville and Penn Cove on the west side of Whidbey Island. Head west on Libbey Road just north of Coupeville (left if you're coming from the south, right if you're coming from the north). Go left on Hill Valley Drive which takes you straight into the park. There are many other adjoining places to park and get onto the trail system in different places (see map linked above).
Parking Pass: Washington State Discover Pass (in Fort Ebey State Park)
Dog Friendly: yes, on leash
Fort Casey State Park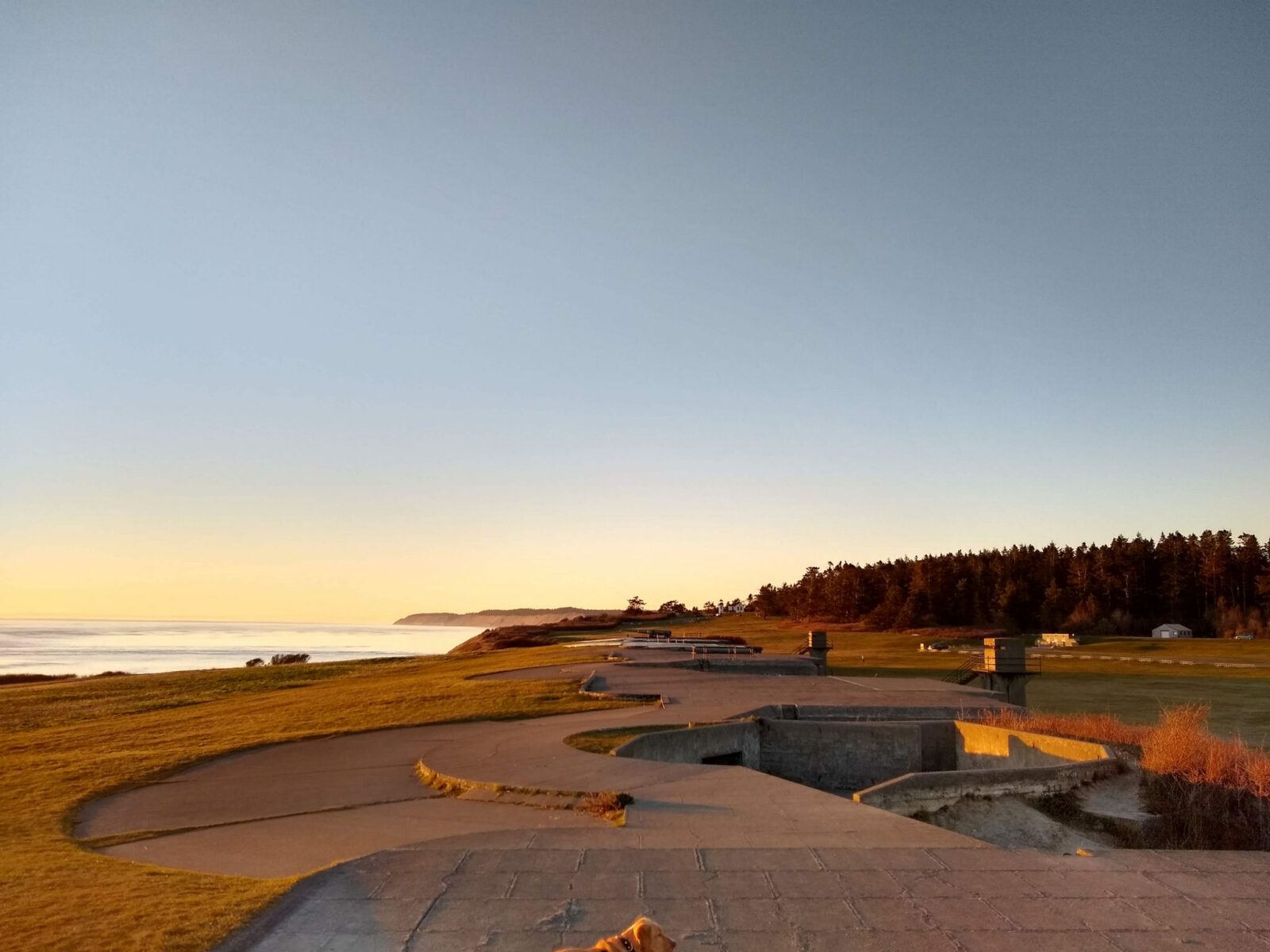 Best For: Kids and explorers, history buffs and lighthouse fanatics. While there are better Whidbey Island hikes for the pure hiking experience, this is a fascinating and unique place to visit. As a kid and teenager I loved running around on the leftover military battlements and I still love it as an adult! There is also a big field, a lighthouse and a beach! The nearby Coupeville-Port Townsend Ferry terminal lends some added Pacific Northwest ambience to this place. This is a must visit if you're going to Whidbey Island.
Distance: 2.5 miles of trails (plus endless running around on the beach and the old concrete bunkers)
Elevation Gain: 200 feet on the trail (plus up and down stairs while scrambling around the bunkers)
How to get there: From the south (Mukilteo ferry) turn left on Highway 20 (signed for the Port Townsend ferry). Go past the ferry terminal and turn left at the Fort Casey State Park sign (if you get to Seattle Pacific University's Camp Casey you've gone slightly too far). The road ends in a large parking area with flushing toilets. From the North (Oak Harbor and Deception Pass), turn right on Main Street in Coupeville. Follow this to the right turn in to Fort Casey State Park (just past Camp Casey).
Parking Pass: Washington State Discover Pass
Dog Friendly: yes, on leash
Off Leash Dog Hikes on Whidbey Island
There are Whidbey Island hikes for off leash dogs! Two areas have large areas where you can stroll and your well mannered dog can frolic.
Greenbank Farm Trails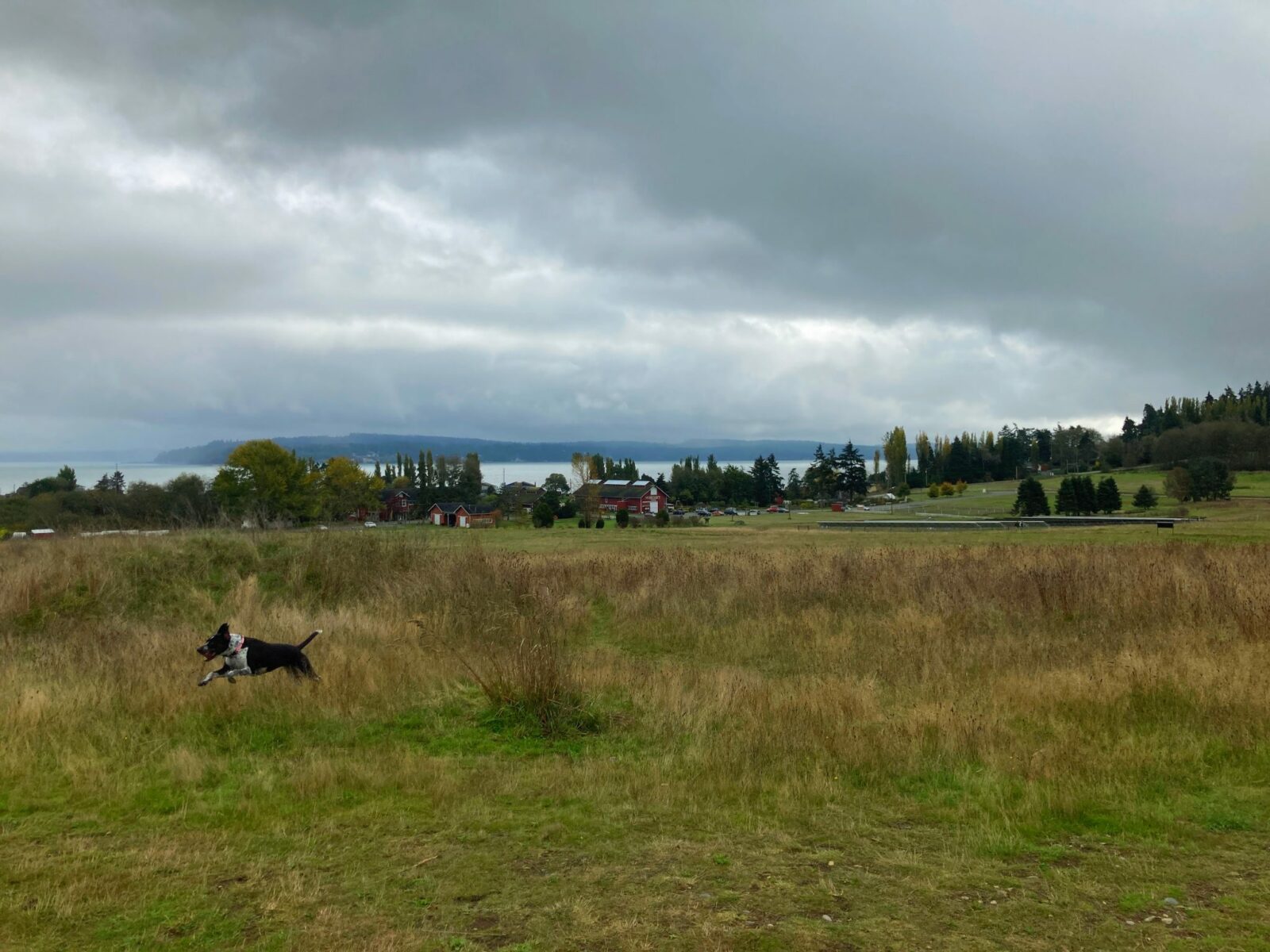 Greenbank Farm has three miles of trails in open meadow and forest that are open to off leash dogs. If you're hiking here not with a dog, be aware that there will be other dogs around. Dogs are not allowed around the farm buildings so pay attention to the signs. Dogs can be off their leash beyond the red flag and trailhead sign. This higher hill in the narrow part of the island allows views in all directions.
After you explore the trails, stop in the shops for a slice of Whidbey Pies, the best pie ever! You can also get coffee there and local wine from the wine shop next door as well as the cheese shop.
Greenbank Farm is well signed from the main highway and is just North of Freeland and Fort Casey and South of Coupeville.
Double Bluff Beach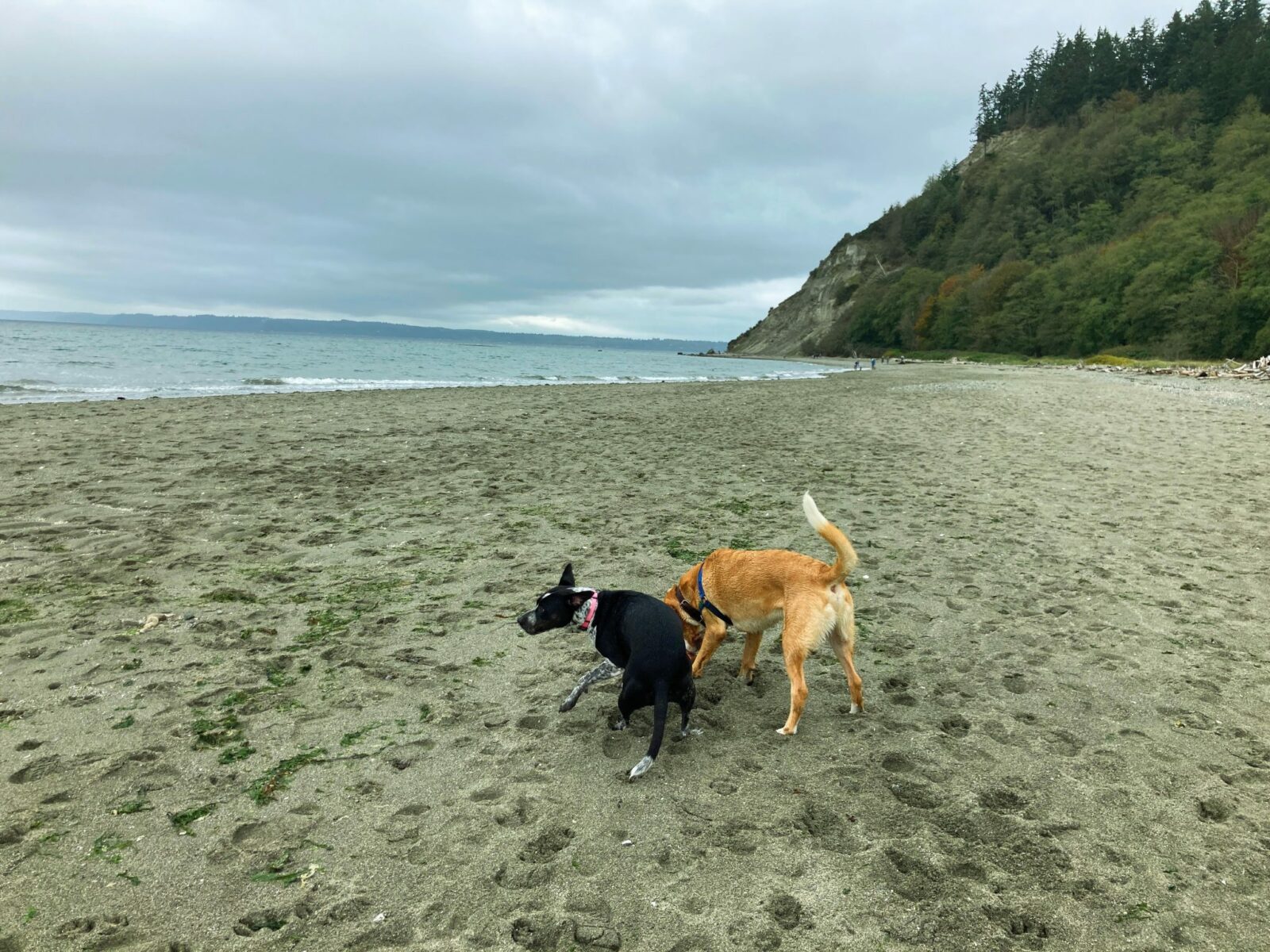 Double Bluff Beach is heaven for dogs! The parking area is small, but once parked head over to the beach. Note that you need to keep your dog on leash until you get to the red flag which is high on some driftwood. After this point, there's a two mile stretch of beach where you can walk and your dog can run for a four mile round trip beach hike.
Double Bluff Beach is located near the town of Freeland on the South end of the island. Head South on Double Bluff Road from the main highway, which will take you straight there.
Related: Things to do on Whidbey Island
Best Post Hike Stops for Food and Drink on Whidbey Island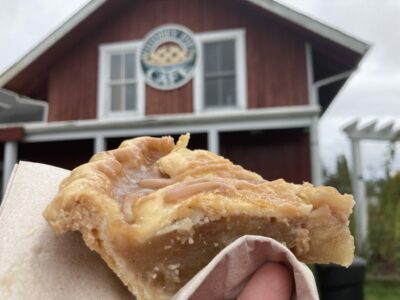 There are so many places to stop after your Whidbey Island hike for food and drink! Whidbey is home to lots of great food as well as four wineries, two distilleries and two breweries. A few of my favorites include:
Whidbey Pies! The best pie I've ever had, seriously. Located at Greenbank Farm. They also have great coffee! (wine and cheese are located in the two shops next door)
Front Street Grill in Coupeville – this is a wonderful place to get world famous Penn Cove Mussels, right next to Penn Cove. They have many delicious food options and a great view
Whidbey Coffee – with several locations on the island as well as the mainland with great coffee and some locations have lunch options.
Spoiled Dog Winery – A fun, dog themed vineyard environment with lots of delicious wine and outdoor seating.
Holmes Harbor Cellars – a lovely outdoor setting in a vineyard with plenty of picnic tables! Bring your picnic and your leashed dog and hang out for awhile.
If you're looking for more ideas for delicious food on Whidbey Island, check out the Emerald Palate's guide to must eat food on Whidbey Island. Looking to sample all the craft made drinks on the island? If so, check out Postcards to Seattle's excellent and comprehensive guide to Whidbey's wineries, and breweries!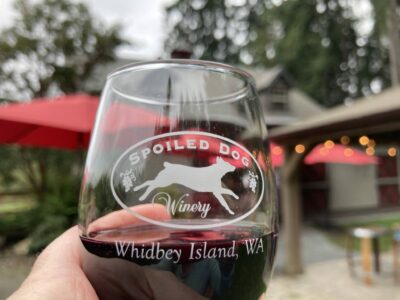 Where to stay on Whidbey Island
Want to make a weekend out of it? Whidbey is a great place to stay longer and take it all in. There are a variety of hotels and vacation rentals all over the island. This map compares locations and prices across hotels and vacation rentals (this is an affiliate link which means if you book through the map I receive a small commission at no cost to you).
Electric Vehicle Charging on Whidbey Island
There are currently no fast chargers on Whidbey Island, the nearest fast chargers are in Burlington (close to the north side of the island) and Everett (close to the ferry terminal in Mukilteo).
Level 2 chargers are available in Oak Harbor, Freeland, Langley and at Greenbank Farm. Greenbank Farm is a great place to charge while giving your dog a run around the off leash trails at the farm, or grab wine, cheese, pie or coffee!