Why you should visit Kootenay National Park in Canada
Posted On January 20, 2020
Last Updated on April 2, 2022
Most travelers have heard of Banff and Jasper National Parks in Alberta and the crowds there reflect their popularity! Often people have not heard of their close neighbor, Kootenay National Park which is absolutely incredible.
If you're interested in avoiding crowds and seeing amazing things that might be less instagram famous (but no less worthy) then Kootenay National Park is a perfect edition to your British Columbia or Canadian Rockies Itinerary! It has an amazing hot springs, sweeping views, hikes and more with a fraction of the crowds of nearby Banff and Jasper. In addition to the park itself, there are lots of other amazing things to visit nearby.
Related: British Columbia 7 day or 2 week itinerary, Vancouver to Banff Itinerary
Where is Kootenay National Park?
Kootenay National Park is located in Southeastern British Columbia in Canada. It's adajcent to Banff National Park. When you pay for admission to any of the four parks next to each other here (Banff, Jasper, Yoho and Kootenay) you can go to any of the four for the days that you've paid. You need a car to visit Kootenay.
Kootenay National Park is about a 10 hour drive from Seattle (going through Spokane and north through Idaho and into British Columbia). From Vancouver BC it's about a 9 hour drive north and east through Kamloops (a very scenic drive).
For a shorter drive, you could fly to Spokane (5 hour drive) or Calgary (2 hours). Driving through Calgary involves driving through Banff on the way, which is also extremely beautiful!
When is the best time of year to visit Kootenay National Park?
I have been to Kootenay several times, each time in September. I think this is the ideal time to visit, since summer crowds are gone (in Kootenay but NOT in Banff nearby, it's still extremely crowded there) but it's not winter yet. I prefer less crowds to good weather, so the rainy weather I've experienced there in September has been totally fine with me! If you wanted to have warmer weather (still be ready for rain and cold, this is the rocky mountains!) June – August would be a better time to visit.
I've never been to Kootenay in the winter but I would LOVE to. The hot springs are open all winter and the town of Radium has lodging and food all year. There are snowshoeing and cross country skiing opportunities as well.
Where Should I Stay in Kootenay National Park?
Camping
Every time I've been to Kootenay National Park I have camped at the Redstreak Campground near Radium Hot Springs. I highly recommend this campground! It has great views and you can hike to the hot springs (or drive). You're also really close to the town of Radium so it's easy to get groceries and supplies or eat a meal in town.
You can also reserve a site here which I like to do after a long drive to make sure I'll have a place to camp. In the Parks Canada system, you pay extra for a fire permit, which is totally worth it because there's a ton of firewood you can load up from their wood pile. The campground costs about $30 a night (Canadian dollars) plus about $9 for the fire permit for each day you want to have a fire.
The seasonal campgrounds that are not reservable are a little bit less ($21-$22 plus the same for the fire permit).
Redstreak Campground also has great views of the Upper Columbia Valley and surrounding mountains. There are a number of hiking trails that go right from the campground, including the two mile walk through the forest to the hot springs!
Kootenay National Park is bear country so make sure to secure all your food and scented items in your vehicle in the campground. Parks Canada has lots of education and reminders about bear safety.
Hotels and Vacation Rentals
The Kootenay Park Lodge at Vermillion Crossing (about halfway between Banff and Radium Hot Springs) is open seasonally from mid May to mid September and features a number of cabins around a central lodge with a cozy dining room.
Just outside the park, the town of Radium Hot Springs has many budget friendly hotels (a surprising number for a park gateway town!). In addition there are many vacation rentals available.
Where to eat in Kootenay National Park
Aside from the lodge dining room (summer only and only for dinner), there aren't food options in the park itself. This is a great place to load up a cooler or picnic in the town of Radium and have food with you for your day or days in the park.
The town of Radium has several good options for food. A few favorites are:
Big Horn Cafe: This is the perfect place to go for breakfast before adventures in the park. We had breakfast here on our last visit everyday even though we were camping. They have really REALLY good coffee and breakfast sandwiches and breakfast burritos. Of course they also have tasty pastries!
Wildside Pizza: Who doesn't love pizza after a day in a national park? Great option for pizza as well as salads and more.
Riko's Restaurant: American and Canadian Classics like burgers, other hot and cold sandwiches and chicken tenders featuring a Chinese buffet on Friday nights. Also a good breakfast!
Things to do in Kootenay National Park
Radium Hot Springs
I LOVE hot springs and Radium is one of my favorites! It's big and has a beautiful rocky canyon wall along the side of it. Radium Hot Springs is a developed hot spring, so you pay admission ($8) and it feels like a large hot tub. You can pay your admission and hang out there all day if you like (I've done it a couple times, highly recommended!). It's SO MUCH less crowded than the hot springs in Banff. Sometimes you even see big horn sheep on the rocks above pool!
Related: 7 Kootenay hot springs in 5 days – a dreamy Canadian road trip
You can drive and park at the hot springs, or if you're camping at Redstreak, take the two mile (each way) hike to them and back to your camp. It's a really pretty hike, mostly through the woods. There's a bit of climbing (500 feet) but nothing too crazy.
Hiking in Kootenay National Park
There are several wonderful hikes in Kootenay, and I'm sure many more that I don't know about! You can visit the Kootenay Visitor Center in the town of Radium if you'd like more ideas or specifics about the conditions along the trails. Here are a few highlights:
Redstreak campground trail to Radium Hot springs: mentioned above, you'll go up and down a bit directly from the campground and come out at the hot springs building in two miles. There are some nice view points along the trail as well (closer to the campground). The trail is mostly forest once you get away from the campground until you get to the hot springs.
Marble Canyon: My husband Jay (who was raised in Yellowstone) thinks that Marble Canyon is one of the most spectacular things he's ever seen and I have to agree! If you park at Marble Canyon, the trail is only about a mile each way and there is a little bit of climbing but it's not difficult. You won't notice you're walking anyway because you are distracted by the impossibly blue water and the impossibly narrow and tiny canyon the water is roaring through. This is a good place for ambling and taking your time. If you want to make it a longer hike, you can start at the Paint Pots instead (they are cool but don't have the same spectacular colors as the Paint Pots in Yellowstone). If you start at the Paint Pots and hike to Marble Canyon and back, that will be about 9 miles round trip with about 600 feet of elevation gain.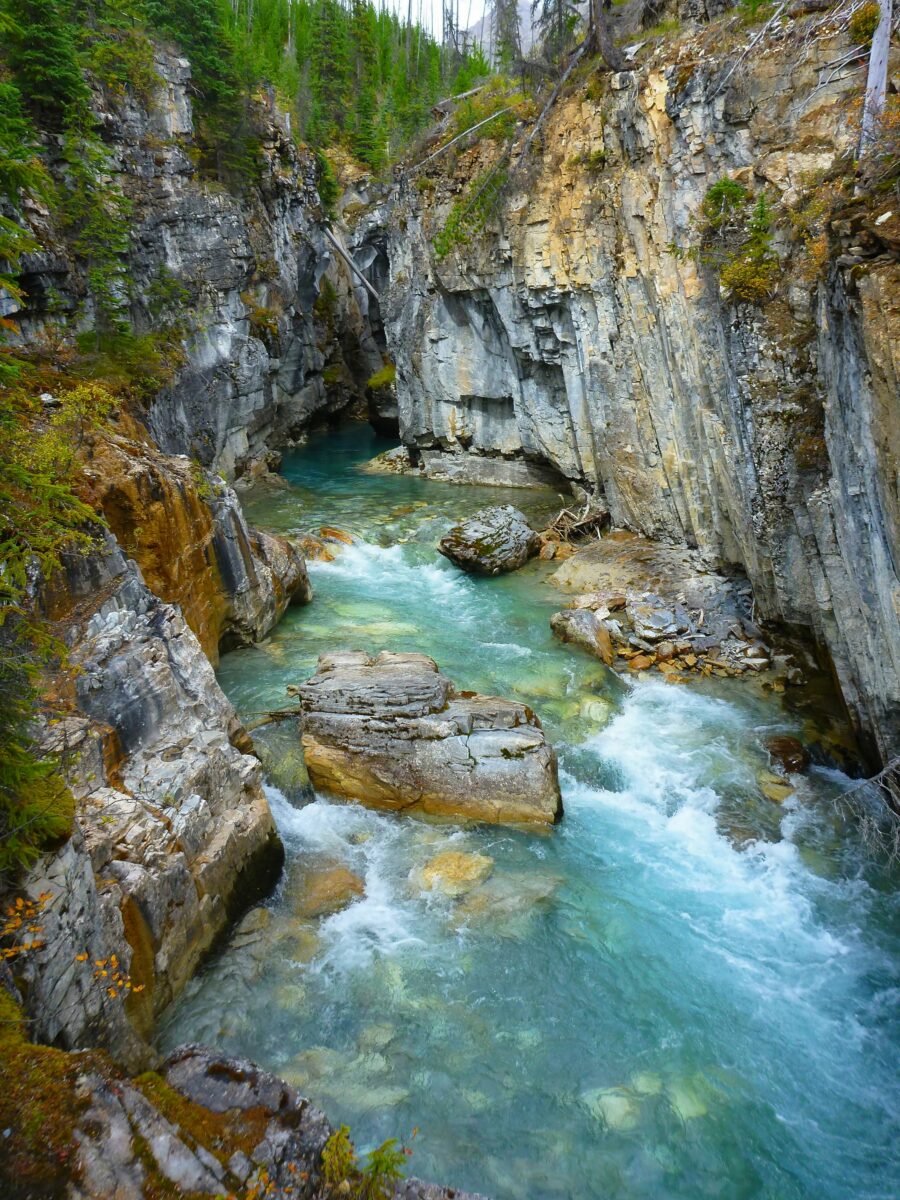 Stanley Glacier: Every time I've been to Kootenay it's been quite rainy so I haven't done this view hike (I like to save view hikes for when I can see the view!). I still have it on my list of hikes I can't wait to do some day. This hike has amazing mountain views and is just under 7 miles round trip with close to 2000 feet of elevation gain.
Scenic Drive and Views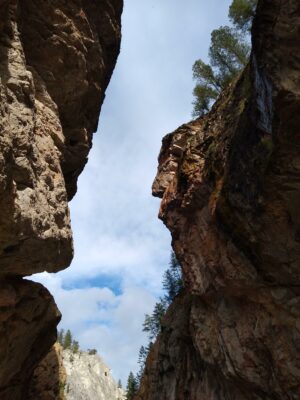 If you like road trips and car touring, you will love driving around in Kootenay! The park itself is about 60 road miles long (but they're slow, you'll be stopping all the time to take pictures!) so you can make all the stops you want. In addition to the highlights already mentioned, a few other favorite stops include:
Sinclair Canyon: At the south entrance to the park, near the town of Radium and Radium Hot Springs, you'll drive through steep and narrow Sinclair Canyon which is really impressive! You can get out and explore it on trails (even going up a steep and short climb to a viewpoint of the canyon if that's your thing). Sinclair Falls crashes through the canyon next to and below the highway and you can see it from the trail.
The Continental Divide: A pullout and sign here mark the high point of North America, where rivers drain down to the Pacific Ocean (to the west through British Columbia) or to the Atlantic (to the east through Alberta and beyond). This spot also marks the boundary of British Columbia and Alberta, and the boundary between Kootenay National Park and Banff National Park.
Olive Lake: A lovely alpine lake with a picnic area and path to walk around it
Kootenay Valley Viewpoint: A large pullout before the road dips down into the valley with amazing views of the Kootenay River as well as the Vermillion and Mitchell Mountain ranges.
Other places to Explore near Kootenay National Park
There's lots to do in Kootenay National Park but also lots of wonderful things nearby. Here are a few suggestions if you have enough time to get outside the park:
Lussier Hot Springs: this is a natural hot springs that requires a bumpy drive on a gravel logging road but its a beautiful hot spring along the river. You won't be alone here, but it's a nice alternative to the more hot tub-like commercial hot springs. Because it's natural, there are warmer and colder places and you have to move around a bit to find the spot you like best.
Windermere and Columbia Lakes: Good for beaches and swimming if you're visiting in the summer
Drive the Icefields parkway: If you drive north into Banff National Park and up towards Jasper, you're on the breathtaking Icefields Parkway with mountains and glaciers you can see all over the place and lots of pullouts. Banff and Lake Louise are both extremely crowded and parking is a real challenge and may be impossible. If you really want to see Banff but find big crowds, skip it and take a drive along the Icefields parkway instead of fighting the crowds (and get your hike in back in Kootenay).
Kootenay National Park makes a fantastic addition to a road trip from Vancouver to Banff