10 Unique things to do in Tumbler Ridge, BC
Posted On October 31, 2022
Tumbler Ridge is a small community in remote Northern BC and one of the most unique places you can visit in Canada, full of geologic formations, waterfalls and dinosaur footprints so impressive it is designated a Global Geopark by the United Nations!
The remote community of Tumbler Ridge takes some effort to get to and is well worth the effort for those who love outdoor adventure, science and going places not many visitors get to go to.
Tumbler Ridge is the homeland of the DUNNE-ZA (Beaver), Tse'Khene, Cree and Saulteau First Nations.
What is Tumbler Ridge known for?
In the 21st century, Tumbler Ridge is known for being a UNESCO Global Geopark, which means a specially designated place of particular geological significance. Towering waterfalls, dinosaur tracks and other worldly rock formations make up some of the key features of this remote and epic park.
The Tumbler Ridge area also has a history of mining, including coal mining in the 1980s that originally built many of the structures in town.
First Nations people have made this area their home since the last ice age formed the land into the shape it is today, around 10,000 years ago and still make their home here today.
Where is Tumbler Ridge?
Tumbler Ridge is located in Northern British Columbia, about an hour from Dawson Creek near the BC/Alberta border.
How to get to Tumbler Ridge
Tumbler Ridge is a long way from pretty much anything, which is part of makes it so special! The nearest airport is in Dawson Creek and the nearest big airport is in Edmonton (660 km/410 miles away).
If you're on a road trip to Alaska, this is a fantastic place to take a break for a few days, relax and explore. Tumbler Ridge is about an hour scenic drive from Dawson Creek, the official beginning of the Alaska Highway.
Things to do in Tumbler Ridge in Summer
Tumbler Ridge offers a wealth of outdoor activities for summer fun. The visitor center is a great resource for trail maps, recommendations and suggestions for guided trips if that's what you're looking for. I've never seen so many maps in a visitor center before!
Including in these ideas below are some mellow hikes, but there are plenty of challenging hikes in this area too featuring epic mountain landscapes and alpine lakes. Grab maps at the visitor center and make sure you are prepared to be self sufficient as there is very little cell service in this remote area.
There are also plenty of mostly flat and paved trails in town for running, walking and road biking.
Walk in the Steps of Dinosaurs
As a UNESCO World Heritage Site and Global Geopark, Dinosaurs helped put Tumbler Ridge on the maps! And honestly, who doesn't love dinosaurs?? The dinosaur tracks in Tumbler Ridge were discovered in 2000 by two school age boys who were floating the river. This touched off a new era for Tumbler Ridge and brought scientists and visitors alike to learn about dinosaurs.
Start your dinosaur exploration at the Dinosaur Discovery Gallery in town and then head out to the Flatbed Creek Trail to see some real life 90+ million year old dinosaur tracks for yourself!
The trail is mostly flat, with a few up and down sections at the beginning and then a steep downhill when you get close to the creek. In addition to the dinosaur tracks, you also get to see a beautiful forest and lovely Flatbed Creek. The hike is about 3 km (2 miles) round trip with about 300 feet of elevation gain and loss.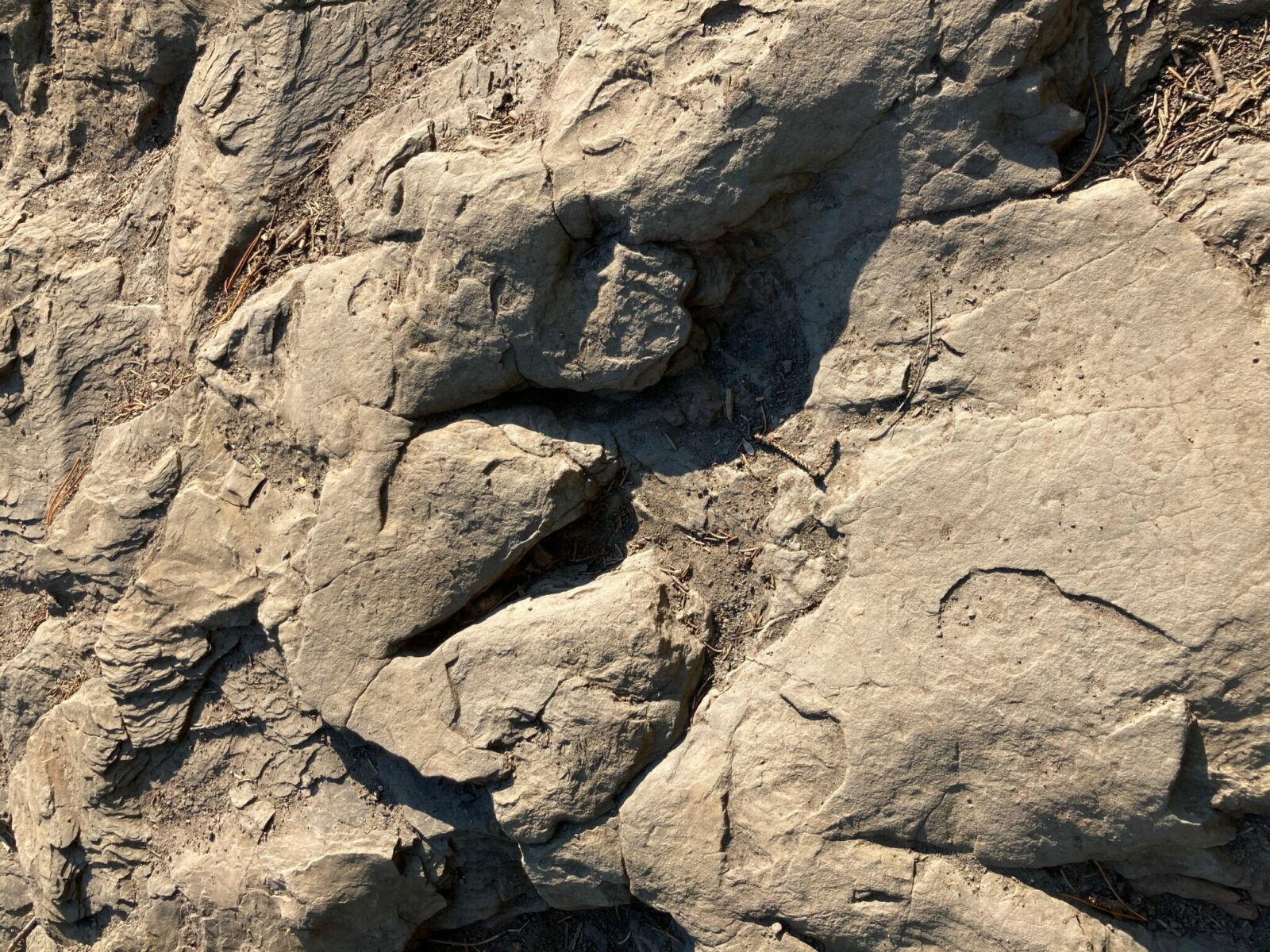 Take a Jetboat to Kinuseo Falls
Definitely the most famous waterfall in Tumbler Ridge, and really in all of British Columbia, is stunning Kinuseo Falls in Monkman Provincial Park. There really aren't enough superlatives to describe this waterfall and it's impossible not to be impressed.
Kinuseo Falls tumbles nearly 70 meters (225 feet) over the rocks on the beautiful Murray River. I recommend doing a jetboat tour to see Kinuseo Falls from below. This is a truly impressive and unforgettable experience, especially when you come around the corner on the river and the falls is ahead of you!
You can also drive to it and do a short hike to the top of the falls. I recommend the jetboat because you can skip the long drive on a gravel road and you get a better view of the falls from below.
If you do want to drive out to the falls, allow yourself at least an hour for the 50 km (30 miles) of gravel that can be very uncomfortable if you're going too fast! At the falls, there is a boardwalk to take you to a viewing platform of the falls.
Explore many other waterfalls
Kinuseo Falls is absolutely stunning and you don't want to miss it, and you also don't want to miss the many other gorgeous waterfalls in the area!
My personal favorite it Quality Falls, it's just so picturesque and peaceful and a beautiful forest hike to get there. There is an overlook at the end of the trail and you can go further on a very steep and scrambly (but short) trail down to the base of the waterfall. While short, this scramble is very steep so watch your step and be especially cautious if it's raining. It's a 2.5 km (1.5 mile) round trip hike that is not steep but does have many roots and some steps.
Other good options include Babcock Falls, Nesbitt's Knee Falls and Barbour Falls. The second two are along the road to Kinuseo Falls, so if you do drive out to it and want more waterfall action, make sure to stop (look for the signs).
Explore the amazing rock formations
It's not just dinosaurs and waterfalls around here, the rock formations are impressive as well! To check them out, try Shipyard Titanic (pictured above) or Boulder Gardens.
Shipyard Titanic is located about 35 km (22 miles) south of Tumbler Ridge. A short 500 m walk takes you to the formations, but you can go up to 3 km for a bit more exploring. Keep your eyes out for mountain goats in this area (and keep your distance from them!).
For a slightly longer and more challenging hike, try Boulder Gardens, which is very close to Shipyard Titanic. This route involves more rock scrambling and steepness and is a bit longer (4 km/2.5 miles).
Go Birding at Bullmoose Marshes
Bullmoose Marshes is a wonderful opportunity for birders to see nearly 100 different bird species on a series of boardwalks and viewing platforms. Even if you're not a birder, this unique wetland habitat makes a great walk or a wonderful night time place to see the stars and if you're lucky, the Aurora! It's not dark enough for night sky viewing in the summer, but if you're here in fall or winter the very dark northern skies are worth staying up for.
Try golfing
If you've ever wanted to try your hand at golf, this is a beautiful and fun introduction to it! Experienced golfers will also love this 9-hole course with incredible views. There is also a putting green and driving range.
Things to do in Tumbler Ridge in Winter
When the snow comes and the temperatures plummet, there's still plenty of outdoor adventure to have in Tumbler Ridge. The visitor center is once again an excellent resource, especially for connecting you to guides who can take you on a snowmobiling trail ride or ice climbing adventure on the frozen waterfalls.
Go Snowshoeing
Tumbler Ridge's many hiking trails become snowy and perfect for snowshoeing in winter. Check with the visitor center for maps and suggestions based on the current conditions.
Go Cross Country Skiing
The golf course has a 10 km (6 mile) groomed ski route in the winter, perfect for getting out on cross country skis. You can ski on other trails as well, depending on the conditions.
Ice Skating
Tumbler Ridge, like all Canadian communities, has an ice rink so bring your skates for some indoor winter fun.
Swimming at the Aquatic Centre
In addition to the ice rink, curling rink, library and indoor play area, the Community Centre also has a wonderful swimming pool if you're ready to warm up and enjoy some water fun. They also have a sauna and hot tub in addition to a children's pool area.
Where to stay in Tumbler Ridge
Tumbler Ridge has a few hotels and vacation rentals. I stayed in a fantastic vacation rental that had lots of space and a big kitchen and a big yard. Since there are not a lot of restaurants in Tumbler Ridge, but there is a well equipped grocery store, I like having a kitchen when staying here.
There are several campgrounds in the area, some with more services and some more basic. There are two RV parks in town that have hook ups.
Where to eat in Tumbler Ridge
There are not a lot of food options in Tumbler Ridge, but there are some good ones! There is also a well stocked grocery store if you want to do your own cooking. You may not be able to get specific specialty items, but all the basics are well covered.
The golf course has a good restaurant with a lovely patio with a great view in summer. The Kinuseo Cafe is another favorite place with good food and a diner vibe. They also have a patio for summer days as well as a boxed lunches to take on your adventures (especially convenient if you're staying at the adjoining Tumbler Ridge Inn). Breakfast is good here too! Joe's pizza stone is a good bet for pizza.
Electric Vehicle Charging
There is not any fast charging in or near Tumbler Ridge. The closest fast charging is in Grand Prairie (200 km/124 miles away) or Prince George (400 km/250 miles away). The visitor center does have two Level 2 chargers.