12 Fascinating Things to do in Dawson City
Posted On January 11, 2021
Last Updated on October 17, 2022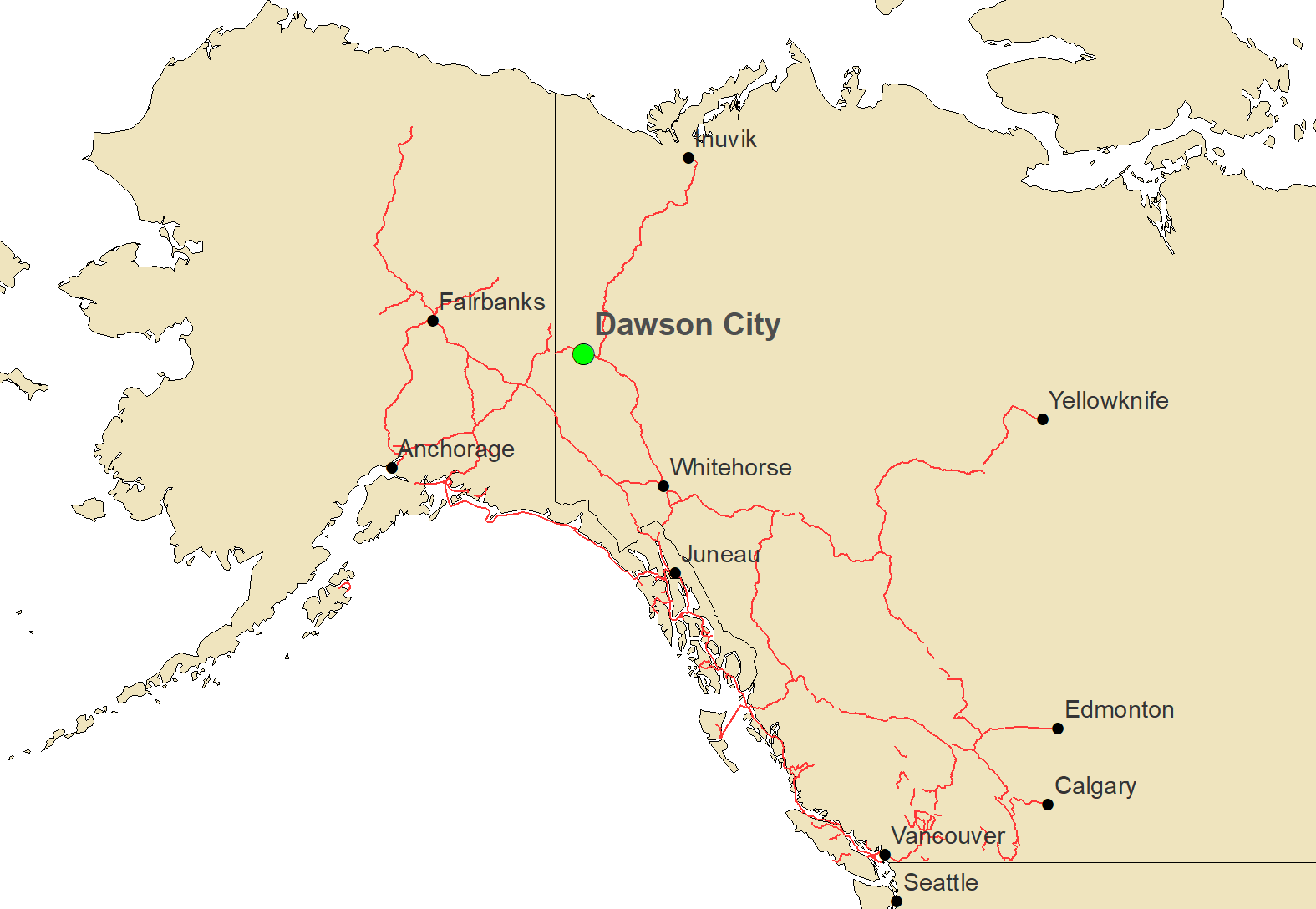 Dawson City is one of my absolute favorite towns in the entire world. I've been lucky enough to visit many times, when I lived in Skagway and when I lived in Fairbanks. Dawson is in Canada's stunning Yukon Territory in a gorgeous natural setting. Combine that with extensive history and culture and friendly locals and lots of quirky and unique things to do, what's not to love? Dawson City is well set up for visitors, but doesn't feel crowded. There are so many interesting things to do in Dawson City, from learning about the Klondike Gold Rush to exploring First Nations Culture to hiking the wild beauty of Tombstone Territorial Park.
This area has long been and still is home to the Tr'ondëk Hwëch'in First Nations people. After the discovery of gold along Bonanza Creek in 1896, Dawson exploded to become the largest city north of Seattle with 30-50,000 people by 1898. In addition to prospective miners, Dawson was filled with high end entertainment and services for those joining in the gold rush. Today Dawson is home to less than 2000 people and tons of adventure and history!
How to get to Dawson City
Dawson City is in the remote northern part of Canada's Yukon Territory, and it's not easy to get to! This is part of what makes it such a fun place to visit and it's absolutely worth the effort to get there.
Note: Dawson City is NOT the same place as Dawson Creek, British Columbia, the official start of the Alaska Highway.
How to get to Dawson City by Air
To get to Dawson City by Air, you can fly from Whitehorse, the largest town in the Yukon. Whitehorse has multiple flights a day from Vancouver as well as other Canadian cities. There is even a seasonal flight to Whitehorse directly from Germany!
How to Drive to Dawson City from Whitehorse or Alaska
Driving from Whitehorse to Dawson City on the Klondike Highway
This scenic 330 mile/530 kilometer drive takes about 6 hours in good weather. The road is in good condition, though there are very few services and limited cell phone service. In the summer months, scheduled bus transportation is available between Whitehorse and Dawson City. The Klondike Highway is open all year.
Driving to Dawson City from Alaska over Top of the World Highway
Top of the World Highway is one of the most stunning stretches of road I've been on. The remoteness and the scenery are incredible, especially in fall which is early September here.
The road is partially gravel and partially paved, with many steep drop offs without guardrails. Take it super slow (plan on it taking AT LEAST 5 hours to go from Tok to Dawson) and watch out for the dropoffs! You won't want to hurry on this road anyway, it's so incredibly beautiful.
There are no services between Tok, Alaska and Dawson except in Chicken (yes, there's a town in Alaska called Chicken). Chicken is 108 miles from Dawson and Tok is 175 miles from Dawson. The total driving distance from Fairbanks to Dawson is about 400 miles and the total driving distance from Anchorage to Dawson is about 500 miles. Top of the World Highway closes in winter. There is very little cell service along this route.
There are two other important things to note if you are driving from Alaska on Top of the World Highway:
The border crossing between Alaska and the Yukon closes at night. The last time I was there, the border closed at 8pm Alaska time/9pm Yukon time. If you miss the border opening you'll have to wait at the border until the next day. The border crossing is generally open when the road is open, but it's good to confirm the road and border crossing are both open and the hours (especially if you're visiting early or late in the season in May or September/October). There is a one hour time change between Alaska and Canada at the border.
Top of the World Highway ends on the west side of the Yukon River, directly across from Dawson City. There is a free ferry called the George Black ferry which takes cars and people across the river from mid May through sometime in October. The exact timing depends on when the river is free of ice and when it starts to freeze up again in the fall. The ferry crossing is short (less than 10 minutes) but you may need to wait a bit before you can cross.
Explore Historic Downtown Dawson City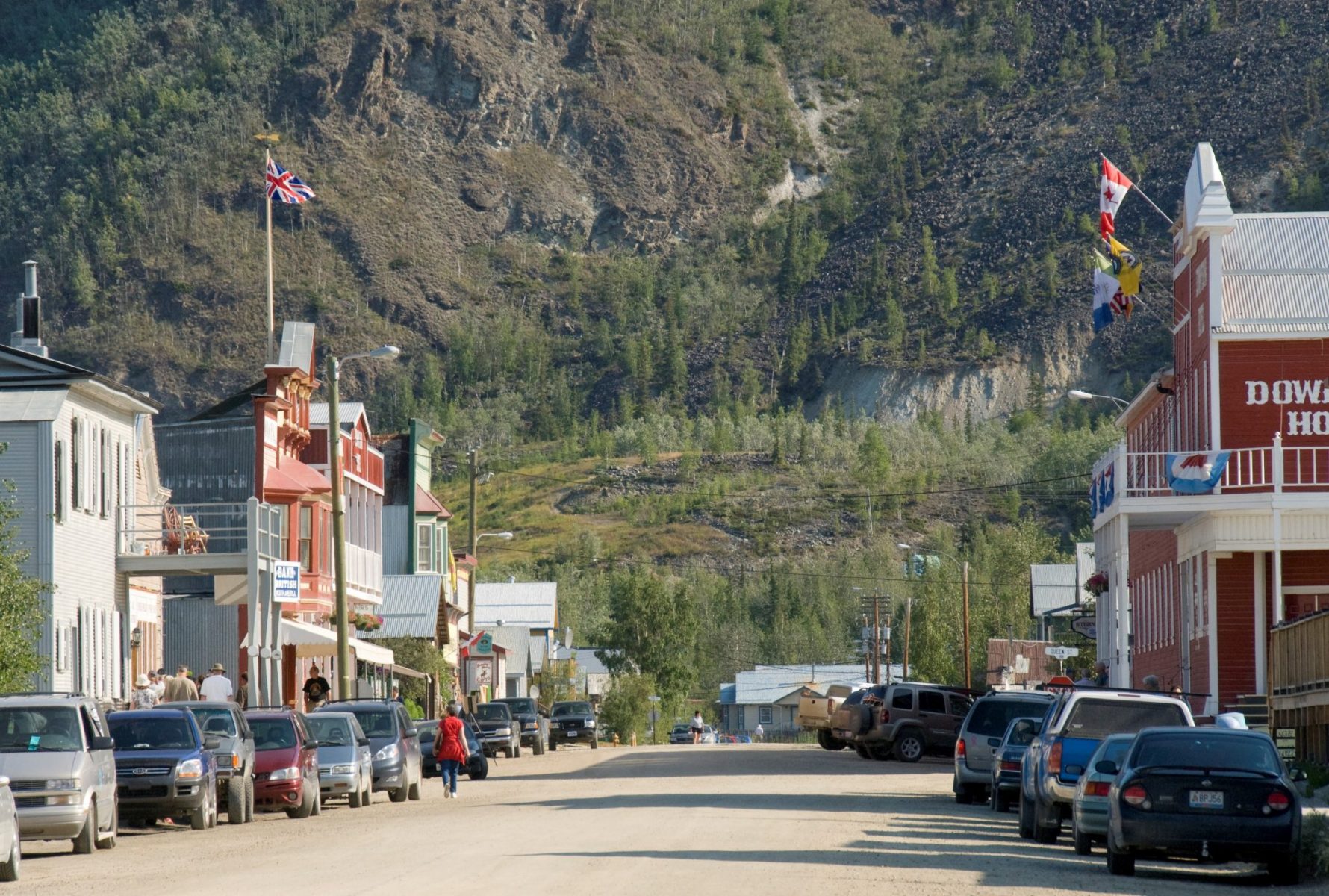 Walking around historic downtown Dawson City is a great way to get started and get a feel for where you are. Pop into the Visitor Information Center to get the latest happenings around town and get all of your questions answered. This is a good place to get information on any tours you might want to book during your stay. You can also find maps and a ton of informaton. Get tickets here for the Klondike National Historic Site walking tours, a great way to get oriented and catch up on gold rush history!
Parks Canada also offers an interpretive tour of the restored Palace Grand Theatre.
The Dawson City Museum is another great place to learn about the natural and cultural history of this part of the Yukon.
You can further explore the historic buildings from the wooden boardwalks, checking out shops and restaurants and more!
My favorite shop in Dawson is Maxmillien's Gold Rush Emporium. Maxmillien's is an amazing independent bookstore with an impressive selection of maps. One of the many fun shops in historic downtown Dawson, you can also find gifts from the Yukon and souvenirs to remember your trip.
In addition to the perfectly restored historic buildings, some have been left as they were and you can see what happens to old buildings build on frozen ground! They start to sink or tilt when some of that frozen ground melts.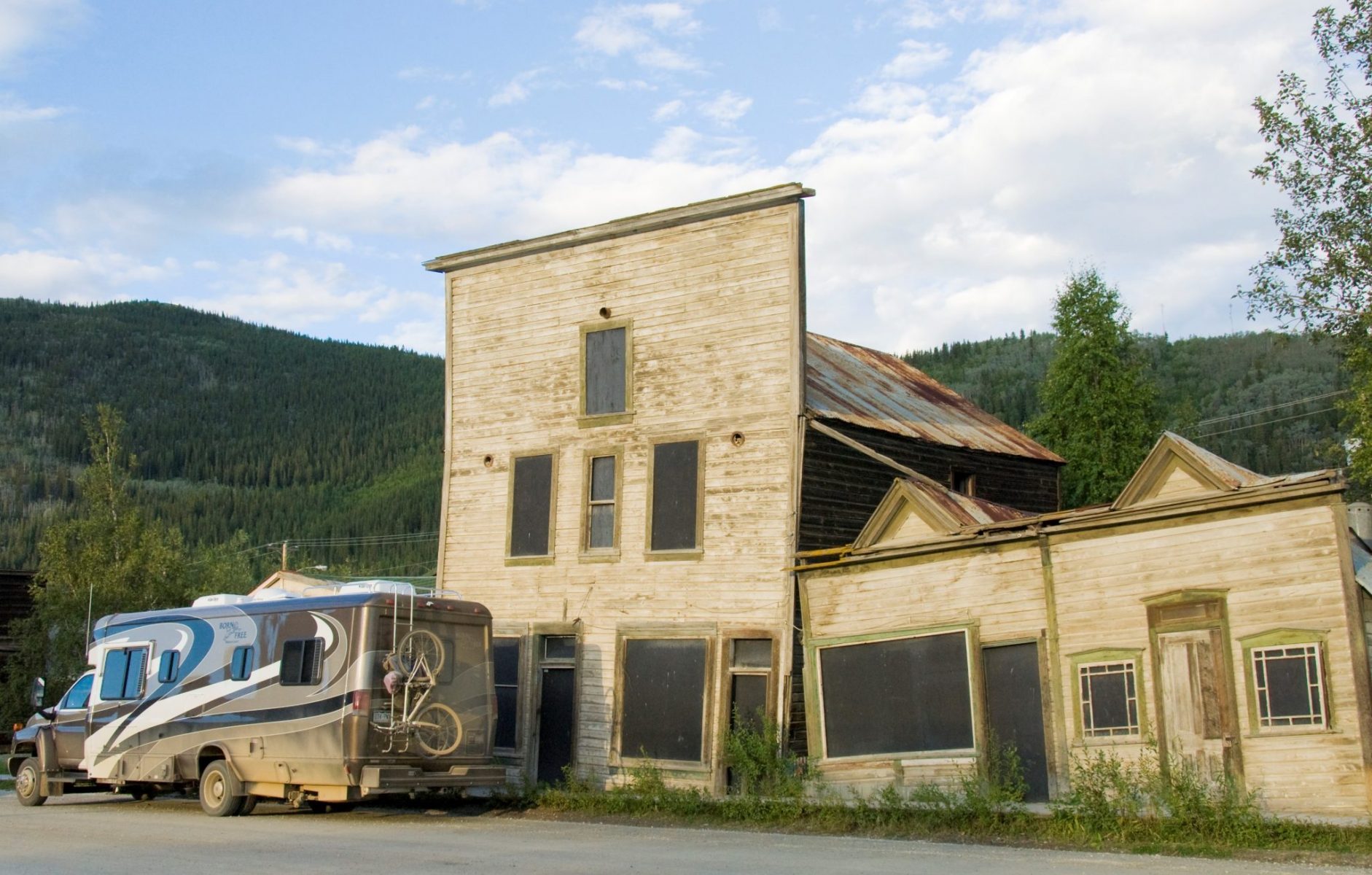 Try Gold Panning
Gold put Dawson City on the map, so there's no better place to try your hand at gold panning! At Claim 33, you can learn how to gold pan and use their supplies to try it out, along with a small museum and gift shop.
If you want to strike out on your own, you can head to Free Claim #6, near where the original Klondike claim was. Here you can pan for gold to your heart's content but you'll need to bring your own gold pan (buy one in downtown Dawson).
Learn about First Nations Culture at the Dänojà Zho Cultural Centre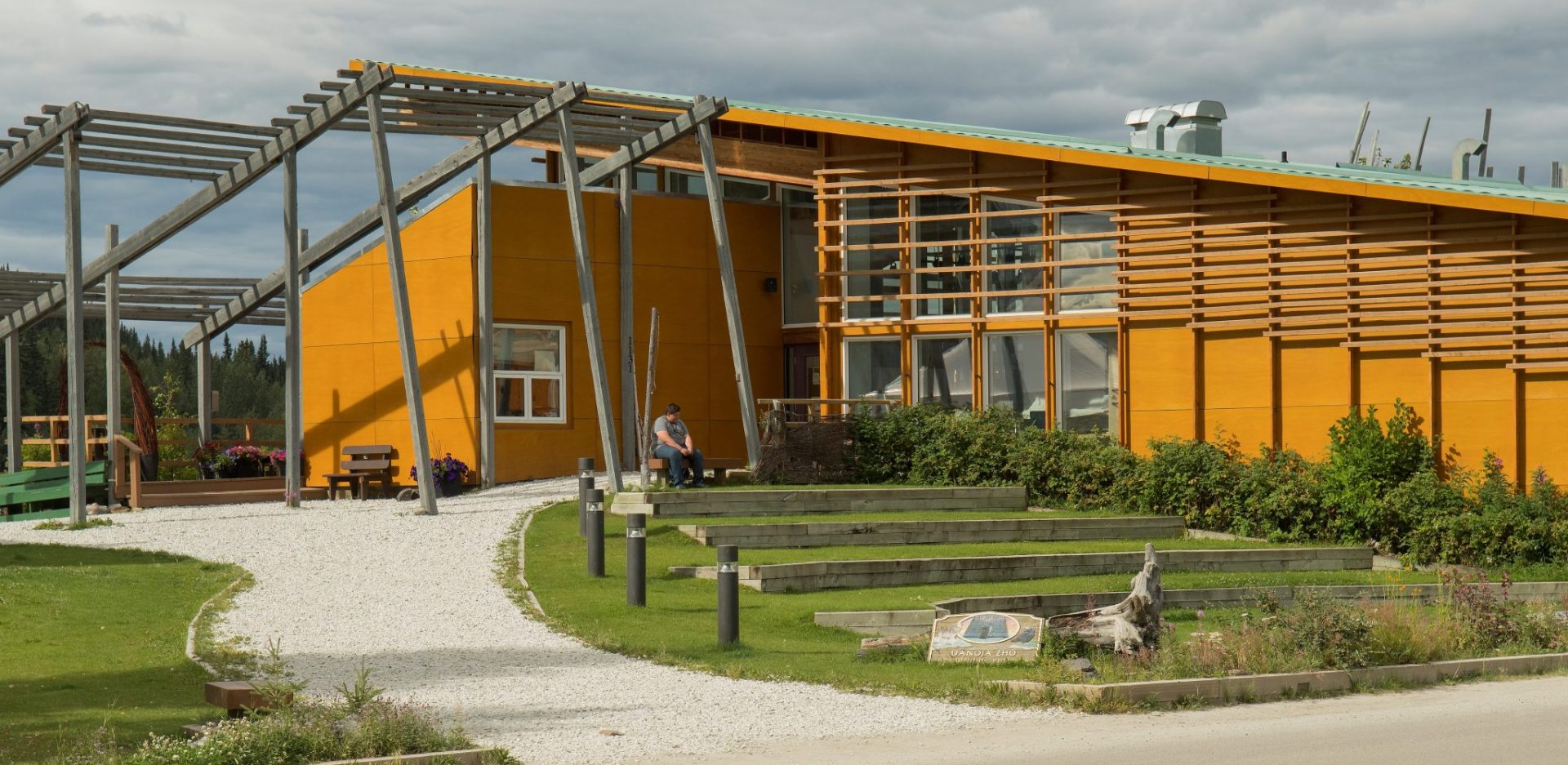 Long before the Klondike Gold Rush made Dawson City famous around the world, the Tr'ondëk Hwëch'in First Nations people lived and thrived here for generations. Today, the Tr'ondëk Hwëch'in people are self governing and continue to steward the land and culture for modern people and those in the future.
At the Cultural Centre, you can see exhibits and learn about the Tr'ondëk Hwëch'in people's language, stories and culture from the people who have stewarded this land for generations.
Join the Sourtoe Cocktail Club
The Sourtoe Cocktail is a world famous activity that I suspect might not come back after the pandemic (!) but I have no doubt the legend will live on forever at the Sourdough Saloon (worth a visit even if you don't want to become a member of the club). The Sourdough Saloon is in the Downtown Hotel and offers food and drinks in a fun historic setting.
Becoming a member of the Sourtoe Cocktail Club (I'm a member!) involves taking an oath, taking a shot which has a preserved human toe in it which you have to touch your mouth to (ack! I know!) and then getting a certificate. I know it sounds gross, and it is, but it's the kind of fun and quirky thing you can totally do if you get caught up in the moment.
Another bar with lots of local flavor and great live music is the Westminster Hotel, known as the Pit. Another quirky bar to add to your experience in Dawson City!
Explore wrecked boats in the Paddle Wheeler Graveyard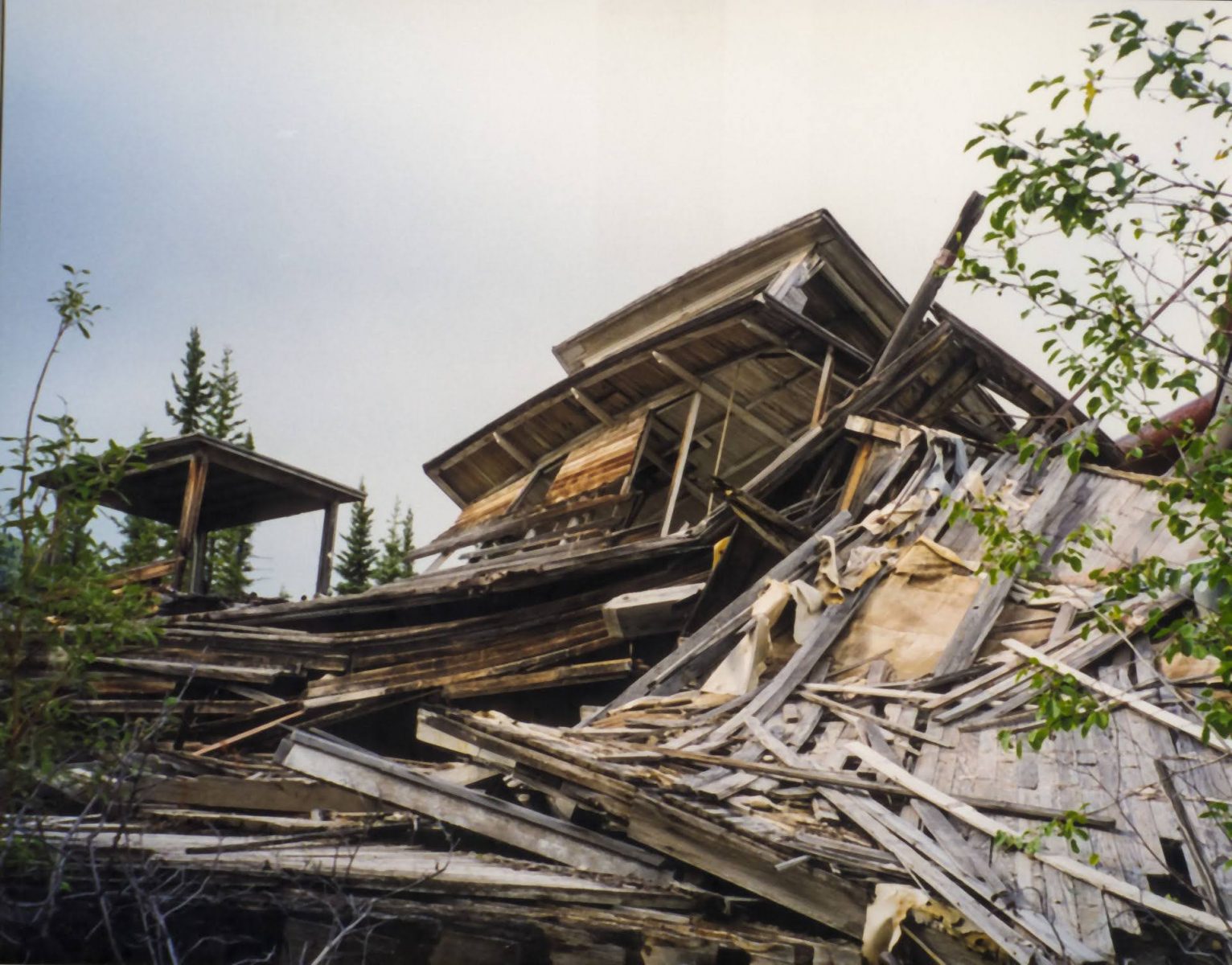 The Paddlewheeler Graveyard is one of my absolute favorite things to do in Dawson City because it's so unique and unusual. For 50 years starting at the time of the Klondike Gold Rush at the turn of the last century, paddlewheelers where the primary way that people and cargo got around in the Yukon. Hundreds of these boats traveled the Yukon River as well as along the Pacific Northwest Coast.
As airplanes and roads replaced them, many were tied up next to the river across from town. Over time the river and especially the breakup of the river in the spring smashed them until they are now warped wreckages of their former glory. You can walk around (be careful!) and explore a very different time in the world of transportation.
To get there, you'll need to take the George Black ferry across the river (if you are driving Top of the World Highway you can check it out as you arrive or leave since you'll already be taking the ferry). Once on the west side of the Yukon River (opposite town) go through the campground to the far side and then go a little further either through the brush (make noise and pay attention in case of bears) or beach (if the water level permits) and then you'll see it!
Visit the Restored Paddle Wheeler SS Keno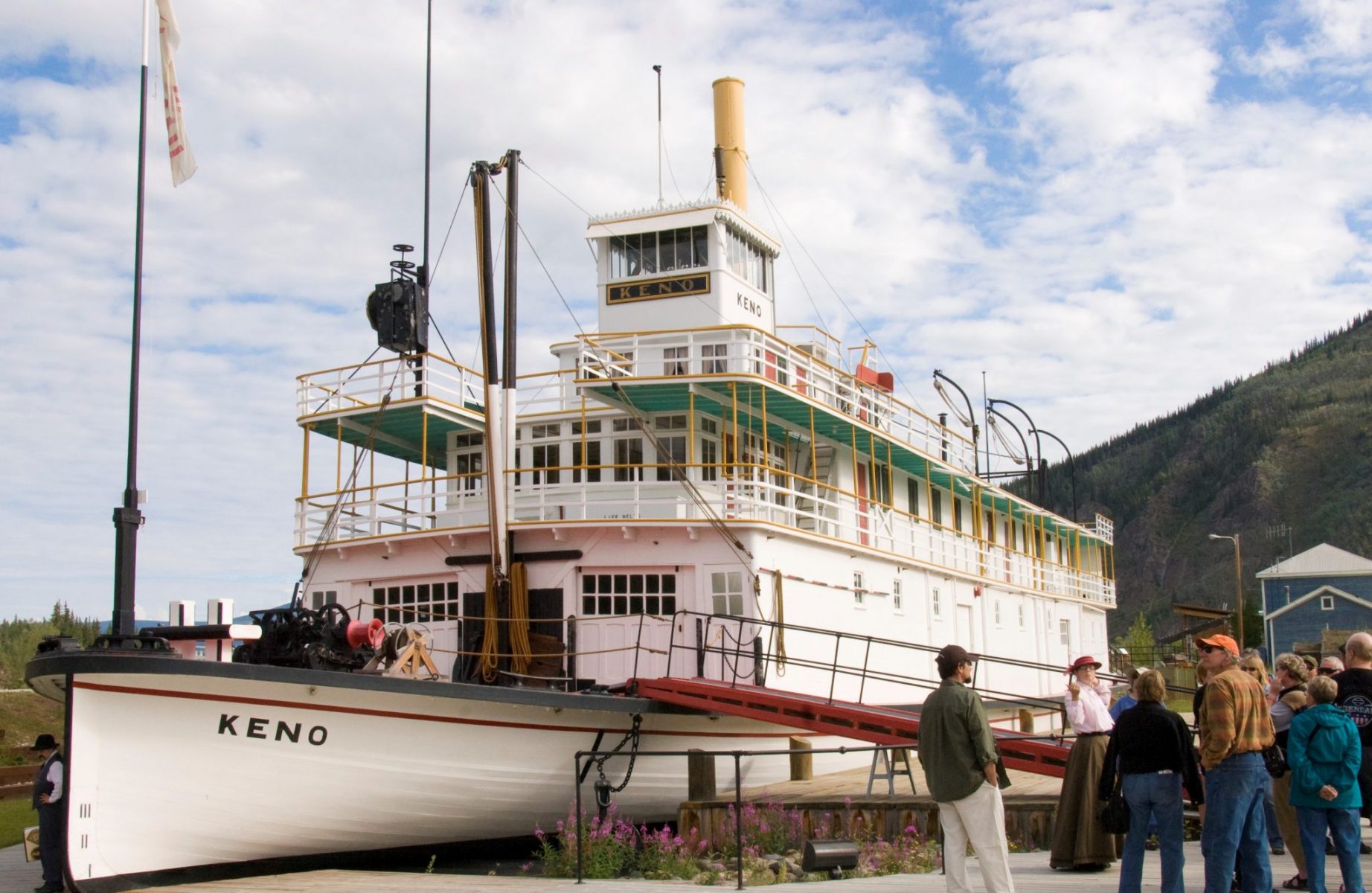 Before or after you check out the Paddlewheeler graveyard, check out the SS Keno National Historic Site, operated by Parks Canada. From the 1920s until the 1950s, the Keno supplied the mining activity along the Stewart River in the Yukon. When roads replaced the sternwheelers, she was dry docked in Whitehorse and then later restored and brought to Dawson City. Today you can see the Keno on Front Street along Dawson's waterfront.
Jack London Museum and Author's Row
Along 8th Street on the edge of town, is what is known as "Authors Row", a collection of cabins inhabited by well known authors of the past. Jack London spent a winter here and you can see what life was like in a cabin in the winter!
You can also see the Robert Service cabin and memorize some of his well known poetry about the north.
The Pierre Berton cottage is now a place for Canadian authors in residence who can stay for a time to work on their writing. Pick up one of Pierre Berton's excellent history books about the Klondike if you'd like to read more about the gold rush!
Visit Canada's Oldest Casino
Diamond Tooth Gertie's Gambling Hall, Canada's oldest casino, has casino games as well as Cancan shows and is a fun way to step back in time! Operating since 1971, the building itself was built in 1901 and renovated to take guests back to gold rush days. They also have a full bar with local beer and a long list of Klondike themed cocktails.
Learn about Gold Mining at Gold Dredge #4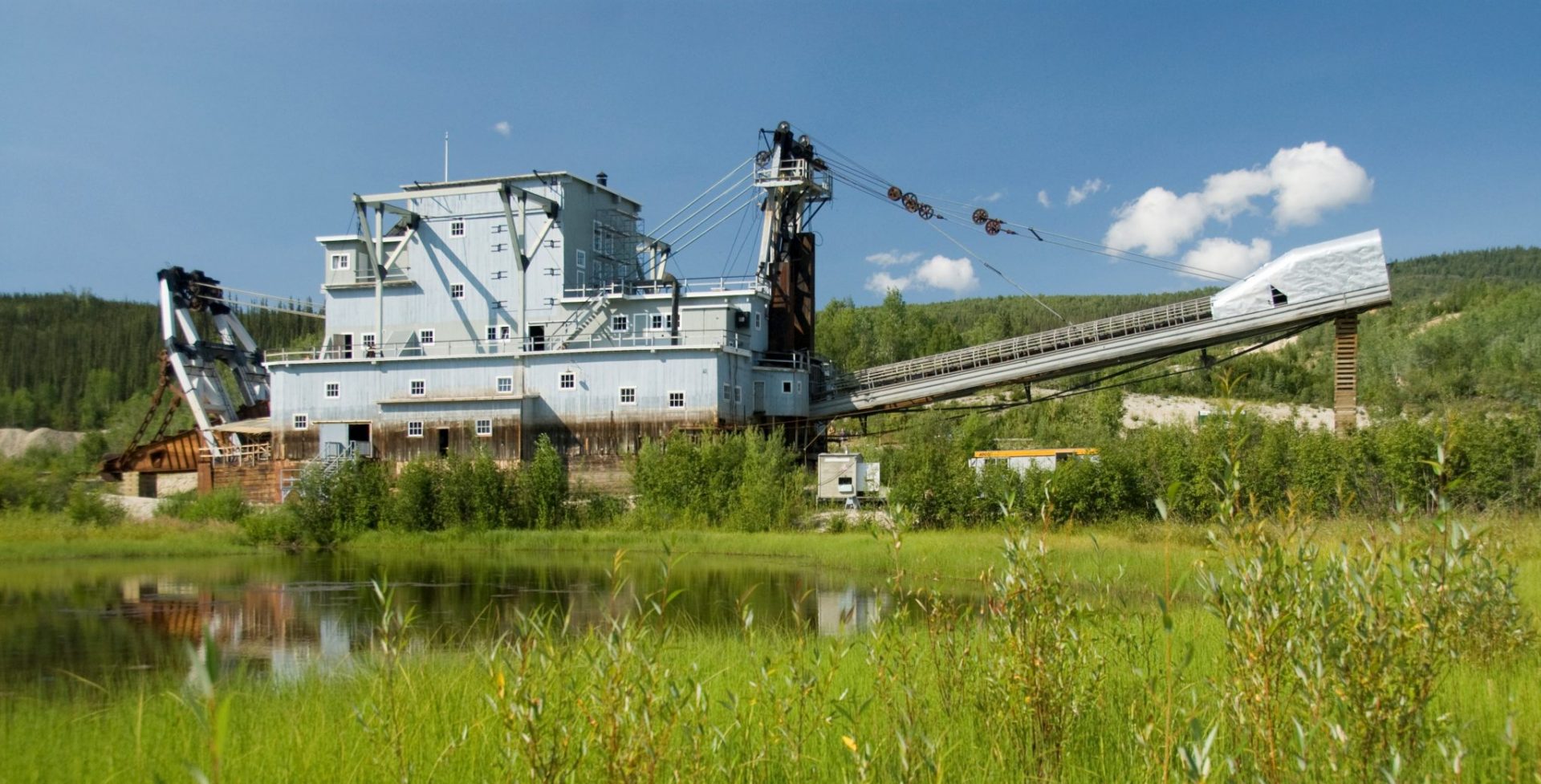 If you're ready to go deeper than gold panning in how gold is extracted in the far north, check out Gold Dredge #4. The Dredge is located just out of town in the gold fields and is a Parks Canada National Historic Site. Book a tour in town at the visitor centre before you head out and learn all the ins and outs of gold placer mining.
Hike or Drive to the Incredible View at Midnight Dome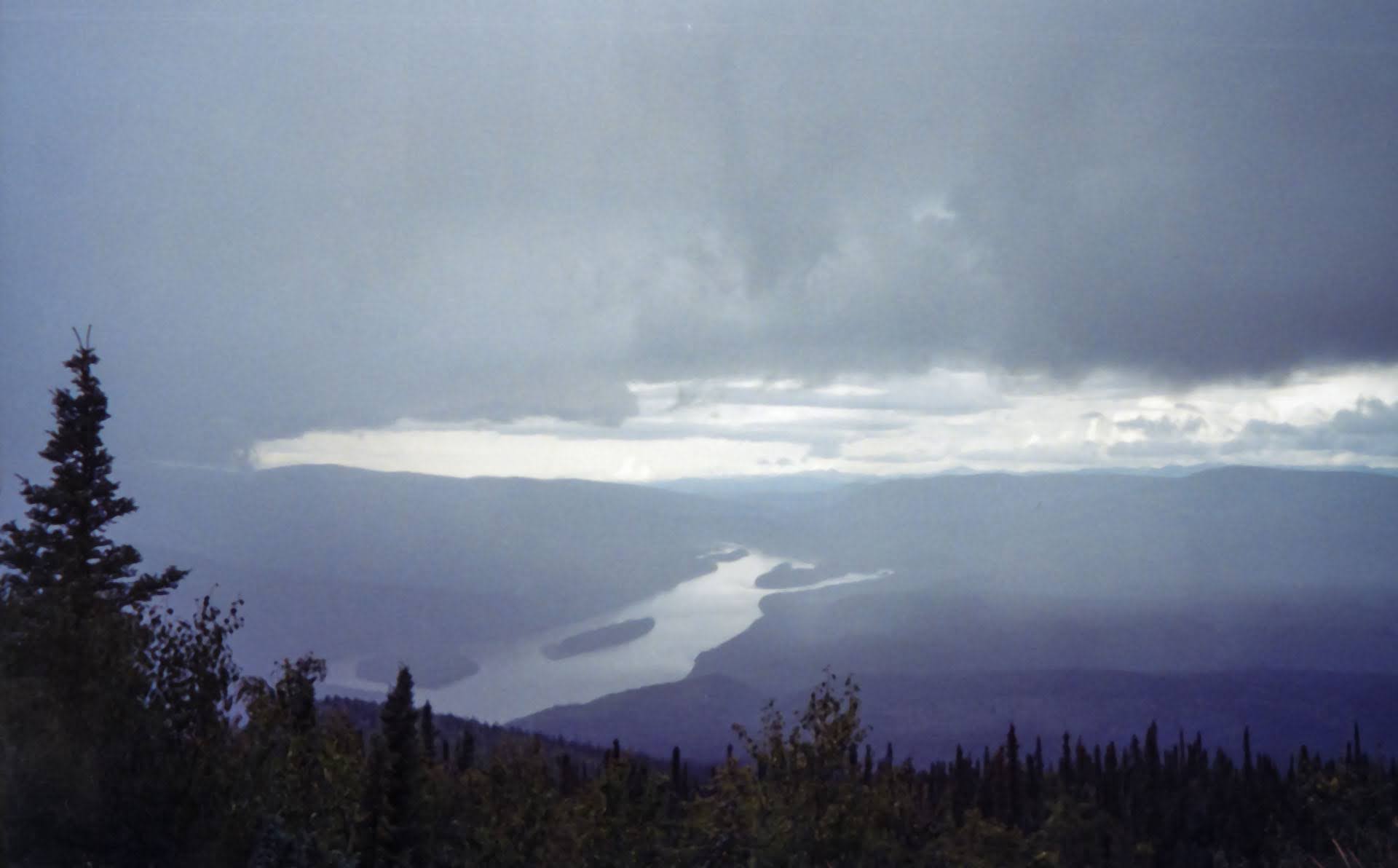 Expansive views of Dawson City as well as the surrounding landscape and the mighty Yukon River abound at the summit of Midnight Dome.
To drive to the top of Midnight Dome, follow appropriately named Dome Road out of town. It winds up and takes you straight there in about 15 minutes.
If you prefer to hike it, grab a map at the visitor centre downtown and ask about the different route options. Starting from downtown, you'll climb about 2000 feet (600 meters) in about 5 miles round trip.
Take a Hike in Tombstone Territorial Park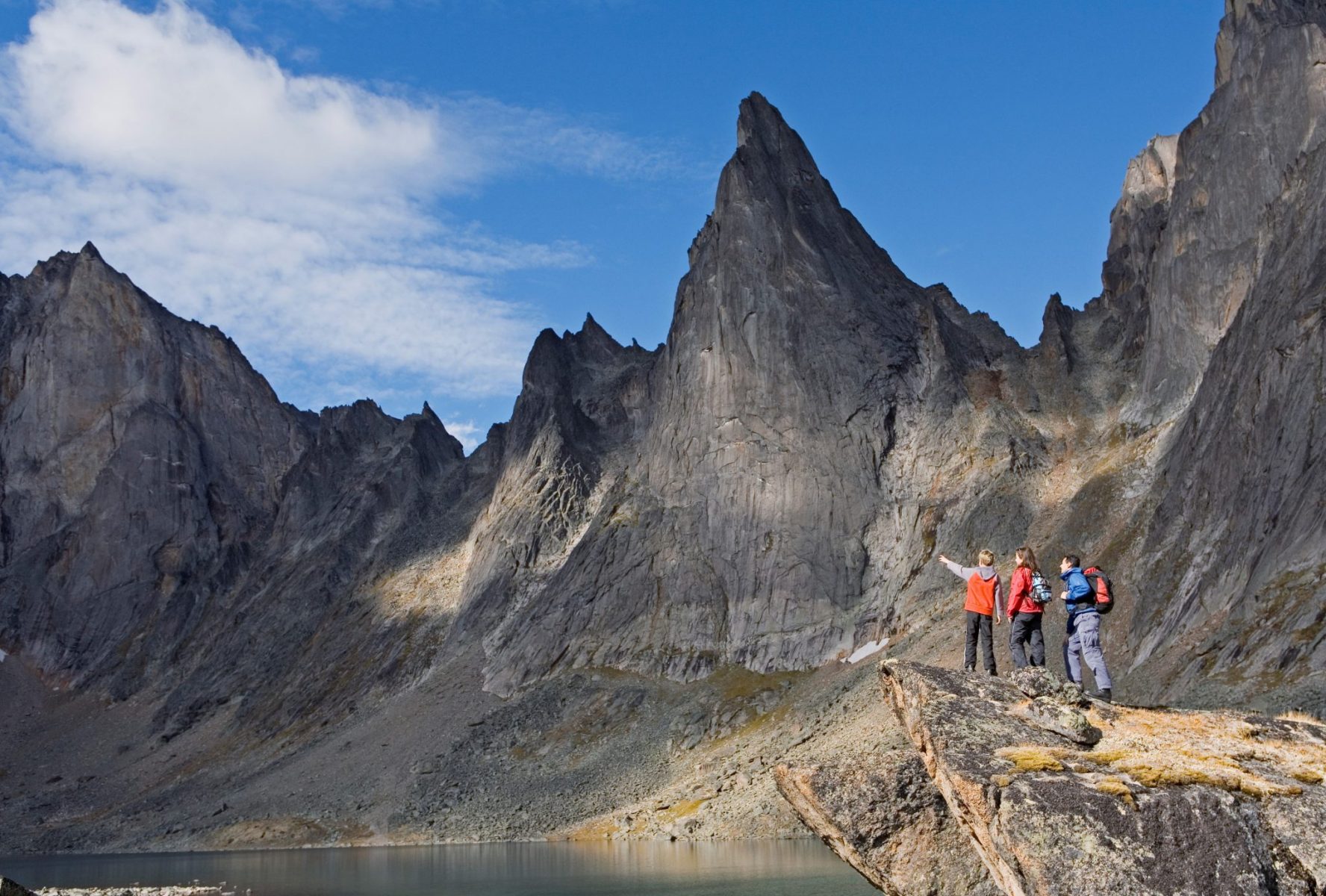 An hour and a half from Dawson City, Tombstone Territorial Park is an outdoor lovers paradise. A possible day trip or multi day camping trip from Dawson, start your adventure at the Tombstone Interpretive Centre. The Centre is open late May through September and has wheelchair accessible toilets. There is also a short nature trail here that is wheelchair accessible.
Tombstone is a remote park with no services and no cell phone service, north of Dawson City on the gravel Dempster Highway. Make sure you have food and water and all your supplies for your trip including a good spare tire and tire changing equipment.
The Interpretive Centre has maps and information about camping, backpacking and hiking trails. In addition to rugged and beautiful scenery, Tombstone is an excellent place to see wildlife. Make sure to check on the latest bear activity and any areas that may be closed for wildlife activity. Follow all guidance from park staff and information boards about bear safety while visiting.
Driving from Dawson City to Tombstone Territorial park is stunning by itself, so those who are not hikers can still enjoy the drive and the Interpretive Centre.
Join in a Local Festival
Dawson has a ton of local festivals and events that are worth planning a trip around! Visiting for an event will add to your experience and give you an even more intimate feel for the people of Dawson City. Some of the festivals during the summer months include:
Indigenous People's Day – Hän singing, storytelling and celebration are part of this annual celebration in June
Dawson City Music Festival – live music all around town for this weekend in July
Discovery Days – a parade, mud bog races and more to celebrate the Klondike gold rush every year in August
Klondike International Outhouse Race – form a team of four and decorate your "outhouse" and get your team in costume for a fun run (carrying the outhouse) around town the first weekend of September. Even if you're just watching, it's hilarious! The "outhouse" can be reserved and it's basically a metal box on wheels that resembles an outhouse with metal poles for the runners to carry it. Your team provides the decorations!