Mother Mountain Loop Backpacking in Mt Rainier
Posted On February 10, 2020
Last Updated on May 4, 2022
Looking for a less-hassle or shorter alternative to the Wonderland Trail? Want to experience all Mt Rainier has to offer – epic mountain views, spectacular wildflowers, lakes, forest and the occasional marmot or black bear? Want to do a backpacking trip in a few days instead of weeks? Not great at planning ahead for permits? Like loop hikes? If any of these sound like you, then the Mother Mountain Loop backpacking trip in Mt Rainier might be for you! If you're flexible with the camps you get, you can make this backpacking trip happen last minute.
At 17 miles with 4500 feet of elevation gain, this is a challenging multiday backpacking trip that I would not recommend for someone on their first backpack. It's good to be comfortable with your gear and know your pace and food requirements before embarking on this outing. I recommend this as a three day backpacking trip, but you could also spread it out to four for shorter days (my pack is smaller so I'm limited to three day trips).
This is the homeland of the Puyallup people.
Parking Pass: Mt Rainier National Park entrance fee, $30. There is not a fee booth but you can pay at the machine at the Paul Peak Trailhead along the Mowich Lake Road. If you have an America the Beautiful Pass, display it instead.
Dog Friendly: NO. Dogs are not allowed on trails in Mt Rainier National Park.
Cell phone coverage: None
Restrooms: Pit toilet at trailhead.
Accessibility and Mobility: The trail is well maintained. There are some steep sections and some areas with a lot of roots and some areas with rock steps.
Special Considerations and Logistics for Mother Mountain Loop Backpacking
There are a few things to consider for this specific trip:
This trip is in Mt Rainier National Park and requires a backcountry permit. Backcountry permits are generally competitive, but these camps have walk up permits available and are easier to get than for the Wonderland Trail. Although part of this loop is on the Wonderland trail, I've been able to get permits on a summer weekend at the Carbon River Ranger station. You may need to be flexible about your camps if you plan to get them by walking up, but rangers are super helpful about working through alternatives based on what's available. Get to the ranger station as early as you can on the day of your hike to allow some time to figure this out. I have described what I think is the best way to divide up the days, but you may have to alter this based on the available camps.
You'll be driving on a gravel road in the remote northwest corner of the park with no cell service. Make sure your tires are in good shape and you have tire changing equipment just in case!
The highest part of the trail (near Seattle Park) has a permanent or nearly permanent snow field, so be ready to cross a bit of snow, even in mid summer! I've gotten through it fine with sturdy hiking shoes and poles (which I always bring hiking anyway).
Mosquitoes can be thick during the months this trail is accessible. Bring bug spray and use my methods for dealing with mosquitoes while backpacking!
The road is open generally from early July until early October, though the snow does not really melt until at least mid July. I would recommend this trip for late July, August and early September
Where is the Mother Mountain Loop?
The trailhead is located at Mowich Lake, in the remote northwest corner of the park. Google maps will get you there, although there is no cell service once you get close to the park. From Highway 410 (either Enumclaw or Puyallup) you'll head south on Highway 165, passing through Wilkeson and Carbonado. When you reach a fork in the road, even though you will be going to the right (signed for Mowich Lake) you will FIRST need to go LEFT to the Carbon River Ranger station for permits (this is where the road ends). Then you'll need to backtrack to Highway 165 and now head towards Mowich.
You'll be on a gravel road and the parking lot at Mowich Lake is small (there is also a small walk in campground). You may need to park a way down the road. This area is far less crowded than other parts of the park, but will still be busy on a sunny summer day.
Mother Mountain Loop Backpacking Day 1 – Mowich Lake to Carbon River Camp
I recommend this 7.5 – 8 mile day (depending on exactly where you park) for the first day. If you want a shorter day or are spreading out over more days or Carbon River Camp is not available, you could also go to Isput Camp (5.5-6 miles).
Starting at Mowich Lake on the Wonderland Trail, make sure to go LEFT as you are facing the lake (the other direction will be your return). You'll start out along the lake but quickly leave it to hike through the forest. In this section you'll be sharing the trail with day hikers heading to Eunice Lake and Tolmie Peak (excellent day hike options if you're looking for one of those intsead). After about a mile and a half of flat to gentle climbing, you'll reach a junction where you will go to the right (day hikers will head left) and be at Isput Pass.
From Isput Pass, you'll be going steeply downhill for the next 3.5 miles, first along impressive rock cliffs and then through the forest. At the bottom of this long section, you'll reach another junction where you will go RIGHT to continue on the Wonderland Trail (to the left in half a mile is the Isput Camp if that's where you're headed).
The next mile and a half is relatively flat going along the Carbon River until you reach Carbon River Camp about 8 miles from the trailhead. After setting up your camp, don't miss checking out the impressive suspension bridge over the carbon river. If you're still feeling energetic, go right on the other side of the suspension bridge and upstream about a mile to the base of the Carbon Glacier, the lowest elevation glacier in the lower 48 states! One note about the Carbon Glacier: it's rocky and dark colored and doesn't have the glowing blue ice that many other glaciers have, but it's still an amazing sight.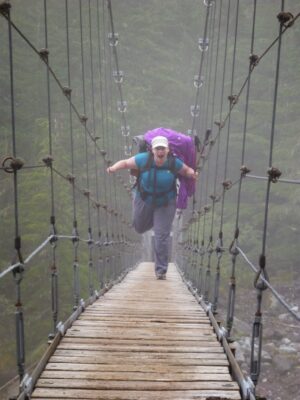 Mother Mountain Loop Backpacking Day 2: Carbon River to Eagle's Roost Camp
This second day will be a bit shorter, at just over 6 miles, however there is a lot of tough climbing on this day so it will feel like plenty! Starting from Carbon River Camp, you'll climb gently, then very steeply up a series of switchbacks to Cataract Camp, which is a good place to take a break before the relentless climbing begins again! This part of the day will be through the forest and along Cataract Creek.
After Cataract Creek, you'll continue to go up, up and up for another 2.5 miles. The route becomes increasingly open and rocky as you pass through Seattle Park, with better and better views of mountains all around. You are also likely to encounter snow fields in this area. Incredible views of Mt Rainier as well!
After reaching the high point of the trail at 6400 feet, you'll begin to start gently downhill, on the snowfield and then you will enter spectacular Spray Park, which has absolutely incredible wildflowers in late July and early August! I've also seen black bears and marmots in Spray Park quite often (Spray park also makes a great day hike coming from the other direction at Mowich Lake).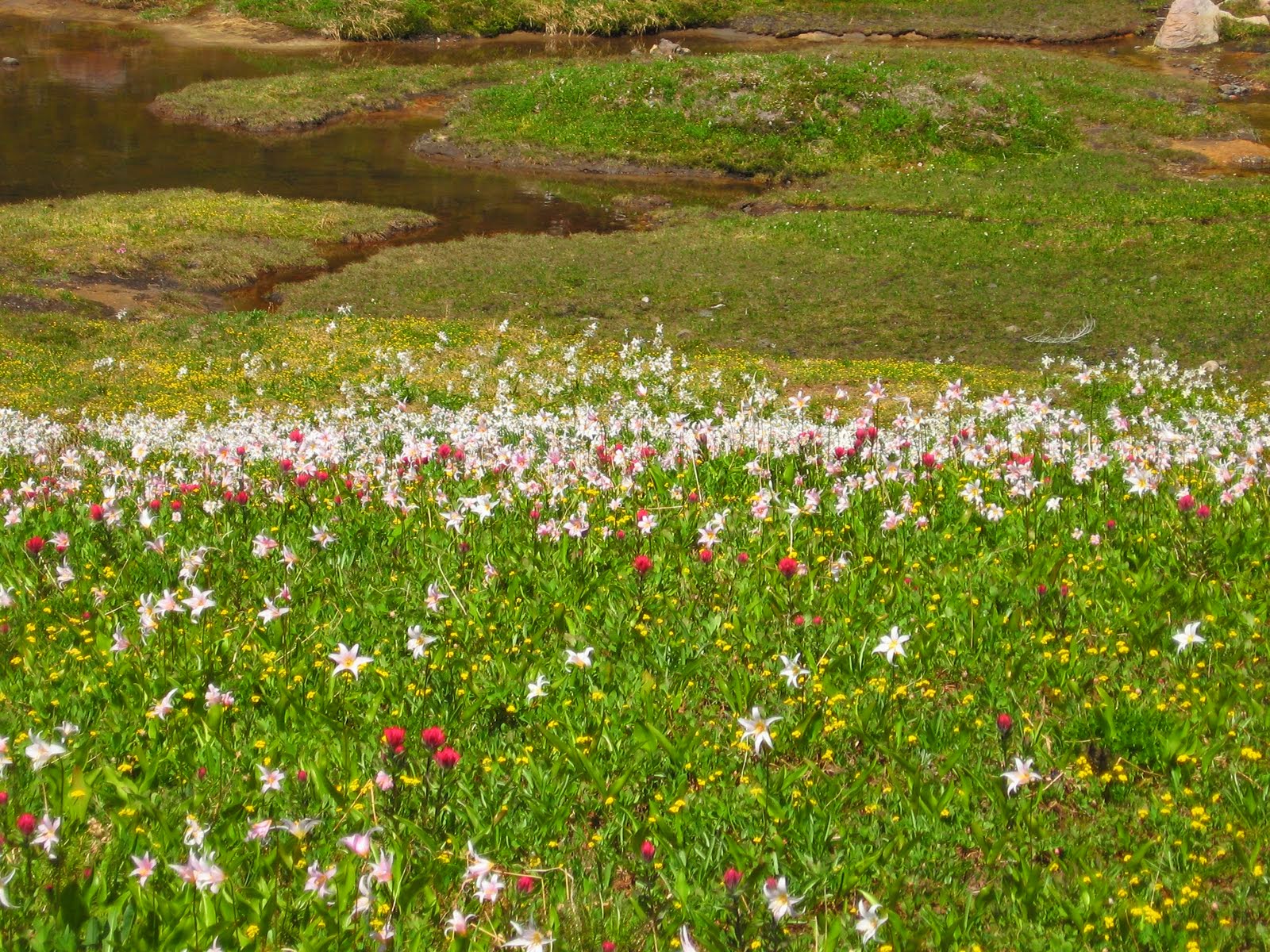 As you leave Spray Park, you will go steeply downhill to Eagle's Roost Camp, once again in the forest. Take the quick side trail to Spray Falls, it's worth it, even if you're tired!
Make your camp at Eagle's Roost and look forward to a short day tomorrow!
Mother Mountain Loop Day 3 – Eagle's Roost to Mowich Lake
This day is only 2.5 miles, but it ends with a climb up to Mowich Lake. It's only 300 feet up but it feels hard after the last two days! Take your time in the morning and enjoy the forest walk back to Mowich Lake and your car. Mowich Lake is a great place to relax for a bit before heading back to civilization!
Bakeries and Breweries
While not exactly a bakery, Nomads PNW in Wilkeson has coffee and pastries (you might need those to hold you over!). Try the Firehouse Pub in Buckley for classic bar food which always feels like an excellent choice after backpacking!
Electric Vehicle Charging
Unfortunately, there's no fast charging beyond Puyallup, so unless you have a really long range (I don't!) this trip isn't doable in an Electric Car.