8 Reasons to Visit Alaska in Winter
Posted On November 10, 2020
Last Updated on September 27, 2023
When most tourists leave, the temperature drops, fall zooms by and long nights bring out the spectacular northern lights it is winter in Alaska. You might be thinking a winter visit to Alaska sounds nuts. Can you visit Alaska in winter? Yes you can and I highly recommend it.
I lived in Alaska for seven years and usually split my visits back between summer and winter. That's how hard it is to choose. I hope to convince you that for an independent traveler, winter might be your very best option for visiting Alaska. Intrigued? Read on!
8 Reasons why visiting Alaska in winter is awesome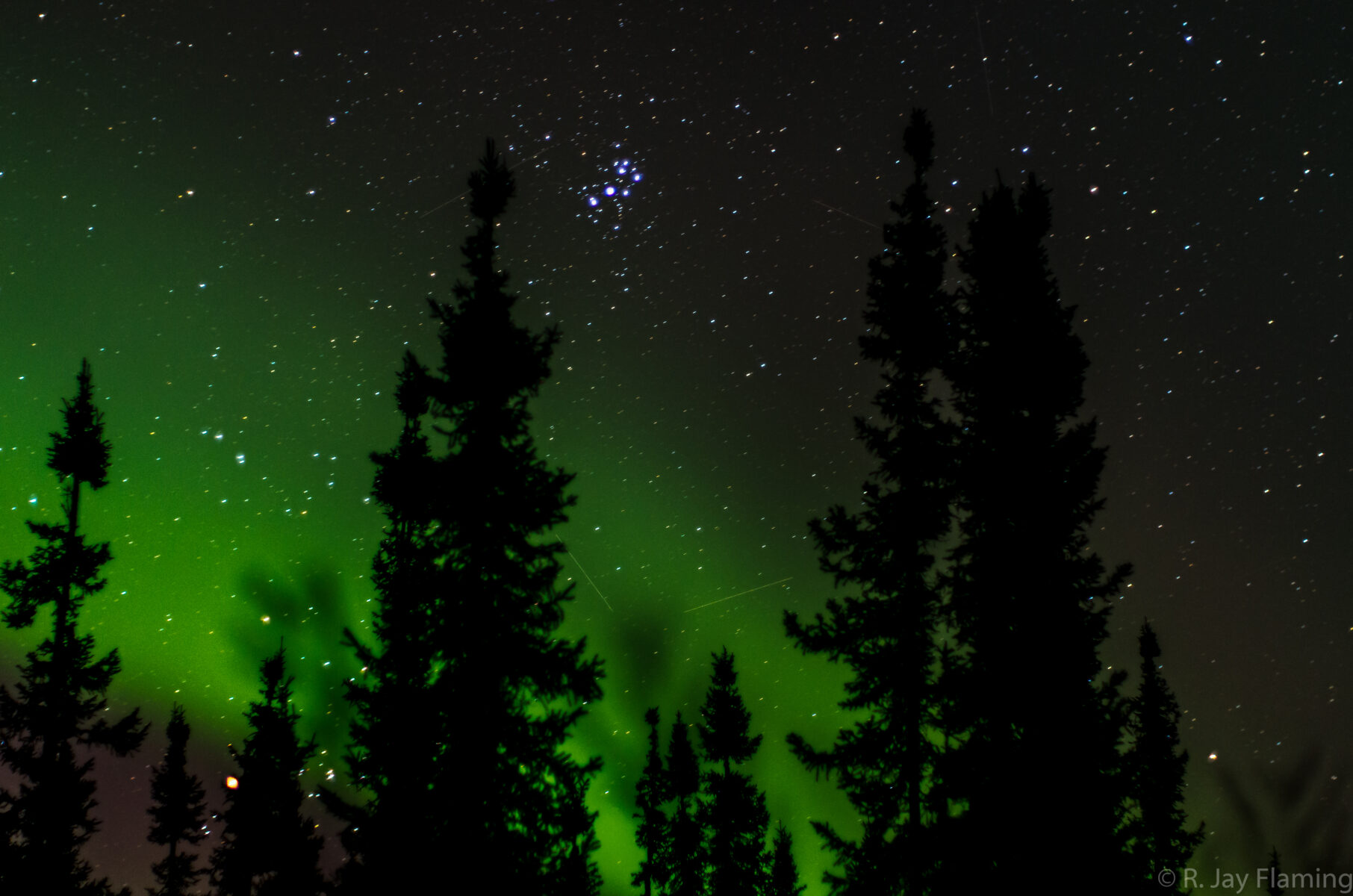 #1 – You can see Northern Lights
A chance to see the Northern Lights, or Aurora Borealis, is the primary reason most people have for visiting Alaska in winter. And it's a good one! Because of Alaska's long summer days where much of the state doesn't see full darkness at all, you cannot see the Northern lights during most of the summer. By mid to late August it's getting dark enough to see them. During the winter there are many hours of possible viewing. The longer you stay, the better chance you have of seeing them. Read my full guide to seeing the Northern Lights in Alaska here.
#2 – It's absolutely BEAUTIFUL
Alaska is beautiful all the time all year long. Frozen snow covered landscapes add an element of beauty that no summer landscape can compete with. Add to that the low angled light and five hour sunrises to sunsets as the sun struggles to come up for a few hours and you have amazing photography opportunities. Wildlife, especially moose, stand out against the snowy landscape. If you have an amazing display of the northern lights that just adds to it.
#3 – You'll save Money
I have a whole post about traveling to Alaska on a budget. You will definitely save money by visiting Alaska in winter instead of summer. Most hotels are much less expensive in winter (with a few exceptions, such as Chena Hot Springs resort or hotels in Anchorage around the Iditarod start). Car rental is also cheaper. It's possible that your flight to Alaska might also be cheaper. Expect food and most organized tours to cost about the same.
#4 – No Crowds
There are no crowds in Alaska in winter. The one exception is big events like Fur Rondy (see events below) and the Iditarod ceremonial start. Those are fun community events and crowded with locals and visitors.
Speaking of locals, it's much easier to get to know locals and interact with them in winter. People are less busy and overwhelmed by tourists and will generally be excited to share their ideas about what you should do with your time and how to have fun in winter.
#5 – You can try new winter snow activities
Especially in Fairbanks and Anchorage, there are TONS of tours oriented towards experiencing a new winter sport. If you ever wanted to try a new winter sport, this is the place to give it a try. No need to get any gear or watch hours of Youtube. A few of the unique winter activities that you can try out include:
#6 – Unique Community Events
Alaska is home to the world famous Iditarod Sled dog race. You can watch the ceremonial start as part of a big community festival in Anchorage. Fairbanks also has sled dog racing for spectators as well as the incredible world ice art championships. See below for more on these amazing events. These events are worth planning a trip around!
Another wonderful community event in Fairbanks is the World Ice Art Competition that takes place late February through March. In addition to the impressive ice sculptures there are also slides and games made out of ice that are super fun for all ages.
#7 – It's Heaven for winter sports enthusiasts
If you already love winter sports, then you'll be in heaven in Alaska in winter! In addition to trying out some new winter activities you can spend your time
Snowmachining (snowmobiling) in Anchorage and Fairbanks – both rentals as well as tours; snowmobiling is usually called snowmachining in Alaska
Cross country skiing/nordic skiing – Anchorage and Fairbanks are surrounded by world class ski trails, both in the middle of town as well as the surrounding areas
Downhill skiing – Girdwood (near Anchorage) is home to the Alyeska Resort, a downhill ski area with the most amazing view. Eaglecrest Ski area near Juneau also offers great views on clear days
Snowshoeing – Snowshoeing is available near every town in Alaska! Ask locals for the best places to get out on the snow
#8 – It's full of adventure of all kinds
Alaska in winter is made for adventure! Between the incredible landscapes, the many winter sports, winter boat tours and joining the quest to see the northern lights, every day of your trip to Alaska in winter will be unforgettable!
Ready to plan your winter adventure to Alaska? Grab my 7 day winter itinerary here!
What's the weather like in Alaska in Winter?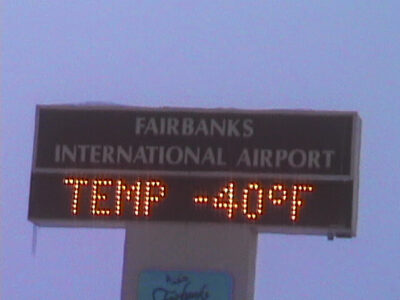 Like many other places, the winter weather in Alaska varies a lot depending on where you are in Alaska, what month it is and the weather at that particular time. Winter in Alaska is generally November through March. October is sometimes winter and sometimes fall, depending on the year. April and early May are spring. Spring and Fall are extremely short in Alaska!
Temperature
Fairbanks is the coldest and darkest part of Alaska (at least parts of Alaska that visitors go to!). The average high temperature in January is around 0 F and the average low is -15 F. Be aware that it can be MUCH colder. Generally there isn't much difference in December and January between the high and low with the weak sun not warming things up much. There are cold snaps that can get as cold is -50 F and it can warm up above zero at times. By March, it's still solidly winter and will be below freezing day and night. You're unlikely to experience temperatures below -20 F. Since March brings 12 hours of daylight and 12 hours of darkness for aurora viewing and it's slightly less cold, I think March is the best time to visit Fairbanks!
Anchorage is warmer than Fairbanks, but it still has cold winters! Anchorage's winters are comparable to cold states in the lower 48. Average highs and lows in Anchorage in December and January are above 0 F but below freezing (32 F). Anchorage does have occasional warmer periods where it can rain.
In Juneau and the rest of Southeast Alaska, snow is not guaranteed, especially in town. The temperature hovers around freezing a lot of the winter, with snowier and less snowy periods. Watch out for ice at these temperatures. Juneau also has less sun than Anchorage and Fairbanks, more like the Pacific Northwest cloudy, wet winters.
Darkness
In addition to weather, darkness is another thing to consider! In winter in Alaska, the further north you go the shorter the days are. By the spring solstice at the end of March, all of Alaska has 12 hours of daylight just like everywhere else. In late February and March, daylight is gaining rapidly throughout the state.
The winter solstice is in late December, which is the shortest day of the year in Alaska. At that time of year, the sun rises in Fairbanks about 11am and sets just before 3pm. The sun is low in the sky and creates the effect of a six hour sunrise/sunset! Anchorage has a bit more daylight with the sun rising just after 10 am and setting shortly before 4pm. In Juneau there's about an hour more daylight than Anchorage in December. Sunrise comes just before 9 am and set just after 3 pm. It often feels darker in Juneau given the cloudiness, similar to Seattle or Portland.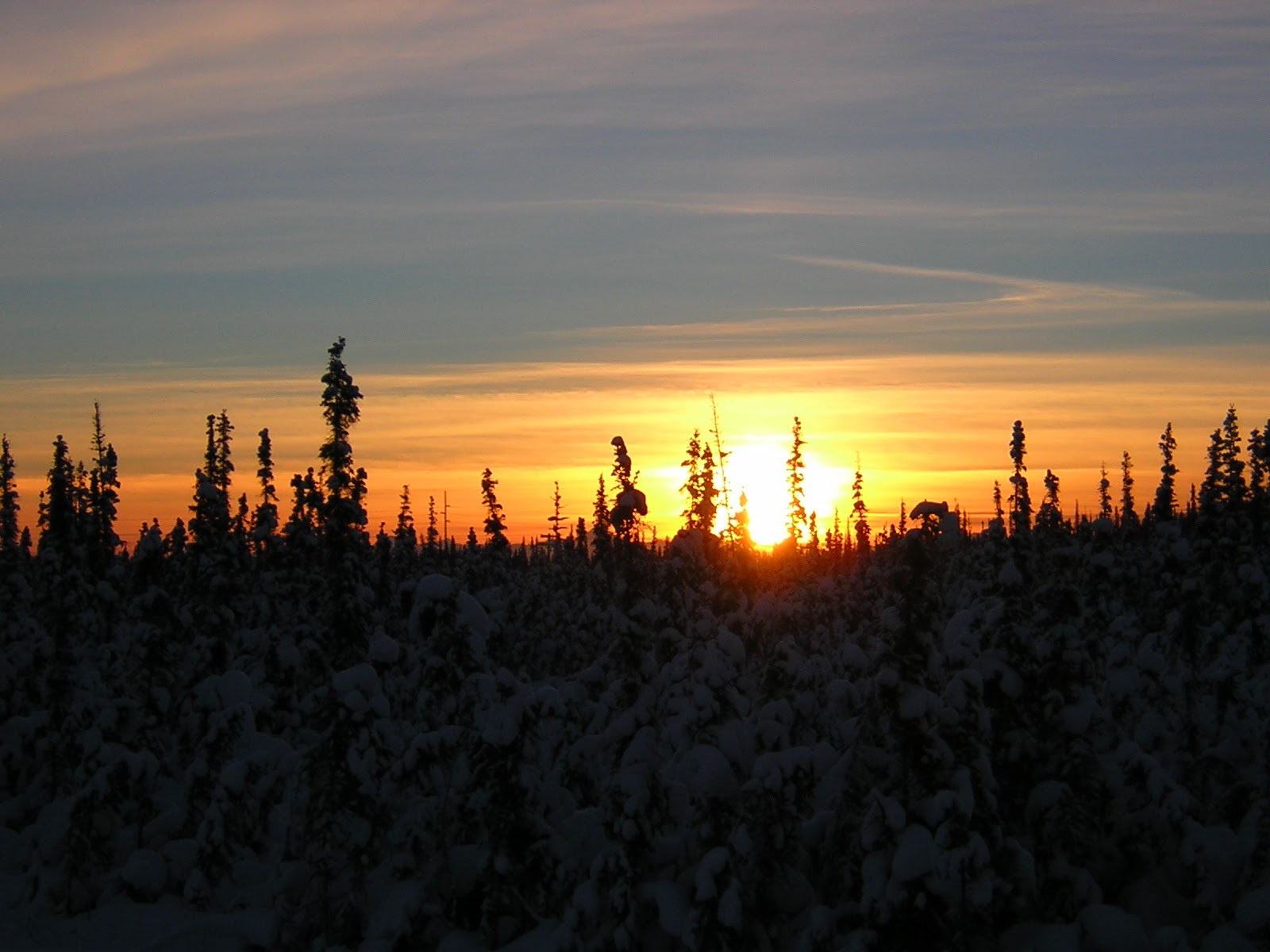 When is the best time for a winter visit to Alaska?
I don't recommend visiting Alaska in November because there might not be that much snow yet. Some years it might be amazing, but if you're planning your trip far ahead of time go later in the winter to make sure there's enough snow.
December and January are the darkest and generally coldest months. Alaska is festive around the holidays, with lots of events and holiday markets and lights everywhere, so it can be a good time to visit. Your flights might be expensive as lots of Alaskans travel for the holidays. Keep in mind there are only a few short hours of daylight in these months.
Late February and early March is the best time for a winter visit to Alaska (leaning more into March for Fairbanks). Snow will be about at its peak, days are a bit longer, temperatures generally slightly warmer and an excellent chance of seeing the Northern Lights. In addition to weather, this time of year hosts several of Alaska's most iconic winter events such as the Iditarod Sled Dog race, Fur Rondy and the World Ice Art Competition (see more on this below).
What to pack for Alaska in winter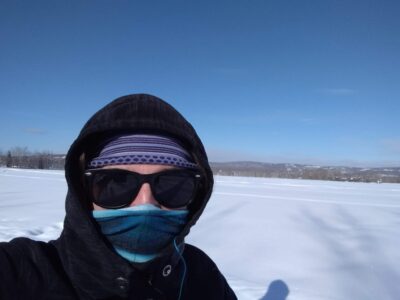 I have a whole post about what to pack for Alaska in both winter and summer, but here are a few highlights of what's most important to bring:
Really warm coat – the warmest one you have! If you don't have a super warm coat, you can get away with lots of layers as a visitor, but make sure to try them on together to make sure they fit underneath each other
Hat, gloves, scarf – make sure you can cover all your skin, especially if you're going to Fairbanks
Really warm boots – if you don't have super warm ones bring multiple pairs of super warm socks and make sure your shoes or boots are big enough to accommodate them
Lighter clothes to wear indoors – some indoor spaces in Alaska are blazing hot in winter to make up for the outdoors, or because the temperature of heaters like woodstoves is hard to control! Make sure to have some light layers in case your sleeping and lounging space is hot.
Getting around and winter driving in Alaska
If you're planning a visit to Alaska in winter it's very likely you'll be renting a car. I highly recommend upgrading to a vehicle with all wheel drive or four wheel drive, this will make navigating winter driving much easier! In Fairbanks, you'll also get an extension cord to "plug in" the car when you aren't driving it. This is important! It's pretty straightforward, there are plugs in parking lots everywhere. The rental car company will provide you with instructions for plugging in. Plug in the extension cord to the plug hanging out the front and then the other end into the plug in the parking spot. This is important because at very cold temperatures the battery can freeze. It also improves air quality because when you start the car it doesn't produce as many emissions.
If you don't want to deal with winter driving, you can still visit Alaska in winter but you'll have a bit less flexibility in where you go. There are plenty of tours for winter activities in both Anchorage and Fairbanks who will do the driving for you and you can take the Aurora winter train between the two cities if you want to visit both. If you are going to go this way, I recommend finding a hotel or vacation rental that's close to downtown or the airport in both cities.
Best Things to do in Alaska in winter
See the Northern Lights
Seeing the Northern Lights, or Aurora Borealis is a highlight of Alaska in winter! All of Alaska is treated to fantastic displays of the Aurora at times throughout the dark winter months. If the primary goal of your trip is to see the northern lights, I highly recommend planning your trip around Fairbanks, the best place to see them. Fairbanks is an especially good place because of it's generally clear skies and proximity to the Auroral oval where maximum aurora activity happens! Read more about how to see the northern lights in Alaska here.
Aurora Winter Train
If you don't want to deal with driving, the Aurora Winter Train on the Alaska Railroad is a great way to see some epic winter landscapes without worrying about driving! You can use it as transportation between Anchorage and Fairbanks (12 hour trip and $220 per person one way). You can do an overnight trip on weekends to the charming town of Talkeetna (6 hour round trip and $265 round trip per person including overnight lodging). For $30 more you can enjoy a pie making class at the famous Talkeetna Roadhouse! No one knows baking like Alaskans, and pie and other baked goods throughout the state are amazing year round!
If you take the train between Anchorage and Fairbanks, you give yourself the option of flying into one city and out of the other. Then you can experience it all on your Alaska winter adventure!
Unique Winter Events in Alaska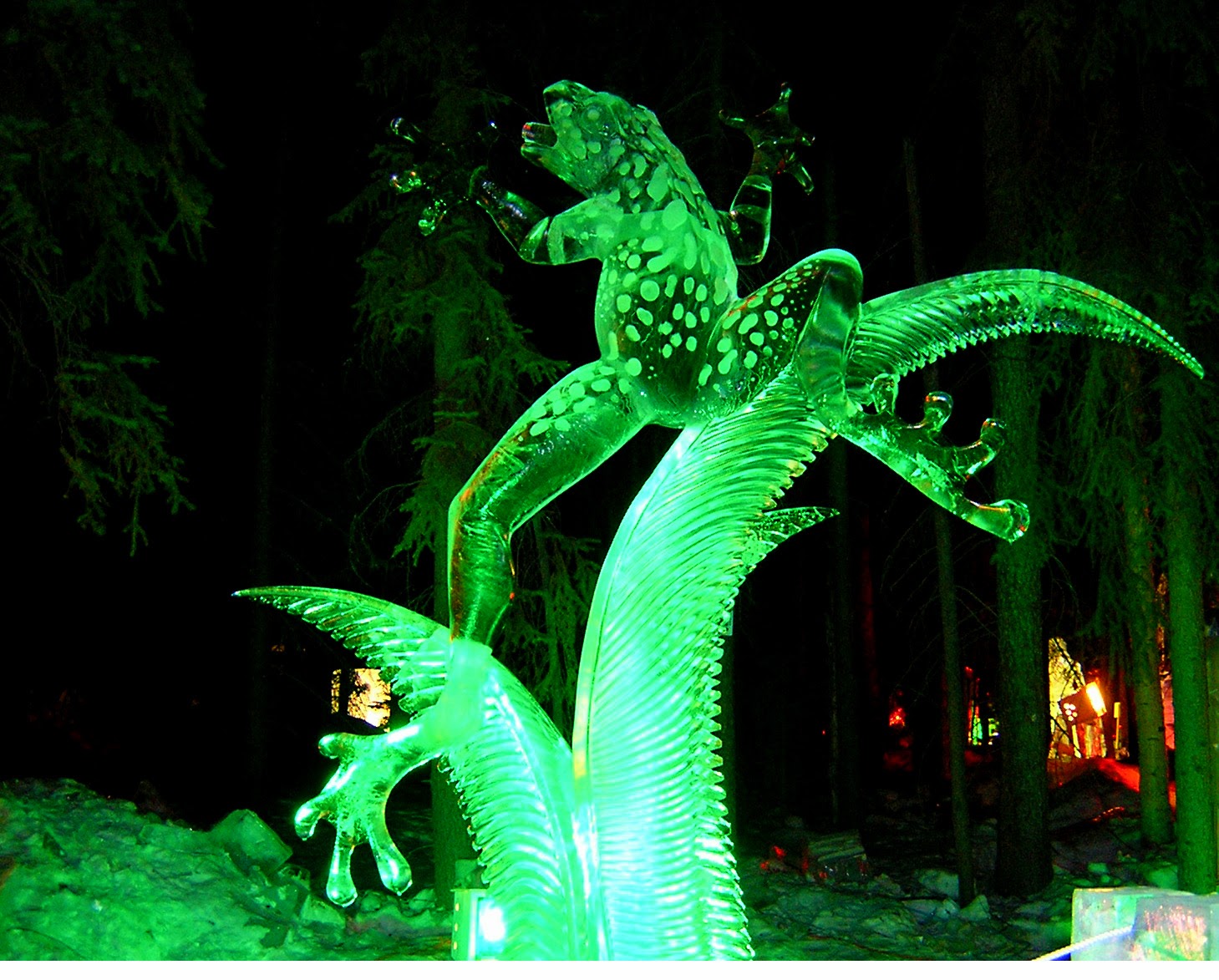 World Ice Art Competition – Fairbanks (mid February – March)
This is one of the best things about Fairbanks! Artists come from all over the world to carve impressive ice sculptures in late February. Some sculptures are the size of a couch while others are as big as a garage. If you come early in the competition you can watch the artists working on their creations or you can come at the end and see them all finished. Either way, make sure to make at least one visit at night when you can see them lit up in colorful lights!
Fur Rendezvous – Anchorage (late February – early March)
Anchorage's Fur Rondy festival goes the last week of February and first week of March. Celebrations, competitions and events of all kinds fill the streets downtown and will really give you a taste of what life in Alaska is all about! The last day of Fur Rondy as it's known for short is the ceremonial start of the Iditarod Sled Dog race.
Iditarod Ceremonial Start – Anchorage (first Saturday of March)
If you love dogs, your life might not be complete without seeing the start of the Iditarod at least once! This big event in downtown Anchorage is ceremonial, the event is joyous and exciting and filled with canine and human enthusiasm. Check online for the exact map of where the dog teams will go through town as you don't have to be downtown to see it!
The official start of the Iditarod happens the next day in Willow (40 miles away) and the public can also watch it. Space is more limited and parking nonexistent. There are shuttles available from Anchorage, Wasilla and Talkeetna.
North American Open Sled Dog Championships – Fairbanks (March)
Fairbanks hosts the North American Open Sled Dog Championships in mid to late March each year and it's a great spectator sport since it's not a long distance race. You'll get to see lots of dogs and lots of excitement but you'll need to dress warm as watching outdoor sports in Fairbanks in winter is COLD.
Winterfest – Denali National Park (late February)
Denali National Park and the surrounding community come together for Winterfest in late February to celebrate all things winter with activities, food and lots of fun for all ages!
Rent a Public Use Cabin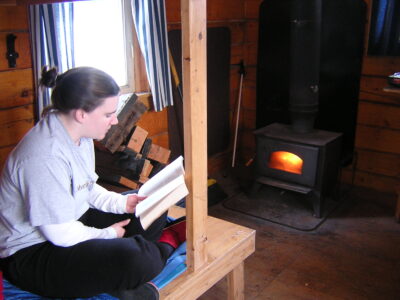 Alaska has a wonderful network of public use cabins across the state that are super affordable and a way to get away from it all with a solid roof over your head and a woodstove! These are dry cabins with outhouses, so think of it like camping. Most are open year round although the access varies. Some are accessible by road in summer but only snowmobile or skiing in winter. Make sure to read about the access in the description before booking. You also need to read what you need to bring with you (in many cases heating oil or wood, drinking water, etc).
Best winter activities – Anchorage area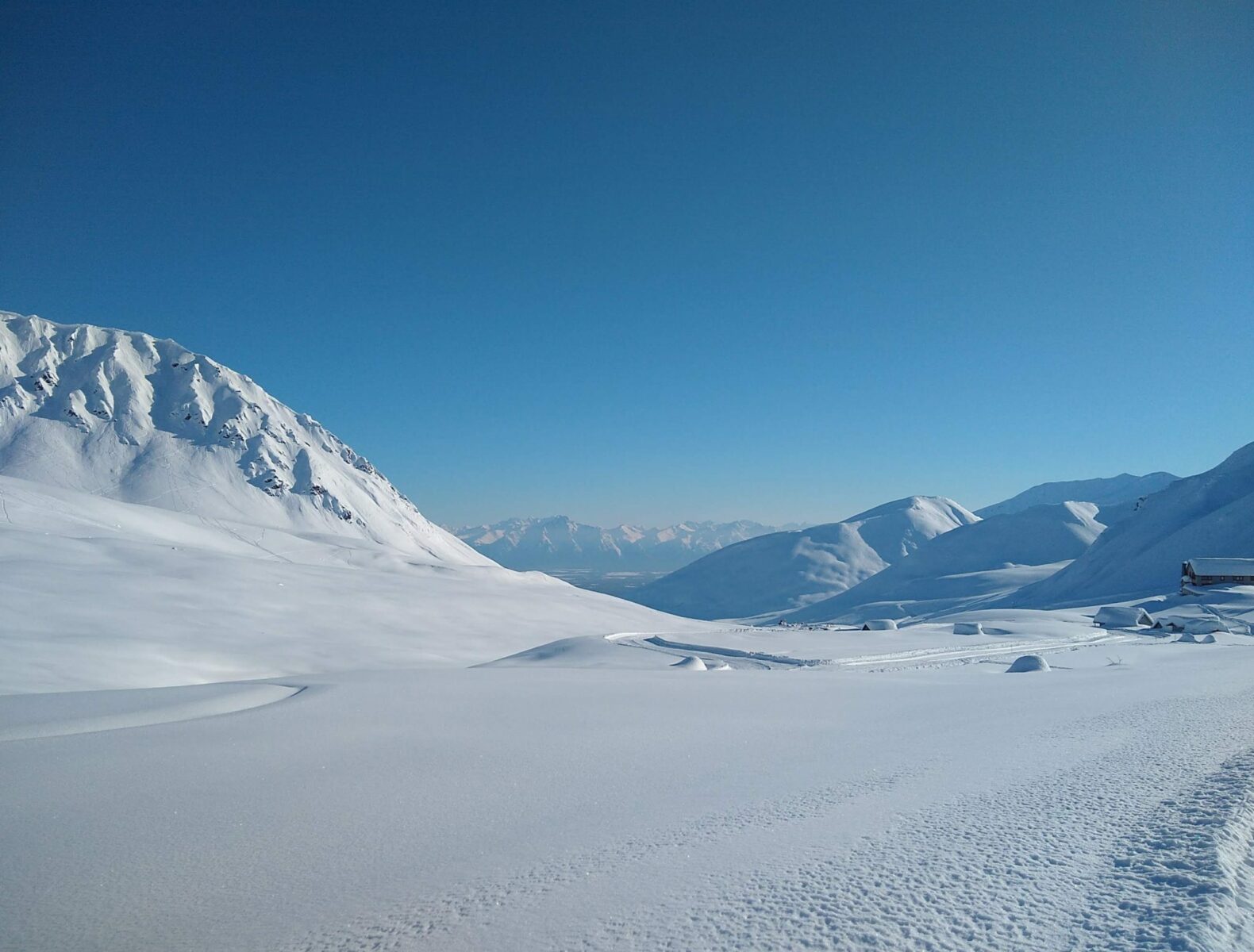 There are so many things to do in Anchorage, even in winter! All of these are either in Anchorage or a short road trip away!
Day trip to Hatcher Pass – About an hour from Anchorage near Palmer is Hatcher Pass, a state managed recreation area with what is arguably some of the most spectacular mountain scenery in Alaska. You can snowshoe or cross country ski here, checking out the scenery as well as the remnants of the historic Independence mine.
Day trip to Portage Glacier – I have a whole post about visiting Portage here, and in winter this valley is a winter wonderland. In mid and late winter, you can even ski or snowshoe on Portage Lake!
Ride the Tram in Girdwood – even if you aren't a skier, you don't want to miss the awesome view from the tram at the Alyeska resort. Join the locals at Chair 5 for pizza after.
Alaska Wildlife Conservation Center – Located between Girdwood and Portage and open year round, this is the place to check all the famous Alaska wildlife off your list, and get some amazing photos.
Coastal Trail – walking, biking or skiing (depending on the conditions) is an excellent way to see this beautiful trail which starts in downtown Anchorage and extends for 11 mostly flat miles along the coast
Earthquake Park – a year round destination and crossed by the Coastal trail, you can learn about and see some of the impacts of Alaska's devastating 1967 earthquake.
Drive around and look for Moose – It's easier to see moose in winter since their big brown bodies stand out against the white snow! Slow down and sweep both sides of the road with your eyes and I can almost guarantee you'll see at least one during your visit.
Visit a museum – Both the Anchorage Museum and the Alaska Aviation Museum are excellent and open in winter.
Explore the Eagle River Nature Center – a mellow three mile loop is an option here with boots, snowshoes or skis with amazing views of the mountains and a good chance of seeing a moose.
Best winter activities – Fairbanks area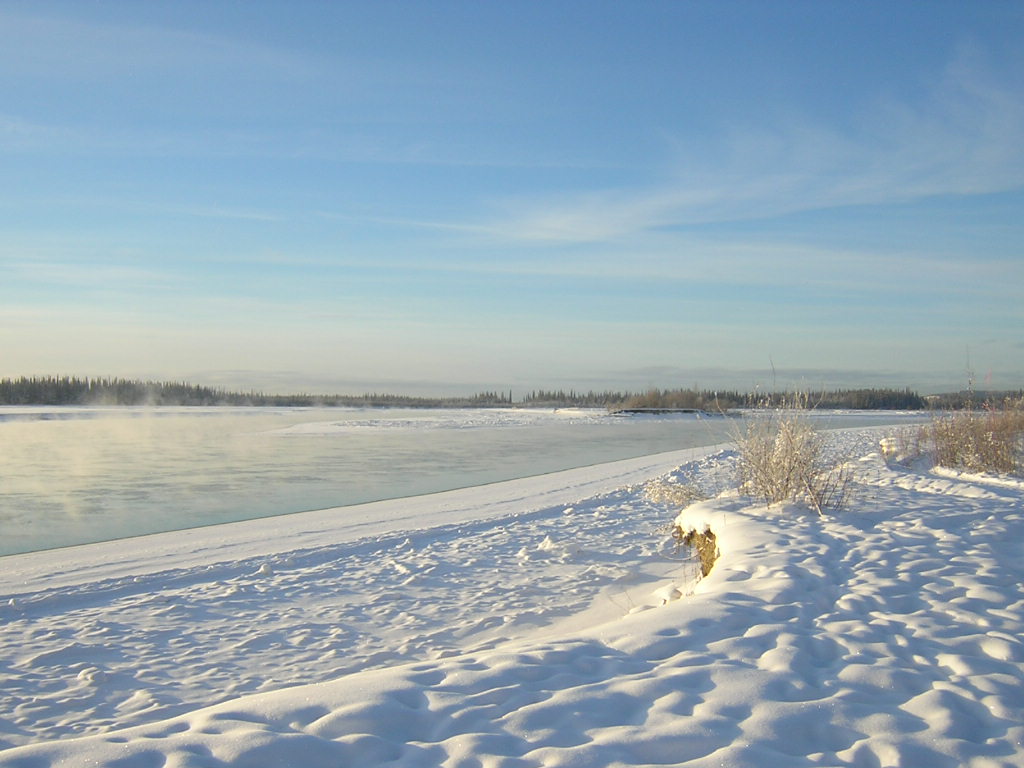 Winter is cold and long and stunningly beautiful in Fairbanks! The times I miss living there the most are definitely associated with winter. In addition to the Ice Art Competition and watching dog sled racing, there are lots of things to do in Fairbanks! A few things not to miss in winter include
Chena Hot Springs – this developed hot springs is a great way to get outside when it's cold! You can swim even if you're not staying at the resort. In addition to the hot springs, check out the Aurora Ice Hotel! This is a good way to check out the ice sculptures if you miss the ice art competition. Chena Hot Springs resort also has cross country ski trails and many tours to try every imaginable winter activity!
Morris Thompson Cultural Center – It's free and provides a ton of information about Fairbanks and it's history as well as indigenous people of the Tanana Valley both today and in the past. In addition to learning a lot about Fairbanks, you can also get lots of information for the Public Lands Information Center and Explore Fairbanks. Both of them are housed here. You can get maps and information about absolutely everything both in town and in the surrounding public lands. Take a walk along the Chena River after!
Catch a hockey game – The University of Alaska Fairbanks hockey team has regular games and there are other junior hockey games to take in.
Ice Skating – The Fairbanks area has three public ice rinks and the Big Dipper has outdoor rinks that you can skate around on which is really fun on sunny days!
Take a walk (or ski) around Creamer's Field – a gem and a wonderful year round place to walk (or ski) in Fairbanks. A former dairy farm protected as a migratory bird refuge, Creamer's field is home to many migratory and summer birds from spring through early fall.
University of Alaska Museum of the North – The impressive Museum of the North is home to galleries telling the natural and cultural history of the distinct regions of Alaska. There is also a gorgeous gallery of diverse Alaskan art from the last 2000 years.
Trans Alaska Oil Pipeline Viewpoint – a large pullout with interpretive signs in a place where the oil pipeline passes very close to the road. The Trans-Alaska Oil pipeline was built in the 1970s to move oil from the oil fields in Prudhoe Bay on the Arctic Ocean to the marine terminal in Valdez. This 800 mile pipeline is a remarkable feat of engineering. The pipeline and associated oil revenue make up the bulk of Alaska's state budget today and the construction of the pipeline led to explosive growth in the town of Fairbanks during the 1970s.
Hike to the Castner Glacier ice caves – it's a long drive but a short hike to Castner Glacier and absolutely worth the beautiful drive to get there. In addition to the beautiful blue ice and the cave, the snowy mountain landscape around you is breathtaking.
Take a winter day trip to Denali National Park – Denali in winter provides big views, quiet trails, sled dog snuggles and an incredible winter landscape. You can take a tour and let someone else do the driving and even return by train!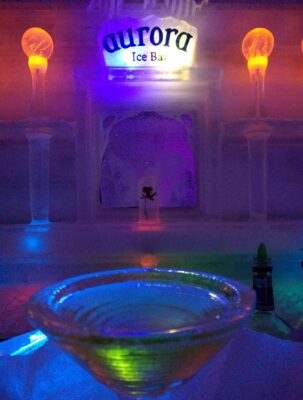 Winter activities – Denali National Park
If you decide to road trip between Anchorage and Fairbanks, make sure to stop at Denali National Park in the heart of the Alaska Range. Denali is about 4 hours from Anchorage and 2 hours from Fairbanks. It is day trippable from Fairbanks. Much of the park is closed in winter, along with much of the lodging and dining in the area. You can still experience Denali in the winter months and there will be no one else there! Activities open to visitors in the winter include
The Murie Learning Center – serves as the winter visitor center
Indoor picnic area – next door to the Murie center is a heated indoor picnic area that also shows the park movie and has a water bottle filling station.
Dog Kennels – Denali has had working dog teams in the park for a hundred years. In the winter they are hard at work helping ranging travel the park. The kennel is open on weekends in the afternoon and visitors are welcome. Because the dogs are busy during the winter, it's possible many of the dogs won't be home. It's also possible you'll get to see them coming or going!
Snowshoeing or skiing the park road – the park road is closed but visitors are welcome to ski and snowshoe along it. Many other trails may also be available, check with a ranger about current conditions before heading out.
Best winter activities – Juneau and Southeast Alaska
On a sunny winter day, there's nowhere more beautiful than Juneau. Cruising the inside passage by ferry is technically an option, but not super pleasant in winter unless you're super adventurous! There's not a lot of sun in the winter in southeast Alaska. Even on days that are not sunny there are lots of wonderful things to do in Juneau:
Go Skiing – Eaglecrest Ski area is Juneau's home town, community owned ski and snowboard area area! Affordable, with impressive views and zero crowds.
Make it a beach day: Juneau has many wonderful beach parks that are open and awesome in winter
Mendenhall Glacier: A must see year round, there's a chance the lake will be frozen enough to walk on (ask a ranger!). Even if it isn't, there are plenty of trails in the area.
Visit Haines – Haines is a four hour ferry ride or half hour flight away. It has an amazing number of bald eagles and is a fun Alaskan town! Check the ferry schedule and do an overnight trip or fly up if there's a good weather window and check it out.
If you're planning a trip to Alaska, check out my itineraries for independent travelers! Some of these are summer only but others work for visiting Alaska in winter too. Enjoy your Alaska adventure!