How to visit Denali National Park in Winter
Posted On March 18, 2022
Last Updated on February 8, 2023
Dreaming of Denali but overwhelmed by the crowds of summer? Do you love winter landscapes? If so then a visit to Denali National Park in winter might just be for you!
A winter visit to Denali is definitely different – there are no services, much of the park is covered in a deep blanket of snow and yes, it's cold! If you enjoy a good adventure and like the snow, then a winter visit to Denali is something you should absolutely consider. There are no crowds in winter, you can explore all over in relative solitude and you even have a much better chance of seeing the mountain than on a summer visit!
During the four years I lived in Fairbanks, I used to go down to the park at least a couple times each winter on sunny days to ski along the park road. Winter in Denali holds a special place in my heart and always will. In this article I'll tell you all about how to get there and what to do, as well as how to take a tour if you want to let someone else worry about the winter driving.
Denali National Park is on the homeland of the Dene Nation and the Tanana People.
Related: 8 reasons to visit Alaska in winter, Planning Guide and things to do in Denali National Park
Is Denali National Park open in winter?
Yes! Denali National Park is open in winter, though many facilities in the park are closed.
Denali National Park charges a $15 entrance fee per vehicle, which you can pay by credit card at the winter visitor center.
All hotels, restaurants, food services and most tours (see exceptions below) are closed in winter, as is the park road. If you visit in late winter you will likely get to travel further onto the park road (see below), but only a fraction of the full road is open even in late winter.
Denali National Park has a winter visitor center housed in the Murie Science and Learning Center, and an indoor picnic area with water, restrooms, tables, heat and information.
There are basically unlimited opportunities for exploring the entrance area or the park road on snowshoes, skis or just walking if the snow is not too deep.
The sled dog kennels are also open on weekend afternoons in the winter.
What is the best winter month to visit Denali National Park?
While you can visit Denali National Park anytime in winter, I recommend going in late winter, either late February or March.
The middle of winter is frigidly cold (down to -40F or even colder) with only a few hours of daylight each day. The wind can also be brutal, making it even colder.
Late winter is still cold (below zero at night and around zero or possibly up into the single digits or teens during the day) but it's much more manageable. The longer, often sunnier days are ideal for a day trip from Fairbanks and deep snow makes snowshoeing and skiing plenty of fun.
Another reason to visit in late winter is that the park road is often plowed by mid February as far as Mountain Vista at Milepost 13. This is the first place inside the park that gives you a view of Denali herself! You cannot actually see Denali from the entrance area unless you hike up. Don't worry, if the road isn't open that far, you will still get views of Denali if she's "out" on your way to the park.
Related: Why March is the best time to visit Fairbanks, Alaska
What is winter weather like in Denali National Park?
Extremely cold, especially in deep winter! During December, January and February temperatures plunging to 40 degrees below zero or colder are not uncommon. There can also be a fierce wind here. There are only about 4 hours of daylight in the middle of winter (December, January).
Late winter is my favorite time to go as I mentioned above, because it's still very much winter but not QUITE as bitterly cold. In late winter and early spring expect a huge swing in temperature between day and night. The longer days (12 hours of daylight by mid March) bring the temperature up significantly. It is still often well below zero at night but can warm up to above zero during the day. It can still be windy at this time of year so make sure you're ready for cold weather!
Denali gets snowstorms that bring lots of snow (more snow than Fairbanks, which is drier), but in between storms it is often sunny. In fact, you are more likely to see Denali the mountain during the winter than in the summer as the summit is clear more frequently in the winter months.
Related: What to pack for Alaska
How to get to Denali National Park in winter
Getting to Denali National Park in winter is quite similar to getting there in the summer, except for the potential for serious ice and snow on the road and the lack of traffic!
I strongly recommend doing a winter day trip from Fairbanks, rather than going from Anchorage. Anchorage is too far from Denali for a comfortable day trip (at least a 4 hour drive compared to 2 from Fairbanks).
You cant rent a car in Fairbanks to drive to Denali and while you will probably encounter ice on the road, the road is pretty well maintained. I recommend saving this for a sunny day because it's not a fun drive during a winter storm. Most of the restaurants and hotels are closed for the winter. You can get gas in Healy and Nenana, and you can stop at Rose's Cafe (delicious!) or Three Bears, but other than that you're on your own once you leave Fairbanks.
Another option is to take the Alaska Railroad from Fairbanks, but in winter this is really only practical if you are on a tour (described below in this article). The train only goes 1-3 times per week and there isn't anywhere to stay, so it really only works to take the train one way, which you can do on a tour that will drive you the other direction.
A tour from Fairbanks is a wonderful option if you don't want to deal with winter driving or don't want to rent a car.
Related: Unique things to do in Fairbanks, Alaska
Things to do in Denali National Park in winter
There is a some cell service right at the park entrance, but not anywhere else. Make sure you carry food, water and extra clothing with you and tell someone where you are!
During winter in Denali, there is some variation from year to year in exactly where the road is plowed or when the visitor center is open and staffed. Check with the park service before your visit for the latest on conditions at that particular time.
Snowshoeing or Skiing
You can snowshoe or ski pretty much anywhere, on or off trail in Denali National Park in winter. I enjoy skiing on the park road, but there are several other options. The winter visitor center offers snowshoes for visitors to borrow if you don't have your own.
The roadside hiking trail parallels the park round between the park entrance and the park headquarters where the sled dog kennels are located. The Horseshoe Lake trail is extremely popular with snowshoers, since it's a well traveled 3 mile loop with only a couple hundred feet of elevation gain.
The Mt Healy Overlook Trail (one of my favorite hikes in the summer) is also an option in favorable weather conditions (check with the rangers) for those who are up for some steep climbing.
If the road is open to Mountain Vista (Milepost 13), the Savage Alpine Trail provides another opportunity for a more challenging snowshoe outing.
Drive to Mountain Vista for epic views of Denali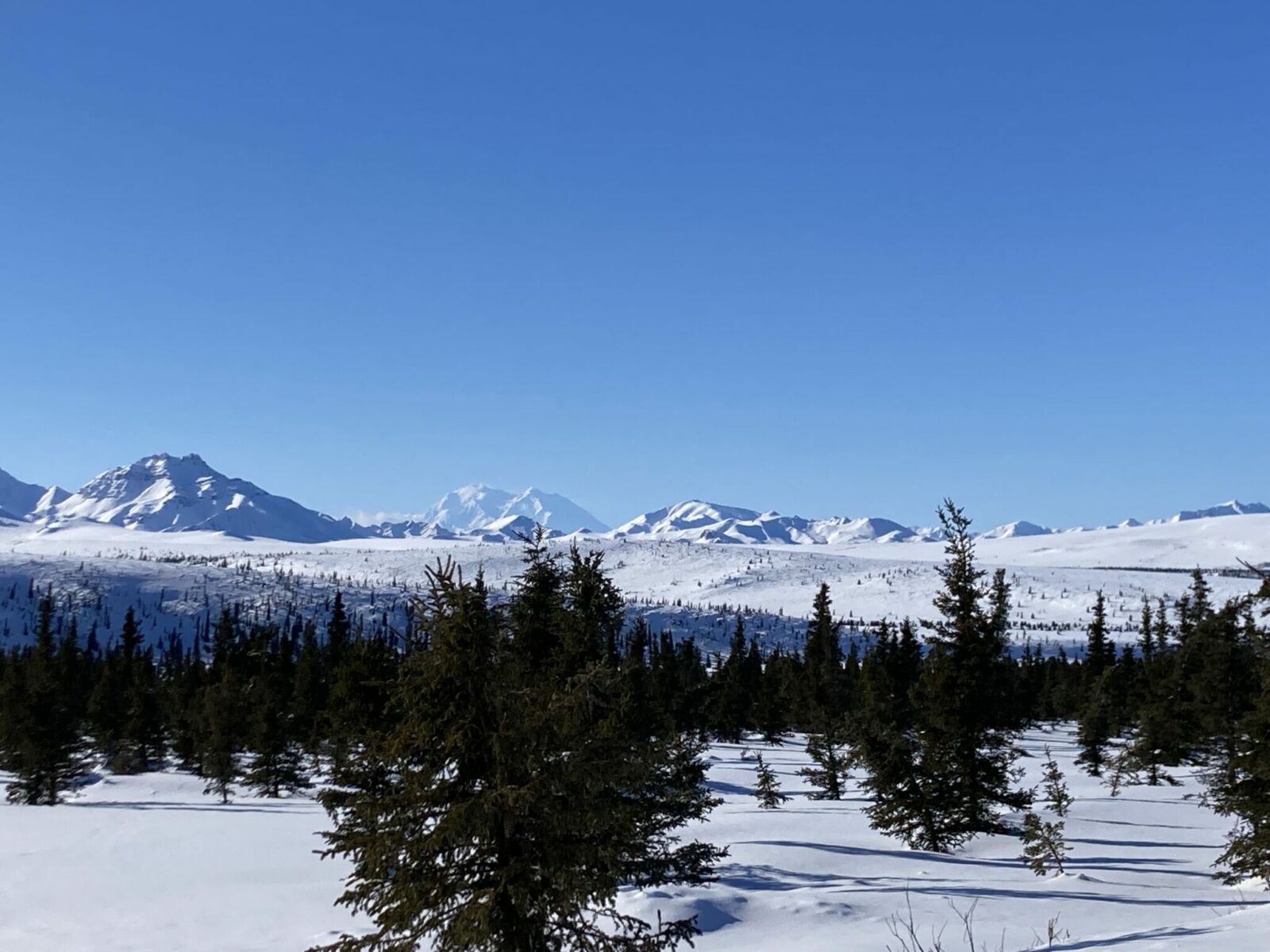 Mountain Vista is the first place to stop along the park road in summer for views of Denali (though you can see it from the road a couple miles sooner). In winter, Denali is "out" and clear much more often. Don't miss this if the road is open to this point!
In addition to the view of Denali, this is also a beautiful area of the park where moose are often seen. A few trees still line the road here and towering mountains are around you in all directions.
Visit the Sled dog kennels
The sled dog kennels are a highlight of any visit to Denali National Park! In winter, it's an even better experience as you can get up close and pet the dogs and say hi with the ranger's permission. Often the dogs are out working in the park, but usually some are still at headquarters.
In winter, the sled dog kennels are only open from 1-4 on weekends.
Check out the winter visitor center and indoor picnic area
The big summer visitor center is closed in winter and the Murie Science and Learning Center space is transformed into a much more intimate visitor center experience. You can also borrow snowshoes here and talk to a ranger about the best options for you based on that day's weather and snow conditions.
Next door is the indoor picnic area, which is open during the day. There are tables for eating as well as restrooms and a water bottle filling station and some basic information about the park.
Look for wildlife
Moose are the dominant wildlife in the park during winter that you are most likely to see. Moose spend the winter trying to stay alive by eating what's left of the plants. If you see a moose, stay well away as they can be extremely dangerous if they feel threatened. Enjoy the experience from a safe distance and follow the speed limit on the park road, where moose are frequently seen.
Denali Winterfest
If you happen to visit in Late Feburary, you might be able to catch Denali Winterfest, a celebration of winter put on by the park service in cooperation with other community groups.
In addition to the normal winter fun, there is also a campfire and smores at the Savage River ranger cabin, snacks at the Indoor Picnic Area and youth cross country skiing. Nearby Healy has craft events, outdoor hockey tournaments and a snow sculpting competition.
Related: How to see the Northern Lights in Alaska
Denali National Park winter tours
Northern Alaska Tour Company offers day trip tours from Fairbanks to Denali National Park. You have the option of driving both ways or you can go with them one way and ride back on the Aurora winter train on the Alaska Railroad. I highly recommend doing the train option even though it's slightly more expensive because riding the Alaska Railroad is wonderful experience! You can even enjoy a tasty dinner in the dining car on your way back to Fairbanks.
This is a great way to enjoy the incredibly scenic drive and experience the quiet of Denali in winter without having to rent a car or deal with winter driving. Once at the park, you'll get to explore the visitor center and go for a guided walk or snowshoe.
If you're looking to get deeper into the park and have more time, see below for tours that go deeper into the backcountry of Denali's winter landscape.
Winter backcountry adventures in Denali
For those who really love winter and have a sense of adventure, you can go on a guided trip into the heart of the backcountry in winter! From the comfort of a heated small plane to the thrill of riding behind a dog team, there are a variety of adventures for those who want to go deeper into the park.
Skiing
If you're a cross country skier, you can ski along the park road once you reach the point where the plowing ends (usually between mile 3 and 13 depending on the time of year and that season's snow conditions). I used to do this a couple times a year when I lived in Fairbanks.
Make sure you set a turnaround time because there is no particular "destination" along the road.
Dog sledding
Denali Dog Sled Expeditions offers a variety of options for day trips by dog sled as well as overnight and multiday backcountry adventures. There are a variety of different options of all different lengths ranging from an hour to 5 days in the Alaska wilderness!
Flightseeing
Flightseeing tours in winter are offered from both Fairbanks and Talkeetna. Flightseeing is always subject to weather cancellations, but Denali is one of the most amazing places for flightseeing when the weather cooperates. In winter, the unending snow and ice are even more impressive. Don't forget your sunglasses!
Where to stay in Denali National Park in winter
I believe it's best to do a day trip to Denali National Park in winter from Fairbanks. It's generally about a two hour drive and you can go on your own or take a tour. There are a couple of options if you want to stay closer to the park.
The hotels at the Denali entrance area are all closed in winter. It is possible to stay in a Bed and Breakfast in nearby Healy, about 10 miles away. The Riley Creek Campground in Denali is open in winter and is free, although there are no services. The very hardy camper can enjoy a winter camping adventure here!
Final Thoughts
For those who like to avoid crowds and appreciate a stunning winter landscape, visiting Denali National Park in winter is an unforgettable experience. Make it a sunny day in late winter and you can take in all the highlights of an epic winter visit!