18+ Best things to do in Ucluelet and Tofino
Posted On June 21, 2022
Last Updated on April 17, 2023
Ucluelet and Tofino sit side by side along one of the most stunning coastal areas of North America and make for an unforgettable getaway any time of year. Summer brings long days for hiking and beach walking and winter brings epic storms that people love to spend hours watching. Surfing rules here, and you'll never be far from a surf board or a surfer! Yes, the water is cold, but the waves are spectacular and there are always plenty of wet suit clad surfers taking advantage.
Follow along and I'll show you all the best things to do while visiting this area. This article is organized by activities you can do in both towns as well as some that are specific to each town.
How do you pronounce Ucluelet and Tofino?
Ucluelet is generally pronounced YOU-clew-let and Tofino is usually pronounced TOE-feeno.
Where are Ucluelet and Tofino?
Ucluelet and Tofino are on the west coast of Vancouver Island, about 40 km apart (25 miles).
Ucluelet and Tofino are the land of the Huu-at-aht, Nuu-chah-nulth, Yuułuʔiłʔatḥ and Tla-o-qui-aht First Nations.
Getting to Ucluelet and Tofino
Most people get to Ucluelet and Tofino by driving from Vancouver or Victoria to Nanaimo and then across the island to the west coast. The drive is stunning with lots to do along the way. The driving time is about 3 hours, not including stops and construction. You'll be happier if you give yourself the whole day to make the drive.
You can also get here by bus from Nanaimo (or Vancouver or Victoria) or by plane.
Related: The Ultimate Vancouver Island Road Trip Itinerary
What time of year is best to go to Ucluelet and Tofino?
Summer is the most popular time, with long days and less rain and warmer temperatures. Summer is also busy and lodging and camping are expensive and hard to find.
Winter is also fairly popular for the epic storm watching at the edge of the Pacific Ocean. Lodging costs are a bit less and easier to find a place to stay. Some businesses and experiences may be closed in winter.
Spring and fall offer a mix of the two, with longer days than winter and fewer storms, though still plenty of rain and milder temperatures. Whale watching in spring and fall gives the best chance to see Gray whales that migrate along Vancouver Island on their journey from Mexico to Alaska.
How many days do you need to visit Ucluelet and Tofino?
I recommend staying at least two nights here or in the area so that you can enjoy all the sights and adventures along the drive as well as have at least a full day for exploring the area.
If you have a full day there, you can explore the beaches and go for a hike, kayak or take a surfing lesson. Fans of beaches and ocean should definitely consider staying longer.
Things to in the Ucluelet/Tofino area
These are the things to do in Ucluelet and Tofino that you can do in either town or the land between them.
Take a surf lesson
Surfing is the number one priority in Ucluelet and Tofino, so why not join the local fun and learn how to surf? In addition to instruction they'll also provide everything you need for your surfing adventure. There are plenty of places to take surf lessons in both Ucluelet and Tofino.
Explore the beaches of Pacific Rim National Park
The beaches of Pacific Rim National Park, which extends for a long stretch of the west coast of Vancouver Island, are absolutely stunning. Make sure to spend some time walking along the beach (not surf board or wetsuit required!).
There are quite a few beaches in the area that are described in more detail below. If it's a sunny day, make sure to catch a sunset over the Pacific Ocean.
Go for a hike
Ucluelet and Tofino have plenty of hikes to explore, from beaches to lighthouses to rainforest and even the site of a plane crash.
In Ucluelet, the Wild Pacific Trail extends for 9km (5.5 miles) around the Lighthouse, as well as from Big Beach to Rocky Bluffs. There is also a 1km loop (half a mile) on the Ancient Cedars Trail, which takes you to a cedar tree more than 800 years old!
In Tofino, in addition to a multitude of beach walks, there are also forest hikes and a very unique trail to the site of a World War II plane crash near Radar Hill. It's about a 5km hike (3 miles) and has about a hundred feet of elevation gain. Part of the trail is extremely muddy most of the time so make sure to be prepared for that.
The Pacific Rim National Park Visitor Centre is a great resource for hikes in the area.
Go for a bike ride
A new multi use path was recently completed by Parks Canada that goes between Ucluelet and Tofino, and it's perfect for a bike ride! Walkers and runners are also welcome to use the path. It is wide and paved and mostly separated from the road.
The path is called the ʔapsčiik t̓ašii path (pronounced ups-cheek ta-shee) and was built in collaboration with the Yuułuʔiłʔatḥ and Tla-o-qui-aht First Nations. In addition to a beautiful path through a beautiful area, it also gives visitors the opportunity to learn more about the First Nations people and culture of Pacific Rim National Park.
Fishing Charters
It's probably not a surprise that there is plenty of excellent fishing near Ucluelet and Tofino! Both salt water fishing as well as river fly fishing are popular in the area. Salmon and halibut as well as crab are caught in the area and there are plenty of guide services available to take care of all the details and get to just the right place.
If you're fishing on your own, make sure to get a BC fishing license and follow all the fishing regulations for the area.
Winter storm watching
Winter brings short days and lots of rain, but with it dramatic storms that come off the Pacific Ocean creating massive waves that crash along the shore in Ucluelet, Tofino and the beaches in between.
Storm watching is a very popular winter activity here. The best way to do this is to get a hotel or vacation rental with a view of the ocean and watch the action from a cozy, warm and dry spot!
When going outside for storm watching, use caution near the water and huge waves can come up without warning.
The outdoor observation deck at the Kwisitis Visitor Centre near Ucluelet is a fantastic place for storm watching.
Things to do in Ucluelet
Amphritrite Lighthouse Loop on the Wild Pacific Trail
If you only do one thing in Ucluelet, make it this! This short loop (full loop is 2.6 km or just over a mile and a half) is mostly flat and partially wheelchair accessible (to the lighthouse). The scene of a historic lighthouse perched on rocks at the edge of the coast is impressive.
Waves crash along the rocks here and you can see hundreds of tiny islands offshore as well as plenty of boats making their way towards the harbors of both towns.
You can even see the remains of the water holding tank for when the lighthouse was operated by steam power in the 19th century.
Visit the Pacific Rim Visitor Centre
The Pacific Rim Visitor Centre is just outside Ucluelet at the point where the highway splits to go to Tofino. This is an excellent resource for maps, guidance about trail conditions and even more ideas for things to do while in the area, which is surrounded by the Long Beach Unit of Pacific Rim National Park.
Visit the Ucluelet Aquarium
This is a terrific indoor place to learn about and see local marine wildlife, with a focus on invertebrates and fish that are found in the surrounding waters. The aquarium is a catch and release facility, so you don't know exactly what you'll see on each visit and the animals change frequently.
The Aquarium is open March – November.
Kwisitis Visitor Centre – Pacific Rim National Park
At the time of this writing, Kwisitis Visitor Centre is closed for extensive renovations. When open, it is the best indoor experience in the area!
This stunning building is filled with exhibits about the animals, the sea, the forest and the people of the West Coast. You can explore a replica longhouse and listen to First Nations stories, before heading out to the large observation deck with its incredible view of the Pacific Ocean.
The observation deck is an excellent place to look for whales and watch storms.
Stroll Florencia Bay
Florencia Bay is a quiet 6km (3.5 mile) strip of sandy beach near Ucluelet. You do need to navigate stairs to get down to it.
Once you're there, it's a great place to relax and watch surfers or listen for the barking of sea lions.
Little Beach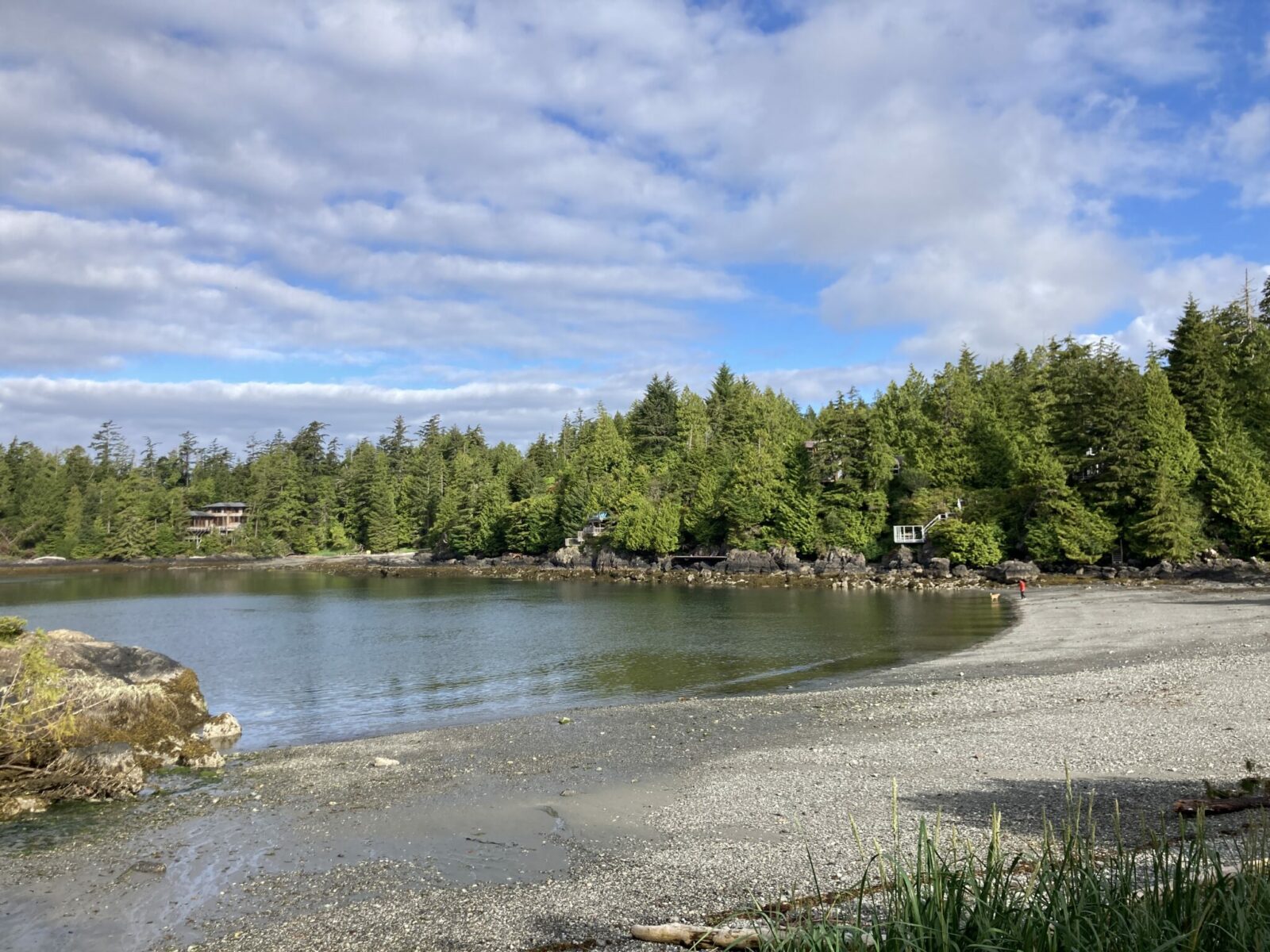 Appropriately named Little Beach is teeny tiny and a really fun place to explore. This gravel beach has a small parking area and a few stairs to get down to the beach, making it a great place for a picnic or exploring at low tide.
Things to do in Tofino
Long Beach in Pacific Rim National Park
Long Beach is an absolute must do when visiting Tofino. This barrier free beach (no stairs) has several access points and parking areas. The ʔapsčiik t̓ašii path goes right past it, making it easy to bike there as well as drive.
You can hike along the beach, have a picnic or watch a sunset as well as watching surfers flying along the waves. Dogs are allowed here, though they must be leashed. Make sure to pay the fee for Pacific Rim National Park at the kiosk in the parking lot.
Tidepooling at Chesterman Beach
Another gorgeous beach in Tofino, Chesterman Beach is particularly good for seeking out tidepool animals at low tide. The North End of the beach near Frank Island is a great place to look for sea stars and anenomes, as well as other Pacific coast tidepool creatures. At low tides a sandspit emerges from the water allowing you to walk to the island for even better views. Make sure to pay attention to the tide chart so you can get back!
Schooner Cove
At the time of this writing, the Schooner Cove Trail is closed after many trees feel across its boardwalks and stairs in 2018. I'm keeping it on the list in the hopes that it will again be open in the future.
The boardwalks and stairs through the rainforest to the beach are absolutely magical, however please respect the closure until the trail is reopened.
Cox Bay Beach
Another beautiful strip of sand in Tofino with unforgettable sunsets, Cox Bay Beach has room to walk or relax and watch the waves. There are some good tidepools at the south end of the beach at low tide.
Naa'Waya'Sum Gardens (Tofino Botanical Gardens)
The gardens as well as the whole Clayoquot Campus are now operated by the Nuu'chah'nulth First Nations, giving visitors an incredible opportunity to learn about the plants as well as the people of the west coast.
There are trails and a combination of manicured garden with natural landscapes and an opportunity to see Nuu'chah'nulth carvers and other artists.
Check out the float art
Around town there are various pieces of public art made from salvaged floats and buoys. Check them out and see if you can find them all.
Boat tours from Tofino
Tofino's port is home to many boat tours that will take you on adventures all over the more remote coastlines and islands near Tofino.
Whale watching
Several boat tour operators in downtown Tofino operate half day whale watching cruises from March through November. Gray whales migrate through the area in the spring and fall and orcas are in these waters all year.
In addition to whales, whale watching tours are an excellent opportunity to see other marine mammals such as seals and otters as well as many birds.
Bear watching
Similar to whale watching, most of the tour operators also run bear watching tours that are also by boat. Cruising across the water to protected inlets and islands, the rocky shores provide excellent bear viewing opportunities along the beach from the safety of your fast boat.
These are also generally half day tours and run from May through October.
Hot Springs Cove
To get to Hot Springs Cove, you need to take a short float plane or 1.5 hour boat ride to Maquinna Provincial Park, northwest of Tofino. After a walk through the rainforest, you'll arrive at several rocky hot spring pools with a stunning view.
Things to do in Ucluelet and Tofino when it rains
When it rains, which honestly is quite often, you can still do these activities! You'll need to be prepared for hiking in the rain and I recommend having rubber rain boots and a really good rainjacket or umbrella (or both).
The rainforest and beaches are magical even on rainy days. Use caution during intense winter storms bringing lots of rain and wind. The wind can bring down giant trees so I recommend staying away from big trees in windstorms (which mostly happen November through February).
Rainy days are also perfect for exploring the coffee shops and museums in both towns.
Camping in Ucluelet and Tofino
Camping in Ucluelet and Tofino is shockingly expensive for camping. Many campgrounds are really nice with perks such as showers, firepits and sometimes even hot tubs.
If you're in a private campground, watch out for different priced campsites, some are really nice and more expensive, often the least expensive are very small or don't have much privacy. It's worth paying attention to the details of camping here.
Consider camping at Kennedy Lake or elsewhere along the road, or use the iOverlander app to further explore your camping options.
Lodging in Ucluelet and Tofino
This post contains affiliate links, which means if you make a purchase I may receive a small commission at no additional cost to you.
There are plenty of vacation rentals, hotels and resorts in Ucluelet, Tofino and in between. Lodging is extremely expensive in the summer months and still somewhat expensive all year.
Most lodging is available year round.
Use this map to find different hotels and vacation rentals in different locations (zoom out to see both Ucluelet and Tofino).
Where to eat in Ucluelet and Tofino
There are some great food options in Ucluelet and Tofino. In Ucluelet, my favorite breakfast option is Barkley Cafe which has wonderful coffee and really good breakfast sandwiches on bagels or in burrito form. In Tofino, try the Rhino Coffee House or the Driftwood Cafe for your morning coffee and breakfast sandwich.
Ucluelet has a fun hot dog shop with lots of creative hot dogs as well as Mexican food at Ukee Dogs.
You can't go wrong with seafood anywhere in Ucluelet or Tofino, from fish and chips for a quick bite to a delicious leisurely seafood dinner with a view. Try the Schooner or the Shelter in Tofino, or the Floathouse in Ucluelet. The Black Resort has a great restaurant with an awesome view in Ucluelet (they also have a good breakfast).
Ucluelet and Tofino each have a tasty breweries and Pacific Rim Distilling in Ucluelet is a must visit for craft distillery enthusiasts.