Alyeska Nordic Spa Review – Relaxation perfected near Anchorage, Alaska
Posted On May 24, 2023
If you're looking for a place to relax, unwind and just be, whether you're visiting Alaska or you're a local, the Alyeska Nordic Spa is an ideal place to do it!
I lived in Alaska for many years and still visit frequently. When the Alyeska Nordic Spa opened in 2022, I knew I had to check it out. I went to experience it in May 2023 with one of my good friends.
Nordic spas are characterized by a type of hydrotherapy that involves going to very hot water and very cold water and jumping from hot tubs and saunas and snow banks has been popular in Alaska forever! This is the first "official" nordic spa in Alaska and it fits right in with this tradition Alaskans already love.
Cell phones and photography are not permitted in the Nordic Spa, which makes it really wonderful and I loved that break from constantly taking and worrying about photos, especially as a guide and travel writer! However, that means I am using photos courtesy of Alyeska Nordic Spa for this article (and include my thoughts in the captions).
The Alyeska Nordic Spa is an adults only experience, no one under 18 is permitted.
Where is the Alyeska Nordic Spa?
The Alyeska Nordic Spa is on the property of the Alyeska Resort in Girdwood, about a 45 minute drive from Anchorage along the impossibly scenic Seward Highway.
You can drive here from Anchorage, or take the Alaska Railroad. However you get to Girdwood, you'll find the entrance to the spa right next to the bottom of the Alyeska Tram (another great Girdwood activity).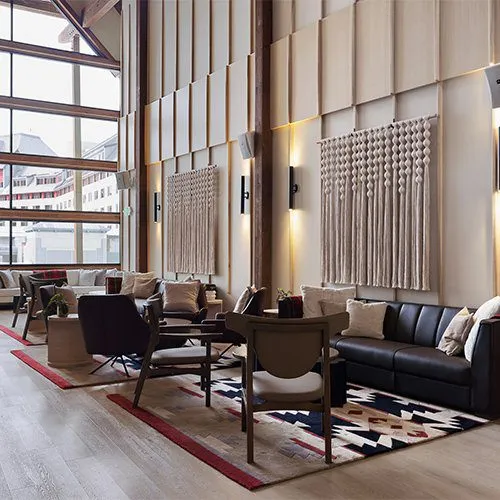 Are reservations necessary at the Alyeska Nordic Spa?
Yes. Reservations are required. You can make reservations online or give them a call. Reservations are required even if you are doing hydrotherapy only and not a massage.
What to expect at the Alyeska Nordic Spa
During my visit I did the hydrotherapy experience, I did not do a massage but I expect they are excellent. The restaurant was closed during my visit but the food and drinks others were enjoying in the lobby area looked wonderful. They have a small but lovely menu of snacks and meals ranging from super healthy to desserts and alcoholic beverages. You can also wear your robe in the restaurant and lobby bar, so that's pretty awesome. It's not every day you can eat in a restaurant in a bathrobe!
Speaking of robes, the robes they provide for your use during your spa visit are truly divine. I wanted to buy one so bad but they are custom made and quite expensive ($350 – you can buy them before leaving at the check in desk).
They also provide you with a pair of slippers to wear during your visit. There is tea and water available between the dressing room and the pool area also.
What is provided in the Hydrotherapy Experience and what is it like?
In this review, I'm just reviewing the hydrotherapy experience since that's what I have first hand experience with based on my visit. I absolutely loved it and loved the variety of the many rooms, pools and saunas to experience. The hydrotherapy experience is $119 per person and you can stay as long as you like, though there are not in and out privileges so once you leave you are done for that session. You can get food at the restaurant or the bar in the lobby so there's no need to leave before you're ready.
They provide a recommended circuit of hot, cold, hot, cold, etc, but you can do what you like once you're there. I'm a bit chicken about cold water so I just splashed in one waterfall, but the hot cold experience looked fun if you're feeling brave.
There are several pools of different sizes. Make sure to go back into the forest area with the small tubs and barrel saunas, so fun and picturesque.
The pools are outside, including the hot and cold ones of different temperatures (all hot are not the same). Each pool has a sign where you enter showing the temperature.
There are also quite a few saunas inside the different rooms and cabins around the property. Most are dry saunas but there are a couple of steam saunas that are quite large. They are also labeled with the temperature inside.
They also give you an exfoliating scrub and recommend using this at the end of your visit. You can take it into the exfoliation cabin and rub it into your skin, then shower it off. I loved how soft and smooth my skin was after using it, it was quite impressive.
Is the Alyeska Nordic Spa open all year?
Yes. The spa is open all year. It is outdoors, so be prepared for that no matter what the weather is. The walkways are heated to minimize ice, and the staff clear paths when there's a lot of snow.
It is open every day from 9 in the morning until 9 in the evening.
What if I'm not staying at the Alyeska resort?
No problem! If you are staying at the Alyeska resort, you can make a reservation for the spa with your room, but you can also make a reservation if you are not staying there.
When I went, my friend and I drove from Anchorage. There is overflow parking for the hotel that's very convenient.
What are the dressing rooms like?
The dressing rooms were super clean with spacious lockers. When you arrive, you'll be assigned a wristband with an electronic key to open your locker. You can put it on your wrist or attach it to something like a water bottle to keep track of it.
There are toilets and showers in the dressing rooms and a big room with mirrors, hair dryers, lotion and hair products which was wonderful. I assume the men's dressing room also had those things, but I stayed in the women's dressing room.
What should I bring to the Alyeska Nordic Spa?
Swimsuits are required in all the pools and saunas and all areas of the spa, so make sure to bring your swimsuit.
You'll also want to have a waterbottle. There are plenty of places to fill it in different locations. They also have small cups you can use but a waterbottle is helpful so you can take it to the pools with you.
Even though it was overcast the day I went, I definitely needed sunglasses. Depending on the weather and your sensitivity to sun, sunscreen and a hat are also a good idea.
Is the Alyeska Nordic Spa wheelchair accessible?
I am not a wheelchair user myself, but as a guide and travel writer I've learned to pay close attention to this everywhere I go.
There are some stairs here and there around the spa area, although not a lot. To navigate the area of the spa as a wheelchair user, it appears that you would need to be able to walk a short distance with the help of a traveling companion and would also need assistance getting in and out of the pools and saunas. I also did not see any wheelchair accessible restrooms.