How to Visit Mowich Lake at Mt Rainer (Winter and Summer)
Posted On April 24, 2017
Last Updated on December 17, 2020
Mowich Lake in Mt Rainier National Park is a wonderful remote part of the park with far less people than the more popular areas of the park. The long unpaved, potholed road and lack of services or a cell phone signal deters some visitors, but not you! Read on to learn all about how to visit Mowich Lake in summer or winter. It still gets busy on summer weekends, but there are hardly any people there in winter. The access is different in winter and summer, more details on this are below!
Where is Mowich Lake?
Mowich Lake is located in the remote northwest corner of Mt Rainier National Park, on the homeland of the Puyallup and other Coast Salish people.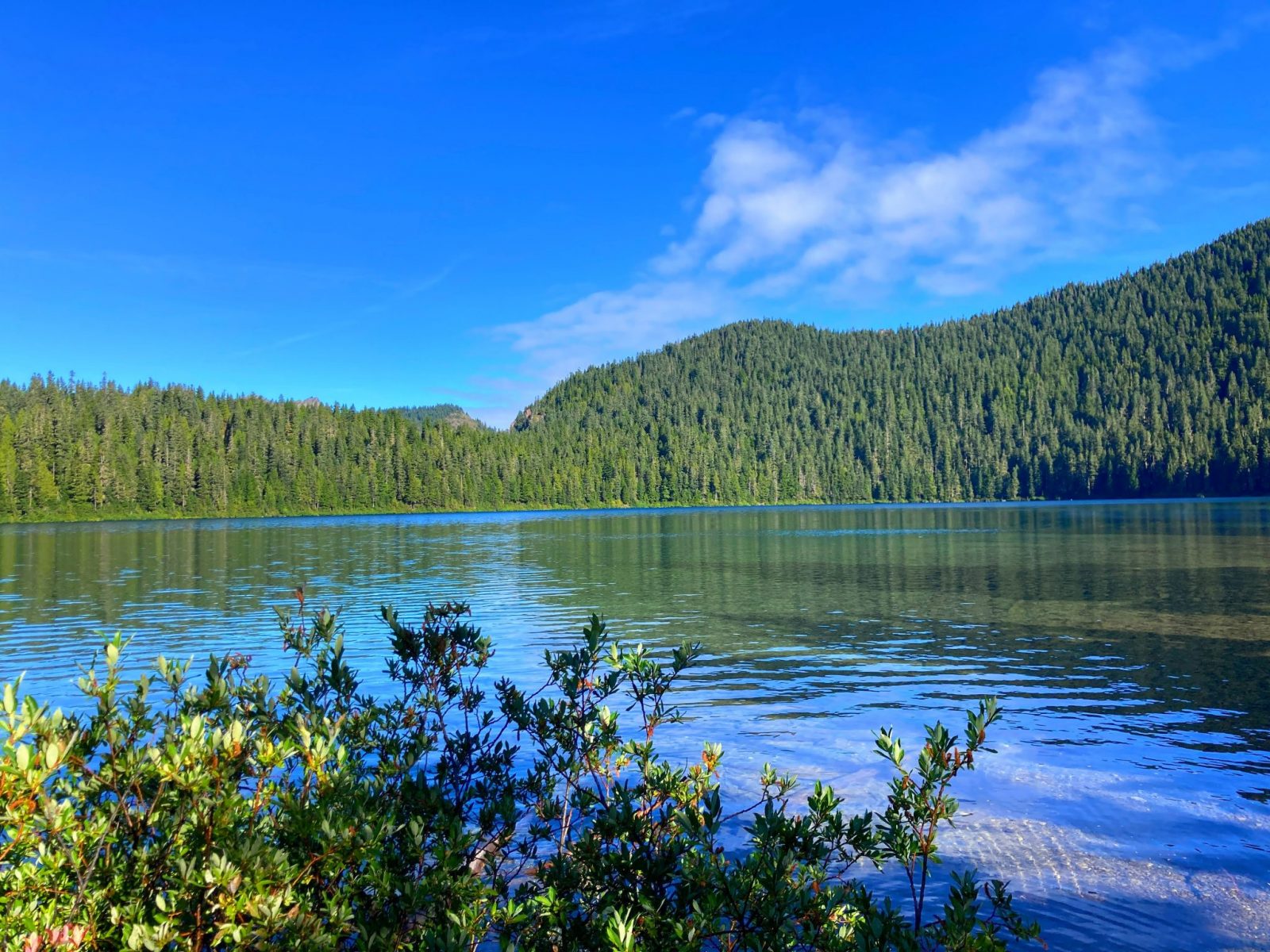 How to Get to Mowich Lake in Summer
In summer, Mowich Lake is about a two hour drive from Seattle and an hour and a half from Tacoma. To get there, head east on Highway 410 and just west of the town of Buckley, head right (south) on Highway 165 toward Wilkeson and Carbonado. After Carbonado, there is a Y in the road. Go to the RIGHT here towards Mowich Lake (unless you need to stop at the Carbon River Ranger station for a backcountry backpacking permit, then go left to pick that up first). The road quickly turns to gravel and becomes quite potholed.
Shortly after the park boundary, there is a trailhead and pit toilet on the right at Paul Peak. Stop here to pay the $30 entrance fee at the kiosk. If you already have an America the Beautiful Pass or a Mt Rainier Pass, no need to stop, just make sure to display it.
The road to Mowich Lake usually opens around the 4th of July holiday and closes sometime in October.
How to Get to Mowich Lake in Winter
In winter, the road to Mowich Lake closes at the park boundary where there is a gate. You can park here at the gate and snowshoe or ski the rest of the way.
The directions to Mowich Lake are the same as summer, you'll just be parking sooner.
Sometimes the snow level is low enough that you may have to park BEFORE you reach the gate, at other times the snow level may be high enough that you have to walk a bit without snow to get to it. I recommend checking the Washington Trails Association Trip Reports to get a feel for the current conditions.
It's about 5 miles from the gate to Mowich Lake on the closed road on a gentle grade, gaining 1400 feet of elevation. If you're snowshoeing, you can take a one mile short cut (cutting off a couple of switchbacks) on the grindstone trail. If you're cross country skiing, it's probably better to stick to the road! The road is absolutely beautiful with towering snow covered evergreen trees all around you!
Things to do at Mowich Lake in Summer
Kayaking, Canoeing or Stand Up Paddleboarding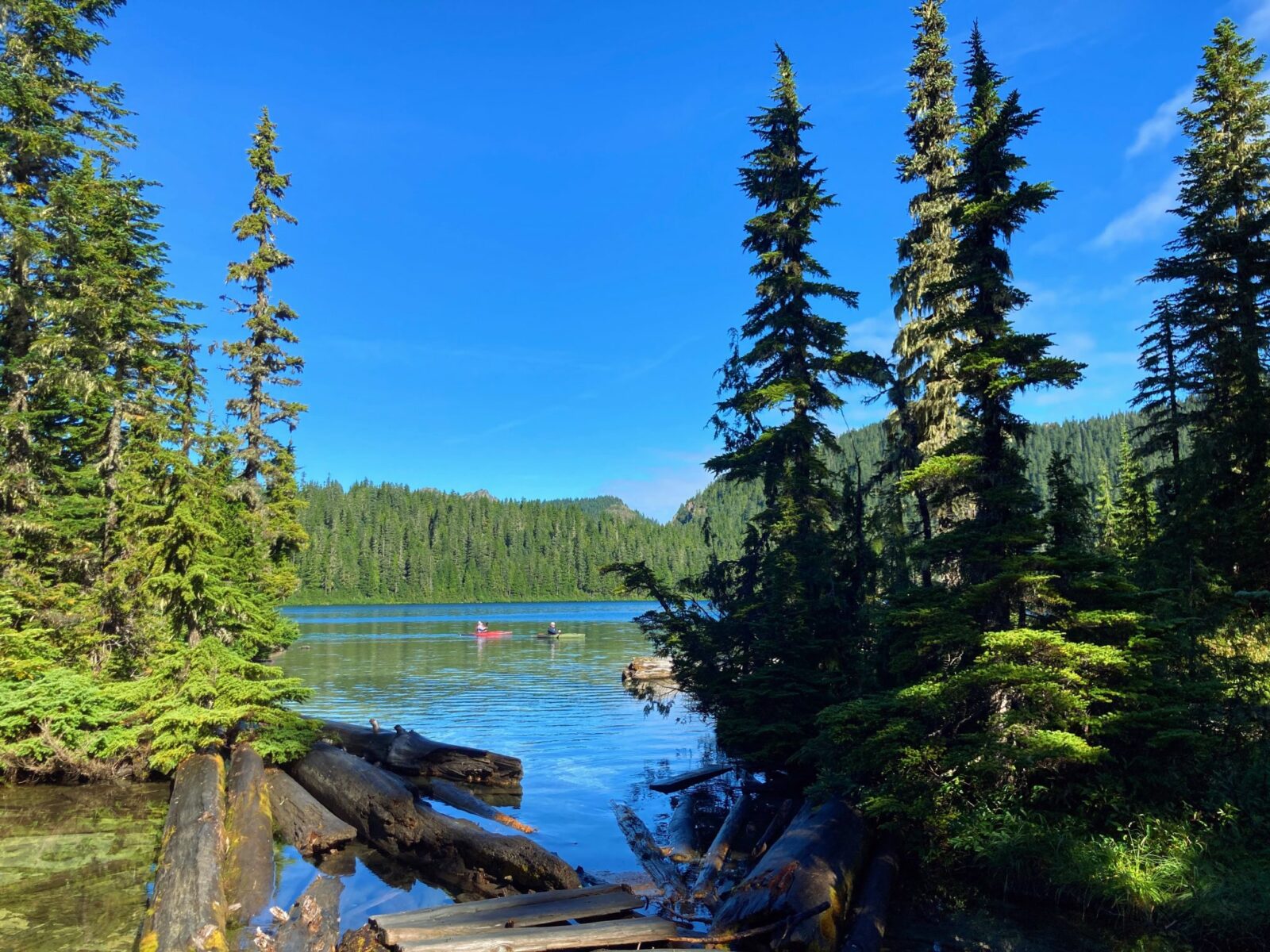 The calm waters of Mowich Lake, the beautiful forest surrounding it and impressive Mt Rainier views from the lake itself make this a wonderful place to go with your kayak, canoe or stand up paddleboard.
There are no rentals, so you'll need to bring your own. Make sure to secure it on your vehicle for the very bumpy drive! The parking lot at Mowich Lake is tiny, so if you need to carry a boat from the car to the lake, I recommend getting there very early in the morning, in the evening or on a weekday.
Hiking
Mowich Lake is the trailhead for two of my favorite hikes in all of Mt Rainier
Eunice Lake and Tolmie Peak – 8 miles round trip and 1100 feet of elevation gain. Hike through a beautiful evergreen forest to a lovely alpine lake surrounded by wildflowers and then up to a lookout tower with incredible views of Mowich Lake and Mt Rainier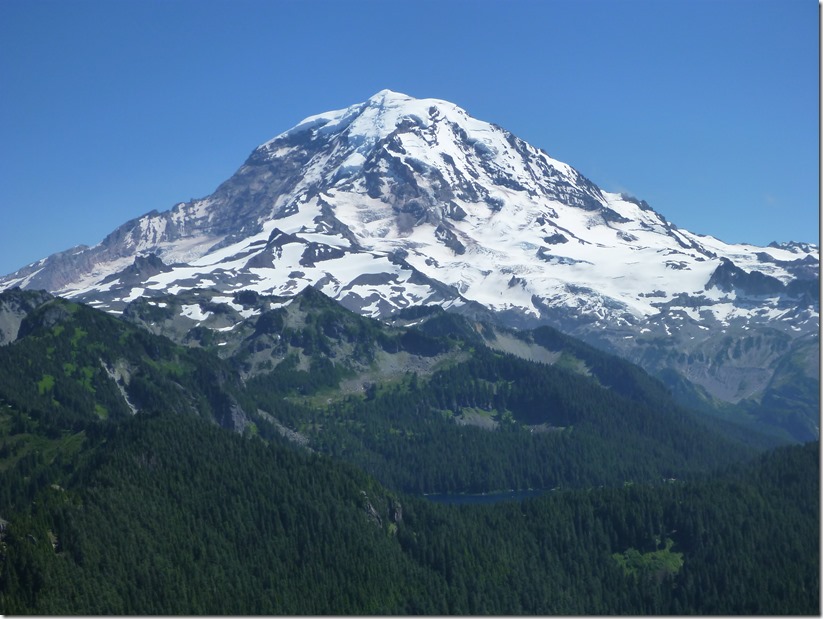 Spray Park – 6-8 miles round trip (depending on how far you go into Spray Park) and 1700 feet of elevation gain. Climb through the forest, take a mandatory side trip to gorgeous Spray Falls, then come out into a beautiful wildflower meadow with views of Mt Rainier and often bears.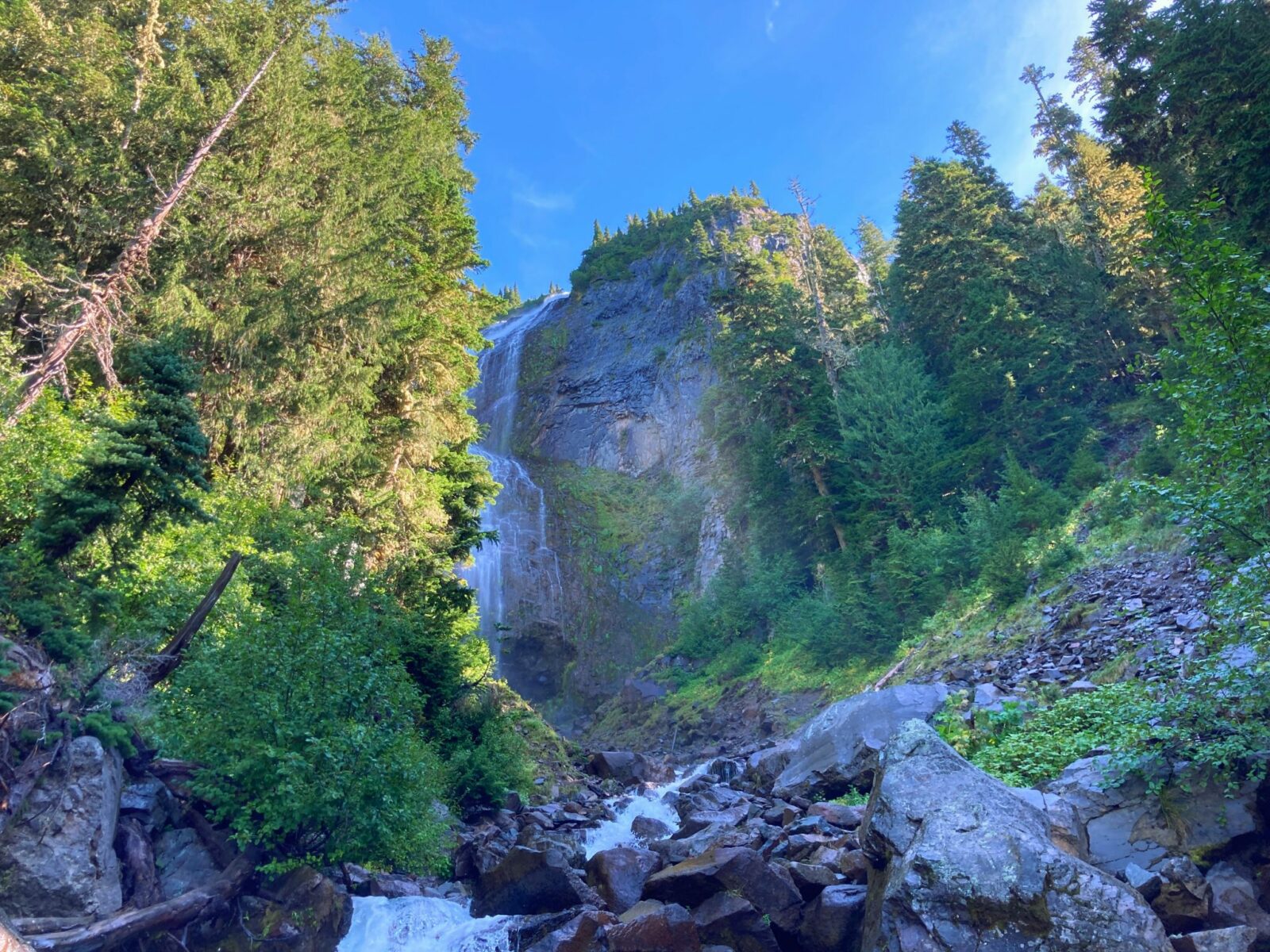 Backpacking
Mowich Lake is the trailhead for my favorite backpacking trip in Mt Rainier National Park, the Mother Mountain Loop. It's a 17 mile loop with 4500 feet of elevation gain, making it challenging and also extremely rewarding.
The Wonderland Trail, a 93 mile trail that surrounds Mt Rainier, also passes by Mowich Lake.
If you intend to backpack, you will need to secure a backcountry permit at the Carbon River Ranger Station before you arrive.
Camping
There is a walk in campground at Mowich Lake near the parking area. This is a first come first served campground which makes it difficult to count on, especially on weekends! There are no fires allowed at this campground. It is an excellent campground for viewing stars on a clear night.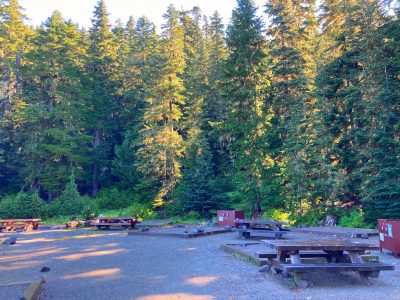 It's a walk in campground but it's only a hundred yards or so from the parking lot to the campground. The parking lot is tiny so if it's full and you have to walk a ways up the road it may be farther to carry your camping gear.
Things to do at Mowich Lake in Winter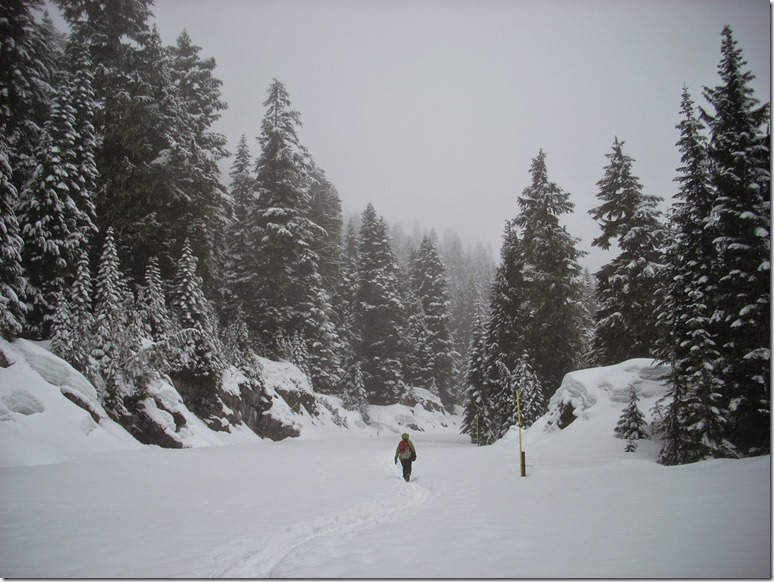 The main thing to do at Mowich Lake in winter is to snowshoe or cross country ski along the road to get there!
This is an absolutely magical and solitary way to experience Mt Rainier National Park as long as you are completely prepared and self sufficient.
The snowshoe or cross country ski route from the closed gate to Mowich Lake is 10 miles round trip with 1400 feet of elevation gain. It's 8 miles round trip with 1400 feet of elevation gain if you take the shortcut Grindestone Trail. Look for a blue reflector on a tree to your right about 3 miles from the gate. There is a trail sign but it is likely covered by snow!
Once at the lake, there's an open area (summer walk up campground) which makes a great spot to have a picnic with a view of the lake.
There is not a view of Mt Rainier right here, but if you walk on the trail to the left along the lake and a short distance onto the beginning of the Wonderland Trail you'll be able to see Mt Rainier if it's clear. DO NOT WALK OUT ON THE LAKE since Washington's alpine lakes are often not frozen enough for walking on.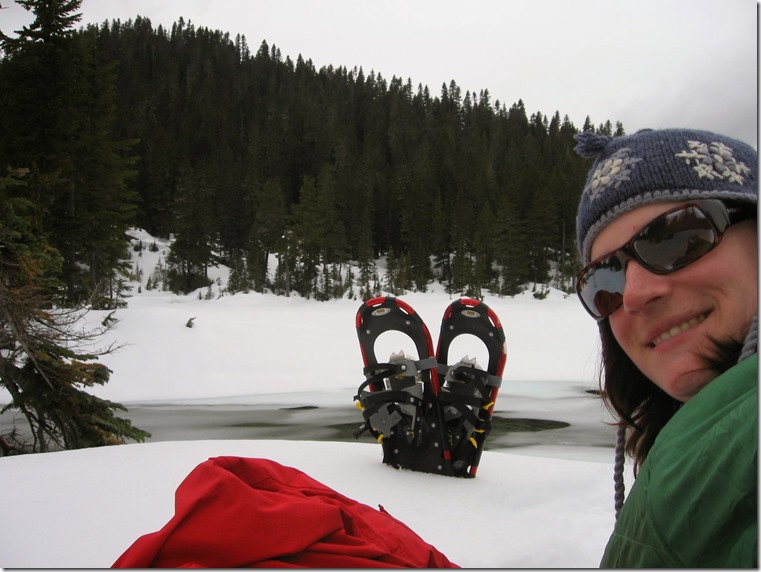 Winter camping is also a possibility here at the walk up Campground which will be covered in snow. There is a pit toilet here, depending on the snow level you may or may not be able to access it.
What to Bring to Mowich Lake
The most important thing about going to Mowich Lake in either summer or winter is that you must be completely self sufficient. There are no services, no gas, no food or water and no cell signal along the road or at Mowich Lake. Make certain to bring plenty of food and water and warm clothing (even in summer). Read more about what I bring on a day hike and what I wear for hiking in the Pacific Northwest.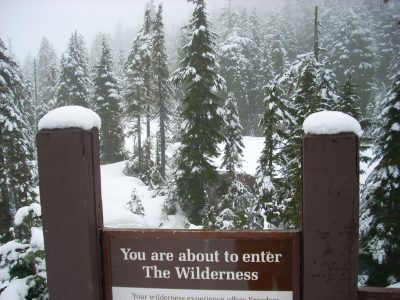 In winter, this is particularly important as there won't be anyone else there and you'll be dealing with short days and colder weather. The road is not maintained in winter so make sure your vehicle is in good condition and you have tire chains and a shovel to help you get unstuck if you get stuck! Extra food, water and warm clothes are also essential.