Lake Wenatchee Guide: Ideal Year Round Family Getaway
Posted On December 30, 2020
Last Updated on November 29, 2023
Lake Wenatchee is a large alpine lake fed by Cascade mountain snow and glacier melt. Sunny and warm in summer and cold and snowy in winter (with a lot more sun than the west side of the state!) it's an ideal year round family getaway. Every type of mountain and lake oriented outdoor adventure can be enjoyed here!
In addition to Lake Wenatchee State Park, nearby Fish Lake and surrounding areas of the Okanagan-Wenatchee National Forest provide even more room to spread out and enjoy the area if you prefer getting away from it all.
Lake Wenatchee State Park has ADA accessible restroom, picnic area and campsites.
Lake Wenatchee is the homeland of the Yakama and Wenatchi people.
Passes Needed: Lake Wenatchee State Park requires a Discover Pass in spring, summer and fall. When the park is in winter mode they require a Washington State Sno Park pass with the special grooming tag. Sno park passes are valid from December 1 – April 30th. Though Lake Wenatchee may not require them that early, you can use that to park even if they aren't grooming and requiring it yet. Nearby areas that are outside of the state park on forest service land often require a Northwest Forest Pass.
Cell Service: Spotty, there is some signal here and there
Dog Friendly: yes, on leash. In winter, the groomed cross country ski trails do NOT allow dogs (except for the Chiwawa sno park after 10am).
Related: Guide to Fields Spring State Park
Getting to Lake Wenatchee State Park
Lake Wenatchee State Park is located in Chelan County in Washington State, about halfway between Stevens Pass and Leavenworth on US Highway 2. From either direction, turn at Cole's Corner north (left coming from Stevens Pass, right coming from Leavenworth).
There is a north entrance and a south entrance to the park, on either side of the Wenatchee River. Activities available in different areas are included below.
Lake Wenatchee is about a 2.5 hour drive from Seattle. It's a four hour drive from Spokane, just over two hours from Yakima, an hour and a half from Lake Chelan and an hour from Wenatchee.
Weather and Seasons at Lake Wenatchee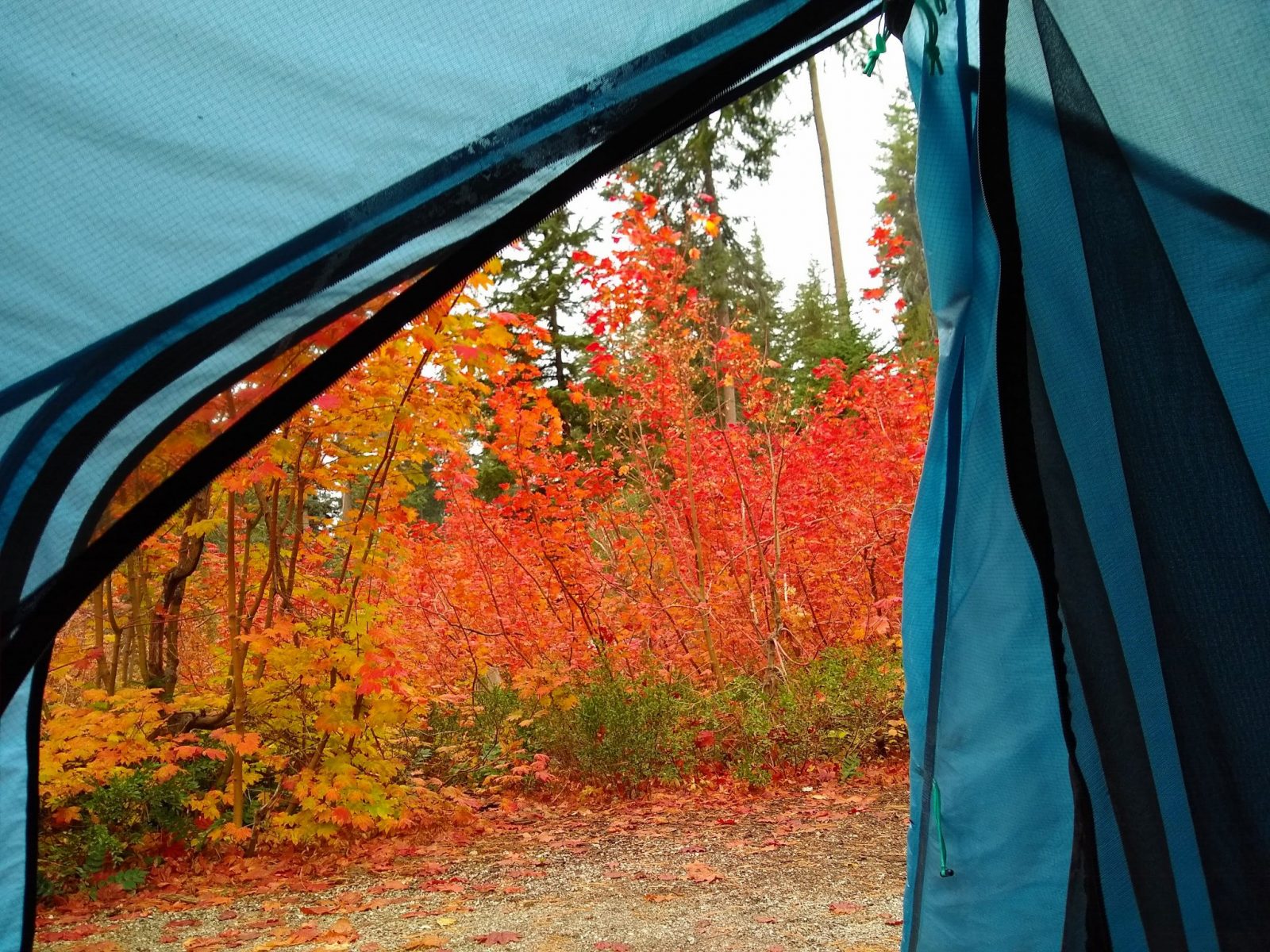 Summer (June-September) is warm to hot and generally sunny, ideal for water oriented activities. If you're a hiker be aware that mid summer days are extremely hot so plan accordingly! Trails around Lake Wenatchee melt out earlier than other mountainous parts of Washington, so this can be a good destination for big view hikes in late May and June.
Fall (October) is glorious, with warm and sunny days and cold (often freezing) nights and beautiful fall colors.
Winter (late December – early March) brings snow and colder weather, though it is not extremely cold here. The snow depth is less than nearby Stevens Pass, since it's much drier.
More details about each season are in the sections below!
Camping at Lake Wenatchee State Park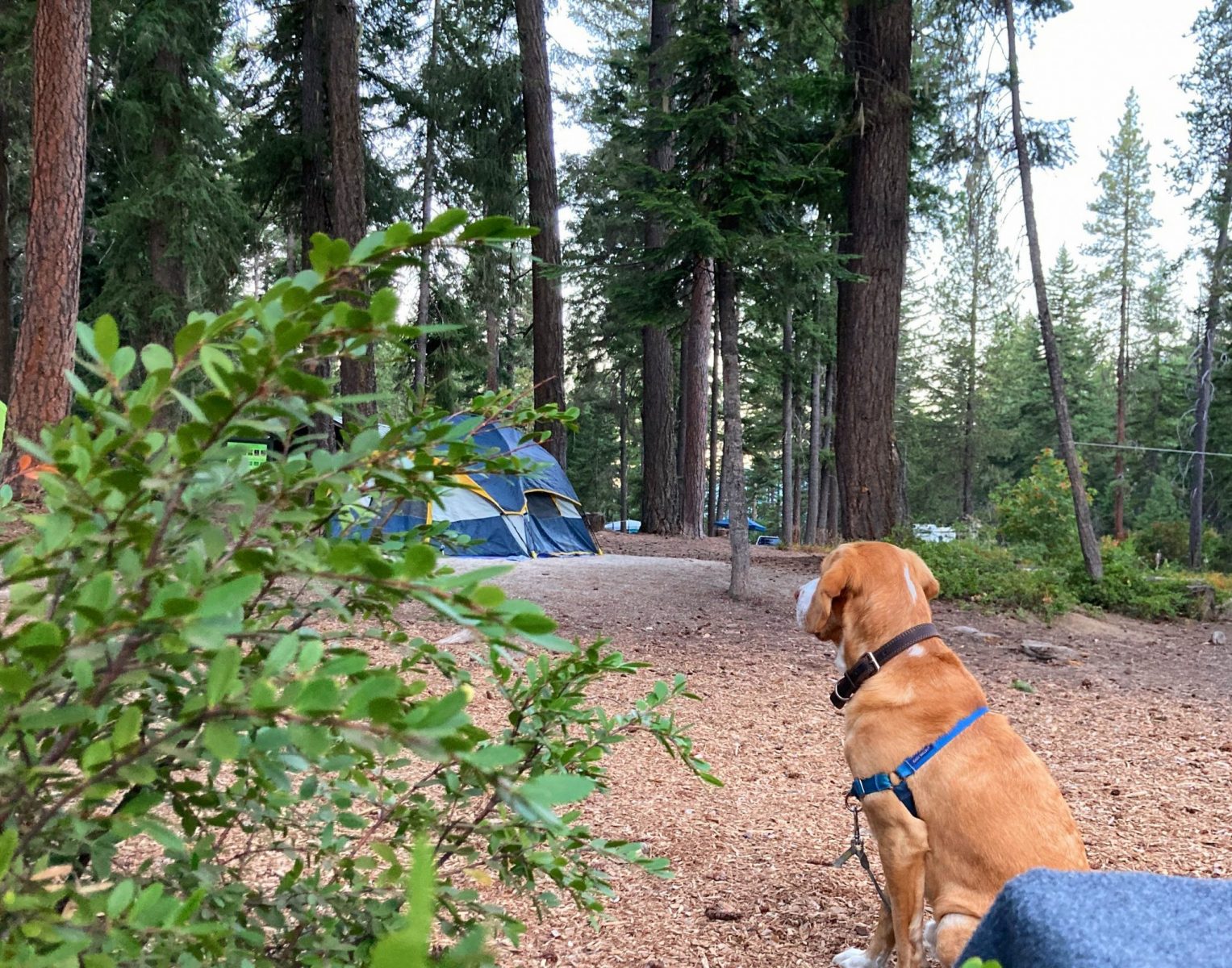 Lake Wenatchee State Park has two campgrounds, the north campground and the south campground. Both campgrounds must be reserved far ahead in summer, especially on weekends.
Both campgrounds have heated restrooms and showers. The south campground is near the official swimming beach, kayak and paddleboard rentals and the playground. the north campground is quieter, though still very busy. You can walk to a beach here that is rockier and doesn't have official services.
Outside of the state parks campgrounds, there are a number of forest service campgrounds in the area, including the Nason Creek campground which is near the south part of Lake Wenatchee State Park. The forest service campgrounds are less expensive and provide less services. They have pit toilets, fire rings and picnic tables, but no flush toilets or showers.
Hotels and Vacation Rentals near Lake Wenatchee
If you're not into camping but want to take advantage of all the fantastic year round outdoor recreation opportunities at Lake Wenatchee, no problem! There are lots of options.
Hotels are available in Leavenworth (half an hour away) and Wenatchee (an hour away).
There are lots of vacation rentals near Lake Wenatchee. Look for a vacation rental in nearby Plain, which will include properties between Lake Wenatchee and Leavenworth. There are also lots of vacation rentals in Leavenworth. If you're booking a vacation rental in Leavenworth, pay attention to the specific location. Some are right in town (walking distance to shops and restaurants but requiring more traffic to navigate). Others are in Plain or on the way to Plain. These are much closer to Lake Wenatchee but farther from shops and restaurants. Decide which situation is the best set up for your group and then pay attention to where the property you're renting is located.
Lake Wenatchee in Summer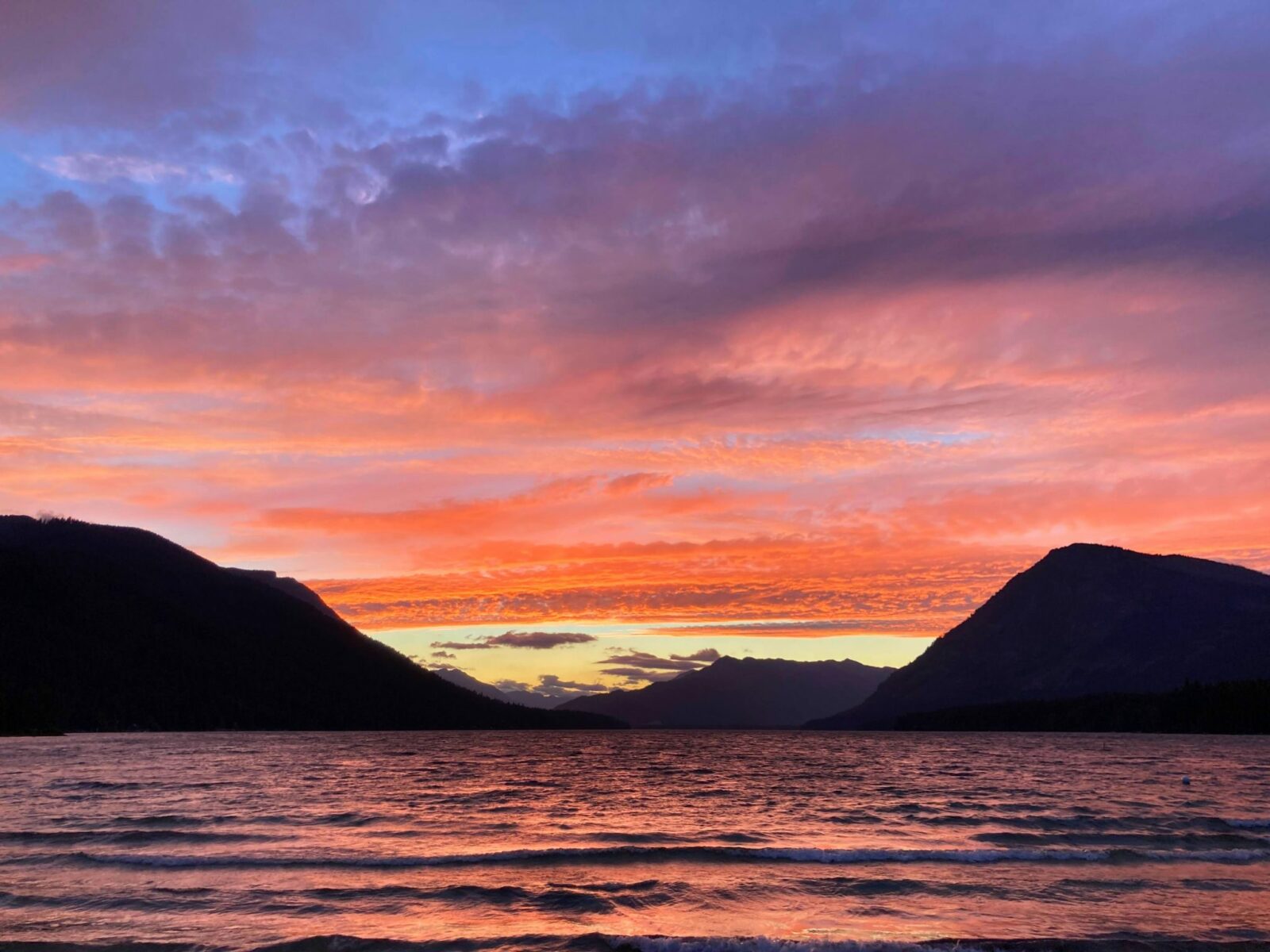 Lake Wenatchee State Park is wonderful in the summer. It gets very busy so make sure to make your reservations for camping or lodging very early! It's also a big state park with lots of surrounding national forest land so there's room to spread out.
Summer is generally quite hot at Lake Wenatchee. June through September the day time temperatures are in the 80s and sometimes 90s during the day. Nights still get much cooler so make sure to bring those warm clothes and sleeping bags!
Burn bans are common in the summer here due to the hot, dry climate and significant wildfire danger. Be prepared for a burn ban and do not start a campfire or any fire if one is in place.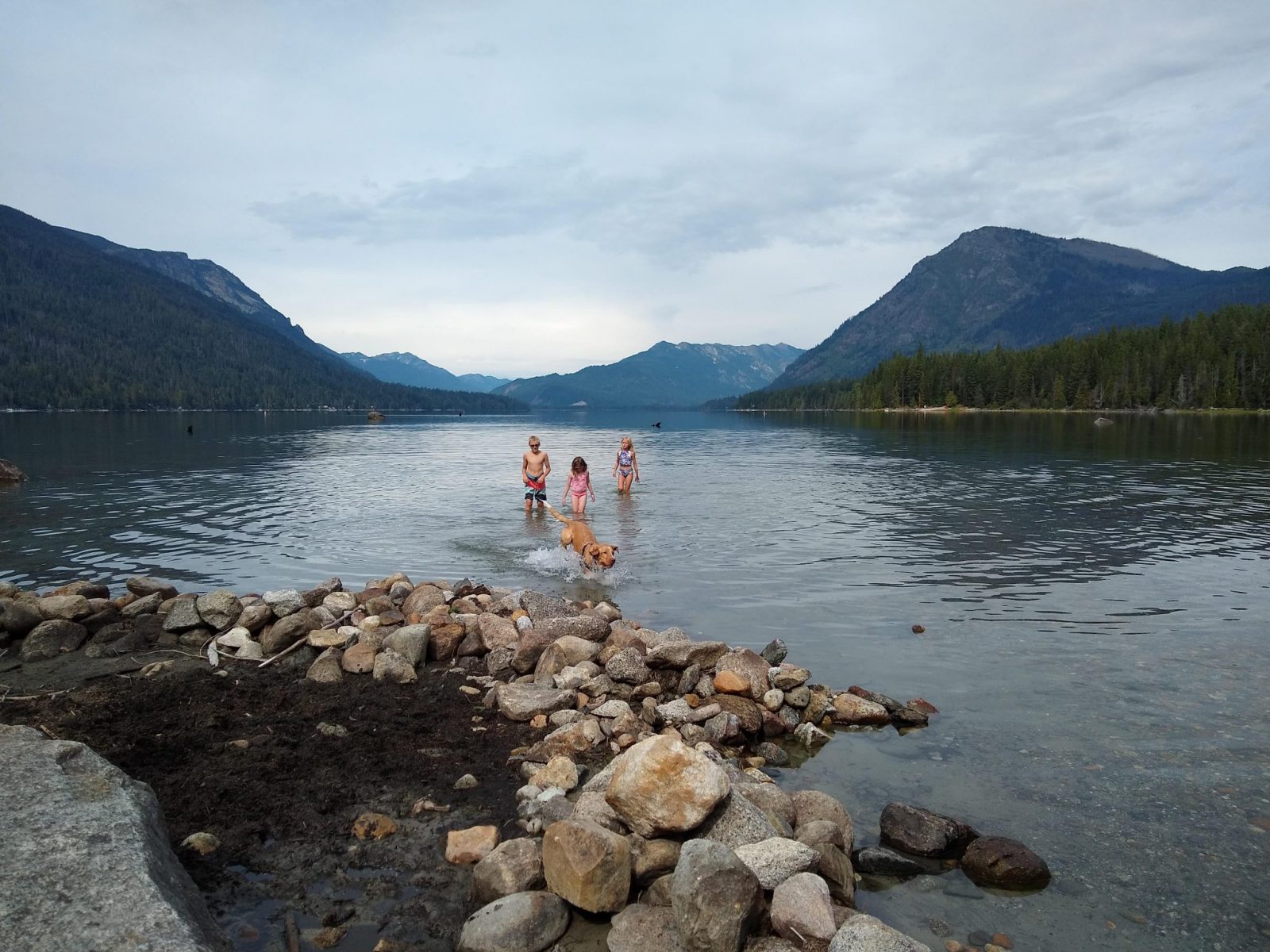 Swimming
Lake Wenatchee is a great place for swimming! The official swimming beach is located in the day use area on the south side of the park. There is a roped off swimming area that is quite shallow. If you want to get away from the crowd you can also get in the water on the north side beach. There is a sandy beach with driftwood which is a wonderful place to spend the day.
Lake Wenatchee is at times quite windy, so be aware of that especially when you're getting out of the water to dry off. It can also make the water a bit choppy at times.
Kayaking, Canoeing, Stand Up Paddleboarding
This is a great place to explore in your kayak, canoe or paddle board! If you have one definitely bring it here. The south side of the park is the easiest place to launch (closest parking to the water). You can explore along the shore, around a small island near the park and the outflow into the Wenatchee River.
If you don't have your own, in the summer there are boats available for rent at the south side to get you out on the water.
Fishing
There is good fishing on both lakes and rivers all around this area. You'll need a Washington Fishing License and to familiarize yourself with the rules and seasons.
Hiking
There are several miles of hiking trails within Lake Wenatchee State Park and if you want more there are many hiking trails in the area!
If you want to challenge yourself and get up high with an impressive view of the lake, try Dirty Face Peak or Nason Ridge. These are both challenging hikes, but even going a shorter distance will yield some impressive views. If you're on your way to a fire lookout in the Pacific Northwest, you know the view will be amazing!
Horseback Riding
You can go on a guided horseback riding trip in the park! There are five miles of horseback riding trails and a concessionaire who operates trips out of the south park.
Mountain Biking
Nearby forest service roads and trails have almost endless mountain biking possibilities. Make sure you are only biking on trails that allowing biking and on forest service roads make sure to park off the road and watch out for traffic.
Golfing
The Kahler Glen Resort has a golf course in summer (and skiing in winter, see below). If you're a fan of golf, don't miss the chance to give it a go in this alpine environment.
Lake Wenatchee in Fall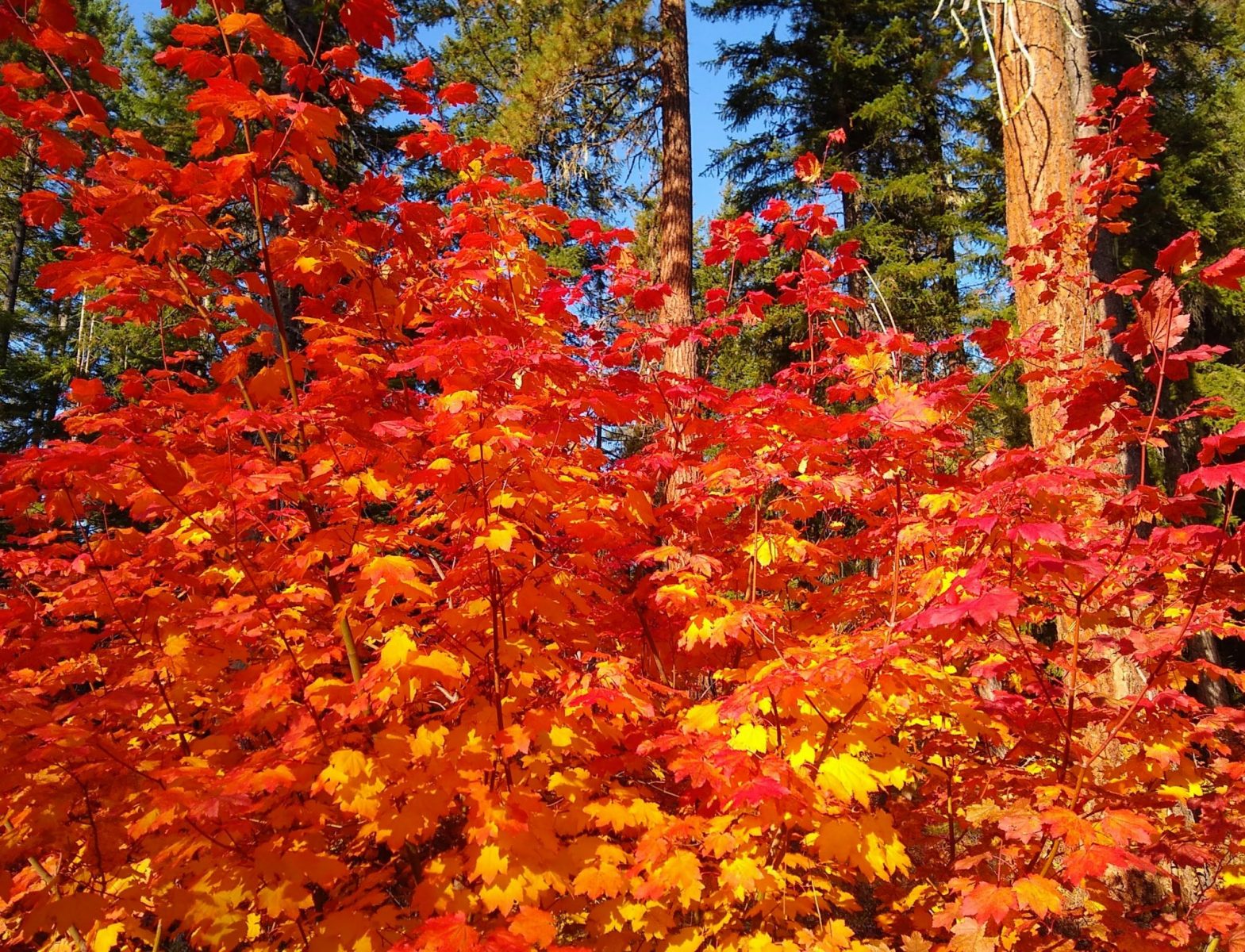 Fall is just spectacular at Lake Wenatchee! The days are still quite warm, though not as hot as the summer months. Nights are cold, often below freezing so make sure to bring lots of warm clothes and warm sleeping bag if you're camping! October is an ideal month here, with day time temperatures often in the 60s and gorgeous fall colors.
It is possible to have rain here so be sure to be prepared and check the forecast carefully.
Generally, you can continue to enjoy most of the summer activities here in the fall. Hiking is really amazing here in October, with generally blue skies and incredible fall colors. The trails within the state park have beautiful vine maples in October and Lake Wenatchee is a good base camp for some of Washington's incredible golden larch hikes.
Lake Wenatchee in Winter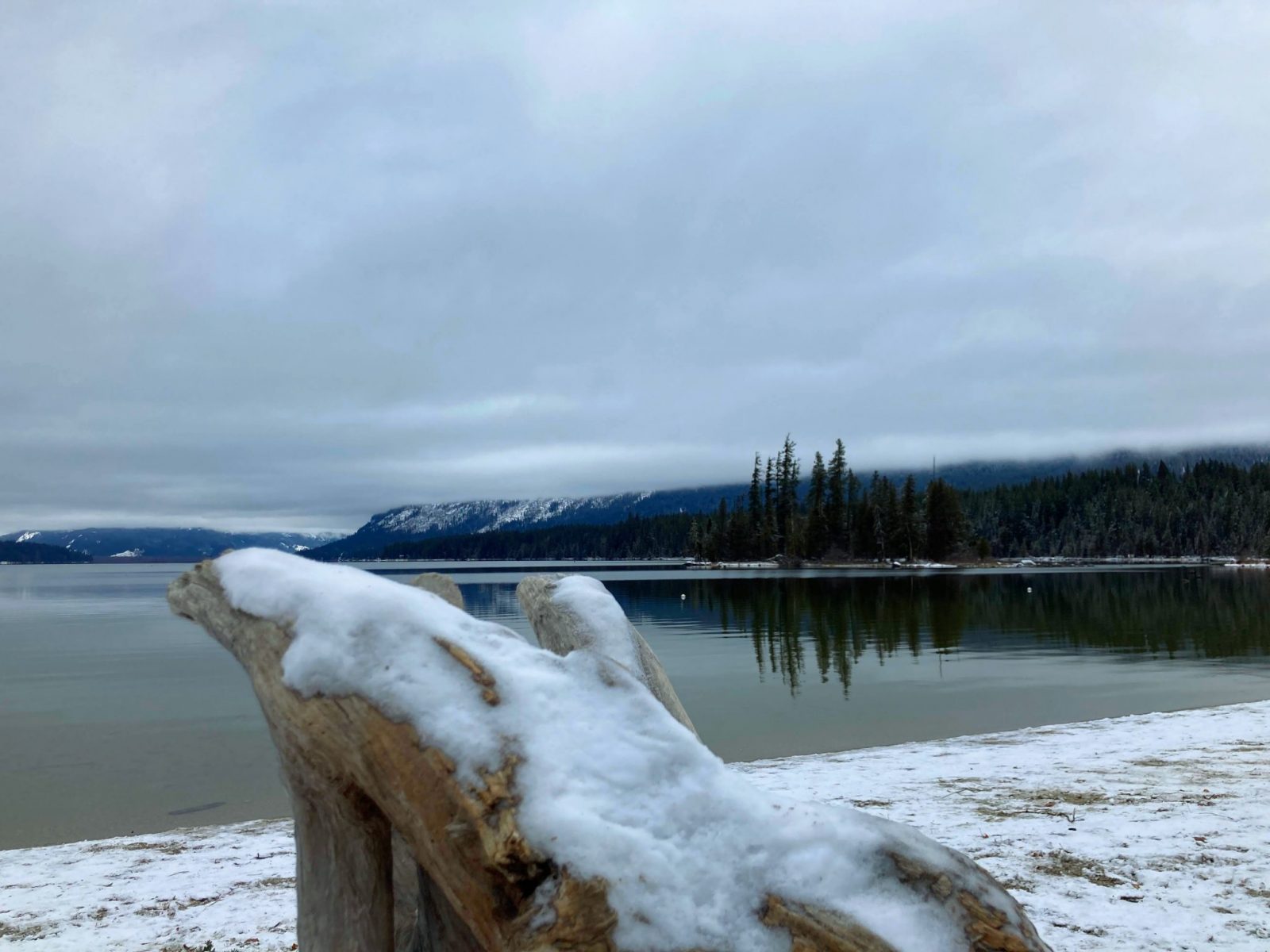 One of the most wonderful things about Lake Wenatchee is that come the winter months, Washington State Parks transforms this park into an ideal winter playground. Add that to the surrounding area's nearly unlimited winter adventure, and you have the perfect family winter getaway at Lake Wenatchee!
Winter is colder and drier than the west side of Washington State. Day time temperatues from December through February (and possibly into March) are often in the 20s and 30s. Night temperatures are generally below freezing but not extremely cold. Most years there is not enough snow for snow activities until late December or early January. January and February are the ideal time to visit Lake Wenatchee for snow activities late December around the holidays is also excellent if there's enough snow. If it's a year with a lot of snow, early March can also be a good time for snow activities.
Cross Country Skiing (Nordic Skiing)
The Lake Wenatchee State Park system has over 30 miles of groomed cross country ski trails concentrated out of 4 connected sno parks: Chiwawa, North Park (summer north campground area), South Park (summer south campground area) and Nason Ridge (includes the Kahler glen golf course). Grooming begins when there is enough snow, which is usually in late December. It ends when the snow starts melting which is usually sometime in March.
The Nason Ridge route provides the most challenge and solitude. Chiwawa is also relatively quiet and after 10am dogs are allowed to ski. South Park is the busiest and tends to be busy with other users. North Park is a good balance of these being less busy than south but still a mellow ski tour that goes through a lovely forest and along the lake.
In addition to the park's groomed ski trails, the Plain Valley Nordic Trails are seven miles away. Plain Valley Nordic has more than 15 miles of groomed ski trails and is generally groomed earlier than Lake Wenatchee Sno park. They also have lessons and rentals.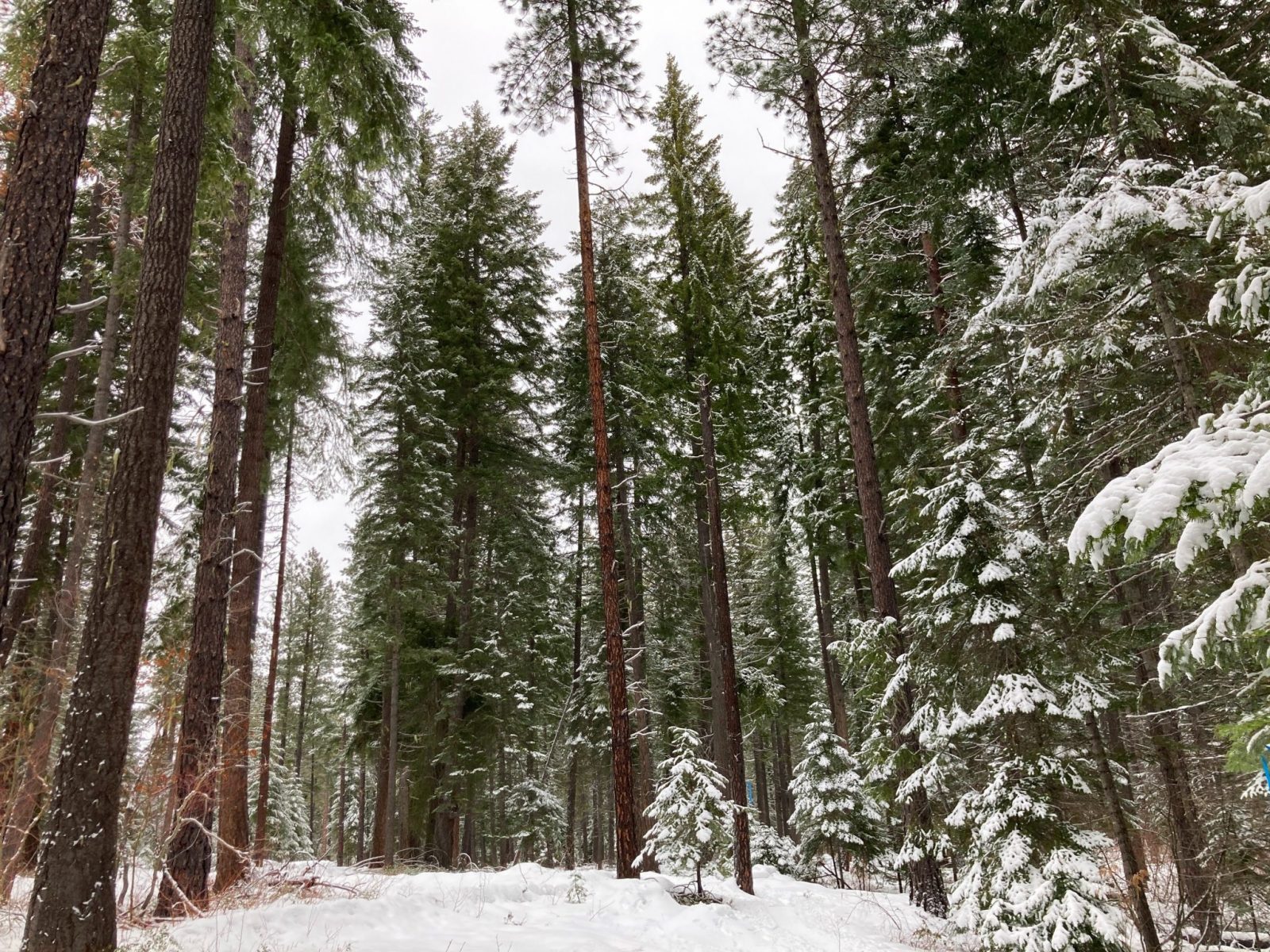 Snowshoeing
There are 12 miles of official snowshoe trails within the Lake Wenatchee Sno Park (at the same four locations as skiing). There are also snowshoe trails in the Plain Valley system.
It is extremely important to not ever walk or snowshoe on groomed cross country ski tracks. Snowshoe trails are kept separate for this reason so please stick to the snowshoeing or walking trail if you are not skiing!
The approach to Nason Ridge makes for an excellent short (less than 4 miles) moderate climb up to a view on snowshoes. There are also lots of trails within North and South park that take you through the foresst and along the lake and Chiwawa has forest and river trails.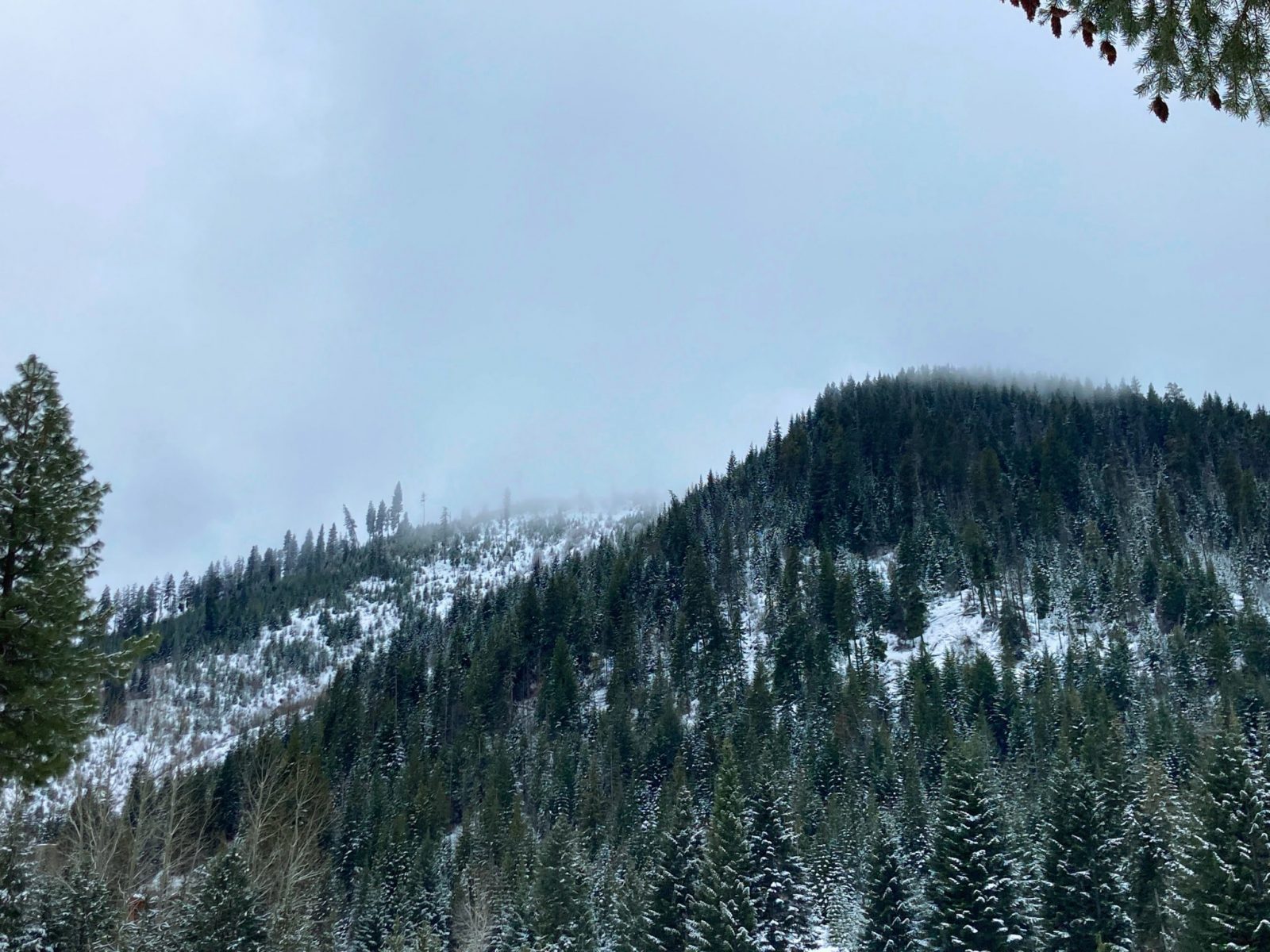 Downhill Skiing
If you're a downhill skier or have a downhill skier in your group, Stevens Pass Ski Area is about half an hour from Stevens Pass Ski Area. Stevens Pass is one of the most popular downhill ski areas in Washington.
Snowmobiling
In addition to the non motorized sno parks for cross country skiing, snowshoeing and snow play, Washington State parks also maintains a network of motorized sno parks for snowmobiles. If you have your own snowmobile, this is a great place to go with an extensive groomed network near Fish Lake and the mountains around.
You can also rent snowmobiles and go on a snowmobile tour if you want to try it out!
Snow play and Sledding
South Park at Lake Wenatchee has a sledding hill near the lake and there is lots of snow play opportunity around it for building snowpeople and more!
It is extremely important to stick to places where sledding is allowed and not sled on the trails. This is one of the few places in Washington that is well set up for sledding so take advantage of it.
Winter camping/Snow camping
If you want to take on winter camping or try out snow camping for the first time, this is a great place to try it. You can drive right to where you want to camp and there are heated restrooms with showers nearby!
The normal campgrounds are closed in witner to accommodate the trail systems, but a portion of the south park day use area is transformed into a winter camping area for those who want to camp on the snow.
Sleigh Rides
Horse drawn sleigh rides are available at the Mountain Springs Lodge in Plain. Sleigh rides stop for hot cider too!