Cowiche Canyon winery hike
Posted On April 16, 2018
Last Updated on April 26, 2021
What's not to love about a short, sunny hike to a winery? The Cowiche Canyon winery hike is a wonderful year round escape for Seattleites (especially in the spring and fall). This is one of my favorite hikes in Washington. It's in the town of Yakima, about 3 hours from Seattle, the place of the Yakama people. This hike is 6 miles round trip with about 100 feet of elevation gain.
If you're tired of waiting for it to stop raining in Seattle, late winter and early spring is a great time of year to head over to Eastern Washington and take in a bit more sun and warmer temperatures (make sure to check the weather forecast because even though Yakima has a sign that says it's the Palm Springs of Washington, it is not actually Palm Springs, and it is possible that it could be raining there too). Wildflowers here are spectacular in Spring!
Dog Friendly: Yes, on leash
Parking Pass Needed: None
Cell phone coverage: Good
Accessibility and Mobility: The flat trail along the bottom of the canyon is gravel and wide. If you go up to the winery, you'll be going up the side of the canyon which is steeper and climbs up about 100 feet of elevation. This section has some rocks as well but is generally in excellent condition.
Restrooms: There is a porta potty at the trailhead.
Related: what to wear for a hike in the Pacific Northwest, what to pack for a hike in the Pacific Northwest
Is the Cowiche Canyon Trail right for me?
This is a great trail for those who want a mellow walk (you can keep it entirely flat by staying along the bottom of the canyon). It's wonderful for wildflowers in spring and fall colors in the fall. It's also a great experience for wine lovers, since you can literally hike to a winery!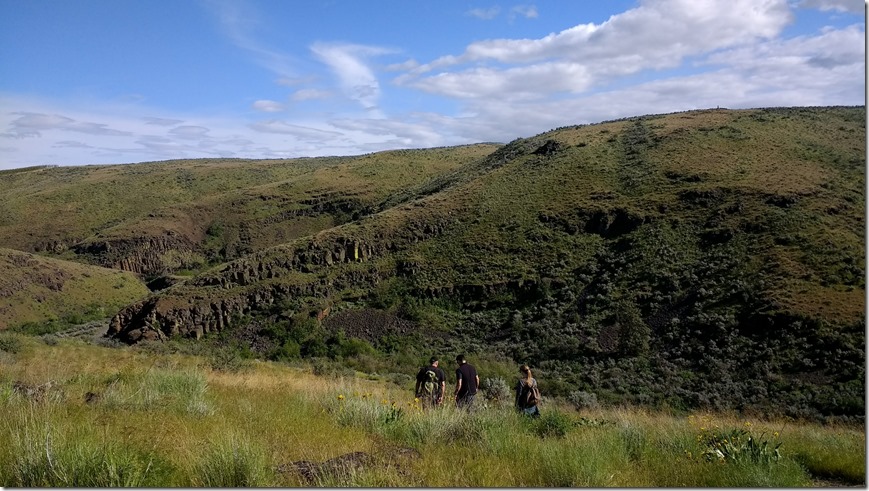 Where is Cowiche Canyon?
Cowiche Canyon is located near Yakima in Central Washington, about a two and a half hour drive from Seattle. From I-90 (from either Seattle or Spokane), take I-82 towards Yakima and then US Highway 12 west. Get off at the Powerhouse Road exit and then take a right on Cowiche Canyon Road and follow it to the end of the road and the parking area.
Trail Description
Start on a flat, wide trail among trees and along the creek through the canyon. Look up to see columnar basalt lining the walls of the canyon and keep an eye out for birds (I've seen an owl here!).
After about a mile, just past a small bridge over the creek, you'll see a trail going up the side of the canyon. Sometimes it has a sign for the winery but I've also seen it without the sign up. This is where you want to go up for the winery.
You can also continue a couple more miles up the canyon and then come back to this spot and head to the winery if you prefer the full length of the hike.
Heading up the side of the canyon, you'll see wildflowers in spring and bushes turning red in fall. Keep heading up and soon you'll find yourself coming up the top of the canyon and seeing impressive views all around and more wildflowers.
You'll soon find yourself in the middle of a vineyard and shortly will arrive at the Wildridge Winery. They have lots of space for picnicking and you can do a wine tasting and buy wine to accompany your picnic. You'll be surrounded by vineyards as well as apple orchards. It's a wonderful way to experience Washington wine country!
When you're ready to leave, head down the hill towards the canyon again, this time turning left when you reach the main trail at the bottom of the canyon to return to your car.
Where to stop after the Cowiche Canyon hike
After your hike, there are lots of other vineyards around Yakima as well as U Pick produce in season. A great place to catch a meal afterwards is Los Hernandez (super famous now for their amazing tamales – my favorite are the asparagus and pepper jack ones they have in April and May season). Another good option is the taco bar inside the La Fiesta grocery store.
Electric Vehicle Charging
There are several places with fast charging in Yakima as well as Ellensburg and several other places along I-90.