What to Wear for a Hike in the Pacific Northwest and Alaska
Posted On September 11, 2020
Last Updated on November 16, 2023
This post is all about what to wear for a hike in the Pacific Northwest and Alaska. As I talked about in my post about hiking for absolute beginners, you don't need a lot of gear to get started with hiking. You may not bring the exact same things I do. Different people have different preferences for what to wear also, so use this as a guide and then adapt as you learn what works for you!
Generally I'm considering summer to be June through September and winter to be November through March. In April, May and October I bring some combination of the summer and winter things. It's important to note that the Pacific Northwest and Alaska have many different climates, from wet and cool (or cold) in Western Washington, Coastal British Columbia and Southeast Alaska, to hot and dry summers in the Inland Northwest, Interior British Columbia, the Yukon and Interior Alaska. That said, it's possible for it to be cold and rainy anywhere in Alaska in the summer, or anywhere in the Coastal Pacific Northwest. Interior climates can also be extremely cold in the winter.
Bottom line: Use this as a guide, but always check the weather forecast for the area you will be hiking in and be prepared.
This post contains affiliate links, which means if you make a purchase I may receive a small commission at no additional cost to you. As an Amazon Associate, I earn from qualifying purchases
What I Wear for a Hike in Summer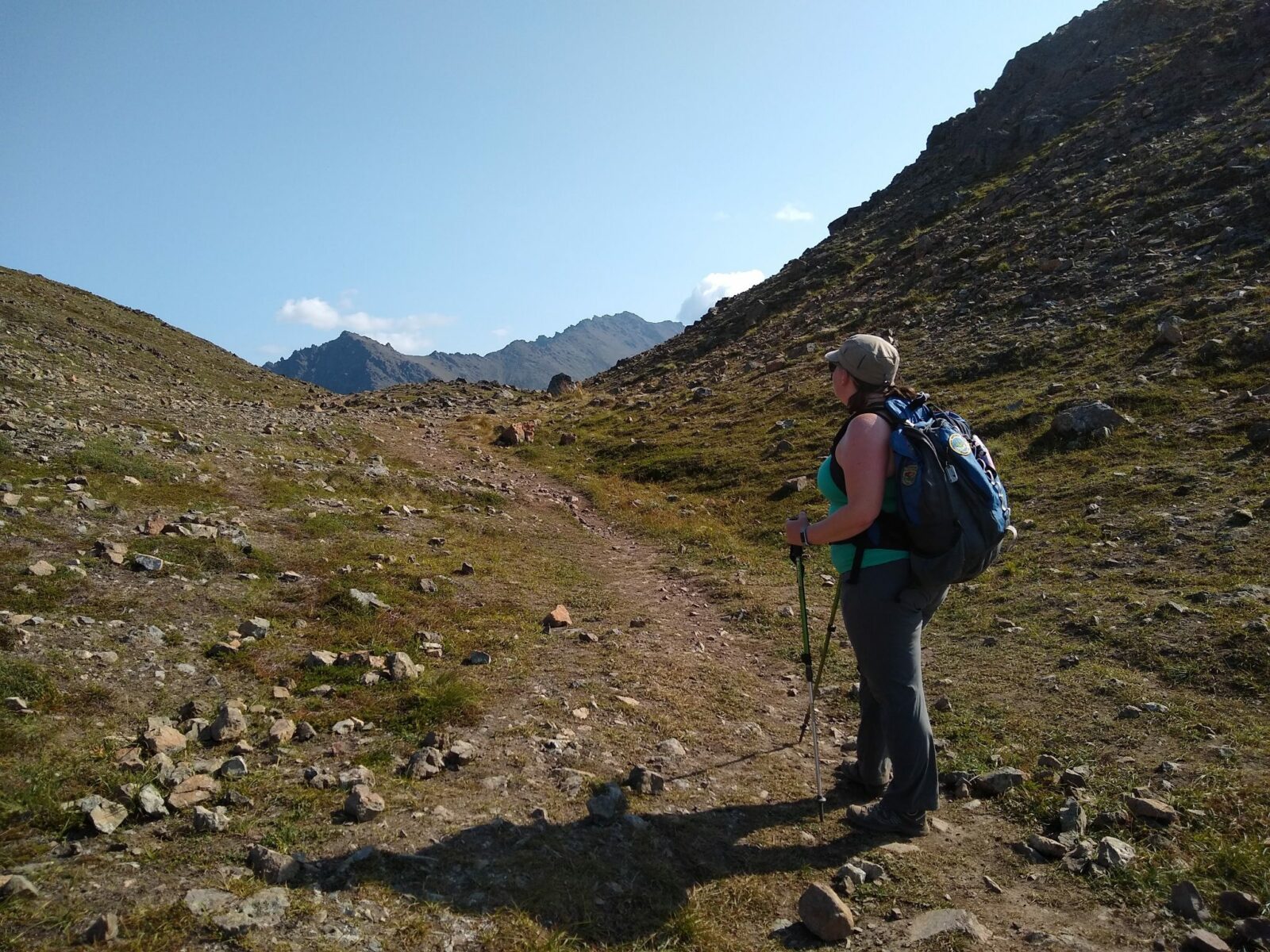 Best Summer Hiking Shoes
I always wear shoes for a hike in summer instead of hiking boots. I get terrible blisters wearing hiking boots and I've adapted to shoes (or rubber boots, more on that below). They are also lighter and cooler than boots. I love Merrell Moab hiking shoes and that's what I recommend!
Many people prefer the ankle support of hiking boots and if that's you, I recommend the same Merrell Moab's but the boot version instead of the shoe version. Make sure to get the waterproof ones!
Best Summer Hiking Socks
I like the lightest, thinnest wool socks possible and these are my absolute favorite summer hiking socks. If you're wearing boots or just want something thicker or taller, try these super popular and indestructible hiking socks at REI. The most important thing is to not wear cotton socks on a hike, because if your feet get wet you'll be really miserable! Socks seem like a small thing, until your feet are wet!
Best Women's Summer Hiking Pants
So many people I know swear by these convertible REI zipper pants (plus, petite and tall sizes also) that quickly go from pants to shorts! I have to recommend them because so many people love them. Personally, I find them a little too balloony and I don't like feeling the zipper against my legs!
I prefer very lightweight pants that are not convertible. Especially for curvy, plus size women like me. My absolute favorite summer hiking pants for women are the Columbia Saturday Trail Pants. They are available in regular, long and short and plus sizes up to 24W. They are very durable (I've worn them three seasons as a guide and still going strong) and super light weight. Even though they aren't convertible they do roll up with snaps to capris. Read all my recommendations for hiking pants for curvy and plus size women here.
I prefer pants to shorts for the trail because:
I've determined that they are cooler (field tested in some pretty hot places such as the Grand Canyon in the summer and an archaeology field camp on the island of Corsica), at least if the pants are very lightweight (as these are)
Less bug bites! And less places to apply bug spray
No need to put sunscreen on your legs
Protect your legs from brush along the trail
Don't ride up and need to be constantly adjusted (maybe that's just me!)
If you prefer shorts or a skirt or dress or leggings or convertible pants then go for it! Hiking pants are a very personal preference!
Best Summer Hiking Shirt
Honestly, you can wear any comfortable shirt hiking in the summer! There's no need to get anything special. I usually hike in a tank top. Wear whatever shirt is most comfortable. Make sure to bring a rainjacket along in your pack (my rainjacket just lives there in the summer) and an extra layer in case the weather changes or you get cold taking a break! See more about rain jackets and layers in the winter section. I usually bring along a lightweight button up shirt for bug and sun protection that I can pull on over the tank top if needed.
I highly recommend the Columbia Silver Ridge shirt for this (here on Amazon, here at REI). Read more here about my favorite hiking shirts!
Don't forget the rainjacket! Even in Summer
I keep my rainjacket in my pack in the summer and that way I never need to remember it and I always have it just in case. See more details below for the two I recommend, the REI XeroDry and the Marmot Minimalist.
What I Wear for a Hike in Winter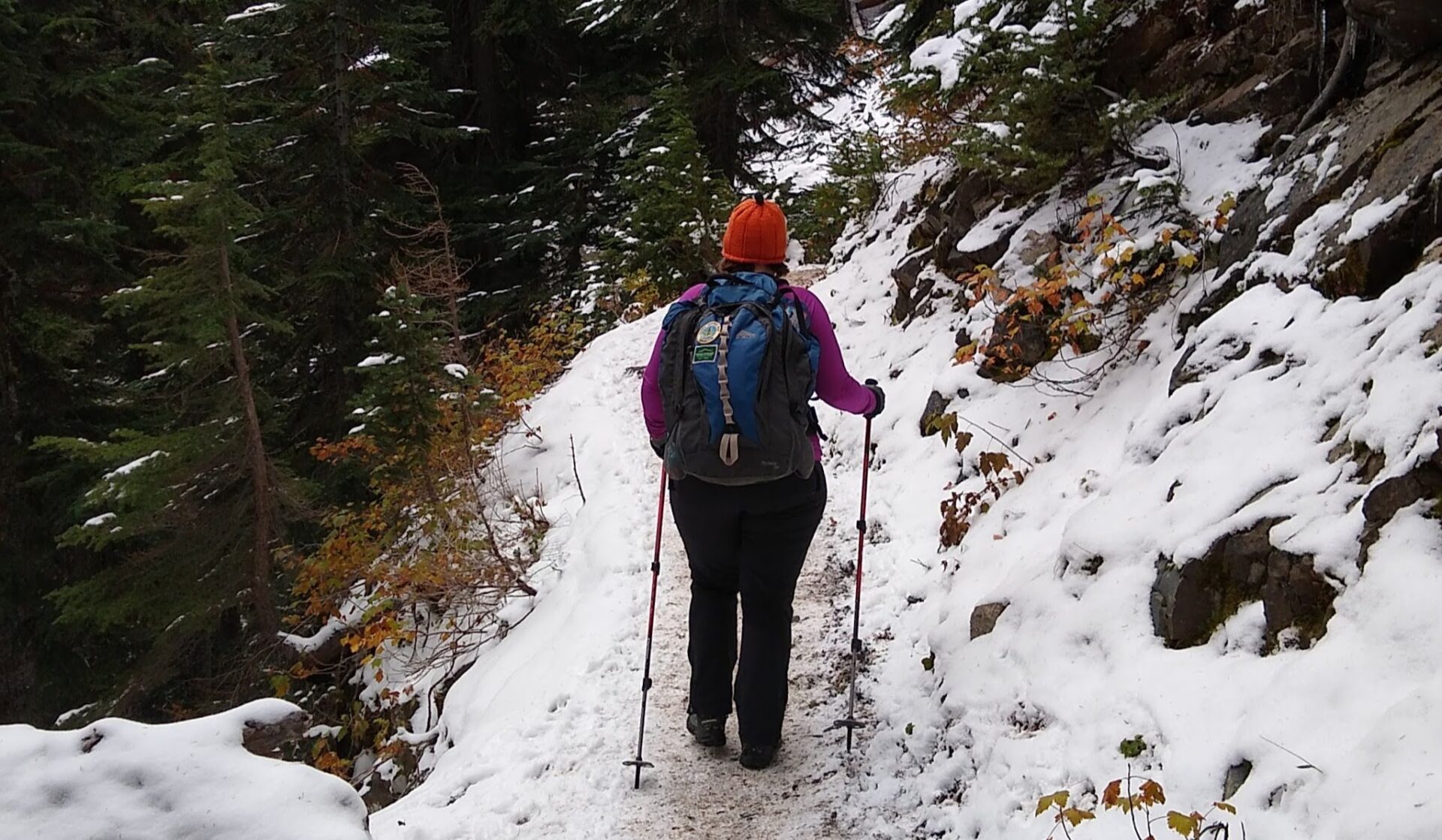 One of the best ways to hike more often and avoid crowds hiking is to head out on the trail all year! In winter it's a bit more important to have the right clothes in order to stay dry and warm. There are three kinds of winter in the Pacific Northwest and Alaska – wet and not that cold (Western Washington, Coastal British Columbia, Southeast Alaska and sometimes Southcentral Alaska), drier and cold (Eastern Washington, Interior British Columbia, sometimes Southcentral Alaska) and VERY dry and VERY cold (Northern British Columbia, Yukon and Interior Alaska) .
An important part of staying comfortable in winter is dressing in layers. You'll still warm up when moving so make sure you always have at least one layer warmer to wear on a hike in winter than you think you'll actually wear.
Related: Complete Guide to hiking in the rain
Best Boots to wear for a Hike in Winter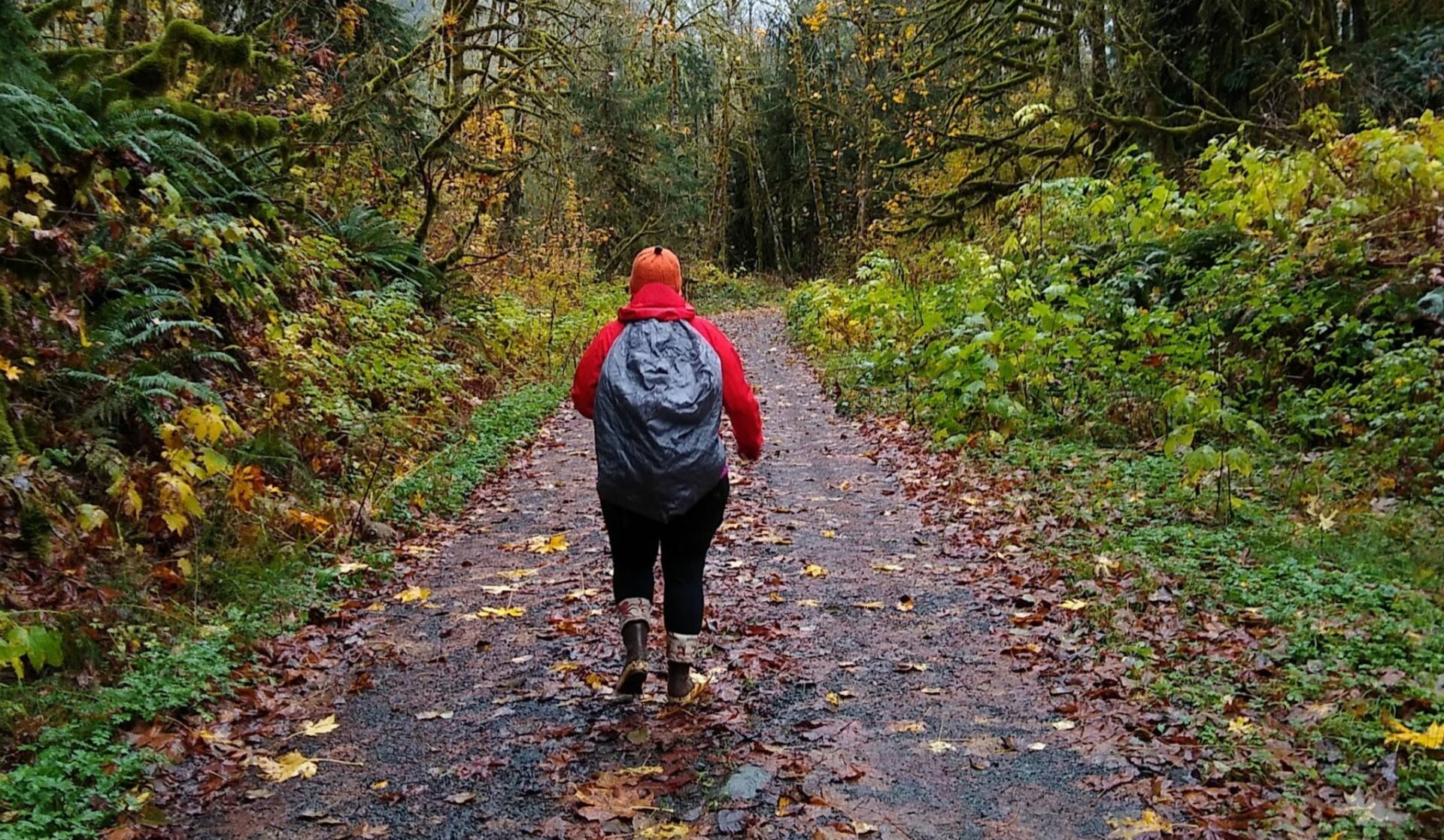 It depends a lot on where you are and what the weather is doing! In many cases you may be able to wear the same footwear that you wore in the summer, with warmer socks. A couple of other options that I depend on are
Rubber Boots
If you get the right rubber boots, they are perfect for winter hiking in the Pacific Northwest! Mud and water over the trail are no problem at all (see photo above). I've hiked in them extensively and they are extremely comfortable. I love the fun patterns of the Salmon Sisters ones, but you can get plain brown ones too.
Snow Boots
These Sorel boots are really comfortable for walking and super warm while still being waterproof. I can't wear these unless it's really cold, but in the mountains when there's snow, or on cold winter days in Eastern Washington, Interior British Columbia or Alaska these are perfect.
Microspikes/Traction for Feet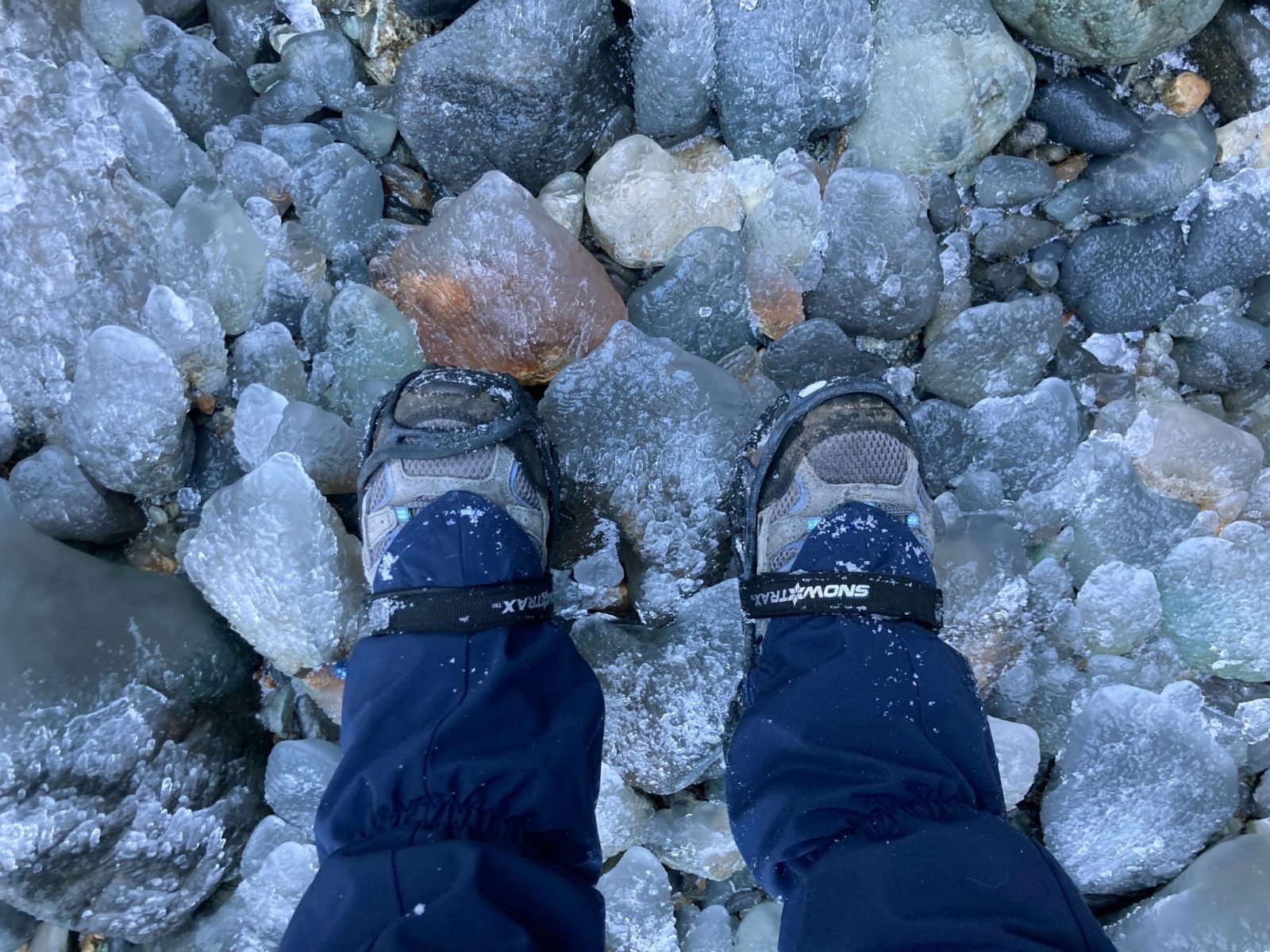 Often on winter trails it can be really helpful to have some type of traction for your feet. If there isn't enough snow to need snowshoes, or if it's packed and really icy (often in Washington winters!) microspikes can be really helpful.
Microspikes are like studded snow tires for your feet and you can slip them over any shoes! I carry mine in my pack all winter so I can always put them on if needed.
This is not a piece of gear that needs to be expensive. An inexpensive pair works great. The important thing is that they have short metal spikes on the bottom and attach to your shoes. If they do that, they'll be perfect!
Best Winter Hiking Socks
In winter it's extremely important to have wool socks. They stay warm and not totally miserable when wet and they're as warm as you can get! Again, you might be able to wear the same socks as in the summer, especially if it's a mild day near Seattle. More likely, you will need something warmer.
If you're wearing rubber boots – nothing beats knee high smart wool socks! These can also serve as a layer underneath other socks
If it's super cold – if it's really cold, these are the warmest socks I've ever encountered. Warning: If it's not actually cold you will sweat in them!
Best Pants to wear for a Hike in Winter
The right pants will once again be determined by the exact weather you're encountering and what is comfortable for you.
My go to winter hiking pants are these leggings from Amazon. They are incredible. They are comfortable, relatively warm and go perfectly under rain pants or snow pants if it's cold or wet enough for those. They stay in place and have an awesome pocket! There's also a fleece lined version of them that I love. The design is slightly different (no side pocket but they have a pretty good top pocket).
Soft Shell Pants
Soft shell pants are a good option if you need something a bit warmer than leggings but not bulky snow pants. They also repel quite a bit of water which is helpful if it's not wet enough to wear rain pants.
I am a big fan of these soft shell REI pants, which come in regular, tall, petite and plus sizes (up to 22).
For a warmer version, but still not too bulky, try these Baleaf winter hiking pants. I wear these down to quite cold temperatures in winter in Alaska and they are usually fine for me (if you tend to get cold, see snow pants below). Get one size bigger in these pants than you normally wear.
Rain Pants
I don't normally like rain pants, they are really hot and clammy! I usually only wear them if I'm going to be sitting in the rain and not moving too much (backpacking, boating) or if it's really buggy (rain gear makes for excellent bug protection!). These REI ones are the best rain pants I've found, they are certainly waterproof, pretty comfortable and not too clammy and in plus sizes (and petite and tall) too. I bring them snowshoeing so I can put them on to sit down.
Snow Pants
It has to get fairly cold for me to appreciate moving in bulky snow pants, but if it's cold they're so helpful! For many years (including winters in Fairbanks, Alaska) I had a cheap pair of big snow pants from Fred Meyer and they worked just fine. I had to replace them a lot since they weren't super durable. A slightly elevated version of that idea is these Columbia ones (plus size here) and they are pretty great! I recommend wearing leggings or tights under them, it's much more comfortable.
Best Winter Hiking Jackets and Tops
I recommend long sleeves in the winter because it's more comfortable under a coat. A light long sleeve layer is really comfortable when you get hot while hiking, even on cold days! For winter, it's helpful to have a base layer, and insulating layer and a waterproof layer:
Baselayer
Look for a long sleeve wool or synthetic shirt to wear next to your skin. I've used lots of long sleeve synthetic workout tops from Target or Amazon and they work great! If you spent a lot of time outside in winter I do think it's worth investing in a wool baselayer. They are expensive, but they also last a long time. If you're looking for a wool baselayer, I recommend the Smartwool 250 weight ones. REI has them in plus sizes but unfortunately Amazon only has straight sizes.
Warm Insulating Layer
This will vary a LOT based on the weather. It might be as light as a fleece or as warm as a puffy jacket. Whatever you have and makes sense for the weather will work. Make sure you have a layer warmer than you think you will actually wear! If it's a down puffy jacket, make sure you have it in a stuff sack (or use a pack cover) so it stays dry. The fleece isn't as warm but it stays warm if it gets wet! This Columbia jacket is a great option and REI has plus, petite and tall sizes. It also comes in a ton of colors.
Waterproof Rain Jacket
If you're in the Interior of Alaska, the Yukon or parts of Northern and Eastern British Columbia or Eastern Washington, it might make more sense to just have a really warm puffy coat instead! Everywhere else, make sure to have a rainjacket. I like to size up in rain jackets so there's plenty of room for warm layers underneath. Look for a Goretex rainjacket in a bright color than has a hood and some ventilation, including pit zippers. I highly recommend this Marmot rainjacket on Amazon which has held up for more than three years of heavy use and doesn't look worn at all!
Another excellent option is the REI Co-op Brand rain jacket in straight and plus sizes!
Best Winter Hiking Hats and Headbands
The best winter hiking hat is any wool hat you have that's comfortable! I like to wear a light one and keep a really warm one in my pack.
I also love smartwool headbands (get it here at REI and here on Amazon) if it's cold because I get really hot hiking. It's nice to have something not too hot that covers my ears.
I am also a big fan of the buff in summer and winter! It's nice to have something around your neck and you can also pull it up over your face to pass others on the trail. Get one here at REI or here on Amazon.
Best Winter Hiking Gloves
I would recommend wearing whatever gloves you already have and find comfortable! You do not need a special pair of gloves just for hiking and snowshoeing in the winter.
I like to use thin tech gloves like these. They are thin and you can use your phone with them on. I also bring a pair of mittens in my pack in case my hands get really cold that will warm them up fast! No need for anything special, any pair of mittens you already have will work great.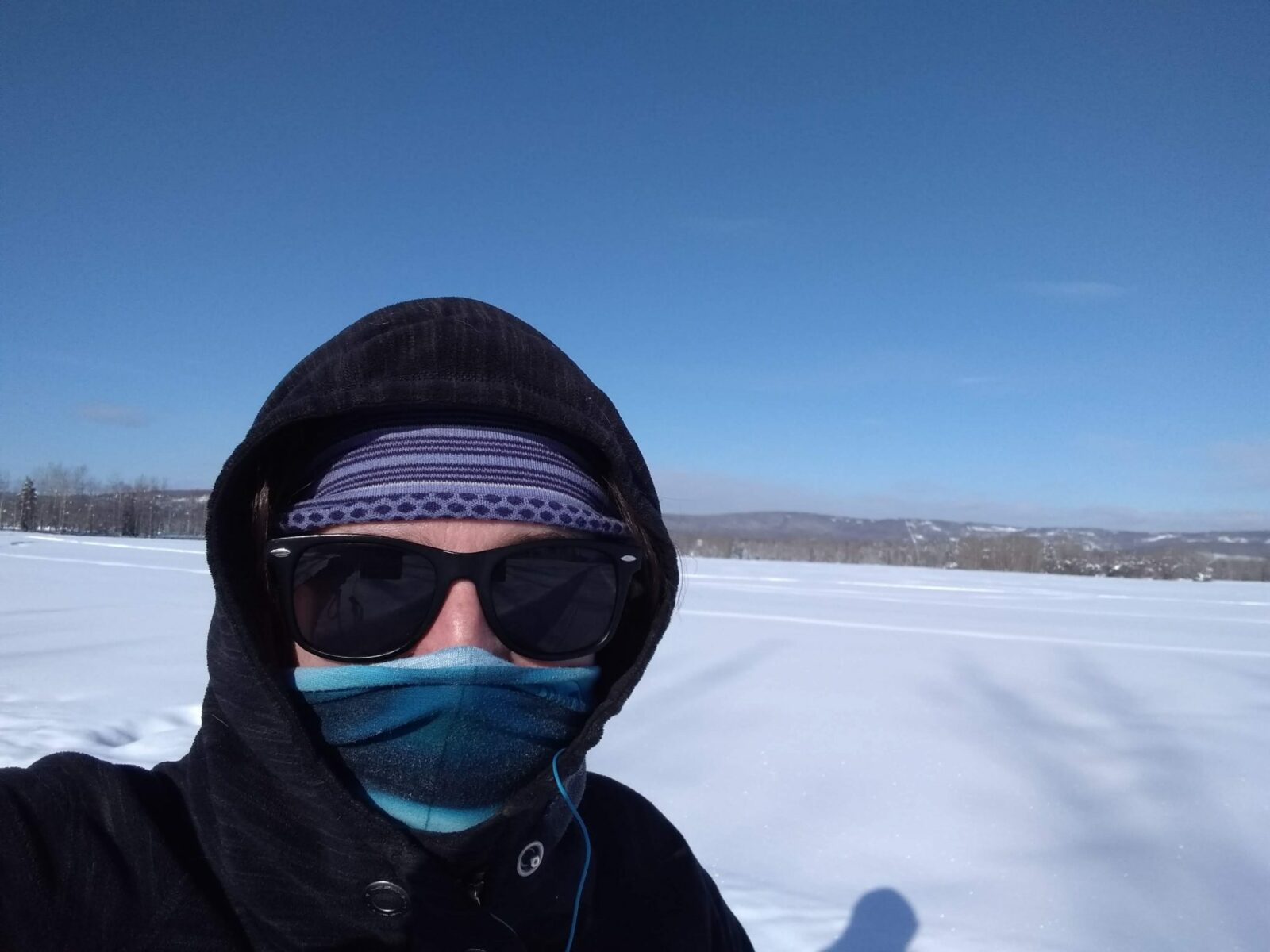 What I wear Snowshoeing
For snowshoeing, I wear pretty much the same thing as winter hiking. I wear the same pants, tops, jackets, gloves, hat, etc. Layers are especially important snowshoeing because most people get really hot when they're moving but cold taking breaks. Make sure you have at least one more layer than you think you'll wear while moving. The main difference in what I wear snowshoeing is my footwear and of course, snowshoes! I also always bring my rainpants in my pack so I can put them on for breaks when I might be sitting in the snow
Best Footwear for Snowshoeing
This depends a bit on the weather and your preference, but the one thing I would NOT recommend is rubber boots. I love my rubber boots and wear them on lots of hikes, but they are not ideal for snowshoeing because they aren't very rigid. The Sorrels mentioned above are a good option if your feet tend to get cold, otherwise wear the same boots or hiking shoes that you would wear for a hike without the snowshoes. Snowshoes work with almost any shoe!
Gaiters are really helpful for keeping your feet dry, especially if you wear shoes instead of boots like I do. Gaiters are a waterproof cover that straps around your shoe (any shoe or boot) and covers your lower leg. They are extremely helpful for keeping snow from coming over the top of my shoes! Many people who wear hiking boots snowshoeing also find gaiters helpful.
Best Snowshoes for Beginners
If you want to try out snowshoes before you commit to buying them, you can do rent them at REI. If you do this I recommend getting a reservation. You can also borrow snowshoes from the rangers if you try one of the rangers snowshoe programs available at Mt Rainier or Olympic National Park.
If you're ready to buy a pair of snowshoes to start snowshoeing, there are many different options. To keep things simple, there are two specific models I recommend for beginners. Snowshoes are not super technical and most people do not need expensive mountaineering ones.
I have had snowshoes for 20 years and I have also led tours on snowshoes and these are the ones I recommend:
Atlas Snowshoes (get them here at REI): The Atlas ones are the style that has a metal tub and crampons (metal ice grippers) on the heel and toe. They are pretty easy to put on over any footwear. I have had Atlas snowshoes personally for 20 years and they've been used a lot! Last year the bindings finally came apart (after 19 years of heavy use) and since they have a lifetime guarantee, Atlas sent me a new pair!
MSR Snowshoes (get them here at REI or here on Amazon): These are the most common snowshoes you see as rentals (this is what you will get if you rent from REI) and the ones I used as a tour guide. They are a slightly different style and have a metal piece that goes along both sides. They are also pretty easy to put on and work great!
If you're looking to get started with snowshoeing, read my beginner's guide here!
The Best Sports Bra for Big Boobs, Anti – Chafing and Underwear
Finally a word about sports bras! Everyone has their preferences and you may already have a favorite! If you do, I highly recommend continuing to wear what already works for you! If you're looking for one that works, after discovering the Natori Yogi Sports Bra I've never looked back. It's a real bra (you can also wear it for non sporty things) and it's super comfortable, even for a long day on the trail. These bras are also super durable and last a long time (longer than my other bras!).
If you struggle with chafing (skin rubbing against other skin causing pain!), I've had really good luck with Body Glide as well as Monistant Chafing Relief powder gel. I like the feel of the Monistat powder gel better, but it doesn't last as long and the tube is small. Body Glide is a little less comfortable to put on your skin but once it's there it lasts much longer, especially if you're sweaty.
As for underwear, I've always had good luck with the normal underwear I wear everyday. For me, different underwear for hiking hasn't been necessary.
Make sure to also read my post about what to bring in your pack on a hike!