Mt Rainier Summer Day Trip with Less Crowds
Posted On July 18, 2018
Last Updated on January 8, 2022
A Mt Rainier Day Trip from Seattle during the summer is an incredible way to spend the day! Summer in Mt Rainier is mid-July through September. During this time, all the roads are open, most of the easy and moderate hiking trails will be snow free and this is the driest and sunniest part of the year. You'll either see wildflowers (late July and early August) which transition early to fall color (September).
This is a very popular time at Mt Rainier, and this itinerary avoids crowds as much as possible. See this post for more tips on avoiding crowds at Mt Rainier and other parks! If you only have one day to spend in Mt Rainier during the summer, make this itinerary your Mt Rainier summer day trip.
I recommend bringing food and drink to get you through the day (including dinner) so you can avoid the mediocre and crowded food options in the park (unless you're making the full loop and you want to have dinner at the Paradise Inn, a scenic, charming and expensive splurge).
Related: Ultimate Washington National Parks Road Trip Itinerary
Getting started on a Mt Rainier Summer Day Trip
To start the day, get your favorite coffee and hit the road on Highway 410 towards the east side of the park as early as possible. You'll pass through Federation Forest State Park, a great place to stop for a restroom break and stretch your legs. In about an hour and a half, you'll enter the park under a photogenic sign.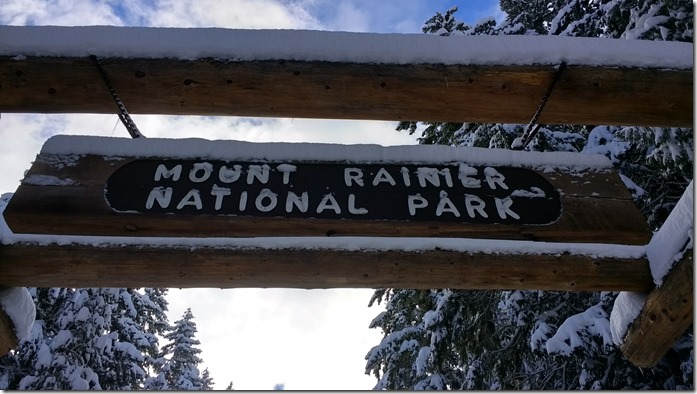 Now in the park, you'll be alongside the White River, which tumbles down from the Emmons Glacier, giving it a milky color from all the ground up bits of rock coming down from the glacier.
Sunrise – Big views of Mt Rainier and Wildflower meadows
Enter the park at the White River entrance station (keep your receipt where you can find it again!), and drive up to Sunrise. Sunrise used to be much less crowded, but it is also getting more crowded as the park grows in popularity, so head there first thing in the morning. This is especially important if it's a weekend. On weekends, the parking lot fills up by mid morning, so get an early start and go there first!
If the parking lot is full, they hold cars at the gate until spaces free up, so getting there early matters. It's a slow, winding and stunningly gorgeous drive. In the last couple of miles, try to remain focused on driving on the extremely narrow road (it's hard) and park in the Sunrise lot. For a 6 mile moderate hike with gorgeous views, give the Mt Fremont Lookout Trail a shot. Make sure to bring the 10 essentials with you and use lots of sunscreen as there's almost no shade along this route.
You'll have stunning views of the mountain most of the way, as well as views of the surrounding mountains and multiple points. Great chance to see a marmot along this trail! If you decide you've had enough at any point along the trail, just turn around, it will still be a great outing. The Burroughs Mountain Trail is another option if you'd like a slightly longer hike with a bit more climbing (same trailhead as Fremont, diverges at Frozen lake, follow the signs).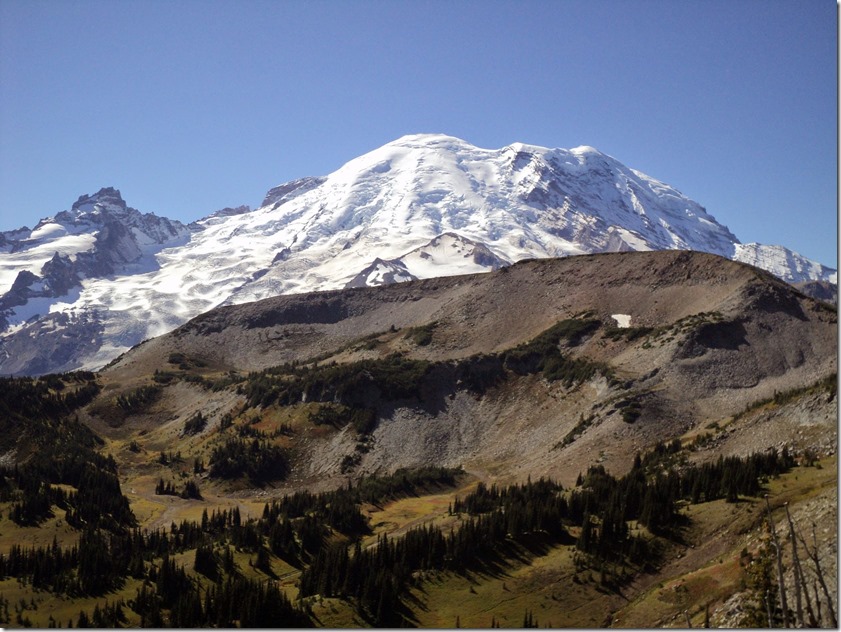 Returning to Sunrise, enjoy your picnic at the Sunrise picnic area which has shady sites among the subalpine firs and often deer.
Eastside Trail Waterfalls and Giant Trees
Leaving Sunrise, head down the hill, and continue south (right) on Hwy 123. Go past the turn to Stevens Canyon entrance and look for a pullout just past it on the right. It's not marked as a trailhead but there is a trail with a small sign just beyond where you can see from the road. This very short and initially steep trail will take you in less than 10 minutes to spectacular Silver Falls (take the steep trail down to a junction with another larger trail and turn right (NOT on the Laughingwater creek trail). Silver Falls is one of the best waterfalls in Mt Rainier National Park and makes for a quick stop.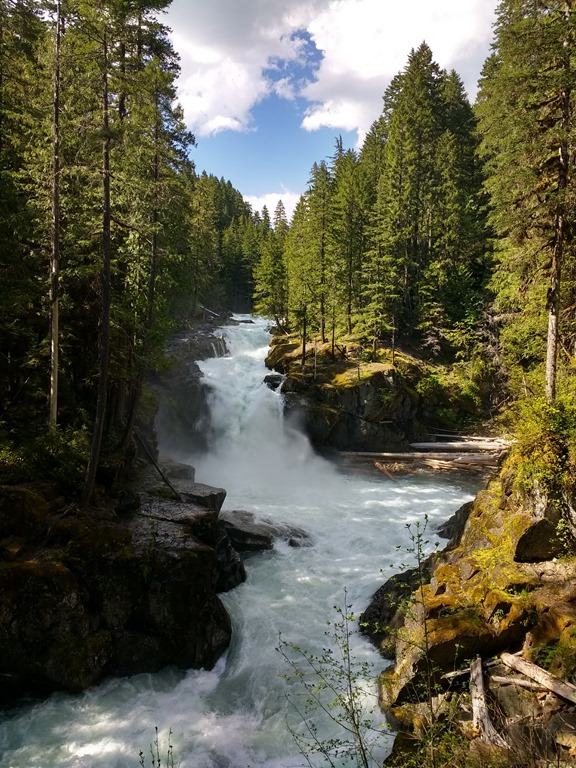 Soak up the falls as long as you like and feel their cool mist and then head back up to the car. If you want to do a longer hike in this area, check out the Eastside trail. I recommend continuing on about a mile to the Ohanepecosh campground to turn around (and for another bathroom stop), since the pullout is not a great place to turn around (you can also just do the hike to Silver falls from Ohanepecosh if you want a longer walk or have more time, it's about a three mile round trip mostly flat hike from there to Silver Falls and connects to the Eastside trail).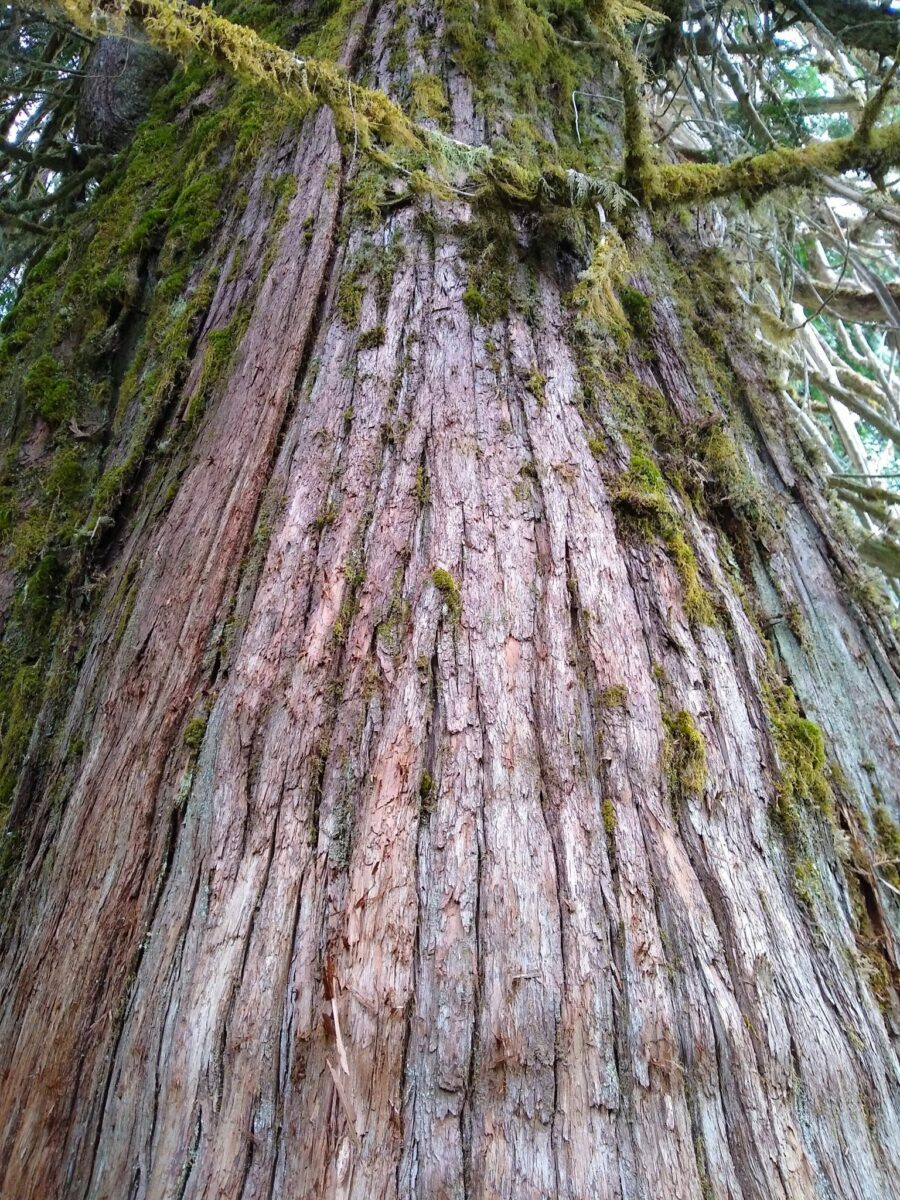 Leaving Ohanepecosh, return north (left) again on Hwy 123, and this time turn left to the Stevens Canyon Road Entrance (here you will need your receipt from earlier). Immediately after the entrance station, look for the parking lot on the right for Grove of the Patriarchs (the parking lot is tiny, parking could be a challenge, early and late in the day should be easiest, which is why this itinerary has you there in the mid to late afternoon). Grove of the Patriarchs has some of the oldest trees in the park (some are 1000 years old!).
A lollipop loop trail leads from the parking area to a suspension bridge across the Ohanepecosh river and then you enter the grove with the loop trail leading you through. Walk the loop through the grove as slowly as possible to absorb the experience of the ancient forest.
Completing a Mt Rainier Summer Day Trip with a Loop through Paradise
Leaving Grove of the Patriarchs, you have a couple of options. You can either head directly back to Seattle up Hwy 123 and 410 (the way you came and the shortest route-approximately 2 hours back to the Seattle area). If you'd like to continue and see more of the park and are up for a bit more driving, you can continue up Stevens Canyon road towards Paradise. The drive is slow but gorgeous.
If you choose this route, it will probably take four hours to get back to the Seattle area (plus stops of which there are likely to be a lot!). Key stops to make along that route would be Box Canyon, Reflection Lake and of course, Paradise (you can take a quick leg stretch around the meadows to Myrtle Falls, or get dinner at the Paradise Inn). If you're arriving in the late afternoon to early evening it will be much less crowded and you should be able to park. If there's no parking, you can park along Paradise Valley Road or in the Paradise picnic area. When you're ready to head back towards Seattle, you'll continue the loop past Narada Falls (a short walk takes you to an excellent viewpoint across from the falls) and Christine Falls (short walk to a view point where you can see the falls under a photographic bridge.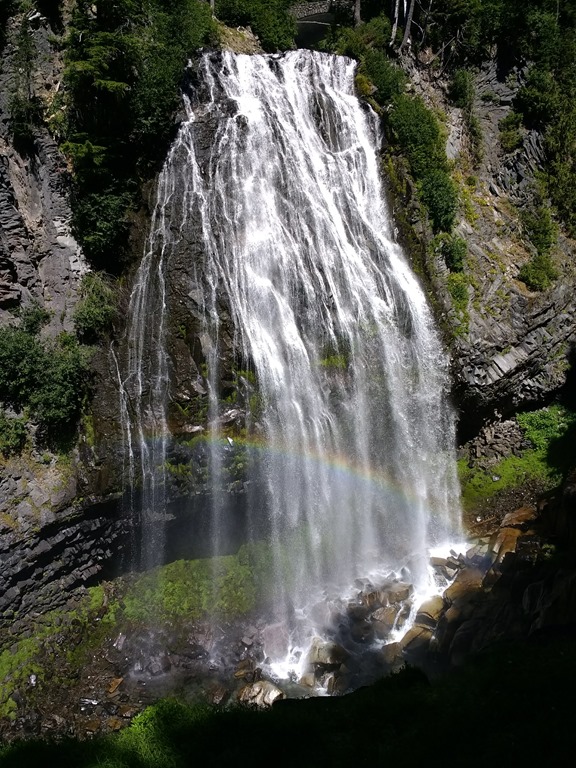 It's hard to go wrong with a clear summer day at Mt Rainier! The most important thing to avoid the worst crowds is to avoid Paradise (or hit it late in the day if you do the loop option) for the perfect Mt Rainier summer day trip.