The Best 3 Day Olympic National Park Itinerary
Posted On September 5, 2018
Last Updated on October 11, 2023
This Olympic National Park Itinerary for a three day road trip gives you a taste of the many unique and diverse ecosystems of this special place. In just three days take in sweeping mountain vistas, cascading waterfalls, hot springs, towering ancient old growth forests, and wild coastal beaches overflowing with tidepool life and epic sunsets.
If you're planning a trip to Olympic National Park, either as a visitor to the Pacific Northwest or as a local, this guide includes my favorite spots in Olympic and some tips for avoiding crowds at different locations. As a born and raised Seattelite and a guide who took visitors to Olympic National Park for several years, I know how to put together a great itinerary. If you're looking for a winter trip, you can follow most of this itinerary, but also check out my one day itinerary for winter in Olympic.
If you're looking for a guided immersive experience in the park, check out my friend Matthew's wonderful retreats that give you three days of deep connection to the park.
June 2023 Note: A fire destroyed the Hurricane Ridge Day lodge on May 7, 2023. The road has been partially reopened to limited traffic. Read more on Olympic's website here.
Olympic National Park is on the homeland of the Klallam, Makah, Ozette, Quileute, Hoh and Quinalt people.
Related: Avoiding Crowds in National Parks, Ultimate Washington National Parks Road Trip Itinerary
Map of Olympic National Park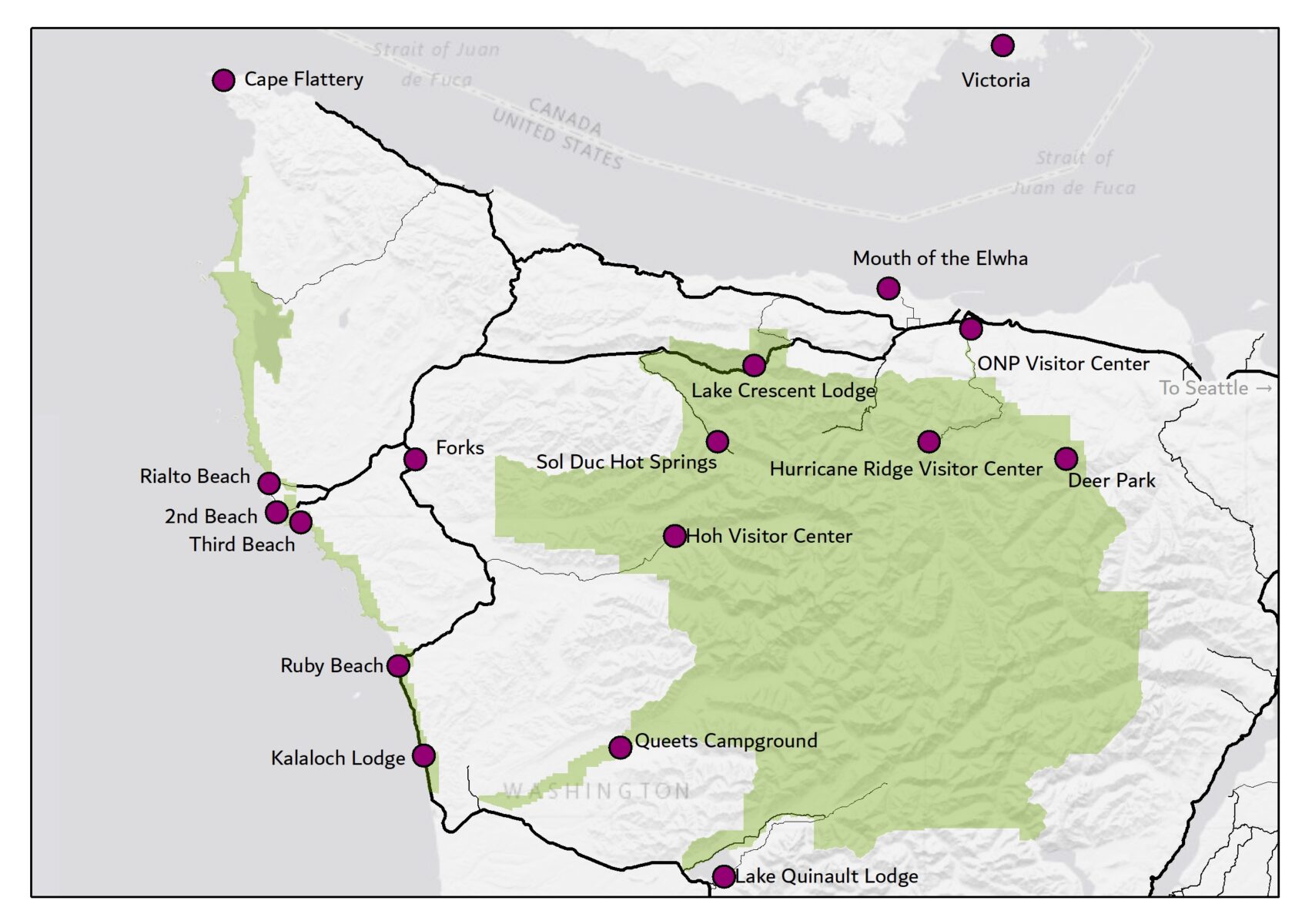 This article contains affiliate links, which means if you make a purchase I may receive a small commission at no additional cost to you. As an Amazon Associate, I earn from qualifying purchases
Where to stay on the Olympic Peninsula
There are many campgrounds in Olympic National Park, but only three can be reserved (Kalaloch, Mora and Sol Duc Hot Springs). These are booked far ahead of time, so it can be frustrating to drive around trying to find camping. If you want to camp, I strongly advise not trying to find a site on Friday or Saturday night, you might find yourself driving around for hours.
Lodging options include the park lodges as well as hotels and vacation rentals in Port Angeles, Sequim and Forks. Lake Quinalt has quite a few vacation rentals in addition to the Lake Quinalt Lodge. You can use this map to compare different hotel and vacation rental options in different areas of the park.
If you're ok with driving a little farther to get into the park, Westport and Ocean Shores are scenic places to stay often with more affordable rates than closer to the park.
When to visit Olympic National Park
This Olympic National Park itinerary is designed for a summer visit (including parts of spring and fall). The driest months with the most sun are July, August and early September. It can and does rain any time of year, and fog is common on the beaches all year. July and August are by far the busiest and most crowded and most challenging to find camping. April through June have longer days, less rain (though still plenty of rain!) and high country areas such as Hurricane Ridge and Deer Park will be under snow. Later in September and October are still drier than winter, though rainier than midsummer and have shorter days. They are also much less crowded and most areas are still open.
November through March is the wettest (and therefore least crowded) time of year. More things are closed or have limited hours. In winter, high country areas are covered in snow and Hurricane ridge is only open weekends weather permitting. If you don't mind getting wet and having short days, this could be a great time. Always check the park service's website for the most up to date information on road, trail, camping and visitor center hours and openings, as they often change due to weather, funding and other conditions.
How far is Olympic National Park from Seattle?
It depends on where you are going! Port Angeles is a one hour and 30-45 minute drive from the Bainbridge ferry terminal. The ferry crossing from downtown Seattle to Bainbridge is 35 minutes, plus whatever time you spend getting to and waiting for the ferry. The Hoh Rainforest is a four and a half to five hour drive from Seattle. Kalaloch beach is about a three and a half hour drive from Seattle.
The entire loop Olympic National Park itinerary described below is approximately 11 hours of driving and just under 500 miles (in three days).
In 2022, Clallam Transit began offering a shuttle from downtown Port Angeles to Hurricane Ridge! This is a great option for avoiding parking hassles and saving money on gas. Just make sure to purchase your entrance fee to the park BEFORE you ride.
Is Three Days enough time to see Olympic National Park?
One of the things that makes Olympic National Park really special is the incredible diversity of landscapes – from epic mountain vistas and alpine wildflower meadows, to rivers crashing over waterfalls to the joy of exploring tidepools and beaches.
In three days you can definitely experience all of these landscapes, so I think three days is the perfect amount of time. You could easily spend a week here, and I have ideas for even more to do below as well as what to do if you only have one day.
Day 1: Seattle to Port Angeles
To start your Olympic National Park 3 day itinerary, head to the ferry dock for the Bainbridge Island ferry in downtown Seattle. You can check the Washington State Department of Transportation website or app for the current ferry schedule. You'll drive in, pay for your vehicle and passengers at the tollbooth and park in the waiting area. When it's your turn to load, you'll board the ferry and have the option of heading up to the passenger deck, which you should definitely do for epic views of downtown Seattle as the ferry departs, as well as the Olympic mountains if they're clear. The views of Puget Sound are extensive as well. Keep your eyes out for harbor seals and even the occasional whale!
If you didn't have time for breakfast, head to the galley to grab a breakfast sandwich or pastry and some coffee or tea. The ferry crossing takes just over 30 minutes, then you'll head back to your car and drive off the ferry onto Bainbridge Island.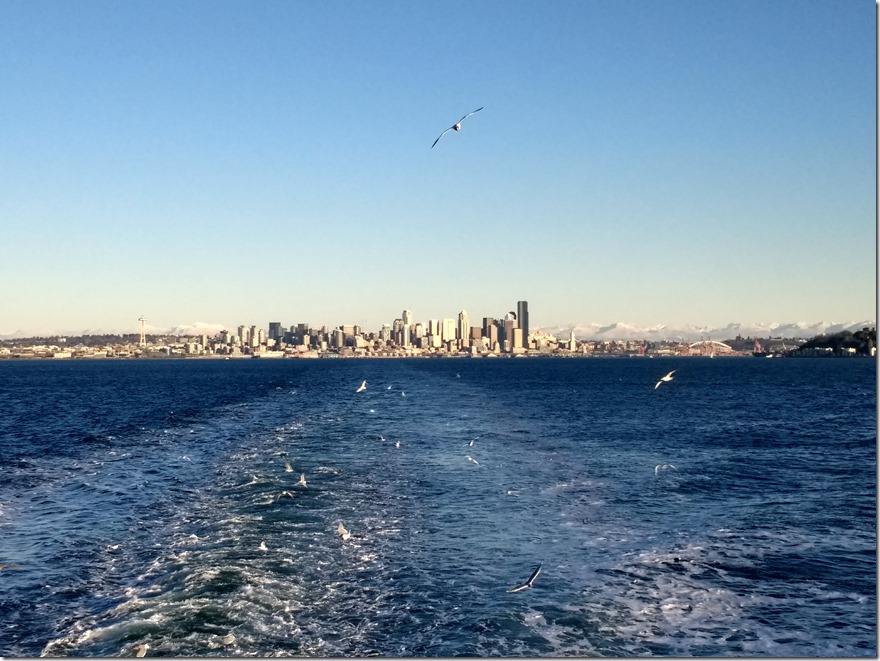 Once on Bainbridge you'll be heading towards Port Angeles, crossing the agate pass bridge onto the mainland and later the Hood Canal Bridge that takes you onto the Olympic Peninsula. If you're camping without a reservation, make sure to head to your preferred campground first. The drive from the ferry terminal to the visitor center in Port Angeles takes approximately an hour and a half.
When you arrive at the visitor center (after securing your camping if that's your plan), you can chat with a ranger and get all kinds of information. They'll tell you about hikes, tides, current conditions, etc and you can purchase any books or maps you might need. You can also pick up the Junior Ranger program guide here (pro tip – not just for kids! Adults can do it too).
The visitor center is a good place to check the webcam showing the current conditions at Hurricane Ridge, which is helpful information before driving up the road. Bear in mind that cloudy conditions do not necessarily mean there won't be any visibility later in the day (weather changes rapidly at Hurricane Ridge), similarly it doesn't mean it will remain sunny all day! The visitor center also has the forecast posted.
The drive to Hurricane Ridge takes approximately 45 minutes (plus stops, which you might make a lot of!). It's 17 miles but it's steep and winds it's way up to 5000 feet in that short drive. Make sure to notice how the ecosystem is changing (especially the trees and undergrowth) on the drive. Upon arriving at Hurricane Ridge, you can check out the visitor center, join a ranger program, or enjoy a picnic or hike. I recommend the Hurricane Ridge picnic area A or B for amazing views, some shade and a high likelihood of deer visiting your picnic. Keep your eyes out for deer, olympic marmots and black bear in the meadows around the ridge.
If you'd like to get out for a short hike and see even more views, try the Hurricane Hill Trail or Sunrise Point, or if you're looking for a longer hike, you could continue on past sunrise point to Klahhane ridge. If you're visiting in winter, Hurricane Ridge is only open on weekends and holidays, but is a great place to try out snowshoeing. You can even go on a ranger led snowshoe walk. Make sure to check on the avalanche forecast before heading out and as always make sure to have your ten essentials. The road beyond the lodge is closed in winter and the wide snowy road makes an excellent place to snowshoe.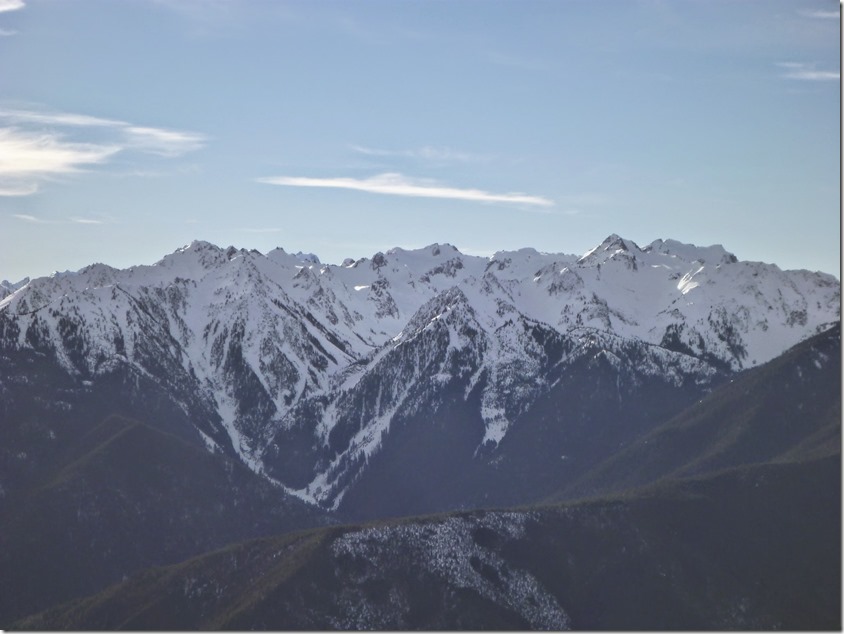 When you're ready to head down the hill, continue west (30 minutes) to Lake Crescent and in good weather you can enjoy some beach time or a kayak, canoe or paddleboard rental or tour at the Lake Crescent lodge. If you'd like to stay on the land, take the mellow hike through the forest to lovely Marymere Falls (less than 3 miles round trip, flat except for a short climb up to the falls).
If you're not yet ready to call it a day, you could head out to the mouth of the Elwha River, a fascinating place to see nature reclaiming the river after the removal of the two dams on the river that blocked it for decades until it was removed in 2012. This is also a good place to find solitude, and a good place to look for eagles.
To get to the mouth of the Elwha, from westbound highway 101, turn right on Place Road (just after you cross the bridge over the Elwha river), follow it to Elwha Dike road, turn right and the road quickly dead ends near a sort of hidden outhouse. Head out toward the river and the Strait of Juan de Fuca a short distance on foot.
Crowd avoiding tip: In summer (roughly late June through October-check park service website), if you're not afraid of gravel roads, head up to Deer Park instead of Hurricane Ridge. There are no services but there's a fantastic view, a small campground and several hiking trails.
Camping: Heart o'the Hills Campground (National Park Service) or Dungeness Spit Campground (county park campground and wildlife refuge that takes reservations). Other possibilities include the far west side of Lake Crescent at Fairholme, or Salt Creek County Park. All are open all year except for Fairholme, which is only open in the summer.
Hotel/Vacation Rental: Port Angeles, Sequim, or Lake Crescent Lodge (seasonal, except for cabins)
Day 2: Port Angeles to Forks
Start the second day of your Olympic National Park 3 day itinerary with a drive out to the Sol Duc Valley (an hour drive from Port Angeles). Take the mellow less than two mile hike to gorgeous Sol Duc Falls. The road and the hot springs are generally open late March through late October. If you'd like to get in a longer hike, start from the campground or hot springs. Either way you'll walk through rainforest on your way to this lovely falls. After your hike, enjoy a dip in Sol Duc Hot springs. The mineral water is pumped into a concrete pool managed by the resort, which welcomes visitors to the hot springs even if you aren't staying at the resort (locker and towel rental are also available).
When you leave Sol Duc, it's time to head to the beach (about an hour drive) and check out some of the rugged coastal sea stacks and tidepools! Tidepooling in Olympic National Park is legendary and worth planning your trip around. I highly recommend reordering this itinerary however you need to do see tidepools (described again below on day three, as you have multiple options). You can access the tidechart online here, though it can be challenging to make sense of. One your first day, when you visit the ranger station, this is a good place to get information about the timing of the tides during your visit.
You have a few options for Olympic's beaches (which are among the best beaches in Washington!). The first, if you want to be able to drive directly to the beach is to go to Rialto Beach. If you're up for a short hike through the coastal rainforest, then try Second Beach or Third Beach. All of these locations are a fantastic place to have a picnic lunch or dinner! To get there going westbound from Sol Duc (or Port Angeles), continue on 101 to Hwy 110 just before the town of Forks (Twilight fame!). Follow 110 until the road forks (left for Second and Third Beach, right for Rialto).
If you're ready for more adventure in this day, then head to the world famous Hoh Rainforest. You can also save this for the morning of Day 3, if you're wanting to spend more time there or you're ready to call it a day. The Hoh is a very popular area of the park, and visiting it early in the morning or late in the day is highly recommended. The Hoh is just over an hour away from the beaches mentioned above. The visitor center is a mandatory first stop (unless you're seeking a first come first serve camping spot, if so do that first). Here you learn about the Hoh Rainforest, a temperate rainforest which exist only a few places in the world.
The Hoh receives 12-14 FEET of rain each year (Seattle receives about 37 inches per year for comparison) and therefore is a unique and otherworldly ecosystem that deserves some time exploring. After taking in the visitor center, try a short walk on the Hall of Mosses Trail, or for a longer hike (and less crowds) try heading up the Hoh River Trail, which goes for nearly 20 miles and is a popular backpacking route. For more details about visiting the Hoh, check out this post all about it!
Crowd avoiding tip: The Hoh Rainforest and Rialto Beach are both extremely busy in the summer (especially the Hoh). Try to visit the Hoh early or late in the day, or consider the Quinalt Rainforest instead. For Rialto, if you're up for a hike you will see less people (though still plenty) on Second or Third Beach. On Rialto Beach, you can also walk up to the north and leave the crowds behind.
Camping: Mora (on the coast) or Hoh (at the Hoh visitor center) are both first come first serve. The closest reservable campground is Kalaloch (45 minutes from Forks).
Hotel/vacation rental: Forks
Day 3: Forks to Seattle
On the final day of your Olympic National Park 3 day itinerary, head to the Hoh Rainforest early (if you didn't do it at the end of Day 2). As you continue down Hwy 101, you'll have another opportunity to go to the beach at Ruby Beach (half an hour from Forks), which also has incredible seastacks and tidepools. If you're ready to see a sandy beach instead, head to Kalaloch where you can stroll as long as you like on a sandy beach (the ocean is still super cold! 50 degrees or so!).
When you've had your fill of beaches, continue on to Lake Quinalt (30 minutes from Kalaloch). Lake Quinalt is a large, glacier carved lake in a valley of even more rainforest. The north shore of the lake is Olympic National Park and the south side (home to the historic Lake Quinalt Lodge) is Olympic National Forest. Try a walk out the world's largest Sitka Spruce Tree or on the rain forest nature trail. Visit the forest service ranger station for more hikes to big trees as well as books and maps. Make sure to check out the inside of the historic lodge before heading back to Seattle (two and a half to three hours drive depending on traffic).
Crowd Avoiding Tip: Ruby Beach gets busy, going early or late is a good idea, or walking along the beach (the further you walk, the less the crowds-know the tides!) Kalaloch campground is very busy but you can get away from people with a walk along the beach. Lake Quinalt is much less crowded than other areas of the park. If you really want to beat the crowds, consider driving up to the Queets Rainforest (turn at the sign south of Kalaloch before Lake Quinalt). It's a dirt road drive but very few people make it up there.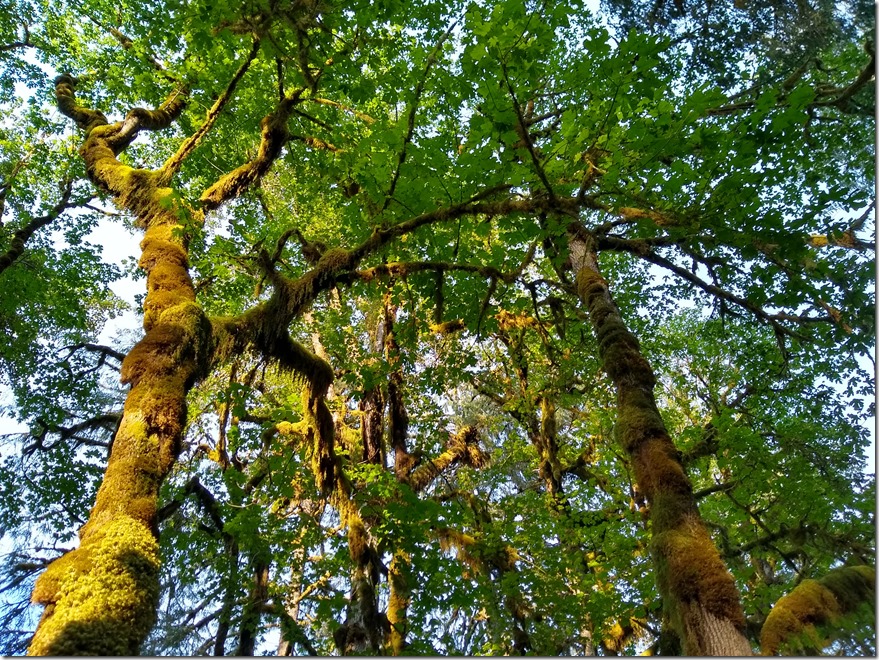 Only have two days?
If you only have two days, I would suggest going to only one beach, one rainforest and possibly skip Sol Duc (or skip Hurricane Ridge if the weather is foggy). Prioritize what you most want to see and how much you want to drive.
Only have one day?
If you only have one day to see the park, I suggest selecting one area to visit, depending on the weather. Hurricane Ridge or Deer Park are a wonderful destination on a clear day. If it's foggy or rainy, go to one of the rainforests or beaches instead.
Extending your trip
If you have more time to spend in Olympic National Park, you could certainly spend more time at each of these locations described above and could decide based on weather, how much driving you want to do and how much you want to avoid crowds. Other things to consider adding on to a trip:
Day trip or overnight to Victoria, British Columbia, Canada via the Coho ferry from Port Angeles
The town of Port Townsend and farms in the area around it (cider tasting!)
Longer day hikes, particularly in places like Hurricane Ridge, Deer Park, Sol Duc Valley, Hoh Rainforest and Ruby Beach
Overnight backpacking trip at Second or Third Beach (requires a permit from wilderness information center)
Neah Bay including the Makah Museum and Cape Flattery (the most northwest point in the contiguous United States)
What to Pack for your trip to Olympic National Park
If you're camping on your Olympic National Park trip, check out my camping checklist. If you're planning to hike, check out my list of what to bring day hiking as well as what to wear hiking! Beyond that, these are a few things you want to have for sure:
Food, snacks and water – lots of areas on your Olympic National Park itinerary don't have services, so it's a good idea to bring your own food for during the day
Rain jacket – You absolutely need a good rain jacket in Olympic National Park. I own two, both of which I love and highly recommend. You can spent a lot more money if you want to, but you don't need too! This REI one gets the edge for me because it is also available in plus sizes (Men's one here). My other favorite is this Marmot one you can get from Amazon (men's one here), which is just as good but unfortunately it's not available in plus sizes. If you're going to the park in winter, you might also want to consider a rubber rain jacket, which is the only way a rain jacket is going to be completely waterproof. It's also very clammy and hot, so I don't normally recommend it for hiking or anything other than just sitting in the rain.
Rubber boots – especially if you're heading out to the coast, rubber boots are the way to go! Trust me, they are so much better than hiking boots for the wet beach and rainforest environment and mud! I have these fun and super durable Salmon Sisters Xtratuf boots, which I highly recommend.
Recommended Reading
An excellent book about the Natural History of Olympic National Park-perfect if you want to understand the science and the incredible natural beauty you are seeing!
Day Hiking the Olympic Peninsula-a wonderful resource for day hikes long and short in Olympic National Park and the surrounding Olympic National Forest