13 Fun Things to do in Westport, Washington
Posted On October 11, 2023
Westport, Washington is an ideal family friendly and affordable year round getaway near Seattle and Tacoma but yet a world away. Who doesn't love the beach?
Westport is refreshingly unpretentious. Everything in Westport is focused on the ocean, so it's the ideal place to visit the beach, go fishing, go surfing or just spend some time looking at the water. As a born and raised Washingtonian, I love the slow pace and focus on the ocean. If that sounds appealing to you, you will love it here.
The town of Westport is the homeland of the Chehalis people who lived at the mouth of Grays Harbor for generations before an outbreak of small pox devastated the community and the Chehalis were forced by the government to move many miles inland.
Westport is about an hour and a half drive from Olympia, two hours from Portland and 2.5-3 hours from Seattle.
Go to the Beach – rain or shine
In Washington we go to the beach all year, rain or shine. It's not often super warm and sunny in Westport, but it does happen! Even if it's raining, the beach is magical. The beaches around Westport are popular with surfers, so you're likely to see people heading out to catch some waves (and you can rinse off the in the surfer outdoor showers even if you're not surfing).
If you're going to a Washington State Parks beach, you will need a Discover Pass for your car. A few good beaches around Westport include:
Westhaven State Park – big state park with a large parking area, restrooms and a large beach near the jetty. Lots of surfing action here!
Half Moon Bay – just outside Westhaven is a smaller gravel beach
Twin Harbors State Park – just south of town has a large beach and a campground
Grayland State Park – about 15 minutes south of Westport, big beach with trails leading down to it as well as a big campground and yurts. More about yurts below!
Drive on the Beach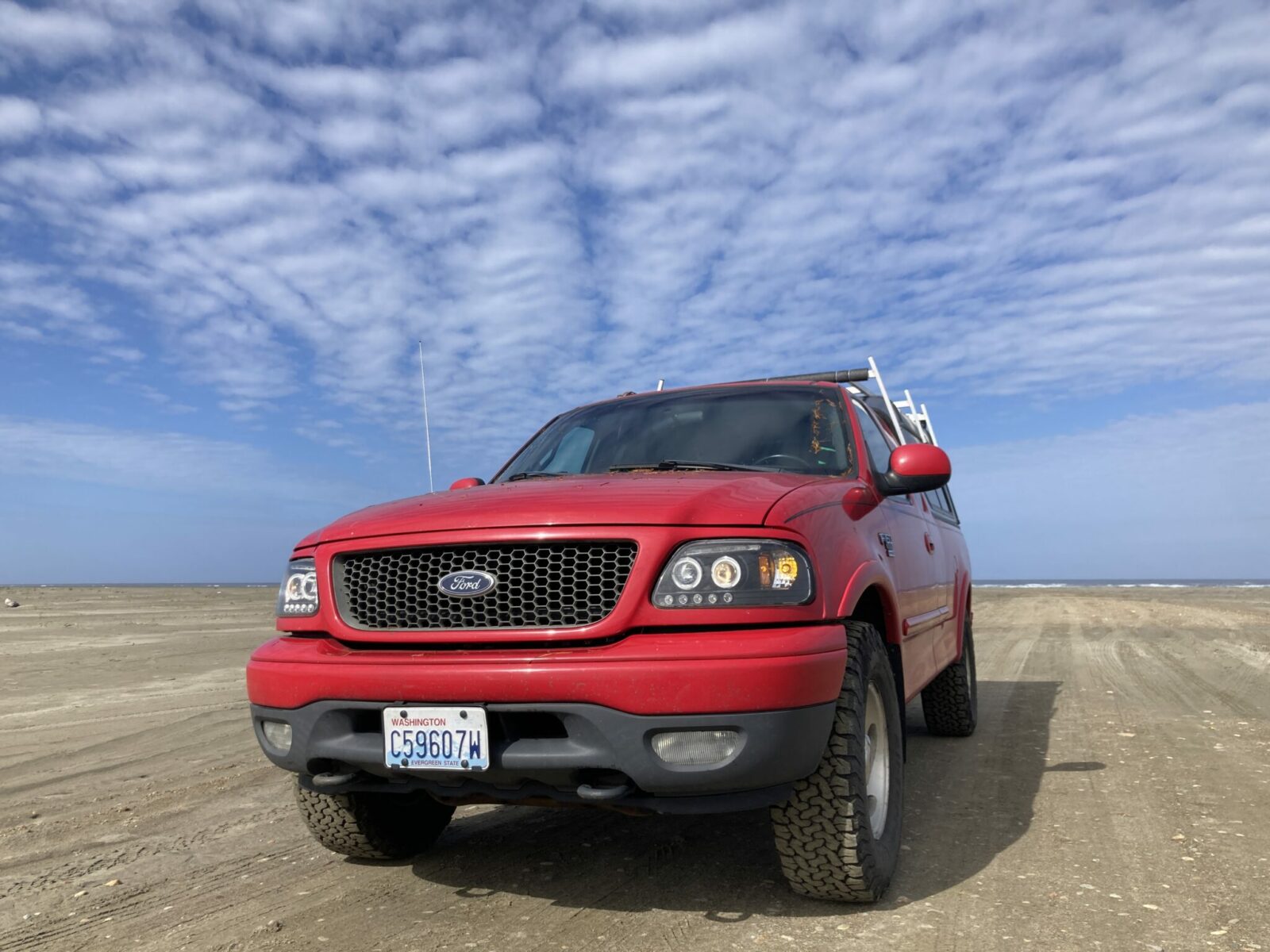 One unique feature of some (not all) of Washington's ocean beaches is that you can drive on them. Long Beach (further south) even has part of the beach as an official state highway with a speed limit. There are various access points between Grayland and Westport. Make sure to pay attention to signs about where you can and cannot drive and stay on the hard packed sand so you don't get stuck!
Stay in a Yurt
Washington State Parks has a number of yurts in parks all over the state. Grayland Beach State Park is the absolute ideal yurt experience.
Westport is super rainy and this way you get the camping experience while also having a completely dry and bigger place to sleep than a tent. All the yurts have covered porches, so you can sit on the porch in a camp chair even if it's raining!
Kids love yurts too, and this is a step up for camping, especially in this wet climate! There are showers and flush toilets in the campground too.
Some of the yurts are dog friendly, but not all so make sure to book one that is if you plan to bring your dog. My dog LOVES yurt camping.
Eat and Buy Seafood
Eating fish and chips in Westport is a mandatory activity, and there are plenty of options while exploring downtown. This is also a great place to buy seafood to take home, there are quite a few shops in town and sometimes you can buy fish and crab right on the dock.
Climb the Westport Observation Tower
The tower is located at the far end of town past the marina and harbor. You can't miss it, it's the tallest building in town. Climb up and get a view of ships waiting to enter Grays Harbor and for a birds eye view of the town of Westport.
Visit the Westport Lighthouse
The Westport Lighthouse is fascinating because it's in the middle of the forest, half a mile from the ocean. When it was originally built in 1898, it was much closer to the water. When the jetty system was built, it caused the land to build up and extend further away from where the lighthouse sits.
The Westport Lighthouse is in Westport Light State Park (Discover Pass required), just south of downtown. It's the tallest lighthouse in Washington State at just over 100 feet tall. It still has it's original lens, which another very unique thing about it.
You can tour the lighthouse, however the hours are limited as it's all done by volunteers. Check here to see the current opening times.
Even if the lighthouse isn't open to go inside, you can still walk around and see the outside.
Go for a walk on the Lighthouse Trail
The Lighthouse Trail, or the Dunes Trail as it's known locally, is a paved trail that goes from the lighthouse park around to Westhaven State Park near the jetty.
This is a beautiful, mostly flat, paved trail with great ocean views and is about two miles round trip (add an additional mile round trip if you start at the lighthouse.
Have a cozy breakfast
There's really nothing better on a rainy morning than a cozy breakfast and Westport has several good breakfast options. Try the King Tide or the Blue Buoy for delicious breakfast classics.
Eat candy
Growing up in Washington State, you definitely associate going to the Washington Coast with candy, especially fudge and taffy.
Head to Granny Hazel's for all the candy your eyes and stomach can handle. Make sure to get taffy. They also have a variety of gifts and clothing.
Try a local beer
Where there is moody weather there will be beer! Blackbeard's Brewery has two locations in Westport, one by the docks and the other near the Lighthouse at the corner of Forest and Ocean.
In addition to beer, both locations have food. Pizza and sandwiches are available at the Lighthouse location and burgers and tacos at the one by the docks.
Visit the Maritime Museum
The Maritime Museum is a good (indoor!) place to learn about the long and fascinating history of Westport. The museum often has limited hours so it's a good idea to check on that if you want to visit.
Go fishing
People routinely come to Westport for ocean fishing charters and if you're interested in fishing, this is the place to do it. There are lots of fishing charter companies along Westhaven Drive next to the marina, and you can also book online in advance.
Charters take people out for salmon (generally July through September), halibut (generally May), cod (March through October) and Albacore Tuna (July through October).
Westport is also a popular place for crabbing (dungeness and red rock crab) and razor clamming (at Twin Harbors State Park beach).
You can also fish along the jetty and you'll see lots of others doing so.
Make sure to brush up on the Washington fishing regulations and make sure you have a current Washington fishing license.
Go surfing
Many people are surprised to learn how popular surfing is along the Washington Coast, Oregon and the west coast of Vancouver Island. Westport is an ideal place to get started since it has different beaches for different experience levels and comfort levels with big waves and currents.
You can also rent surfboards from several places in town, and you can even take surf lessons here.