How to Hike to Franklin Falls in Winter
Posted On December 7, 2020
Last Updated on September 15, 2022
Franklin Falls is one of the most beautiful waterfalls in Washington and Franklin Falls in winter is even more spectacular! You can even catch a frozen Franklin Falls if you get there at the right time. The hike to Franklin Falls in winter is longer than it is in the summer (4 miles round trip starting from Snoqualmie Pass and 8 miles round trip starting from Denny Creek). More on these two options for getting to Franklin Falls in winter along with the benefits and drawbacks of each route are described below. In addition to the waterfall, you'll be in a winter wonderland of snow laden old growth evergreen trees and along a lovely creek.
The area around Franklin Falls is prone to avalanches. Make sure to check the avalanche forecast and make conservative decisions (more on this below).
Franklin Falls is the homeland of the Snoqualmie People.
Parking Pass: A Washington Sno Park pass is required at the Denny Creek/Exit 47 parking area (at the summer trailhead, a Northwest Forest Pass is required). No parking pass is required at the Snoqualmie Pass side of the trail near the ski area. Note that there are also no services at the trailhead, such as toilets or trash cans.
Dog Friendly: yes, on leash. Use extreme caution with dogs (and humans) near the waterfall as it can be very icy at the end of the trail.
Cell phone coverage: Good
Restrooms: there are no restrooms in winter (there is a pit toilet at the summer trailhead)
Accessibility and Mobility: the road portion of the hike is wide and fairly smooth, although the going may be challeninging in deep or new snow. The trail is similar, but narrower. The last part of the trail down to the waterfall is extremely steep, with steeps. It can also be very treacherous and icy. You can see the waterfall above this point, so you can stay above.
Is Hiking to Franklin Falls in Winter right for me?
Franklin Falls in winter is a really beautiful hike through a gorgeous forest, along a creek to an incredible waterfall. This trail is also exclusively between the two directions of a very busy freeway, Interstate 90. It's important to mention this because if you think you are going to be hiking through a silent forest, this is not the case. The freeway is high above you so you only see it in a few places, but you can definitely hear traffic the whole time.
You can also hear birds and the roaring creek and at the waterfall you'll mostly hear the waterfall (but you'll see the freeway above). This is still a beautiful place in both winter and summer, but it's important to know this.
The trail itself has a moderate grade and in winter you will also be hiking along a closed forest service road. There are some steps on the trail part of the hike to Franklin Falls, and the last part of the trail is VERY slippery and icy in winter when ice covers the rock steps and rocky area at the base of the falls. You can see the waterfall well without going down on the treacherous rocks!
Another thing to note about Franklin Falls in winter is that it's hard to know for sure exactly what the snow conditions will be like, how icy it will be and if Franklin Falls will be frozen or not. I highly recommend checking out the Washington Trail Association's trip reports for the latest information on the conditions.
What to bring to hike to Franklin Falls in Winter
With our short days, unpredictable weather and the longer hike than the summer one, hiking to Franklin Falls in winter requires a little more preparation and gear.
Read more here about what I bring a day hike in winter (and summer) as well as what I wear. I also have an extensive post about getting started with snowshoeing, including what to wear and what kind of snowshoes to buy or where to rent or borrow them.
This hike might be good for snowshoeing, or it might be better to have microspikes. It really depends on the conditions that day and I would bring both in the car with me. I recommend bring microspikes with you no matter what (they're inexpensive and in the what to wear post I talk about your options for what to buy!). Microspikes are like studded snow tires for your feet! You can fit them over any shoes or boots and they are amazing on ice. You might be able to do this whole trail with them instead of snowshoes, but if there is deep snow you'll probably want both.
In my opinion microspikes are a necessity for Franklin Falls in winter, since the area directly around the falls and the last 100 feet of the trail are extremely icy much of the winter.
Make sure to bring plenty of food and water, extra layers and waterproof footwear.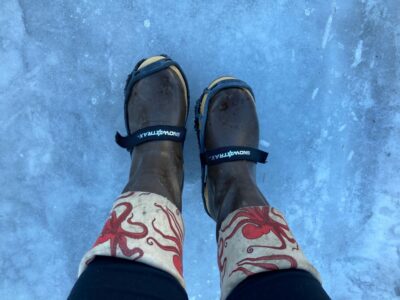 When is a good time during the winter to hike to Franklin Falls?
I would recommend doing the hike to Franklin Falls in winter during a sunny, dry, cold period. This gives you the best chance of seeing Franklin Falls frozen. There is also an avalanche chute on the opposite side of the creek which is a danger in times of high avalanche danger. Check the avalanche forecast before heading out!
Generally speaking the coldest times with the most snow are in January and February, but this could also be a good option as early as December or as late as March.
Franklin Falls is very busy on weekends all year long.
How to Get to the Franklin Falls Trailhead in Winter
Franklin Falls in located in the Mt Baker-Snoqualmie National Forest, just west of Snoqualmie Pass. It is about an hour of travel time from Seattle. In winter it can sometimes take longer. There are two different ways to access Franklin Falls in winter. Both trail options are described below. As far as getting to the trailhead:
Starting from Denny Creek (longer): Take Exit 47 from I-90. Coming from Seattle, go left and cross the freeway. Coming from Ellensburg, go right at the bottom of the exit ramp. Immediately you'll come to a T intersection, turn right. You'll quickly pass under the freeway and see the closed road on the left. Park anywhere along the side of the road that is fully out of the way of traffic and not blocking anything.
Starting from Alpental Road (shorter): Coming from Seattle, take Exit 52 at Snoqualmie Pass and then go to the right, parking either in the Summit ski area parking lot or along the road. Pay attention to the signs as there are areas where you can and can't park! Coming from Ellensburg, take Exit 53, go left and then park along the road. Avoid the temptation to park along Alpental Road right by the start (Franklin Falls and the Pacific Crest Trail north on the other side of the road) since there's no parking here and you could get towed! It's only a quarter mile or less to add to park legally.
Trail Description – Starting at Denny Creek (Exit 47)
If you decide to park at Denny Creek and hike to Franklin Falls in winter, you're looking at an 8 mile round trip hike with about 500 feet of elevation gain. The area where you can park around the closed road is often icy and snowy. Sometimes there will be deep snow from this point and other times you may be carrying snowshoes for the first bit. Microspikes will be very helpful here!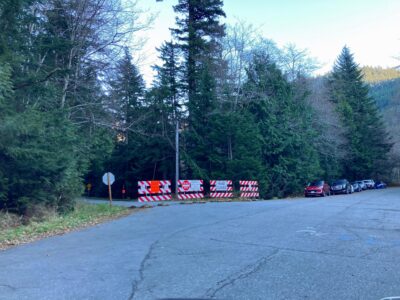 Start off on closed Denny Creek Road, which winds up towards the summer trailhead. You'll be going through the forest between the two sides of the freeway. It winds through a forest with a number of old growth trees.
After about three miles, you'll reach the summer trailhead. From this point you'll be on a trail instead of the road. You'll be right next to the lovely South Fork of the Snoqualmie River which now drowns out the freeway noise! You'll continue to see gorgeous forest with old growth trees.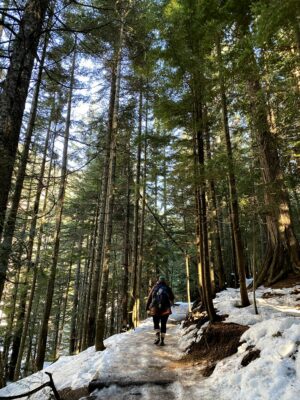 The trail is about a mile long and at the end there is an extremely slippery section! Having microspikes for your feet is really important here. I recommend carrying them in your pack even if you're snowshoeing just in case. In addition to the slippery steep, rocky slope down, the rocks around the waterfall are also extremely icy so be careful and stay back if there's any doubt about traction.
This is a wonderful place for a winter picnic! Bring a thermos and take it all in for awhile. If you're lucky there will ice around the waterfall making it even more beautiful!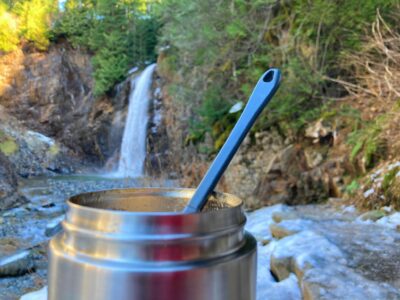 When you're ready to return, return the way you came to you car.
Trail Description – Starting on Alpental Road at Snoqualmie Pass
Starting from Snoqualmie Pass is my preferred way to hike to Franklin Falls in winter. I like it better because it's shorter and you're more likely to be on snow the whole time. The Snoqualmie Pass area is often just above or below freezing all winter and the Denny Creek access is just enough lower that you may be mostly on ice or dirt at the beginning. It is a bit trickier to find the right trail on this route so I highly recommend bringing a map or gps and knowing how to use it to find where you are and where you need to go. This route is 4 miles round trip with about 400 feet of elevation gain (most of it is on the way back).
If you decide to go this way, follow the parking directions above. Once you're parked along the road in the summit area, walk under the freeway overpass towards Alpental. Just after the freeway entrance ramp, you'll see a closed road on the right. This is the top of Denny Creek Road (other end of the road on Exit 47 and the other parking area).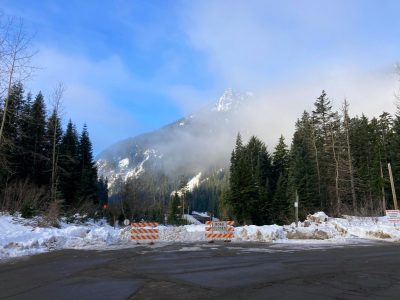 Start down Denny Creek Road, parallelling I-90. In a very short distance, you'll pass under I-90. Make sure to pause and look behind you here as there's a gorgeous view underneath the overpass!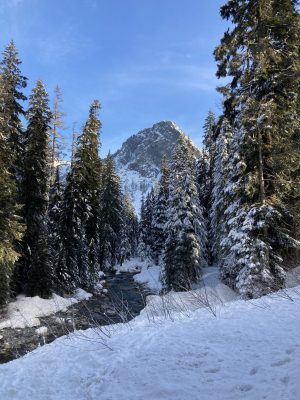 You'll be going gently downhill on closed Denny Creek Road for about a mile and a half. You'll be going through the forest with views of mountains here and there. When you reach a large hairpin curve with a big view of the valley you are ALMOST to the point where you connect up with the Franklin Falls trail. It is easy to miss so start paying close attention here!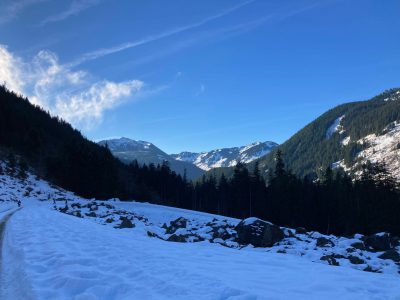 The road goes directly into another hairpin curve the other direction and at the middle of the hairpin curve there is a trail to the right. There is a trailhead sign but it's hard to see it between the trees if you don't know it's there. Using the map to make sure you find the spot is really helpful.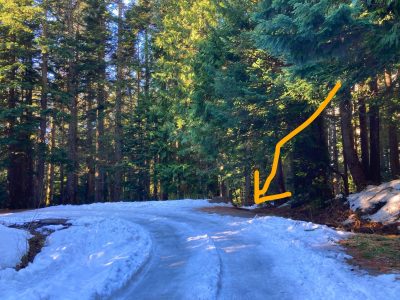 Once you step onto the trail the sign is quickly visible. You are now on the Wagon Road Trail. In less than a quarter mile, the Wagon Road Trail meets the Franklin Falls trail. Go RIGHT here on the Franklin Falls trail.
Now on the Franklin Falls trail, you'll parallel the gorgeous South Fork of the Snoqualmie River which drowns out all remaining freeway noise. You'll climb up a bit and see some old growth trees. In about half a mile (about two miles from the start), you'll come to spectacular Franklin Falls!
As you approach the falls, use extreme caution as the last portion of the trail is steep, rocky and tends to be extremely icy. Bring microspikes even if you're snowshoeing since you might want to switch for this part. You can see the waterfall here so if it looks sketchy you can stop here and see an amazing view.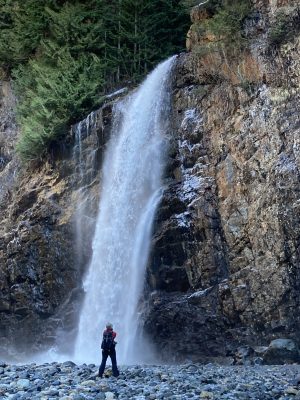 If you're lucky you may even get to see a frozen waterfall! If it's not frozen you may still see lots of icicles and other interesting ice around Franklin Falls in winter.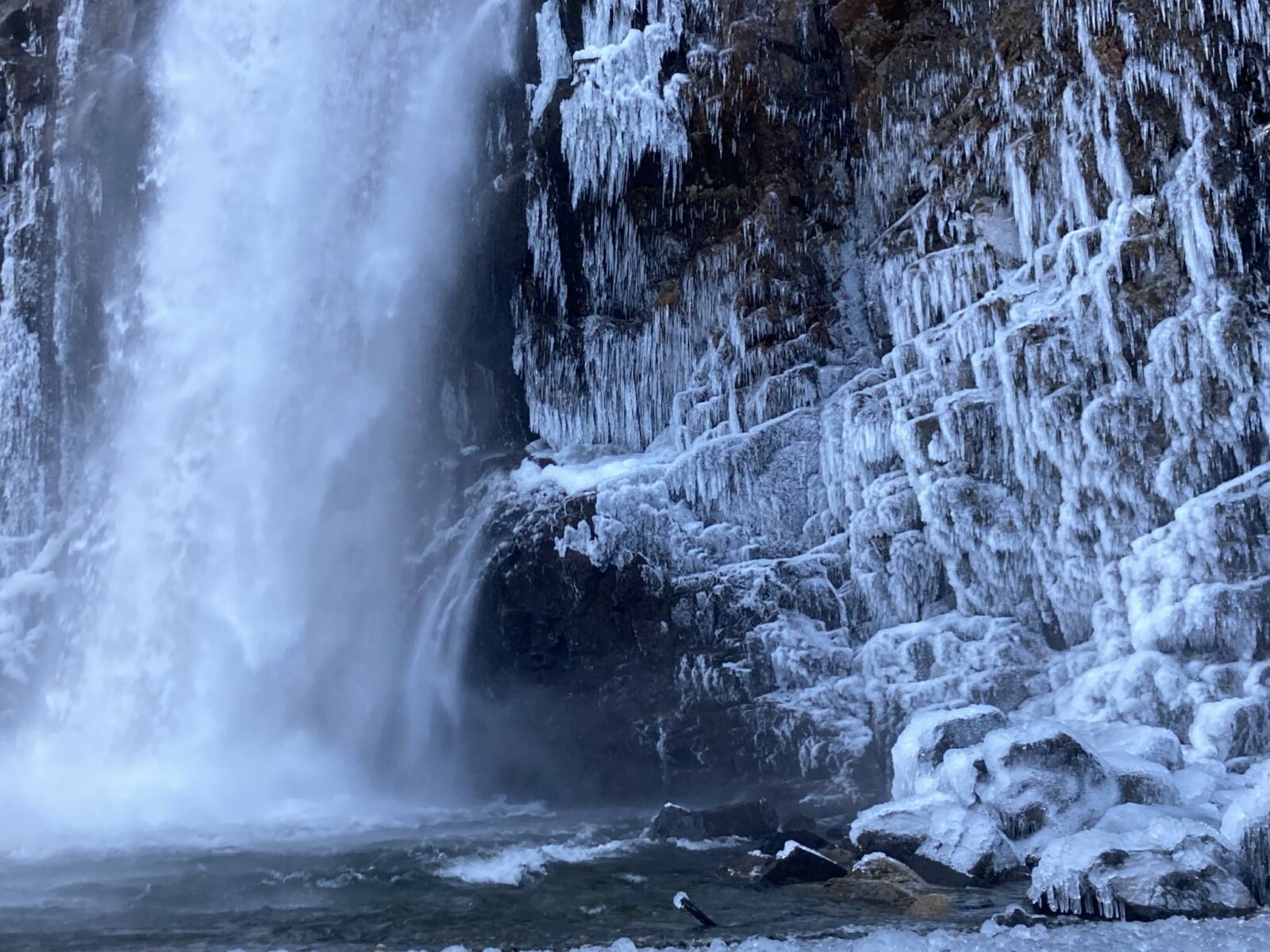 Enjoy your picnic lunch here and get some amazing photos before heading back the way you came.
Food and Drink to Stop at After
If you parked at Snoqualmie Pass and hiked down to Franklin Falls from Alpental Road, then you can take in your post hike food without moving your car!
Try Commonwealth for pub food and Dru Bru Brewery next door. You can also grab a life changing hand dipped corn dog from Bob's espresso directly across the street, next to the restrooms. In the same parking lot is Pie for the People, super tasty pizza in a convenience store (try it!). You can also grab pizza, pre made sandwiches, espresso and gifts in Red Mountain next to the WSDOT restrooms.
If you started from Denny Creek, you can either drive up to the pass to check out these same options, or you can head down to North Bend and check out Pioneer Coffee, Volition Brewing or the North Bend Bar and Grill.
Electric Vehicle Charging
There is fast charging at the Chevron station at Snoqualmie Pass along the road through the ski areas. It's just down the road from the rest area and across the road from Summit West ski area.
It also works well for me to charge in each direction at the North Bend Outlets, which have more chargers available.