Snowshoeing near Seattle: Best Beginner Routes
Posted On November 28, 2018
Last Updated on November 29, 2023
Don't let winter keep you inside! It may be gray and rainy most of the winter in Seattle, but nearby are magical winter landscapes ready to be explored. If you're new to snowshoeing, read more here to learn all about getting started with snowshoeing, including what snowshoeing is, gear needed (not much!), safety tips and beginning tips in general.
Avalanches are a significant danger in the winter in Washington State. Make sure to check the avalanche forecast and make conservative decisions on snowy outings! It is your responsibility to use caution and avoid avalanche prone areas.
This list of best snowshoeing near Seattle includes my favorite snowshoe trips for beginners and first timers. More experienced snowshoers will love these trips too! If you're ready for a bit more challenge, check out Skyline Lake (it's short but extremely steep).
Transportation, Parking and Fees
Washington's sno parks are very busy on weekends, especially the sno parks along the I-90 corridor near Seattle. Be prepared that you may be turned around if legal and safe parking is not available. PLEASE DO NOT PARK ILLEGALLY OR BLOCKING ANY ROADS OR FREEWAY INTERCHANGES. This is for your safety as well as to ensure that emergency vehicles and snow plows can pass.
Washington state has a fabulous Sno Park system which costs $25/day or $50/year ($120/year if you want to add the groomed cross country ski trail parks, but you don't want or need this if you are only going to be snowshoeing, just go to the sno parks that don't have groomed cross country ski trails). Sno park passes go on sale November 1st each year.
You can also snowshoe at Mt Rainier National Park and Olympic National Park, where you'll need to pay the entrance fee (or have an annual interagency pass). Other trailheads require a Northwest Forest Pass (which you don't need if you have a park service interagency pass).
Mt Rainier and Olympic National Parks offer ranger guided snowshoe hikes for beginners with snowshoes available to use for a small suggested donation.
Snowshoeing Trail Etiquette
Many Sno park and national park trails do not allow dogs. It's important not to bring your dog on any trail where dogs are not allowed, and if they are allowed, they must be on a leash. Make sure to clean up after your dog including carrying out the bag!
It's also really important to NOT SNOWSHOE ON CROSS COUNTRY SKI TRAILS, especially groomed trails. Skiers need the track to make for an enjoyable outing so please don't walk or snowshoe on the ski trail!
Beginner Trails for Snowshoeing near Seattle
Gold Creek Valley – Snoqualmie Pass (up to 6 miles round trip, no elevation gain)
The Gold Creek Valley is probably the best place for beginner snowshoeing near Seattle because it's a sno park (plowed) and it's basically flat. You can go a long ways up the valley if you want to, or you can make a short loop around the pond, allowing for plenty of opportunity for sno play as well as snowshoeing! If you head up the valley you'll be passing people's homes for a little bit before getting into the forest deeper into the valley. Gold Creek Pond gets extremely crowded but the trail into the valley only sees a few people.
About three miles from the trailhead the trail crosses a dangerous avalanche chute, so turn around before that.
The trailhead area is often extremely crowded, but if you can find parking once you get away from the pond there are far fewer people.
Dogs are allowed here on leash. A Washington State Sno Park Pass is required to park.
Kendall Peak Lakes – Snoqualmie Pass (up to 9 miles round trip, up to 1700 feet of elevation gain)
Kendall Peak Lakes is another excellent beginner route, with a bit more challenge than Gold Creek because it climbs uphill. You can go up to 9 miles round trip, with a total of 1700 feet of elevation gain, or make a shorter route by turning around anywhere along the route. It has some nice views of surrounding mountains and the Snoqualmie Pass area. The trees here are beautiful when covered in fresh snow!
The total distance is a very long way to snowshoe, I recommend picking on of the great viewpoints at several of the hairpin turns in the trail to turn around.
Dogs are allowed on leash. A Washington State Sno Park Pass is required.
Pacific Crest Trail North from Snoqualmie Pass (4 miles round trip, 800 feet of elevation gain)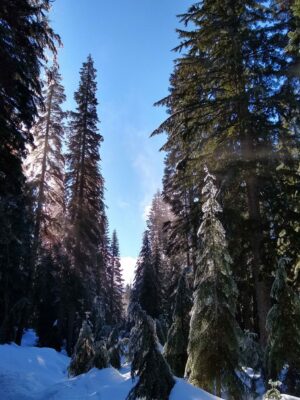 Another great option at Snoqualmie Pass, and one that is generally less crowded than Gold Creek or Kendall Peak lakes! This snowshoe trek follows the Pacific Crest Trail north for approximately two miles before it crosses a steep slope. I recommend turning around here to avoid exposing yourself to avalanches. It climbs steadily up a forested hillside with a few small stream crossings that can make it challenging and might require taking off your snowshoes.
Dogs are allowed on leash. Park at the ski area for Summit West, walk under the freeway and look for a trail along the road on the right. This takes you up a closed road to the summer PCT trailhead.
Franklin Falls – Snoqualmie Pass (4 miles round trip and 400 feet of elevation loss, then gain)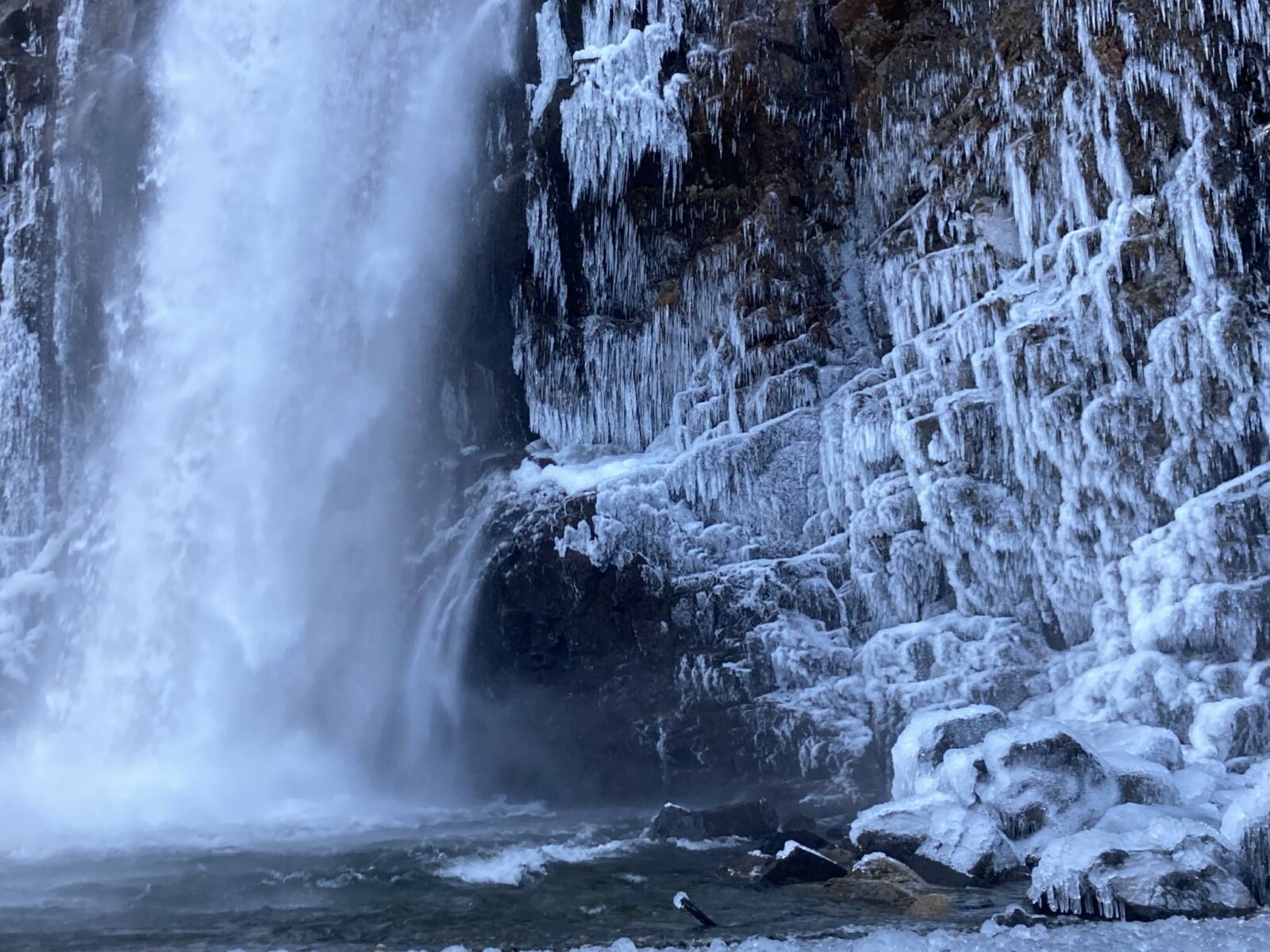 Franklin Falls in winter is absolutely beautiful and I'm slightly hesitant to recommend it as a beginner snowshoeing trip because sometimes you're better off with boots and microspikes than snowshoes. Still, it's a beautiful place and a beautiful trail, even if it is right next to the freeway! Read all about your options for Franklin Falls in winter here.
The area immediately around Franklin Falls is prone to avalanches. Stay away from the area during times of avalanche danger.
Dogs are allowed on leash. Park at the ski area for Summit West, walk under the freeway and look for a closed road on the left.
Annette Lake Sno Park – Just west of Snoqualmie Pass (distance and elevation gain varies)
Annette Lake itself is not a safe destination in winter unless you are very knowledgeable and experienced in avalanche evaluation and safety. The upper part of the trail crosses a dangerous avalanche chute. However, the Annette Lake Sno Park is a great jumping off point to explore the Iron Horse Trail instead, as well as the Asahel Curtis Nature Trail.
To explore here, head up the Annette Lake Trail about a mile and 500 feet of elevation gain to the Iron Horse Trail. From here, you can go either left or right to explore the wide trail with plenty of lovely views on clear days.
If you want more, you can add on the mile loop around the Asahel Curtis Nature Trail, which has about 200 feet of elevation gain and goes over beautiful Humpback Creek and through an old growth forest.
Sometimes during the winter at the lower part of the trail, there are bare spots or very packed snow, and other times deep fresh snow. At times you may not need snowshoes here around the lower parts of the trail.
Lake Easton – East of Snoqualmie Pass (up to 5 miles in loops, minimal elevation gain)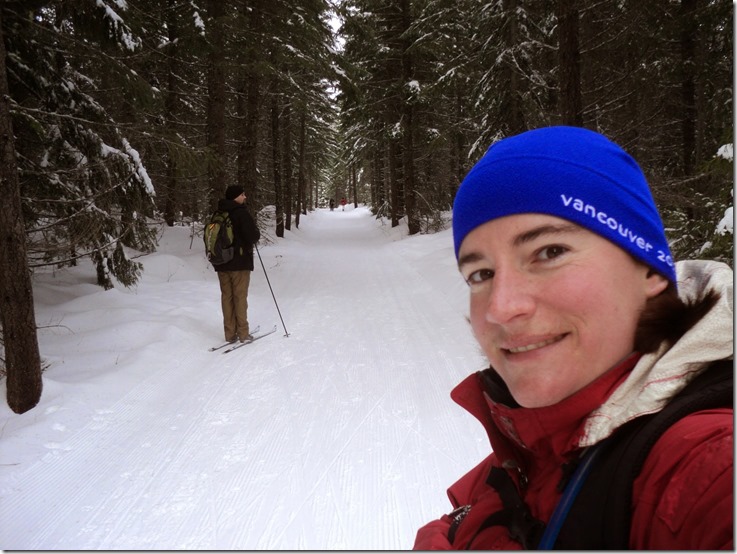 Lake Easton is a wonderful place for beginner snowshoeing near Seattle. An additional 15 miles beyond the pass is a small price to pay for the beauty of this area and far fewer crowds than at Snoqualmie Pass. These trails are shared with cross country skiers so make certain to stay to the right of the groomed track and skating lane. It's a pretty area and an easy, mostly flat trail system. You'll be going through the forest and along the lake in places. This area is a bit lower than the others and generally has a shorter season, so check current conditions before heading here. This is usually a good option in January and February.
Dogs are allowed on a few trails in Lake Easton but not all. A Washington State Sno Park pass is required here, along with the additional special grooming permit since Lake Easton is also groomed for cross country skiing.
Salmon La Sac Sno Park (Up to 9 miles and 500 feet of elevation gain)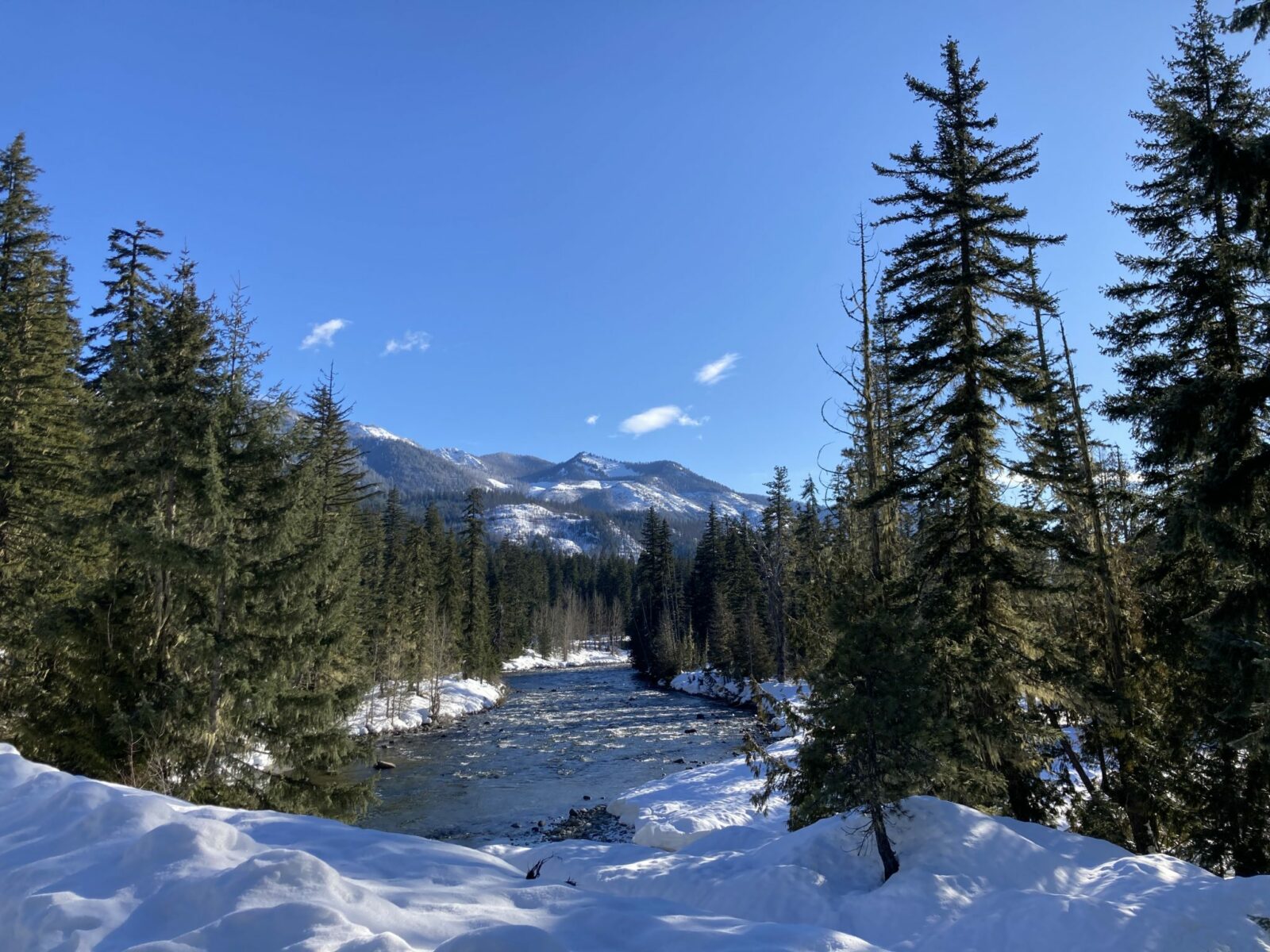 Salmon La Sac is a wonderful place for beginner snowshoers! It's a couple hours from Seattle in good weather, further than Lake Easton. It does tend to have more snow and better snow and be more reliable than Lake Easton, but it's still on the sunnier side of the mountains!
The parking area here is shared with snowmobiles, but the trails are separated so don't be deterred by this. You can explore the area in the campground (stay off the cross country ski grooming), or you can venture up along the Cooper River for over four miles to Cooper Lake. Snowshoeing along the Cooper River is beautiful so don't feel like you have to go a long way. Going as far as the river as you like brings solitude and a change for a lovely winter picnic.
Salmon La Sac is dog friendly too, just keep your dog on a leash! A sno park pass is required to park here.
Wenatchee Crest – Blewett Pass (Up to 6 miles and up to 500 feet of elevation gain)
Wenatchee Crest is a wonderful ramble on the often sunnier side of the Cascade Mountains. On sunny days, you can see distant mountains as well as enjoy the forest you're snowshoeing through.
A Washington State Sno Park pass is required to park here, on the north side of Highway 97. The parking lot is fairly small and fills up fast. You can also park across the highway in the larger sno park parking, but I don't recommend that as you then have to walk across a very busy highway on a blind corner at the top of a pass!
Leashed dogs are welcome on this trail and it's usually not very crowded. If you really want to avoid crowds, try snowshoeing from the Pipe Creek Sno Park or the Swauk Campground Sno Park which are a bit lower on the Ellensburg and Cle Elum side of Blewett Pass.
Snow melts quickly in this drier area and takes longer to build up in fall, so unless it's a heavy snow year I recommend this area for January and February.
Crystal Mountain Resort (Up to 5 miles and up to 500 feet of elevation gain)
Crystal Mountain Ski area has signed and mapped a snowshoe trail system across from the ski area. This is a great snowshoeing option near Seattle if you are a group with some people who want to snowshoe and others who want to ski. It's also a good option that doesn't require any kind of parking pass or fee. Your dog is welcome on these trails as long as you keep your dog on a leash. Dogs are not allowed in any of the ski area buildings.
Parking is shared with skiers and snowboarders who get priority, but you should still be able to find parking. You can also rent snowshoes here if you need them.
If you want you can even buy a gondola ticket and ride the scenic gondola up to the incredible view of Mt Rainier if it's a clear day! Dogs are not allowed on the gondola during the winter (but in the summer they are)
Hurricane Ridge – Olympic National Park (Up to 6 miles round trip and up to 1000 feet of elevation gain)
November 2023 Note: A fire burned the Hurricane Ridge Lodge in May 2023. This fall, the park service worked hard to prepare Hurricane Ridge for winter visitors with a restroom trailer. There are not any indoor spaces, heated spaces, food or water at Hurricane Ridge this winter, but it will be open Fridays through Sundays.
The road from the Hurricane Ridge Visitor Center to the summer trailhead makes for an awesome beginner snowshoe outing (approximately 3 miles with a bit of up and down) with amazing views! Going to the top of Hurricane Hill is a 6 mile outing (and avalanche danger must be taken into consideration beyond the summer trailhead). Rangers in the visitor center can recommend other routes based on the conditions, and you can join a ranger led snowshoe walk (including using snowshoes). Note that the road to Hurricane Ridge and the visitor center are only open Friday-Sunday during the winter.
From Hurricane Ridge and Hurricane Hill you'll be treating to sweeping views of the Olympic Mountains, the Strait of Juan de Fuca and the Cascade Mountains on a clear day. This is also an amazing winter sunset spot!a
Dogs are not allowed and you will need to pay $30 per vehicle for the Olympic National Park entrance fee.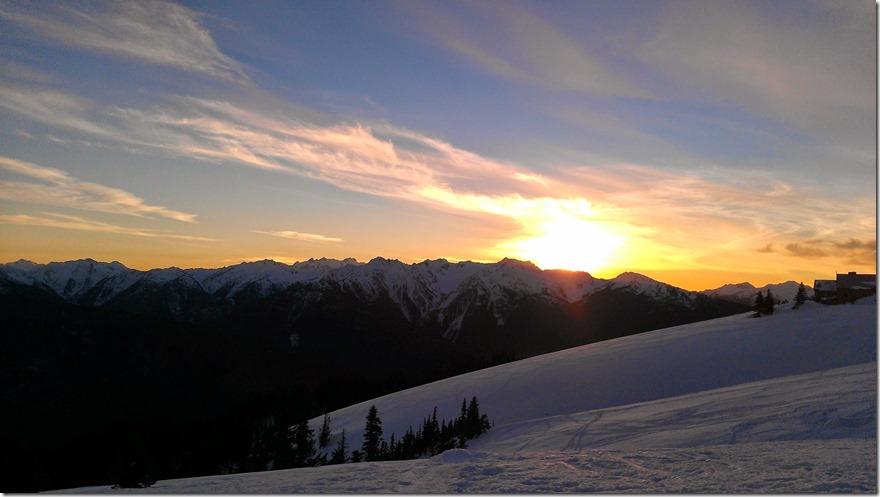 Mt Rainier National Park – Length and elevation gain varies
Mt Rainier National Park is a wonderful place for snowshoeing near Seattle with options for beginners and experienced snowshoers alike! This post is all about the details of where to snowshoe in Mt Rainier including
Paradise – multiple loops and round trip snowshoe trips to Glacier Vista, Nisqually Vista, Narada Falls and more, featuring views of Mt Rainier as well as surrounding mountains
Longmire – a snowy wintry forest snowshoe walk to Rampart Ridge
Along the White River near the road to Crystal Mountain
To Mowich Lake in the remote northwest corner of the park
Dogs are not allowed on trails in Mt Rainier National Park. You will need to pay the $30 entrance fee per vehicle.