How to hike to Little Mashel Falls in Eatonville
Posted On February 28, 2022
Little Mashel Falls is not one but three gorgeous waterfalls in Eatonville near Mt Rainier that makes for a wonderful year round hike in almost any weather. This trail has three possible starting points which are described below and three waterfalls to enjoy. The hike is 4-5 miles with about 500 feet of elevation gain. It depends on which route you take and the options are described below.
Despite the name, these falls are not little, they are really impressive! The middle falls is 90 feet high so there's nothing little about it. The waterfalls cascade down the Little Mashel River, where the name comes from. They go by a variety of names including Mashel Falls, Little Mashel Falls, Tom Tom Falls (the upper one), Upper Falls, Middle Falls, Bridal Veil Falls (middle one), Lower Falls and sometimes just the Eatonville waterfalls.
While this is an ideal year round trail, it does get very muddy so having solid waterproof boots or shoes is extremely helpful.
Ready to check out this classic Pacific Northwest gem? Let's do it!
The land around the Little Mashel River and Little Mashel Falls is the homeland of the Nisqually People.
Parking Pass: None
Dog Friendly: Yes, on leash.
Cell phone coverage: Good
Restrooms: None, except a portable toilet may be available about a quarter mile onto the trail from the Bud Blancher trailhead.
Accessibility and Mobility: Some sections of the trail are quite flat and wide and others are narrow and steeper with rocks and roots. Especially the spur trails to each waterfall have some steps, roots and lots of mud to navigate.
Related: What to wear for a hike in the Pacific Northwest, What to bring for a hike in the Pacific Northwest
How hard is the Mashel Falls hike?
I would describe this hike as moderate. It has some elevation gain but isn't ever extremely steep. The areas getting down to and back up from the waterfall viewpoints get very muddy and slippery and have some steep sections with rocks, roots and steps.
When is the best time to hike to Mashel Falls?
Little Mashel Falls is a spectacular year round hike. If you happen to catch some lowland snow and cold temperatures this hike is even more magical (bring microspikes or hiking poles to help with traction).
Late fall, winter and spring have the heaviest flow of water crashing down the waterfalls, in spring you might not even be able to get very close due to the incredible spray coming off the falls.
Come summer, there are several popular local swimming holes along this river and under the various waterfalls.
Any time of year, use extreme caution on rocks and do not get close to the edge, even for a great picture. People have lost their lives here trying to get the perfect shot. Please, don't do that!
Related: Best winter hikes near Seattle
Where do you park for Little Mashel Falls?
There are three options for starting this trail: The Bud Blancher Trailhead, Smallwood Park, or the UW Pack Forest.
To start at the Bud Blancher Trailhead, from Seattle or Tacoma head to Eatonville. You'll come into town on State Highway 161 which becomes Washington Avenue in town. In town, turn left on Center Street. Then, turn right on Weyerhauser Road on the edge of town and the trailhead is right there.
If you want a shorter hike, start at Smallwood Park instead. This cuts off about a mile total. From Washington Street in downtown Eatonville, turn left on Larson Street and an immediate left on Mashel Avenue. On the edge of town, turn left on 436th which is signed for Smallwood Park. Park as soon as you enter the park.
To start from the Pack Forest, this is a slightly longer hike (about a mile longer total) with a couple hundred feet more elevation gain. Follow the same directions to Smallwood Park but instead of turning there, continue to the junction with Highway 7 and turn left. The well signed parking area for Pack Forest is on the left in a short distance.
Related: Best Mt Rainier waterfalls
Trail Description
I'm going to describe this hike starting from the Bud Blancher or Smallwood Park trailheads. If you start at the Pack Forest side, you'll be coming from the opposite end (map here) and will encounter the waterfalls in the opposite order. The Bud Blancher/Smallwood route is less confusing and slightly (only slightly) less muddy.
If you start at the Bud Blancher trailhead, you'll travel on a wide gravel path down a little at first but mostly flat. In about half a mile you'll meet anyone coming from Smallwood Park. If you start at Smallwood Park, you'll get on the wide, gravel trail here. The road is near you in places, so just keep to the gravel and you'll be on the right route.
In a mile and a half (a mile from Smallwood), you'll come to a wooden bridge over the river. Just past the bridge, you'll turn left onto a trail marked "Little Mashel Falls". After a very short distance, a red sign on a tree indicates a right turn for the waterfalls (straight goes directly towards the river).
Now you'll start climbing a bit through the forest. I like to go to the furthest falls first and visit the others on the way back, but however you want to do it is up to you! Each waterfall view point is marked as you pass. If you're only going to go to one, make it Middle Falls (which also is sometimes called Bridal Veil Falls) since most people (including me) think it's the best!
To go to the Upper Falls (also called Tom Tom Falls) you'll go a total of about 2.5 miles from the Bud Blancher trailhead (2 miles from Smallwood). Here you'll see the falls at a bit of a distance, but they are lovely.
Heading back down, there is an upper viewpoint of the middle falls and a small pool above it. Be extremely careful here as there is a massive drop off and the rocks are slippery, especially when they are wet or icy. Stay well back from the edge.
Back on the main trail heading down towards your car, the next trail branch (now it will be on your right) leads down to Middle Falls. This spur trail is short but sometimes quite steep and muddy.
When you've had your fill of that waterfall, get back on the main trail and look for another spur trail down to the right, which is signed for Lower Falls. This is another beautiful waterfall. It's a shorter drop than Middle Falls, but it's wider and is beautifully framed by trees around it. This trail is slightly longer from the main trail (but still less than half a mile) and a bit steeper. There are steps and rocks to navigate here, be careful!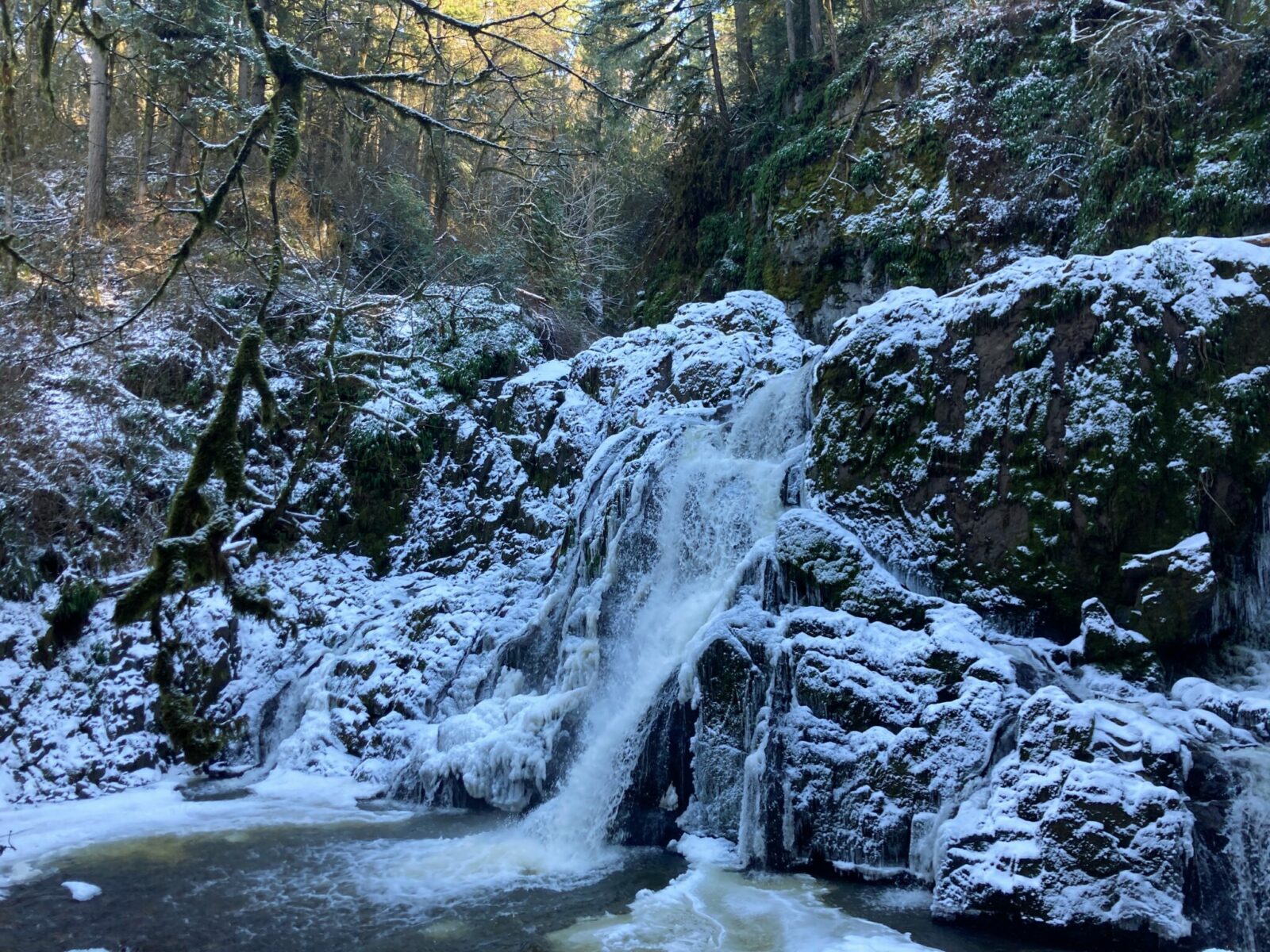 Once you're ready to go, climb back up to the main trail and head right (downhill) through the forest back to your car.
Related: The most spectacular waterfalls in Washington State
Bakeries and breweries near Mashel Falls
There used to be an absolutely wonderful bakery in the little yellow house in downtown Eatonville. It is unfortunately closed but I keep hoping it will reopen again! Take a look for me and let me know in case you get there before I do!
Almost making up for that though is the wonderful Mill Haus Cider Company, which has a ton of delicious cider as well as beer. They also have food like tacos and flatbreads. In addition to the delicious cider (get a flight so you don't have to choose), the best thing about this place is the wonderful outdoor space. They have lots of covered tables with a variety of heat sources, including wood fires, propane heaters and fire tables. Perfect post hike spot!
Electric Vehicle Charging
Unfortunately, there are not any fast chargers near Eatonville. The closest fast chargers are in Puyallup (24 miles away) and Olympia (40 miles away).