Winter Day trip to Mt Rainier
Posted On December 26, 2018
Last Updated on November 8, 2023
In winter, Mt Rainier's famous wildflowers and high mountain meadows are covered in deep snow. Rain, fog and snow frequently limit the views and yet this is an AWESOME time for a day at Mt Rainier! If you're looking to get outside all year, a winter day trip to Mt Rainier is an adventureous and memorable way to spend the day. In my opinion a glorious winter day on the mountain is even better than in the summer.
November 2023 note: Last winter (2022-23) Mt Rainier National Park only opened the road to Paradise on Saturdays and Sundays and the sledding hill was not open at all. They have not announced their plans for winter 2023-24, I will update this note when they do.
This part of Mt Rainier National Park is the land of the Puyallup People.
Passes Needed: Mt Rainier National Park entrance fee – $30
Cell Service: None along the road once you enter the park, there is service at Paradise.
Dog Friendly: Dogs are not allowed on any trails in Mt Rainier National Park.
Accessibility: ADA accessible restrooms are available at the Jackson Visitor Center at Paradise and at Longmire. The Jackson Visitor Center is also ADA accessible.
Related: Ultimate Washington National Parks Road Trip Itinerary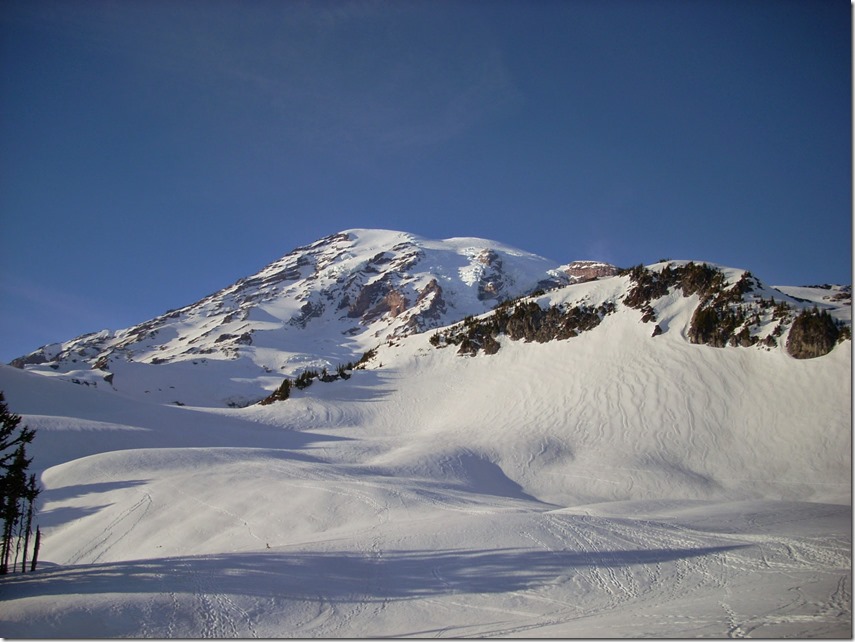 Driving to Mt Rainier in Winter
The most important thing to note is that most of the roads are closed except for the road through the Nisqually entrance (southwest side of the park) to Longmire and Paradise. Sometimes the road to Paradise is closed during bad storms and every day the gate is locked at Longmire just after sunset. Driving as far as Longmire is not that different than summer, but after that point the driving becomes more challenging.
The park service REQUIRES that all vehicles carry tire chains (even if they are 4 wheel drive) and they may require you to put them on. The road from Longmire up to Paradise is only 11 miles but it is extremely curvy and steep in places and it takes a long time, depending on conditions. Be aware of and keep your eyes out for snowplows and ice on the road. This road is generally plowed and open all winter, but does close at times if a storm dumps too much snow for the park service to get it open right away.
You can check the road conditions on the park's webpage and following them on Twitter is a good idea for the latest the day of (no Twitter account required to follow them, just google it). There is a large parking lot at the Paradise Visitor Center (the Paradise Inn is closed in winter and the Paradise Visitor Center is only open weekends and holidays).
Snowshoeing and Hiking at Mt Rainier in Winter
Generally speaking, you'll be on snow in the park in the winter, although the trails around Longmire are at times snow free and melt out much sooner (Paradise is often not snow free until July and the other roads open at various times in May and June). You can also cross country ski, though you need to know what you're doing as there are no groomed trails in the park. I would recommend strapping on the snowshoes and walking around the Paradise meadows, which is unbelievably beautiful and will make you feel like a true mountaineer even a short distance from the parking lot! It is important to be aware of the current weather forecast and avalanche forecast. The rangers in the visitor center will be able to advise you on good places to go based on the current weather. They also provide a map of winter routes and areas to avoid.
Related: Complete guide to snowshoeing at Mt Rainier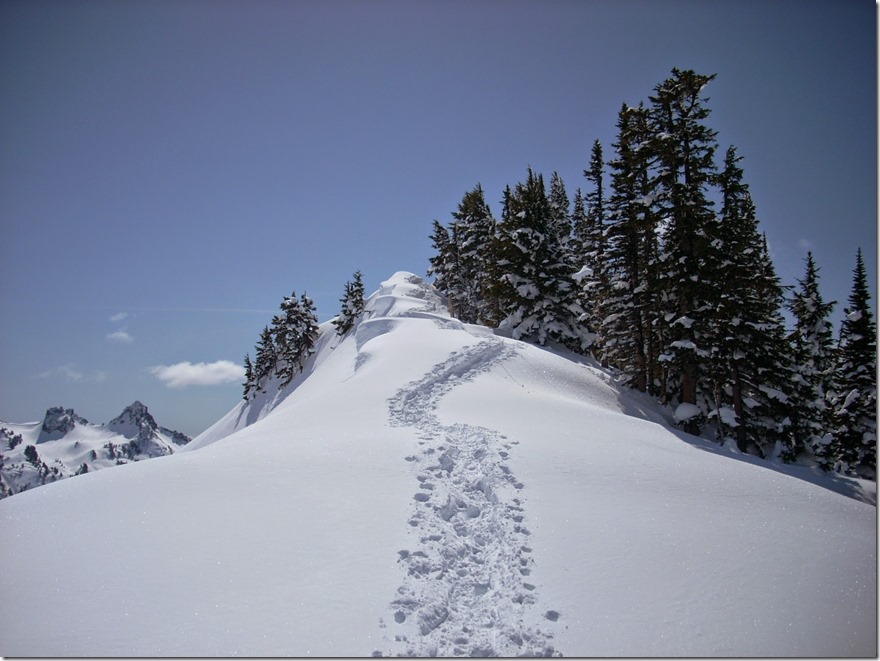 Snow play at Paradise
Once there's enough snow, the snow play area at Paradise opens, which is an official sledding hill and a super fun place to play with your tube or saucer! To protect the meadows quite a bit of snow is required to open it and you can check to see if it's open yet on Mt Rainier's website. This is a fun outing for the whole family and an alternative way to get out of the car and play without snowshoeing or sinking chest deep in snow!
Hiking around Longmire
As mentioned above, Longmire is snow free earlier in the spring, later in the fall and sometimes snow free in between. Longmire hiking may also be snowshoeing, but not necessarily. You can hike or snowshoe along the wonderland trail, or you can do the short (less than a mile) flat loop around the Trail of the Shadows, which is passes through historic buildings that were part of the former hot springs resort as well as through the forest.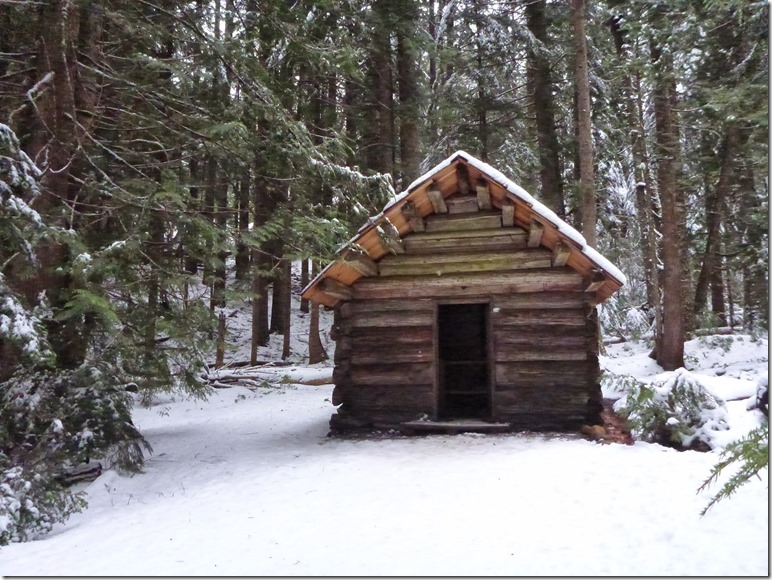 Getting away from it all at Mowich Lake
If you want to get away from all the other visitors (there are far, far less people in winter but you'll still see a lot of people at Paradise on sunny winter days), a couple of other areas of the park that I've talked about before are Mowich Lake and the east side of the park beyond where the road is closed at the Crystal Mountain road. These areas have no services of any kind.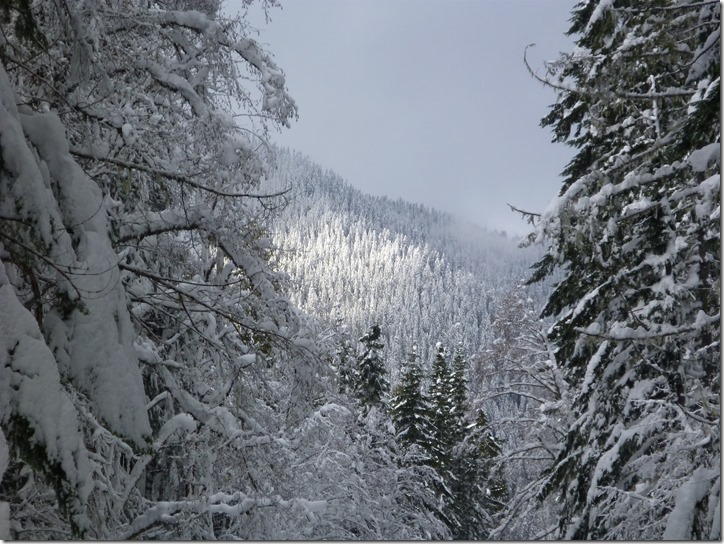 Services and Food
Make sure to have a full tank of gas as there is no gas available in the park (this is also true in summer) and it may take longer than you planned to get from place to place depending on weather conditions. Food is available in the Paradise Visitor Center (weekends and holidays only) cafeteria style and there is a sit down restaurant at Longmire that it open daily. Bringing your own snacks, food and water is a good money saving strategy as well as a way to avoid lines and spend the time you have exploring.
Have an amazing time being one of the lucky ones to experience the magic of a winter day in Mt Rainier National Park!