Rattlesnake Ledge Sunrise Hike
Posted On January 30, 2019
Last Updated on July 2, 2020
I love sunrise. It is rough to wake up crazy early but there's something about being up and out before the world wakes up that I truly love. I also love the promise of a new day, and the darkness that slowly gets lighter until you don't need your headlamp anymore. Back when I worked in tourism in Alaska, one summer my shift was 2:45am until noon, and even though I was perpetually tired, I still loved that first couple of quiet hours (although in the middle of summer it wasn't dark!). I love sunrise hikes, but rarely do them since it's not something I'm wild about doing by myself and not many people want to get up that early! So, when one of my adventuring cousins invited me to join her and some friends on this Rattlesnake Ledge sunrise hike I said yes immediately! We lucked out with perfect, clear weather (in January??), and a quarter moon to light the way out of the parking lot.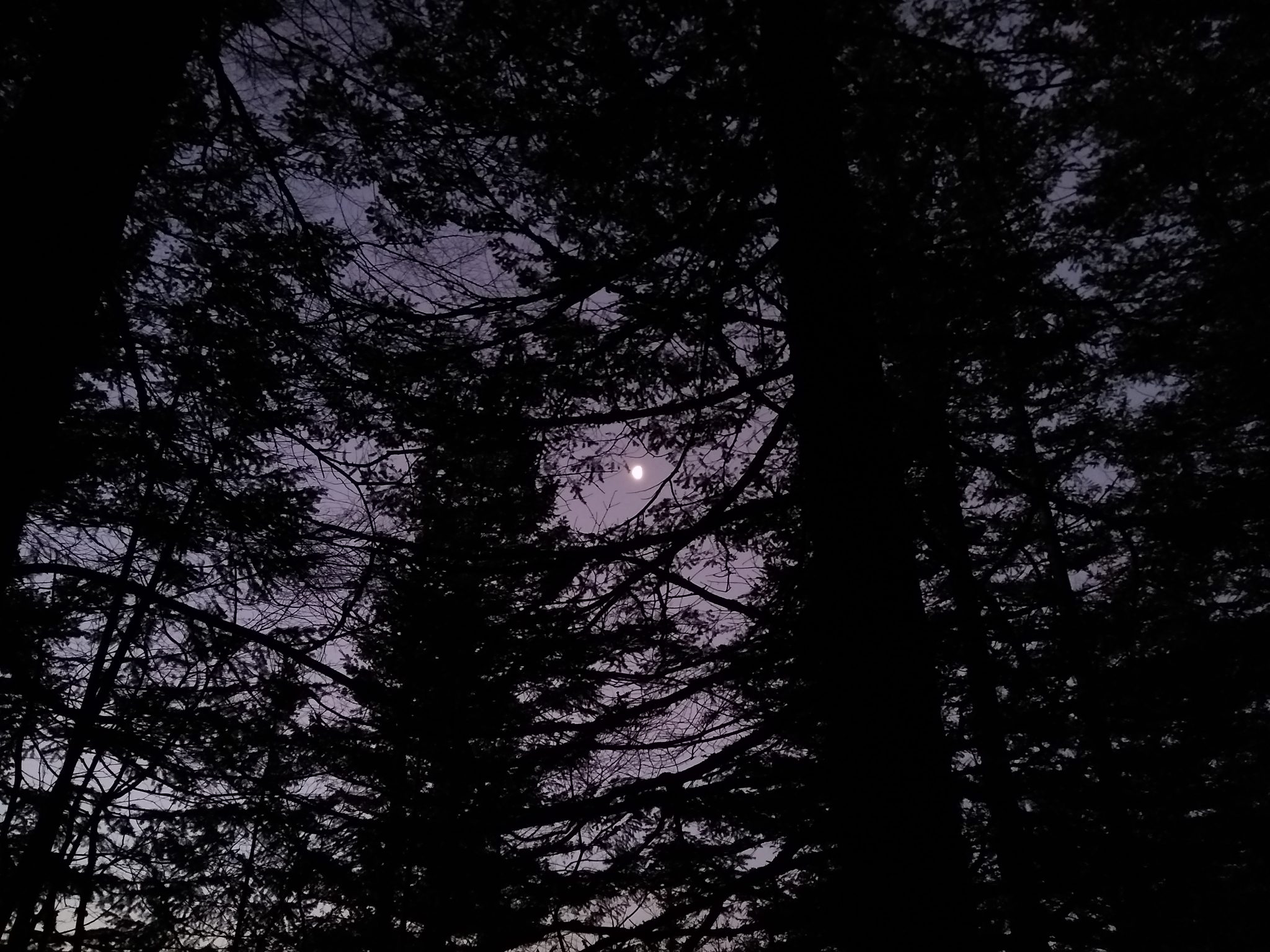 Sunrise was on for 7:45am, so we planned to start off at 5:30, but didn't actually hit the trail until a little after 6. We started off in the dark and with headlamps. I have hiked this trail many, many times so it felt familiar despite the darkness. My companions had not hiked it before and they had no trouble finding the way. It's a wide trail with good tread, and while you certainly need to use caution in the dark and use a headlamp, it was not difficult to follow. The trail climbs steadily but never too steeply for two miles to the ledge (though the trail continues on another 10 miles to Snoqualmie point there's a clear sign to go right for the ledge at two miles). The elevation gain is just over 1000 feet, and it took us slightly less than an hour and a half.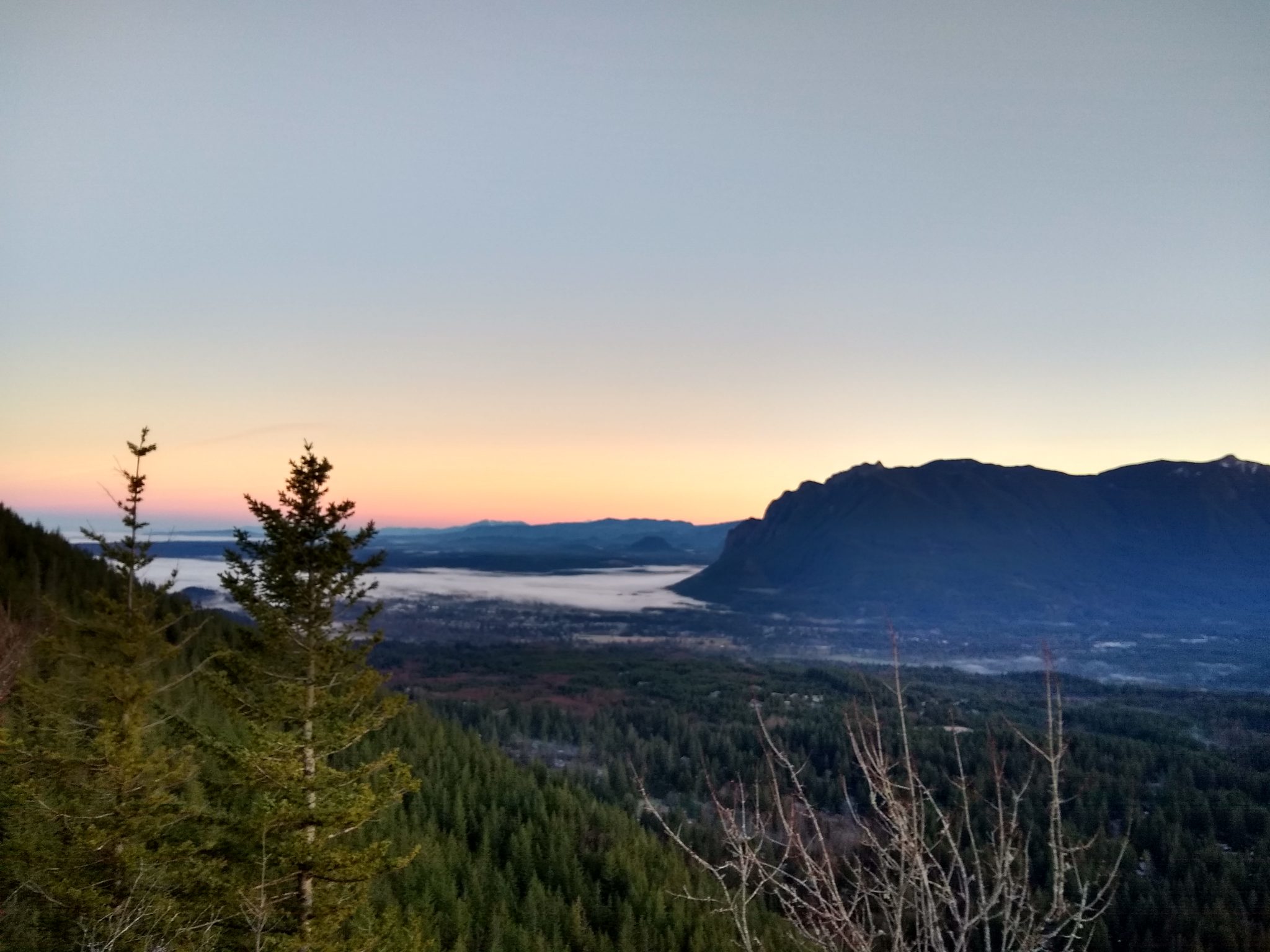 Once at the top, we settled in to take in the sunrise, staying at the top for a total of almost an hour. I brought out my sleeping pad and sleeping bag that I brought along to make for a warm and toasty wait. I also brought along my ever present homemade hot chocolate and that added to the warmth and joy of the experience (of course I put the mug down before my cousin took this photo!).
Overall, I would highly recommend this as a sunrise hike! I was surprised how many people were out before 7am in January (though it was an awesomely clear night/day). This is a very popular hike and on a summer weekend is really just too crowded for me. However, it's an awesome hike because it's close to town, usually snow free and has a wonderful view. I found that the adventure of a sunrise hike rekindled the magic of this hike for me. To really enjoy Rattlesnake ledge, a weekday (it totally works as an after work hike in the summer because it's so close and only 4 miles roundtrip) or the sunrise option is a good way to enjoy it with less crowds. If you do a sunrise hike, in addition to the 10 essentials (especially important to bring your headlamp!!), I would suggest bringing something to sit on such as a sitpad or sleeping pad and a light sleeping bag or really warm jacket. That will really help you stay warm (especially the sleeping pad or sit pad)
Our hike back down took about an hour, with lots and lots of people passing us heading up! The early morning light coming through the forest was really stunning in away I hadn't noticed before. Overall, a really important reminder of the value of an ordinary adventure!