A Seattleite's Top 10 things to do in Seattle
Posted On June 10, 2019
Last Updated on April 20, 2023
Are you visiting Seattle soon? Moved here recently? If so, welcome! Perhaps you're a local trying to think of fun places to go with visiting family and friends that will be fun for you too! Or looking for a place to send them while you're at work? As a born and raised Seattleite, this list includes some things you probably already know, but some you may not be familiar with.
This list is intended to be fun for everyone regardless of their age and interests (I've noted things that are especially good for kids) and will be a good option year round (except the International Fountain…playing in that during the winter isn't fun!). I've also made sure that everything on the list is easy to access, whether or not you have a car. If you're looking for day trips from Seattle that get out of the city, read my recommendations for that too.
Most of these are low cost or free (I've noted the costs below). Wondering why the Space Needle isn't on the list? See why here. If you only have one day to spend in Seattle, check out my recommended itinerary here. All of my recommendations are unique to Seattle, things you can't do anywhere else! Alright then, here it is: The 10 best things to do in Seattle!
Related: What to pack for Seattle
1. Pike Place Market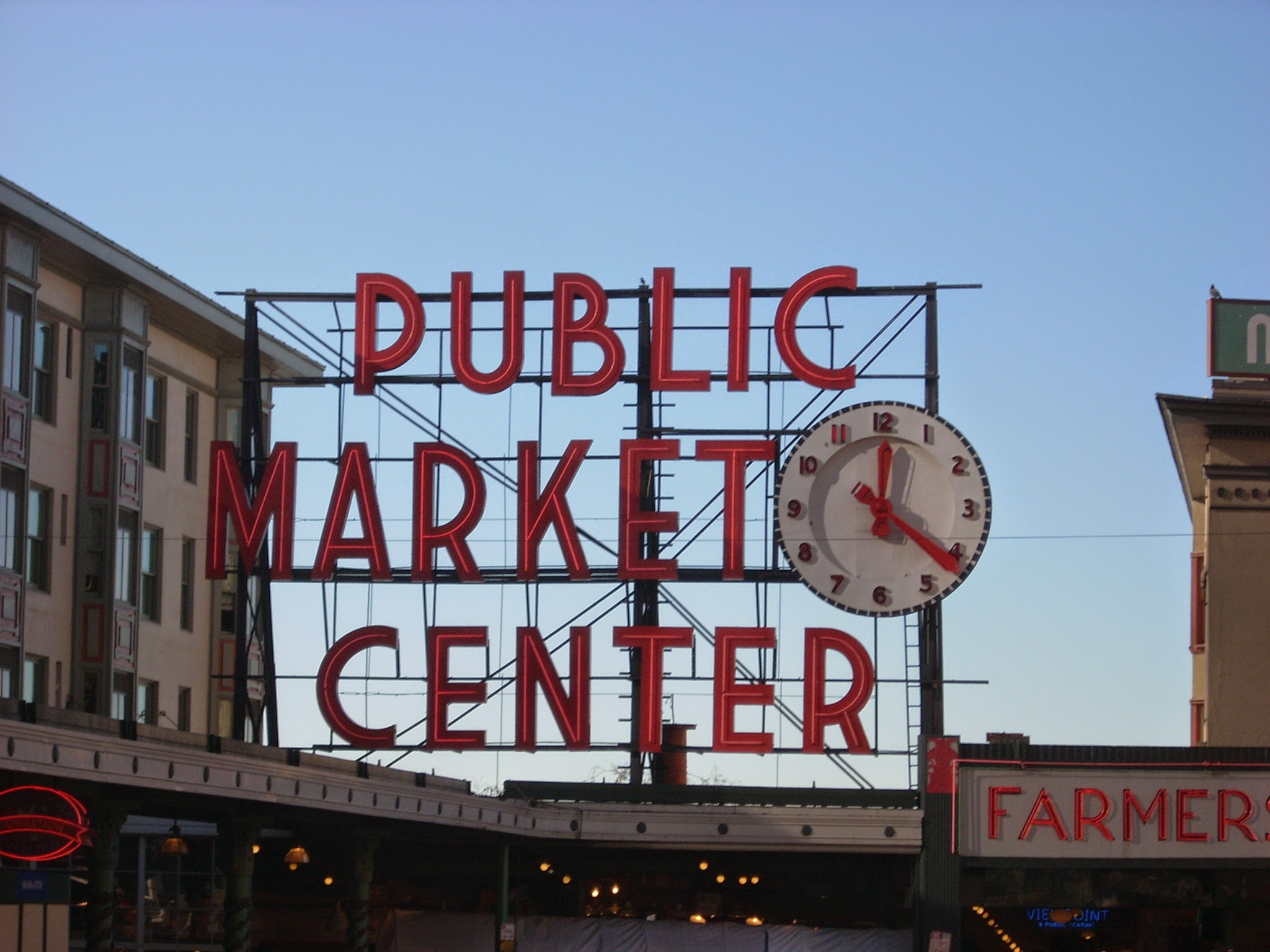 Yes, it's touristy…but it's also local! Pike Place Market summer crowds can be a lot, but if you're going to pick one crowded place to go, this should be it. There is a bounty of local fruits, vegetables and seafood (and many other types of food) and you can have fun shopping around for those perfect dinner or picnic ingredients. You can also sample local favorites like Beecher's cheese, Rachel's Ginger Beer, Honest Biscuits (try the fried chicken sandwich!), Market Spice Tea and Ellenos yogurt and try out Washington beer and wine. The market is also full of local art. Don't miss a visit to Eighth Generation, a Native owned and operated shop with handmade art. You won't miss the fish throwers, even if you want to! And you don't want to miss them, they're fun! Get a gorgeous and affordable bouquet of flowers, which are abundant from March through November (and dried bouquets are available the rest of the year). Want some great coffee? Head to Storyville or Seattle Coffee Works, don't wait in line for a million years at the original Starbucks (go to any other Starbucks instead and pose outside for a picture!).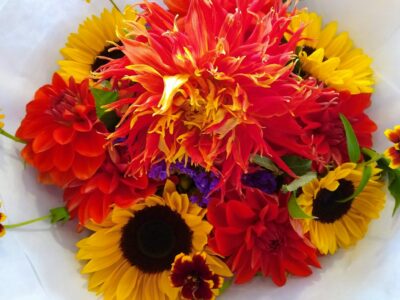 COST: Free!
HOW TO GET THERE: It's easy to get downtown on the bus or light rail from pretty much anywhere, and if you're already downtown you can just walk! If you're driving the market has an official garage.
KID FRIENDLINESS: The crowds can be stressful with kids, but kids will enjoy all the colorful food and especially the fish throwers!
2. The Smith Tower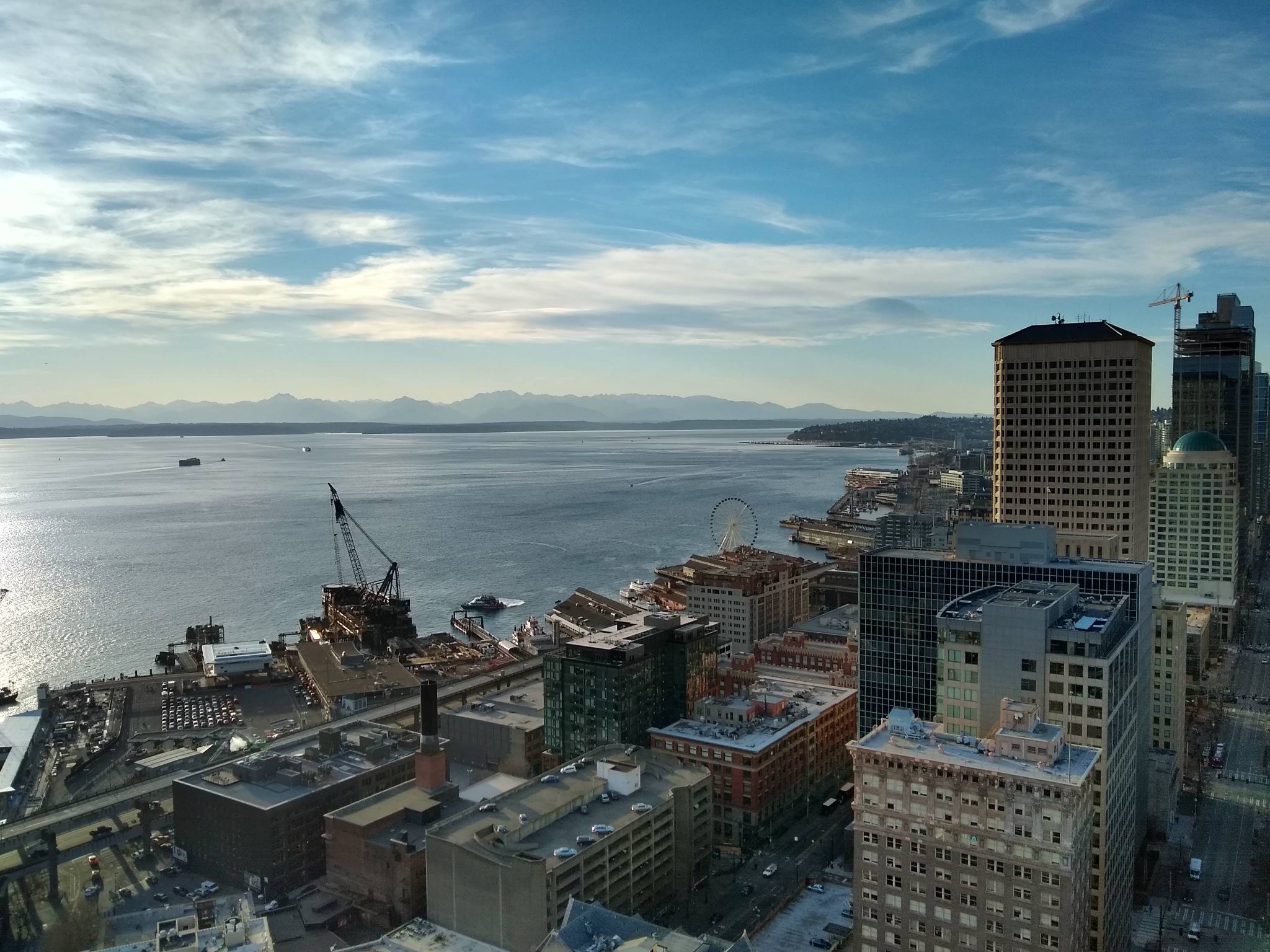 The Smith Tower is the least expensive tall building in Seattle and it's a fantastic view! It's also a really fun historic building with a Prohibition themed bar…what's not to love?? It's affordable, fantastic and unique! When the Smith Tower was built, it was the tallest building west of the Mississippi River, which is hard to imagine now that it's dwarfed by the many taller buildings to the north of it and all the construction cranes. This is a fabulous place to watch a sunset.
COST: It varies based on the time, but generally it's $20 for adults, $16 for kids (5-12) and free for kids under 5. It's also $12 for locals! Food and drinks are additional.
HOW TO GET THERE: The Smith Tower is in the Pioneer Square neighborhood and is easy to access by bus or at the Pioneer Square light rail station. If you're driving there's a parking garage across the street.
KID FRIENDLINESS: The old school elevator is fun and it's fun to look out at the view, though kids may get bored with this before adults! (or maybe not!)
3. International District
The International District is the heart of Seattle's Asian American community and a place with lots of important history and delicious food. This area is very close to the Smith Tower, so going there before or after would make a lot of sense. You can start your visit to the International District with a visit to the Wing Luke Museum, where you can learn about the history of Asian Americans in Seattle, including the impacts of racism on our city. You can even take a tour of the neighborhood, either history or food focused. This is my favorite museum in Seattle! The International District is also a good opportunity for some incredible food…including many restaurants as well as the well known supermarket Uwajimaya.
COST: Wing Luke Museum is $17 for adults and $10 for kids (5-12).
HOW TO GET THERE: Take light rail to the International District Station, or the bus, or walk from downtown. Parking is challenging and generally on the street (parking is impossible if there's a game in the neighborhood), take transit!
KID FRIENDLINESS: It's a museum, so it might hold limited attention for kids. Walking around and seeing all the markets and of course eating is fun for kids!
4. Chihuly Gardens and Glass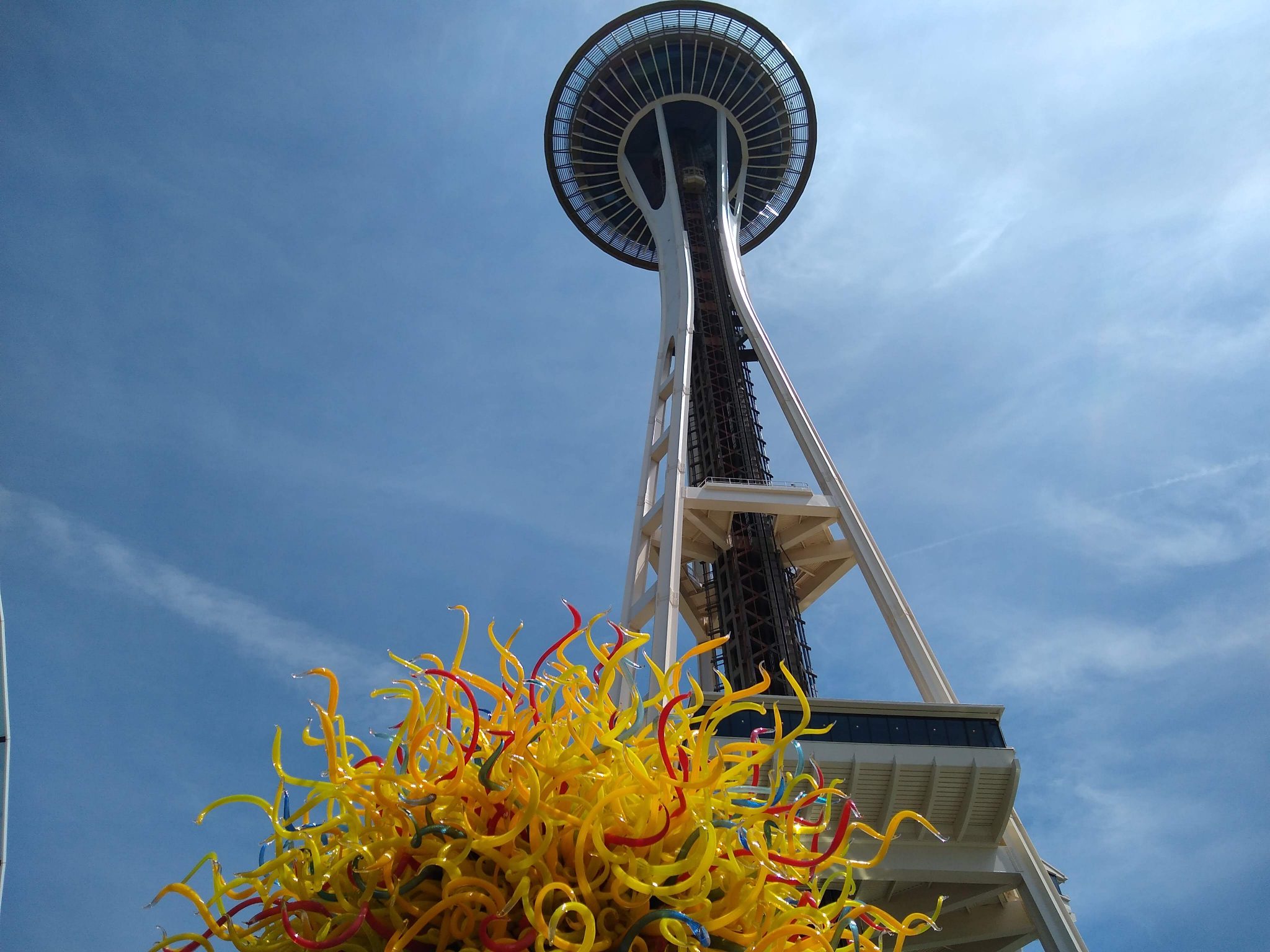 Local world famous glass artist Dale Chihuly has a gorgeous museum here, and even those not as interested in art museums will still be fascinated by the bright colors and the variety of displays, with some being in a more traditional gallery and some outdoors in a garden in the shadow of the Space Needle. If you are going to go up the Space Needle, buy your ticket as a combo with the Chihuly museum as it's less expensive for both in a bundle. You can also take my recommendation and take pictures of the Space Needle from below! This is a good activity to do before going to the International Fountain, since they're close together.
COST: The cost is $32 for adults and and $19 for kids. King County residents save $5. You can also save $10 by visiting in the evening! However, check their website for their schedule as sometimes it's closed in the evening for special events.
HOW TO GET THERE: Chihuly Gardens and Glass is part of Seattle Center, which is just north of downtown where the 1962 World's Fair was held. The Space Needle, Pacific Science Center, International Fountain as well as many arts venues and food at the Armory are all in the same area. A fun way to get there from downtown (Westlake Center) is to take the Monorail (this was absolutely my favorite thing in Seattle when I was a kid!). You can also take the bus there. There are multiple parking garages if you choose to drive.
KID FRIENDLINESS: Similar to the Smith Tower and Wing Luke museum, kids may get bored more quickly, but are likely to enjoy the bright colored glass exhibits!
5. International Fountain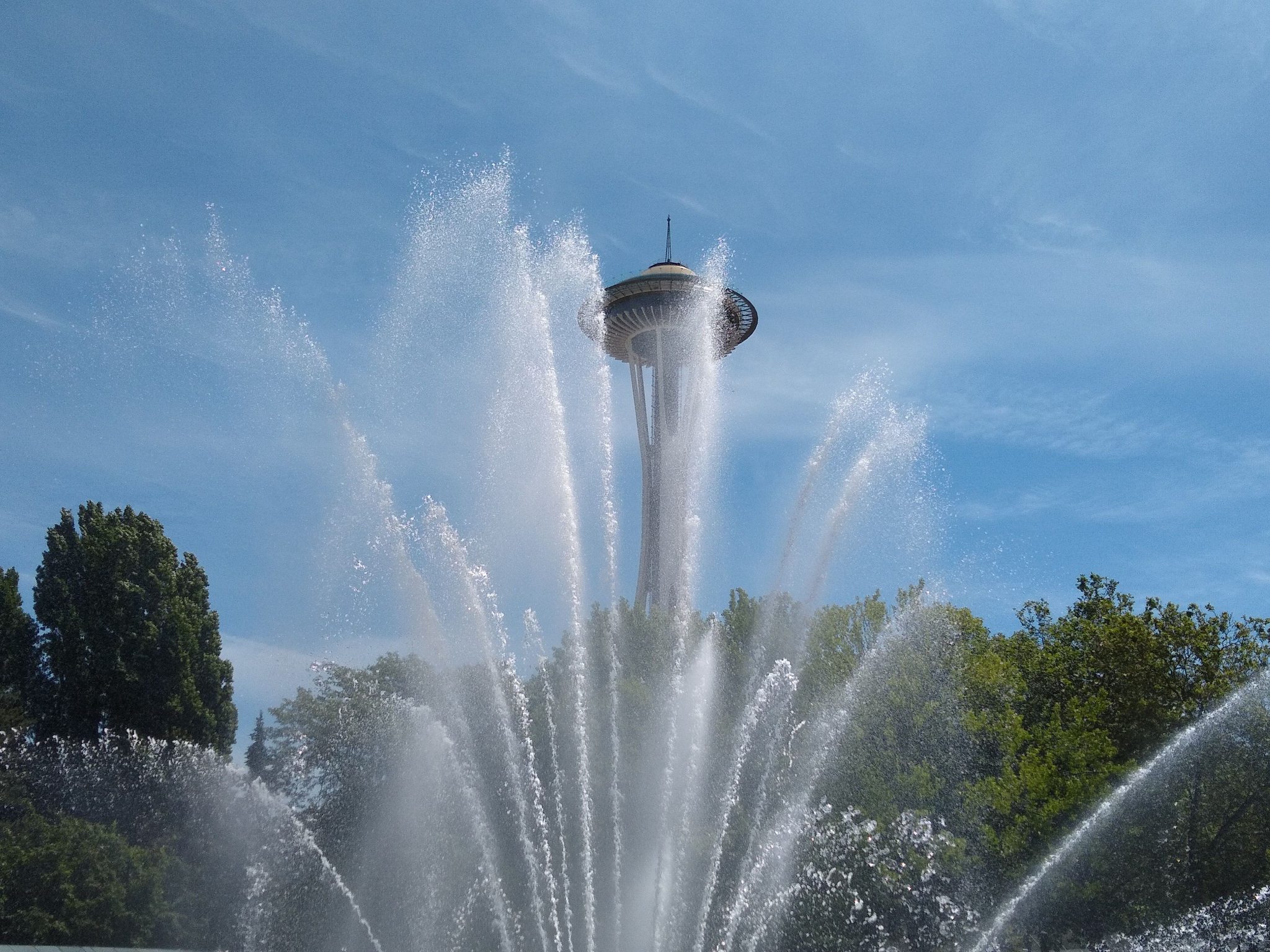 The International Fountain is just plain FUN. It was built for the World's Fair (it's near the Space Needle, Chihuly Museum and Pacific Science Center) and was remodeled in the late 90s for even easier spray park fun…it even has a ramp to enter! Kids and adults will love running through the fountain on a hot (maybe even just slightly warm) day. The fountain cycles regularly and goes off to music. There are also places to sit around the fountain that remain dry. This was a highlight of summer lunch breaks in my 20s when I was working at Pacific Science Center. Go play!
COST: Free!
HOW TO GET THERE: Same as the Chihuly Museum, it's on the campus of Seattle Center.
KID FRIENDLINESS: 100 out of 10! Kids (and adults) love this fountain!!
6. Seward Park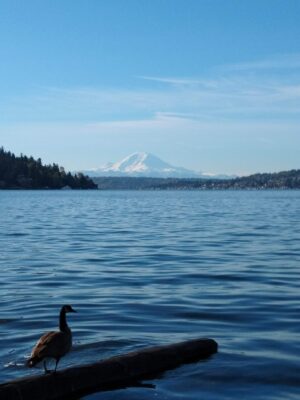 Seward park is a large, peaceful park in Southeast Seattle, located on a peninsula which sticks out into Lake Washington. This park includes lots of hiking trails, with a 2.5 mile loop around the outside of the peninsula. The park features a swimming beach with a lifeguard during summer months, as well as an awesome playground. There is also a gravel beach with a partial view of downtown and a beautiful forest. The north side of the park even features some old growth trees. The south side of the park has a big Mt Rainier view. If the park is crowded, you can head up to the trails in the center of the park, which have far less people. This is a great place to go for a walk or just relax in the expansive lawns. There are also lots of birds here, including a resident nesting pair of bald eagles.
COST: Free!
HOW TO GET THERE: You can take the bus (#50), or you can take light rail to Columbia City station and take the sweet new via service (note: it's free but you need an orca card), which is like a ride share going back and forth to the southeast Seattle lightrail stations, which is making it much easier to get there if you're not already in the south end!
KID FRIENDLINESS: Great place for kids! Beach to play on, forest to explore, great playground and swimming.
7. Ballard Locks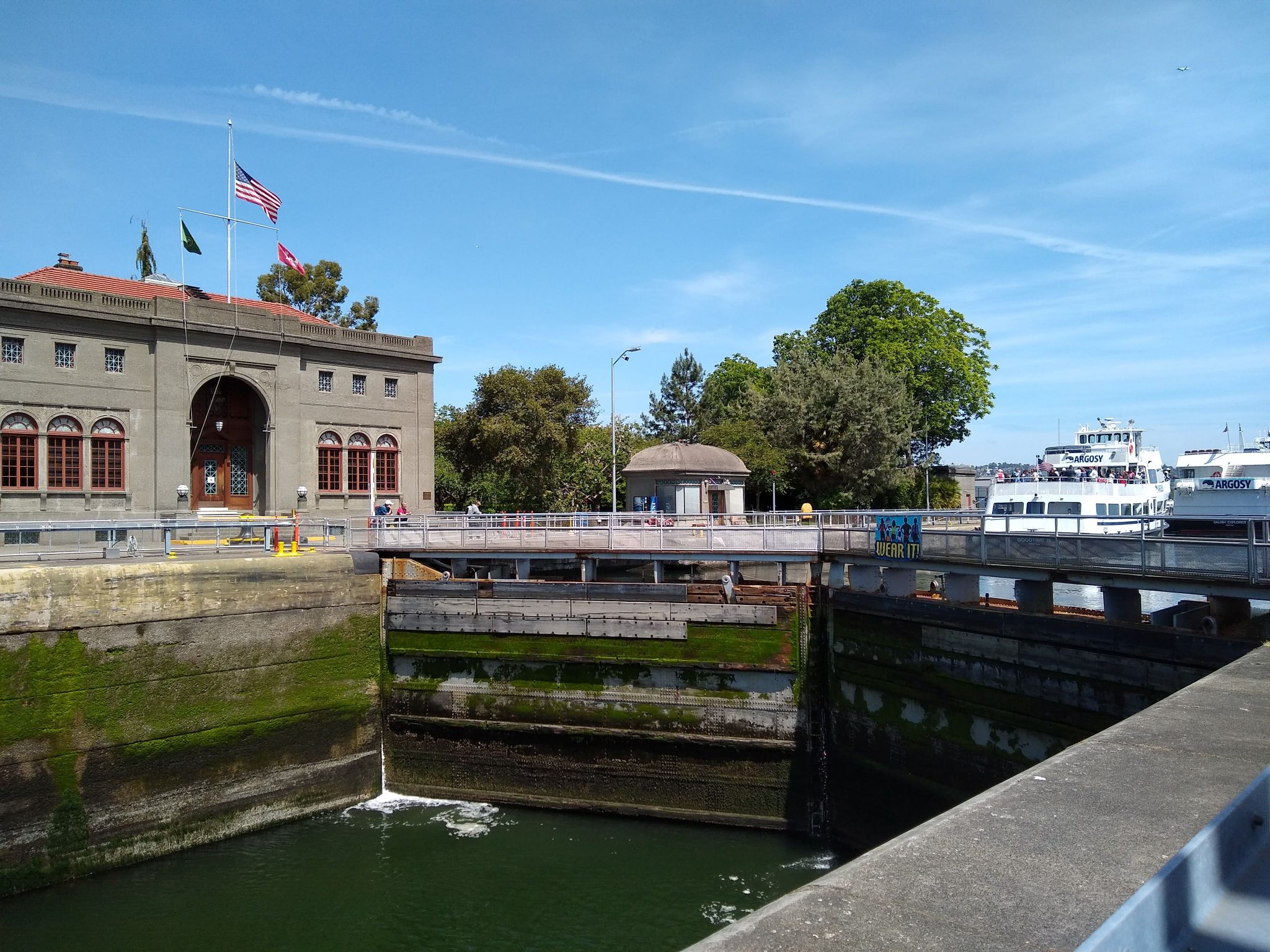 The Ballard Locks is another very unique and totally Seattle experience! The locks were built in 1917 as part of the ship canal, which connected Lake Washington, Lake Union and Puget Sound. The lake is higher than Puget Sound, therefore the locks are needed. You can really see this when you're visiting. There are lots of different things to do here, including watching boats go up and down in the locks (much more interesting than it sounds!), looking for seals and sea lions in the water, seeing salmon run in the fish ladder (if the fish are running, generally summer and fall), strolling the Botanical gardens and lounging on the large grassy hill (and kids can have fun rolling down them, which I used to love as a kid). This is a great place for a picnic, or you can go to Red Mill burgers (locally famous!) if you're needing some food!
COST: Free!
HOW TO GET THERE: You can access the locks either from the Ballard side or the Magnolia side. Most likely, you'll be coming from the Ballard side if you're taking the bus (catch it downtown for Ballard) or driving (there's a parking lot, also street parking is available). If you're feeling adventurous, you can bike from downtown through Myrtle Edwards park and interbay (use bike directions on google).
KID FRIENDLINESS: Great place for kids! They'll enjoy looking at fish, watching boats and rolling on the grassy hills.
8. Myrtle Edwards Park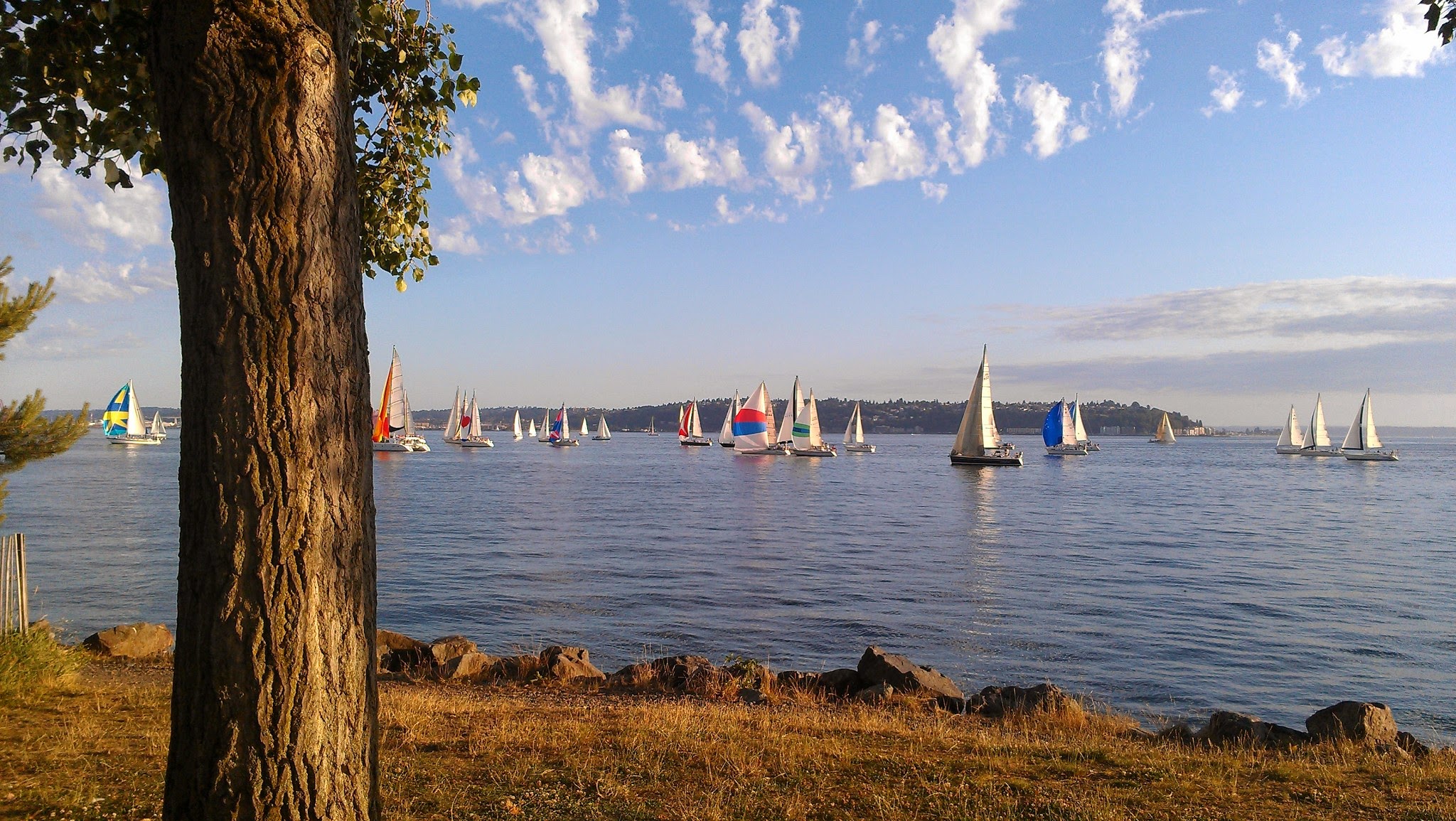 Myrtle Edwards Park has a lovely trail with a separated bike lane on the north end of the Seattle waterfront, starting near Paddy Coyne's pub where the fountain is. You can go all the way to Ballard on this trail, but a couple of miles out is a good turnaround point. On the route, you'll see rocky beach, fishing pier, grain terminal and a cruise terminal, along with lots of tug boats and people relaxing. You'll also see some excellent views of Elliot Bay and downtown. The trail is also completely flat! You can walk, enjoy a picnic or pick up a bike share to ride. Many evenings in the summer there are sailboat races which are fun to watch from shore.
COST: Free
HOW TO GET THERE: From downtown, you can walk to the north end of the waterfront, or take the free shuttle! If you're driving, there are several garages nearby.
KID FRIENDLINESS: Good place to stretch your legs and look for seals and boats!
9. Alki Beach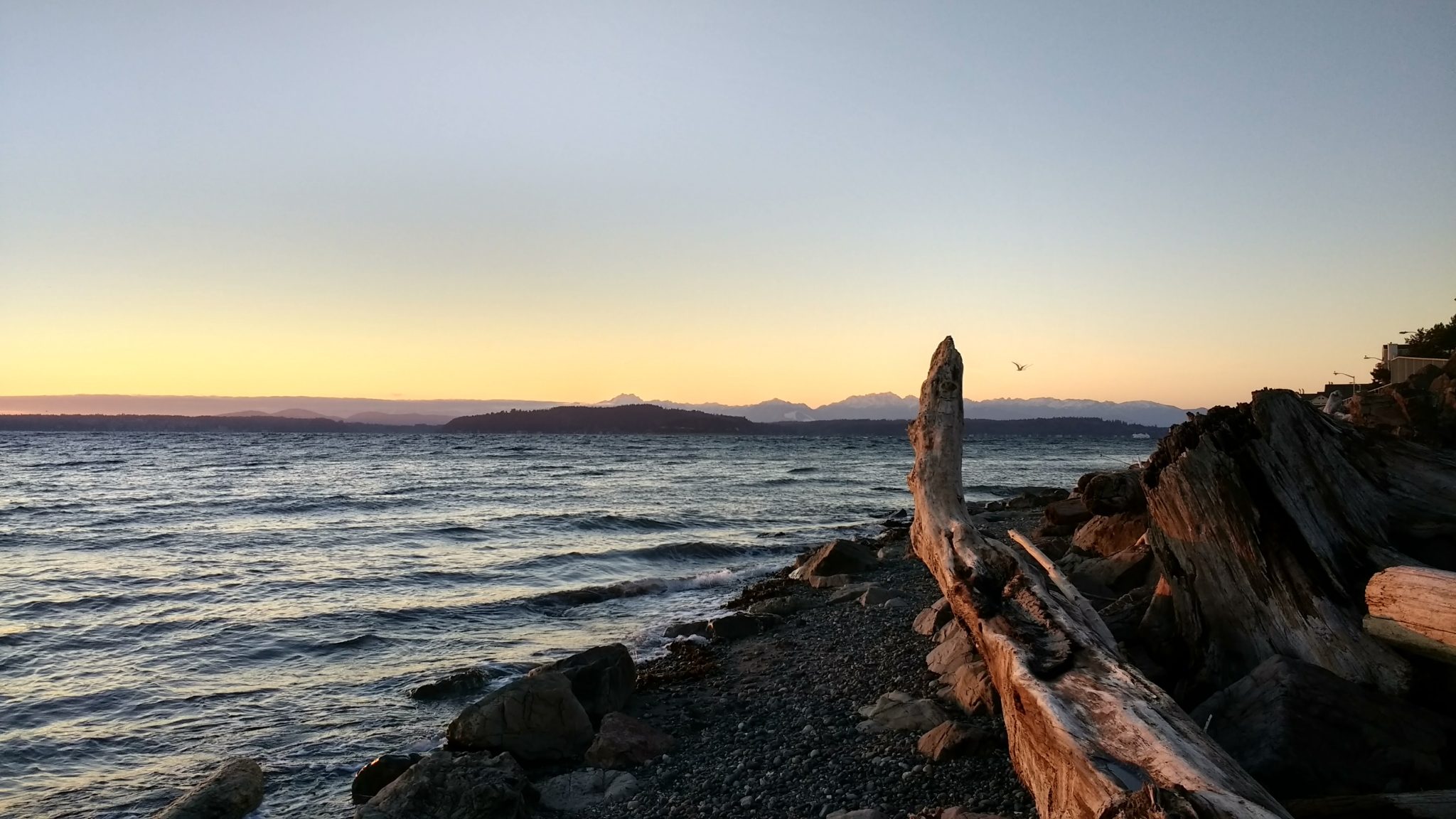 Technically, Alki beach is one strip of beach but it connects to a much longer trail, leading to up to 5 miles of walking or biking (and the trail connects to downtown so this is another place you can bike to). This beach is a good place for a classic beach day, even sporting several beach volleyball courts and lots of restaurants. Kayak and Stand up paddleboard rentals and tours are an option as is renting a pedal cab or bike. There are lots of bike share bikes around too. If you go around the corner, away from Seattle, you'll be along a quieter beach area facing the islands (great for tidepools at low tide) called Constellation park. If you go closer to Seattle along the trail, you'll go around a corner and you can see all of downtown (on Alki you can see the Space Needle). In addition to an enjoyable beach day, this is a wonderful sunset spot!
COST: Free!
HOW TO GET THERE: You can ride the water taxi from downtown and then walk from there, or you can take the bus from downtown. If you're driving, parking is very, very challenging in the summer, especially on weekends. Take the water taxi or bus or bike if at all possible!
KID FRIENDLINESS: Yes! This is the beach! The restaurants along alki are also very kid friendly.
10. Ferry Ride to Bainbridge Island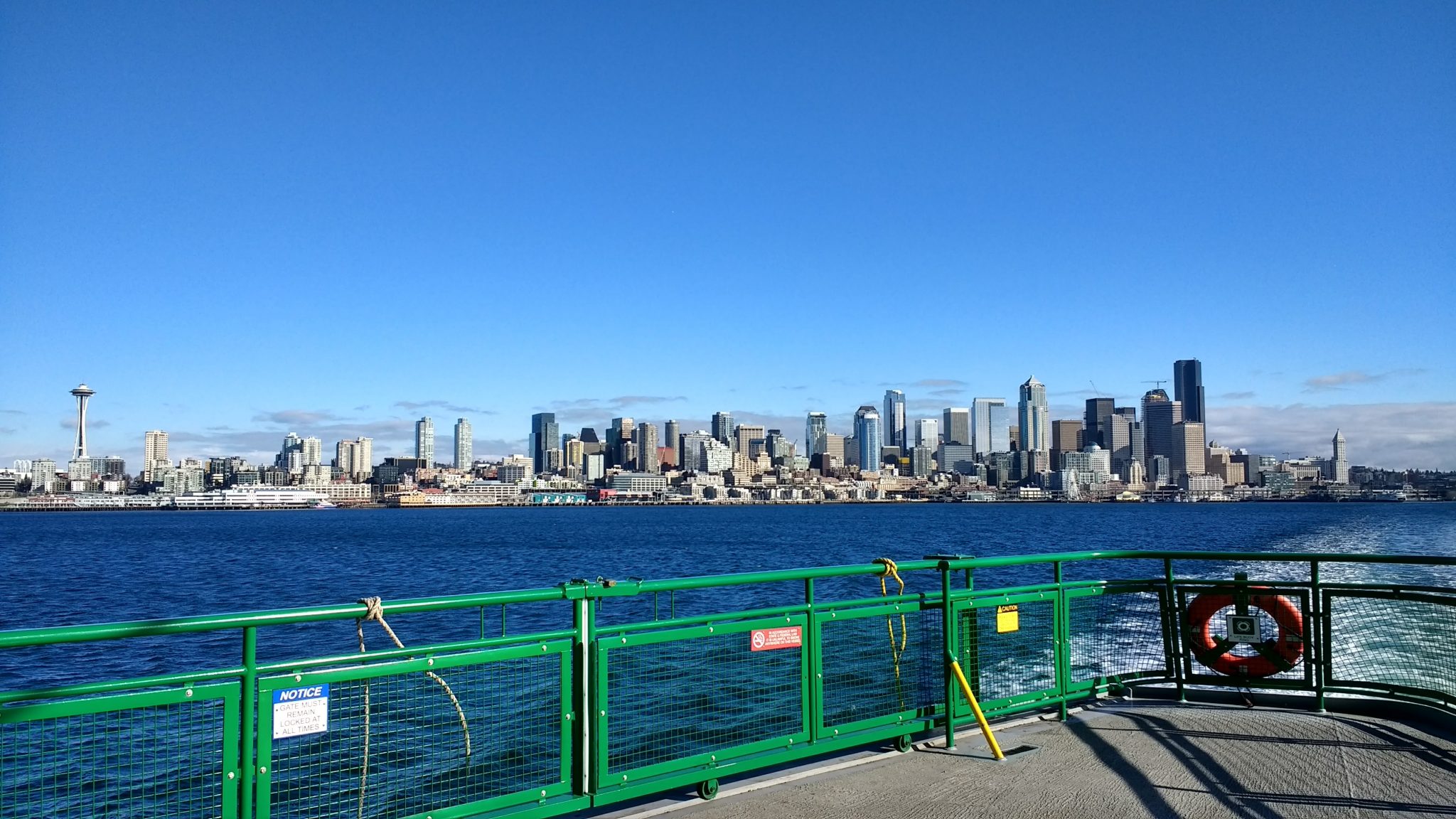 If you can only do one thing in Seattle…MAKE IT THIS. It's fun, iconic, uniquely Seattle and totally local (if you go between 4 and 6pm you will join the commute!). This is a very affordable activity and you can bring a picnic if you like, or you can get food on board, or you could head over to Bainbridge for lunch or dinner before returning. However you do it, you'll have amazing views of downtown Seattle, the Olympic Mountains and a good chance of seeing seals (and even occasionally orcas!). The ferry ride takes about 30 minutes, and when you arrive at Bainbridge, you will need to disembark. You can turn around and get right back on, or you can walk around Bainbridge for a bit, possibly taking in some tasty food before heading back.
COST: The ferry costs $8.50 (you only pay on the way over, it's free on the way back) for adults and $4.25 for kids (6-12). 5 and under are free. This is assuming you are walking on and not taking a car.
HOW TO GET THERE: The ferry dock is on the waterfront, it's an easy walk from anywhere downtown. There is a walkway on Marion Street from 1st Ave across to the ferry terminal.
KID FRIENDLINESS: This is a great activity for kids who will love exploring the ferry. I loved ferry rides as a kid, which I did all the time as we took a ferry to get to my grandparents house.