Snowshoe Mt Rainier National Park: Winter and Spring Adventure Guide
Posted On March 27, 2019
Last Updated on September 27, 2023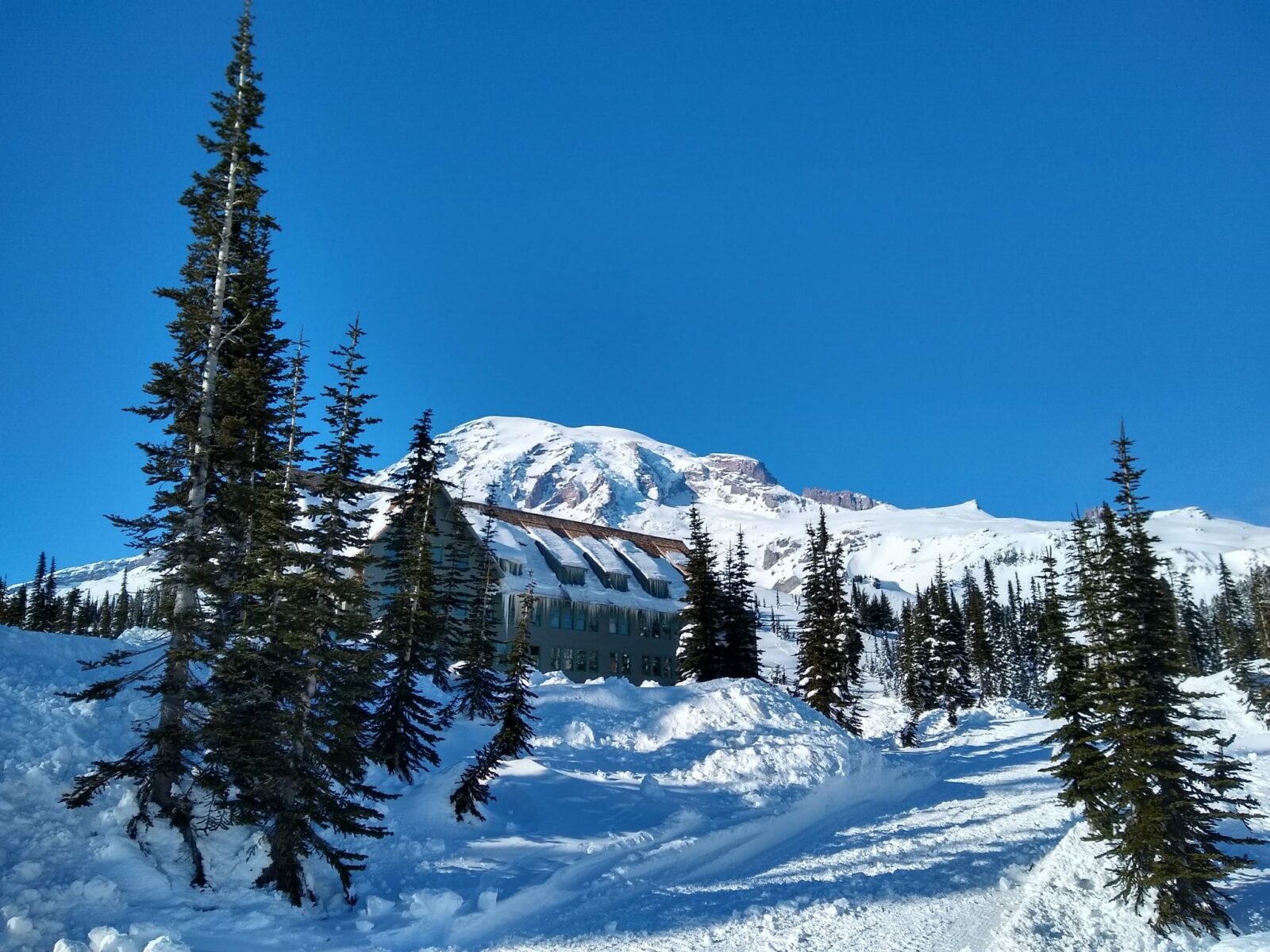 November 2022 note: Mt Rainier National Park has announced that the road to Paradise will only be open on Saturdays and Sundays during the 2022-23 winter season and the sledding hill will not be open on any days.
Why Snowshoe Mt Rainier National Park?
If you're weary of the rain in the lowlands of Western Washington, or if you're visiting during the winter or spring months, a day to snowshoe Mt Rainier National Park is the perfect adventure!
If possible, try to pick a sunny day to snowshoe Mt Rainier, so you can enjoy the epic views of the mountain. Even if you're there on a foggy day, you can still have a great time. When it comes to weather, make sure to check the forecast and road conditions carefully on the Mt Rainier's website. The roads are sometimes closed during heavy snow and high avalanche danger. In addition, Mt Rainier National Park requires that all vehicles in the park carry tire chains between November 1 and May 1, regardless of current weather conditions.
When winter is over in the lowlands and spring arrives, this is my favorite time of year to snowshoe Mt Rainier National Park! Deep snow often lasts into June and once you've tried spring snowshoeing at Mt Rainier, you might find that snowshoeing in a t-shirt is for you! With long days and more sun, it can be a great way to top up your need for sun after a long winter (make sure to wear sunscreen! the sun is intense at this altitude, especially on snow).
Snowshoeing is harder work than hiking or walking and I recommend going for a shorter trip than you might plan for a hike or walk without snow, especially when you're trying it the first time.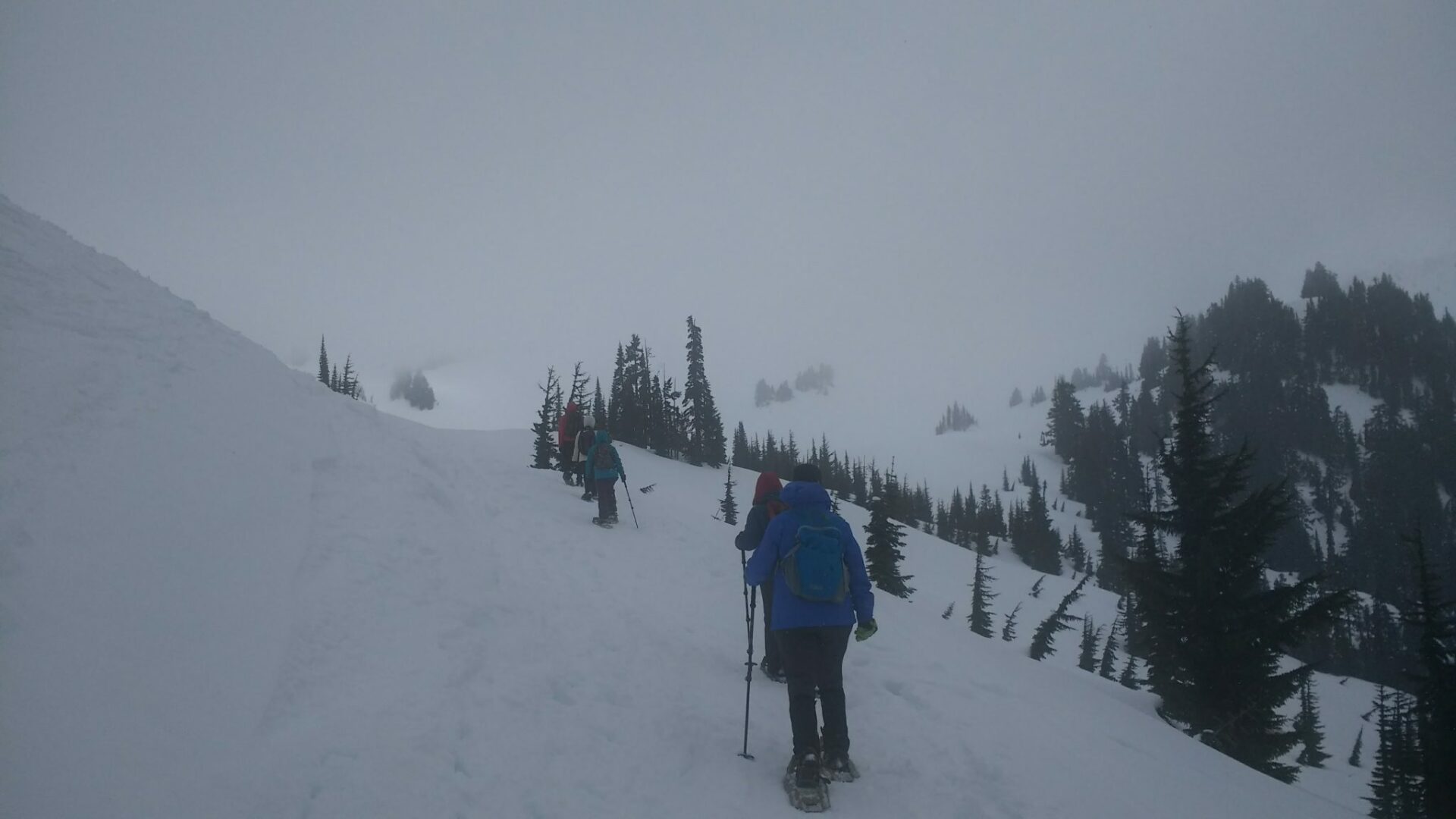 When is winter and spring at Mt Rainier?
Important question! Mt Rainier's seasons do not necessarily line up with what people expect. Winter arrives early, and usually by December there is enough snow to snowshoe Mt Rainier National Park.
Spring is long and late in Mt Rainier with continued deep snow in the high country. Longer days and somewhat sunnier weather arrive but it's not really summer at Mt Rainier until July! In April and May there are still many feet of snow and plenty for snowshoeing (in normal snow years). I have snowshoed there often in June (the novelty!) but it is a little less predictable.
In winter and spring before you snowshoe Mt Rainier make sure to check the avalanche forecast as well as to check in with the rangers about avalanche safety as avalanche risk can become higher in the spring on warm afternoons.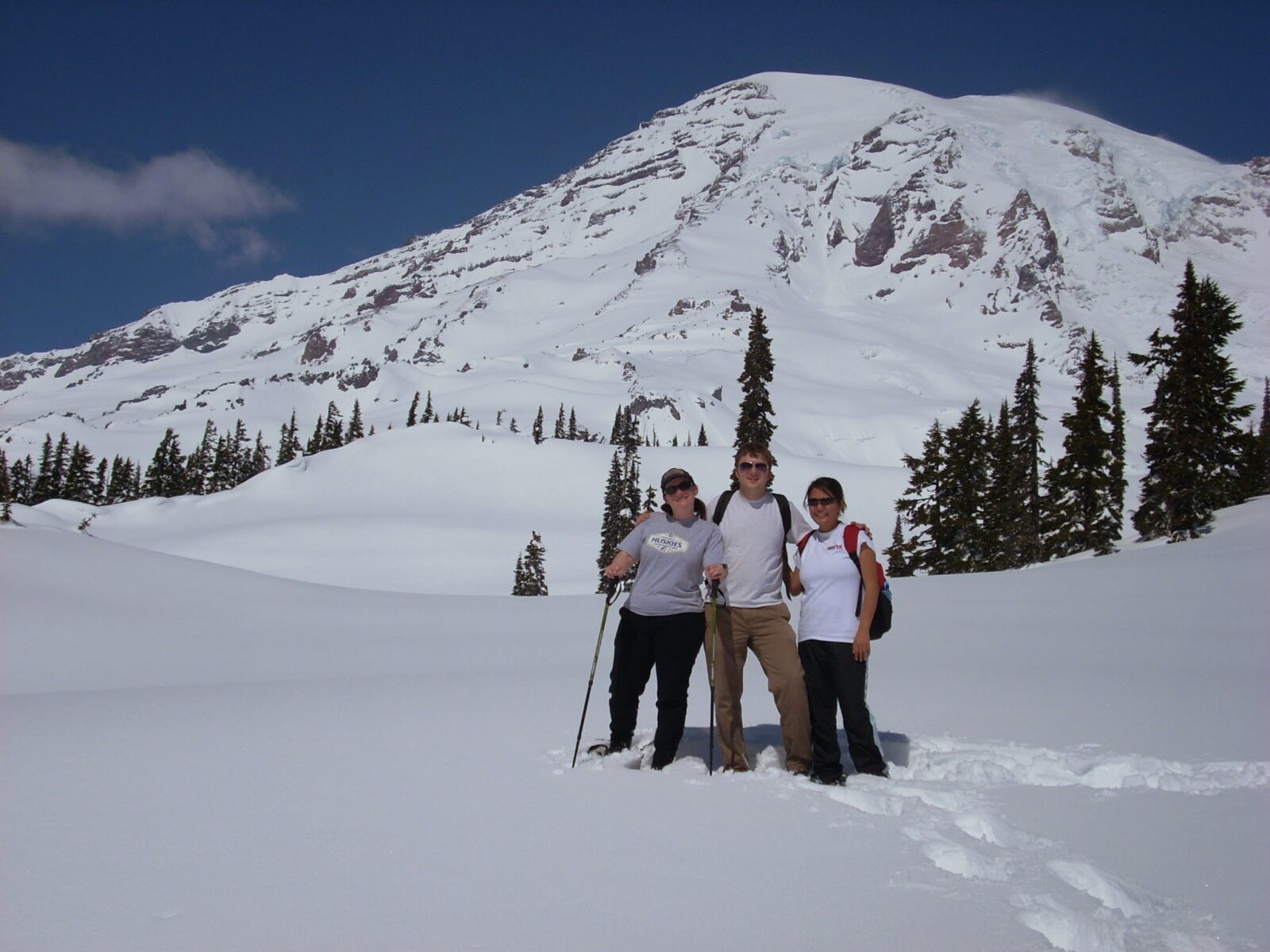 What if I don't have Snowshoes?
Other than the actual snowshoes themselves, you don't need any special equipment to get started snowshoeing! You can wear normal hiking boots or hiking shoes since snowshoes will strap on to either one.
It's really helpful if your boots or shoes are waterproof and gaiters can help keep your feet dry. See more about this in the section about what to wear at the bottom of this post.
If you want to give snowshoeing a try but don't want to commit to buying snowshoes, you can rent them either at REI or at Whittaker Mountaineering in Ashford.
If you want to try a Mt Rainier ranger guided snowshoe walk, you can borrow snowshoes from the rangers for a suggested donation of $5, which is a fantastic way to go for your first time.
Ranger Guided Snowshoe Walks at Mt Rainier
If you're trying out snowshoeing for the very first time, a snowshoe Mt Rainier ranger led walk is an excellent way to go. You don't have to worry about buying or renting snowshoes or where to go!
Ranger guided snowshoe walks are offered twice a day on weekends and holidays from Paradise. The walks usually last about two hours. Sign up an hour ahead of time in the Jackson Visitor Center at Paradise. The ranger walks are free, however there is a suggested donation of $5 to borrow their snowshoes.
Best Snowshoe Hikes In Mt Rainier National Park
Snowshoe Trails near Paradise – Best for Epic views and waterfalls
The area around Paradise is fantastic way to snowshoe Mt Rainier National Park. I have two specific snowshoe trails to recommend in this area that are described below. In addition, This winter map of the Paradise area shows various snowshoe trails in the area and indicates areas of avalanche danger so you can plan your own trip. You should be able to get this map at the Nisqually entrance fee booth as you enter the park, or at the Jackson Visitor Center. You can also print it in advance and bring it with you!
Both of the snowshoe hikes described below can be added to and made much more challenging if that's what you want (see map for options like Panorama Point or going from Narada Falls up to Paradise with a car shuttle, or round trip). You can also make a much shorter snowshoe walk by heading towards Nisqually Vista (marked on the map).
Snowshoeing in this area is generally good from December through May (and sometimes June).
1. Reflection Lakes from Narada Falls (3 miles, 500 feet of elevation gain)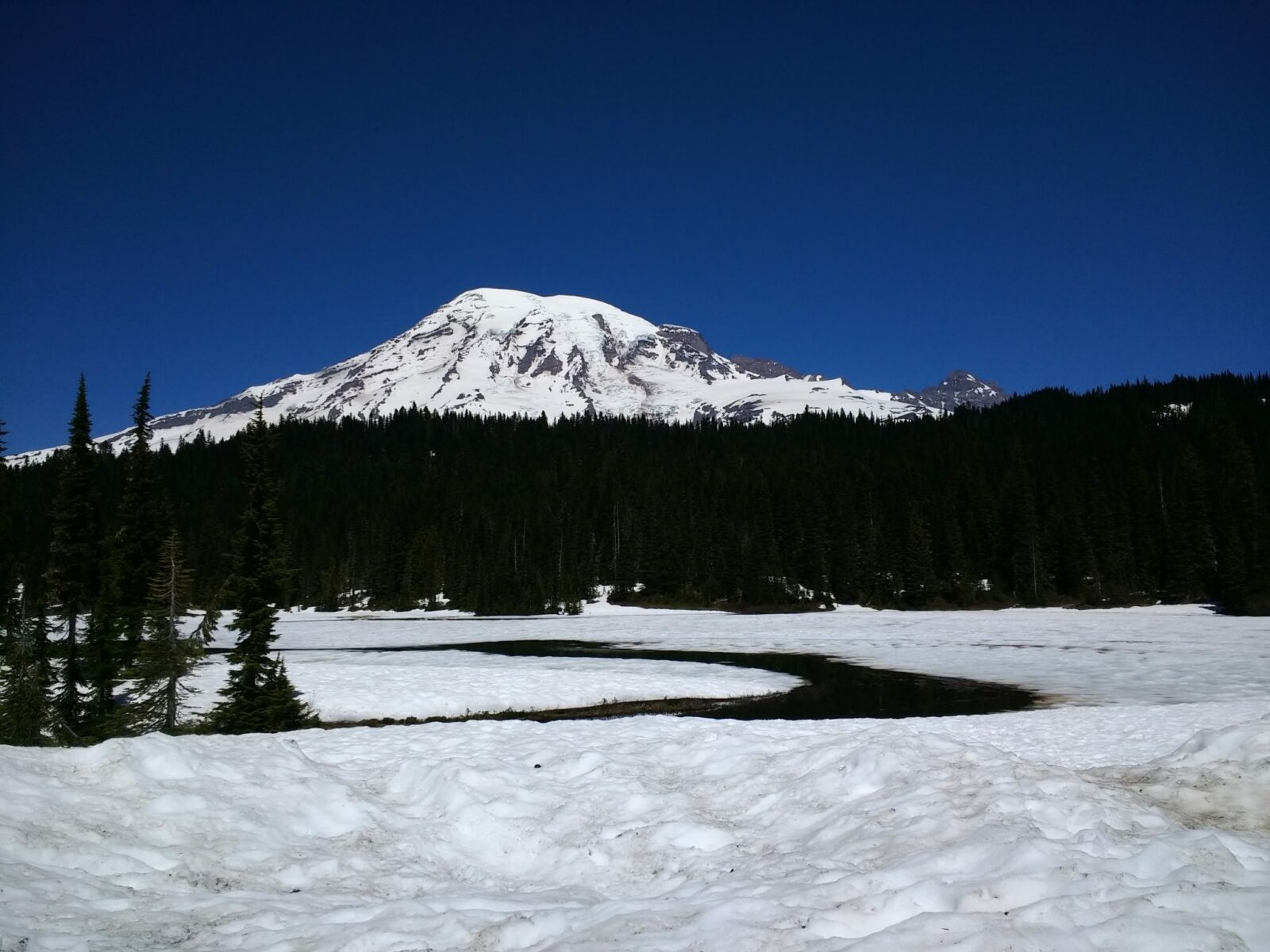 Start at the Narada Falls parking area (there are year round restrooms here). You can venture a look at the falls if you like (you might catch them frozen or rushing with snowmelt) by going to the right past the restrooms a short distance down a steep hill. Be extremely careful not to get close to the edge as snow builds up over the edge of the rocks which is extremely unstable. Narada Falls is one of the most beautiful waterfalls in Mt Rainier and one that you can see during the winter.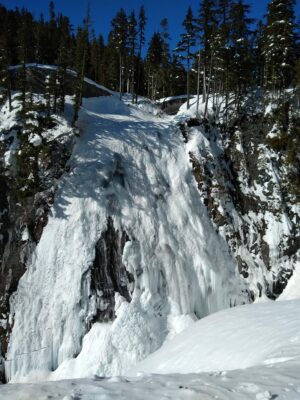 Then, head back up to the restrooms where you'll find a winter only trail in the snow that goes directly behind the restrooms marked with a small orange sign. The first 10 feet of the trail makes it look impossible, but it's not that steep once you get up the snow berm!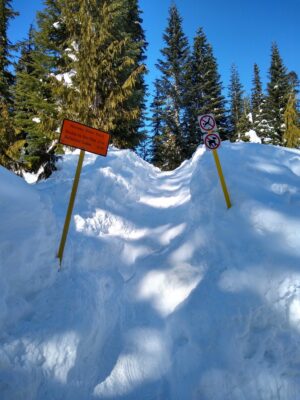 The trail climbs up the hillside and in less than half a mile crosses a road (road in summer, but closed in winter). Here, turn right for reflection lakes. Right away you'll come to another junction where you can either continue on the road (right) or a trail (left). Both ways take you to Reflection Lakes in just under a mile, however the road crosses an avalanche prone area, so in times of avalanche danger go left. If you stay right, the road will take you directly to Reflection Lakes on the left. If you go left, you'll be on a trail and there will be a couple more junctions and you'll go right each time (this is marked on the map).
The lakes will be frozen but don't venture out on the ice as its not very stable (especially in spring). With the frozen lake, you won't see the reflection but it is still an incredibly beautiful place and a wonderful place to eat your lunch! When you're ready, return the way you came.
2. Glacier Vista (2 miles, 900 feet of elevation gain)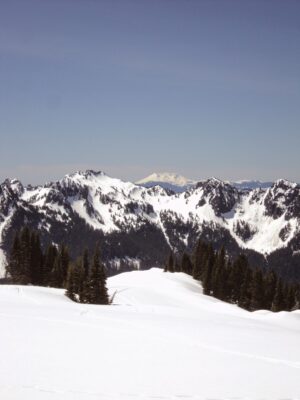 This route is for those who like big views! Not only are you on the side of Mt Rainier, with the volcano right in your face, but as you climb higher, surrounding peaks such as Mt St Helens and Mt Adams come into view, not to mention the many other mountains surrounding you!
For this one you'll basically head straight up from the Visitor Center, following orange signs and the footsteps of others. You can spread out and wander in this area (being mindful of avalanche slopes) as much and as high as you like! Just stop for your lunch and soak it in whenever you're done climbing before returning to the parking area.
This trail goes near summer's extremely popular Myrtle Falls. It's possible you may see or hear part of the waterfall when you're on the snowshoe trail. Use extreme caution and don't get to close to the water if you can see or hear it.
Rampart Ridge from Longmire – Best Winter Forest – Up to 4.5 miles and 1200 feet of elevation gain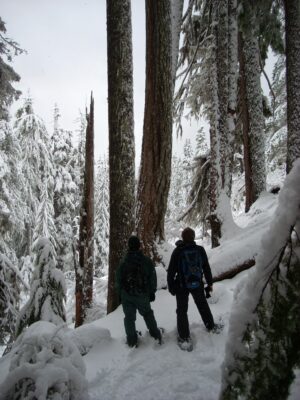 If the road to Paradise is closed, or the weather prevents views of the mountain and you want to be in a less remote area, Rampart Ridge might be for you!
A Narnia-like forest walk among giant old growth trees from Longmire, you can go even a short distance on this trail for a fun snowshoe outing in Mt Rainier. It's possible that part of this trail might not be snowy, especially early and late in the season.
To get there, head to Longmire and park near the General Store. Cross the road to trail of the shadows and start the trail going clockwise. In about a quarter of a mile, you'll leave trail of the shadows and then you're on the Rampart Ridge Trail. The trail begins climbing and alternates quiet forest with occasional views. Head up as long as you like before returning the way you came. Just over two miles in the drop offs near the trail can get sketchy, so make sure you turn around!
Snowshoe Mt Rainier along the White River – Best for Solitude and a flat walk
If you're looking for solitude and a mellow forest snowshoe hike, then heading to the east side of the park and snowshoeing along the closed Highway 410 (closed in winter) next to the White River might be perfect for you. This is also an excellent place to cross country ski, if you don't mind skiing on an ungroomed trail.
To get there, drive Highway 410 east through Enumclaw and Greenwater towards the Crystal Mountain Ski Area. The road is gated at the entrance to the park and the traffic will be turning left to Crystal Mountain. There is a snow park here where you can park (Washington Sno Park pass needed) and then walk on the mostly flat road as long as you like!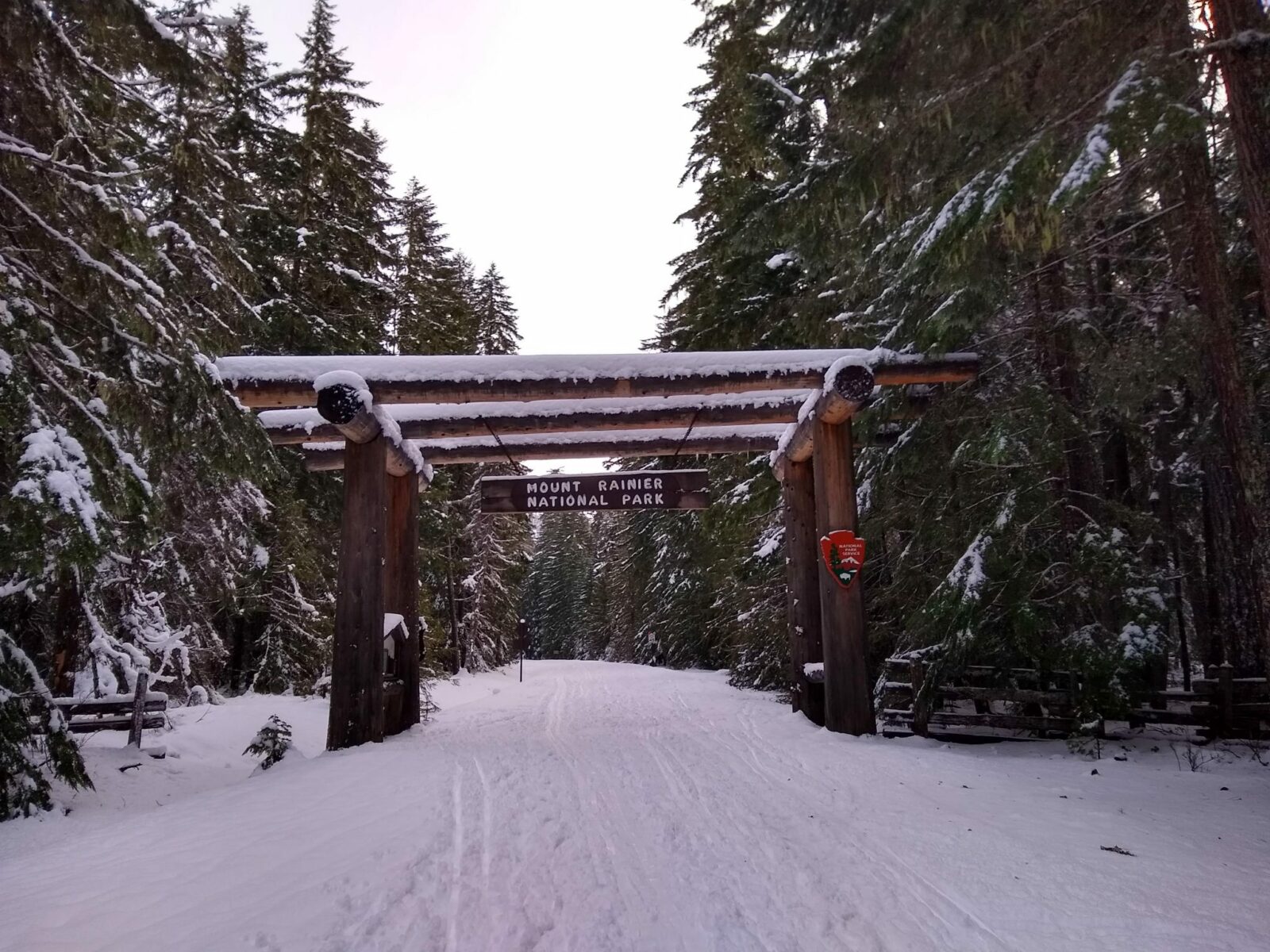 This is a particularly good option if there's limited visibility since you can't see Mt Rainier from this area anyway. I've never seen more than a couple other people there, and sometimes no one! Make sure to set a turnaround time since there's no natural end point, you're following along the road bed.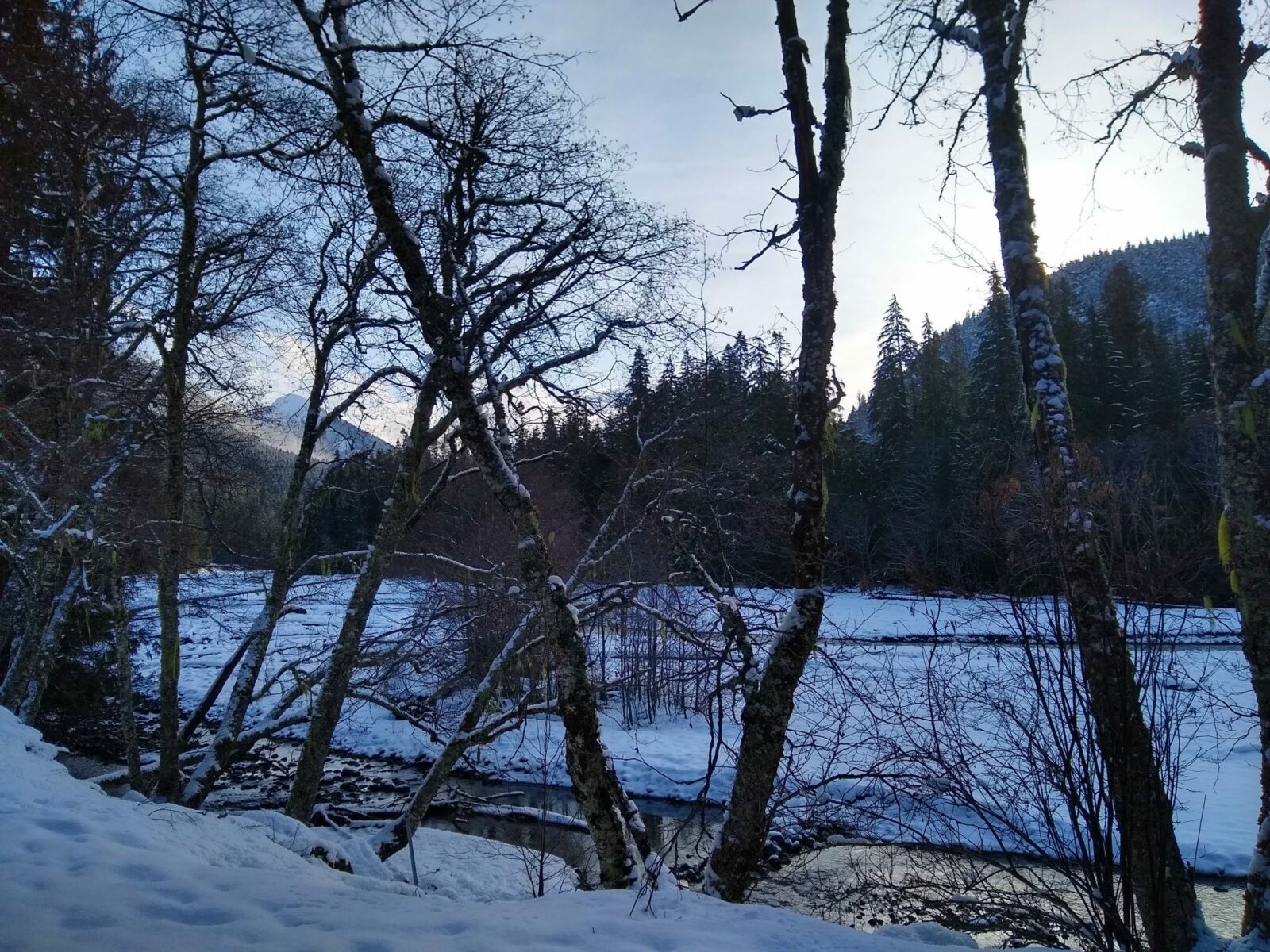 This area of Mt Rainier is lower elevation than Paradise, so it often doesn't have snow till later in the winter. This is generally a good area to snowshoe from late December until early March, though it can vary greatly from that depending on the year and the snowpack.
This is a remote area with no services and no cell phone service. Make sure to bring everything you need to be self sufficient (see below)
Snowshoe to Mowich Lake (Northwest corner of Mt Rainier) – Best for solitude and remoteness – Up to 10 miles with 1400 feet of elevation gain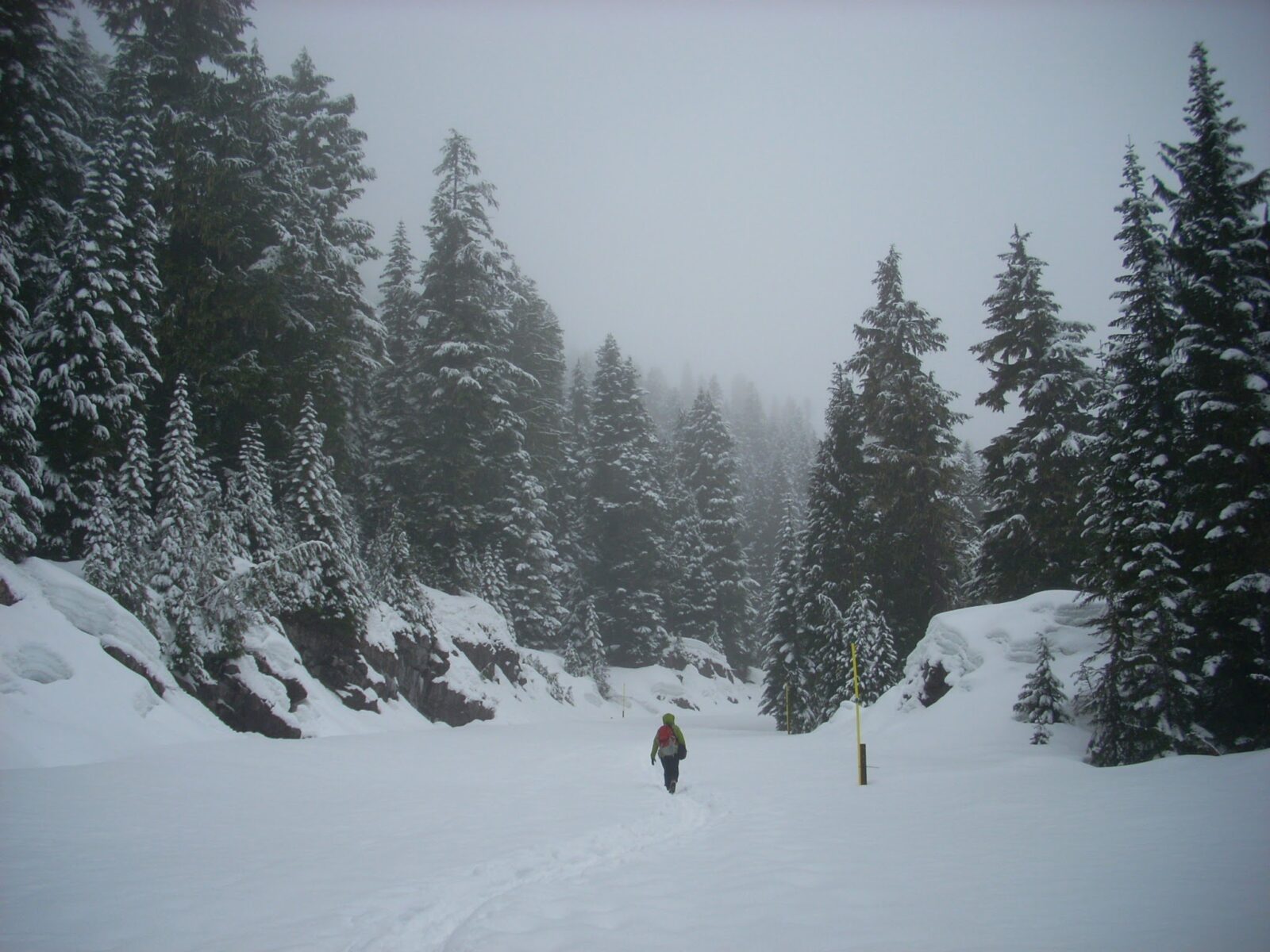 Another even more remote area of the park is the Mowich Lake area in Mt Rainier National Park. In winter, the road is closed and gated about 5 miles from the lake but you can snowshoe or cross country ski along the road up to the lake. There is a shortcut on the Grindstone trail that can make it about a mile shorter each way.
If you decide to snowshoe Mt Rainier here, make sure to check the Washington Trail Association's trip reports for the area, since the snow level varies quite a bit and at times you may have to park before the gate. At other times you may need to walk a bit to get to the snow after the gate.
The road climbs, steeply at times, through a beautiful forest. If you don't want to go as far as the lake, or if daylight or energy gives out, you can turn around anytime and you'll still have enjoyed a beautiful forest snowshoe outing in the park.
If you go as far as the lake, it makes for an excellent place for a winter picnic lunch. There aren't views of the mountain from this side of the lake, although there are on the road to get to it.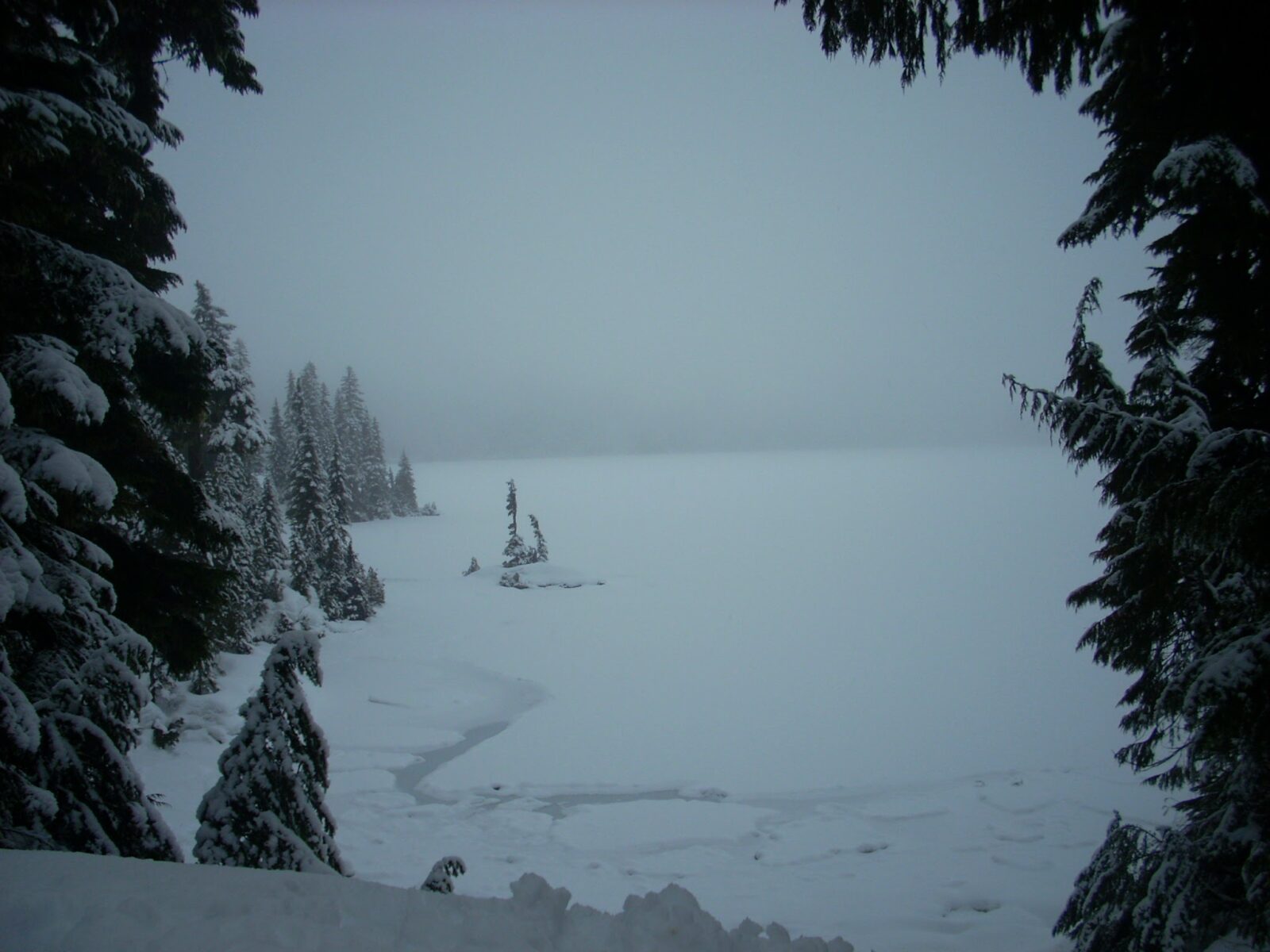 To get to the Mowich Lake area, you'll take Highway 410 to the town of Buckley and then head south on Highway 165 towards Carbonado and the Carbon River entrance of Mt Rainier National Park. From here it's about 22 miles to the closed gate but the road is SLOW. Expect it to take at least an hour. You'l come to a fork in the road where you go RIGHT to Mowich Lake (Carbon River entrance goes left here).
This area is also extremely remote with no cell phone service and no visitor services. January and February are the best time to be sure you have plenty of snow along this route, though snowshoeing may be good as early as November and as late as April.
What Should I wear and bring to Snowshoe Mt Rainier?
This post contains affiliate links, which means if you make a purchase I may receive a small commission at no additional cost to you. As an Amazon Associate, I earn from qualifying purchases
The 10 Essentials: ALWAYS! Especially in winter, it's important to be prepared. Particularly important are at least one warm layer beyond what you think you need and more food than you think you will eat!
Extra water: Even if it's cold, you'll get thirsty if you're snowshoeing. I recommend bringing your water in an insulated metal waterbottle so it doesn't freeze (and you can bring hot tea instead if you like as it keeps hot drinks hot too!)
Sunglasses, Sunscreen and lipbalm: You can get burned really fast on the snow (even when it's cloudy).
Normal hiking clothes will be good (see here for everything I bring on a day hike in winter and summer as well as what I wear), but make sure to have your extra layers since you're likely to get hot snowshoeing but could get cold when taking breaks. Bring something waterproof (even a garbage bag) to so you don't get super wet! I love this sit pad which is an inexpensive and awesome piece of gear. Make sure to have waterproof shoes or boots or your feet will be very wet. I prefer to wear waterproof hiking shoes (with gaiters, see below). My current pair which I love is the Merrell Moab. You can find them here on Amazon and here at REI.
Speaking of wet feet, I also recommend gaiters, which are like rainjackets for your ankles! You can definitely get by without gaiters, especially if you have waterproof hiking boots and rain pants. Since I wear shoes instead of boots, I definitely need them to keep my feet dry. I love the Outdoor Reasearch ones. Get them here on Amazon or here at REI.
Rainjacket: You might have noticed a theme here, which is that snowshoeing in the Pacific Northwest is WET. A rain jacket is critical, one like this one from REI or this one from Amazon.
Trekking poles: While not necessary, trekking poles are a huge help when snowshoeing. I recommend the kind that have a locking adjustable pole rather than a twist one. I like these ones on Amazon or these at REI.
Snowshoes: You can rent them or borrow from the rangers (see details on these options above) but if you're ready to buy your own there are two options. One is the plastic kind with metal grippers along the sides (get them here at REI and here on Amazon) and the other is the metal tube kind with metal grippers on the front and back (get them here at REI). I have used both styles for personal recreation as well as leading snowshoe walks and both work great! I highly recommend them both. Getting gender specific ones isn't really important for snowshoes, what is important is to get a size that will give you enough lift on the snow for your body and your gear. Each pair will list it's recommended weight.
A sitpad is really nice to sit in the snow without getting super wet and cold! It's also a super affordable but day changing piece of gear. Grab one here on Amazon or here at REI.