Ebey's Landing Loop Hike on Whidbey Island
Posted On May 22, 2019
Last Updated on December 6, 2022
The Ebey's Landing Loop hike is my favorite hike on Whidbey Island and one of my favorite hikes in Washington and one that I almost always take visitors to! It includes a ferry ride and/or a ride over a cool bridge (see how this fits into a fun day or weekend trip from Seattle here).
It has incredible views of mountains and water in all directions and I think I've seen an eagle every time I've been here (which is a LOT). Sometimes you can also see seals in the water and sometimes an orca! It's a loop hike so you can enjoy the views and the beach without retracing your steps and it's not a difficult hike at 5.5 miles and only 300 feet of elevation gain. It's also perfect all year long.
Ebey's landing is the homeland of the Stillaguamish, Snohomish, Suquamish, Skagit and other Coast Salish tribes as well as an important meeting place for people from other areas. The rich and millenia long history of indigenous people on Whidbey Island is generally ignored in interpretive signs.
Parking Pass: Discover Pass (lower parking lot by beach)
Dog Friendly: yes, on leash
Related: What to wear for a day hike in the Pacific Northwest, What to bring day hiking in the Pacific Northwest
Is the Ebey's Landing Loop Hike right for me?
If you like big views, mellow hikes, seeing eagles, farmland, mountains and ocean this if for you. If you like loop hikes, this is for you. For all the reasons mentioned above, this is one of my favorite hikes ever. It's also really good for kids! Especially the beach part.
When is a good time for the Ebey's Landing Loop hike?
It's hard to imagine a bad day for this hike. I think I have hiked it every month of the year in every conceivable weather. It's definitely better when it's clear enough to see the view, though it's very dramatic on foggy and rainy/cloudy days too. On a summer weekend it gets pretty crowded, but that's the only potential drawback I can think of to any day of the year.
Where is the Ebey's Landing Loop Hike?
Ebey's landing is on the west side of Whidbey Island, near the town of Coupeville (and near the ferry that goes from Whidbey Island to Port Townsend). To get there, you have a couple of options:
1) Take the ferry from Mukilteo to Whidbey Island, and then drive about 45 minutes north. Turn left in the town of Coupeville on S Ebey Road, which becomes Ebey's Landing Road. When the road takes a hairpin turn to the left, parking in the parking lot on the right (or along the road but well out of the way of traffic, following the parking signs). A Discover pass is required here. If you want to park in the park service parking instead, then go a bit further on the highway to a left at Sherman Road and then right on cemetery road which will take you to the park service parking area (the different land management at this site is a bit confusing, but I prefer the first way I mentioned).
2) Drive north on I-5 to Burlington, and then go west on Hwy 20 towards Whidbey Island and Anacortes. You'll pass over the Swinomish Channel and then at the big traffic circle you'll follow signs for Whidbey Island/Oak Harbor and Deception Pass (not Anacortes). In a short time, you'll pass over the Deception Pass bridge which is definitely worth a stop! Then, you'll drive south towards Coupeville and follow the above directions except you will turn RIGHT instead of left.
Either way you go, the trip will take about 2 hours (plus ferry waiting or traffic if those are in play). You can also make a loop by going one way and returning the other.
Trail Description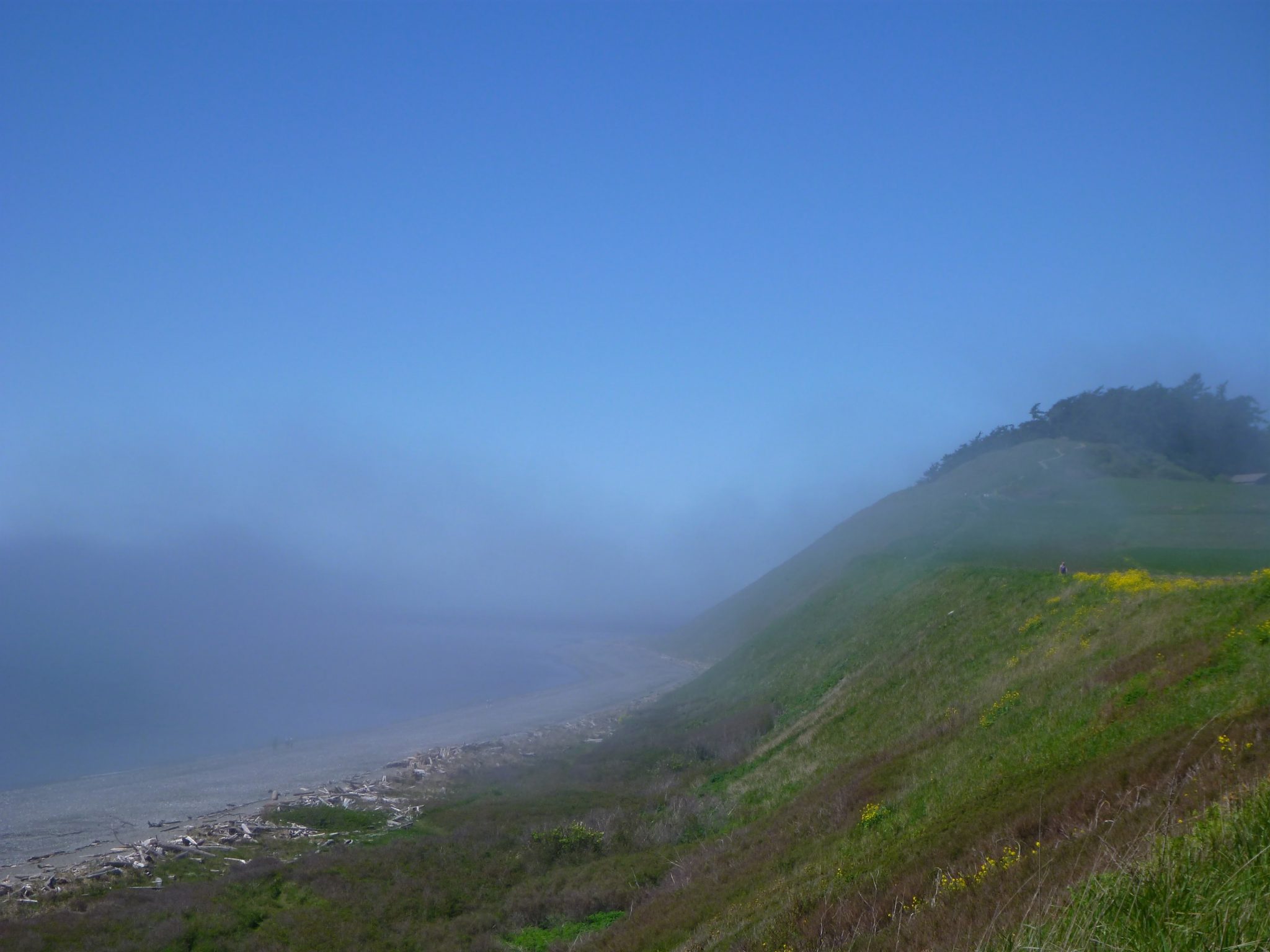 Starting out from the trailhead on the beach (the state park one), quickly find the trail leading up the bluff. Follow it across the lower bluff and between the bluff and the historic farm (which is part of the park service site). Here you will see a fabulous view of Mt Baker.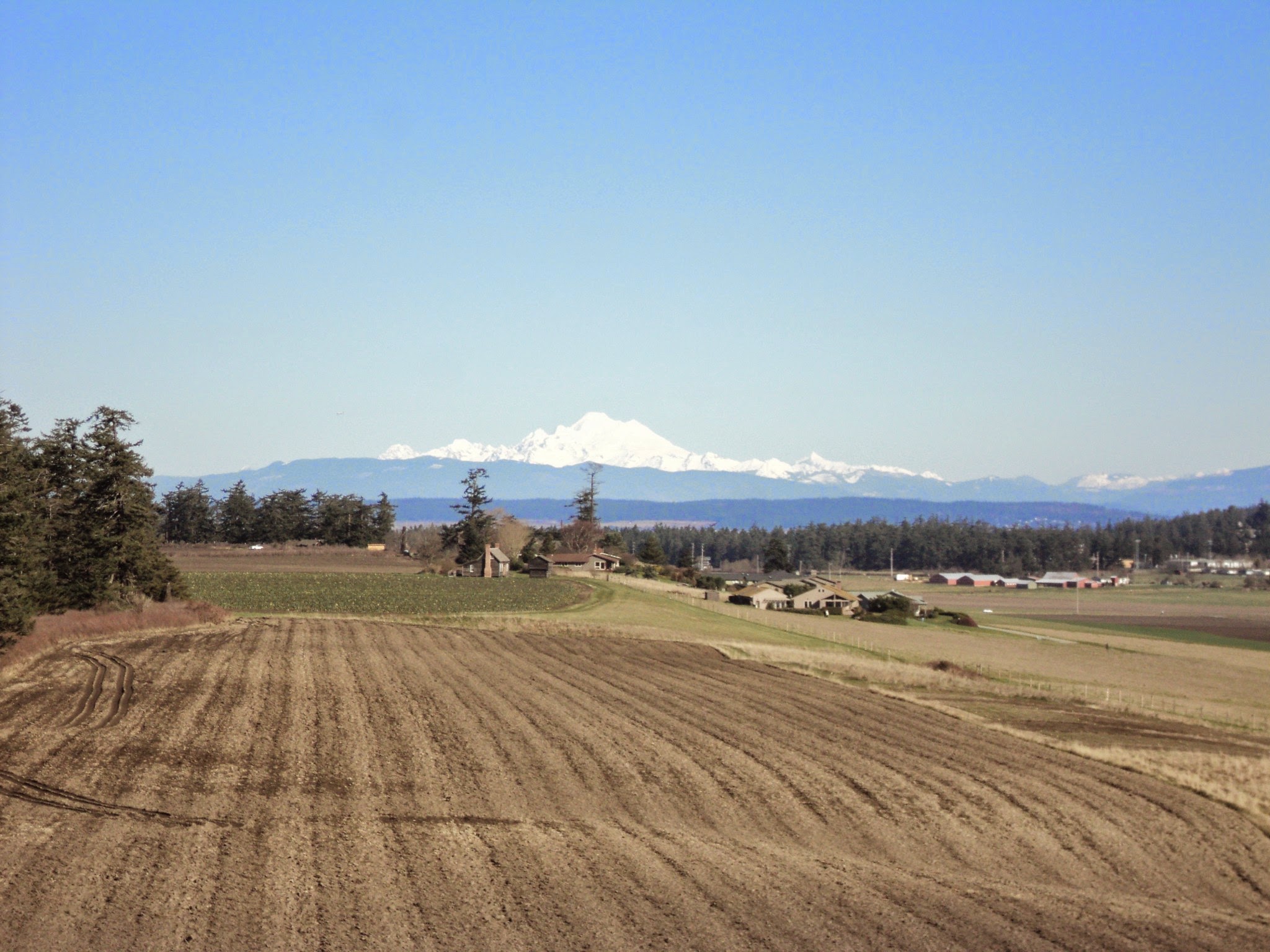 Continuing along the bluff, you'll pass between two sides of a wooden fence and intersect the trail that comes from cemetery road. Here you'll begin climbing up the bluff again. Once you gain the top of the bluff, you'll go gently up and down slightly, following the contour of the bluff. Here you'll have trees to your right (which often have eagles) and you'll see across admiralty inlet to your left towards the Olympic mountains.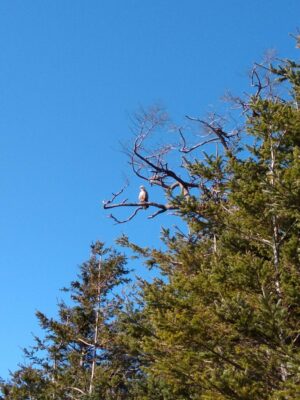 Continue to follow the obvious trail, now passing a lagoon below you on the beach. Keep going until you reach a set of switchbacks which will take you steeply down to the beach. When you get to the beach, go left, back towards the parking lot and hike along the beach to get back to the trailhead. Keep an eye out for seabirds as well as seals along the way! If it's clear you'll now have a view of Mt Rainier ahead of you to the south. This is also a fantastic place to watch a sunset!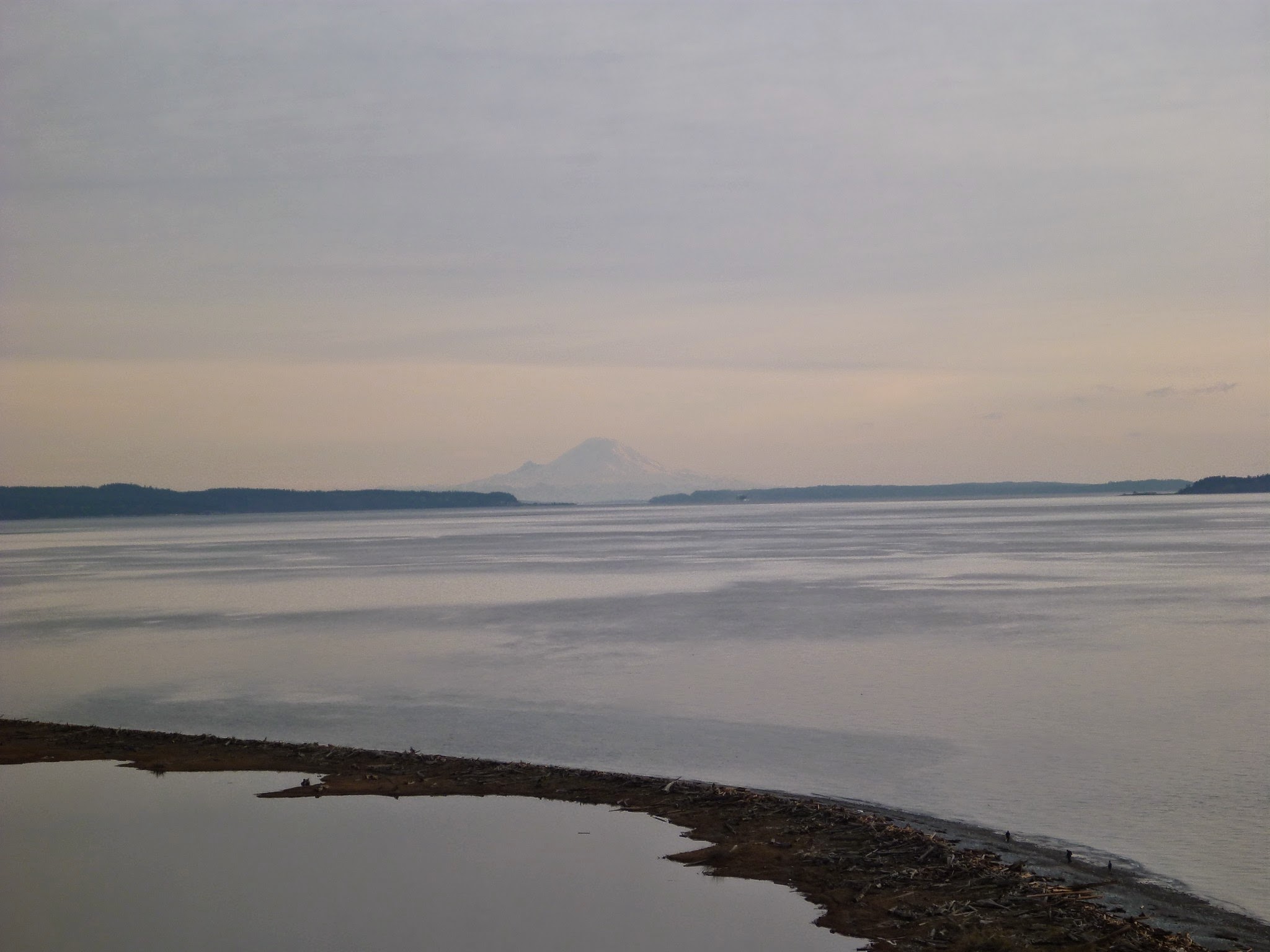 Breweries and Bakeries near Ebey's Landing
Ebey's Landing is very near the town of Coupeville, which is a great place to get some mussels since Penn Cove Mussels are famous! The Front Street Grill is a great place to get them and has a beautiful view.
Whidbey Coffee has multiple locations on the island (and in Anacortes) and has delicious coffee, food and pastries.
For breweries, try Double Bluff Brewing or Penn Cove Brewing!