5 Beautiful Hikes on Bainbridge Island
Posted On November 24, 2020
Last Updated on May 4, 2022
Bainbridge Island is just a 35 minute ferry ride from downtown Seattle across Puget Sound and yet feels a world away from the hustle of the city. There are plenty of wonderful hikes on Bainbridge Island to include in a day trip from Seattle or weekend getaway. In addition to wonderful hikes, Bainbridge also has lots of fun places to stop for food and drink after your hike and other interesting things to do while you're there.
All these hikes on Bainbridge Island are part of Bainbridge Island Parks (except the waterfront trail). I highly recommend downloading the map of the park you plan to visit (especially for Grand Forest and Gazzam Lake which have many trails and junctions). The maps have waypoints which makes it easy to keep track of where you are and where you want to go.
These hikes on Bainbridge Island are mostly open to bikes and horses as well as hiking. I haven't found that to be a problem, these trails are not nearly as busy as shared use trails on the mainland. All the bikers and equestrians that I have encountered along these trails have been extremely courteous along with the hikers. These trails are all open to dogs though it is imperative to keep your dog on leash with the shared use of these trails. These trails are all well maintained with very few rocks or roots along any of the trails. When it's wet you may encounter some mud and horse manure here and there.
Bainbridge Island is the homeland of the Suquamish people, including Chief Sealth (Suquamish and Duwamish), who Seattle is named for. I highly recommend visiting the Suquamish museum and Chief Seattle's grave if you are going to Bainbridge Island. These locations are both just off the island across the Agate Pass bridge, about a 15 minute drive from the ferry terminal.
Related: What to wear for a hike in the Pacific Northwest, what to bring on a hike in the Pacific Northwest
Getting to and around Bainbridge Island
If you want to get out of town but don't have a car or don't want to drive, many of these hikes on Bainbridge Island can be reached by public transportation. Walk on the ferry and then you can take the bus which goes right from the ferry terminal. Details are included for each hike below. Vashon Island is also a great car free island escape from Seattle with wonderful hiking!
To get to Bainbridge Island, you can either take the ferry from Seattle or drive across the Agate Pass bridge. If you take the ferry from Edmonds to Kingston, it's about a 20 mile drive (40 minutes) to Bainbridge Island. If you take the Tacoma Narrows bridge, it's a 43 mile drive (about an hour) to Bainbridge. You can find the information for ferry schedules and fares here.
There are no places for fast charging for Electric Vehicles on Bainbridge Island, but there are several locations with Level 2 chargers. If you're coming from Seattle, the distances are short enough that you probably won't need to charge. My Nissan Leaf has a range of only 100 miles but I can easily drive from home in South Seattle to the ferry and around Bainbridge Island and back on one charge.
When is the best time for hikes on Bainbridge Island?
Hikes on Bainbridge Island can be enjoyed all year! That is one of the best things about island hiking. I really love to save these hikes for winter or rainy days in the spring and fall. Short travel times and not too much driving along with solitude are a few reasons I love these hikes in the off season. All of these are also wonderful summer hikes as well. There's no bad time for Bainbridge Island hiking.
Hikes on Bainbridge Island
Waterfront Trail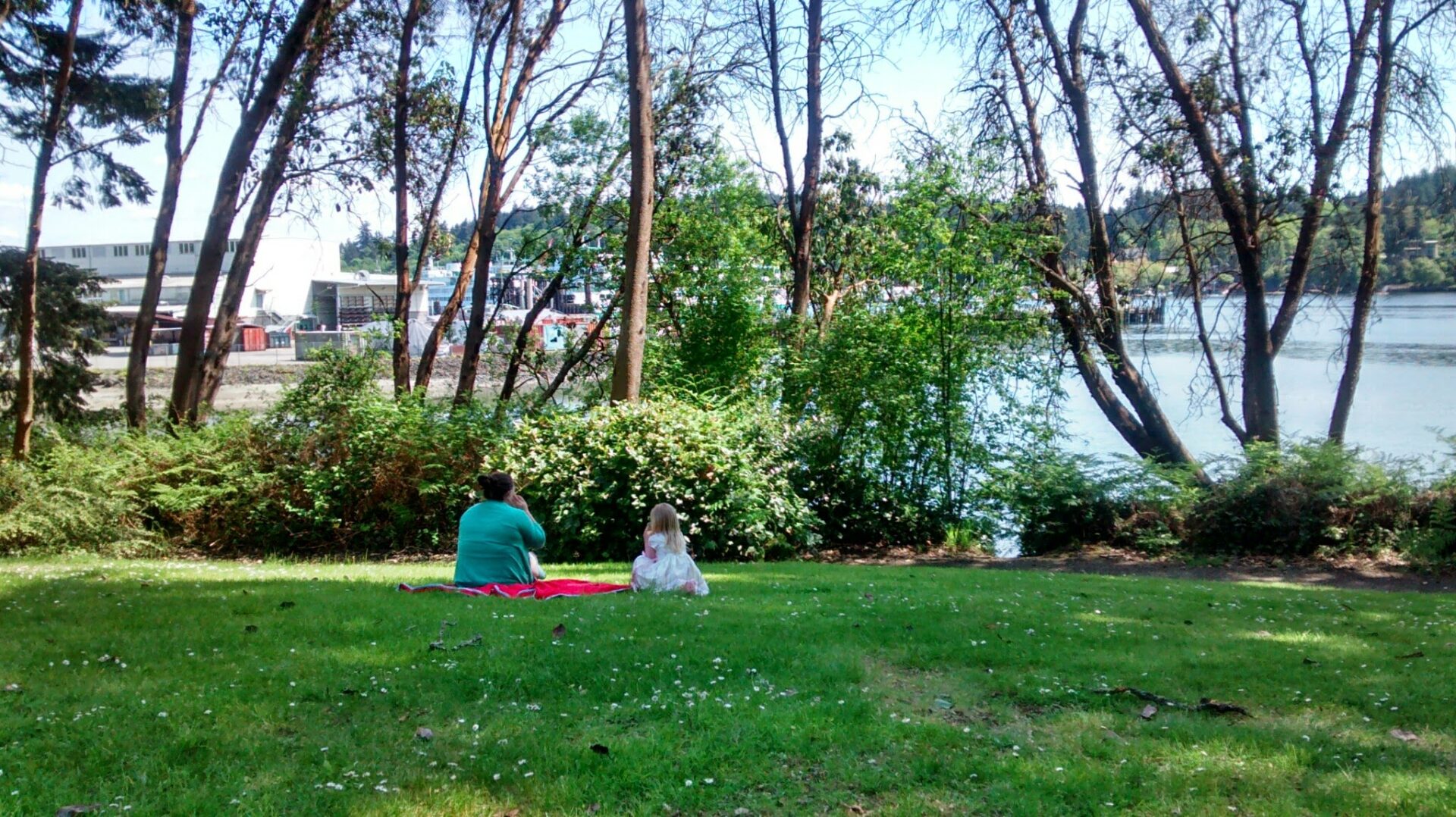 Best For: Traveling car free, history buffs and tree enthusiasts! This trail starts at the ferry terminal and goes through town along Eagle Harbor past interesting historical locations. Grab the numbered map here, and identify different trees and historic buildings.
Distance: Up to 2 miles round trip
Elevation Gain: Minimal
How to get there: The waterfront trail starts at the top of the ferry dock and is well signed.
Parking and Transit: This is a great hike on Bainbridge Island if you want to skip bringing a car on the ferry because it starts right at the ferry terminal! If you do drive, you can park in one of the parking lots near the ferry terminal.
Grand Forest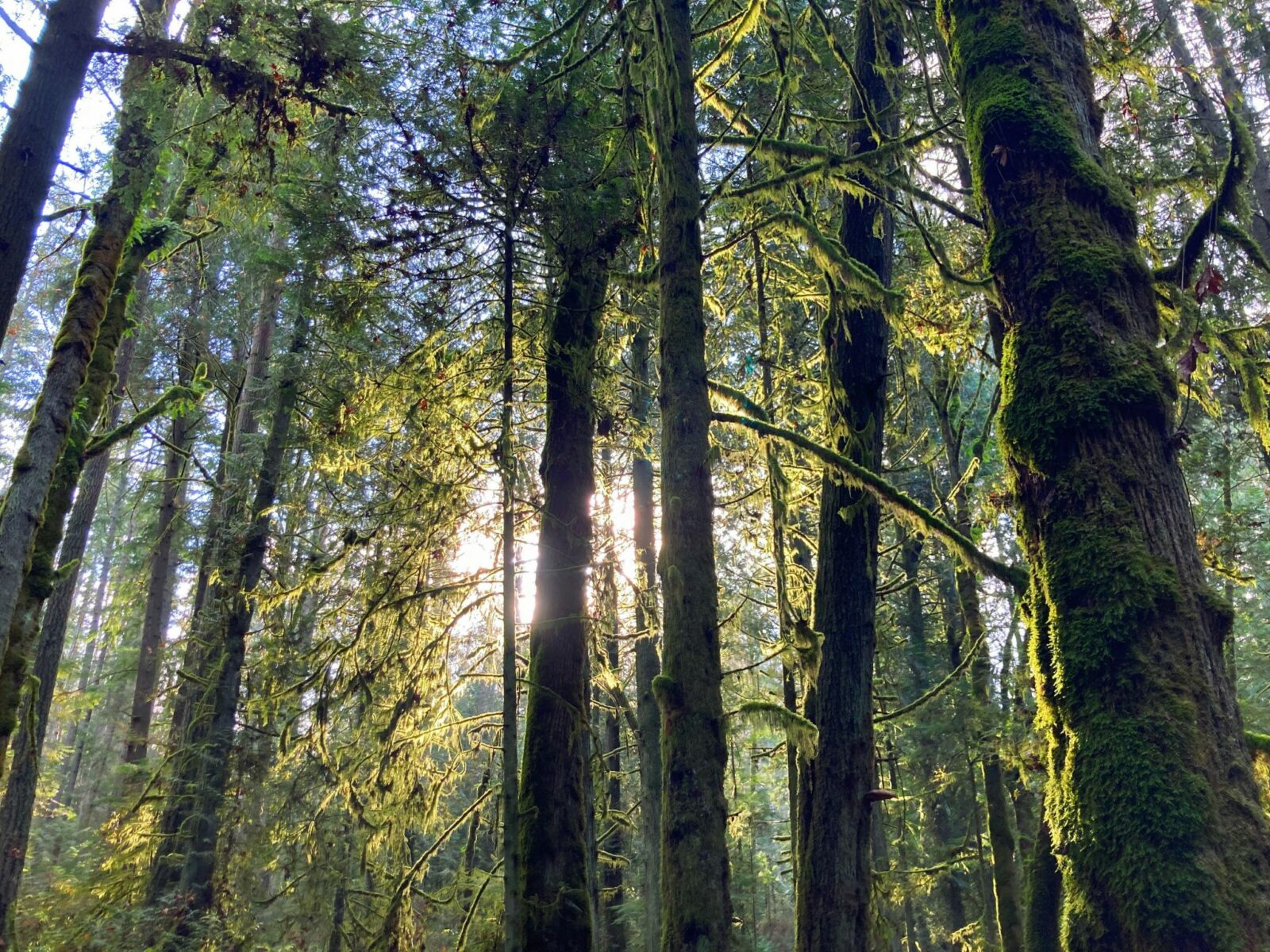 Best For: Those who love forests and want to go for a longer hike! This trail system meanders in multiple loops through a gorgeous forest with quite a few old growth cedar and douglas fir trees. Make sure to print and bring the map with you so you can keep track of where you are along the many loops. I like to start at the Grand Forest West trailhead on Miller Road and head up to the Hilltop Trail to Grand Forest East and then back.
Distance: Up to 6.5 miles
Elevation Gain: Up to 350 feet
How to get there: There are three parking areas at Grand Forest. I recommend starting at Grand Forest West with a parking area and bus stop on Miller Road. The 93 and 95 bus from the ferry terminal will take you there in about 20 minutes. If you're driving, it's about a 10 minute drive from the ferry. Head out of town on Highway 305, turning left on Koura Road then left on Miller Road. The small parking area does not have restrooms or trash, so remember to pack out all your trash.
Gazzam Lake Nature Preserve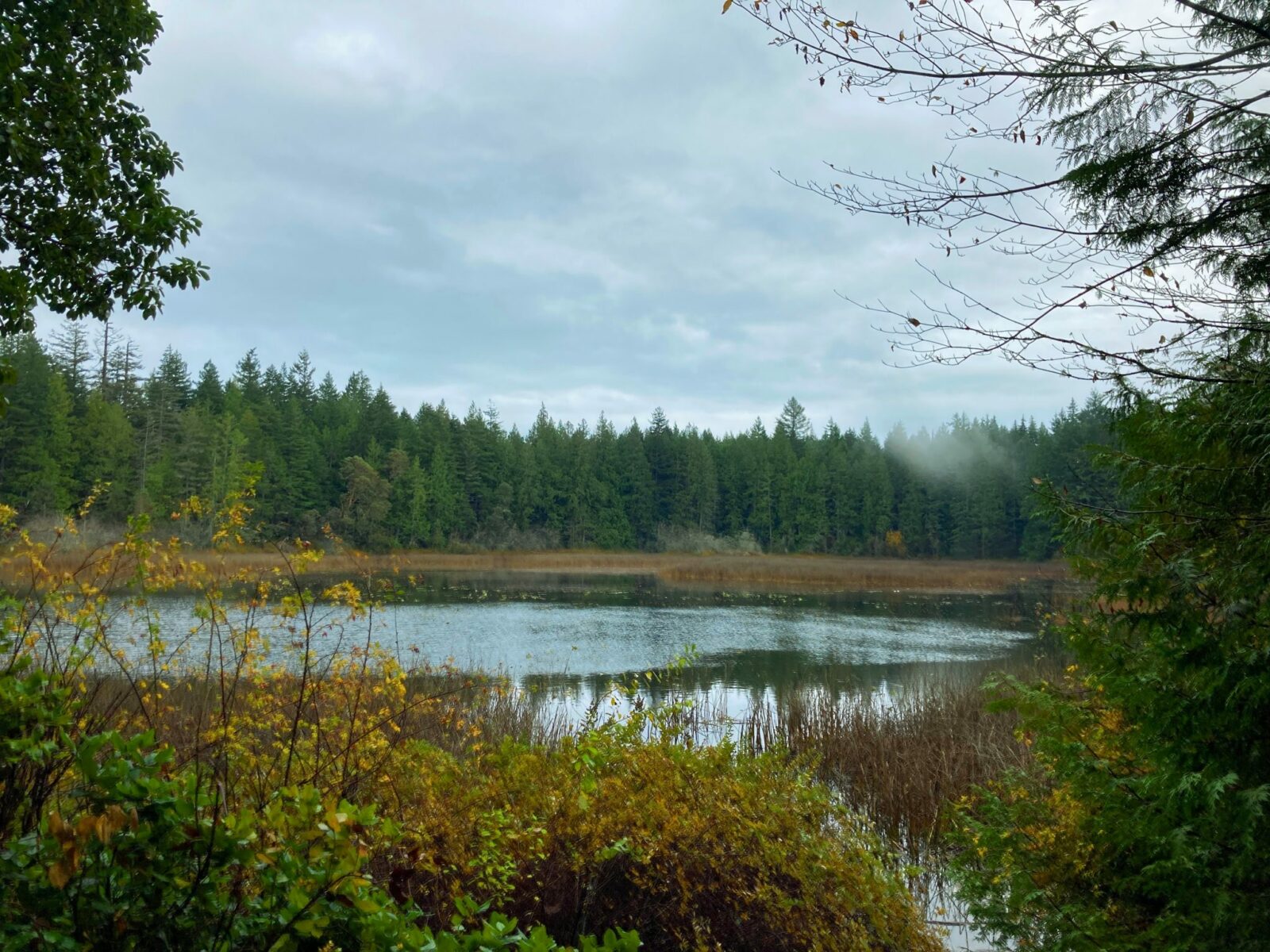 Best For: Those who like variety! This trail takes you through beautiful forest to a small lake with lots of birds to a walk in only beach! Similar to Grand Forest, make sure to download or print the map from Bainbridge Island parks to keep track of the different trails and loop options as well as mileage. This is the most varied hike on Bainbridge Island and potentially the longest if you do all the different trails in the park.
Distance: Up to 7 miles if you cover all the loops and trails. You can go just a mile round trip to the lake or a mile and a half round trip to the beach
Elevation Gain: Up to 500 feet (down and back to the beach)
How to get there: This hike requires a car to get to it since the bus doesn't go close to the trailhead. If you're driving, head north on Highway 305 from the ferry. Turn left on High School Road and then left again on Fletcher Bay Road. After a right on Island Center Road (which winds a bit), another right on Marshall Road takes you to the small parking area. This parking area also does not have restrooms or trash so take your trash with you.
Fort Ward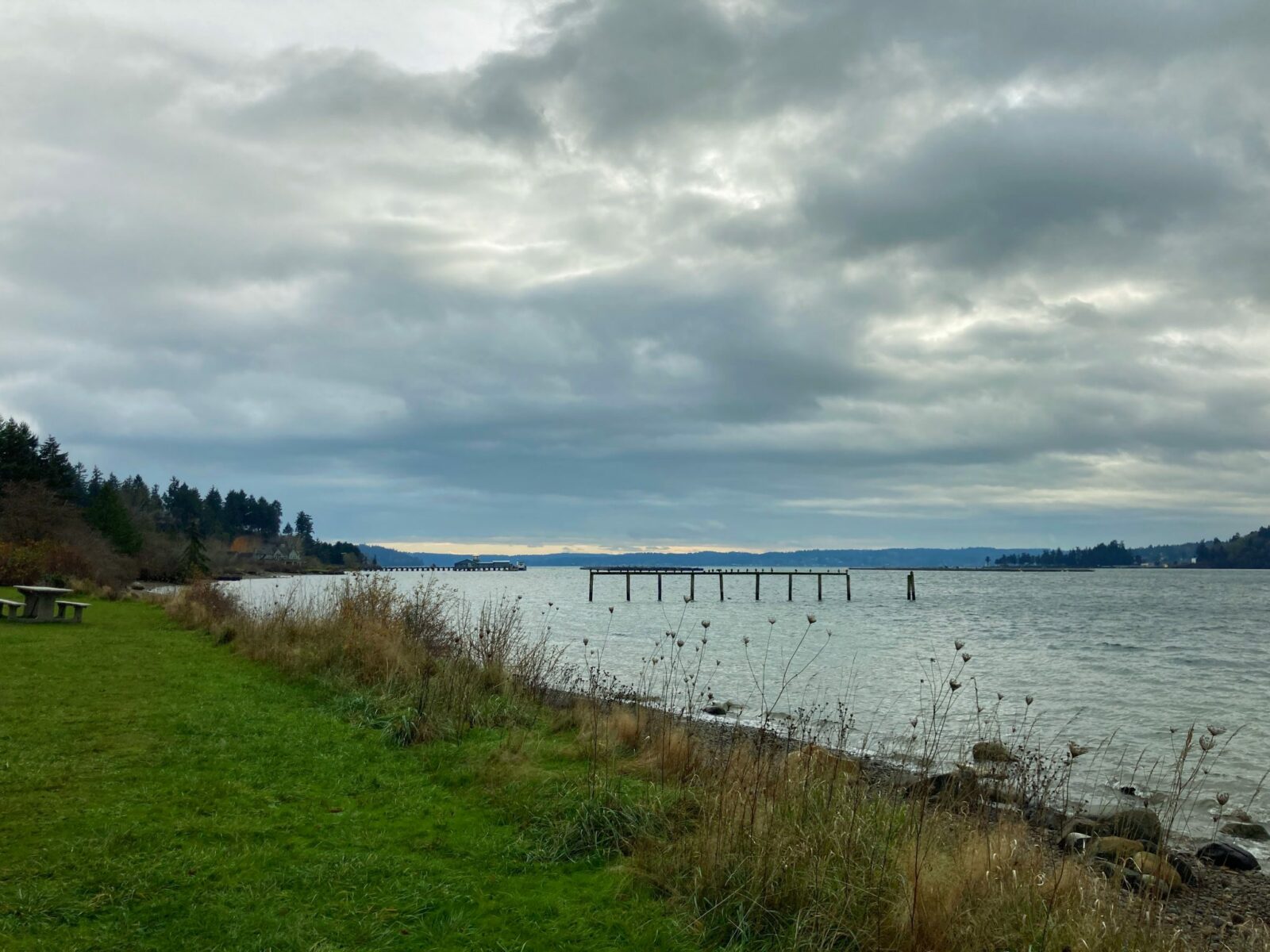 Best For: Those who like to hear sea lions barking, those who like to be by the water and history buffs! This park also has a half mile flat, wide paved trail along the water and past the gun batteries and old barracks of historic Fort Ward dating from the early 20th century. A park since 1960, you can explore the old military features as well as explore the beach and listen to the sounds of sea lions arguing over their place on the channel markers of Rich Passage. You'll also see the Bremerton ferry pass by in the channel.
Distance: Up to 2.5 miles
Elevation Gain: Up to 200 feet (or flat if you stick to the wide, paved trail)
How to get there: If you're taking the bus, take the 98 bus from the ferry terminal. The bus stop is just under a mile from the park, so it will add a couple miles onto your hike to take the bus. It takes 30-45 minutes from the ferry (including the walk). If you're driving, head north on Highway 305 and turn left on High School Road. Go left again on Weaver Road, then left on Wyatt Way. The road bends and changes names a couple times, eventually becoming Blakeley Avenue. Follow Blakeley to Pleasant Beach drive and go left until it ends in the parking area. There is a pit toilet and trash cans as well as a kayak launch at the parking area.
Fort Ward to Blakeley Harbor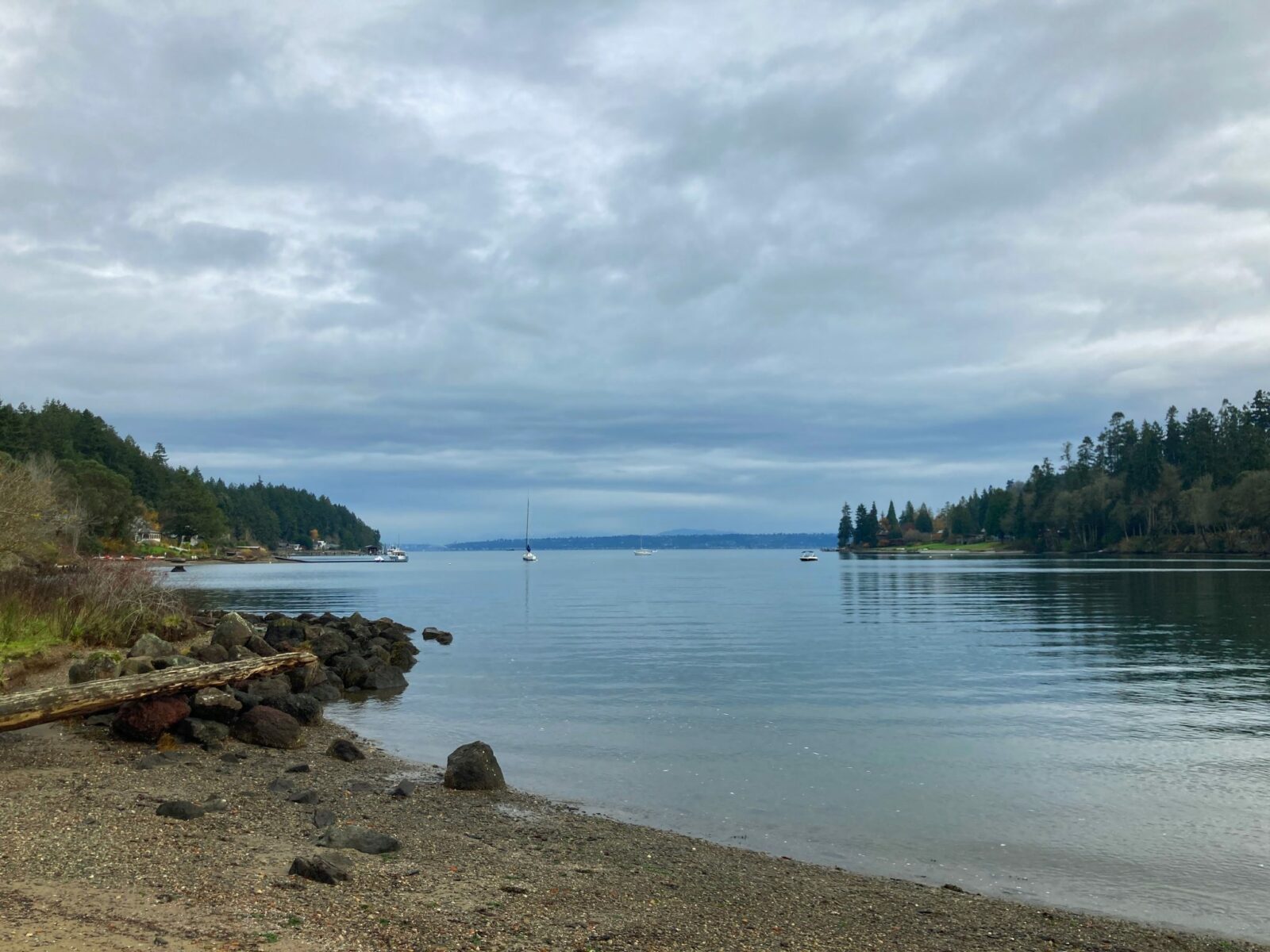 Best For: Those who want to experience Fort Ward and a picturesque shallow harbor on the island, and those who enjoy forest walks or one way and loop hikes! If you want to add on to your Fort Ward hike, consider hiking the forested trail between Fort Ward and Blakeley Harbor.
Distance: Up to 5.5 miles
Elevation Gain: 200 feet
How to get there: Follow the directions to Fort Ward and find the trail to Eagle Harbor at the top of the hill (see Bainbridge Island Parks map for details). The trail goes just over a mile to Blakeley Harbor Park. If you're on the bus, you can follow the directions to Fort Ward above, then hike to Blakeley Harbor and then back to the same bus stop you got off from, making a triangle shape. If you're driving, you can hike back on the same trail to Fort Ward or if you have to cars, you can leave one at Blakeley Harbor park and make it a one way hike. Fort Ward has pit toilets and trash cans, Blakeley Harbor park does not.
Best Post Hike Stops for Food and Drink on Bainbridge Island
Bainbridge Island is heaven for those who like to find fun places to stop after hikes! There are seven wineries on the island, a brewery and two distilleries in addition to lots of food options located close to the ferry.
Try the beloved Westside Pizza for the perfect post hike pizza stop. Bakery lovers will love both Sweet Dahlia and the Blackbird Bakery. Mora Ice Cream is also a local favorite. Fan of breakfast? Try the Streamliner diner.
There are several wonderful wineries on the island. I love Bainbridge Vineyards because of their multiple heated and covered outdoor spaces for tasting and picnicking. In addition, this winery is quite unique because all of their wines are made from grapes grown on the island! They also have cheese, crackers and charcuterie you can purchase if you need a post hike snack to go along with your wine.
The perfect place to stop post hike if your group doesn't like the same things is the Coppertop Business park. It doesn't sound exciting but stay with me here. Located less than three miles from the ferry it has a wonderful dog and kid friendly winery, a brewery AND a distillery with outdoor seating in addition to coffee! Something to keep everyone happy. For food, this is the same parking area as Sweet Dahlia bakery (which has sandwiches and other lunch items in addition to sweets) and a wonderful pizza place!
If you want to dive deeper into Bainbridge Island's food and wine scene, check out fellow Seattle blogger Emerald Palate's guide to the best restaurants on Bainbridge as well as her guide to Bainbridge's seven wineries.