Seattle in Winter – 17 ways to have fun like a local
Posted On September 7, 2021
Last Updated on September 27, 2023
Planning a winter visit to Seattle? Newcomer to Seattle getting ready for your first winter? If so, you're in the right place! This article is all about how to thrive and not just survive Seattle in winter.
You might have heard that Seattle is dark and gray in the winter, and most of the time that's true. You can still have an awesome winter here if you get out and see the sun when it's there and make an effort to get out and experience the great things Seattle has to offer, whether it's a show, coffee shop or museum in town or a snowy weekend getaway!
I'm a born and raised Seattleite, and I will tell you all the best things to do in town as well as day trips and weekend getaways to make winter…dare I say it? FUN! Let's go.
Why visit Seattle in Winter?
Most people will say that summer is the best time to visit Seattle and I think for most people that's probably true. We have impossibly beautiful summers here, with very little rain, no humidity and normally mild temperatures. There are some definite advantages to visiting Seattle in winter, or to living here in winter which include:
Less crowds at popular places for visitors such as Pike Place Market and Olympic National Park
Opportunity to play or adventure in the snow without having to shovel the driveway or sidewalk
Less expensive lodging for visitors
Lots of unique museums to explore without crowds
Lots of cozy and delicious restaurants and coffee shops
Most people and businesses don't have air conditioning, but everywhere has heat!
When is winter in Seattle?
I consider winter in Seattle to be mid November through mid February. This is the wettest, darkest and coldest time of year and the time when there is most likely to be snow in the mountains.
Late February and March have a definite spring vibe, with lots of bulb flowers coming up and longer days with a bit more warmth. March is still a solid winter month in the mountains, including the ski areas and Mt Rainier and Olympic National Park.
What is winter like in Seattle? Does it snow?
Winter in Seattle is characterized by gray, cloudy days with occasional rain. The actual amount of water falling from the sky is generally not that much, but it tends to feel like it's raining all the time!
Temperatures in Seattle in winter are generally in the 40s. Sometimes it's in the 50s and sometimes colder in the 30s. It freezes sometimes at night, but not consistently.
Days are short, with late December sunrises about 8 am and sunset just after 4 pm. When it's gray and cloudy, the days feel very short!
Seattle also gets regular Pacific storms which bring in heavy rain in the lowlands and mountain snow and often lots of wind.
Occasionally Seattle gets snow in winter, but not often. This usually only happens once or twice during the winter and some years not at all.
Where to stay in Seattle?
If you're planning to go car free in Seattle (a good idea if you're staying in town), make sure to pay attention to where you are staying compared to transit hubs. This map compares hotels and vacation rentals across different neighborhoods to help you figure that out! (This is an affiliate link, which means if you book through the map I receive a commission at no cost to you).
Best things to do in Seattle in winter
Part of the trick to having fun in Seattle in winter is embracing the things that you can only enjoy in the winter, like lonely beaches, elbow room in Pike Place Market and Happy Hour sunsets! These are some of the best ways to enjoy Seattle in winter.
Drink Coffee
You probably already know that Seattleites drink a lot of coffee. And what better time to enjoy a hot beverage and a good book or conversation than on a gray, wet day.
My suggestion is to find a nearby local coffee shop and hang out there for awhile. You can even explore Seattle's neighborhoods, one coffee shop at a time!
Pro tip – skip the so called "original Starbucks" in Pike Place Market and go to their roastery in Sodo at the corporate headquarters, or the one on Capitol Hill for a different vibe. Here you can learn all about coffee and taste a ton of it too.
If you're downtown, try Storyville Coffee in the market, or Cherry Street Coffee which has four locations downtown.
Visit a unique museum
Seattle has some wonderful museums, enough to spend an entire winter visiting different ones each day. Nothing is better than a museum on a rainy day. Some of my favorite museums that are unique to Seattle include:
Chihuly Gardens and Glass – gorgeous impossibly colorful blown glass in the shadow of the Space Needle
Seattle Aquarium – Marine mammals, fish and birds of the Salish Sea. There are some outdoor areas but most of it is indoors or covered. Located on the waterfront.
Wing Luke Museum – Learn about the Asian American experience in Seattle, with options for a guided tour around the International District.
Northwest African American Museum – Learn about the African American experience in the Pacific Northwest and Seattle, located in the Central District
Museum of Flight – Seattle's long and deep history with aviation, including lots of airplanes that you can go inside. A must do for kids and aviation enthusiasts! Located at Boeing Field
Klondike Gold Rush Museum – Located in Pioneer Square, this museum is operated by the National Park Service and explores the history of the Klondike Gold Rush which established Seattle as a city and the city to serve people headed to Alaska. The rest of Klondike Gold Rush National Historic Park is located in Skagway, Alaska.
Museum of Pop Culture (MoPOP) – Formerly a museum entirely about music, MoPOP has expanded to cover a variety of traveling and permanent exhibits related to music, movies, comics and more. Located at Seattle Center near the Monorail.
Museum of History and Industry (MOHAI) – a classic history museum, one of the best things about this museum is it's unique location in a historic armory on the shores of Lake Union.
Pacific Science Center – great for kids and anyone interested in science, make sure to make time for an IMAX movie and a planetarium show! A great way to see the stars during cloudy winters.
Seattle Art Museum – The Seattle Art Museum (SAM) is located in three different places – downtown Seattle as well as the outdoor Olympic Sculpture Park on the waterfront and the Asian Art Museum in Volunteer Park on Capitol Hill.
Wander Pike Place Market
Pike Place Market is a Seattle treasure. Yes, it's touristy and yes, it's extremely crowded in summer. It's still a wonderful truly local experience and the best thing about a winter visit is WAY fewer people than the peak tourist season. You will find some crowds on weekends around the holidays but it's still a much less crowded experience.
At the market, you can buy local food (especially seafood and produce), sip local tea, browse handmade local treasures and enjoy some delicious local favorites and the various eateries and restaurants.
Foodies should consider a food tour, where your guide will not let you miss a single local favorite! Check out my guide to where to eat at Pike Place Market here.
Wild Lights at Woodland Park Zoo
From late November through January, Woodland Park Zoo has the Wild Lanterns festival, with gorgeous animals made entirely of lights! While it is around the holidays and features lights, the lights themselves are not holiday themed, which makes it a great activity into January.
This is an awesome activity for all ages and in addition to the light displays you can also see many of the animals at the zoo.
Go to the Beach
A beach day is probably not the first thing that comes to mind when you think of Seattle in winter, but a winter beach day is awesome! It's not Florida and you probably won't need sunscreen or a beach towel, but it's awesome in other ways.
Beaches have very few people in the winter and you can usually stroll as long as you like or sit on a driftwood log in solitude. Bring rubber boots to keep your feet dry and you can even wade in the water!
Many of Seattle's beaches have gorgeous sunsets so if you catch a sunny day make sure to go to Alki Beach or Golden Gardens for an early and beautiful winter sunset behind the Olympic Mountains.
Listen to Live Music or go to the Theater
Seattle has lots of live music venues and theater opportunities, and there's nothing better to do in Seattle in winter! Seattle is oriented around music and the arts all year, but people really head inside to appreciate it during the winter months.
Check online for events when you're visiting and take in anything from a small local bar with a band to the Seattle Opera and everything in between.
Go for a Hike
Hiking is a wonderful year round activity in Seattle! There are plenty of snow free (normally) hikes if you're not a fan of snow. Make sure to wear waterproof footwear as winter trails are often muddy.
Try hikes in the Issaquah Alps for something very close to Seattle (30 minutes) or head out to one of the islands for some island hiking. Read all about my favorite winter hikes near Seattle here.
Try Snowshoeing
If you want to get out in the snow, snowshoeing is a great way to play in the snow without too much expense or gear. You will need snowshoes, but there are plenty of places to rent them at local ski areas as well as REI. Mt Rainier National Park and Olympic National Park do ranger led snowshoe walks where you can borrow their snowshoes for a small donation.
Snoqualmie Pass is the closest area to Seattle for snowshoeing, about an hour away. There are also plenty of snowshoe opportunities at Stevens Pass, Olympic National Park and Mt Rainier National Park.
Check out my top 5 snowshoe hikes near Seattle here.
Go Downhill Skiing
If you're a downhill skier, or want to give it a try for the first time, there is plenty of opportunity near Seattle in winter! Though Seattle itself rarely gets snow, there is a ton of snow in the mountains and downhill skiing is very popular here.
Downhill ski areas generally open in mid to late December and operate at least through March.
Some of the closest ski areas to Seattle include Snoqualmie Pass (closest but less reliable snow), Crystal Mountain (near Mt Rainier) and Stevens Pass. Crystal and Stevens are both higher and therefore have more snow and less rain than Snoqualmie Pass.
All the ski areas near Seattle offer lessons and rental gear.
Best day trips from Seattle in winter
If you're looking to get out of the city, there are plenty of ways to spend a day out of town. In my opinion, the best day trips from Seattle in winter either involve islands or national parks!
Bainbridge Island
Bainbridge Island is an ideal day trip from Seattle if you don't have a car. You can take the ferry over in 30 minutes from downtown Seattle. The ferry ride gives you a great view of downtown too.
Once you arrive on Bainbridge, you can explore the lovely shops right by the ferry. There are some great restaurants here as well as multiple wineries that have tasting rooms in town. You can walk along the waterfront trail too.
If you bring a car or bike with you, you can explore even more of the island, taking in the Japanese American Exclusion Memorial, Chief Seattle's grave, the Bloedel Reserve gardens and many other parks.
Related: Things to do on Bainbridge Island
Whidbey Island and the Boeing Tour
Whidbey Island is north of Seattle and can be reached either by ferry from Mukilteo or by driving around to the north across the Deception Pass bridge.
Whidbey has a ton of things to do, including lots of parks with wonderful hikes and beaches, farms to visit and wineries with tasting rooms.
If you're heading to Whidbey and are interested in aviation, I highly recommend making a stop at the Boeing Tour which is near the ferry. You can do this and still have plenty of time to explore the island.
The ferry terminal in Mukilteo is about an hour drive from Seattle.
Related: Best Whidbey Island hikes
Mt Rainier National Park
Mt Rainier (Tahoma) National Park is a fantastic winter destination, as long as there isn't a storm going on! Even if clouds obscure the summit of the mountain, this is a wonderful place to explore a snowy winter wonderland.
Chains are required in the park all winter regardless of conditions, so make sure you have them or you may be turned away at the gate (even if you have all wheel drive).
The only entrance to Mt Rainier that is open in winter is the Nisqually entrance which takes you to Longmire and Paradise. There are lots of places to snowshoe in the park, either with sweeping mountain views or among giant trees.
Mt Rainier is about a three hour drive from Seattle.
Related: Winter day trip to Mt Rainier
Olympic National Park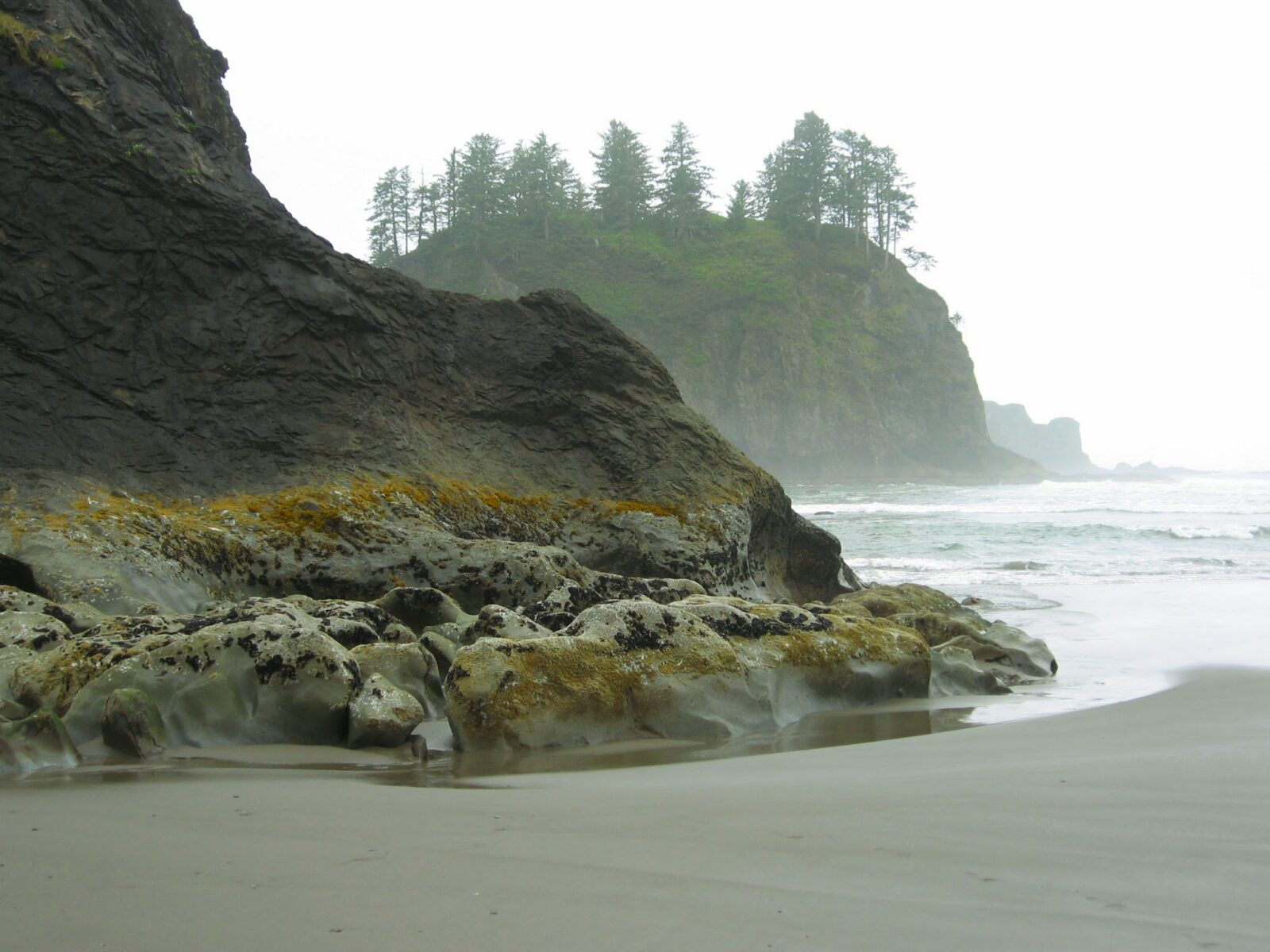 Olympic National Park is another wonderful national park to visit in winter, as long as you're ok with some wet weather! The Olympic Peninsula is wetter than Seattle so be ready for that!
There are a a couple of options for a day trip from Seattle to Olympic National Park in winter. The first is to go to Hurricane Ridge for a snowy adventure. Some years Hurricane Ridge is only open on weekends in winter so be sure to check for that.
The other option for a winter visit is the generally snow free rain forest and beach option, going to Lake Quinalt for forests and Kalaloch beach for the Olympic Coast. The Hoh Rainforest is too far for a day trip, but you can make it into a weekend adventure if you want to go there (see below).
Both options are about a three hour drive from Seattle.
Related: Winter day trip to Olympic National Park
Best weekend trips from Seattle in winter
If you're looking for a good weekend getaway from Seattle in winter, I've got you covered! You can head for the snow or head for the moody lowlands, whichever sounds best to you!
Leavenworth
Leavenworth is a classic Seattle winter getaway that's extremely popular. Make sure to book reservations for hotels and vacation rentals as early as possible and expect high prices in the winter. Leavenworth is a bavarian themed outdoorsy mountain town about 2-3 hours from Seattle in winter (weather and traffic can vary a lot).
While in Leavenworth, make sure to explore the shops in town as well as the many cross country skiing and snowshoeing trails nearby. Leavenworth is also fairly close to Stevens Pass for downhill skiing.
Leavenworth also features opportunities for sledding and ice skating as has beautiful lights around the holidays, which draw a lot of Seattleites.
Winthrop
Winthrop is a must visit getaway for cross country (nordic) skiers. The Methow Valley Trail system is among the most spectacular cross country ski areas in North America!
The town of Winthrop has a western theme, and there are plenty of great places to eat. This is another very popular location in winter so make sure to reserve your lodging well in advance.
Another great thing about Winthrop is that it is much sunnier than Seattle in winter, making it a great place to soak up some winter sun and get a break from the rain!
Olympic Peninsula
If you want to avoid snow on your weekend getaway from Seattle in winter, the Olympic Peninsula is perfect for you! There are not a lot of visitors here in winter, and that makes lodging affordable and available and gives you lots of opportunities to explore.
Make sure to check road conditions, especially for Olympic National Park, since winter storms sometimes bring down giant trees, closing roads temporarily.
If you follow my three day Olympic National Park itinerary (skipping Hurricane Ridge to avoid snow), you'll see the wild Pacific Ocean beaches and the ancient old growth trees of the Hoh Rainforest and other rainforests. I recommend staying in Forks, Port Angeles or the lodge at either Kalaloch or Lake Quinalt.
Whistler and Vancouver BC
Bring your passport and head north of the border to wonderful Vancouver BC and Whistler! For skiers and anyone who loves the mountains, Whistler is an absolute must-see! Even if you aren't a skier, you can have fun exploring the village or snowshoeing or cross country skiing.
Like Seattle, Vancouver is a fantastic year round destination with amazing food (must do for foodies!), beautiful parks and lots to do.
You can stay in Vancouver and make a day trip up to Whistler, or stay in Whistler and make a stop in Vancouver on the way.
While you're there, you can check out the Olympic Torch from the 2010 winter olympics (on Vancouver's waterfront), or try your hand at learning an Olympic winter sport at Whistler sports legacies.
Related: Things to do in Vancouver, BC
What to wear to stay warm and dry in Seattle in winter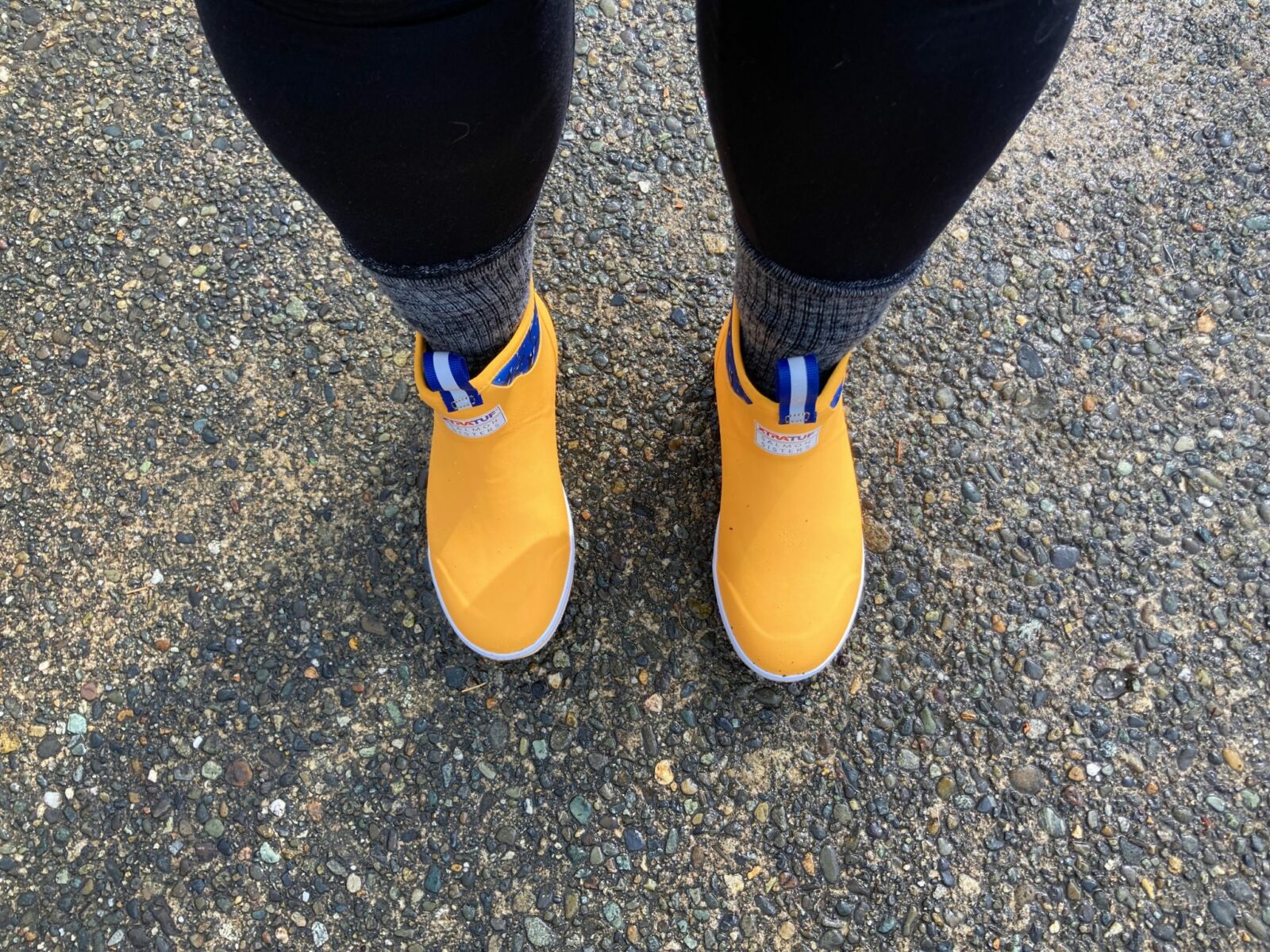 This post contains affiliate links, which means if you make a purchase I may receive a small commission at no additional cost to you. As an Amazon Associate, I earn from qualifying purchases
You might have heard the phrase "there's no bad weather, only inappropriate clothing" and while I don't entirely agree, I do believe that a key to happiness and comfort in Seattle in winter is making sure you stay warm and dry!
The most important thing is to have an excellent rain jacket.  I have two, the REI XeroDry and Marmot Minimalist are the two rain jackets I currently own and both of them feel like new after a couple years of heavy use. I would make the decision based on where you like to shop and what size you are. The REI XeroDry comes in plus sizes, which the Marmot minimalist unfortunately does not.I recommend a rain jacket that is not insulated, since it's not that cold and it's easy to get really hot in an insulated one. Bring layers to wear underneath it so you can easily adjust to what's comfortable.
Secondly, waterproof footwear is a must! Many Seattleites wear rubber boots (I love these super cute designs on super sturdy and comfy boots) all over town. You can really wear any boots or shoes that you like but make sure they're waterproof! Wet feet is no fun.
Other things that help keep you comfortable include:
Wool socks – in addition to being warm, if your feet do get wet, they'll feel better if you have wool socks
Leggings – for outdoor activities I like to wear leggings because they stay somewhat comfortable even if they get wet (unlike jeans, ew)
Umbrella – you may have heard that Seattleites don't carry umbrellas and while that is kind of true, umbrellas are still a great thing to have in a rainy climate! Especially if you're going in and out of a lot of buildings
Hat – I find a warm hat makes a big difference if it's cold and I wish I had another layer. It's also really easy to carry around
Related: Pacific Northwest best winter gear, What to pack for Seattle