Talapus Lake Hike near Snoqualmie Pass
Posted On August 21, 2019
Last Updated on January 15, 2023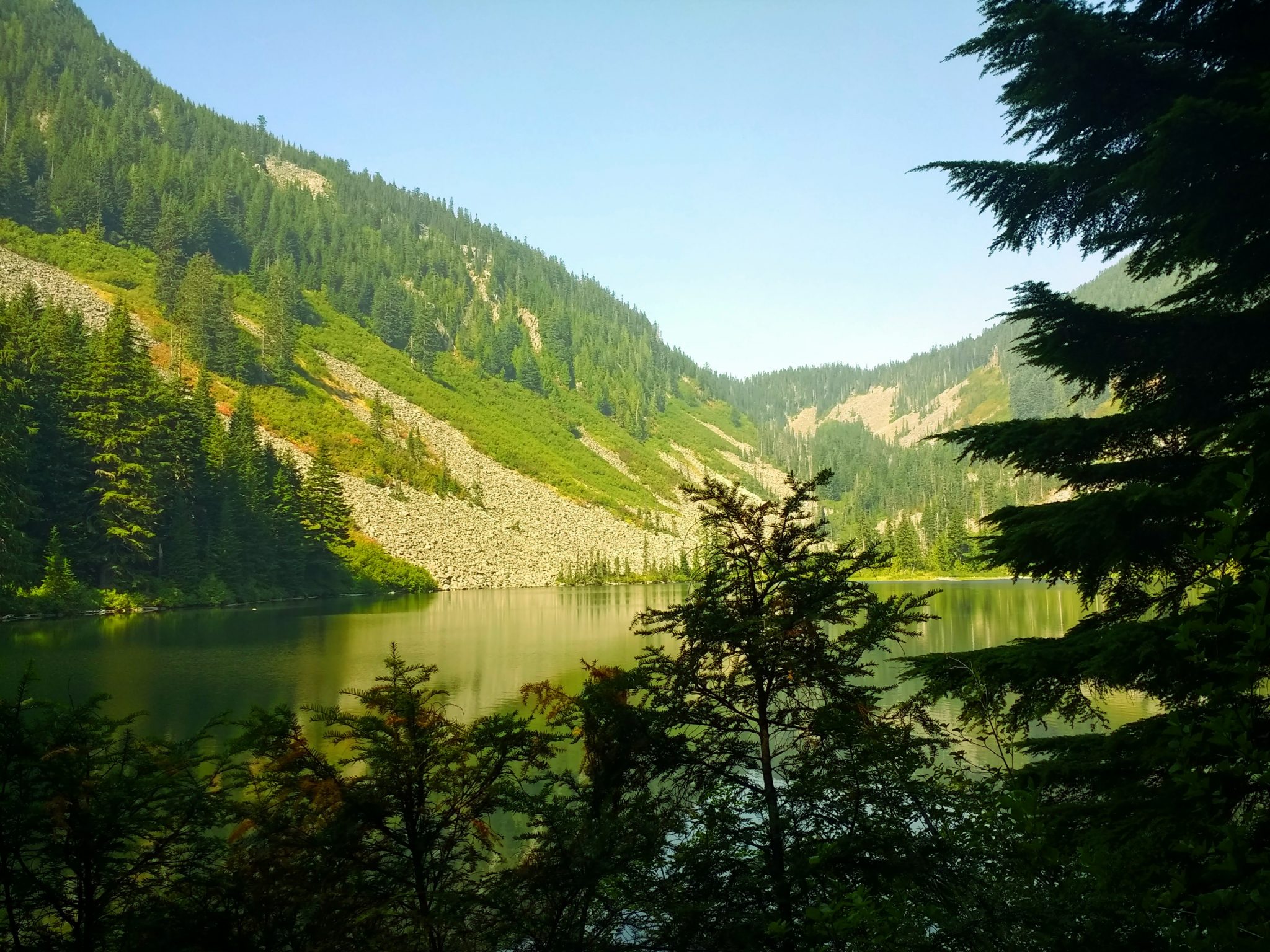 The very popular Talapus lake hike is a 4 mile round trip with a bit under 1000 feet of elevation gain mellow hike to a lake within the Alpine Lakes Wilderness, which is awesome for summer! You have the option of adding another mile and a bit more uphill to go to Ollalie Lake instead or in addition to, Talapus. Looking for a longer lake hike in the same area? Try Annette Lake. Looking for something less crowded? Drive a bit further to Snoqualmie Pass and try Lodge Lake or Mirror Lake.
The land around Talapus Lake is the homeland of the Duwamish and Snoqualmie people.
Parking Pass: Northwest Forest Pass
Dog Friendly: yes, on leash
Cell phone coverage: some cell service in places
Restrooms: pit toilet in parking lot
Accessibility and Mobility: This trail has some rocks, roots and mud to navigate but otherwise is in good condition.
Related: What to wear for a hike in the Pacific Northwest, what to bring on a hike in the Pacific Northwest
Is the Talapus Lake Hike right for me?
If you don't mind other people and want to take a mellow hike to an alpine lake that won't take the whole day, then this would be the perfect hike for you! The trailhead is also only about an hour from Seattle.
When is a good time for the Talapus Lake hike?
The talapus lake hike is generally snow free from July through October, and often November. In the fall it's much less busy but more muddy! It's a very popular hike and trailhead on weekends so this is a good one to consider a late afternoon or early evening hike for in the summer, or wait until fall.
Where is the Talapus Lake hike?
The Talapus lake hike is located just west of Snoqualmie Pass in the Alpine Lakes wilderness. Take exit 45 from I-90 east, and turn left onto a forest service road at the end of the off ramp. In about three miles (keeping right at the fork to stay on the forest service road) you'll arrive at the trailhead, where you need a NW Forest Pass to park.
Trail Description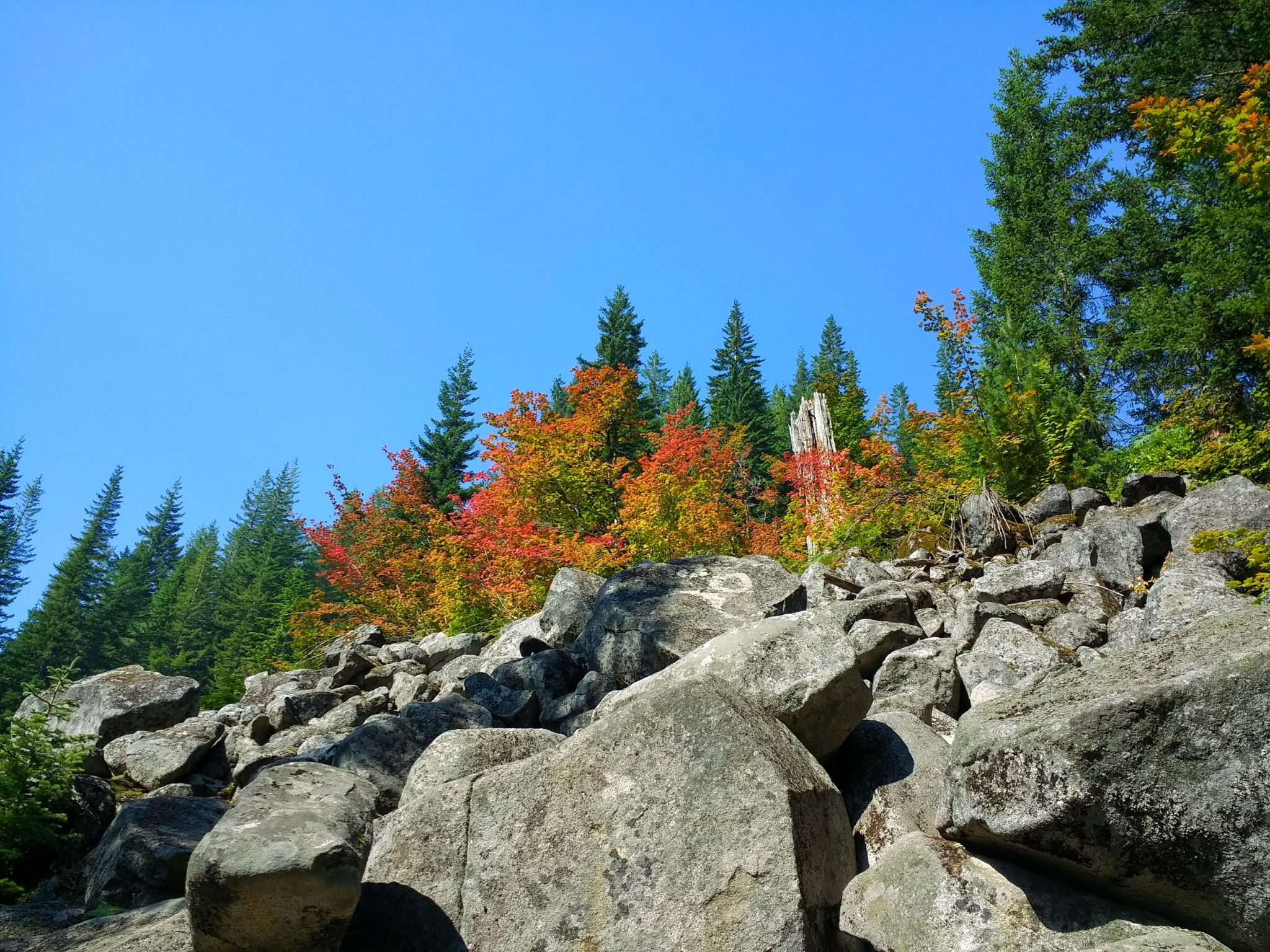 Starting from the very busy parking lot (try for a late in the day hike for this popular trail), head uphill through the forest, which soon steepens a bit for some switchbacks. Soon after, the trail levels out a bit and becomes wet and boggy (even when it's dry weather), so use caution!
At a creek crossing near the lake, keep right at the fork to continue on the path that's been reinforced by trail volunteers (thank you!). The muddy bit continues a bit and in a total of about two miles from your car you'll come to Talapus Lake.
You can turn around here (good picnic spot!) or continue up another mile to Olallie lake, or if you want an even longer day, up to Pratt Lake or Island and Rainbow Lakes. When you're ready to head back, go back the way you came!
Breweries and Bakeries near Talapus Lake
Try the North Bend Bar and Grill if you'd like to get a hot meal and drink after your hike. I also recommend Pioneer Coffee in North Bend and Volition Brewing.
Electric Vehicle Charging
There is fast charging available at the North Bend Outlet Mall (walk to Pioneer Coffee!).