Summer Day Trip to Hurricane Ridge in Olympic National Park
Posted On May 21, 2020
Last Updated on January 8, 2022
Hurricane Ridge is one of the most beautiful places in Olympic National Park and an incredible place for a mellow hike with incredible views! This is a very doable day trip from Seattle, although if you have more time check out my three day Olympic National Park road trip itinerary to see more of the amazing diversity of this park. You can also spend a weekend in Port Angeles and have a bit more time at Hurricane Ridge or other areas nearby.
This part of the Olympic National Park is the homeland of the Lower Elwha Klallam tribe.
Related: Ultimate Washington National Parks Road Trip Itinerary
When is the best time to visit Hurricane Ridge?
Hurricane Ridge is open most weekends and holiday periods during the winter which is also a wonderful day trip. I would save it for a clear day when you can see the amazing view and try out snowshoeing!
Generally Hurricane Ridge is closed in late winter and early spring and also in late fall and early winter.
Hurricane ridge is open daily beginning in May until October. May and early June still have a lot of snow (many, many feet). By late June, typically most of the snowpack is melted away from the trails. There are wonderful wildflowers here in late June and July and spectacular views all year.
You have a decent chance of seeing a black bear in the meadows, especially in early summer (June) and a good chance of seeing the Olympic marmot all summer. You are almost guaranteed to see deer here.
Pro tip: check the webcam to see if there's a view before making the trip. If it's overcast in Seattle don't assume that will be the case at Hurricane Ridge. I've often driven through the clouds and fog to pop out into the sunshine near the top!
How far is Hurricane Ridge from Seattle?
From Seattle, you will take either the Bainbridge ferry (from downtown Seattle) or the Edmonds – Kingston ferry (this is the best option if you are leaving from north of downtown Seattle). If you're in Tacoma, take the Tacoma Narrows Bridge across to the Kitsap Peninsula.
The ferry crossing is about 30 minutes, plus waiting in line for the ferry and loading and unloading time which is at least another half hour.
It will take about an hour and a half from either ferry terminal to get to the town of Port Angeles (closer to two hours from the Tacoma Narrows Bridge). Pro tip: the best restrooms along the route are at the Longhouse Deli (also a great place to get food, snacks and drinks) which is about halfway to Port Angeles.
Olympic National Park and Hurricane Ridge are well signed as you arrive in Port Angeles. As you leave town, you'll pass the Port Angeles Visitor Center, a very worthwhile stop with restrooms (the last restrooms before you arrive at Hurricane Ridge).
From here, it is a 17 mile, highly scenic, very curvy, very steep, very slow drive to the top. Plan on this drive taking 45 minutes to an hour in the summer. You do not need a special vehicle to drive this road in the summer, any car will be just fine.
After the first 5 miles, you'll reach the entrance station where you will pay the Olympic National Park entrance fee which is $30 per vehicle.
Pro tip: Near the entrance station is the large Heart O' the Hills Campground. Between loops C and D is a trailhead that takes you into the beautiful green forest with giant trees that other parts of Olympic National Park are so famous for. There are very few people on this trail so that's a bonus too!
You'll continue to climb up the hill, there are several pullouts with good views.
When you round the last curve, an incredible panorama of mountains and alpines meadows greets you! There is parking here as well as beyond the visitor center at the two picnic areas in the mile and a half between the visitor center and the Hurricane Hill trailhead.
Pro tip: Your cell phone may pick up a Canadian signal here. If you do not have an international plan, this can become very expensive fast. I recommend putting your phone in airplane mode (there's no signal here other than the Canadian one) which also helps preserve your battery for taking photos and videos.
Things to do at Hurricane Ridge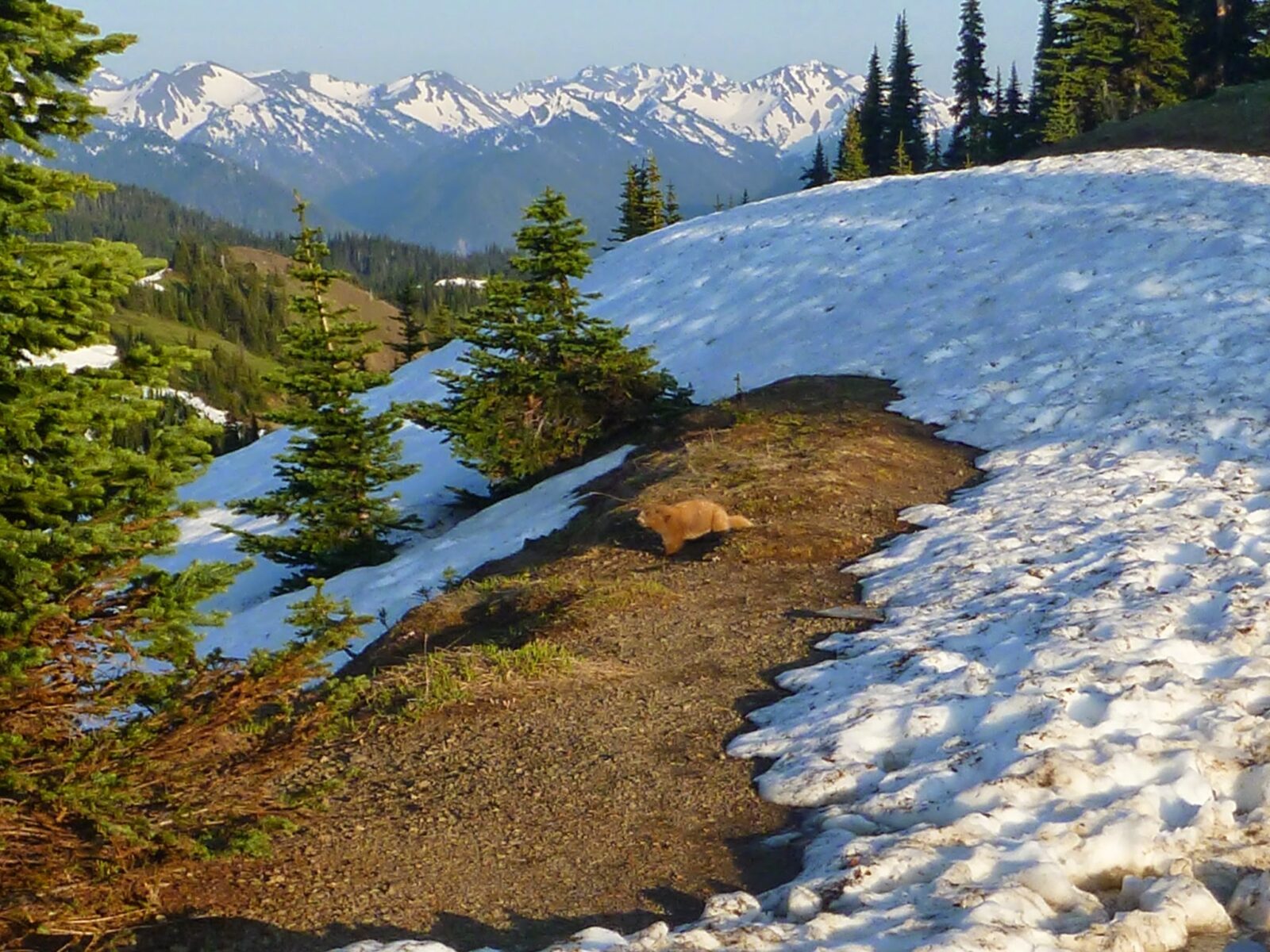 Look at the View
The most important thing to do at Hurricane Ridge is to take in the view! You can do this without hiking right from the parking lot. The visitor center has picnic tables outside that look at the incredible mountain view. There are also big windows if you prefer to take it in from inside.
You are likely to see wildflowers and deer and sometimes Olympic marmots or black bears in the meadow that slopes away from the visitor center.
Take a Hike
There are wonderful view hikes here! Ask a ranger at the desk in the visitor center for guided ranger hikes happening that day or their recommendations based on the conditions. Two of my favorite moderate day hikes at Hurricane Ridge are
Hurricane Hill – The trailhead is about a mile and a half from the visitor center, drive straight past it and there's only one road. At just over 3 miles round trip with 700 feet of elevation gain, it's steep but relatively short. You can always go part way and turn around if it feels too steep. Expect amazing views the entire time and at the top of the hill you can see across the water to Victoria, BC in Canada as well as all around the Olympic Mountains and islands and lowlands in Washington. There are marmots and wildflowers around too!
Sunrise Ridge – Similar views and features, but much less crowded after the first half mile. At just over 5 miles and about 1000 feet of elevation gain, it's a bit longer than Hurricane Hill. Start up the wildflower meadow across from the visitor center on the Nature trail and soon transition to the Klahane Ridge trail.
Have a Picnic
Hurricane Ridge may be my favorite place in Washington State to have a picnic! There are two picnic areas between the visitor center and the Hurricane Hill trailhead, both have amazing views and less people than the visitor center and trailhead.
The large, sturdy picnic tables are the perfect place to spread out your feast and take in the view or a sunset. Make sure to put all your food away if you are going to step away from your picnic table to protect wildlife (and yourself).
What to Bring on a Day Trip to Hurricane Ridge in the Summer
If you're planning on hiking, everything you need for a day hike
Picnic! This is a wonderful place to have a picnic, especially in one of the picnic areas between the Hurricane Ridge Visitor Center and the Hurricane Hill Trailhead
Sunscreen – there is very little shade in this high alpine area
Sunglasses and sun hat – same reason as the sunscreen
Camera and/or fully charged smartphone in airplane mode (to preserve the battery and avoid high fees from picking up a Canadian phone signal)
Wildflower field guide (you can get this at the Visitor Center)
Full tank of gas – no fuel is available beyond Port Angeles
Alternative, less crowded option with no services:
The best places to avoid crowds at Hurricane Ridge are the picnic area and the Sunrise Ridge trail (after the first half mile).
If you want to avoid crowds completely, and you're ok with gravel roads and no services, try Deer Park instead of going to Hurricane Ridge. Deer Park has similar features (hiking trail, epic alpine views) but no services. There is a pit toilet.
To get to Deer Park, you exit the highway before Port Angeles, near the car dealers and movie theater where it's signed. You'll head up another steep and curvy road, but this one is unpaved.
Pro tip: My favorite campground in the state is at Deer Park. It's small and first come first served, so getting a spot on a weekend in summer is a challenge.