Best things to do in Juneau Alaska
Posted On September 9, 2019
It's time for another post about Southeast Alaska (check out my previous ones about Skagway, Ketchikan and Glacier Bay National Park)! I lived in Skagway for three years and lived in Juneau for a winter during that time. I've also visited Juneau many other times so it's hard to choose the best things to do in Juneau out of all the wonderful things about Alaska's capital city.
This post includes things that are easy to access from downtown if you are visiting for the day on a cruise ship. Juneau is a great destination for folks in Seattle, being only a two hour flight away. A few years ago, an additional airline started flying there which has brought the cost of a flight from Seattle down considerably. If you're considering taking the Alaska ferry to Juneau, read this post first! Everything recommended in this post assumes you don't have a car.
Related: How to visit Alaska without a car
What to expect in Juneau
This post is focused on low key outdoor adventure on a summer visit to Juneau (between May and August), which is the very busy cruise ship season! If you're visiting on a cruise ship, you'll be docked downtown. The airport and ferry terminal are a ways away from downtown (9 and 14 miles respectively). For a town with less than 50 miles of roads and only accessible by plane and boat, things are somewhat spread out. Transportation can be a bit challenging but don't worry, I'll explain your options for getting around without a car below. Juneau has both Uber and Lyft so that is always an option for getting around anywhere (except Mendenhall Glacier).
Like the rest of Southeast Alaska, Juneau is very rainy all year, and while you may get that gorgeous and sunny warm day, make sure to prepare for rain! All of these activities are ones that can be enjoyed in rainy weather (with the possible exception of Mt Roberts, as the view is what makes it really spectacular!).
Mendenhall Glacier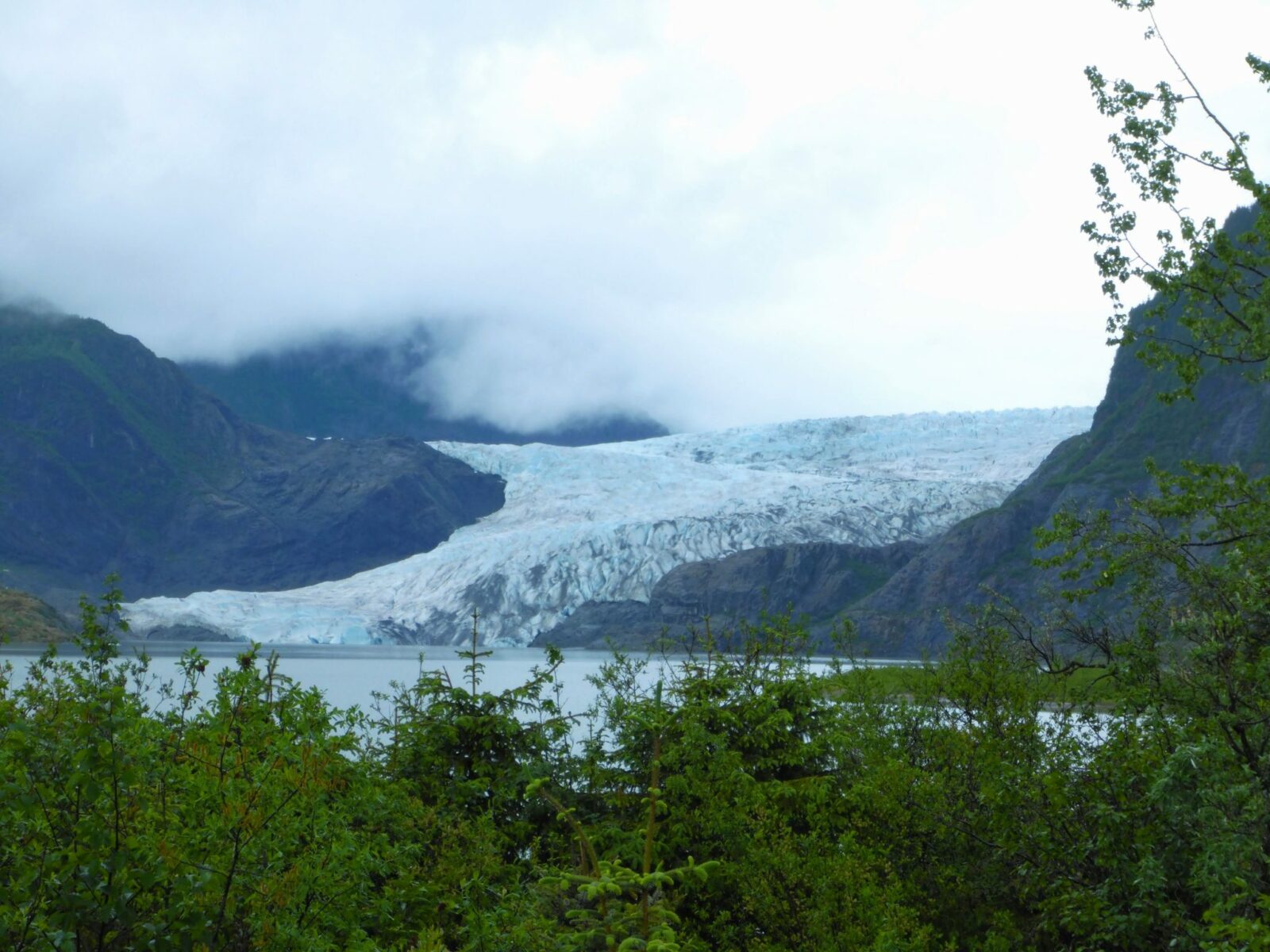 No visit to Juneau is complete without a visit to the Mendenhall Glacier. Of the many things to do in Juneau, this one is not to be missed. The transportation is a bit of an effort but It's well worth it! The glacier beautiful in any weather and offers interesting day hikes of various lengths and challenge. It is an important place to learn about the visible impacts of climate change, which are hitting Alaska harder and faster than most other parts of the US. The ranger programs reflect the latest climate science and the importance, value and uniqueness of the earth's ice and glaciers.
There is no food or drink available for purchase at the Mendenhall Glacier and food is not allowed on the trail for bear safety, so arrive with a full stomach! You can also eat your snack that you brought with you in the visitor center (this is what I do).
Getting to the Mendenhall Glacier without a car is a little bit challenging, as access to the road and visitor center is limited but it can absolutely be done. There are three ways to do it:
Taxi: this is the fastest and most straightforward, but also the most expensive (around $35 each way). Taxis are required to charge an additional $7 per person at the Glacier. Uber and Lyft are NOT allowed at the Mendenhall Glacier recreation area.
Bus: The bus (the 3 or 4 from downtown) is very affordable at $2 per ride. However, the bus stop is 1.5 miles (each way!) from the Mendenhall Glacier Visitor Center. This adds 3 miles onto any walking that you plan to do while there.
Take a tour or shuttle: If you're on a cruise ship, your ship will offer tours to the glacier and this is even easier than a taxi, although you'll be visiting on the tour's schedule. You can also pick up a shuttle downtown from the docks for $45 round trip (about half the cost of a taxi). You can pick up a shuttle ticket at the vendor booths near the docks.
Juneau Whale Sculpture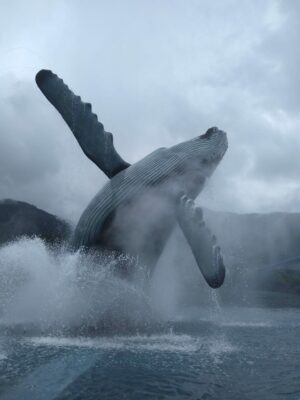 The new whale sculpture in downtown Juneau is one of the best things to do in Juneau and it's absolutely free and you can walk to it! Completed in 2016, this sculpture may be the most stunning piece of public art I have ever seen. It's below the bridge to Douglas Island on the Juneau side (this will be obvious when you're there and you can always ask a local to point you to the whale sculpture!)
Mt Roberts Tramway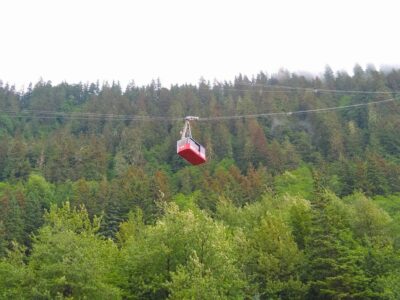 If it's clear enough to see the view (it doesn't necessarily need to be sunny, but high enough clouds to see the view is important), the Mt Roberts Tramway is a great thing to do in Juneau. If you don't want to pay the $35 to ride, you can hike the trail instead (see below). You can also ride the tram and start your hike there, allowing you to get up even higher. Hike up and ride down for just $10 or buy a drink at the lodge and it's free! The tram starts right downtown by the cruise ship docks.
Day Hikes in Juneau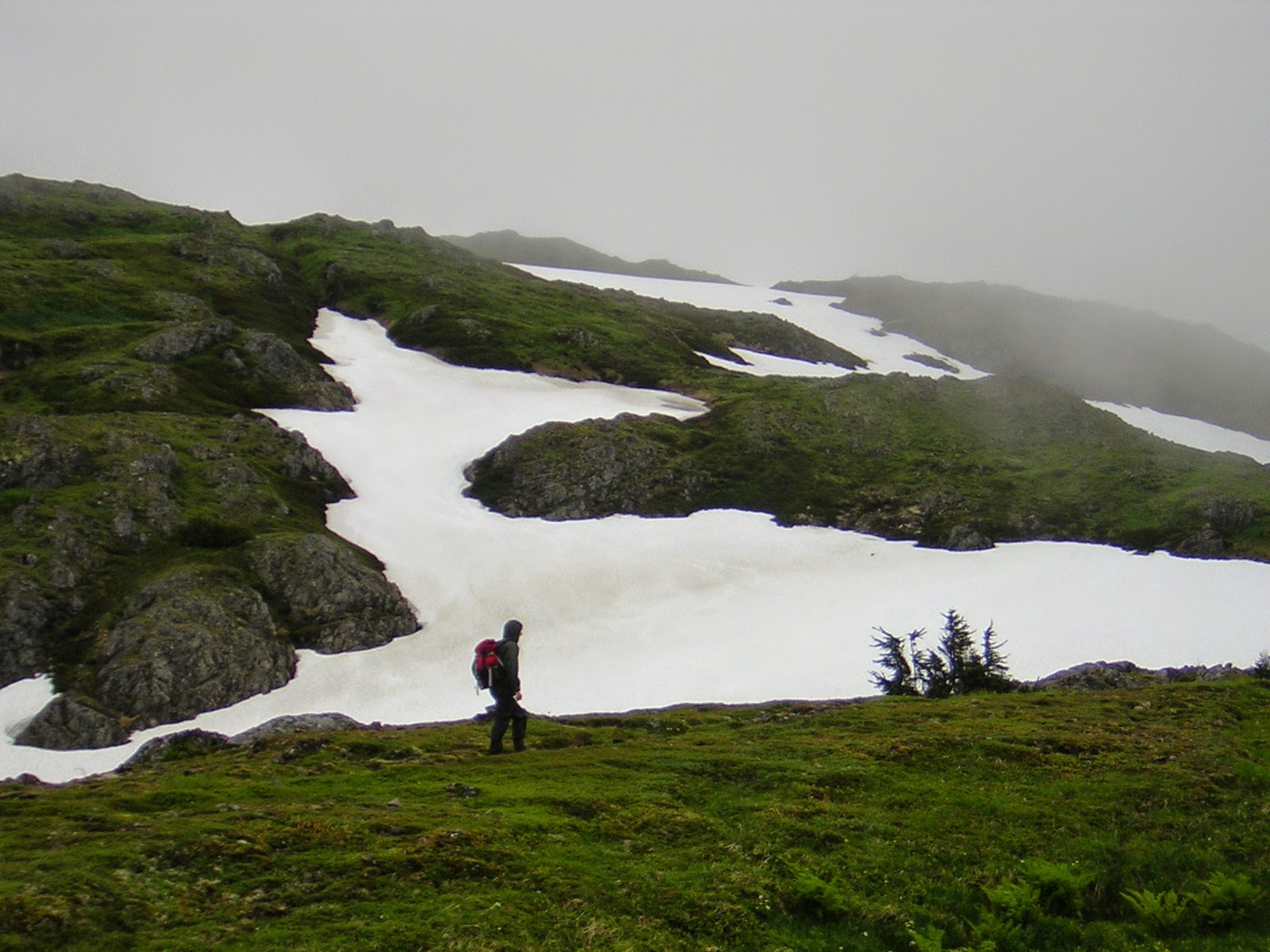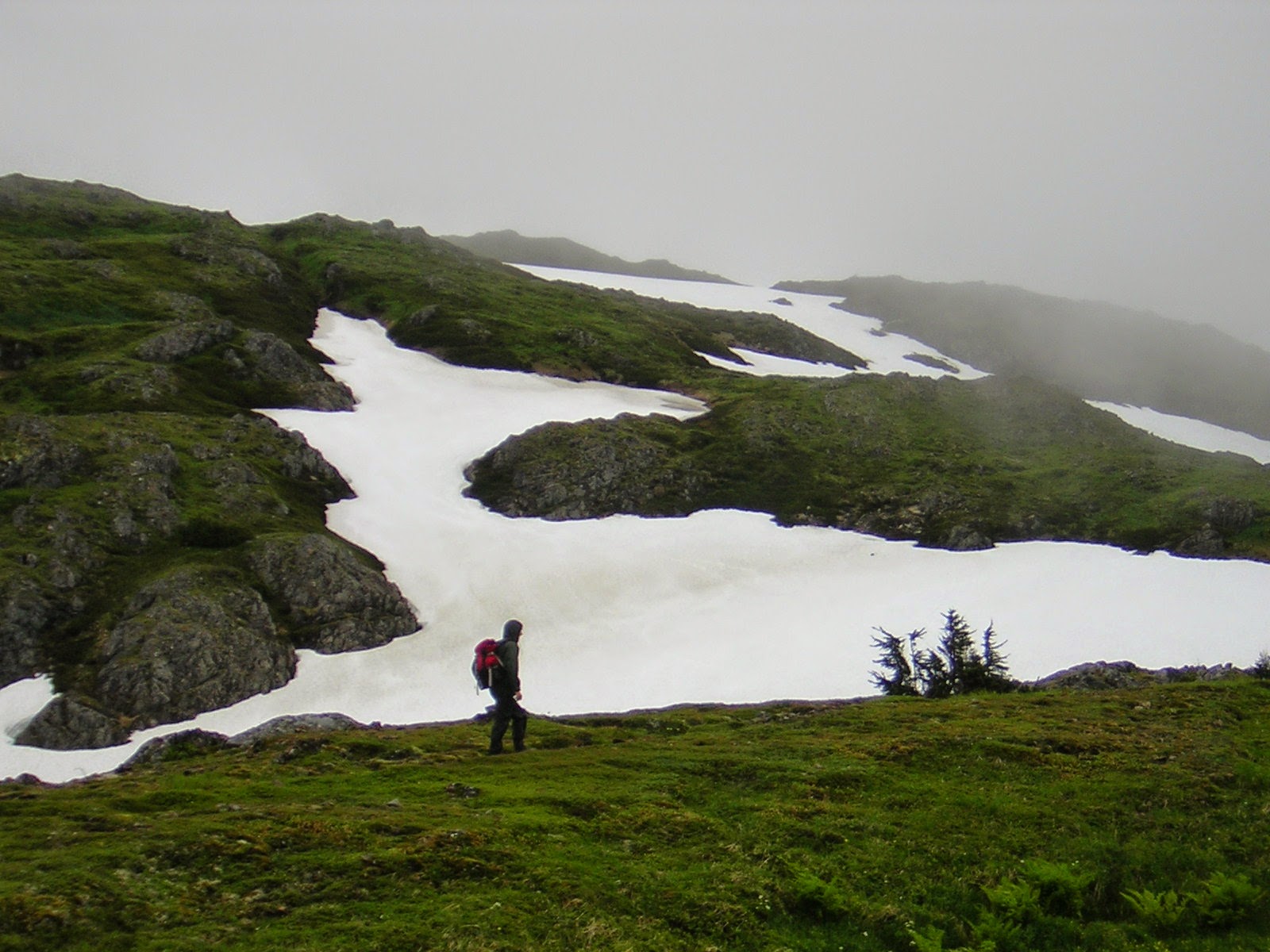 Juneau has many hiking options! For the purposes of this post I'm focusing on low key ones that are accessible from downtown without a car.
Perseverance Trail (near downtown; up to 5 miles out and back, up to 1000 feet of elevation gain)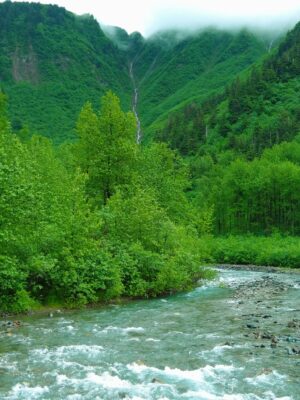 This is a wonderful trail and you can go a shorter distance if you like. The trail follows the creek through the forest, and after about half a mile you'll see Ebner Falls, a beautiful falls! You can continue up the trail as far as your energy takes you and return the way you came. Great hike in all weather and for all ability levels.
To access the trailhead, you can walk from downtown, approximately 1 mile (very steep uphill!) or you could take a taxi. The walk is through a beautiful neighborhood of historic homes (there used to be a trailhead in the neighborhood, but this trailhead is now closed and it's a bit further to get to it). Take Franklin Street to 6th and turn right, then left on Basin Road. Follow Basin Road about a mile and pass the Mt Roberts trailhead to arrive at the Perseverance Trailhead (well signed).
Mt Roberts Trail (near downtown, 4 miles roundtrip to the lodge, 1500 feet of elevation gain)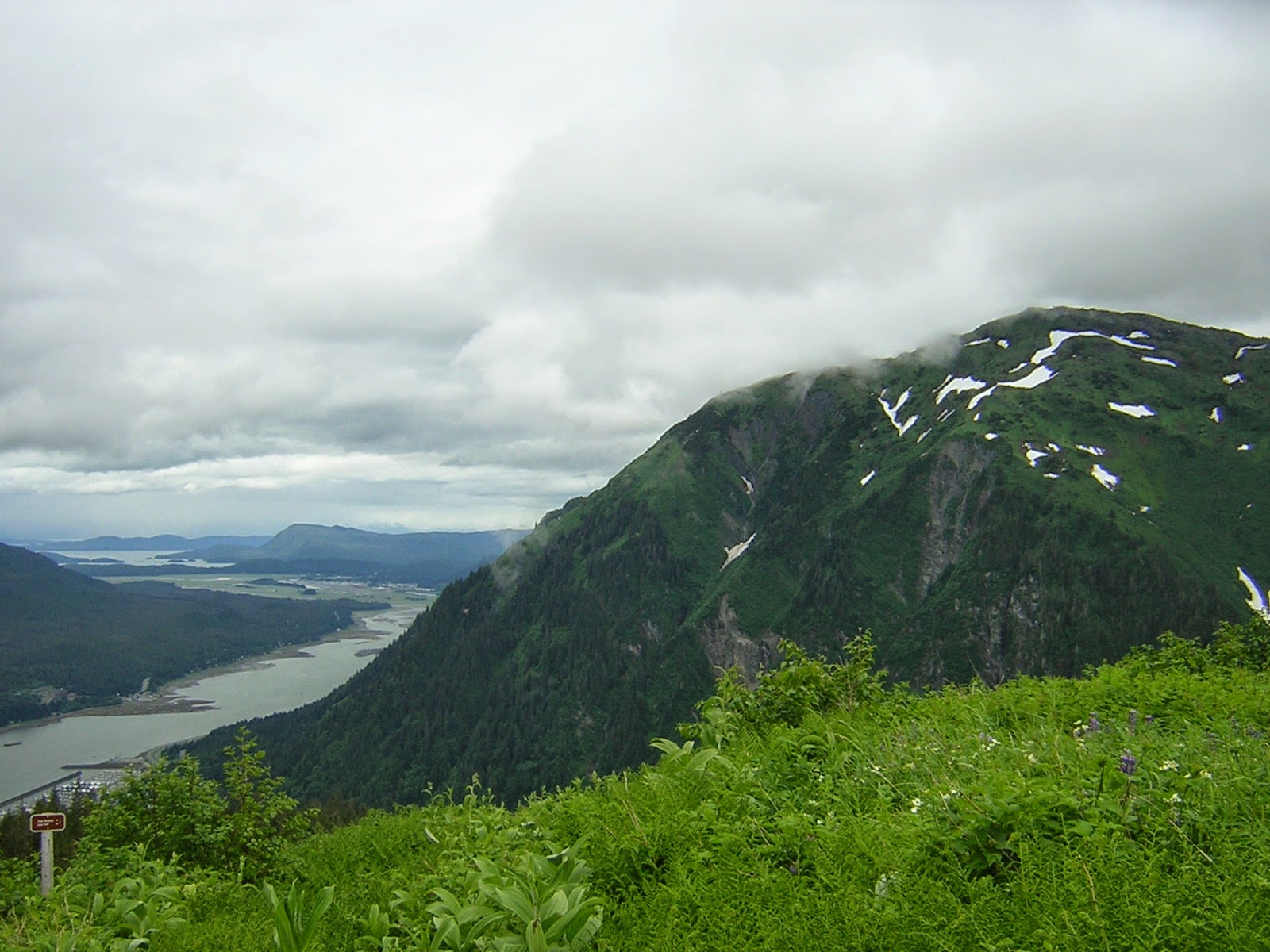 This is a hike with a spectacular view, and the added novelty of being able to take a tram for a portion (or all) of the route. Bonus! Enjoying a drink at the lodge if you like. To do the whole hike, follow the directions from downtown above for the Perseverance Trail (Mt Roberts trailhead comes first). You'll climb switchbacks through the forest for about 2 miles and 1500 feet up. Fantastic views of downtown Juneau, the Gastineau Channel and the surrounding mountains wait for you here. For increasingly good views, and less crowds, continue up another 2.5 miles on a more mellow climb (with less mud!) to the ridge. Head back the way you came or head down by tram!
Nugget Falls Trail (at Mendenhall Glacier; 2 miles round trip, flat)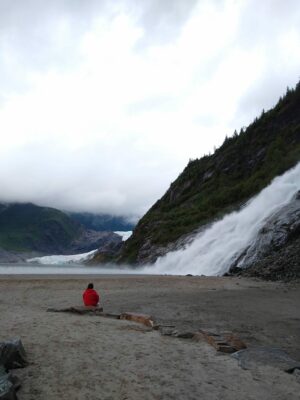 A short and flat hike through the forest around Mendenhall Lake to the base of Nugget Falls is not to be missed if you're at the Mendenhall Glacier Visitor Center. There's a wide sandy plain at the base of the falls with the glacier in the background. Stay awhile to soak up this beautiful and roaring falls before heading back the way you came. If you want more hiking in the area, try the East Glacier trail, a 3.5 mile loop with more climbing on the hillside above Nugget Falls. If you're already wearing your rain jacket, you won't get as wet from the waterfall spray either!
Treadwell Mine Trail (on Douglas Island; 2 mile loop, mostly flat)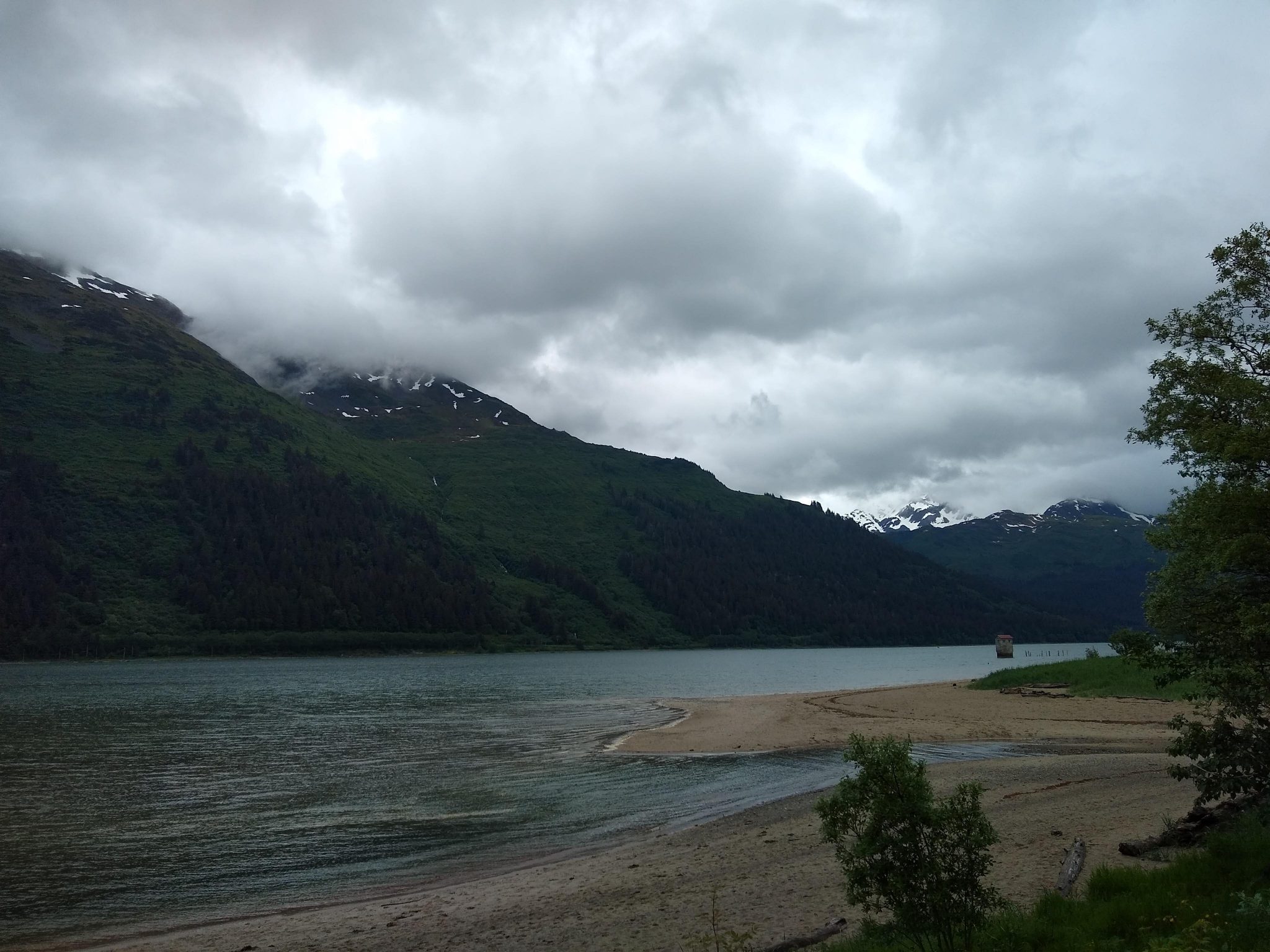 Starting at Sandy Beach on Douglas (half a mile past the bus stop by the Island pub), this is a flat, short loop. The trail features interesting historic gold mine ruins with interpretive signs, and a walk along the beach. It combines beach, forest and history and all with at view back towards downtown Juneau and Mt Roberts. Great hike for all weather!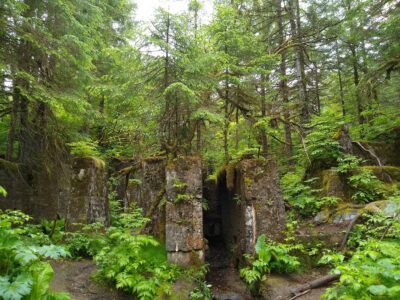 Eating and Drinking in Juneau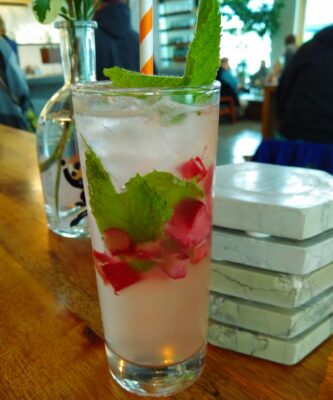 There's lots of fun eating and drinking in Juneau! These are a few of my favorites downtown:
Check out these suggestions for where to eat in other places in Alaska!
Places to eat in Juneau near the airport
I want to mention a couple of excellent restaurants that are walking (yes, WALKING) distance to the Juneau airport. You can use google maps to find them from the airport terminal. Both are about half a mile away, in slightly different directions:
However you decide to spend your day (or days!), you can't go wrong with so many wonderful things to do in Juneau! If you're planning a trip to Alaska, check out this post about the best things to do all across the state!