The Best way to spend one day in Juneau Alaska
Posted On September 9, 2019
Last Updated on July 12, 2023
Juneau is a delightful port in Alaska's capital city, the only state capital in the US you can't drive to. It is a stunning location in Southeast Alaska along mountains that are home to a massive sheet of ice separating it from British Columbia. Juneau has a lively downtown, lots of amazing hiking and kayaking opportunities and amazing wildlife, especially whales. Let me show you how to make your one day in Juneau unforgettable based on what you're into.
I'm a former Alaskan and I lived in Juneau for a short time and have also visited frequently over the last thirty years. I also help people plan their trips to Alaska and work part time as a guide, so I have lots of angles to draw on to share this perfect itinerary with you.
I'm dividing this article into different options based on your interests after addressing whale watching, which is something everyone should do in Juneau, and a couple other must do experiences for some visitors with particular interests. I have an option for sightseeing, hiking, and one for those who want to explore on their own but aren't hikers. The best way to spend one day in Juneau does vary a bit based on what you like to do when you travel.
There are many wonderful tours that I haven't included in this article and I can tell you from my own experience that I've never been on a bad tour in Juneau! Anything you choose will be incredible. The purpose of this article is to help you sift through the many options and for me to recommend those that I love and that my clients and guests love as well.
Juneau is the land of the A'akw Kwáan and T'aaḵu Kwáan People.
Getting around in Juneau
This article is about spending one day in Juneau, and if that's the case you are probably on a cruise ship. Your ship be docked downtown. You can walk around downtown on your own and transportation will be provided to any tours.
You can also get to several wonderful hikes from the cruise ship dock, such as Mt Roberts and Perseverance Trail.
If you are going to Mendenhall Glacier (which is awesome and highly recommended), I recommend either taking a tour or the shuttle. Trying to get there on your own by taxi or public bus is inconvenient and a hassle, especially if you only have a day in Juneau. Trust me on this one!
What's the weather like in Juneau?
Like the rest of Southeast Alaska, Juneau is very rainy all year, and while you may get that gorgeous and sunny warm day, make sure to prepare for rain! All of these activities are ones that can be enjoyed in rainy weather with the possible exception of Mt Roberts, as the view is what makes it really spectacular.
The temperatures during the day are usually in the 50s and 60s, but can be much warmer, especially in June. May are early June are less rainy, but still quite rainy! Later summer is definitely wetter than earlier in the summer. Check out my Alaska packing list if you're looking for specific items to pack for your trip.
Whale watching
Juneau is an amazing place for a whale watching tour, especially for humpback whales in summer when they are in Alaska feeding themselves full of fish! The waters around Juneau are absolutely ideal for seeing humpback whales. You're also likely to see lots of other marine mammals in addition to whales.
I truly believe that everyone should do a whale watching experience in Juneau, since it's such an ideal place for it and the local tour companies do an excellent job of helping you see whales and also protecting whales and being very knowledgeable about them. Make sure to book as far in advance as possible as these tours book up.
Unless you really aren't interested in whales, or really hate boats, you want to go whale watching. This is usually a 2-3 hour experience, so should leave you plenty of time to explore other parts of Juneau before or after your tour. The time of day doesn't matter for whale watching, go whenever you can.
For a really unique and authentic local experience, check out the award winning Juneau Lighthouse Tours, with whale watching AND a visit to a historic lighthouse. This tour takes a bit more time (four hours) but still gives you plenty of time to do other things in Juneau on most cruise ship itineraries. The lighthouse is located on tiny Sentinel Island and exploring a tiny island with only your small tour group is a fantastic addition to your whale watching experience.
Juneau Food Tour
I'm calling this out specifically because if you're a foodie, you MUST do this tour. This very small business with small group tours will take you visit many of the amazing food establishments in Juneau and give you the chance to taste some amazing seafood and local beverages.
This is another super local experience with a year round local who will led the tour and share with you all about Juneau's history and people.
You could easily spend the whole day in Juneau eating your way through the various amazing restaurants from seafood to breweries and distilleries.
More ideas for where to eat and drink are at the bottom of this article.
Take a helicopter tour to glacier dog sledding
I've been lucky enough to get to do this, so I realize it's easy for me to say, but in my opinion this is NOT an absolute must do. It's expensive and there are plenty of people who are not wild about helicopters. If this is you, don't do it and don't worry about it.
If you have your heart set on a dog sledding experience and you're visiting in summer, then this is the tour you want (it is also available from Skagway). It is also an excellent option for anyone who is excited about flightseeing. You can also experience dogs (though not riding on the sled in summer) in Skagway, Seward, Talkeetna and Fairbanks)
If you're looking for a big splurge in Juneau, this is a good one.
Juneau for See-it-all Sightseers
I see you, you want to see it all! If seeing as much as possible is most important to you, you've got a great start by already going whale watching.
In the afternoon, head out to Mendenhall Glacier on one of the tours, so you don't have to wait for a shuttle (unless you want to hike, then see below). You'll have a guaranteed seat and usually about 90 minutes to spend at the glacier on your own.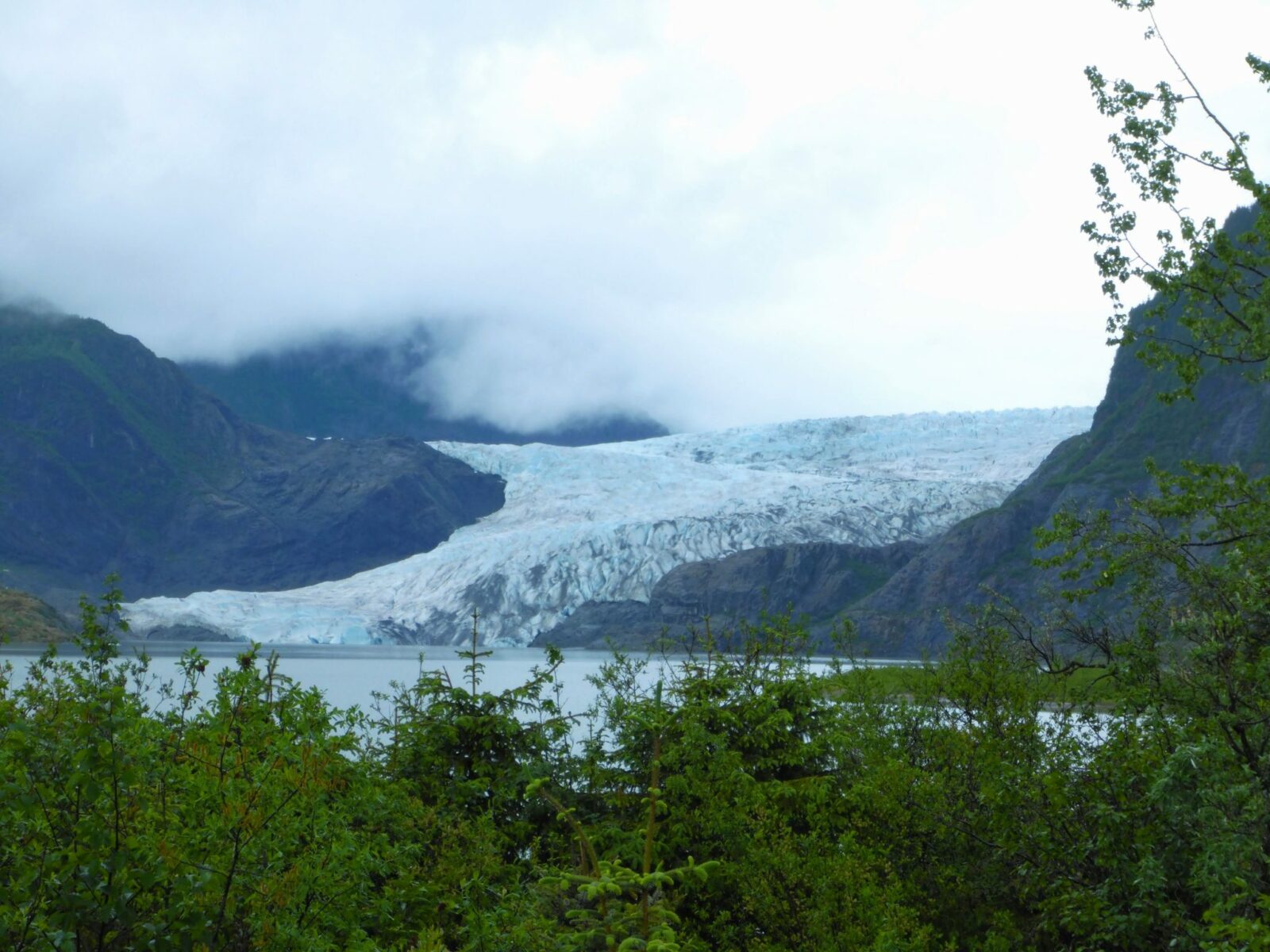 The visitor center is excellent and they have a great movie, good exhibits and knowledgeable and friendly rangers. It's very busy, but they've done a good job of making space for everyone and it's very wheelchair accessible.
If you're up for a two mile walk, head out to Nugget Falls, which is an absolutely beautiful waterfall accessed by a flat and wide trail.
When you return from your tours, have dinner at the Hangar or at Tracy's Crab Shack, both amazing local restaurants that will give you a taste of Juneau's incredible food scene. If it's a clear day and you still have time before your ship leaves, consider going up the Mt Roberts Tram. There's a restaurant there, or you can just check out the view before or after dinner (it's a short tram ride).
Juneau for Hikers
Hikers, Juneau is going to go right to the top of your list of favorite places to hike on your Alaska trip and there are lots of great options.
I still think you should try to fit in whale watching, but if hiking on your own is really what you want to do, here are my top two recommendations. You can probably do both if you don't plan anything else while you're in Juneau.
Hiking at Mendenhall Glacier
The East Glacier Loop is really a wonderful hike. It's through a gorgeous forest with several hidden waterfalls and views of the glacier. It's a 3.5 mile hike with about 900 feet of elevation gain (and a lot of stairs). Give yourself at least 2.5 hours for this hike.
Nugget Falls is also a wonderful, much shorter hike. It's two flat miles round trip and will be a lot busier, but it's so worth it.
Take the shuttle to Mendenhall Glacier so you have flexibility with time. Do not try to take the bus or a taxi, that will just waste a lot of time that you don't have if you only have one day in Juneau.
Hiking Mt Roberts
The Goldbelt Tram goes to the midway point on Mt Roberts and it is totally worth it to take the tram and start hiking from there.
You can hike from downtown to the top of the tram, it's a couple miles with 1700 feet of elevation gain and is ferry muddy and the trail is not in great shape. There aren't any views until you get to the tram, so I prefer to take the tram and then hike from there. If you start your hike at the tram you'll have incredible views the whole time.
There are trail maps available at the top of the tram and a big sign with a map. I only recommend this if the weather is good enough to see the view. I usually determine this by looking to see if I can see Mt Roberts from downtown, and if I can, then it's worth it (even if raining like it was on my most recent visit).
There are several trail options from the top of the tram, from a short walk to an all day adventure. Make sure to set a turnaround time and stick to it so you don't miss your ship or the last tram down!
You can eat at the tram if you need a lunch break or you're hungry when you return, or try the Hangar or Tracy's Crab Shack for your post hike dinner. Devil's Club Brewing is a great option for a local bear and sandwich, and Deckhand Dave's is a delicious quick bit downtown (food truck).
Juneau for Independent Explorers
If you aren't interested in tours and want to explore on your own but aren't too much of a hiker, great news! You can spend your one day in Juneau exploring on your own.
If you really want to get away from it all and be with locals, take the public bus over to Sandy Beach and have pizza at the Island Pub on Douglas Island.
Downtown Juneau is a wonderful place to explore. Walk along the waterfront on the brand new beautiful Kootéeyaa Deiyí (totem pole trail) installed by the Sealaska Heritage Institute in April 2023 out to the impressive whale sculpture fountain.
The Alaska State Museum is excellent and you can take yourself on a walk by the Governor's Mansion and the Alaska State Capitol (warning – the Alaska State Capitol is not an interesting building).
There are lots of local shops and restaurants, no need to get stuck in cruise ship jewelry stores. You can find local art, an independent bookstore and local beer, cocktails and seafood. Try the Hangar or Tracy's Crab Shack which look super touristy but are very popular with locals. Get coffee at Heritage Coffee company or have a leisurely breakfast at the Sandpiper.
If you do decide you want to do a tour, you will probably love the Juneau Food Tour and the Lighthouse + whale watching tour described above. You'll be with locals as your guide and in a small group having a super different and authentic experience.
Eating and Drinking in Juneau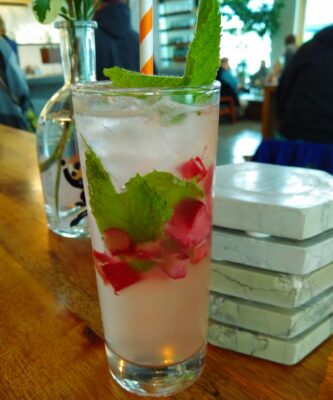 There's lots of fun eating and drinking in Juneau! No matter how you spend your day and even if you don't do the food tour, no one should miss a taste of Juneau's incredible food scene. These are a few of my favorites downtown:
Check out these suggestions for where to eat in other places in Alaska.
Final thoughts
However you decide to spend your one day in Juneau, you can't go wrong with so many wonderful things to do. From exploring the town on your own, or taking a hike to exploring Mendenhall Glacier or whale watching, it's going to be an amazing day even if it's raining.