Mt Roberts and Goldbelt Tram Hiking Guide
Posted On July 6, 2023
Juneau is one of my absolute favorite places in Alaska to visit for any reason, but especially for hiking. Whether you're visiting Juneau for a day on a cruise ship or staying several days on your own, if you're a hiker you want to make time for a hike on Mt Roberts.
Juneau is a very busy cruise ship port, but it's easy to leave the crowds behind on the hiking trails. I'm a former Alaskan and I lived in Juneau for a short time and have also visited frequently over the last thirty years. I also help people plan their trips to Alaska and work part time as a guide, so I have lots of angles to draw on to share this perfect itinerary with you.
Juneau is the land of the A'akw Kwáan and T'aaḵu Kwáan People. The Goldbelt Tram is owned by the Goldbelt Corporation, a Native Alaskan Corporation in Juneau.
Is Juneau's Goldbelt Tram worth it?
If you can see the view, taking the Goldbelt Tram up Mt Roberts is absolutely worth it, even if it's raining. I usually gauge this for myself by looking at Mt Roberts from downtown Juneau and if I can see it, then it will be worth it! Look for the tram terminal halfway up the mountain.
Weather changes frequently in Juneau, so make sure to bring everything you need for a hike and pack a rain jacket as well as some layers so you can stay comfortable as the weather and your exertion changes.
I don't think it's worth it to go up the tram or hike here if it's raining hard enough to obscure the view, or if it's foggy. If that's the case, try another hike like the East Glacier Loop at Mendenhall Glacier or Perseverance Trail that you can walk to from downtown instead.
By the way, even if you're not a hiker, the Goldbelt Tram is totally worth it for it's unique perspective on Juneau from above. You can see everything from the surrounding mountains to the airport to downtown, Douglas Island and cruise ships arriving in Gastineau Channel.
Where is the Goldbelt Tram?
The tram base is located in downtown Juneau near the cruise ship docks. It's a busy area and just look for the red tram cars going down to the base and that's where you get on the tram.
What is the Mt Roberts Tram ride like?
If you're anxious about tram riding (I see you) this tram is very tame. It's just a 5 minute ride to the top zooming you 1800 feet from the bottom to the tram terminal on the side of Mt Roberts.
The tram ride is very smooth and the cars are big. If you're feeling anxious you can just look at the floor for 5 minutes and it will be over before you know it.
The tram and the tram terminal are fully wheelchair accessible, along with the Timberline Bar and Grill. The trails, however, are not. There is uneven ground and often mud and rocks.
Cost and Booking the Goldbelt Tram
The tram costs $50 to ride up for adults and $35 for children age 3-12. This is totally worth it to skip the two mile muddy and messy forest hike to this point!
You don't need to book in advance, you can just walk up and buy a ticket, though there could be a bit of a wait. If you want to have a specific time reserved, then book it through your cruise ship (or on their website in advance).
I recommend dealing with the wait to wait and see if the weather is clear enough to make it worth it.
Hiking Mt Roberts to the Goldbelt Tram
While I recommend splurging for the tram ride to the 1800 foot level and starting your hike there, it is possible to hike to the top of the tram from downtown Juneau, which is free.
if you choose to start the hike downtown, start by heading up the steep hill in town on 6th Street, then turn left on Gold, right briefly on 8th and then left on Basin Road. Keep going and you'll see the trailhead on the right. It's about a mile from downtown.
Once on the trail, it immediately starts climbing through the forest on a steep and muddy trail. Make sure your shoes have good traction and you don't need to keep them clean! There are a few switchbacks and it just keeps climbing through the forest until you suddenly pop out at the tram and see the view. You do have to go all the way to the top where the tram terminal is for any views, though the forest is pretty.
It's about 2 miles one way and 1800 feet of elevation gain to get to this point. You can either take the tram down, or return the way you came, or continue up above the trees to the ever more impressive views. The trail continues for about three more miles with about the same amount of elevation gain to Gastineau Peak. There will be snow fields at higher elevations, sometimes through the entire summer, but also many incredible views and wildflowers.
Hiking Trails above Mt Roberts from the Tram
I like to hike here by taking the tram and then starting my hike there where there are already amazing views. The amount of snow and when it melts varies quite a bit here from year to year so check out recent AllTrails reports as well as asking at the Nature Center if it's open about where there is and isn't snow.
There's a short loop (less than a mile) if snow is deep further up on the mountain but you want to walk a bit. There are several great viewpoints on this short trail and some climbing but not a ton. Later in the summer this is where the wildflowers start.
You can continue hiking along the ridge with more and more views all the way to Gastineau Peak, which is likely to have at least a bit of snow all the way through the summer or until late summer.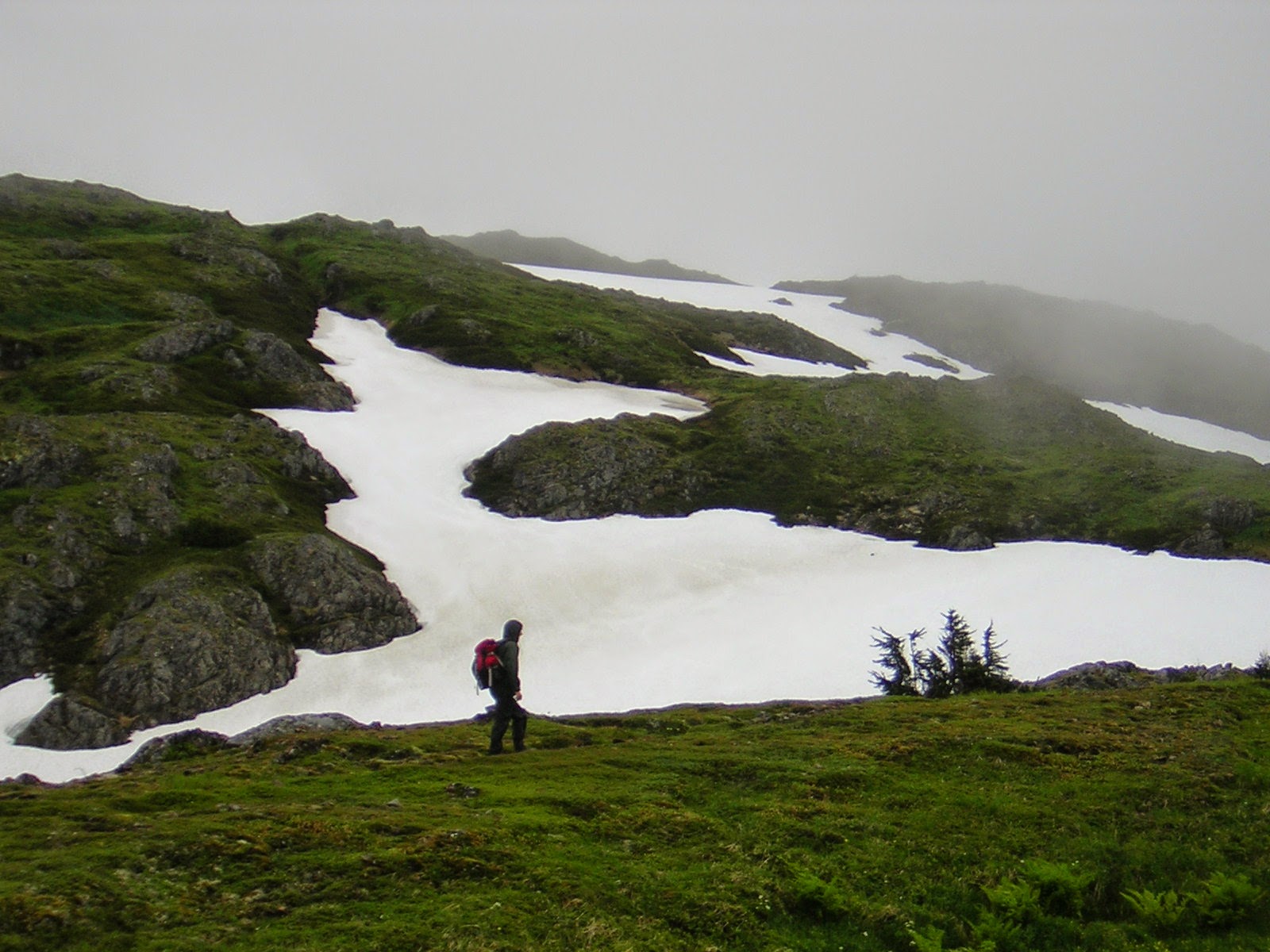 If you go all the way to Gastineau Peak from the top of the tram, it's about 4 miles round trip from the top of the tram with about 2000 feet of elevation gain. I recommend turning around if you hit snow or your turnaround time. It's really important to set a turnaround time and stick to it, it's easy to lose track of time and you don't want to miss the last tram down (or your ship!).
This ridge hike has stunning views in all directions, plenty of wildflowers and you can see a lot even when it's cloudy.
Mt Roberts Hiking Trail maps and information
The nature center near the top of the tram has lots of information about trails as well as plants and animals on Mt Roberts. The hours are a bit inconsistent, but they have great maps and very knowledgeable staff.
There is also a big sign on the side of the nature center building (up and to the left from the tram terminal) that has a big map of all the trails in the area.
Food and Services at the top of the Goldbelt Tram
The Timberline Bar and Grill is a great place for food and a drink with a view after your hike. The restaurant has a full menu and bar, and is heavy on casual seafood – fish and chips, fish tacos and burgers (both seafood and otherwise).
It's only a five minute ride back down, so it's not long to wait if you want to go somewhere in downtown Juneau instead.