Perfect three day itinerary for Juneau, Alaska
Posted On July 6, 2023
Last Updated on July 12, 2023
Juneau is one of the most wonderful places in Alaska to visit on your own, even though most visitors arrive by cruise ship. If you're planning a trip to Alaska and looking for a place to have an authentic local experience on your own, this three day itinerary for Juneau is for you!
Juneau is a very busy cruise ship port, but it's easy to leave the crowds behind and I'll show the way. I'm a former Alaskan and I lived in Juneau for a short time and have also visited frequently over the last thirty years. I also help people plan their trips to Alaska and work part time as a guide, so I have lots of angles to draw on to share this perfect itinerary with you.
By the way, if you found me and you are traveling on a cruise with just a day to explore Juneau, read all about my suggestions for a day in Juneau here.
Juneau is the land of the A'akw Kwáan and T'aaḵu Kwáan People.
What is the best month to visit Juneau?
June or July is the best month to visit Juneau. Though Juneau gets lots of rain all year, these are the most summery months with the least rain (June) and the warmest temperatures (July). Of course, these are averages and I cannot emphasize enough the importance of preparing for rain as well as sun protection for sunny days any time during the summer.
May is less busy and one of the least rainy months. Getting into Tracy Arm and other tidewater glaciers can be trickier in May as there are more icebergs and there are not as many whales as later in the summer (but you can still see them).
August and September are quite rainy and September is definitely fall with significantly colder temperatures. By late September whales are on their way to Hawaii! Fishing is good in August and September, though fishing is good throughout the summer and it depends quite a bit on what you're hoping to catch.
How to get to Juneau
Most visitors arrive in Juneau on cruise ships, but not you because you are going to spend more time here than just a day!
Juneau is the only state capitol you can't drive to and there are no roads in or out of Juneau. The only way to get here (other than a cruise ship) is by air or ferry.
Getting to Juneau by Air
You can fly nonstop several times a day between Juneau and either Seattle or Anchorage on Alaska Airlines. This is the quickest and most affordable way to get to Juneau.
Getting to Juneau by Ferry
Juneau is well served by the Alaska State Ferry, which connects it to other ports in Southeast Alaska as well as Bellingham near Seattle in Washington State.
The ferry is slow and expensive, but it offers a unique experience with stunning scenery and friendly fellow travelers.
Riding the ferry is definitely not for everyone, find out if it's for you in my complete guide to riding the Alaska Ferry.
Do you need a car in Juneau?
You can absolutely visit Juneau without renting a car. Juneau is an extremely walkable town (downtown) and tours will always have an option to get picked up downtown, sometimes from your hotel or vacation rental and sometimes from a central location you can easily get to.
If you want to visit Juneau and not rent a car then you need to stay downtown. More details about this are in the next section, but where you stay will determine whether or not you need a rental car.
If you decide not to rent a car then it's important to know that you'll be walking or getting rides from tour companies that you have booked with back and forth to the tour. Taxis are available, but they take a long time. Rideshares are not available in Juneau (or most other places in Alaska outside of Anchorage and Fairbanks). Your app will show it's an option, but it won't happen. I give it a try every time I visit to see if anything has changed and it had not as of my most recent visit in June 2023.
Where to stay in Juneau
The most important thing to figure out is if you're going to stay downtown or out of downtown. This matters because it determines whether or not you need a rental car.
If you stay downtown, it's busy with cruise ship visitors during the day and you're right in the middle of everything, so you can easily walk to restaurants and get to any tours. You can get to the airport or ferry terminal with a taxi or the public bus, and you can take the bus to Douglas Island.
If you stay outside of downtown, there are hotels and vacation rentals in the valley, which is closer to the airport, ferry terminal and Mendenhall Glacier. If you stay in the valley you'll need to rent a car, otherwise it's too frustrating to get around.
There are also plenty of vacation rentals on Douglas Island and "out the road" which refers to the one road that goes out of Juneau and then dead ends about 30 miles away. These options are both very quiet and far away from cruise ships (especially out the road) but you definitely need a rental car for either of those locations.
Use this map to compare hotels and vacation rentals across different neighborhoods (this is an affiliate link which means if you book here I receive a small commission at no cost to you):
Weather and what to pack for Juneau
Weather in Juneau
Juneau is rainy all year. It is critical that you prepare for rain! All the activities I recommend in this Juneau itinerary are good rainy day activities EXCEPT for the Mt Roberts Tram. Actually, even that can be fun in the rain if visibility is good enough to see the view.
Temperatures are generally in the 50s and 60s in June, July and August. May and September may be the same or a bit cooler.
Expect weather to change frequently throughout the day and prepare for that when going out. Be careful about relying on the weather forecast!
When the sun comes out, it's intense, so make sure you also have sun protection.
Packing for Juneau
My packing list for Alaska will serve you well in Juneau and that's a good resource if you're looking for specific products.
The most important thing is to have a rain jacket. You can also use an umbrella, but if it's windy or you're out on a boat then an umbrella isn't helpful so make sure you also have a rain jacket.
The second most important thing is to have waterproof footwear, or many extra pairs of wool socks so you can change them when your feet get wet.
Make sure to bring sun protection (sunglasses, hat, sunscreen) even if it's not sunny because the sun is intense and can come out suddenly. This is especially important when you're out on the water.
I also recommend having a back up battery for your phone, and make sure everyone in your traveling party has their own charger.
How many days do you need in Juneau?
I think three days is an ideal amount of time for exploring Juneau. This gives you enough time to see Juneau's biggest highlights like Mendenhall Glacier and whale watching, as well as explore town and get out on a bigger day trip adventure.
Juneau is a short flight from Seattle, so if you're coming from the West Coast you could do the whole trip in three days, otherwise you'll need a travel day on each end for other places.
If you have four or five days, you can easily spend it exploring the beaches and trails "out the road" or going on more hikes, which are basically endless in Juneau! More ideas for more time are below.
Day 1: Exploring Mendenhall Glacier and Downtown Juneau
Grab breakfast at Heritage Coffee Company, they have great coffee and breakfast burritos and breakfast sandwiches to fuel up for your day of adventure. It's good to have a full stomach before heading out to Mendenhall Glacier, as snacks and any food are limited to the visitor center only (no eating outside for bear safety reasons). They also have a location in the valley if you're staying there.
Mendenhall Glacier is a must do in Juneau, but there are several ways to do it. Do not try to take a taxi or bus here, either take one of the shuttles or take a tour. I would make this decision based on what you want to do there. For hikers, the shuttle is a good option because you can return any time you want (as long as you make sure you know when the last shuttle is that day). If you have a rental car you can drive there and pay $5 to park.
If you want a guaranteed seat without waiting, or you want to explore the glacier by kayak or helicopter then you'll want to book a tour.
The Mendenhall Glacier visitor center is excellent and very busy in the summer. To get away from the crowds, go for a hike. If you're a hiker, you'll love the East Glacier Loop. It's not easy and has a lot of stairs and roots and mud, but it's beautiful and there's lots of solitude.
If you're looking for something shorter, definitely take the flat one mile trail to Nugget Falls, a gorgeous waterfall you can get really close to.
There are kayak tours that take you out on Mendenhall Lake and to explore the area around the glacier. You need to book a tour for this option, but it's a great way to experience less people and a unique angle on the glacier. Try Above and Beyond Alaska or Alaska Travel Adventures.
If you want to splurge on a helicopter tour, you can land on the glacier by helicopter too.
After your exploration of Mendenhall Glacier, head to downtown for a bit of exploring. I recommend either doing the Juneau Food Tour for lunch or heading to Deckhand Dave's for a delicious fish taco.
Some of the many wonderful things to do downtown include:
Take the Tram to Mt Roberts if it's not too foggy – great view by itself and lots of incredible hiking trails if you're a hiker
Walk the brand new beautiful Kootéeyaa Deiyí (totem pole trail) installed by the Sealaska Heritage Institute in April 2023 out to the impressive whale sculpture fountain.
Visit the State of Alaska Museum
Walk by the Alaska State Capitol (kind of a boring building for a state capitol!) and the Governor's Mansion
Grab a drink at the Amalga Distillery (if they have anything rhubarb, get it) – great local place and they have plenty of zero proof options for non drinkers
Check out the local shops downtown (you can skip the cruise ship jewelry stores, there are lots of local gems)
Have dinner at the Hangar on the Wharf, which has amazing food in a historic float plane hangar with a great view of the Gastineau Channel.
After dinner, explore the waterfront, a lovely after dinner walk on Juneau's long evenings (the totem trail and the whale sculpture also make a great after dinner walk).
Day 2: Whale watching and more exploring in town
Whale watching is a must do in Juneau! Start the day with breakfast at the Sandpiper if you don't have an early tour. The best breakfast in Juneau, but you may need to wait a bit, it's super popular (but worth it).
There are many whale watching tours in Juneau, but for a really unique and authentic opportunity not many travelers get, check out Juneau Lighthouse Tours, with whale watching AND a visit to a historic lighthouse. This tour takes a bit more time (four hours) but still gives you plenty of time to do other things in Juneau on most cruise ship itineraries. The lighthouse is located on tiny Sentinel Island and exploring a tiny island with only your small tour group is a fantastic addition to your whale watching experience. It's about a four hour tour.
However you do whale watching, before or after you can explore anything you missed downtown yesterday, and have another shot at going to the Tram if the weather is good.
If you're ready for something different, head to Douglas Island (drive or take the bus) and join the locals at Sandy Beach (also a great evening activity). Enjoy dinner afterwards at the Island Pub (life changing pizza) on Douglas.
If you're staying downtown try V's Cellar Door (Mexican-Korean fusion) or Salt (fine dining) or a casual sandwich at Devil's Club Brewing.
After dinner, head to the Alaskan Hotel and Bar to see what live music is on tonight.
Day 3: Day trip to Tracy Arm Fjord (and an alternative)
Tracy Arm Fjord and the twin Sawyer Glaciers is one of the most spectacular coastal places in Alaska. A local favorite, this is an exceptional tour and experience. I want to offer an alternative in case you prefer not to do a boat tour two days in a row (you should though, it's totally worth it and Juneau's waters are very protected from big waves). Grab breakfast at Heritage Coffee for a quick meal on the go before you head to the dock.
Keep it Tracy by having dinner at Tracy's Crab Shack before heading to the airport if you're leaving tonight, or before you head back to your room if you're leaving in the morning. Do not be put off by the large number of tourists at Tracy's – Tracy's is a local treasure and is extremely popular with locals! Every single Juneau resident I've had as a guest on my podcast has talked about how good it is. Not sure you want to spring for the King Crab Legs? Skip it and get the amazing and very affordable crab bisque instead.
Tracy Arm Fjord with True Alaskan Tours
If you have multiple days in Juneau, then you can access this incredible tour with True Alaskan Tours. An all day tour through very protected water, you'll get to visit unforgettable Tracy Arm and see the two Sawyer Glaciers at it's head. North Sawyer Glacier and South Sawyer Glacier used to be one glacier, but they have retreated up to the point where they are separated.
In addition to the glaciers, there are beautiful waterfalls, stunning icebergs and usually lots of seals and birds. It's very likely that you'll see whales on the way to Tracy Arm and back from Juneau – bonus!
Alternative – drive "out the road"
Another great way to spend a day is to drive "out the road" which is the only road in Juneau beyond Auke Bay.
Along the road, there are many trails, beaches, the Shrine of St Therese and just generally lots of solitude in the forest. This is a great alternative, though you will need to rent a car for this. The shrine is one of my personal favorite places in Juneau, though it is not commonly visited by tourists. This beautiful Catholic facility has a chapel, a labyrinth and walking trails. It's located on the water "out the road" and is absolutely gorgeous.
What to do if you have more time to explore Juneau
Lucky you! If you have more time, I recommend spending it on the things that are most important or interesting to you, or use that time to explore Glacier Bay National Park, Skagway or Haines.
More hiking
Juneau has so many incredible hikes! If you're a hiker you could easily spend a week or more just doing a different hike every day. In addition to the ones we've already talked about, there are many additional trails in the Tongass National Forest you can get to "out the road".
Perseverance Trail is a well known and popular local trail that you can start right downtown. It's a forest hike with several waterfalls and some lovely views. It's up to 5 miles round trip with up to 1000 feet of elevation gain. The walk to the trailhead is through a beautiful neighborhood of historic homes (there used to be a trailhead in the neighborhood, but this trailhead is now closed and it's a bit further to get to it). Take Franklin Street to 6th and turn right, then left on Basin Road. Follow Basin Road about a mile and pass the Mt Roberts trailhead to arrive at the Perseverance Trailhead (well signed).
Exploring "out the road"
"Out the road" is the local term for the road that extends beyond Auke Bay (where the ferry terminal is) to the end of the road about 30 miles from downtown. There aren't any services out here, but there are lots of wonderful rocky beaches, trails, public use cabins and the beautiful and contemplative Shrine of St Therese.
Glacier Bay National Park
Glacier Bay National Park is a fantastic park to explore on your own! More than 95% of its visitors come on cruise ships and never get to go ashore. This is an excellent 3-4 day addition to your trip to Juneau. Read more about a Glacier Bay trip that includes glaciers, wildlife, kayaking, hiking, beachcombing and solitude.
You can get here by ferry or plane from Juneau. It's about a six hour ferry ride or 25 minute flight.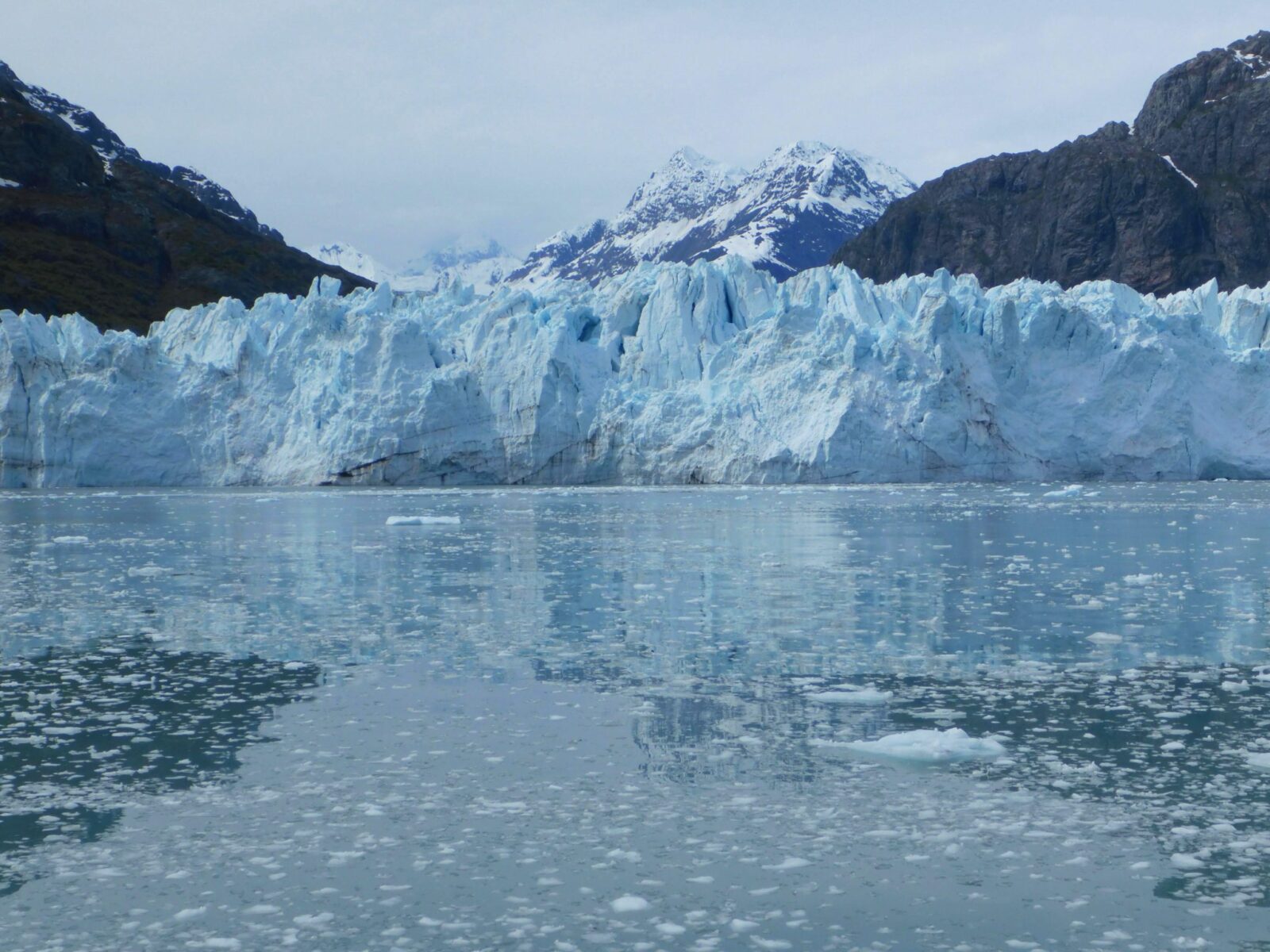 Haines and Skagway
Another way to explore beyond Juneau is to head up the Lynn Canal to explore Haines and or Skagway. Both towns can be reached by ferry (4.5 hours to Haines, 6 to Skagway) or small plane (30 minutes to Haines, 45 minutes to Skagway). Both of them are connected to the road system via the Alaska Highway through Canada.
Haines is a quiet town with only a few cruise ships, Skagway is a bustling cruise ship port with great hiking and interesting Klondike Gold Rush History.
Final Thoughts
Juneau is a wonderful town in Alaska to explore on your own. Three or four days is an ideal amount of time, but you could easily spend a week or more here, especially if you like hiking or fishing. This Juneau itinerary also makes a great add on to a trip to Glacier Bay National Park, Haines or Skagway.