Visit Chief Seattle's Grave by Bike or Car
Posted On September 25, 2019
Last Updated on February 26, 2021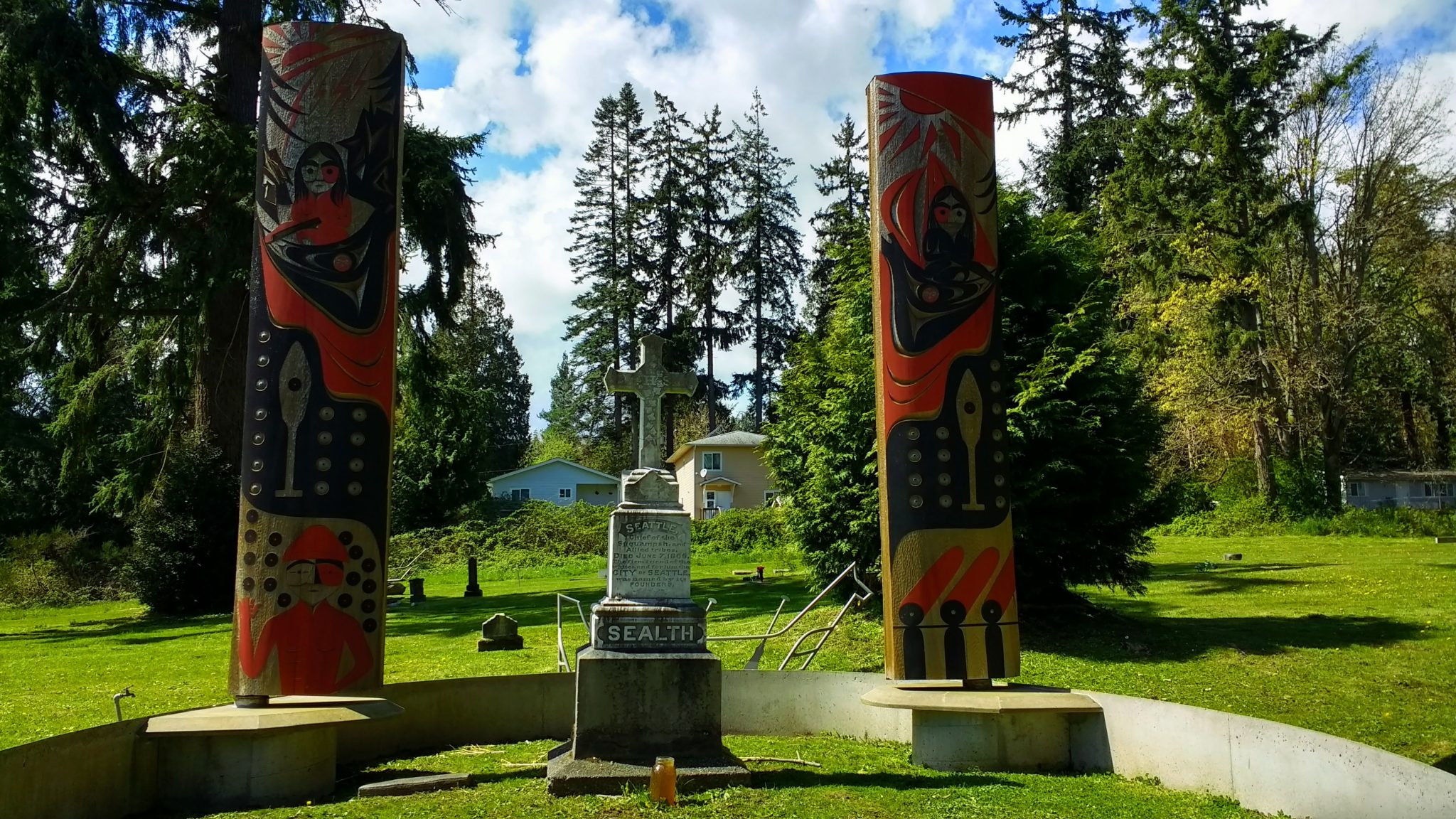 Did you know that Seattle is the only major city in the United States named for a Native American? When white people came to this area, they called him Seattle because they were unable to pronounce is name, Si'ahl. He is buried near Seattle in Suquamish, which is about nine miles from the Bainbridge ferry terminal.
Taking a car on the ferry is expensive and sometimes involves a wait, so this post is about how to visit Chief Seattle's grave by bike, getting some exercise and fresh air along the way. You can follow all of this advice if you decide to drive there (except for the part about biking of course). This could be a stop along your way to the Olympic Penninsula too! It is also possible to take the bus (#390) from the ferry terminal to the intersection at Suquamish way, though you would need to walk about a mile after getting off the bus and back to it. Making the time and space to learn about the history and modern day culture of the Suquamish people as well as Si'ahl is an important undertaking for me as a white fourth generation Seattleite.
How to get to there
If you are in Seattle and plan to visit Chief Seattle's grave by bike, the first step will be to take your bike on the ferry from downtown Seattle to Bainbridge Island. To do this, you will enter the ferry terminal with the cars, pay your fare and they will tell you where to wait for loading. They load bikes before and after cars. Once you board the ferry, you'll find yellow ropes you can use to tie your bike to the railings.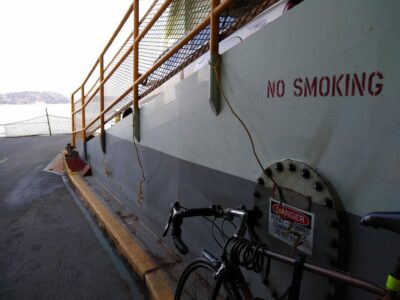 The ferry ride is about 30 minutes, and when you arrive you will unload before cars if you're at the front, and after if you're at the back. Feel free to walk your bike off the ferry (this is what I usually do since the chaos of all the bikes and cars and pedestrians makes me uncomfortable!) Then, you'll be riding along the road, but once the ferry traffic passes, there's enough of a shoulder for me to feel ok riding on the road (I'm not normally very comfortable riding along the road). If you need a coffee or a snack you can grab that before you leave the area around the ferry.
When you're ready to set off, you'll ride along the road (WA 305) going north towards the Agate Pass Bridge. There's a shoulder and the road rolls up and down a bit, but is never super steep. In about 7 miles you'll arrive at the Agate Pass bridge (I recommend walking your bike across the bridge on the pedestrian walkway), where you leave Bainbridge Island and arrive on the Kitsap penninsula. At the first light, just past the bridge, turn right onto Suquamish Way, and you'll arrive at the Suquamish Museum in about a mile. I highly recommend checking out the museum first, which provides important context before your visit to Chief Seattle's grave, which is just a quarter of a mile away.
What to Expect at Chief Seattle's Grave and the Suquamish Museum
I recommend your first stop be the Suquamish Museum, where you can learn about the history of the Suquamish people as well as present day Suquamish art and culture. I would also recommend leaving your bike here and walking to Chief Seattle's grave and Old Man House, since it's a lot of up and down between them.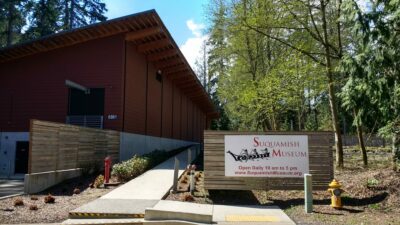 From there, it's about a quarter mile downhill to Chief Seattle's grave, a beautiful and contemplative place. I also recommend visiting Old Man House park, about half a mile away. Old Man House park is the site of a large Suquamish winter village and Chief Seattle's home. Tragically, this important and treasured place was burned by the United States government in 1870. In 2009, the Suquamish got this piece of land back, and now it's a grassy beachfront park along agate passage, another excellent place for reflection.
You'll return to the ferry the way you came, and if the ferry schedule permits or hunger beckons, you can grab a bite at one of Bainbridge's restaurants before heading back to Seattle with a deeper understanding of it's history and namesake.