The Best Mt Rainier Waterfalls
Posted On November 17, 2020
Last Updated on January 4, 2023
Mt Rainier National Park is one of our earliest national parks and is famous for the massive volcano right in the middle of the park, Tahoma, or Mt Rainier. Visiting Mt Rainier National Park has so much more to offer that just views of "the mountain". Mt Rainier waterfalls are among the park's most wonderful features, along with rivers, old growth forest, wildflowers and epic snow. Unlike some waterfalls that can become a trickle or dry up completely by late summer, the vast amount of snow here gives plenty of water all summer.
Dogs are not allowed on any trails in Mt Rainier National Park.
Mt Rainier National Park charges a $30 entrance fee per vehicle, good for 7 days. Note that carrying tire chains is required in the park from November 1 through April 30, regardless of road conditions or the type of vehicle you drive. Rangers frequently check and turn people away who don't have them.
If you love waterfalls that you will definitely want to visit Mt Rainier waterfalls! This list includes waterfalls within a quarter of a mile of the parking area, while others require a longer hike. More details on this below.
When is the best time to visit Mt Rainier Waterfalls?
Like most waterfalls in Washington State, Mt Rainier waterfalls are most spectacular in the spring. In spring, winter snowmelt combines with rain to create the most volume in the waterfalls. An important thing to be aware of is that spring is much later than you might think in Mt Rainier National Park. May and June are great times for Mt Rainier waterfalls, though some are not accessible until late July because of deep snow. More details are included below.
Christine Falls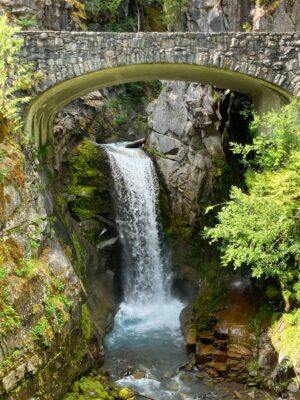 Why it's awesome: Christine Falls is one of the most photographed and famous Mt Rainier waterfalls. You can see it year round, it's right next to the road and it's beautiful! The highly photogenic stone arch bridge over it makes for a beautiful photo opportunity. The lower view point pictured above actually only shows a portion of the falls. There are additional falls above this point, which you can see along the Comet Falls trail (described below). The only downside to visiting Christine Falls is the TINY parking area. If it's full, give it another shot as you're driving back down the road from Paradise. Late afternoon and early evening (in summer) often have plenty of room to park.
Where it is: The pullout and parking for Christine Falls is located along the road to Paradise, just under 11 miles from the Nisqually park entrance. It is just beyond the Comet Falls trailhead. Unfortunately the parking area is tiny, if there's no parking available try stopping on your return trip.
Best Season: You can visit Christine Falls all year! Watch out for ice on the short walk down to the viewpoint when it's icy. April, May and June are particularly good times to see Christine Falls, when it has the most water.
Walking Distance: Less than one tenth of a mile below the parking area
Elevation gain: 30 feet
Narada Falls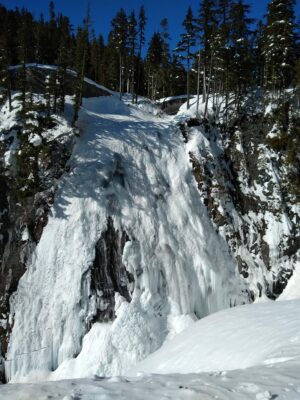 Why it's awesome: Narada Falls is a towering and wide Mt Rainier waterfall that is also a very short distance from the road. It has a large parking area and restrooms so it makes an excellent stop on the road to Paradise. You can do a wonderful snowshoe trip starting here in the winter. You can often catch a rainbow on it in the summer in the afternoon. Narada Falls is the widest waterfall on this list and that combined with its 160 + foot vertical drop makes it really impressive!
Where it is: Narada Falls is located along the road to Paradise, 14 miles from the Nisqually entrance and 7 miles from Paradise. Look for a sign pointing to the parking lot.
Best Season: Narada Falls is a beautiful Mt Rainier waterfall all year! I love it when it's frozen in the winter but the volume of water and the height are amazing all year. Be aware that the trail down to the lower viewpoint is generally snow covered until at least late June and it can be extremely icy all year. If there's snow present, do not approach the edge! The safety rails are often buried in snow and a dangerous overhang of snow can exist here. Stay far back from the edge.
Walking Distance: 1/2 mile round trip
Elevation gain: 100 feet down to the lower viewpoint, then back up on the return.
Myrtle Falls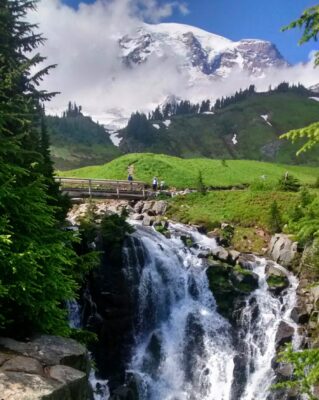 Why it's awesome: Myrtle Falls really has it all. A short, paved walk through gorgeous wildflower meadows, a lovely waterfall and an incredible view of Mt Rainier. This Mt Rainier waterfall is extremely crowded in the summer. Try visiting in the evening during the summer for a less crowded experience or include it on a longer hike like the Skyline Loop Trail. In winter the waterfall often disappears beneath deep snow, though snowshoers may still here it when they're close by.
Where it is: Myrtle Falls is located in the Paradise wildflower meadows in the network of trails that cross the Paradise area and continue beyond. It is near the visitor center and the Paradise In..
Best Season: July through October. Use extreme caution in this area in winter, especially late winter and spring when the snow can become unstable. Admire and listen from a distance if snow is present!
Walking Distance: Less than one mile round trip on a paved trail. While the trail is paved, there are a few stairs at the end closest to the visitor center.
Elevation gain: Minimal
Carter and Madcap Falls
Why it's awesome: Carter and Madcap Falls are more of a real hike without being too steep or long. In addition to two waterfalls, you'll also be treated to a gorgeous river, a view of Mt Rainier and old growth forest! This area, especially parking, gets very crowded in summer. This is another good place to go on a summer late afternoon or early evening hike.
Where it is: The trailhead for this Mt Rainier waterfall starts at the Cougar Rock picnic area near the Cougar Rock Campground.
Best Season: July – October. Deep snow can make this trail inaccessible or hazardous the rest of the year. Check with rangers for current conditions.
Hiking Distance: 2.5 miles round trip (a quarter mile longer to Madcap Falls)
Elevation gain: 700 feet
Silver Falls and the Eastside Trail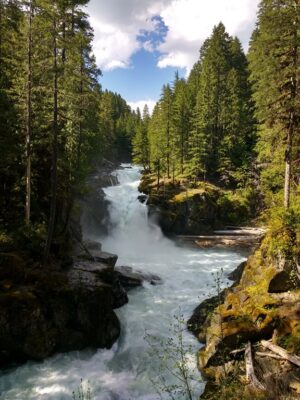 Why it's awesome: In addition to being an absolutely stunning waterfall in an area with lots of gorgous waterfalls, Silver Falls is in the least crowded area of Mt Rainier National park! This Mt Rainier waterfall is never crowded and frequently you can have it all to yourself. A short walk down from a pullout next to the highway or a longer mostly flat walk from the Ohanepecosh campground, there are multiple ways to get there. You can also extend your hike to visit more waterfalls upstream. You can also connect this with Grove of the Patriarchs and see some of the oldest trees in Washington State!
Where it is: Silver Falls is located on the east side of the park near the Stevens Canyon Entrance. You can get to it from the Grove of the Patriarchs trailhead (which is sometimes a bit crowded), the Ohanapecosh campground or the pullout on the side of the road just above the falls.
Best Season: late May and June. The road on this side of the park is closed from sometime in November until mid to late May. This is a wonderful waterfall throughout the summer but it has the most water in May and June.
Hiking Distance: One mile round trip from the pullout, 3 miles from Ohanapecosh campground, or part of a 5 mile loop.
Elevation gain: Up to 300 feet, depending on exactly how you do it
Spray Falls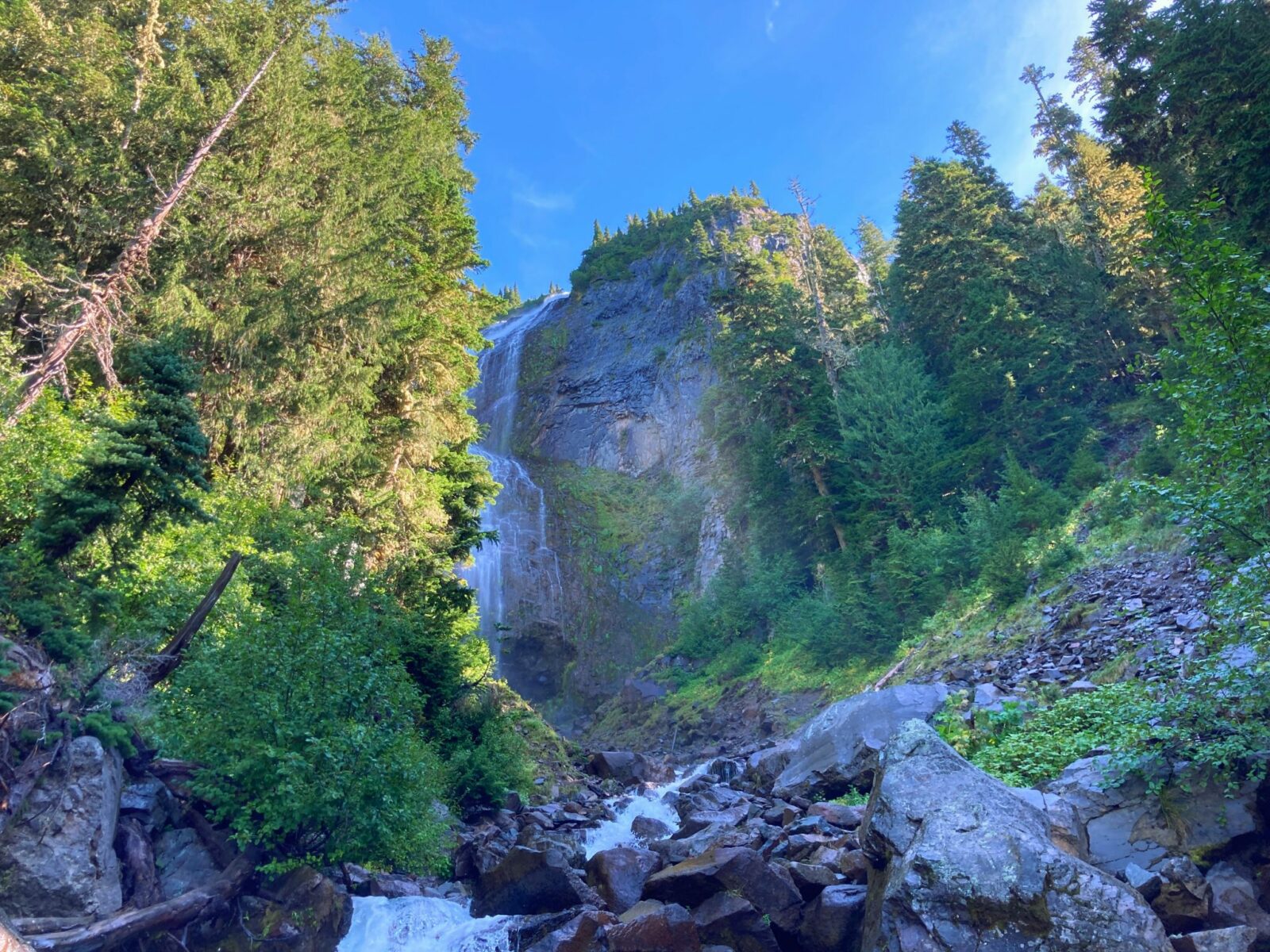 Why it's awesome: Spray Falls is also in a less crowded area and is a mandatory short side trip on the way to Spray Park or along the Mother Mountain loop. It's high and remote and tumbles into a beautiful creek. This Mt Rainier waterfall usually needs to be enjoyed from a distance as the creek crossing to get closer can be sketchy! From the point this photo was taken you can still see it without having to navigate wet rocks over a raging creek.
Where it is: Spray Falls is located along the trail to Spray Park, which is at Mowich Lake in the Northwest corner of the park. A drive on a long gravel road is required to get here.
Best Season: Late July through September. The road to Mowich Lake is usually open from mid July through mid October. When it first opens there may still be a lot of snow along this trail, but usually it's mostly melted out by late July.
Hiking Distance: 4.5 miles round trip to Spray Falls (6-8 miles round trip to reach and explore Spray Park)
Elevation gain: 700 feet to Spray Falls (1700 to Spray Park)
Comet Falls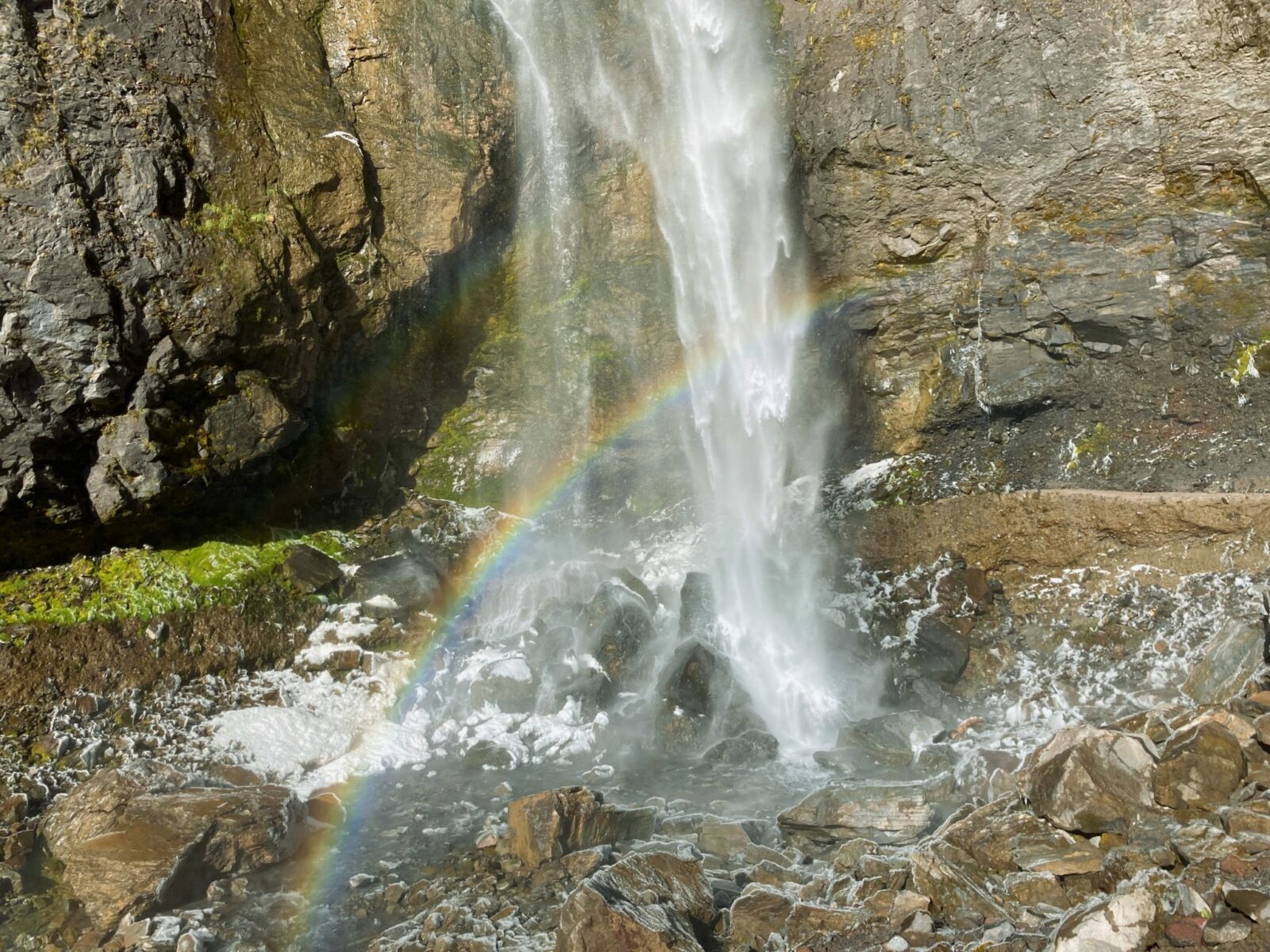 Why it's awesome: Comet Falls is an absolutely towering and impressive Mt Rainier waterfall! It's also a wonderful hike, with multiple waterfalls to see along the way, a beautiful forest and even a view of the mountain at one point along the way! It is probably the best of the Mt Rainier waterfalls for sitting and enjoying your lunch next to since there are so many lunch rocks close to it. Parking can be impossible as the parking lot is TINY. If you can find parking this limits the number of people on the actual trail. Try this on a summer evening or later in the fall to make parking more manageable.
Where it is: The Comet Falls trailhead is located along the road to Paradise, just over 10 miles from the Nisqually entrance. Look for a small parking lot on the left. There are not pit toilets or anything else at this trailhead (stop at Longmire on the way for restrooms or Narada Falls a few miles beyond).
Best Season: Late July through October. This trail usually does not melt out until late July. The waterfall is spectacular until the snow flies, burying it for the winter.
Walking Distance: 4 miles round trip (option to continue on to a steep trail up to Van Trump Park if you want to go farther).
Elevation gain: 1500 feet
Ranger Falls
Why it's awesome: Ranger Falls is a gorgeous waterfall located in the less visited Carbon River Valley and is one of the best waterfall hikes near Seattle. This is an opportunity to see a lovely waterfall with less people and experience one of Mt Rainier's most spectacular old growth forests along the way. Although long, 75% of this hike is on a very gentle grade.
Where it is: The trailhead is along the long closed Carbon River Road, now the Carbon River Trail. Park at the former Carbon River entrance and walk just over 3 miles on the closed trail and then up the Ranger Falls/Green Lake trailhead.
Best Season: April and May for waterfall flow, although this trail is open all year, you may encounter snow in winter.
Walking Distance: 9 miles round trip
Elevation gain: 1200 feet
Honorable Mention – Little Mashel Falls in Eatonville
Why it's awesome: While it is not inside the park, many visitors arrive in Mt Rainier National Park via the town of Eatonville. If that's your route, don't miss this wonderful series of three beautiful waterfalls tucked into the forest. This is a great place to stretch your legs if you have enough time to spare. Learn more about how to hike it here.
Where it is: There are there places to start this hike, all described at the link above. All are in the town of Eatonville or just on the edge of it.
Best Season: This is a favorite winter hike of mine, but the water is roaring in spring and there are some great swimming holes in summer and early fall. A great year round option!
Walking Distance: 4-5 miles round trip
Elevation gain: up to 700 feet
If you're planning a hike to a Mt Rainier waterfall, make sure to check out what I wear for a day hike and what I pack for a day hike in the Pacific Northwest!