Why March is the Best Time to Visit Fairbanks Alaska
Posted On January 27, 2020
But isn't it cold?? But shouldn't I visit in the summer? I might be the only person to tell you that March is the best time to visit Fairbanks Alaska but it's ABSOLUTELY TRUE. Stay with me here and remember that I lived in Fairbanks for four years before you decide I'm nuts.

Disclaimer: this advice is NOT for Alaska in general! Generally speaking, March is a terrible time to visit most of Alaska. Most of Alaska you should visit in the summer. But March is an amazing time to visit Fairbanks!
People often ask me "when is the best time to visit…." and the answer is that it depends! Are you asking for when the best weather is? When are there the least crowds? When is the most popular time to go? When is something unique happening such as a local festival or stunning wildflowers? When can I see the Northern Lights? Depending on your answers to those questions I would change my answer about the best time to visit.
Fairbanks is such a unique place it makes sense to visit it when the things that make it unique are on display at their absolute finest and that time is NOT the peak summer tourist season!
The 5 reasons why March is the best time to visit Fairbanks, Alaska are:
March is the BEST time of year to see the Northern Lights in Alaska and Fairbanks is the best place in Alaska to see them!
March is the best month of the year to enjoy various winter activities – longer days, plenty of snow and it's not as cold as the darker months just before. It's still plenty cold to be real winter! Winter activities are a key part of the Fairbanks experience and you just can't experience them during the summer. (See below for details)
March is when the World Ice Art Competition happens. This is such a unique and incredible thing to see. If you're there in early March, you might get to see some of the artists finishing up their carvings. In addition to the small (single block) and large (multi block, the size of a small house!) sculptures, there is also a play area with slides and other fun all made out of ice. Go at night and see the colorful lights on the sculptures.
It's much less expensive! Most hotels and vacation rentals are far less expensive in the winter than the peak summer tourist season, same for rental cars. Tours and food generally cost about the same as summer.
NO BUGS!! Interior Alaska has epic mosquitoes and a great strategy for avoiding them is visiting when everything is frozen!

Where to Stay in Fairbanks in March
Fairbanks is a mid sized town with lots of hotel options and vacation rentals. A couple of stand out hotels that are particularly good in March are Chena Hot Springs and Pike's Landing.
Chena Hot Springs is expensive to stay at but makes for a wonderful place to stay out of the city. It also makes for a good day trip so you can visit here even if you stay in town. It's about an hour and a half drive from Fairbanks. In addition to the outdoor hot springs, there is also an indoor pool. a year round ice museum with an ice bar where you can have a drink, and lots of tours for activities such as dog sledding, snowmobiling and northern lights viewing.
Pike's Lodge is a convenient and beautiful location near the airport (they offer a shuttle) along the Chena River. They have good winter rates and a heated northern lights viewing deck with a cozy firepit! The restaurant serves good food too.
Where to Eat in Fairbanks in March
Turtle Club: On the edge of town, this is the Fairbanks restaurant institution! Widely believed to be the best prime rib ever, and the salad bar is super popular in winter! Note: if you don't like prime rib, don't go to the Turtle Club. It's amazing, but that's what they do.
Alaska Coffee Roasters: Wonderful coffee (and you can buy beans), pastries and (of course!) pizza
Sunrise Bagel and Espresso Three drive through shops in different parts of town with delicious coffee as well as amazing breakfast sandwiches!
Cookie Jar: A local favorite for soup and sandwiches and OF COURSE delicious cookies!
Two Rivers Lodge: Delicious food in a lodge atmosphere on the way to Chena Hot Springs.
Angel Creek Lodge: Almost all the way to Chena Hot Springs, good food in a classically Alaskan atmosphere.
Things to do in Fairbanks in March

The most important reason why March is the best time to visit Fairbanks, Alaska is because of all the unique winter things to do that you just can't do in the summer! Here are some ideas to get you started:
Go Aurora hunting! This is the best place and the best time to see the Aurora so join the chase by watching the Aurora forecast and staying up late.
Visit Chena Hot Springs – I love to go to hot springs in winter! Chena is a developed hot spring resort with changing rooms and showers and you can go even if you're not staying there. They also have an indoor pool but soaking in the outdoor pool on a winter day is amazing. There are also lots of winter activity tours offered here, including dog sledding, skiing and snowmobiling
Go Cross Country Skiing – My favorite activity and this is where I learned! There are so many world class trail systems in and near Fairbanks. The University of Alaska Fairbanks has 15 miles of groomed trails on campus and there are several other groomed and ungroomed trail systems too. You can rent skis at Beaver Sports or Chena Hot Springs.
Go Ice Skating – The Big Dipper is a public ice rink with public skates and skate rental. In the winter they also have outdoor rinks available
Try Dog Sledding: Dog sledding is exciting and super unique! You can take a tour and ride behind a dog team and learn more about the sport. You can also check the calendar of the Alaska dog mushers association to see if there are any races happening during your visit. Dog sledding is really fun to watch!
Try snowmobiling (in Fairbanks it's called Snowmachining) – Try out one of Alaska's most popular winter activities on a tour
If you're a fisherperson, you might want to try ice fishing! You can find a guide or tour to set everything up for you. This is another classic Fairbanks activity.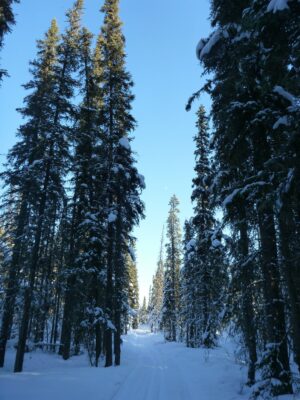 What to Pack to Stay Warm
This post contains affiliate links, which means if you make a purchase I may receive a small commission at no cost to you. I only recommend products I fully believe in and heartily recommend. As an Amazon Associate, I earn from qualifying purchases.
My standard packing list for Alaska, is a good resource for this trip along with my tips for traveling to Alaska on a budget. Additionally, here are a few key items to keep you warm and happy. While it's true that March is the best time to visit Fairbanks, Alaska, it's also true that you need the right gear to stay warm, especially to enjoy winter activities. The temperature can vary a lot at this time of year, so pay close attention to the forecast as you approach your trip. In general expect the temperature to be around 0 degrees Fahrenheit (although it could be well into the negative temps or up to the teens Fahrenheit during the day).
The warmest boots you have – I wear these
The warmest socks you have – I wear these
Snow pants – the cheap bib kind will work great. I wore a pair that I bought for $20 at Fred Meyer for 20 years! These ones are my current pair and they're not quite as warm, but they're more comfortable and a bit less bulky.
The warmest coat you have -you can layer if you don't have a really warm coat and don't want to buy it but a big warm coat is easier to manage
Long underwear top and leggings to go under the snow pants and jacket – I am a huge fan of this top and these leggings for this purpose
A very warm wool hat – also a headband like this one can be really good for something active like cross country skiing since it keeps your ears warm but doesn't get too hot
Mittens (which are warmer than gloves) and lightweight touchscreen gloves to go under them for when you need to use your fingers (especially if you're doing aurora photography). If you already have warm mittens use them! I like this combination because you can put the right warmth gloves or mittens underneath the bigger shell mittens.
A headlamp with a red light setting, so your night vision doesn't get ruined if you need a light. This is especially important if you're doing photography.
Sunglasses – 12 hours of sun on snow requires sunglasses!
Lip balm and lotion – Fairbanks is REALLY dry in the winter
A super insulating mug for hot drinks – you'll need this to keep a hot drink hot for more than 10 minutes if it's zero degrees outside!
Swimsuit for hot springs!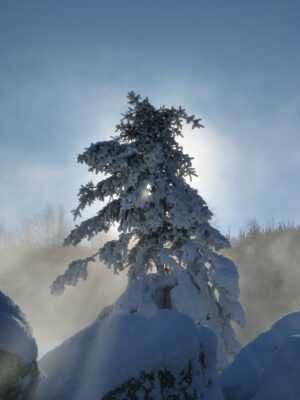 Hopefully by now I've convinced you that March is the best time to visit Fairbanks, Alaska! Your trip will be full of winter beauty and adventure of the kind that summer visitors miss out on.