Chena Outdoor Collective Dog Sledding Review (Fairbanks, Alaska)
Posted On March 3, 2023
If you're looking for an unforgettable and unique winter adventure in Fairbanks, you can't do better than a dog sledding tour with Chena Outdoor Collective!
It's a thrill for all ages to ride behind a dog team through a snowy forest and so fun to meet all the dogs and learn a bit about the sport of dog mushing.
I lived in Fairbanks for four years and now I visit about once a year, alternating my trips between different seasons. This time I had my two nieces with me (age 10 and 12) and this was absolutely the highlight of the trip. They LOVED this tour. I have many years of experience as a tour guide and I'm VERY picky about tours and this one is incredible and easily gets my five star review!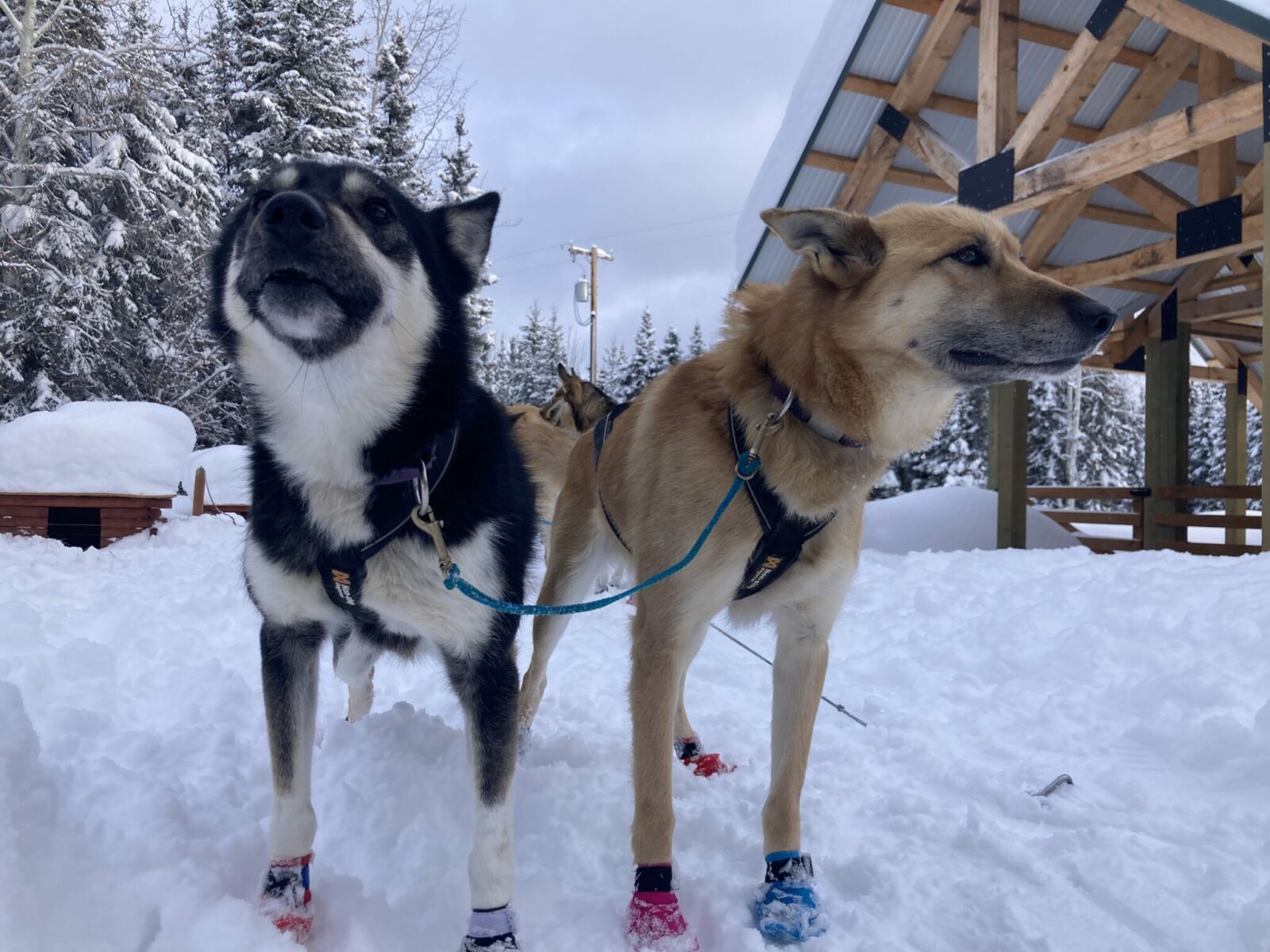 Who is Chena Outdoor Collective's dog sledding tour best for?
This is a fantastic experience for anyone who wants to get to know locals when they travel and learn about the way people live in Fairbanks. It's also perfect for anyone who likes a unique experience, riding in a dog sled is not an experience that very many people have had!
This is also an excellent tour and experience for kids. I did the 1.5 hour tour in February 2023 with a ten year old and a twelve year old and they absolutely loved it. In fact, they said it was the highlight of the entire trip.
What to expect on a dog sledding tour with Chena Outdoor Collective
When you arrive at Chena Outdoor Collective, you'll check in at the yurt and they'll check your gear to make sure you have enough warm clothes. There are restrooms in the cafe right next door.
You'll need to be able to walk about 100 yards on a snowy trail to get to the dog teams so make sure you're dressed for a bit of snow walking. The guides are fantastic about helping you get in and out of the sled and navigate the snowy dog yard. Anything you're carrying with you you can fit in the sled between your legs.
Once you get to the dogs, you'll get introduced to the dogs and learn how to put them in their harnesses and then give it a try yourself. Once the dogs are all ready to go, the guides will help you get into the sled and then you're off!
Along the trail, be ready for some wind even if the weather is not windy since you'll be moving. Make sure to have a buff or something to cover your face if it's cold. I recommend making sure your hood is up, coat zipped, gloves or mittens on from the beginning to keep the cold air out.
On our 1.5 hour tour, we took a break in the middle for a few photos and dog pets and snuggles before continuing on. This is also a great photo op and a good time to stretch your legs and adjust the sled if needed.
At the end of the tour, you'll be back in the dog yard near the yurt and your car.
How to get to Chena Outdoor Collective
You'll need a rental car to get to Chena Outdoor Collective, about a 45 minute drive from Fairbanks on Chena Hot Springs Road. You could also get here in a taxi, but it would be kind of an expensive ride and a rental car probably makes more sense if you're ok with driving on snowy roads.
Chena Outdoor Collective is located in the small community of Two Rivers about 30 miles from Fairbanks on Chena Hot Springs Road. Plan on a 45 minute drive (or possibly longer if there's been recent heavy snow or icy conditions). Look for the yurt on the right side of the road (and Google Maps will get you there).
If you're also going to Chena Hot Springs on your trip to Fairbanks, that's a great combination since you're about halfway there when you get to Chena Outdoor Collective.
Chena Outdoor Collective's wonderful guides
One of the best things about Chena Outdoor Collective, beyond the thrill of dog sledding and meeting the wonderful dogs, is there absolutely world class guides.
All the guides at Chena Outdoor Collective bring their own teams to the site from their own kennels and are experienced dog mushers. They are experts in dog nutrition, training and care as well as in guiding guests.
I really enjoyed chatting with my guide throughout the ride, and appreciated what both guides shared about the dogs, teaching us their names and personalities. They also shared with us all about the life of racing which was super interesting.
Guides at Chena Outdoor Collective will make sure you have enough gear to stay warm and check in to see how you're doing throughout the tour.
They showed the kids how to harness the dogs and connect them to the sled and were very patient and helpful as they were learning!
Interacting with dog teams
There's no question that interacting with the dogs and learning their names and a bit about their personalities is a highlight of this tour. In addition to getting to pet and snuggle the dogs, you also get to harness them on the 1.5 hour tour). We also stopped along the way to get some photos out on the trail and give the dogs a few more pets and snuggles.
Cost and tour options
Chena Outdoor Collective offers two winter dog sledding trips, a 30 minute and a 1.5 hour option. I did the 1.5 hour option on my recent visit, which gives you the chance to go further behind the sled and I thought that was absolutely worth it. It's such a unique experience to ride behind the sled, you want to make sure to have time to take some photos but also to just be there in the experience.
They also offer multi day expeditions if you want to really learn mushing!
The 30 minute winter tour is $80 for adults and $65 for children 12 and younger. The 1.5 hour tour is $185 for adults and $145 for children. I really encourage you to do the longer tour like I did, it is absolutely worth it and gives you more time to have the full experience. My nieces I was with absolutely love animals, especially dogs and they agreed the longer tour was amazing.
Make sure to book your trip in advance.
What to wear for a dog sledding tour
For a winter dog sledding tour, the most important thing to think about is that there will be wind, since you'll be moving. This makes it colder than the normal air temperature. The dog sled will have a sleeping bag and an outer cover for additional warmth, but you still need to dress warm. Make sure to have a hat, gloves (I like to wear gloves and mittens), snow pants, a warm coat and snow boots. I also recommend a buff or other covering you can pull up over your nose, mouth and face.
If you're looking for specific items to purchase or pack for your trip to Alaska in all seasons, check out all my advice about what to pack for Alaska here.
Can I go dog sledding with Chena Outdoor Collective in summer?
This review is focused on my experience doing a 1.5 hour dog sledding tour in winter, but you can also do a tour in summer. The summer tour focuses more on meeting and interacting with the dogs, since there's no snow on the ground for the sled and the temperatures in Fairbanks in summer are too hot for the dogs to pull.
The summer tour must be arranged in advance and is $100 for adults and $75 for children 12 and younger (2023 prices).
During your visit, you'll get to play with the dogs and get to know them and their mushers. They'll teach you all about working with dog teams, racing sleds and answer all your questions. This is a really fun way to support local dog mushers as well as have a really unique experience in Alaska, even in the summer!